These tahini oatmeal cookies are a decadent treat that your whole family will love! If you've got some extra tahini lying around, grab it right now and whip up these easy and delicious cookies.
Disclaimer: Allergen information is provided for informational purposes only, and ingredients should always be double checked prior to consumption to ensure they are suitable for any food allergies.
What is tahini?
Tahini is made from ground sesame seeds. The texture is very close to a natural nut butter, with a similar toasty, nutty taste to it.
Many people are familiar with tahini from its addition to hummus. If you've ever made hummus at home, you've probably added a few tablespoons of it to your recipe — and then found yourself with an almost full jar of tahini wondering what to do with it. 😉
These tahini oatmeal cookies are a great way to use some of that leftover tahini to make a sweet treat!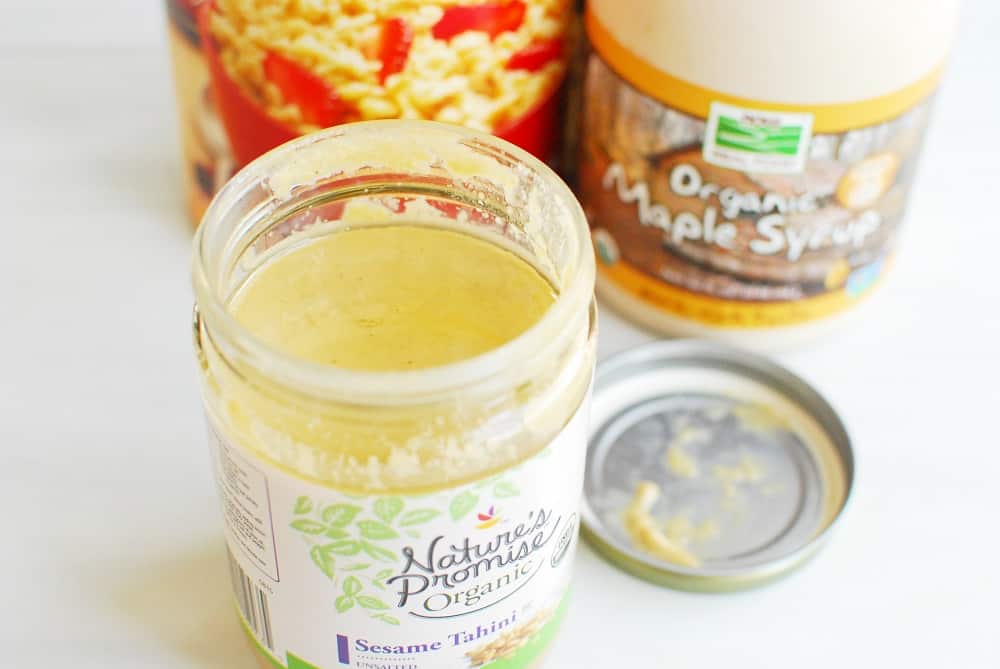 Is tahini gluten free?
Most brands of tahini are made from just 100% ground sesame seeds, and as such, should be gluten free. However, rarely you may find a gluten ingredient as a thickener in the product, so always double check the label. If in doubt, look for brands that specifically state the product is gluten free.
Ingredients & Instructions
Here are the ingredients you'll need for this recipe, and how each impacts the final product (note – you'll find full ingredient amounts in the recipe card at the bottom of the post):
Tahini – This offers an earthy, nutty taste in the cookie.
Maple syrup – This is an excellent natural sweetener with a unique taste that pairs well with the tahini.
Coconut oil – Instead of a dairy free butter, I prefer coconut oil in this recipe to add extra fat for richness.
Egg – This acts as a binder that helps the cookies keep their form, and the yolk also adds a little richness too.
Vanilla – You'll find vanilla enhances the flavors in cookies, which is why it's often added to most cookie recipes.
Rolled oats – These add a heartiness to the cookies (along with a little fiber).
Almond flour – Since this is gluten free, it's a great option to use in combination with the oats for a traditional cookie texture (using all oats generally results in a cookie that's too crumbly).
Cinnamon – This aromatic spice adds flavor.
Salt – The purpose of salt in baked goods is similar to vanilla; it helps enhance the rest of the flavors.
Baking soda – This is the leavening agent that will help the cookies rise a bit.
Pecans – These add more nutty flavor and additional texture to each bite.
Dark chocolate chips – What kind of cookie is complete without chocolate, of course?!
Making these cookies is super simple. You'll start by combining the wet ingredients – the tahini, maple syrup, coconut oil, egg, and vanilla.
Then you'll add in the dry ingredients – the rolled oats, almond flour, cinnamon, salt, and baking soda.
Now, technically, best practice in the culinary world is to mix the dry ingredients in a separate bowl first. But I'm a busy mom and don't like dirtying two bowls, haha. 😉 I've found if I just add the dry ingredients on top of the wet ingredients, give the dry stuff a few stirs superficially on top first, then mix everything together in the bowl – it works just fine.
Next you'll fold in your chocolate chips and pecans. Now all that's left to do is bake them, let them cool, and dig in!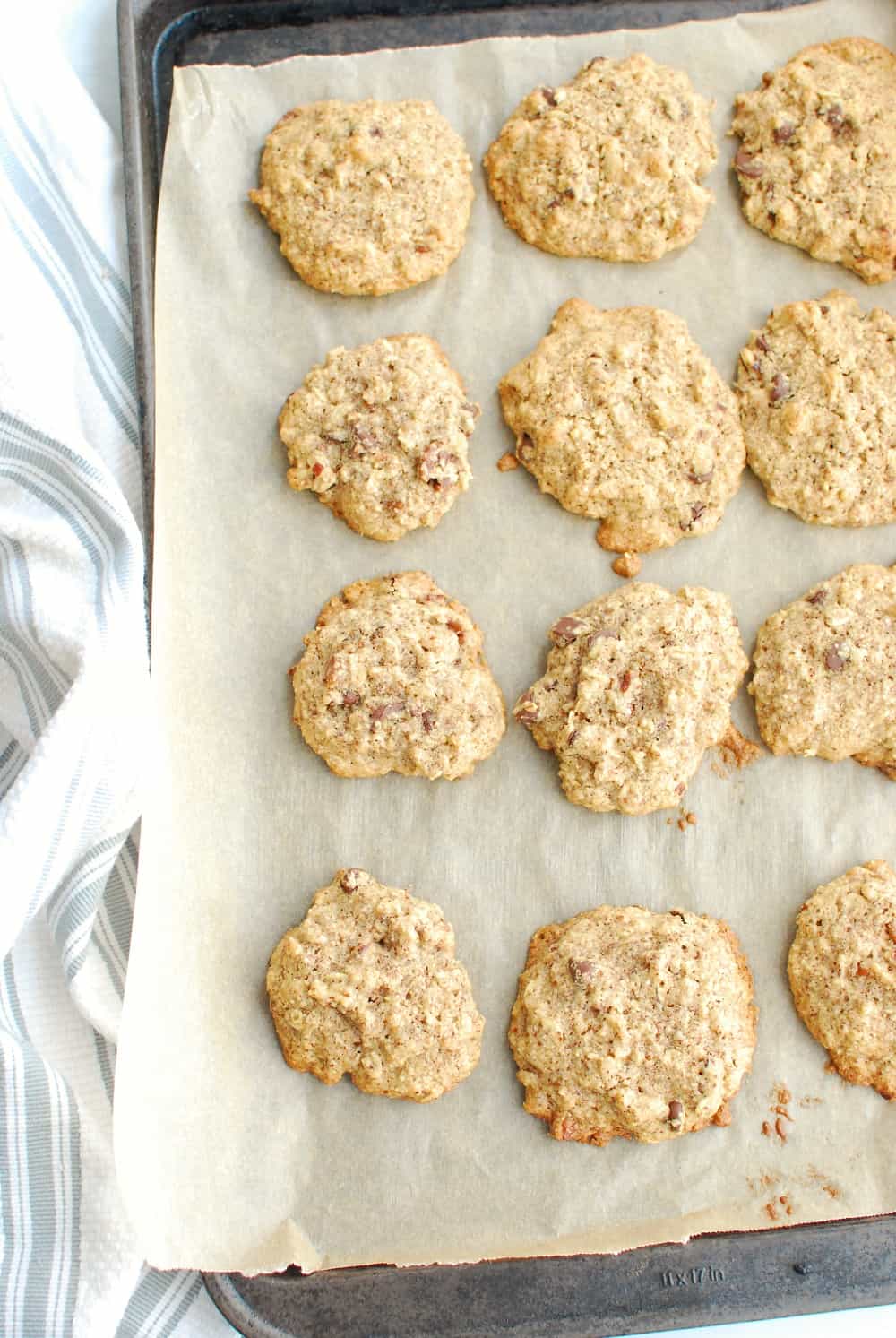 Allergens in this recipe
As written, this recipe should be dairy free, wheat free/gluten free, and soy free.
This recipe does contain eggs. You can substitute a flax egg, but the cookies do tend to be more crumbly with a flax egg in this recipe.
This recipe does contain nuts, as it has pecans and almond flour. Keep in mind that some people with nut allergies also react to sesame in tahini. In this case, substituting the flour and leaving the nuts out to make this nut-free may still not be a safe choice depending on your personal allergy situation.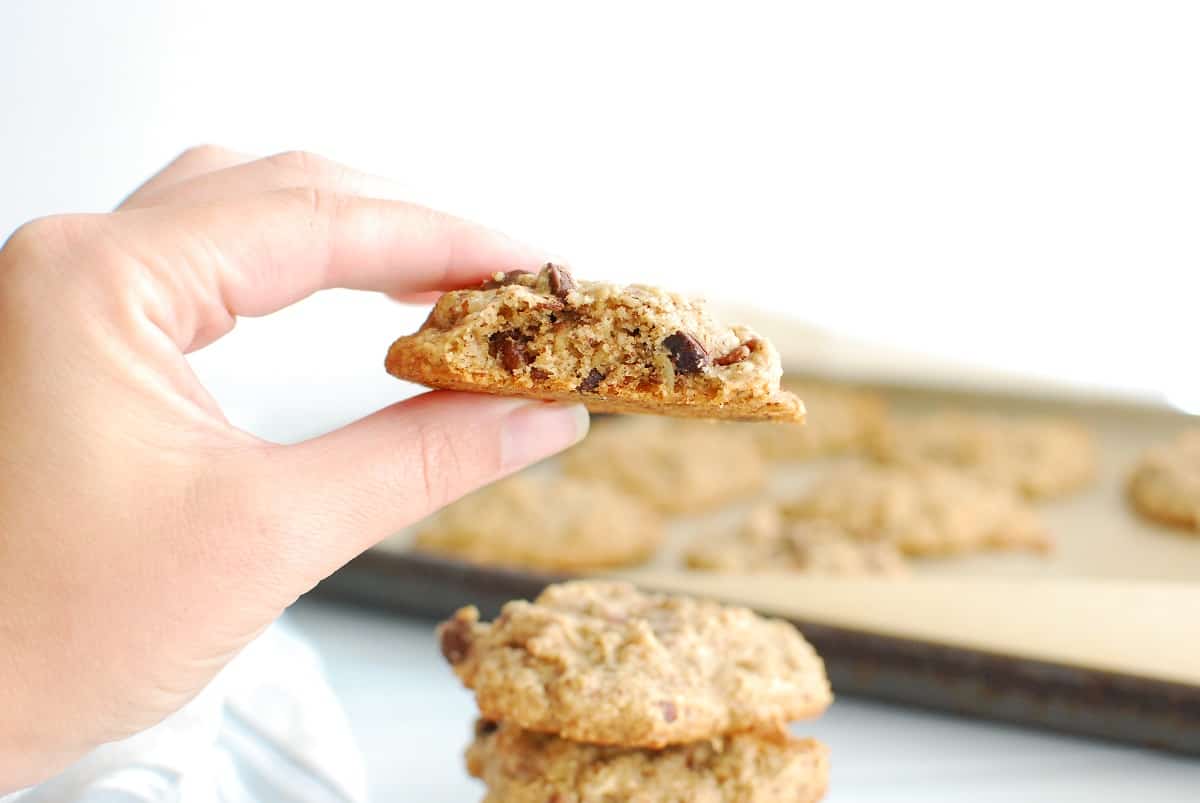 I hope you enjoy these tahini oatmeal cookies! They are personally one of my favorites. My kiddo prefers the other cookies on the blog (he's a big fan of the dairy free snickerdoodles as well as the sugar cookies), so when I make a batch of these, it's an excuse for mama to eat most of them! 😉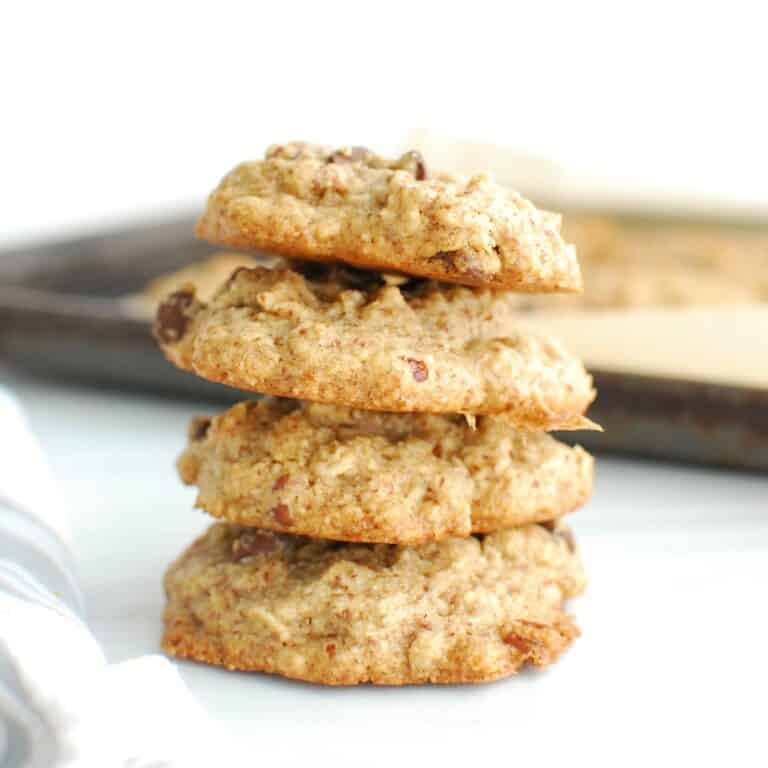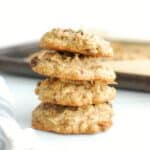 Tahini Oatmeal Cookies
These tahini oatmeal cookies are a decadent treat that your whole family will love!
Ingredients
1/2

cup

tahini

(double check to ensure gluten free)

1/2

cup

maple syrup

1/4

cup

coconut oil, melted

1

large egg

1

tsp

vanilla

1

cup

certified gluten free rolled oats

1 1/2

cups

almond flour

1/2

tsp

cinnamon

1/4

tsp

salt

1/2

tsp

baking soda

1/3

cup

chopped pecans

1/3

cup

dairy-free dark chocolate chips

(soy-free too if needed)
Instructions
Preheat the oven to 350 degrees F. Line two baking sheets with parchment paper.

In a large mixing bowl, combine the tahini, maple syrup, coconut oil, egg, and vanilla.

Add the oats, almond flour, cinnamon, salt, and baking soda to that bowl over the wet ingredients. Stir the dry ingredients together a bit first (just lightly stirring on the top of the bowl) – then fully combine the dry with the wet ingredients.

Fold in the pecans and chocolate chips.

Scoop the dough out into 20 balls onto the baking sheets. Bake for 10-12 minutes at 350 degrees F, or until the cookies are a light golden brown color and cooked through.

Let cool on the baking sheet and then enjoy!
Recipe Notes
Nutrition analysis (approximate per cookie): 180 calories, 13 g fat, 4 g saturated fat, 75 mg sodium, 13.5 g carbohydrate, 2 g fiber, 7.5 g sugar, 4 g protein, Vitamin D: 0%, Calcium: 5%, Iron: 6%, Potassium: 3%
Share: Have you ever used tahini in a sweet recipe like this? If you made these cookies, what did you think?
PS – Please share this pin so others can make these yummy cookies too!