These air fryer cherry hand pies are a simple and delicious dessert! With just three ingredients, these come together quickly and easily. You can make them in a circle shape for an everyday dessert, or create a heart-shaped version for Valentine's Day.
And yes – these are dairy free! 🙂
Ingredients
Here are the three ingredients you need to make this recipe, and some tips for each:
1) Store-bought pie crust (or homemade)
Surprisingly, most store-bought pie crusts are actually dairy free! For example, I used Pillsbury Refrigerated Pie Crust for this recipe. The only allergen noted on the label (at the time of publish) is wheat. Many store-bought refrigerated brands are similar as far as ingredients. The refrigerated crusts work really well because they're pretty much ready to use whenever you need it.
(Note: at the time of publish, Trader Joes frozen pie crusts DO contain milk and those would should be avoided!).
If you'd prefer, you could also make a homemade crust (instructions here). You can either use dairy-free butter or vegan shortening to make homemade crusts. The dairy free butter is a bit harder to work with, but tastes richer. The shortening has a better appearance in the final product, but a less rich taste.
Obviously making the crust from scratch takes a lot more work and time, but if you're in the mood to make a homemade one, go for it! I like using the store-bought ones for this recipe to keep it simple and quick.
2) Cherry pie filling
A can of cherry pie filling is easy to find at the grocery store in the baking aisle. You won't need an entire can for this recipe. Most stores near me only sell the 21 ounce cans, but if you can find a smaller 12 ounce can – go with that instead.
(You'll find some ideas on what to do with any extra filling towards the bottom of this post!)
3) Egg
You'll whisk up an egg to brush onto the top of these air fryer cherry hand pies. It will help crisp up the top and give it that lovely golden brown color.
Instructions
Once you've got your three ingredients, this recipe is so simple to make! You'll find the full instructions in the recipe card below, but there are some helpful tips here.
You'll start by rolling out the pie crust. Use a medium or large circle or heart cookie cutter to cut shapes out from the dough. You should be able to get about 8 shapes total from a standard store-bought pie crust with a medium cookie cutter, which will end up making 4 hand pies. You can also do a variety of sizes like I did below, but don't stray too small or too large as it'll affect the cooking time.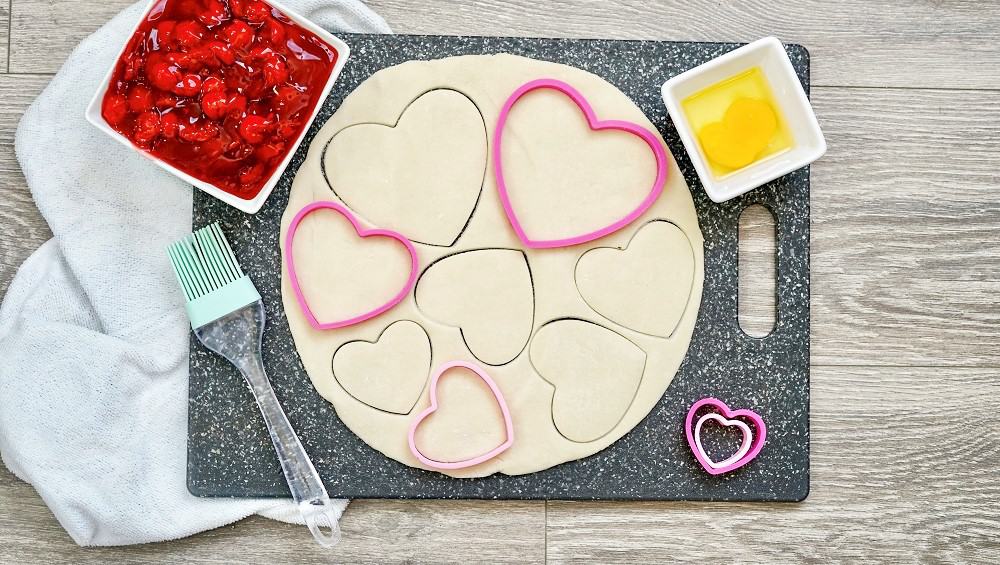 Once the shapes are cut out, add a spoonful of cherry pie filling to half of them.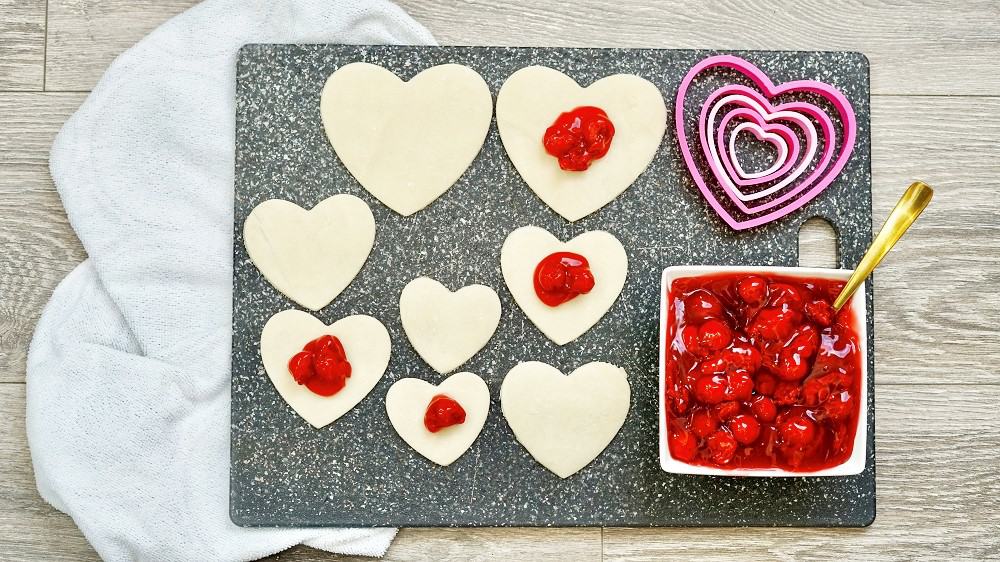 You'll then place the other half of the shapes on top, and use a fork to seal the edges.
If you're not quite sure how much filling to add, start with just one – place the filling on, add the top dough, and try to seal it. If a bunch of filling is squeezing out of the edges as you try to do this, use a little less on the next one.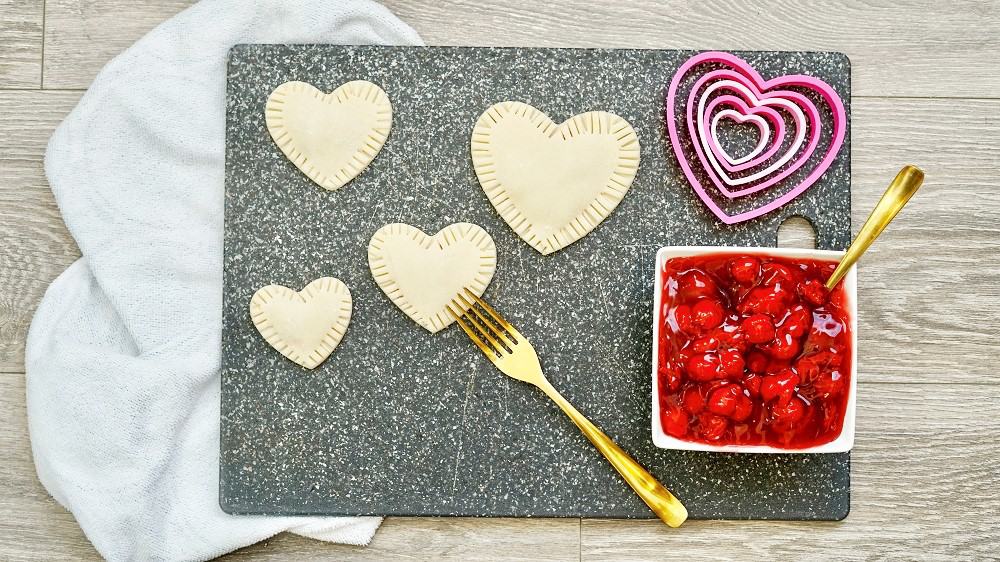 Once you've got all of them made, whisk up the egg and brush that egg wash on the tops of each one.
Now just pop 'em in the air fryer and in 11 to 14 minutes, you'll have a delicious completed dessert!
Recipe FAQ
Here are some common questions that may come up as you prepare these:
Do you have to preheat your air fryer? Nope, I don't! Just use the time and temp listed below and you should end up with a perfectly baked dessert.
Can you freeze hand pies? Sure. You can make them through the sealing step, and then freeze them unbaked. When ready to make, brush with the egg wash and pop in the air fryer. You may need to extend the cooking time by a few minutes. (Or, you can go through all the steps and air fry them first, then freeze them, then reheat – but the texture is better the first way, in my opinion).
Can you make other hand pies like this? Yes! Use any canned pie filling of your choice, like apple pie filling or blueberry pie filling. You can also make a homemade filling if you'd like.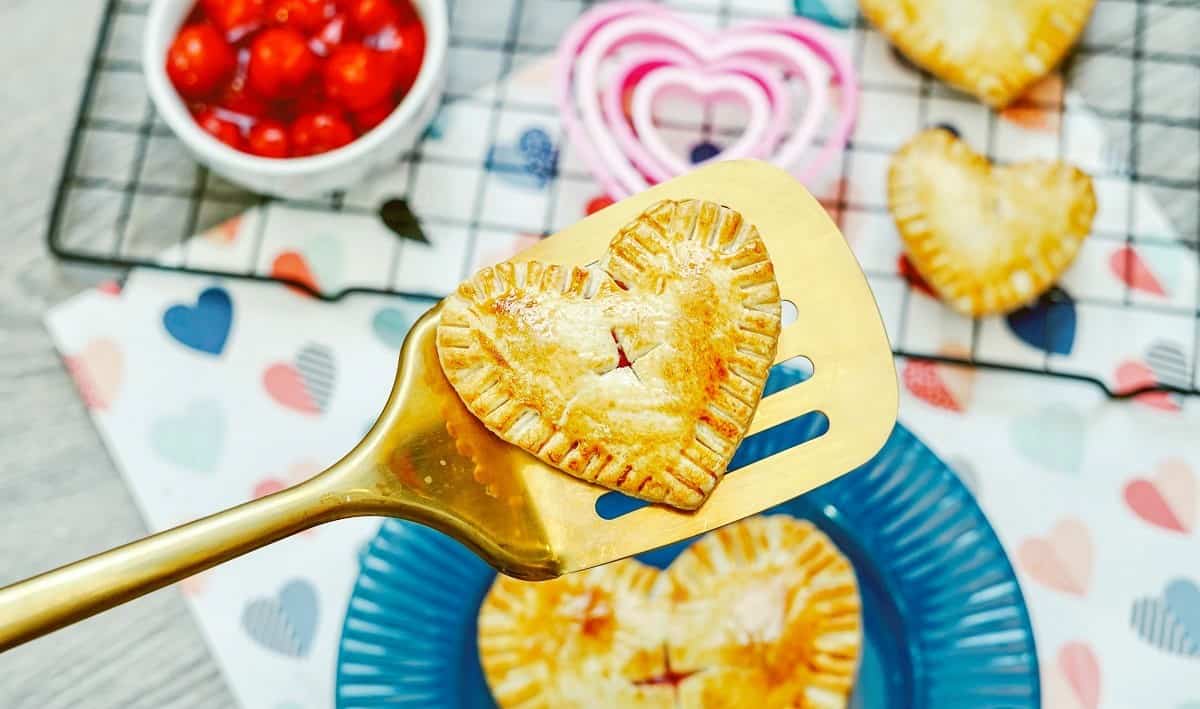 Allergens in this recipe
Disclaimer: Always double check product labels and recipes for allergens prior to purchase. While I try to note potential allergens below, keep in mind that I may miss something or manufacturer formulations may change at any time.
As written, this recipe should be dairy free and nut free. Depending on your choice of pie crust, it may also be soy free (check the label of your preferred crust to see).
This recipe does contain eggs and wheat/gluten. However, you can easily adjust this to fit your needs:
To make this egg free: Use an egg wash substitute. Try whisking together 2 tablespoons of your favorite milk alternative with 2 teaspoons of honey, maple syrup, or agave. Use this mixture to brush on.
To make this wheat/gluten free: Use a gluten-free dairy-free pie crust, rather than the standard pie crust used here.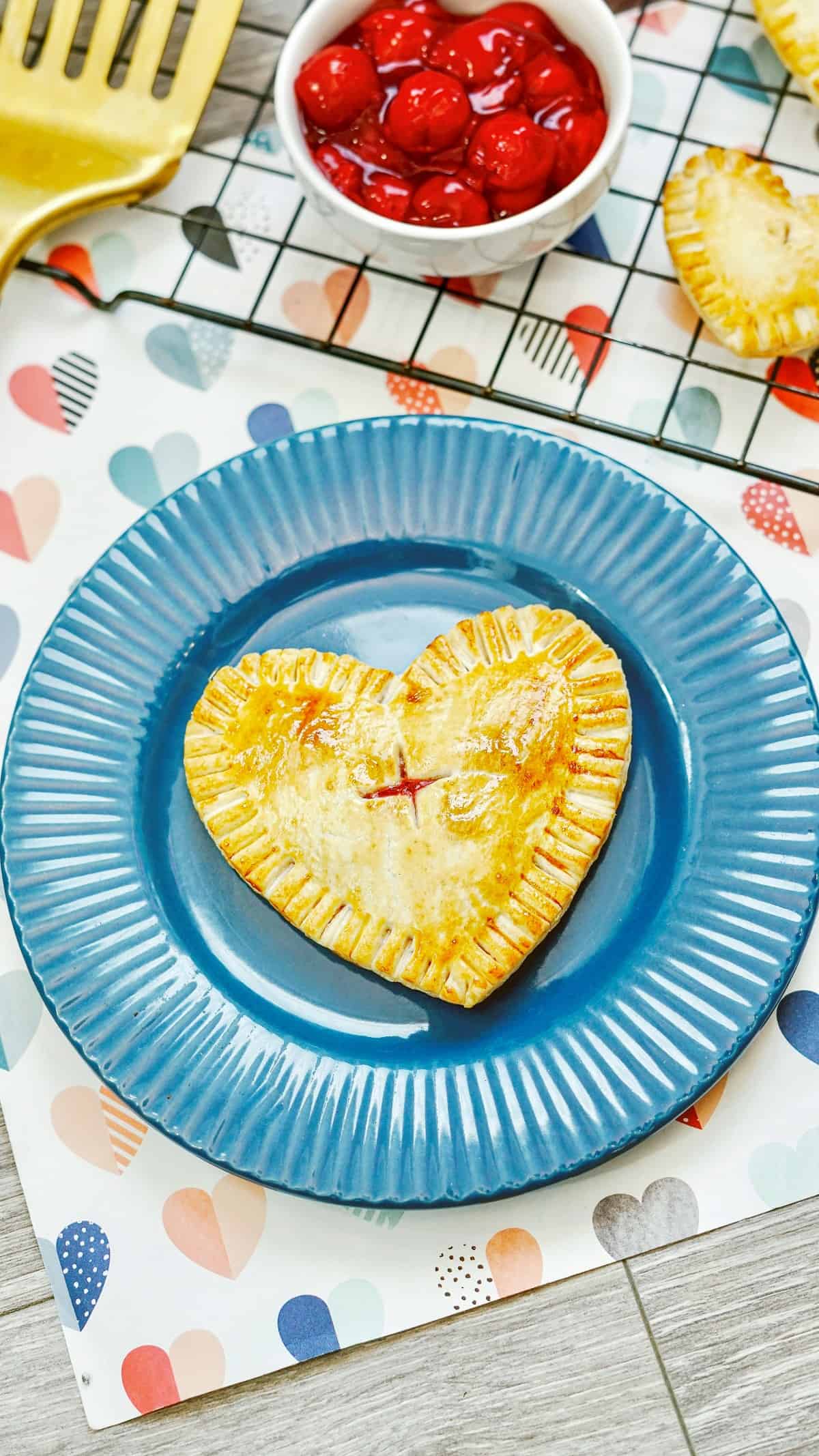 Ideas for Your Leftover Cherry Pie Filling
As mentioned, you'll likely have some extra cherry pie filling left after making this recipe. You could save it and make another batch of these in a few days. Or, you could use it in one of these ways:
Mix the cherry pie filling with oatmeal for a tasty breakfast treat.
Make a parfait with dairy free vanilla yogurt, cherry pie filling, and nuts or granola.
Try a homemade cherry crisp, using the filling plus the topping in this recipe.
Make homemade dairy free biscuits and top them with cherry pie filling and coco-whip.
Top these dairy free Belgian waffles with the cherry pie filling.
I hope you enjoy this easy dessert. I surprised my hubby with them earlier this week and he was so excited. If you get a chance to try them, feel free to leave a recipe rating or comment below.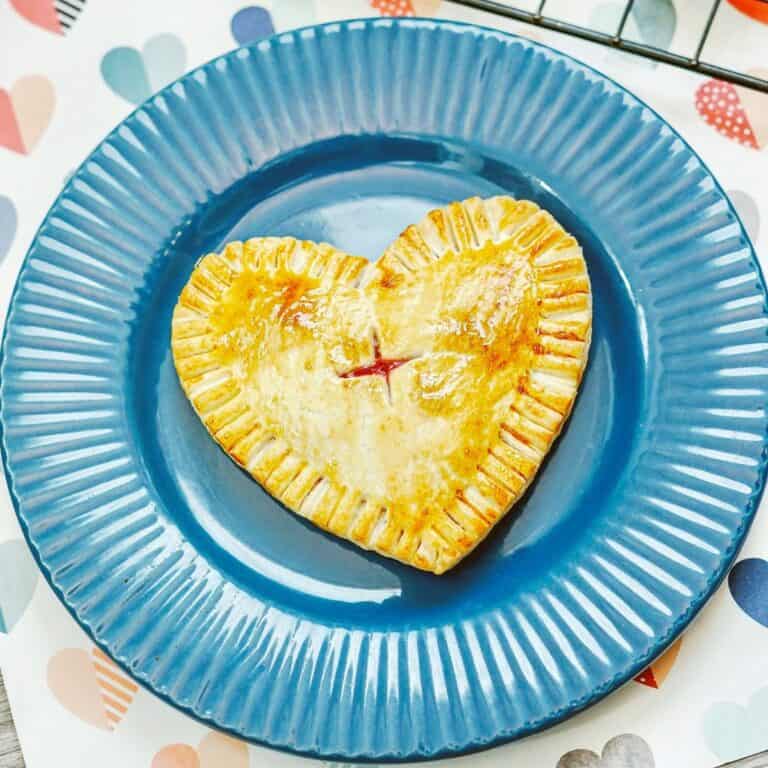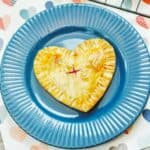 Air Fryer Cherry Hand Pies
Get ready to dig into deliciousness with these air fryer cherry hand pies! With just 3 ingredients, these come together quickly and easily.
Ingredients
1

egg

1

dairy-free store-bought pie crust

(or homemade pie crust)

1

can of cherry pie filling
Instructions
In a small bowl, whisk the egg. Set aside for now.

Roll out the pie crust. Use medium-large circle or heart cookie cutters to cut out your desired shape.

Place a spoonful of cherry pie filling in the middle of half the shapes.

Take the remaining shapes and place on top, pressing the edges down lightly to seal. Use the tongs of a fork to fully seal. Cut a tiny slit at the top of each with a sharp knife to vent.

Take a pastry brush and dip it in the egg wash, then brush this over the tops of each hand pie.

Place the hand pies in the air fryer (do not overlap). Air fry at 350 degrees for 11 to 14 minutes.

Let cool for a few minutes (the filling will be quite hot). Enjoy!
Recipe Notes
The cooking time may change if you make hand pies that are very large (may need to increase time) or very small (may need to reduce time).
There is no can size listed - you only need about 1/2 cup total.  I can only find larger 21 ounce cans of cherry pie filling at our supermarkets, but if you can find a smaller 12 ounce can, definitely purchase that instead.
The nutrition analysis below assumes about 85% of one store-bought pie crust was used (the other 15% accounting for scraps after cutting out shapes), assumes about 25% of the egg is used, and assumes about 2 tbsp of cherry pie filling was used in each one (aiming for the high end of the range that people may use). Nutrition facts may vary.
Nutrition analysis (approximate per hand pie): 215 calories, 11 g fat, 230 mg sodium, 30 g carbohydrate, 0.5 g fiber, 8 g sugar, 2.5 g protein, Vitamin D: 0%, Calcium: 0%, Iron: 4%, Potassium: 1%
Share: Have you ever made dessert in the air fryer? If so, what do you like to make?
PS – Feel free to pin this post to refer to later! 🙂