With the holidays rapidly approaching, it's going to be time for all of the best festive desserts, including delicious pies.  With this dairy free pie crust, it's easy to make all of your favorites – no butter necessary! Try this pie crust to make a tasty apple pie, or with a classic Thanksgiving dairy-free pumpkin pie recipe.
Holiday traditions
I have fond memories of making treats at home in the fall and winter as a kid. This time of year was always apple pie after going apple picking. We'd fill our bellies with a million apples in the field, then later that night we'd make pie crust and roll it out to fill with sugary apple slices.
At Thanksgiving time, we never made homemade pumpkin pie – my mom wasn't a fan – but I loved grabbing a slice at family gatherings. It was a treat I could look forward, along with the pleasant craziness of seeing cousins and aunts and uncles.
Do you all have similar memories? It's funny how food is attached to so much of our holiday experiences.
When my son had food intolerances, it was tough to feel "normal" in the holidays because I felt like so many of those foods were missing. Luckily, he's since outgrew them, but I started this blog just because I know just how much of a difference it can make to have a dairy free version of your favorite foods (especially at this time of year!).
I hope this dairy free pie crust makes it easier for you to recreate your favorites!
How to make dairy free pie crust
There are only a few basic ingredients you'll need to make this dairy free pie crust, and you can choose the type of fat you'd prefer to use. Here's what you'll need:
All-purpose flour
Salt
Sugar
Dairy-free butter (I use Earth Balance) OR dairy-free shortening (I use Nutiva, which is a blend of palm and coconut oil and is vegan-friendly)
Ice water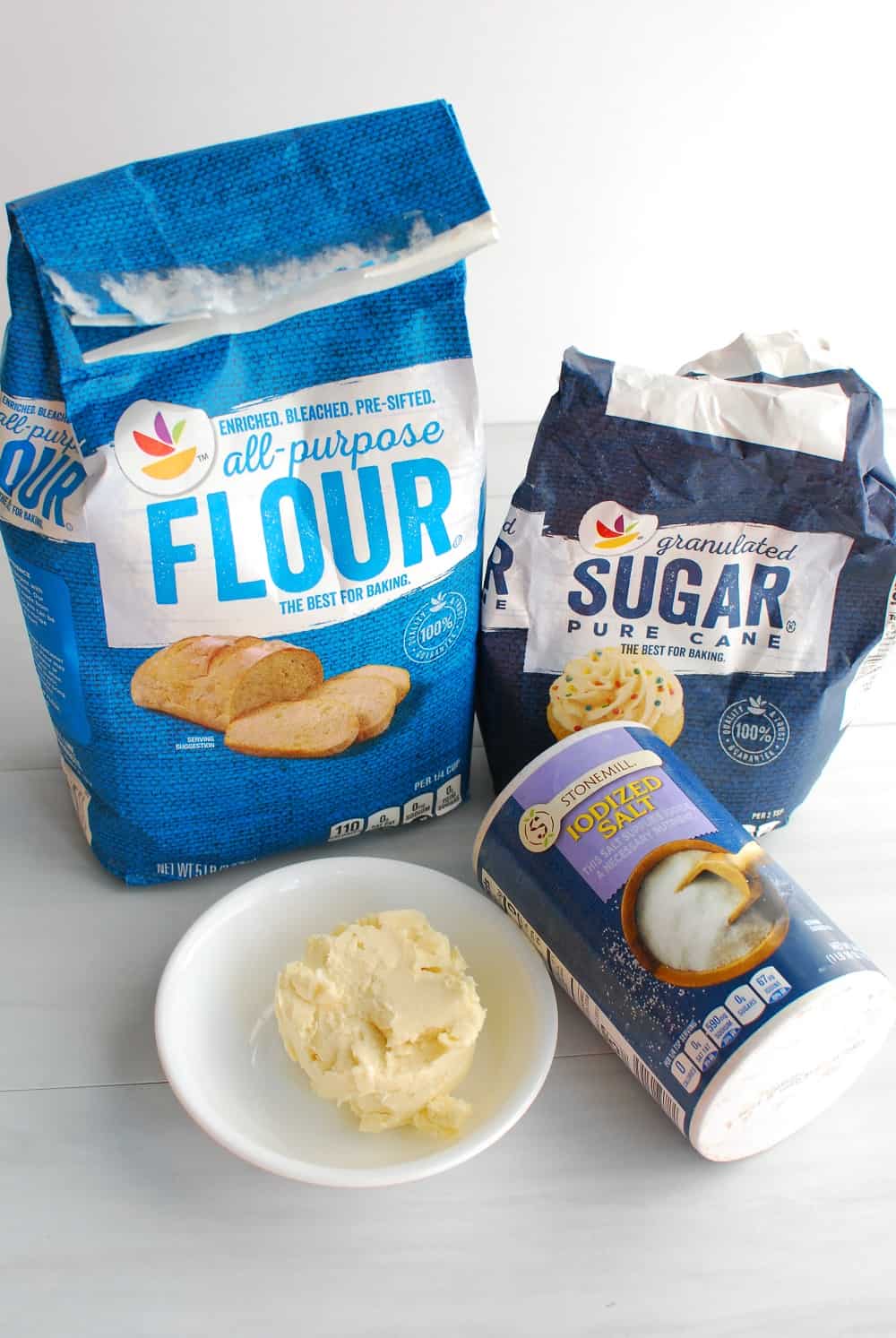 Making this is relatively simple. You'll start by mixing up your flour, salt, and sugar in a large bowl. From there, you'll add chunks of dairy-free butter or shortening to your bowl, and then "cut" it into the flour. I find this easiest to do with a pastry cutter or with two knives.
Essentially, you want to do this until all you see are little pea size or smaller chunks left. (You actually don't want the dairy-free butter fully mixed in as fine as possible, because it's these tiny flour-covered bits that will add the flakiness to the crust.)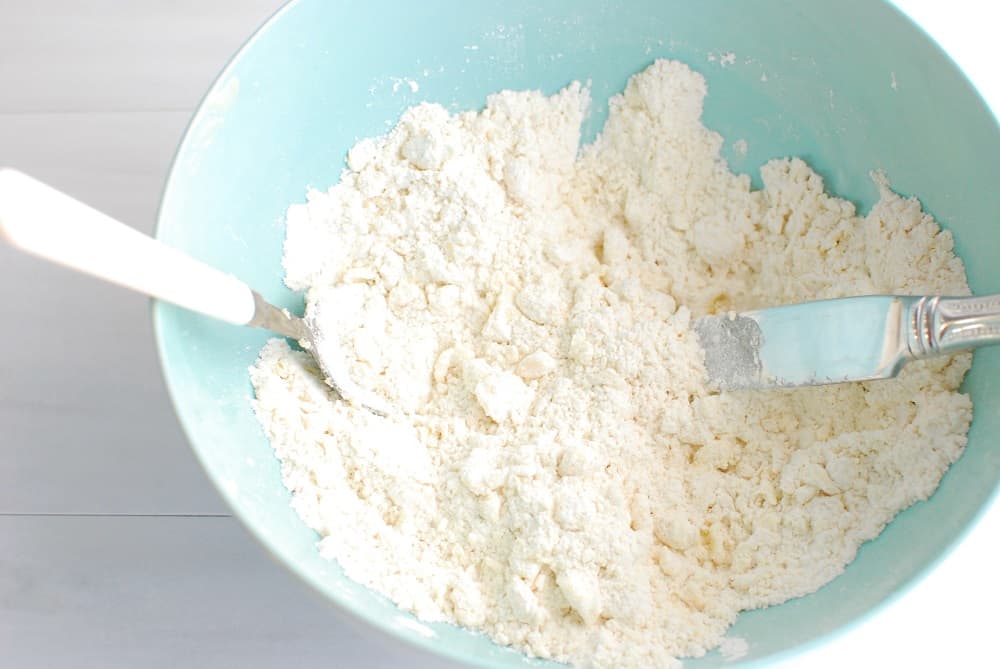 Once you've reached the right texture cutting in your butter, add in ice water a little at a time. You can mix it with a spoon or your hands. You want the dough to come together in a way that's not overly crumbly and not super sticky. Go slowly with the ice water until it reaches that middle ground.
Now, you'll flatten it into a disc and pop it in the fridge for a bit. If you're using dairy-free butter, this step is essential. If you're using shortening, you can probably get away with rolling it out sans chilling, but chilling is still better for both.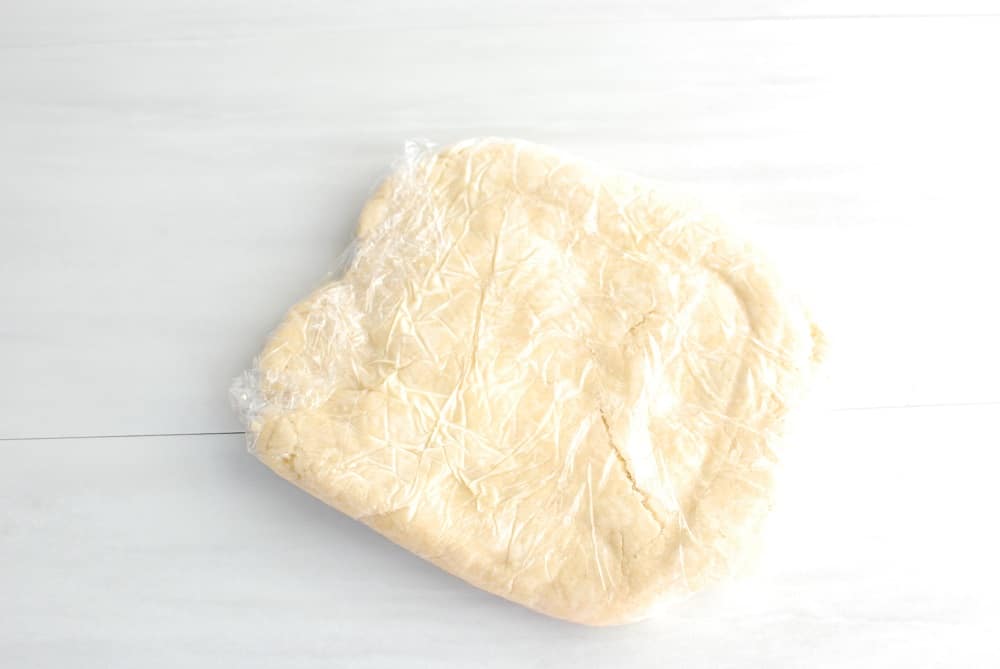 After chilling, it's time to roll out the dough. You'll want to make sure the surface you're rolling it on is well floured. Dairy free butter is softer at room temperature compared to regular butter, which means the dough is more likely to stick compared to regular pie dough. (You probably won't have to worry about it sticking as much if you used shortening).
I usually flour a cutting board really well, and then flour both sides of the dough disc before rolling too.
Here's the benefit to doing this on a cutting board: If the dough starts to stick after it's rolled out (making it tough to lift the dough off) then you can just pop the pie plate on top and flip the whole thing over. Usually gravity will help it settle into the pie dish. If there ends up being a few small holes from sticky spots, just take some excess dough from an edge and patch it up.
I know other people like to roll it out on parchment paper for ease of flipping into the pie dish, so you could try that as well.
Once it's rolled out, you're all set! Pop it in the pie plate and it's ready to be cooked in whatever recipe you'd like.
Dairy free butter vs. dairy free shortening
When it comes to the type of fat you're using, there are pros and cons to each.
A dairy free butter like Earth Balance will make for a more buttery, flaky crust. In my opinion, it makes the best tasting pie crust.
However, it also has more moisture than shortening and sticks more easily when rolling out. This makes it essential to flour the surface well. Lastly, a dairy-free butter has a lower melting point than shortening, so it won't hold its shape quite as well and can sometimes seem flimsier.
Here's the dairy free butter I used, and what the pie crust using this looked like in my pie plate. You can see it's a bit softer and doesn't have a perfect rolled texture: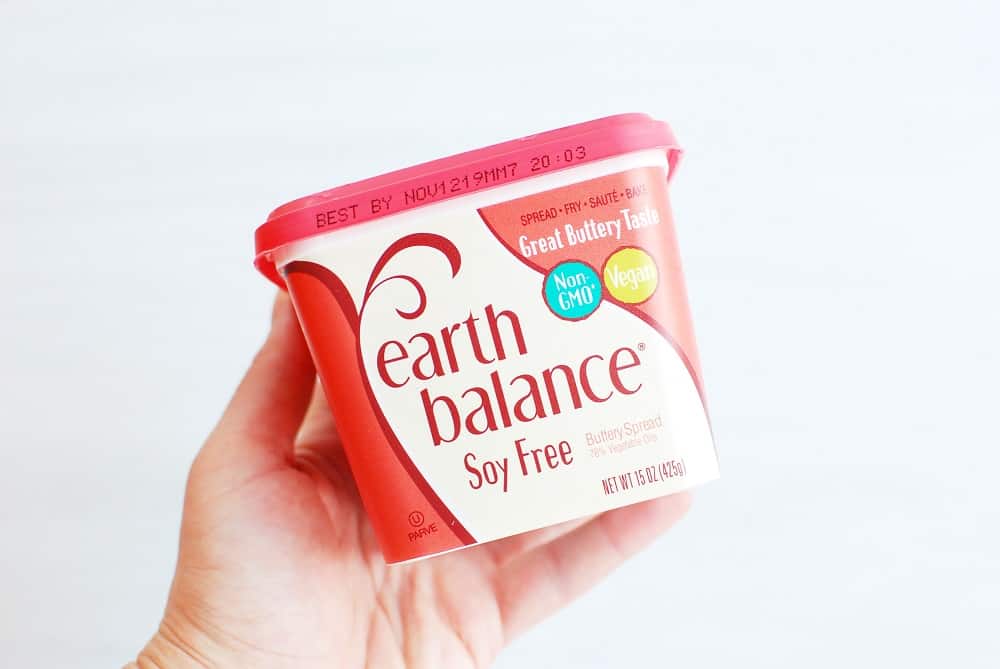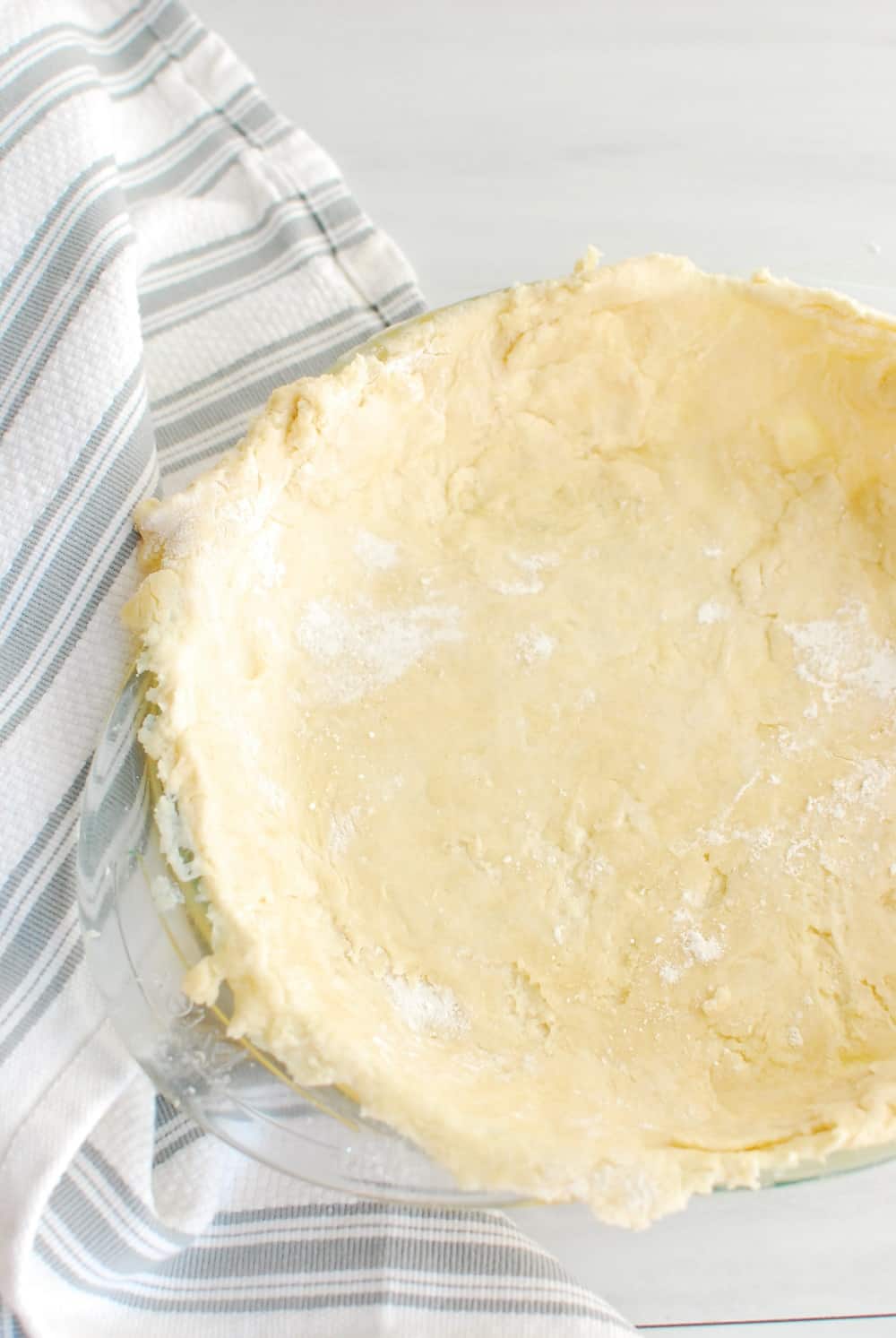 Shortening is easier to incorporate into a pie crust and holds its shape very well. If you're doing any kind of decorative stuff, like crimping the edges or doing a double crust where you're cutting out shapes or strips for the top – you'll probably want to use shortening.
However, shortening lacks the same flavor that you'll get in a dairy-free butter, making the crust a bit blander.
Here's the shortening I used, and what the shortening version looked like in my pie plate. You can see it's firmer and holds it's texture better: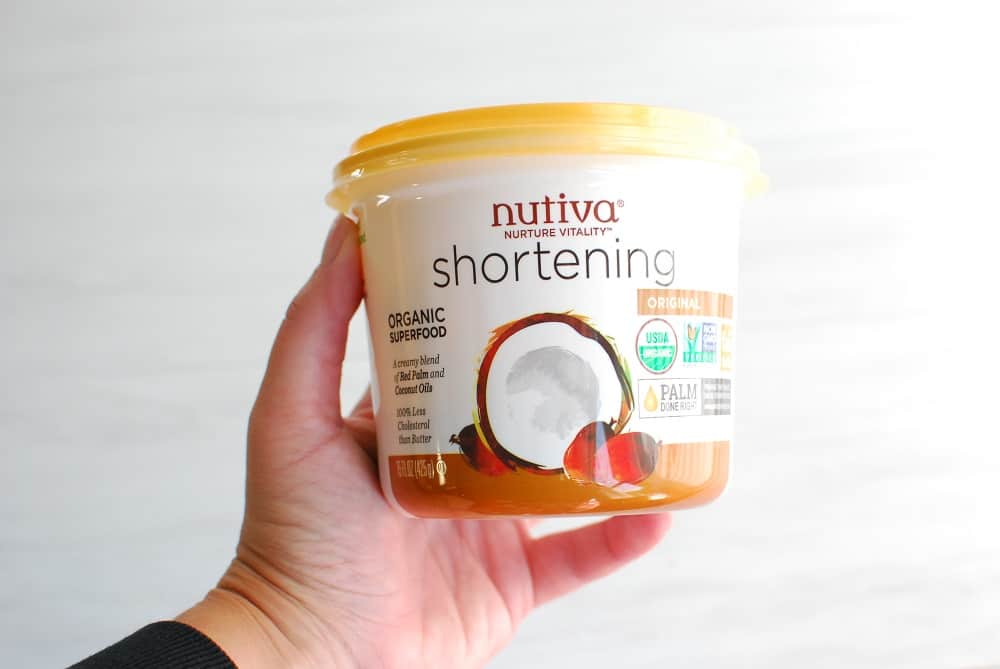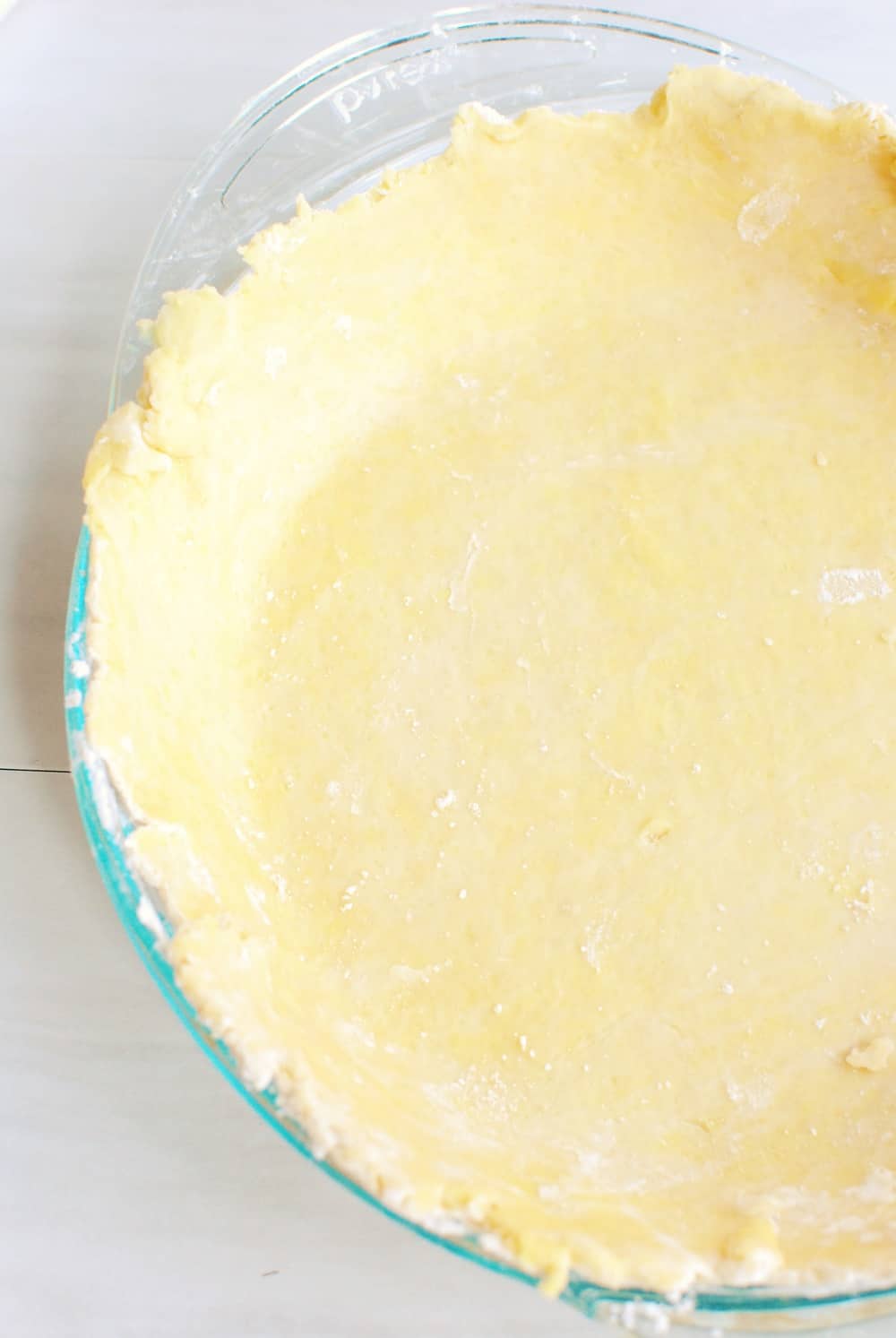 There's no one right choice, and you can decide based on the type of pie you're making, your own personal preferences, and what you have on hand in your kitchen! (I'll personally lean towards an uglier crust with better taste, lol, so I go for the dairy-free butter!)
Allergens & Modifications
Disclaimer: I've identified potential allergens below but as always, check the ingredients and labels to verify for yourself. There's always I chance I may miss something or that a manufacturer has changed formulations.
This recipe is naturally dairy free and egg free.
Depending on the type of dairy-free butter or shortening you use, this can be soy-free – you'll just need to check the ingredients. At the time of publication, both the red container of Earth Balance and the Nutiva Shortening are soy-free.
Most dairy-free butters would also make this recipe nut-free. If you use the Nutiva shortening, there is coconut oil in there – so if you have the type of tree nut allergy where you also avoid coconut, you'd want to skip that and use another choice.
This recipe does contain wheat/gluten.  I have not tested it with a gluten free flour, but if you do, be sure to let me know how it comes out.
As far as special diets, this recipe is naturally vegan friendly as long as the dairy-free butter or shortening you use does not contain animal products. Both the options I suggested would fit a vegan diet. In addition, you'll want to make sure the sugar you choose is vegan-friendly (that it does not go through a bone-char filtering process).
Store bought dairy free pie crust
If you're looking to make things quicker and easier, you can also buy a store-bought crust. Most are actually dairy free, as they're typically made with either lard or a palm-oil based shortening. (Keep in mind that lard would not be a vegan option; if you are vegan double check the ingredients to find a good option for you).
For example, you could try Pillsbury Refrigerated Pie Crust (contains wheat) or Mrs. Smith's Deep Dish Frozen Pie Crust (contains wheat). Of course, always be sure to check ingredients yourself as product formulations can change.
At the time of publish, Trader Joes frozen pie crusts (both their regular and gluten free) DO contain milk and those would should be avoided (unless they have since changed formulations).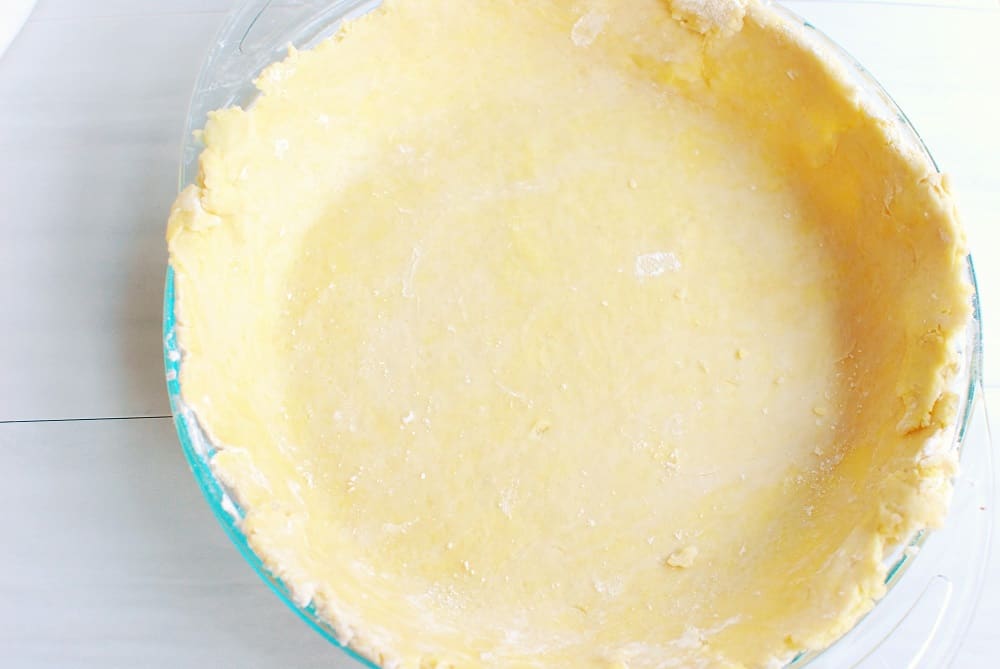 Alright, I think that's everything you need to know about baking (or buying, haha!) the perfect dairy free pie crust! I hope you get a chance to test out this dairy free pie crust soon! If you get a chance to try it, be sure to leave a recipe rating or comment below.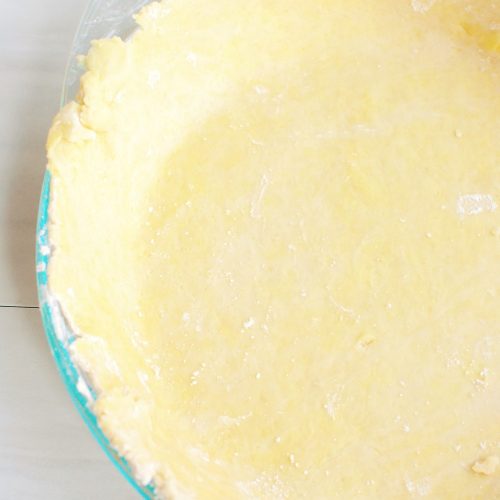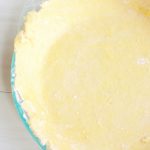 Dairy Free Pie Crust
This dairy free pie crust is flaky and flavorful – ideal for any of your favorite pie recipes!
Ingredients
1 1/4

cups

all-purpose flour

1/4

tsp

salt

1

tbsp

sugar

1/2

cup

cold dairy-free butter or dairy-free shortening

(recommend Earth Balance or Nutiva)

3-6

tbsp

ice water
Instructions
Combine the flour, salt, and sugar in a large bowl. Stir until well combined.

Cut the dairy-free butter into chunks and add it to the bowl. Use a pastry cutter or knife to "cut" the dairy-free butter into the flour until you see mostly pea-sized pieces left.

Add ice water 1 tbsp at a time, mixing with a spoon or your fingers, until the dough comes together and is no longer crumbly. (Note – you don't want it to be overly sticky either – you want it to come together without falling apart).

Flatten into a round disc and wrap in plastic wrap. Place in the refrigerator for 30 minutes.

After chilling, roll out dough on a well-floured surface. Place the dough in a pie dish and bake according to your favorite pie recipe.
Recipe Notes
Notes:
This recipe yields one single crust. If you're making a double crust (i.e. top and bottom crust) recipe, be sure to double the recipe.
Don't skimp on the flour when rolling out the dough. Dairy-free butter is softer than regular butter which means it sticks easier to the surface you're rolling on.
Share:  What treats do you remember eating with your family around the holidays?  If you tried this dairy free pie crust, what did you think?
Feel free to pin this post to save for later!