There's nothing like a good batch of dairy free oatmeal cookies! This recipe will make you feel like you're back at Grandma's house. While they taste great as written with chocolate chips and walnuts, you can easily go the oatmeal raisin route if you'd prefer.
Ingredients
Here's what you'll need to make this recipe, and why:
Dairy-free butter – There are lots of options on the market these days, but my go-to choices are usually Country Crock Plant Butter Sticks with Avocado Oil (these work really well!) or Earth Balance.
Brown sugar – Oatmeal cookies are known to have a brown-sugar-forward flavor, so we use much more brown sugar than white sugar in this recipe.
Granulated sugar – A little granulated sugar helps with the overall texture of the recipe.
Eggs – These are key for structure of the cookie, helping to hold it together upon cooling. The yolk also provides some richness.
Vanilla – This helps bring out the many flavors in the cookie recipe.
Flour and Oats – These make up the base of the recipe. Using both creates an ideal texture (in my opinion!).
Cinnamon – Just a little cinnamon goes a long way towards the overall flavor.
Baking soda – This is the leavening agent we'll use. Note that these cookies are on the flatter side, which is normal for this recipe. They'll be a little chewy, a little crunchy, and perfectly delicious.
Salt – Similar to vanilla, salt helps bring out other flavors in the recipe. It also helps homemade cookies last longer.
Dairy free chocolate chips – I'll always take chocolate over raisins, but you can definitely go with the later if you prefer. For a dairy free cookie, be sure you're choosing chocolate chips that are specifically dairy free. My favorite is Enjoy Life dark chocolate chips.
Walnuts – These add a bit of crunch and nuttiness.
Instructions
You'll find full instructions and ingredient amounts in the recipe card at the bottom of this post – but this section has some helpful tips and process shots.
Making these cookies is similar to any other cookie recipe you've made! First, you'll start by creaming together the butter and sugar until it's light and fluffy, like this: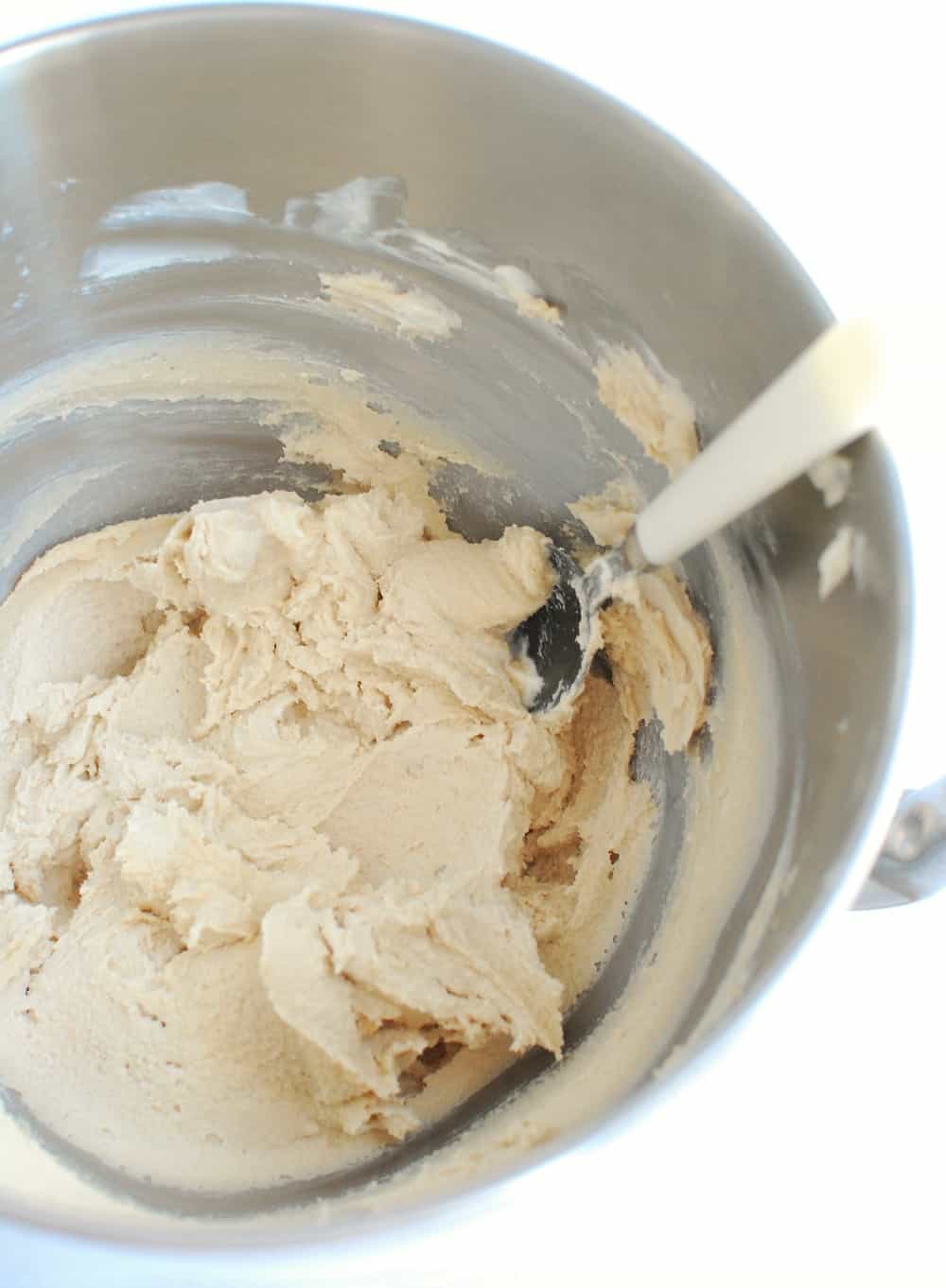 Then, mix in your eggs and vanilla, again beating until it's light and fluffy.
After that, you'll stir in your flour, cinnamon, baking soda, and salt. You can combine them all in another bowl first if you'd like, but I go the lazy person's route: I just add all these dry ingredients on top of the wet ingredients, then stir it around a bit on top to combine those. Then I go ahead and stir everything together.
Next, fold in your oats, chocolate chips, and walnuts. The final dough will look like this: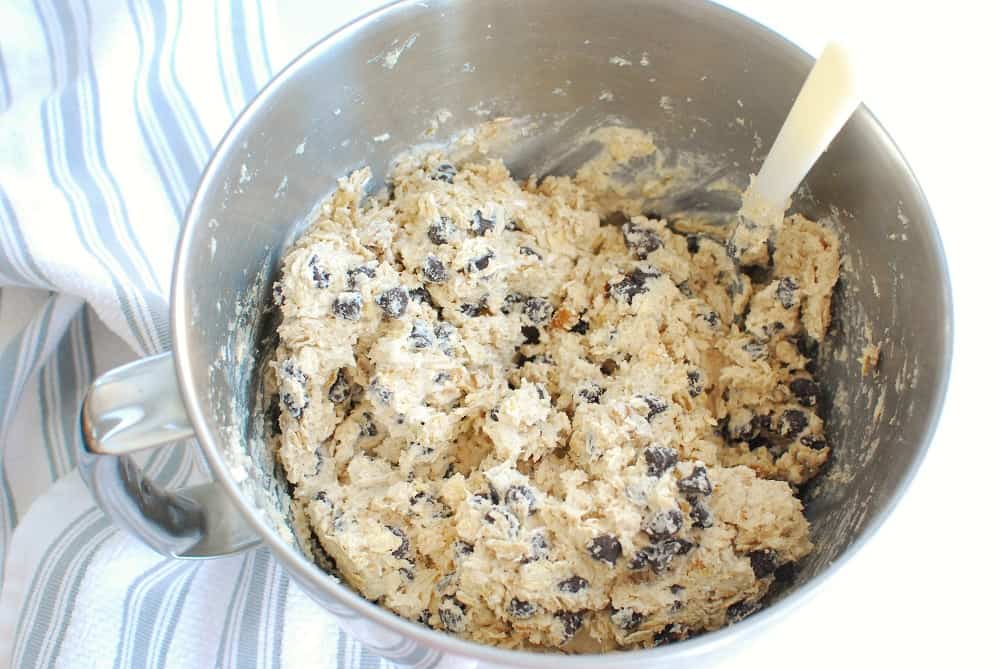 Now just scoop it out on your baking sheets! You'll definitely want to use parchment paper or silicone-lined baking sheets. Not only do these prevent sticking and keep your pan cleaner, but they also prevent over-browning on the bottom.
I use a heaping tablespoon to measure out my cookie dough. I just take a regular tablespoon, get a big scoop, and plop that on the baking sheet. But you can definitely use a cookie scoop if you have one, or a regular spoon works just fine too. Just try to make sure they're all approximately the same size for even baking.
Last step is to bake them in the oven, then let them cool and enjoy! As a helpful tip, you want to let them cool on the baking sheet completely prior to eating them. They will feel soft in the first few minutes after removing them, and may seem like they're going to fall apart. Have patience and let them cool completely – they will keep their cookie form!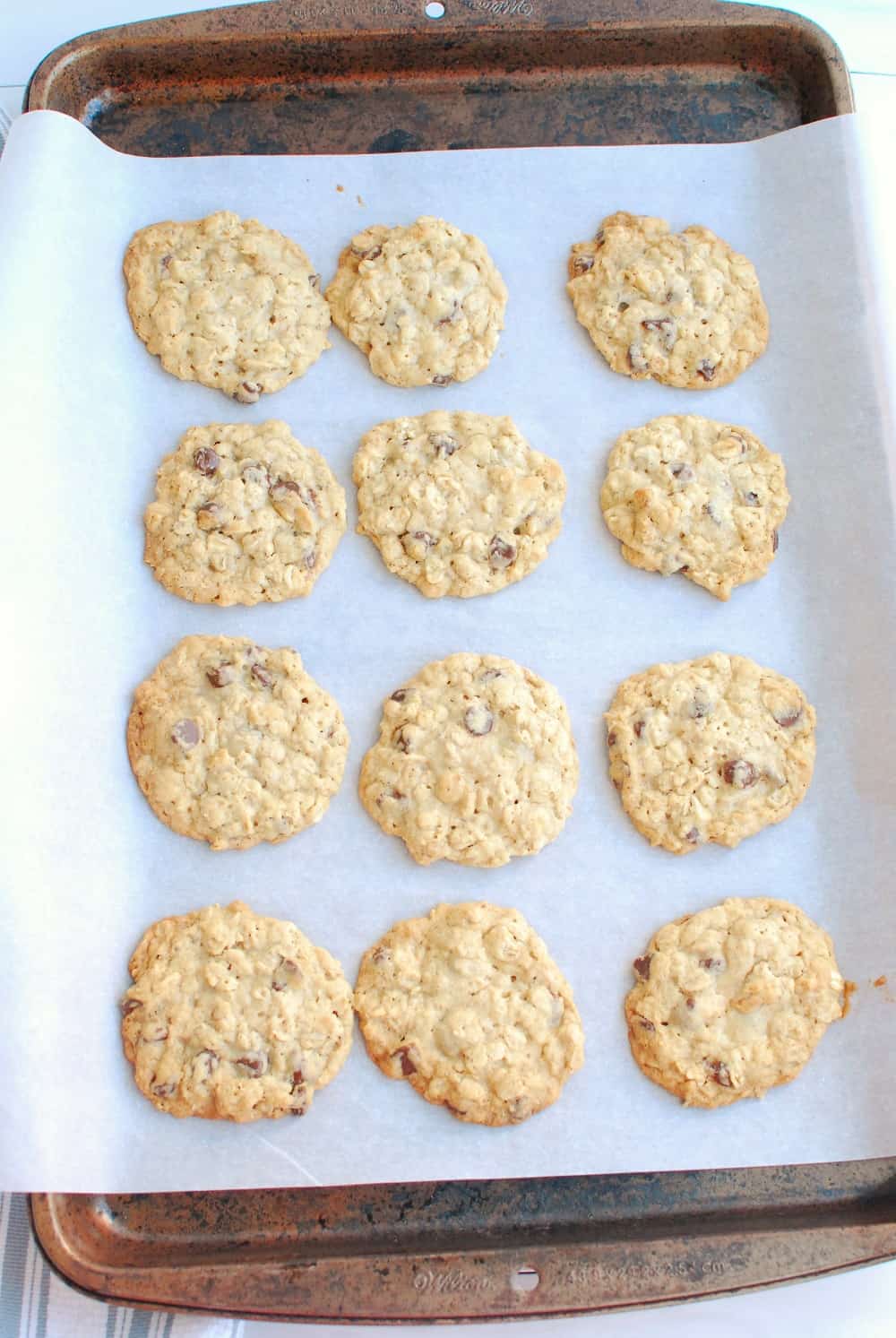 Recipe FAQ
Here are some common questions that may come up as you prepare these dairy free oatmeal cookies:
What oatmeal is best for cookies? Rolled oats gives that classic hearty texture. Instant oats can also be used though if that's all you have on hand.
Can you make oatmeal cookies with steel cut oats? No. I have tried it before out of curiosity, even pulsing the steel cut oats or using some extra liquid – it does not work and the cookies have a tooth-hurting crunch to them. (There are ways to use leftover cooked steel cut oatmeal in cookies, but you'd need a recipe that specifically is designed for that).
Can you freeze the cookie dough? Yes. In fact, when I make these, I always bake off half of them and freeze the other half. To do so, scoop the cookie dough onto a parchment-lined baking sheet, and place that in the freezer. After an hour or two, transfer the frozen cookie dough balls to a freezer-safe zip-top bag. You can cook these from frozen; they may just require a few extra minutes in the oven.
Allergens in this recipe
*Disclaimer – Always double check ingredients to confirm a product meets your allergy needs. While I try to note potential allergens below, there is always the chance I may miss something or that manufacturer formulations may change.
As written, this recipe is dairy free. Depending on your choice of dairy-free butter it may also be soy free as well (for example, you could use soy-free Earth Balance).
This recipe does contain eggs, gluten/wheat, and nuts. Here are some instructions to modify:
To make this gluten free: Use a 1:1 gluten-free all purpose flour mixture in combination with certified gluten free rolled oats.
To make this nut free: Skip the walnuts and double check that your dairy free butter does not contain nuts.
To make this egg free: These cookies are a bit more fragile than other recipes, and as such, the egg is really helpful to hold structure. If you must skip the egg, I would recommend using a flax egg in it's place, and also consider chilling the dough prior to baking. However, I have not tested this to ensure that it works.
More dairy free cookie recipes
There are tons of delicious options here on our site – here's just a few of our favorites (and yes, they're all dairy free)!
I hope you get a chance to try these dairy free oatmeal cookies! If you do, feel free to leave a recipe rating or comment below.
PS – If you want to get really decadent, make these cookies and then make some homemade dairy free buttercream, and sandwich it in between two. 🙂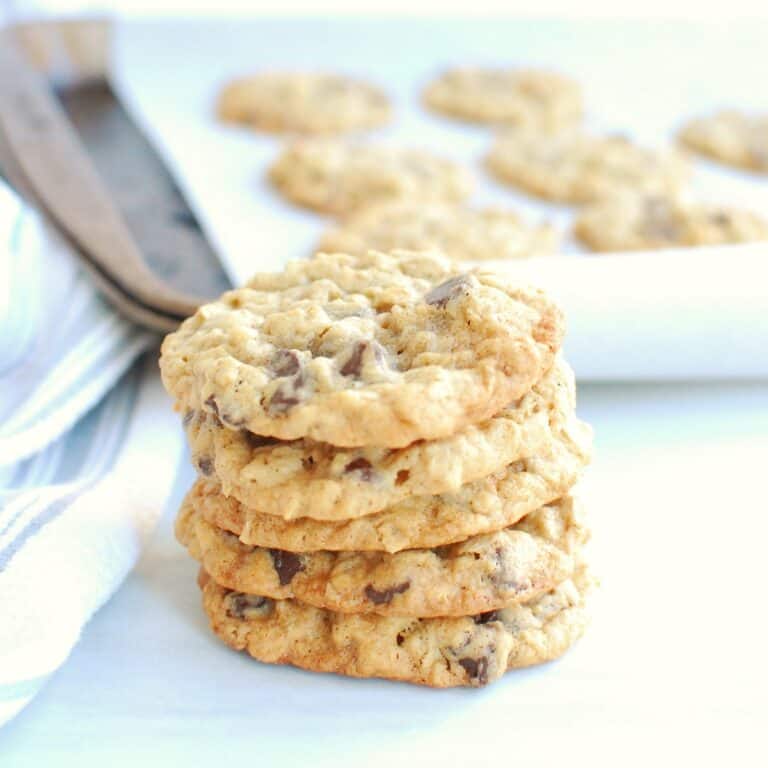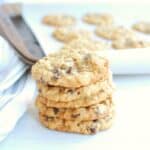 Dairy Free Oatmeal Cookies
These dairy free oatmeal cookies have the perfect soft and chewy texture. They're easy to make and taste delicious.
Ingredients
1

cup

dairy-free butter, softened

(two sticks)

1 1/2

cups

brown sugar

1/4

cup

granulated sugar

2

eggs

2

tsp

vanilla extract

1 1/2

cups

all-purpose flour

(spooned and leveled)

1/2

tsp

cinnamon

3/4

tsp

baking soda

1/2

tsp

salt

3

cups

rolled oats

1 1/2

cups

dairy-free chocolate chips

1/2

cup

chopped walnuts
Instructions
Preheat the oven to 350 degrees F. Line two baking sheets with parchment paper.

In a large mixing bowl, combine the dairy free butter, brown sugar, and granulated sugar. Beat until light and fluffy.

Mix in the eggs and vanilla extract, beating again until the mixture is light and fluffy.

Add in the flour, cinnamon, baking soda, and salt over the rest of the mixture. Give the top ingredients a stir, then stir all the ingredients to combine.

Fold in the oats, chocolate chips, and walnuts.

Portion the cookie dough onto your prepared baking sheets, using a heaping tablespoon (you'll need to work in batches – all the cookies won't fit on two baking sheets).

Place the baking sheets in the oven (on the center rack and upper-center rack if your heating source is on the bottom). Bake for 11-13 minutes, or until a light golden-brown color.

Remove from the oven and let cool fully on the baking sheet. When fully cooled, enjoy!
Recipe Notes
This recipe makes 48 cookies using a heaping tablespoon, but will make less if using a larger cookie size.
You can use raisins or dried cranberries in place of the chocolate chips if you prefer.
Do not remove the cookies from the baking sheet until fully cooled, or they will crumble and will not hold their form.
Nutrition analysis (approximate per cookie): 136 calories, 7 g fat, 3 g saturated fat, 85 mg sodium, 18 g carbohydrate, 1 g fiber, 11 g sugar, 2 g protein, Vitamin D: 0%, Calcium: 1%, Iron: 4%, Potassium: 1%
Share: When it comes to oatmeal cookies, are you team chocolate chip or team raisin?
PS – Feel free to pin this post to save for later!