If you need a delicious dessert to whip up this week, you need to try these vegan smores cookies! They've got all the key elements of the classic smores flavor baked into a rich, decadent chocolate chunk cookie. No campfire necessary for this smores treat!
Disclosure: This post contains Amazon affiliate links. As an affiliate, I earn a commission on qualifying purchases.
How to make these cookies
These might look complex, but they're actually very simple. You'll start out by making your cookie base. For this, you'll need these ingredients:
Ground flaxseed
Water
Vegan graham crackers
Vegan butter
Brown sugar
Granulated sugar
Vanilla
All-purpose flour
Salt
Baking soda
Chocolate chunks or chips (dairy free)
First, you'll mix together the flaxseed and water to create a "flax egg." Ground flax becomes very gelatinous in hot water, which helps hold together the structure of the cookie when it's used. Here's what that looks like: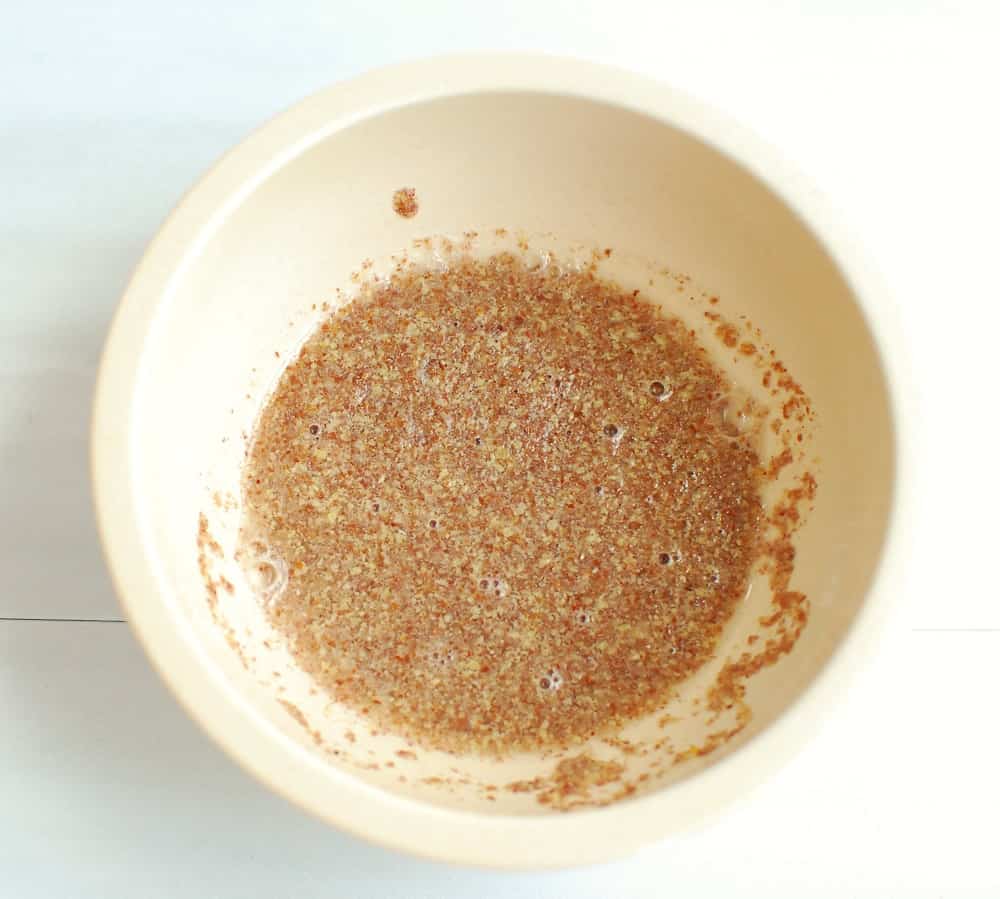 After that, you'll make some graham cracker crumbs from your crackers. Just pop 'em in the food processor and blend 'em up!
Now it's time to make your dough. Mix together the butter, brown sugar, and white sugar. Then add in the "flax egg" and vanilla.
Next, stir in the dry ingredients – flour, graham cracker crumbs, salt, and baking soda. Last step is to fold in the chocolate chunks.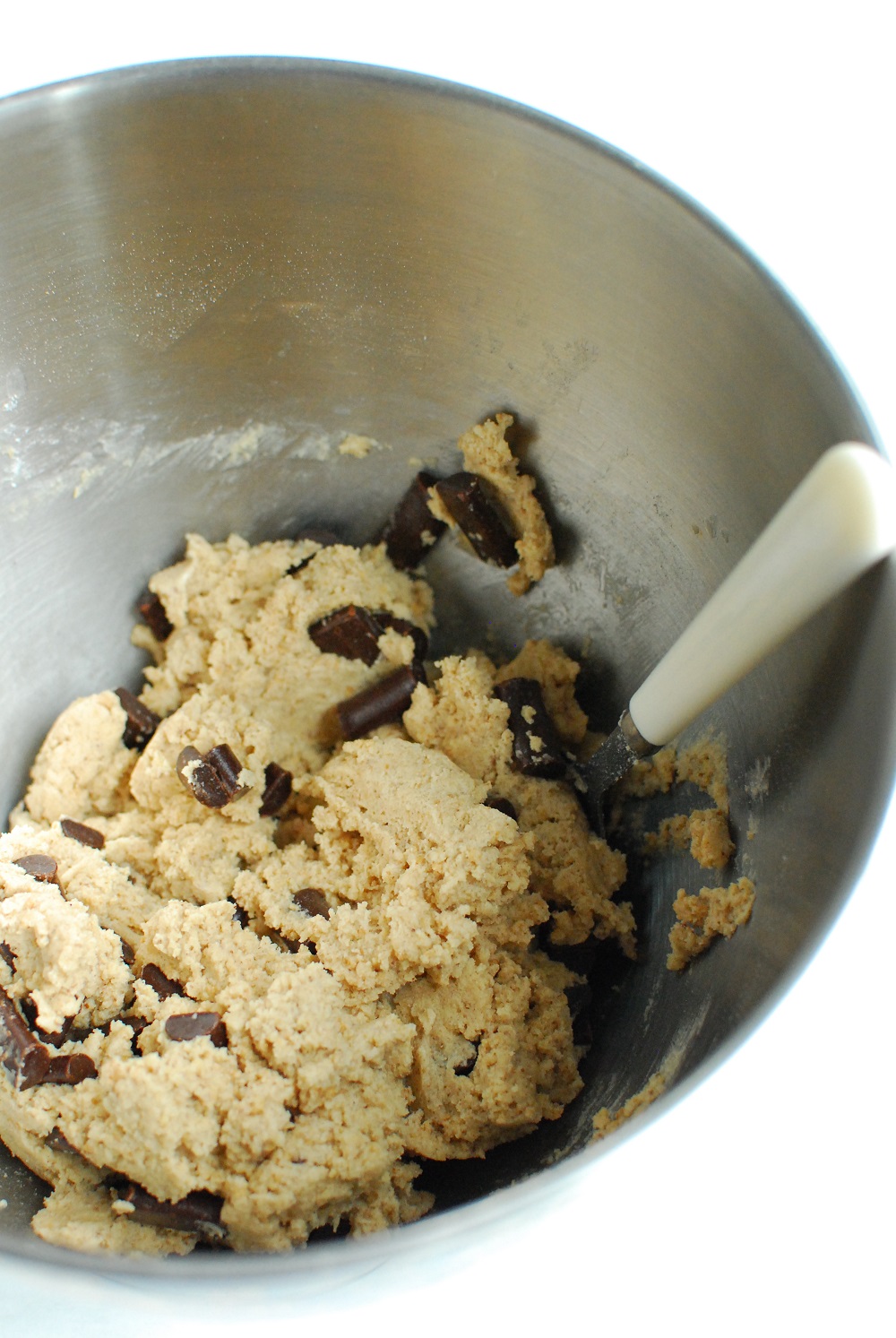 Now you'll bake 'em. But they key to getting the ultimate smores flavor in these cookies is pulling them out a few minutes before they're done to add a topping.
The topping is simply a stack of a small piece of each of these: graham cracker, chocolate, and marshmallow (all vegan of course).
Then you'll pop them back in the oven for a few minutes to finish them – and voila! The most perfect and decadent smores cookie.
Ingredient Tips
Most of the ingredients in this recipe are pantry staples, but there are a few things you may need to search for in order to make a fully vegan version of this recipe: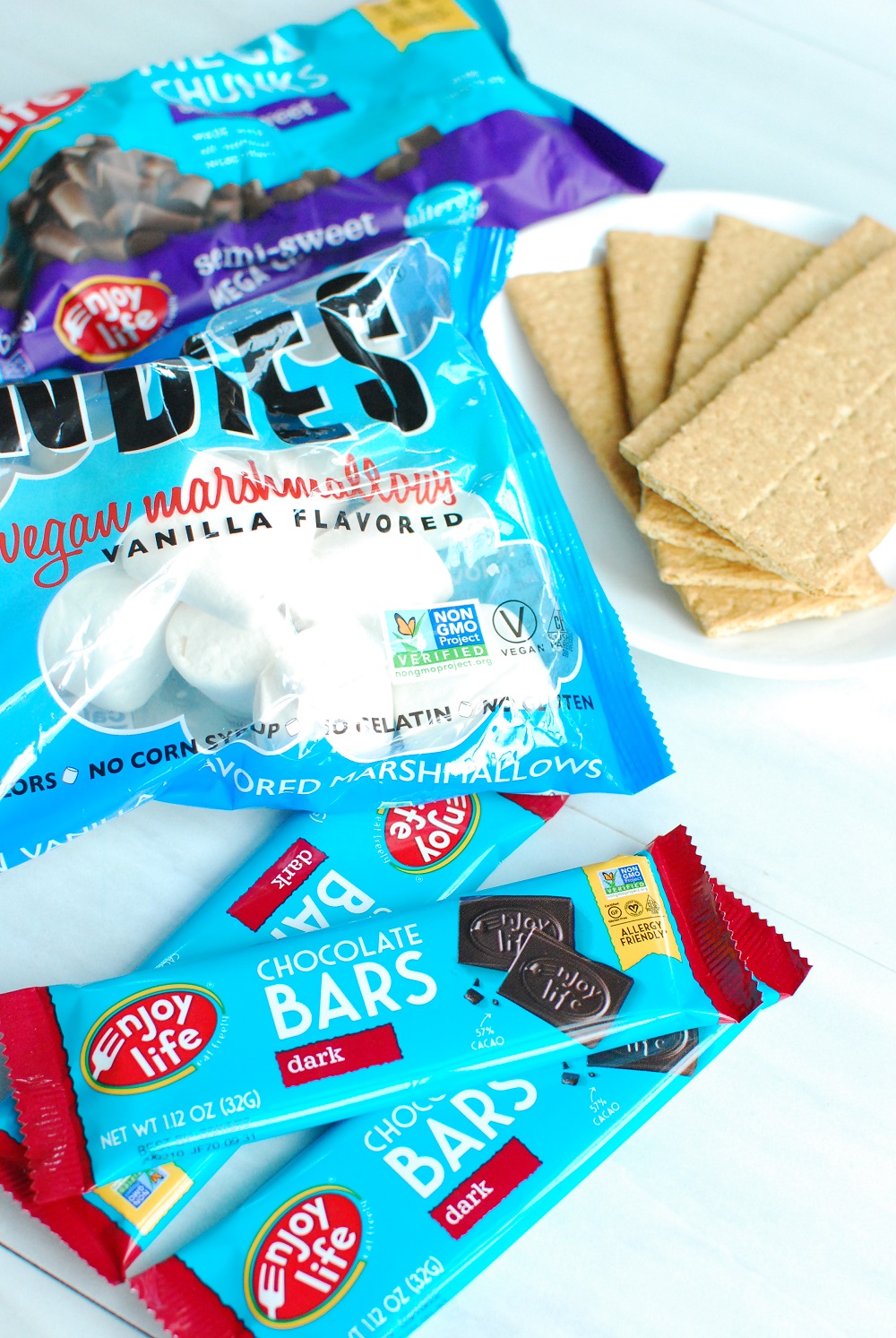 Vegan marshmallows: Most standard marshmallows are not vegan, as they use gelatin. You'll need to look specifically for vegan-friendly marshmallows if you do not eat any animal products. Here's a few suggested brands:
Dandies (what I used here)
Trader Joes
Smucker's Marshmallow Topping – If you can't find any of the vegan marshmallows above, you can try this spreadable marshmallow cream. Just spoon a dollop on your cookie when you do the topping!
Vegan graham crackers: Graham crackers are another product that typically isn't vegan, solely because it contains honey. Again, if you are strict as far as no animal products at all, look for a version that specifically does not contain honey. Here are a few vegan graham cracker brands:
Kroger Original Graham Crackers
Chocolate: Most chocolate contains milk, but you can find plenty of varieties on the market that do not. I love Enjoy Life, and used that for both the chocolate chunks and the chocolate bar squares for the optional topping.
Sugar: Some brands of sugar are filtered using bone char. If you're a strict vegan that avoids all animal byproducts, you'll need to look for vegan-friendly brands of white sugar and brown sugar. Many stores offer brands that fit these needs – here are a few examples:
Trader Joe's
Any brand of beet sugar
Any certified organic sugar
Recipe FAQ
Here are some common questions that my come up as you prepare this:
Why didn't the marshmallows melt?
Many vegan marshmallow brands don't melt as well as conventional ones. That's OK (and actually, we don't want a huge melty mess)! It should still soften in the oven and work well for this recipe.
How should you let these cool?
Let the vegan smores cookies cool right on the cookie sheet after they come out of the oven. They should be ready to eat in about 5-10 minutes.
Can you freeze the dough?
Yes, you can! Scoop it into individual cookie balls and freeze it on a baking sheet, then transfer to a zip top bag for long term freezer storage. They generally will last about 2-3 months at optimal quality. You can cook directly from frozen; they'll just need a few extra minutes in the oven.
Can you make one of those big 'ol stuffed smores cookies?
Yes, if you'd prefer a stuffed cookie rather than a topped cookie, you can do it! However, you'll need to make sure you have a brand of vegan marshmallows that does melt for this version. If you want a mega-cookie with the smores filling on the inside, here's what to do:
First, create two large cookie discs, about the size of the palm of a small hand. Place the piece of graham cracker, chocolate, and marshmallow on top of the first disc. Then place the second disc on top of that, and sandwich it all together so the filling is completely enclosed. Refrigerate those for 15-30 minutes, then bake at 375 degrees for about 10 minutes.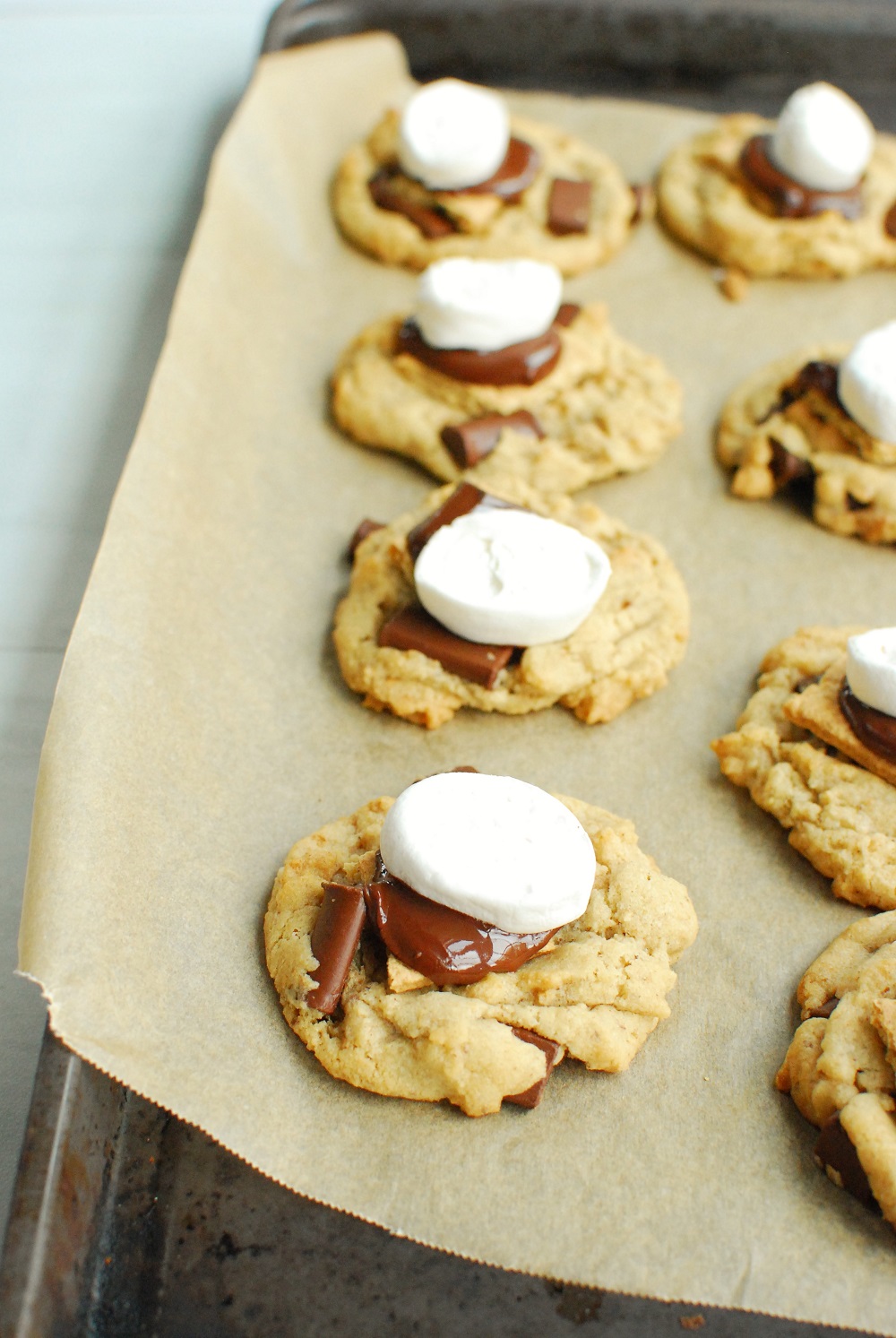 Allergens in this recipe
Disclaimer: Always double check ingredients and labels yourself prior to making a recipe. While I try to check all ingredients for allergens, there's always the chance I may miss something or manufacturer formulations can change.
This recipe is dairy free and egg free.
As long as the ingredients you use do not contain nuts, this recipe is nut free too. (For example, if you use Country Crock Plant Butter made with avocado oil, this should be nut free, but if you used Country Crock Plant Butter with almond oil, it would contain tree nuts).
This recipe does contain soy, as it is present in the Dandies marshmallows I used. If you can find a vegan soy-free marshmallow, and confirm that your graham crackers are soy free, you could modify the recipe to meet those needs.
This recipe does contain wheat/gluten. If you'd like to attempt making a gluten free version, you can try subbing a 1:1 gluten free blend for the all-purpose flour. You'll also need to substitute the graham crackers for a version that is both vegan and gluten free. It can be difficult to find that; the only brand I currently know of is Kinnikinnick Foods Graham Crackers.
Please note I have not verified that this recipe can be made with these substitutions, but if you try it, please do leave a comment and let us know how it turned out.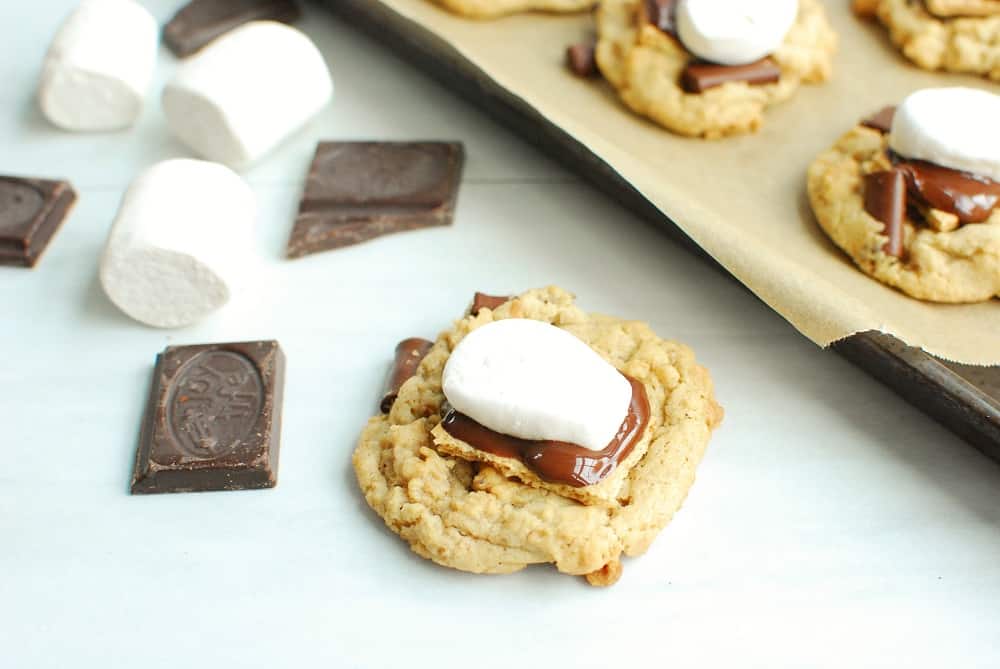 I hope you enjoy these vegan smores cookies! If you get a chance to try them, I'd love for you to leave a recipe rating or comment. And if you're looking for another cookie recipe to try, be sure to check out our vegan lemon cookies and our vegan pumpkin chocolate chip cookies.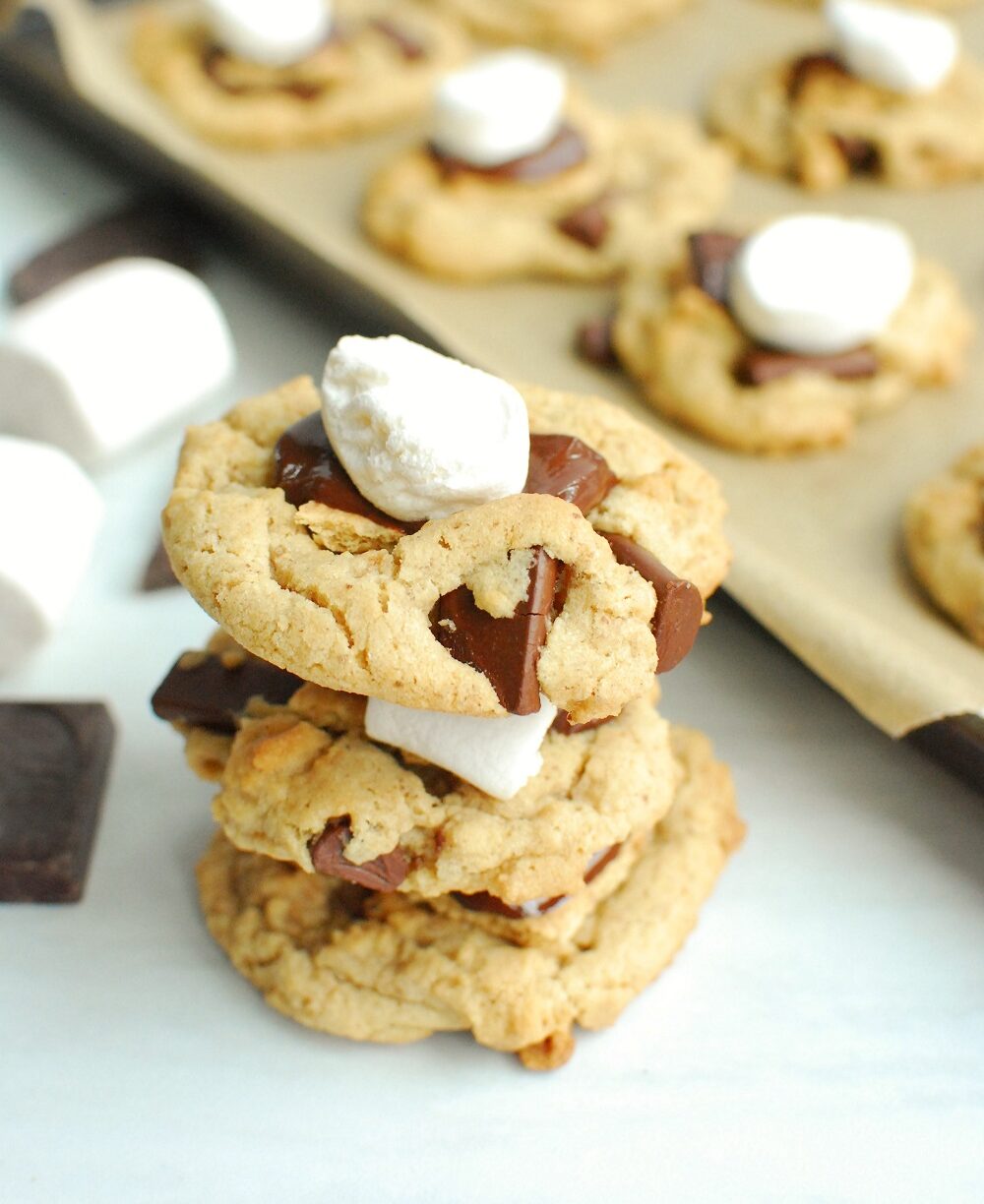 Vegan Smores Cookies
These vegan smores cookies are perfect when you're craving a tasty dessert - no campfire necessary!
Ingredients
For the cookies:
1

tbsp

ground flax seed

2 1/2

tbsp

hot water

5

vegan graham crackers (full rectangles)

(or 1/2 cup prepared graham cracker crumbs)

1/2

cup

vegan butter, softened

(I used Country Crock Plant Butter made with Avocado Oil)

1/2

cup

brown sugar

1/4

cup

white sugar

1

tsp

vanilla

1

cup

all-purpose flour

1/4

tsp

salt

1/2

tsp

baking soda

3/4

cups

dairy-free chocolate chunks

(or chips)
For the topping (optional):
3

vegan graham crackers

broken into 8 small pieces each

7

vegan marshmallows

like Dandies, cut in thirds

3

small Enjoy Life dark chocolate bars

broken into the four squares and then halved (or additional Enjoy Life chocolate chunks)
Instructions
Preheat the oven to 350 degrees F. Line two baking sheets with parchment paper.

In a small bowl, combine the ground flax seed and the hot water. Let sit for a few minutes.

Take the 5 vegan graham crackers (five full rectangles; not squares) and place them in a food processor. Pulse several times until the mixture is like a coarse flour. Measure out half a cup of that and set it aside for now.

In a large mixing bowl, cream together the vegan butter, brown sugar, and white sugar, until light and fluffy. Add the ground flax mixture and vanilla, and stir until combined.

Add the half cup of graham cracker crumbs you prepared a few minutes ago, along with the flour, salt, and baking soda. Stir until combined. Fold in the chocolate chunks.

Place in the oven at 350 degrees F. Bake for 10 minutes, then remove from the oven. Place a small piece of graham cracker on each cookie, followed by a piece of chocolate, and lastly a piece of marshmallow. Place back in the oven and cook for another 1-2 minutes, or until the marshmallow is soft.*
Recipe Notes
If you are NOT using the topping, simply bake for 11-12 minutes.
Nutrition analysis (approximate per cookie):  197 calories, 9.5 g fat, 5 g saturated fat, 135 mg sodium, 27 g carbohydrate, 1.5 g fiber, 17 g sugar, 2 g protein, Calcium: 2%, Iron: 8%, Vitamin D: 0%, Potassium: 1%
Share: What's your favorite kind of cookie to bake?