Have you spotted those viral videos of hot cocoa bombs and wanted to try one – but can't have dairy? Not to worry! This homemade dairy free hot chocolate bomb recipe is insanely delicious (might I say even more so than it's conventional dairy counterpart). And you can easily make these vegan depending on your ingredient choices.
Try this cozy recipe today, perfect for snuggling up with on a cold winter night during the holidays.
Disclosure: This post contains Amazon Affiliate links. As an affiliate, I earn a commission on qualifying purchases.
Step 1: Find a Silicone Mold
This recipe is actually quite easy to make, but the hardest task right now might be finding a silicone mold. I think those viral videos caused a spike in sales, because it was a little tough to find one that wasn't backordered!
Hopefully you've already got a dome mold on hand – but if not, check these options on Amazon. Browse through and take a look at shipping dates for them before you purchase. Several are shipping a few weeks out, but if you order them now, you'll have time to enjoy them during the holidays.
You might be able to find some that ship quickly too if you're lucky. I purchased this set and it was shipped in just a few days, so definitely check out all the options! (Yes, that set has three molds and only one is relevant to this recipe, but I figure I'll use the other two smaller molds for other fun projects).
Of course, there are other places to check besides Amazon. Craft stores like Michaels often carry these molds near their cake and candy supplies. You can also check Walmart online; I know they had a few options last time I checked.
If you can't find any dome molds that will ship in a reasonable time frame – think outside the box. Heart-shaped molds or small cupcake molds could both work; just make sure they'll fit in the mugs you have. You could even try one of the egg bite molds that people use for their Instant Pot – get creative!
Step 2: Make 'Em!
Now that you've got your mold, let's make our dairy free hot chocolate bombs! Here's what you'll need (full amounts and instructions in the recipe card at the bottom; just adding some helpful step by step process photos here!):
Dairy free dark chocolate chips
Unsweetened cocoa powder
Granulated sugar
Mini marshmallows
Vanilla almond milk (or oat milk)
Start by melting your chocolate in the microwave. Be sure to do it in 30-second intervals and stir between each interval – this will allow the chocolate to fully melt without burning.
Put a spoonful of chocolate into each of six spaces in your dome mold. Use the spoon to thoroughly spread the chocolate all over the dome. If any spaces look thin or you see spots of the mold, add a little more chocolate.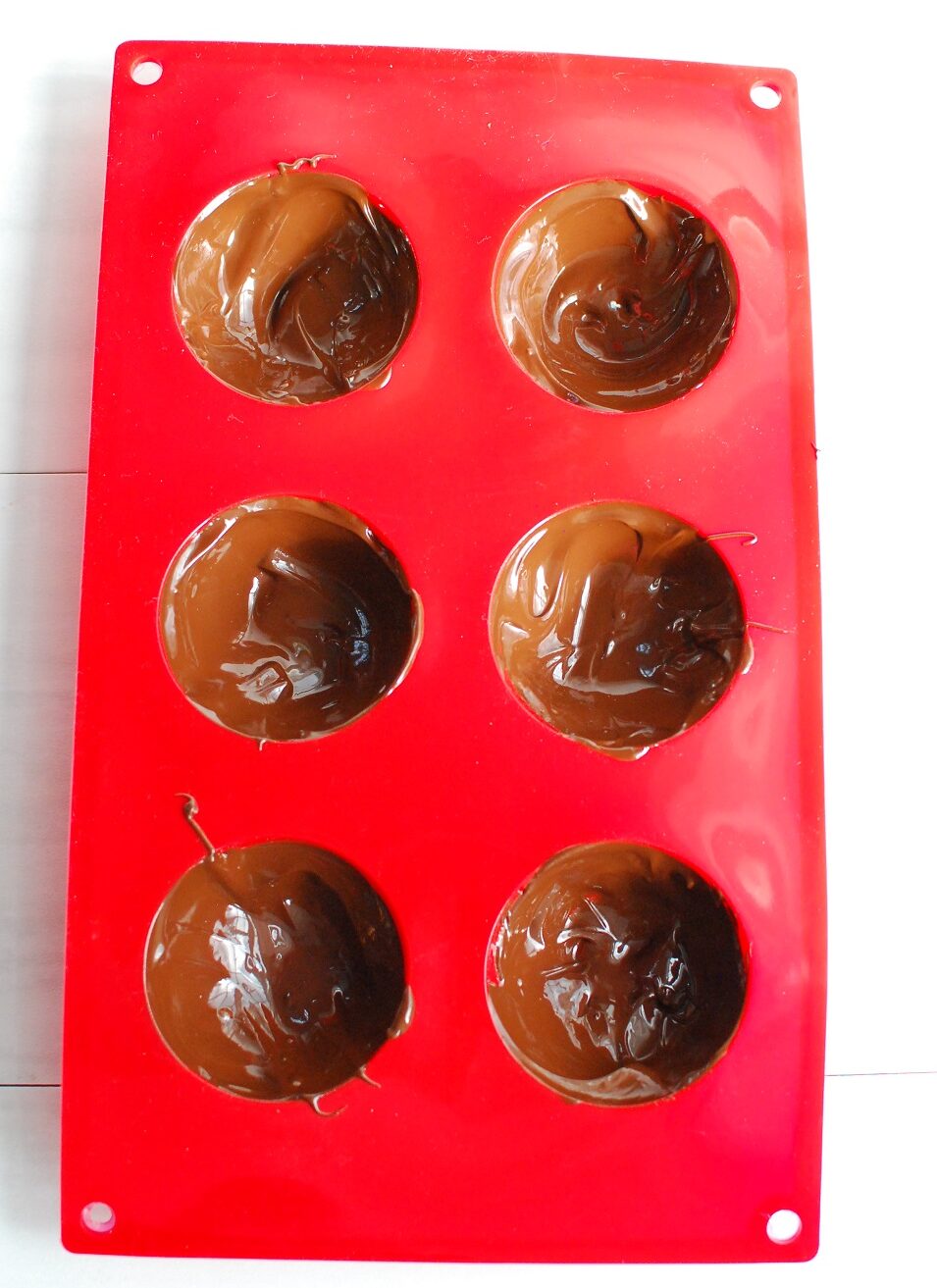 As a note, you probably won't use the entire 3/4 cup of chocolate – more like 2/3 – but it's better to have a little extra if you need it. The mold sizes aren't always standardized, and you also may need to add a little more chocolate if you notice there are any holes.
Once you've got the chocolate in there, put the mold in the freezer for about 10 minutes. The chocolate should harden and you can pop each dome right out.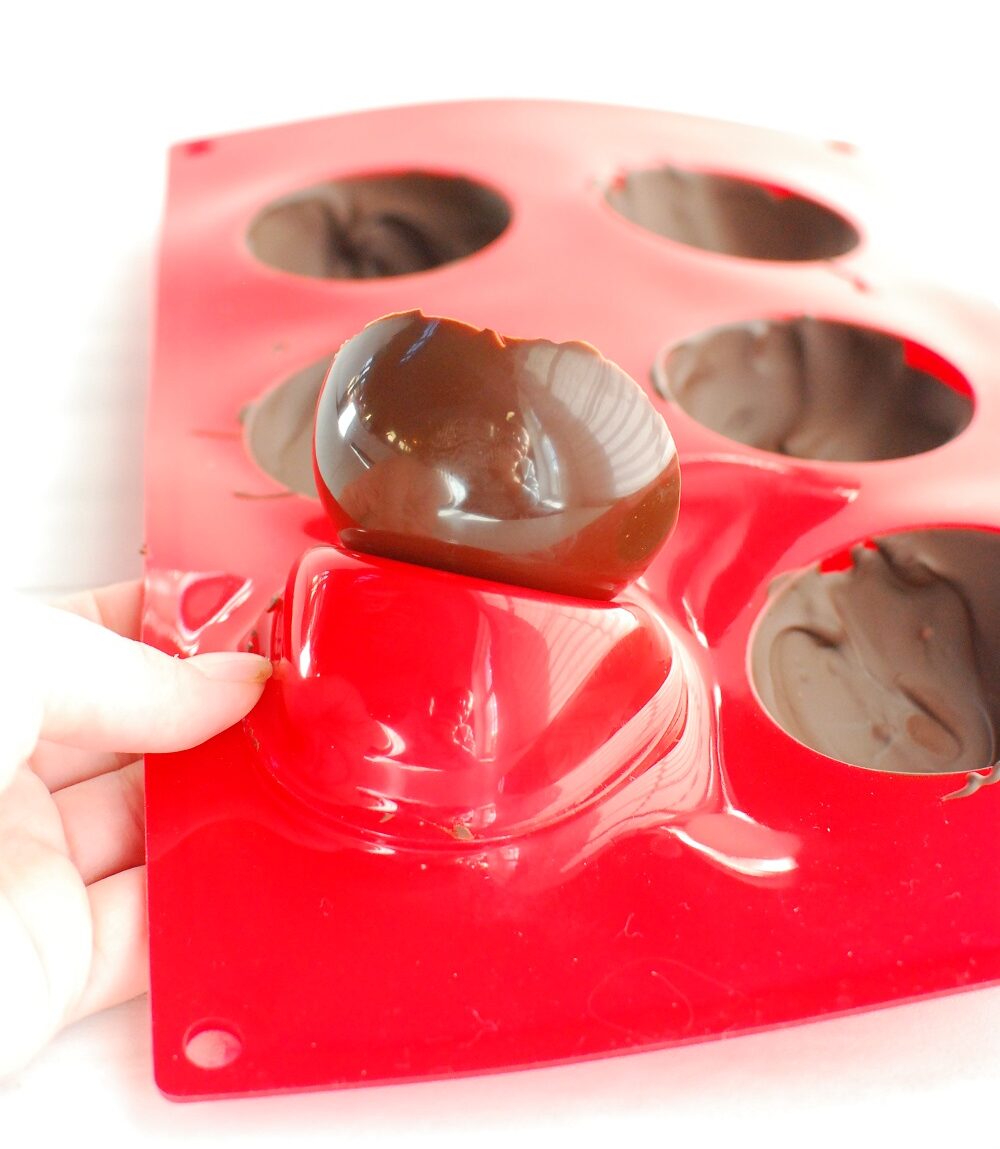 Quick note – If any of the domes don't have a good even edge (like if you didn't get the chocolate all the way up to the top) – just keep them in the mold, add another layer of chocolate (that's what the extra is for!), and repeat the freezer process.
You'll have six domes. You want to fill three of them with your hot chocolate ingredients. Put 2 teaspoons of sugar, 1 teaspoon of cocoa powder, and 1 tablespoon of marshmallows in each of these domes.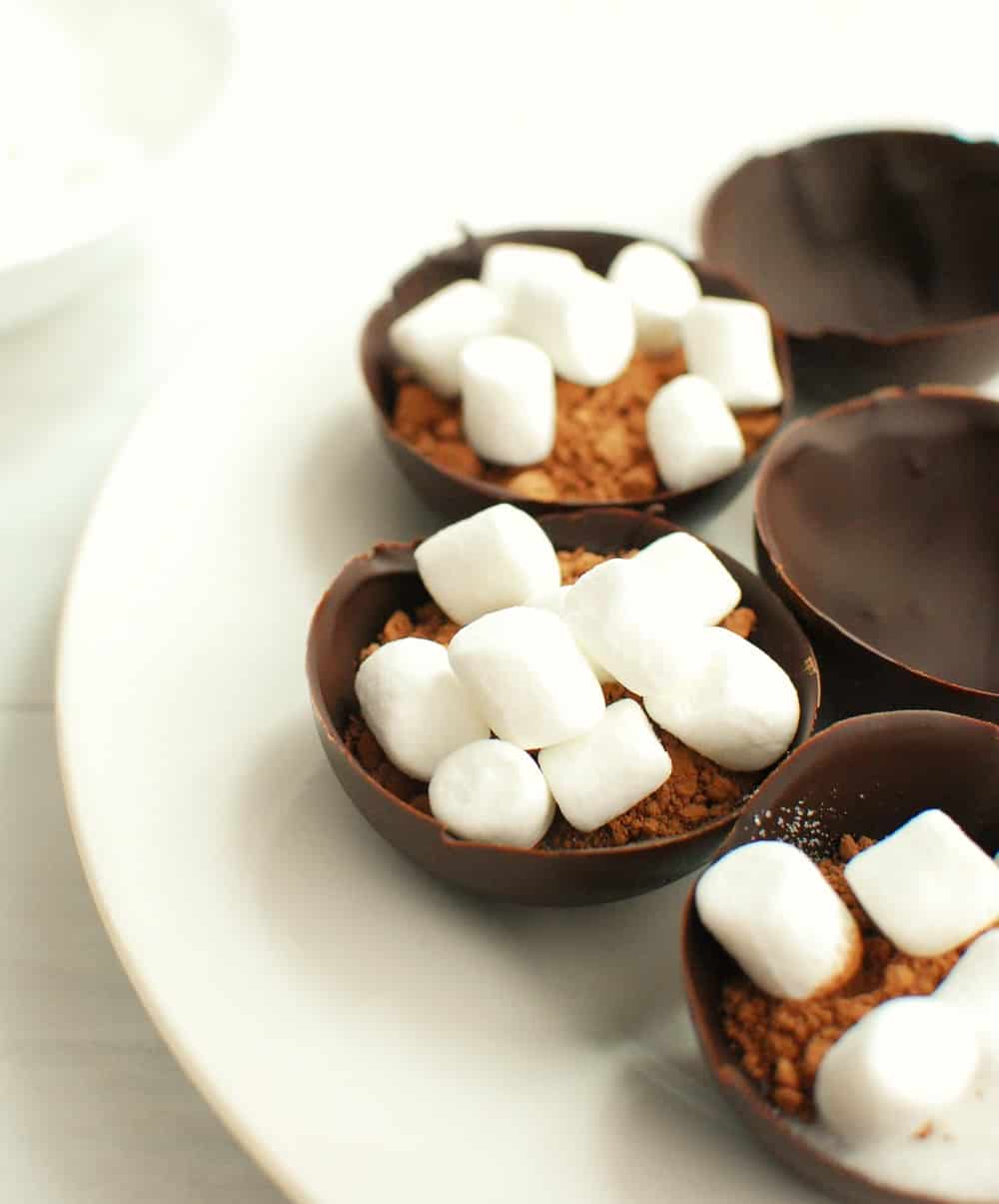 The last step is to seal an empty dome to a filled one. To do this, heat up a skillet for a minute so it's just warm. Hold a dome on there so the edges start to melt.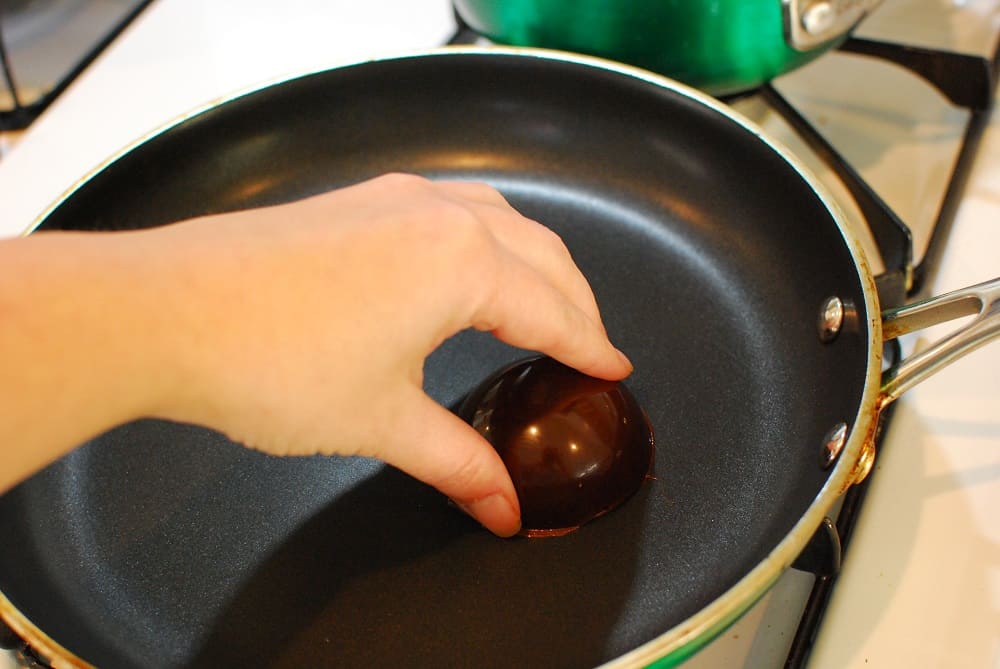 Then place this immediately on top of a filled one. Now you'll have a nice, sealed circle and your hot chocolate bomb is ready to use!
When you're ready to enjoy it, just place it in a mug with some hot vanilla almond milk – and watch the chocolate shell melt to release the cocoa mix and marshmallows!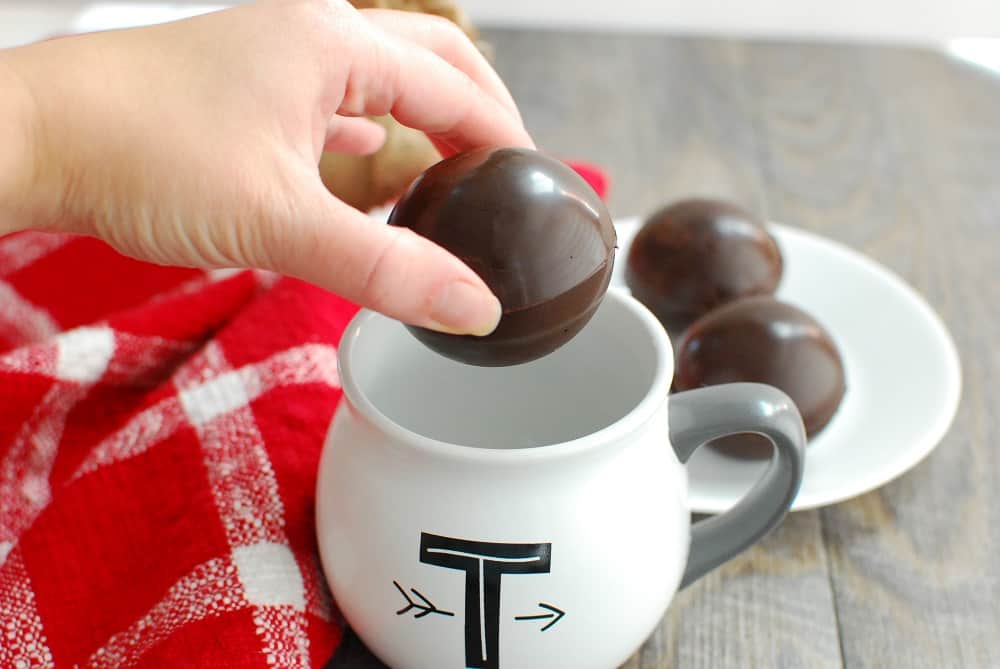 Ingredient Tips
To ensure these are dairy free, you'll want to make sure that the chocolate you choose is dairy free. Many chocolate brands contain milk, but you can find plenty of varieties on the market that do not.
I personally love Enjoy Life, and used their dark chocolate chips to make these. You can also use their semisweet chocolate chunks instead if you prefer those over dark. Nestle also makes allergy-friendly chocolate chips – you just need to look for the specific allergen-free packaging (their regular chips are not dairy-free).
If you do want to make this vegan, you'll also want to look specifically for vegan marshmallows. Marshmallows should be dairy free (unless they have any odd add-ins) but they do contain gelatin (which comes from animal bones).
As such, if you are avoiding any animal products, you'll want to skip over the traditional marshmallows and use vegan ones instead. Here's a few suggested brands that were vegan at the time of publish (always check manufacturer's labels; formulations may change at any time):
Not all these brands carry mini marshmallows, but you can easily chop up regular size marshmallows to use.
Similarly, if you are vegan, you'll want to look for a granulated sugar that is not processed using bone char. These can easily be found by looking for organic brands of sugar, those specifically labeled vegan, or products like date sugar.
Additional Flavor Combinations
This is just a basic recipe – feel free to get creative by adding other flavors to your dairy free hot chocolate bomb! Here are a few ideas:
Add a teaspoon of instant coffee for a mocha-like take on your hot chocolate.
Get in the holiday spirit by adding crushed peppermint.
Add a little candied orange peel – orange pairs surprisingly well with chocolate.
Get spicy by adding a few sprinkles of cayenne and cinnamon to your hot chocolate bomb.
Try crushing some Oreo cookies and adding those. (Yes, Oreos are currently dairy free and vegan friendly!)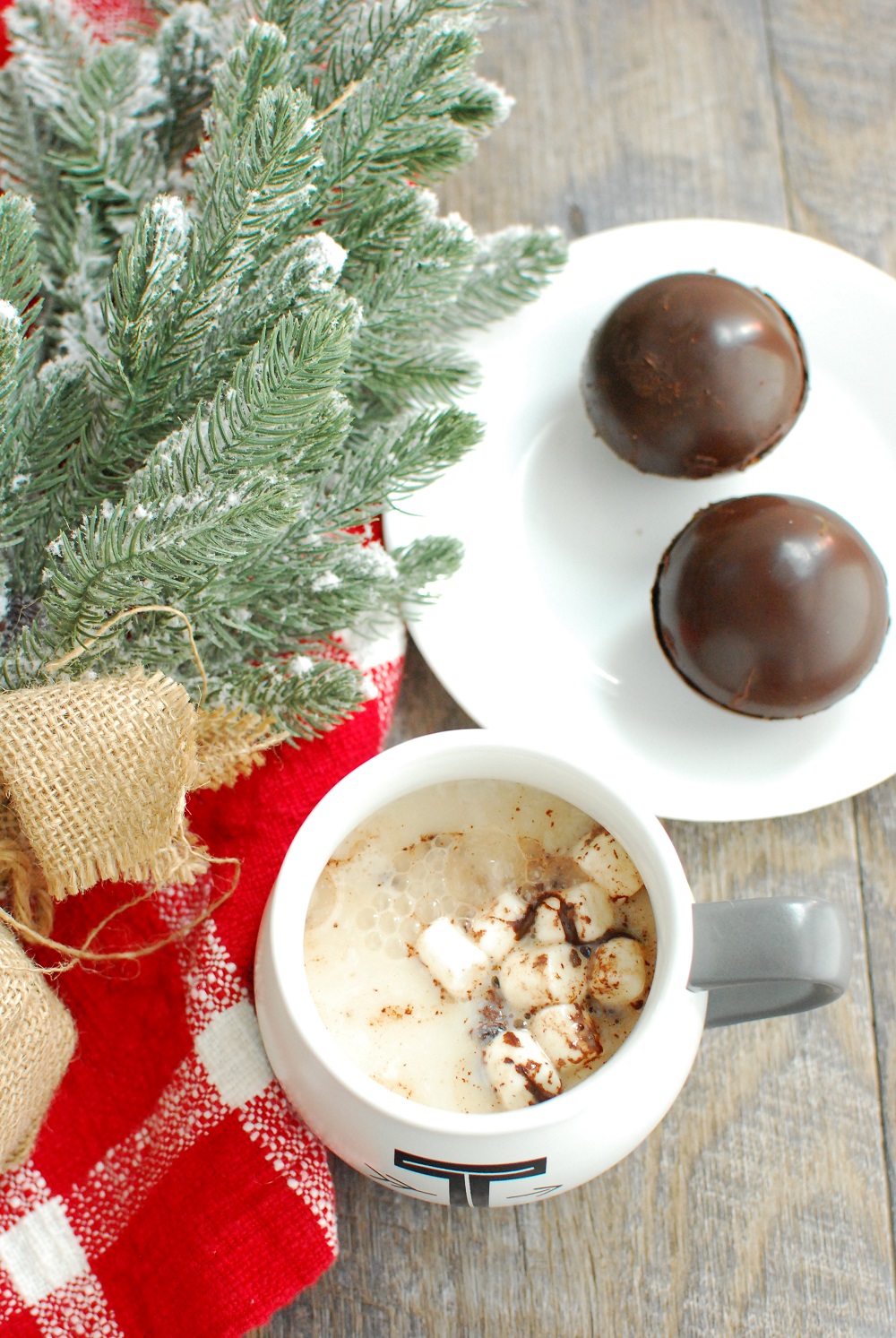 Allergens in this recipe
Disclaimer: Always double check ingredients and labels yourself prior to making a recipe. While I try to check all ingredients for allergens, there's always the chance I may miss something or manufacturer formulations can change.
As written, this recipe is dairy free and egg free.
It should also be wheat/gluten free as long as your marshmallows are gluten free. Most marshmallows in the US are not processed with wheat starch, but there are some brands that use this – double check all your labels to make sure.
As long as your chocolate chips do not contain soy (Enjoy Life chocolate chips do not) – then this recipe is also soy free.
This recipe does contain nuts, as it uses almond milk. You can easily modify this to vanilla oat milk instead if you need to make a nut free version.
If you get a chance to try these dairy free hot chocolate bombs, feel free to leave a recipe rating or comment and let me know your thoughts. I hope you enjoy it as much as my family did!
PS – Looking for more holiday treats? Try our dairy free sugar cookies or our regular dairy free hot chocolate.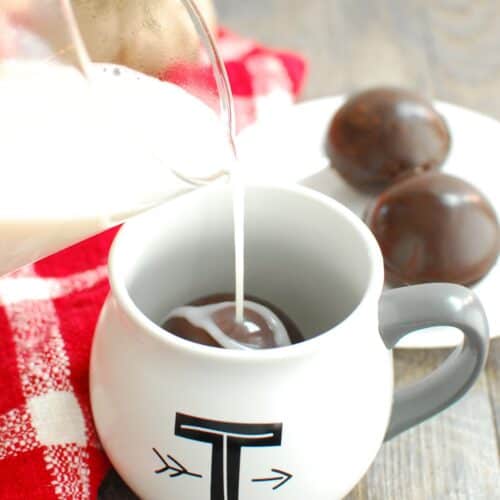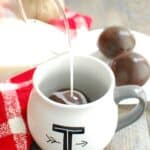 Dairy Free Hot Chocolate Bombs
These dairy free hot chocolate bombs are a delicious winter treat - no dairy necessary!
Ingredients
For dairy-free hot chocolate bombs:
3/4

cup

dairy-free dark chocolate chips

3

tsp

unsweetened cocoa powder

6

tsp

granulated sugar

3

tbsp

mini marshmallows

(vegan if desired)
For serving:
1 1/4

cups

warm sweetened vanilla almond milk

(or vanilla oat milk)
Instructions
Place the dairy free chocolate chips in a microwave safe bowl. Microwave the chocolate in 30-second intervals, stirring each time, until fully melted.

Pour a spoonful of chocolate into each cavity of the silicone dome mold. Use a spoon to spread the chocolate, coating the entire half circle.

Place the mold in the freezer for 10 minutes, or until the chocolate is solid. Gently press on the bottom of the mold to pop out each dome.

You should have six domes. Take three of them to fill. To each of those three, add 1 teaspoon of cocoa powder, 2 teaspoons of sugar, and 1 tablespoon of marshmallows.

Heat a skillet over medium heat for a minute, just to get it warm (not overly hot). Take one of the empty domes and hold it on the skillet for a second or two, just to melt the edge. Immediately place that on top of one of the filled domes. The melted edge will seal with the chocolate on the filled dome, forming a complete circle.

Repeat with the remaining domes to finish making all three hot chocolate bombs.

When you're ready to serve one, heat 1 1/4 cups of vanilla almond milk. You can do this on the stovetop or in the microwave. For the microwave, place it in a microwave safe cup and heat for about 1:30 to 2 minutes. (Be careful, cup may be hot when removing from the microwave).

Either place the hot chocolate bomb in a mug and pour the hot almond milk on top, or drop the hot chocolate bomb into the mug with the hot almond milk (being careful not to splash any of the hot liquid). Enjoy!
Recipe Notes
The nutrition analysis is based on using 2/3 cup of chocolate, as that's generally the amount that is actually consumed. It's helpful to use the 3/4 cup to melt though so you have extra as needed to seal holes or build up edges (or if you have larger molds).
If you have a piping bag, you can also pipe melted chocolate on the half circles and connect them that way.
Nutrition analysis (approximate per hot chocolate bomb, assumes 2/3 cup total chocolate used in the recipe): 295 calories, 21.5 g fat, 12.5 g saturated fat, 5 mg sodium, 40.5 g carbohydrate, 8 g fiber, 27.5 g sugar, 4 g protein, Calcium: 0%, Iron: 55%, Potassium: 1%, Vitamin D: 0%
Nutrition analysis (approximate per hot chocolate bomb with vanilla almond milk): 395 calories, 24.5 g fat, 13 g saturated fat, 170 mg sodium, 58 g carbohydrate, 8.5 g fiber, 44 g sugar, 5.5 g protein, Calcium: 43%, Iron: 60%, Potassium: 5%, Vitamin D: 16%
Share: What's your favorite dairy free drink around the holidays?