Cozy up to these dairy free twice baked potatoes for a delicious side dish! This comfort food classic is made dairy free thanks to the addition of a homemade cashew sour cream (though a store-bought dairy free sour cream is also an option). Made with simple ingredients, you'll love this recipe.
What are twice baked potatoes?
I'm sure you're familiar with the concept, but just in case – twice baked potatoes are just like they sound! The first round in the oven is just the potato itself; you're making a standard baked potato.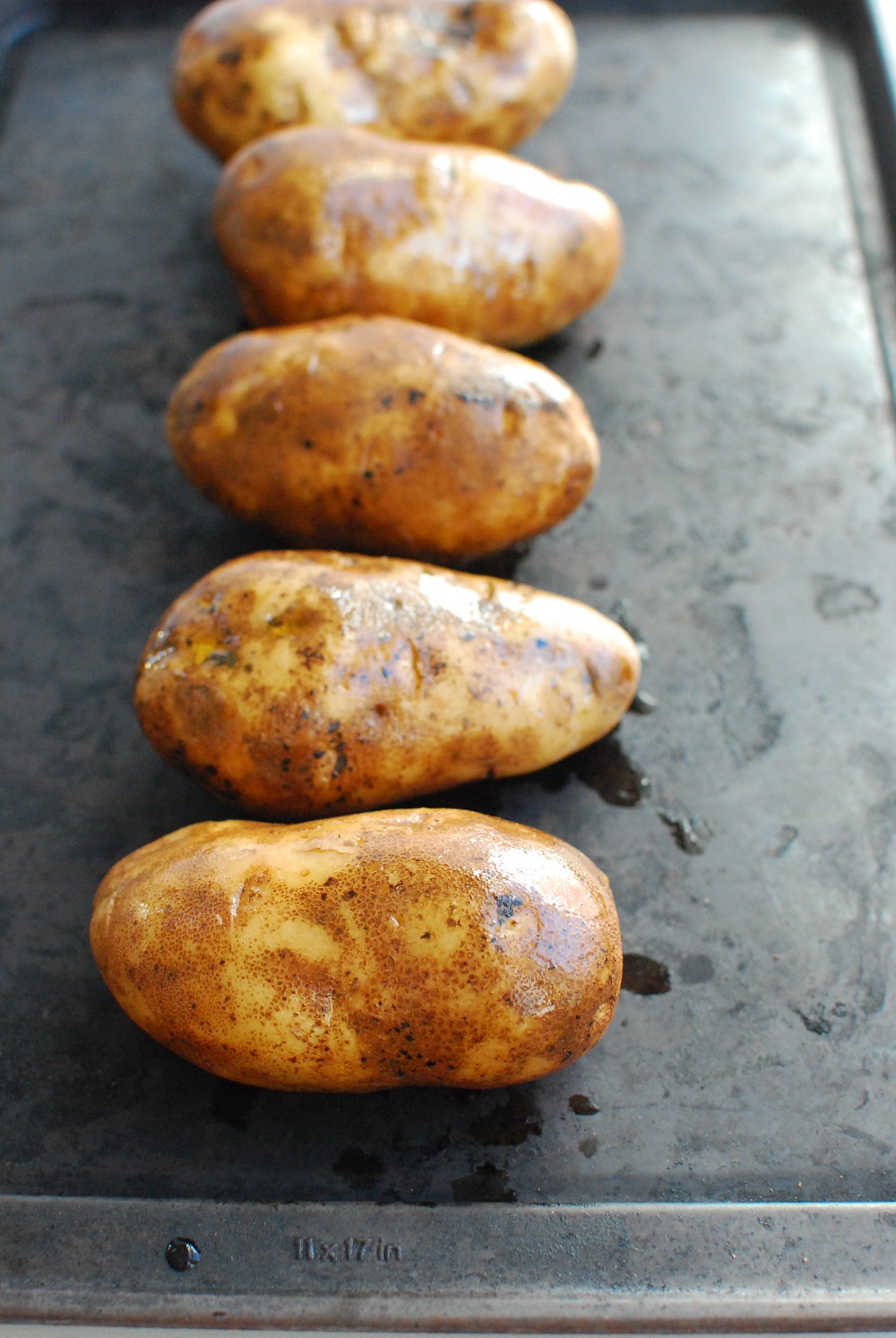 After that, you'll scoop out the flesh and leave the skins. You'll want to leave just a thin layer of potato flesh in there so the potatoes hold their shape.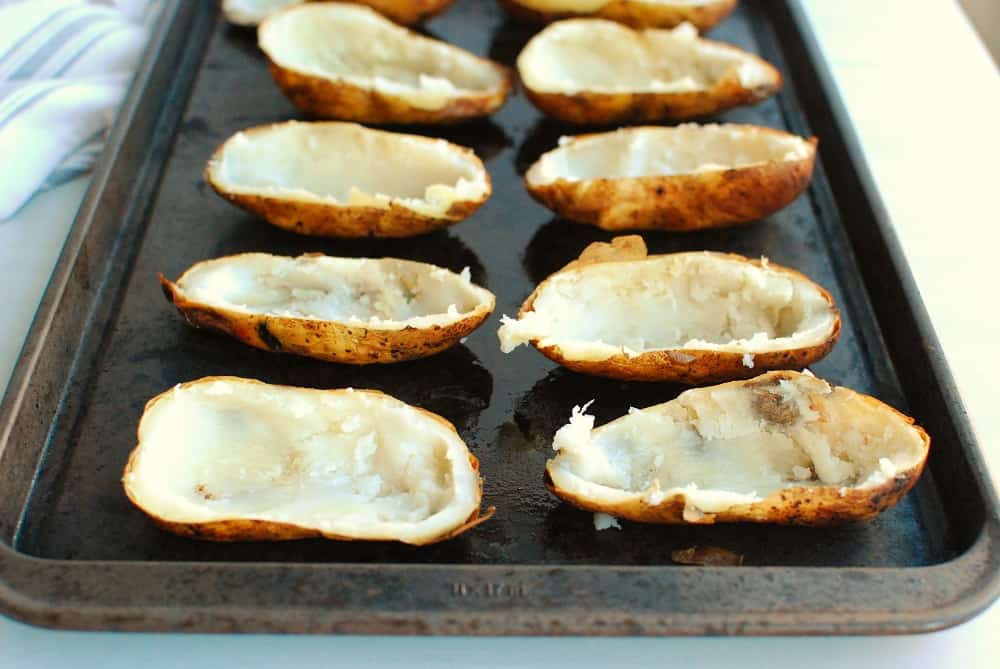 You'll then mash up the potatoes a bit and mix in some flavorings, then scoop the filling back in the skins and re-bake until everything is warm.
Traditional versions of twice baked potatoes have cheese and sour cream mixed in. We're veering from that a bit with this dairy free version!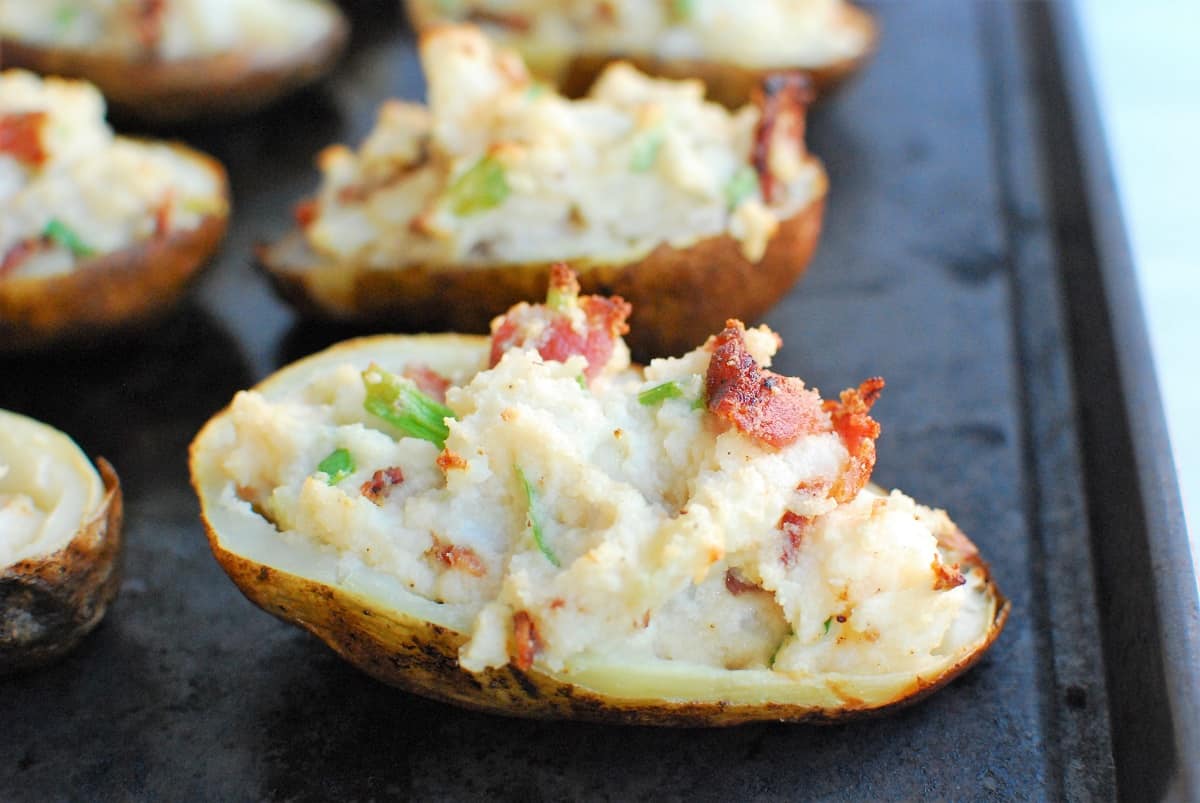 What you'll need to make these
You've probably got most of these ingredients at the house already, but otherwise they're easy to find at any grocery store:
Russet potatoes – These are typically on the larger side and starchy, which makes them perfect for baking and using in this recipe.
Olive oil – You'll use this to rub the skins of the potatoes which helps them crisp up a smidge. Any oil will work though, so just use what you have on hand.
Vegan butter – This is probably the most "specialty" ingredient on the list, but luckily these days we can find vegan butter just about everywhere. Even our Walmart carries it! I used Country Crock Plant Butter in this recipe, but you can also use Earth Balance or any of the other varieties out there. If you don't have this on hand, you can still make these by substituting with 2 tablespoons of olive oil and some minced garlic. It'll have a different flavor profile but still yummy.
Oat milk – This is used to mash the potatoes and get a creamier texture in the filling. You can also use unsweetened almond milk or soy milk depending on personal preferences.
Bacon – Y'all, bacon is the key to so many recipes I love. It adds such a delicious rich, salty flavor that helps make up for the cheese that's not present here. Of course, if you'd prefer a vegan version, you can omit this.
Green onions – These add a great pop of flavor.
Salt – Seasoning of course!
Homemade cashew sour cream – There's multiple ingredients that make this up: quick-soaked raw cashews, lemon juice, cider vinegar, onion powder, salt, and water. You'll just blend these up in a small food processor, like the photo below. This does not have the same flavor as regular sour cream and may have a bit of a vinegary smell when you make it. Don't worry, it will taste great mixed in with the potatoes!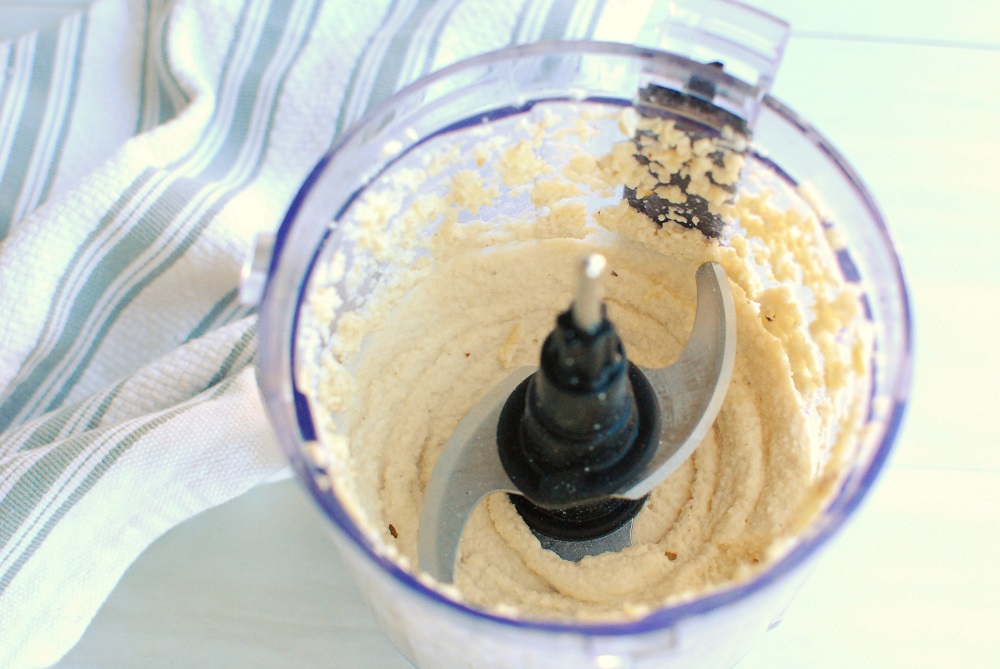 Recipe FAQ
Here are some common questions that may come up as you prepare these dairy free twice baked potatoes:
Can you add dairy-free cheddar? Yes! We're very picky about dairy free cheese, so generally we just make do without. If there's a dairy free cheddar you love, though, you can definitely mix in 1 to 1 1/2 cups of shredded "cheese". (As a heads up, Violife and Follow Your Heart tend to be our favorites).
Can you use store-bought dairy-free sour cream instead of homemade? Definitely. Because the flavor profiles are different, I'd recommend only using 1/2 cup of store-bought. You could also mix it up by using 1/2 cup of dairy free cream cheese.
Can you freeze these? Yes. Complete the steps up until filling the potatoes, but don't bake again at this point. Instead, wrap each stuffed potato in plastic wrap and then place in a gallon freezer bag and put that in the freezer. To make from frozen, cook in a 350 F oven for about 30-40 minutes, or until they're hot throughout.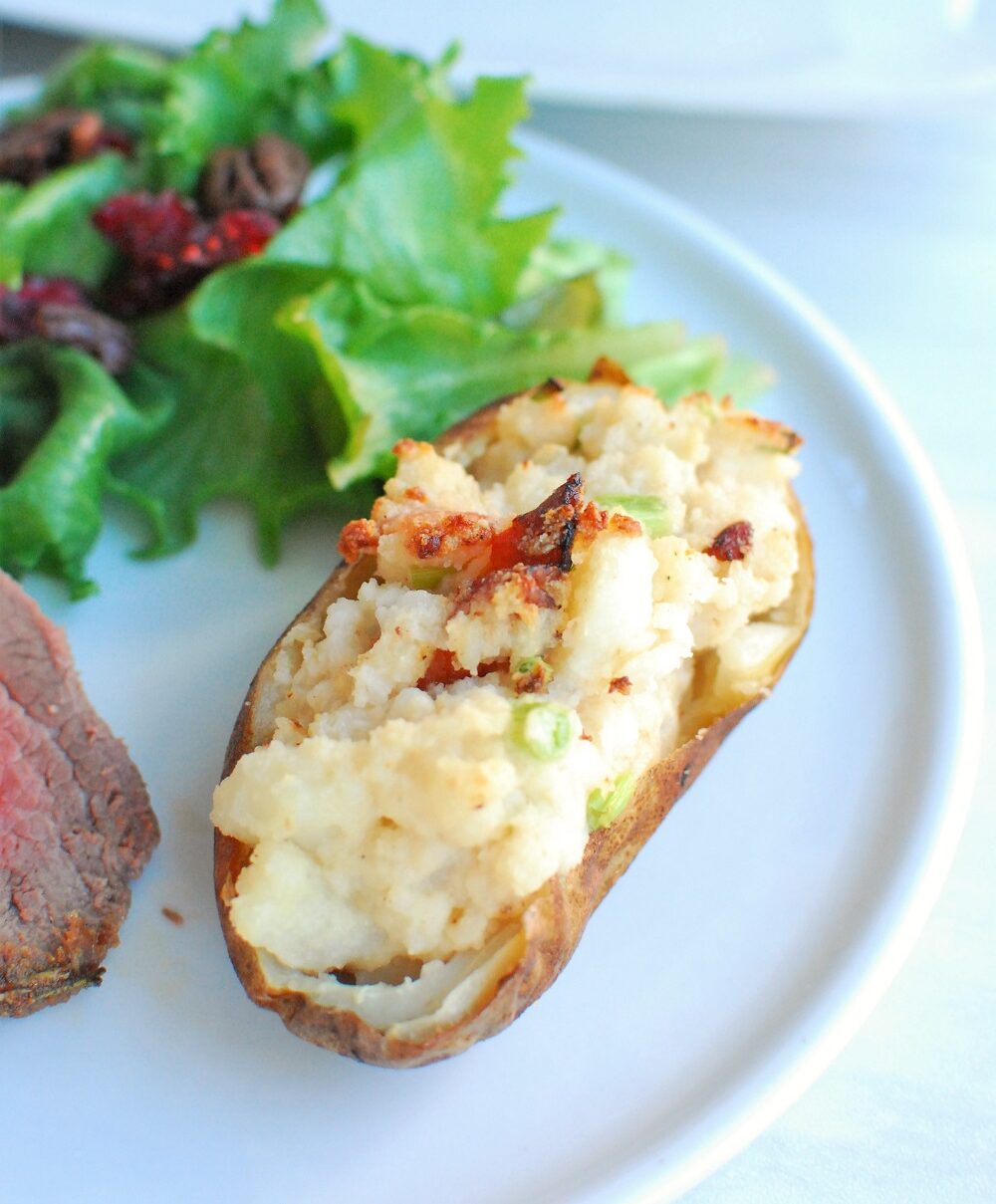 Allergens in this recipe
As written, this recipe is dairy free and egg free.
As long as your oat milk and vegan butter are wheat/gluten free, this recipe should also be wheat/gluten free.
Depending on the type of vegan butter you use, it may or may not contain soy. If you need soy-free recipes, I recommend using the red tub of soy-free Earth Balance.
This recipe does contain tree nuts, as it contains cashews.
If you'd prefer a nut-free version, try searching for a dairy-free nut-free store-bought sour cream that you can use instead of the homemade sour cream here. In a pinch, you can also substitute with a little mayonnaise (I'd recommend about 1/3 cup so as not to overpower the recipe). Keep in mind the later contains eggs and usually soy.
I hope you get a chance to try these dairy free twice baked potatoes! If you do, please feel free to leave a recipe rating or comment below. And don't forget to scroll below to pin the recipe so you can refer to it later.
PS – Looking for more tasty side dishes? Try our dairy free crescent rolls or our apple cranberry stuffing.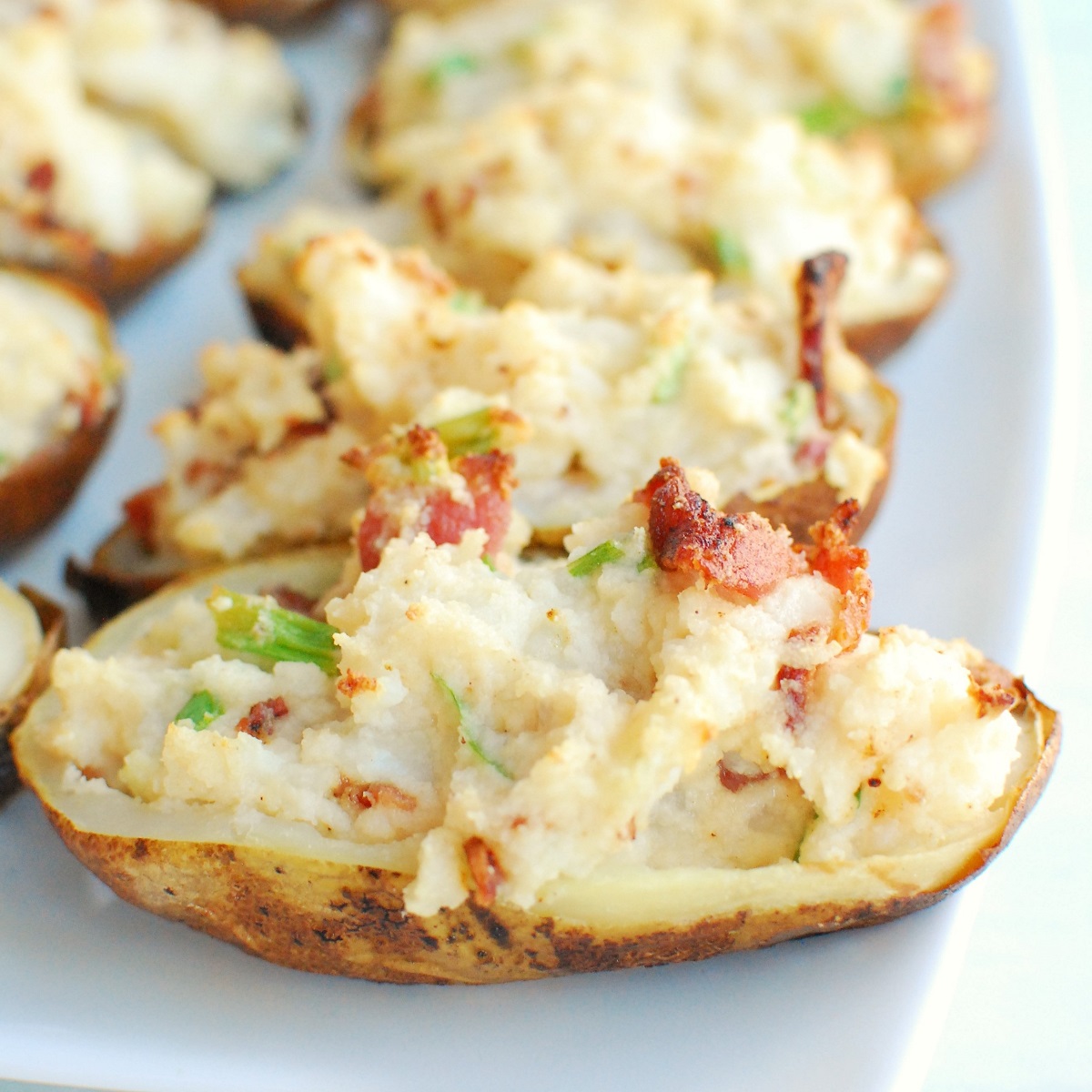 Dairy Free Twice Baked Potatoes
These dairy free twice baked potatoes are the perfect comfort food side dish!
Cook Time
1
hour
15
minutes
Total Time
1
hour
40
minutes
Ingredients
For the potatoes:
5

medium-large russet potatoes

1/2

tbsp

olive oil

4

tbsp

vegan butter

1/3

cup

oat milk*

(or unsweetened almond milk)

4

slices

thick-cut bacon, cooked and chopped

(optional, omit if vegan)

3

green onions, chopped

1/4 to 1/2

tsp

salt

(to taste)*
For the cashew sour cream:
3/4

cup

raw cashews

1 1/2

tbsp

fresh lemon juice

1

tsp

apple cider vinegar

1/4

tsp

onion powder

1/4

tsp

salt

1/4

cup

water
Instructions
Preheat the oven to 400 degrees. Poke the potatoes with a fork a few times, then rub with olive oil. Bake for about an hour, until tender.

Meanwhile, prepare your cashew sour cream. Place the raw cashews in a pot and cover with water. Bring to a boil over high heat, then turn off the heat and let them soak for 30 minutes.*

When your cashews are done, drain the excess water and place the cashews in a food processor. Add the lemon juice, vinegar, onion powder, salt, and water. Process for 1-2 minutes, until smooth and creamy. Set aside for now.

When potatoes are done, remove from the oven (leave the oven on though). Let cool for a few minutes, then carefully cut in half and scoop out the filling into a bowl, leaving the shell of the potatoes on the baking sheet.

To the bowl with the potato flesh, add the vegan butter and oat milk. Smash the potatoes to your preferred texture. Stir in the bacon, green onions, salt, and cashew sour cream.

Add heaping scoops of the filling back into the potato shells. Bake them again at 400 degrees for another 15 minutes. Enjoy!
Recipe Notes
*If you're using medium vs medium-large potatoes, reduce oat milk to 1/4 cup.
*1/4 tsp salt will make for a lightly seasoned recipe.  I often go up to 1/2 tsp, but use taste to determine (it'll depend on exactly how much flesh you're getting from the potatoes).
*If you prefer, you can soak the cashews overnight instead. I like this method for quick preparation.
You can also stir in some dairy-free cheddar shreds.
Nutrition analysis (approximate each): 210 calories, 11 g fat, 3.5 g saturated fat, 320 mg sodium, 22.5 g carbohydrate, 2.5 g fiber, 2 g sugar, 6 g protein, Vitamin D: 1%, Calcium: 3%, Iron: 9%, Potassium: 13%
Share: What's your favorite cozy comfort food side dish?