These dairy free crescent rolls are the ultimate side dish for any dinner.  They're flaky and buttery (of course, with no actual butter used though), and have a perfect soft texture.  They do take a little time to make, but I promise, it's worth it!
Disclaimer:  I try to note potential allergens in all recipes – but as you know, manufacturers can change ingredient formulations or I may miss something.  Always double check ingredients and labels prior to consuming if you have an allergy.
Are store-bought crescent rolls dairy free?
Before I get into the recipe itself, I want to set your mind at ease.  Believe it or not, most major brands of crescent rolls – like Pillsbury – are actually dairy free (at least at the time this was published).  Most contain palm oil rather than butter, as it holds up better in the refrigerated cans.
So if you're craving them and don't feel like taking the time to make this recipe – by all means, grab a can at the store! 😉
However, I know a lot of readers also avoid other allergens like soy, which can be present in the store-bought versions.  Other readers are trying to avoid some of the colors and flavorings in the pre-packaged products.  Making them from scratch gives you the ability to control the ingredients more closely for your own personal needs.
Plus, I'm convinced these homemade ones might be even better than those store-bought ones!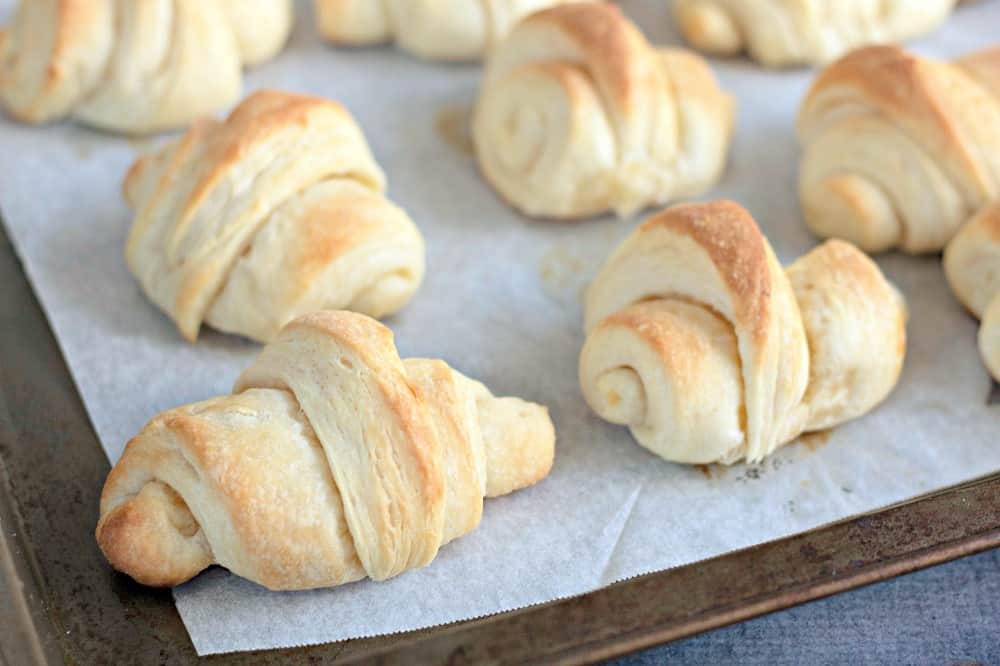 How to make homemade dairy free crescent rolls
You only need a few ingredients to make this recipe.  Here's what you'll want to have on hand:
Oat milk (or another unflavored dairy-free milk)
Water
Dry active yeast
Sugar
All-purpose flour
Salt
Dairy-free butter (I used Country Crock plant butter sticks for this recipe, but you could use Earth Balance too)
Egg
You'll start by warming up the oat milk and water in a small saucepan.  You want the temperature to be warm, not hot.  If it's too hot, it will kill the yeast when you mix it with that.  Think of the temperature of a nice warm bath – that's what you're going for.
When it's warm, you'll mix the oat milk/water mixture with the yeast and a little sugar.  Let that sit for a few minutes until it gets nice and frothy.
While that's sitting, you'll mix up your flour, salt, and the rest of your sugar.  Then, you'll cut in your dairy-free butter.
If you're not familiar with the term "cutting in" butter, it basically means that you want the butter to stay in very small chunks throughout the dough.  You do not want to melt it and pour it in.  The reason rolls like this are so flaky and delicious is because of those small bits of butter still present in the dough when it bakes.
You can cut in butter with a pastry cutter if you have one.  If you don't, just take two butter knives and work them through the flour mixture with the butter over and over, cutting the chunks.  Eventually you'll be left with a mixture that has no-bigger-than pea-sized lumps of butter throughout.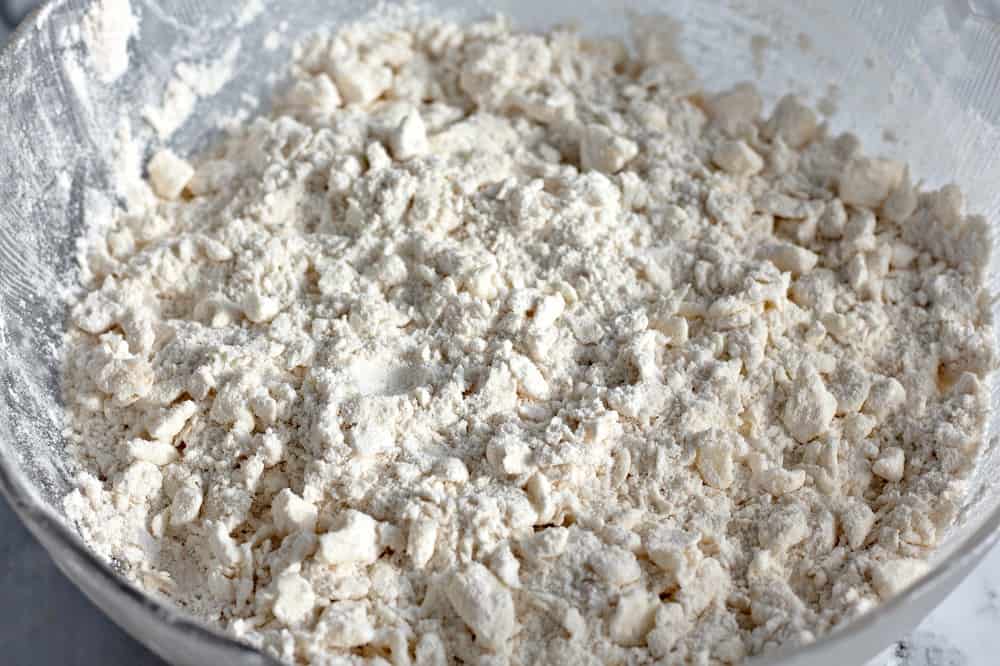 At that point, you're ready to stir in your yeast mixture and the egg.  Mix it all together until just combined, then wrap it up in plastic wrap and put it in your fridge.
About 30 minutes later, you'll pull it out and roll it on a floured surface.  Fold it in half, then in half again – then roll it out once more and repeat.  Pop that baby back in the fridge.
About 30 minutes after that, pull it out and roll it again.  Now you can cut it into triangles and roll each of those into the classic crescent roll shape.
Place those on a baking sheet and let them sit out for about 45 more minutes.  (I know, it seems like a lot of steps – but I promise it's simpler than it sounds!).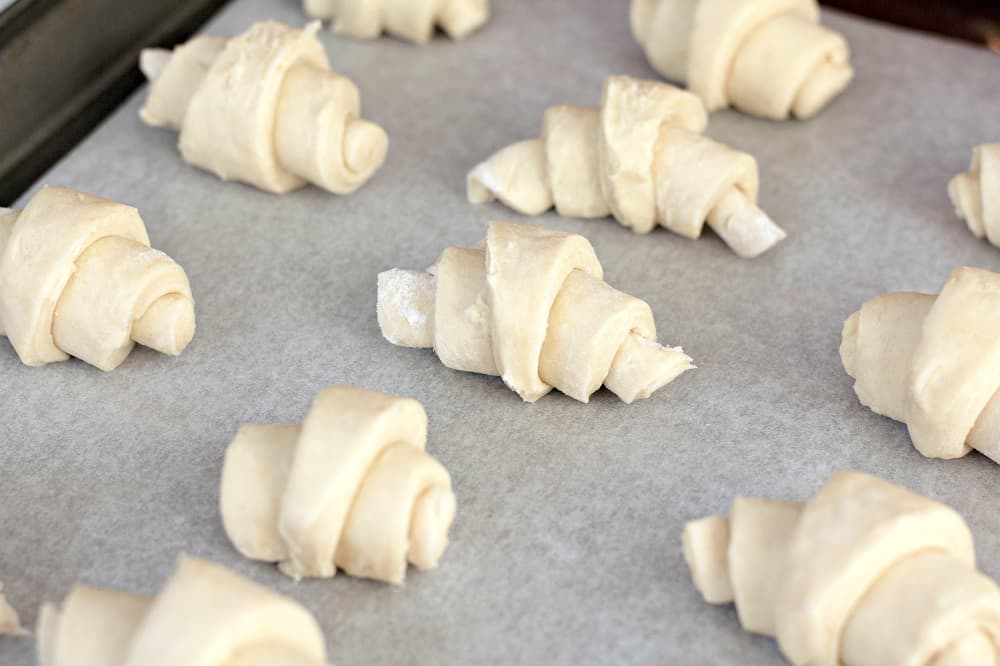 Pop them in the oven and bake 'em and you've done it!  You've made warm, flaky crescent rolls from scratch!
Allergens in this recipe
These dairy free crescent rolls are naturally dairy-free and nut-free.  They can easily be soy-free as long as you choose a vegan butter that does not contain soy (for example, the red tub of Earth Balance).
The rolls do contain wheat (gluten) and egg.  I've never tried making them without either, so I can't attest to how they would turn out.  I would imagine the egg could easily be substituted with a flax egg, as I've made other rolls with that before.  I think it would be tough to substitute the regular flour, but if you want to try – let me know how it comes out!
Ways to use crescent rolls
Obviously, the easiest thing to do is just make 'em and eat 'em!  But of course, there are many other ways you can use this crescent roll dough:
Make pigs in a blanket with mini hot dogs
Stuff them with dairy-free dark chocolate before baking, then sprinkle with powdered sugar afterwards
Stuff them with sliced apples and cinnamon prior to baking for mini apple pie bites
Fill them with raspberry jam before baking, then making a quick glaze (confectioners sugar plus dairy-free milk) to drizzle on top
Stuff them with taco meat or pulled pork
Wrap them around green beans or asparagus (especially with some ham in there too!)
Make a chicken pot pie filling, and then just top it with these crescent rolls rather than worry about making pie crust
Stuff them with pizza sauce, mushrooms, and pepperoni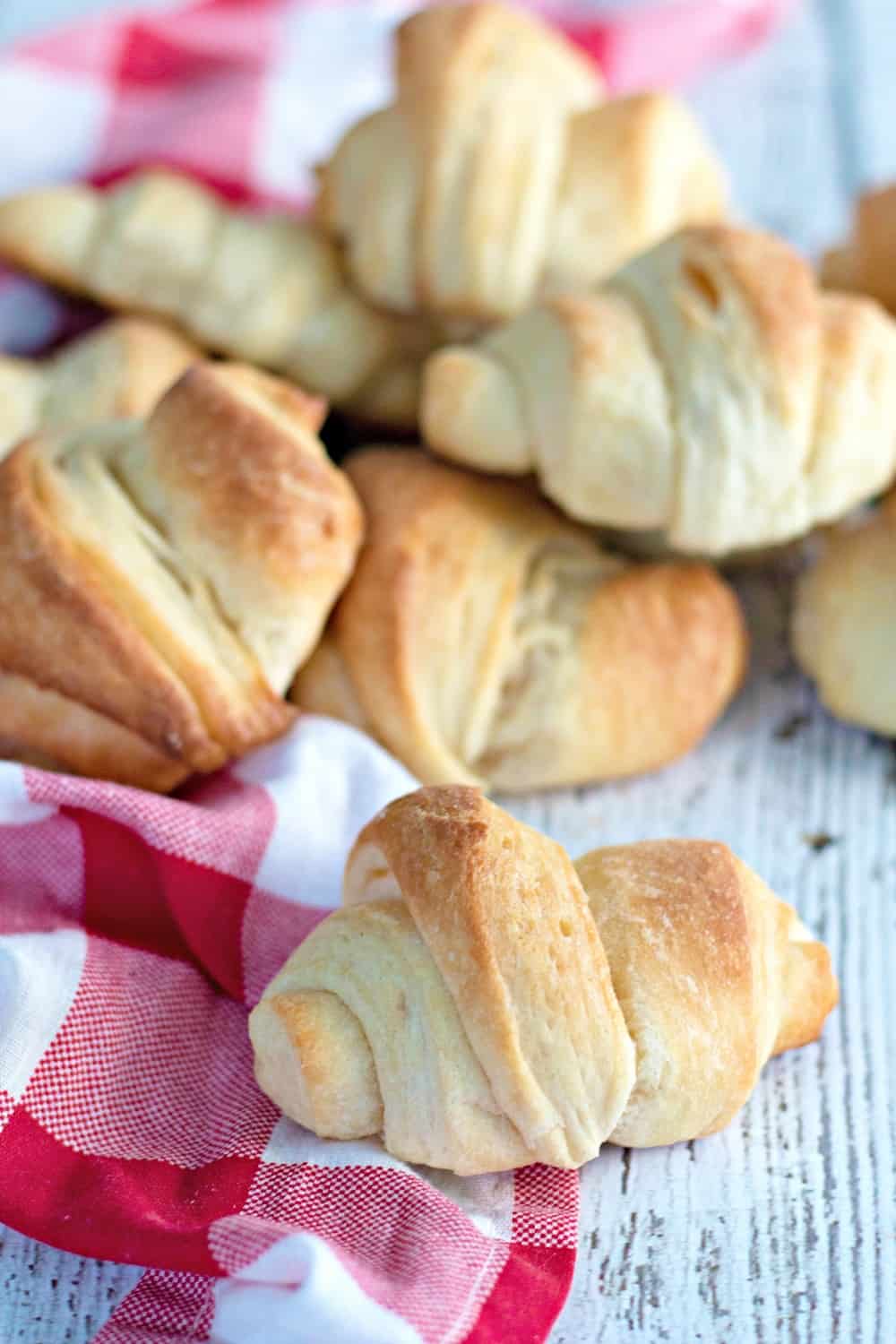 I hope you enjoy these homemade crescent rolls as much as my family does!  If you get a chance to try them, please do leave a comment or recipe rating.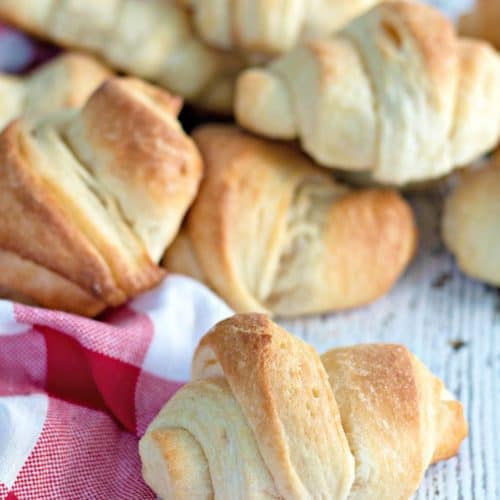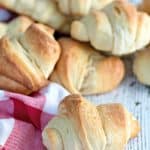 Dairy Free Crescent Rolls
These dairy free crescent rolls are the ultimate dinner side dish.  They're flaky, soft, and delicious.
Resting Time
1
hour
45
minutes
Total Time
2
hours
27
minutes
Ingredients
1/2

cup

plain oat milk

(or another dairy-free milk)

1/4

cup

water

2 1/4

teaspoons

dry active yeast

3

tablespoons

sugar

divided

2 3/4

cups

all-purpose flour

plus additional for rolling

1/2

teaspoon

salt

1

cup

cold vegan butter

(i.e. Country Crock plant butter or Earth Balance)

1

large egg
Instructions
In a small saucepan, combine the milk and water and heat until the mixture is warm (not hot). Pour the warmed milk mixture into a small bowl. Add the yeast and 1 tablespoon of the sugar. Set aside for 5 minutes until frothy.

In a large bowl, whisk together the flour, remaining 2 tablespoons of sugar, and salt. Cut the cold vegan butter into the flour (with a pastry cutter or knife) until there are only pea-sized chunks remaining.

Stir in the yeast mixture and egg. Mix until just combined. Wrap the dough in plastic wrap (it will be a bit sticky and soft before refrigerating; this is normal). Refrigerate for 30 minutes.

Unwrap the dough and place on a well-floured surface. Roll the dough out into a circle, ½-inch thick. Fold the dough in half to form a semicircle, then fold in half again. Roll the dough out again into a rough circle ½-inch thick. For a second time, fold the dough into a semicircle and then in half again.

Wrap the dough in plastic and refrigerate for 30 minutes.

Line a baking sheet with a silicone baking mat or parchment paper. Unwrap the dough and place on a floured surface. Roll the dough into a large rectangle to about 1/8-inch to 1/4-inch thick . Slice the rectangle horizontally into four even sections, then cut each of those sections into about 6 or 7 triangles. You should end up with a total of about 24 to 28 thin triangles (each about 6 inches long).

Roll each triangle from the widest end to the thinnest point. Place the rolls on the baking sheet. Cover loosely with a clean kitchen towel (or warm damp paper towel) and set aside at room temperature for 45 minutes.

Meanwhile, preheat the oven to 400 degrees.

Bake the rolls at 400 degrees for 10 to 14 minutes, or until golden brown. Cool slightly and serve warm.
Recipe Notes
Nutrition analysis (approximate per serving): 122 calories, 7 g fat, 2.5 g saturated fat, 115 mg sodium, 12 g carbohydrate, 0.5 g fiber, 1.5 g sugar, 1.5 g protein, Vitamin A: 4%, Vitamin C: 0%, Calcium: 1%, Iron: 4%
Share:  What's your favorite dinner side dish?  If you tried these dairy free crescent rolls, what did you think?