If there's one thing besides turkey that is pretty much always at the Thanksgiving table, it's stuffing.  I'm sure if you've made stuffing before – whether from a box or from scratch – it usually calls for a whole lotta butter.  But this dairy free stuffing is packed with the best fall flavors, no butter necessary.
Differences from Traditional Stuffing
Since this stuffing is not going to be covered in half a stick of butter, it tastes and feels a bit lighter than the traditional version.  Also, if you're used to boxed stuffing, you'll notice that this isn't nearly as "stuck together".  It's a bit looser and you can see the cubes of bread.
But this stuff is seriously so good.  It's got those quintessential Thanksgiving herbs like sage and thyme.  Plus, the addition of apples and cranberries adds a sweet and tart element that pair really well the with the more savory bread, broth, and herbs.
It comes together beautifully, whether you plan to eat it alongside your turkey with gravy or cranberry sauce – or if you just prefer having this as a side dish for any dinner of your choice.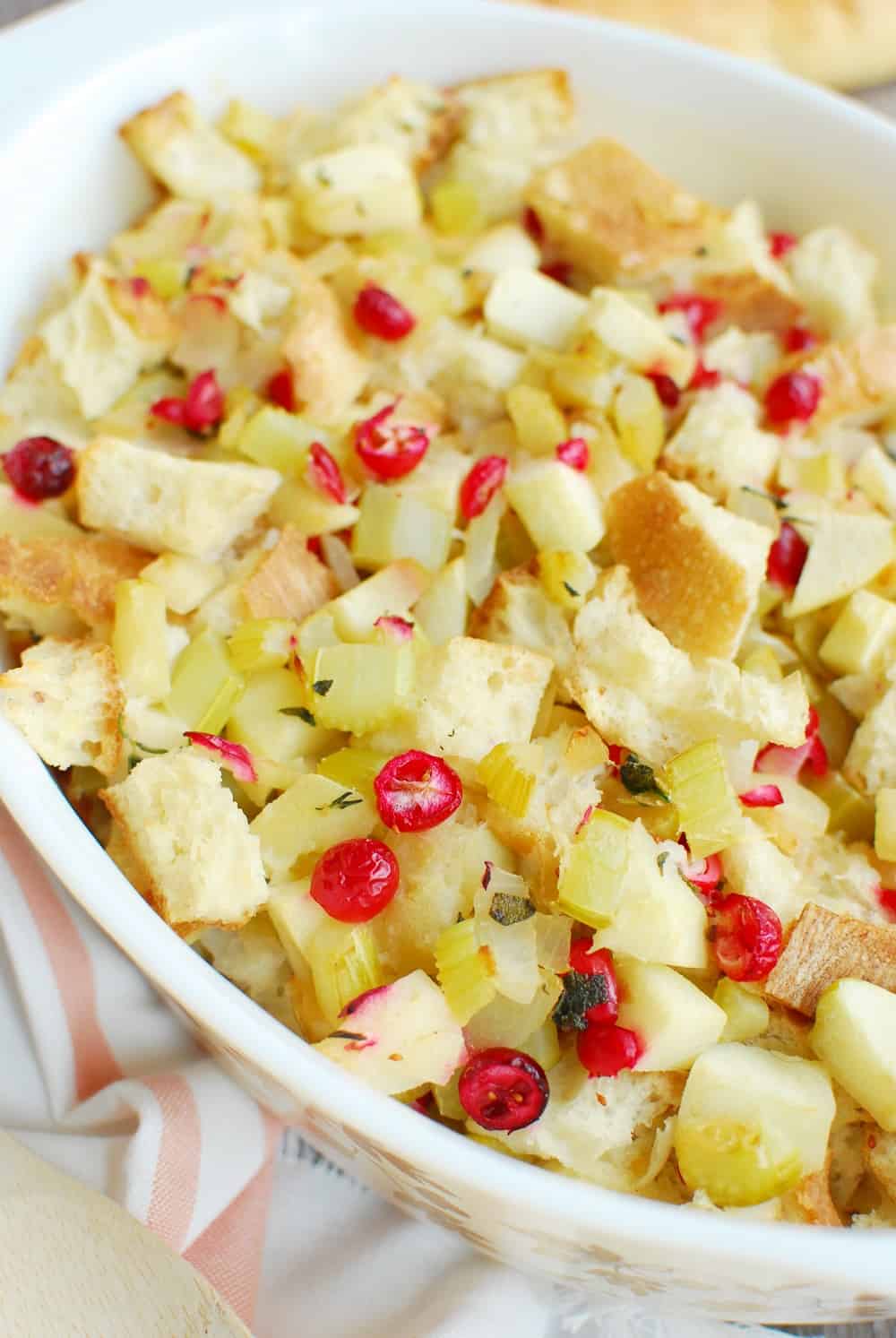 Are Baguettes and Ciabatta Bread Dairy Free?
One of the key ingredients for any stuffing is bread, so you'll want to make sure that you double check the ingredients to ensure that it's dairy free.
If using traditional cooking methods, most bread is usually a simple combination of flour, yeast, sugar, and salt.  Different bakers may add other ingredients, like olive oil for example.
However, some bakers may prepare their breads in buttered pans or brush the tops with butter while baking to achieve a certain appearance.  If you're buying fresh from a bakery, you want to be sure to ask these questions.
For this recipe I've used both Chabaso ciabatta bread and baguettes – they're sold at my local grocery store. At the time of this post, these do not contain any dairy ingredients.  As a bonus, it also does not contain any soy (great for you MSPI mamas).
I always check the markdown bread section to find them for this stuffing recipe, since they're already a day old there (perfect for stuffing) and end up being cheaper!
Allergy Info and Modifications
This dairy free stuffing is naturally free of dairy and nuts, as long as you double check the ingredients on your bread to ensure these are not included.  This is soy free as well as long as your bread and broth do not contain soy.
Note that this recipe does contain wheat (gluten) and egg.
Suggestions for special diets:
If you need to make this gluten free, you can use a gluten free bread rather than a standard baguette.
If you need to make this vegetarian, just use vegetable broth rather than chicken broth.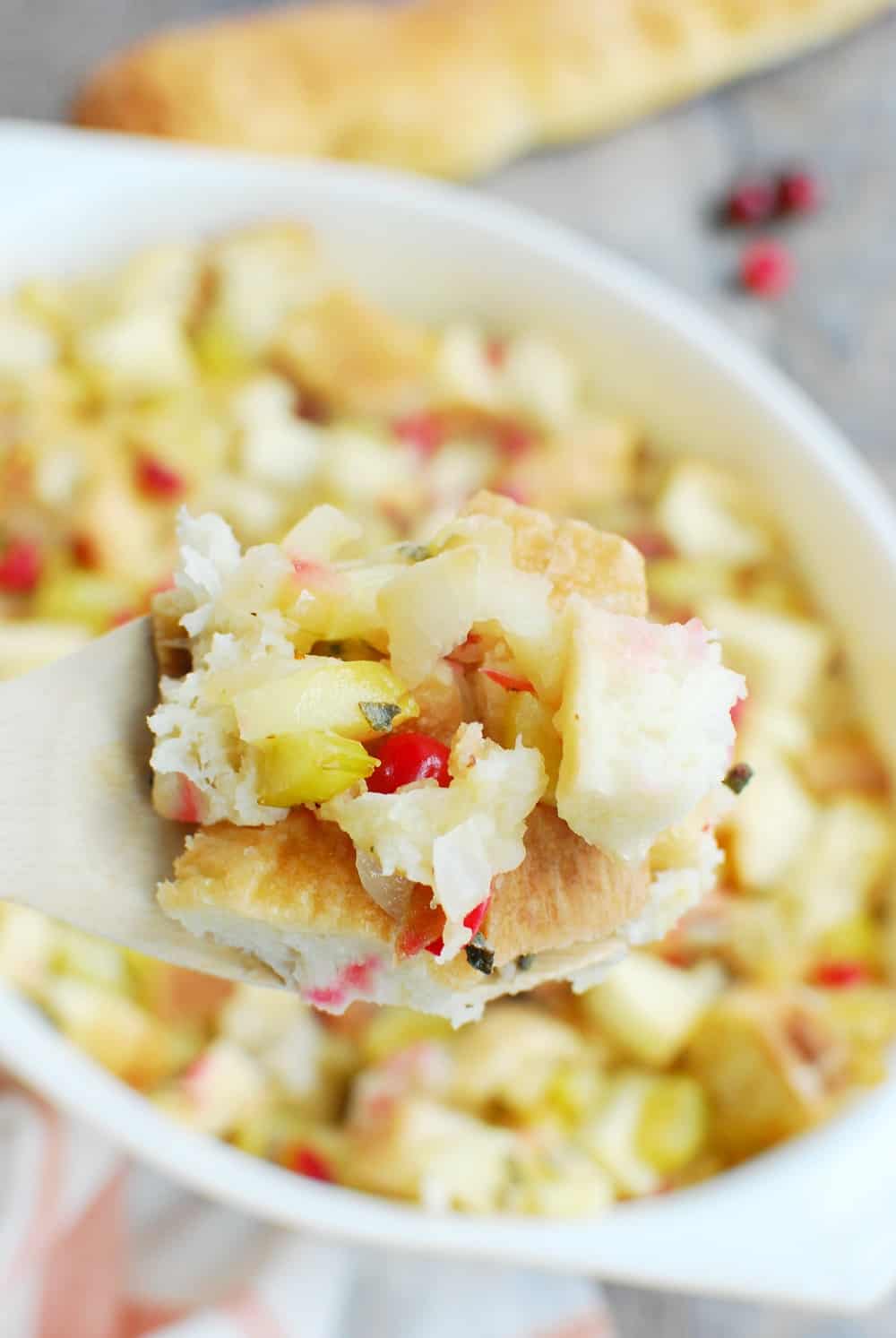 I hope you enjoy this dairy free stuffing as much as I do!  Be sure to rate the recipe if you try it. 🙂
PS – Need a good Thanksgiving morning breakfast recipe?  Be sure to try these easy dairy free pumpkin cinnamon rolls!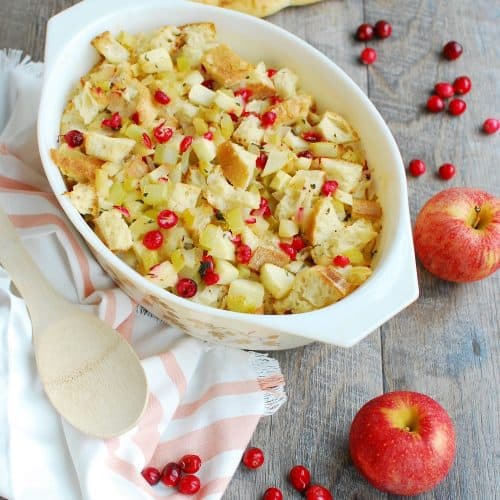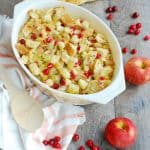 Dairy Free Stuffing with Apples and Cranberries
This dairy free stuffing is full of all the best fall flavors – no butter needed! It's got that herbaceous thyme and sage, the savory broth and bread, along with sweet apples and tart cranberries.
Ingredients
1

tbsp

olive oil

1

yellow onion, chopped

3

large ribs celery, chopped

(or 4 smaller ribs)

2

medium apples, peeled and chopped

2

tbsp

fresh sage, finely chopped

1

tbsp

leaves from fresh thyme

1

egg

1/2

cup

fresh cranberries, chopped

10

cups

of cubed day old ciabatta or baguette

2

cups

broth

I use chicken, but you can use vegetable for a vegetarian version
Instructions
Preheat oven to 325 degrees. Grease a casserole dish with a little olive oil.

Heat olive oil in a large skillet over medium heat. Add onion and celery, and sauté for 4-5 min.

Add chopped apples and cook for another 3 minutes. Add sage and thyme and give everything a good stir. Remove from heat.

In a large bowl, whisk the egg. Then add everything from your pan, along with the cranberries, bread, and broth. Stir until well combined.

Pour everything into your casserole dish, cover with tin foil, and place in the oven. Bake at 325 degrees covered for 20 minutes, then uncover and bake an additional 15-20 minutes. Enjoy!
Recipe Notes
Nutrition analysis (approximate per serving, assumes 8 servings):
170 calories, 3 g fat, 0.5 g sat fat, 361 mg sodium, 30 g carbohydrate, 3 g fiber, 6.5 g sugar, 6.5 g protein, Vitamin A: 4%, Vitamin C: 15%, Calcium: 5%, Iron: 11%
Share with me:  What's your favorite part of the Thanksgiving dinner spread?  Are you a gravy or cranberry sauce kinda person?  If you tried this dairy free stuffing, what'd ya think?