Sometimes referred to as "Puerto Rican Eggnog", coquito is a delicious, thick, coconut beverage that is perfect for the holidays. This vegan coquito packs in all the traditional flavor and texture – no dairy necessary. You'll be shocked at just how close this is to the conventional version!
What is coquito?
Coquito, coined "little coconut", is a beverage that originated in Puerto Rico. The texture of coquito is similar to eggnog – thick and creamy – though some people have different preferences and may thin it out with extra milk or extra rum. It's served cold, often garnished with cinnamon sticks.
The traditional drink is typically made with sweetened condensed milk and evaporated milk, along with coconut ingredients like cream of coconut, plus white rum.
There are variations to this, of course. While most people would argue coquito does not contain eggs, some people do use egg yolks for a more custard-like taste. Occasionally, rum raisins may also be added. And some people prefer dark rum to white rum.
Obviously for a vegan coquito, we'll need to eliminate the dairy-based ingredients (and we won't be using egg regardless, since most traditional recipes do not use eggs). The good news is that there are so many substitutes on the market these days, it's incredibly easy to make a homemade dairy free coquito!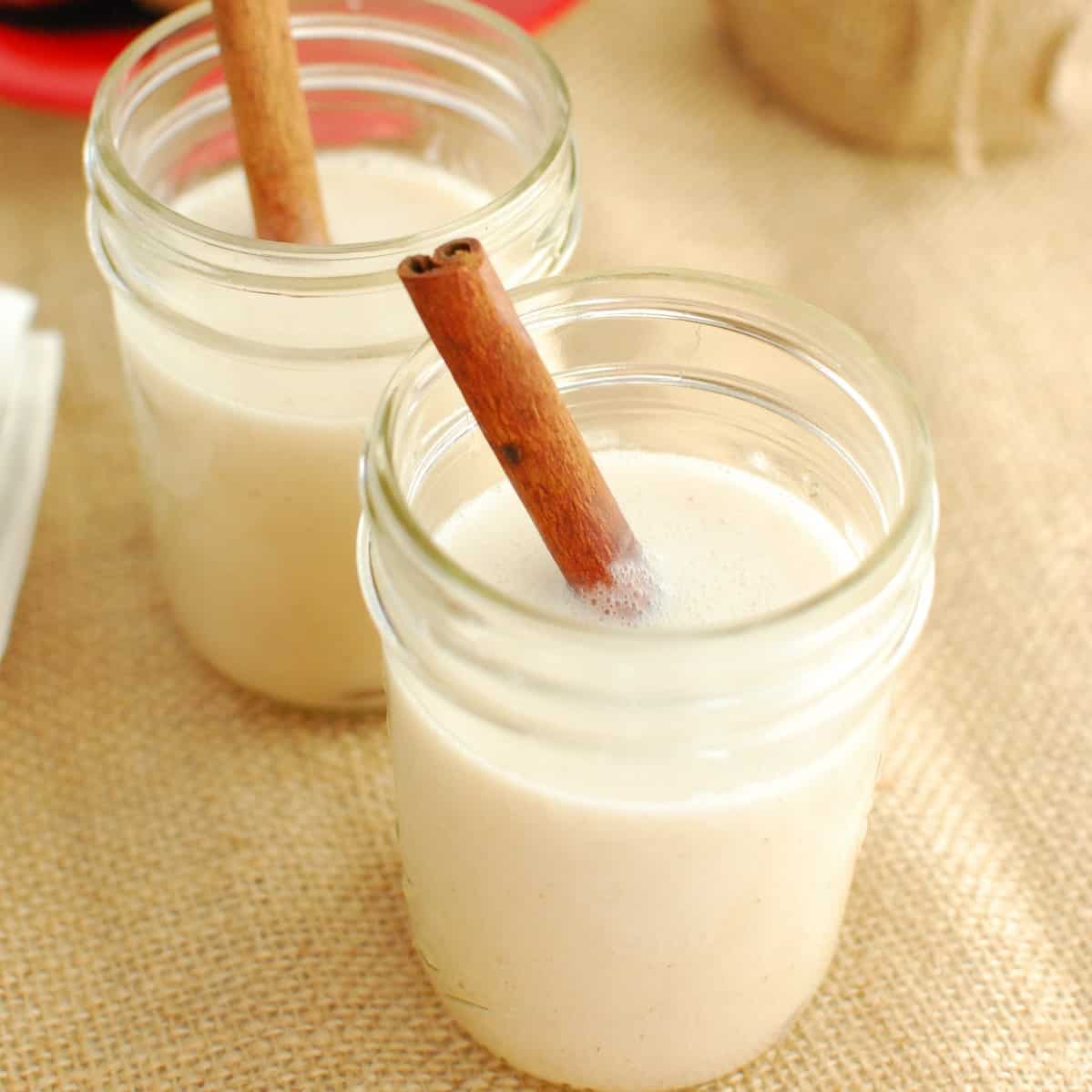 Ingredient tips
Here's a list of the ingredients you'll need to make this recipe, along with helpful background on each:
Cream of Coconut – If you're not familiar with this, it's fairly easy to find at the grocery store – usually in the "international" aisle. I used Goya in this recipe, which is specifically listed on their website as vegan. Coco Lopez is another popular brand; I'm waiting on confirmation from the company that the product is in fact vegan (it's definitely dairy free; it should be vegan as long as the sugar isn't processed with bone char). One tip: cream of coconut is not the same as canned coconut cream. Cream of coconut is mixed with sugar, while canned coconut cream is generally unsweetened. You want the former for this recipe.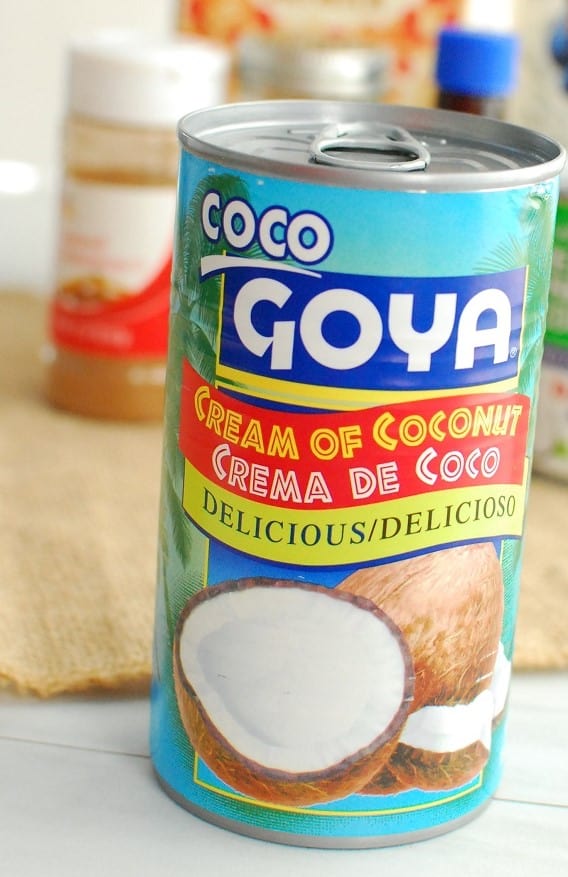 Dairy Free Sweetened Condensed Coconut Milk – The store-bought stuff is such a quick life savor for recipes that call for condensed milk! I've found a few brands at both Walmart and Stop & Shop. Nature's Charm is definitely vegan (at the time of publish). There's also an Andre Prost version that is dairy-free; I'm waiting on clarification from the company about whether it is definitely vegan (again, as far as the sugar used). If you can't find a vegan version or would prefer homemade, use this recipe for vegan sweetened condensed milk.
Extra Creamy Oat Milk – Standard coquito recipes often call for evaporated milk, which is simply regular milk that's been reduced down so some of the moisture has been removed. I figured extra creamy oat milk (i.e. Planet Oak extra creamy) would give the right flavor ratio and texture in place of the evaporated milk – and I was right! It works wonderfully. Of course, if you can't find the extra creamy version, feel free to just use regular oat milk (you may just need to reduce the amount a little depending on how thick you like your coquito).
White rum – If you want to get traditional you can use a Puerto Rican white rum like Don Q or Bacardi. I used Captain Morgan white rum since that's what we had on hand.
Vanilla and cinnamon – These help add a delicious holiday flavor to the drink!
Salt – A pinch of salt can help bring out the other flavors; it won't make this taste salty.
Cinnamon sticks – Perfect for garnish and also add a little extra of that warm, aromatic spice to the drink.
Once you've got all your ingredients on hand, you'll just throw everything (except the cinnamon sticks) in a blender, blend it up, and then chill!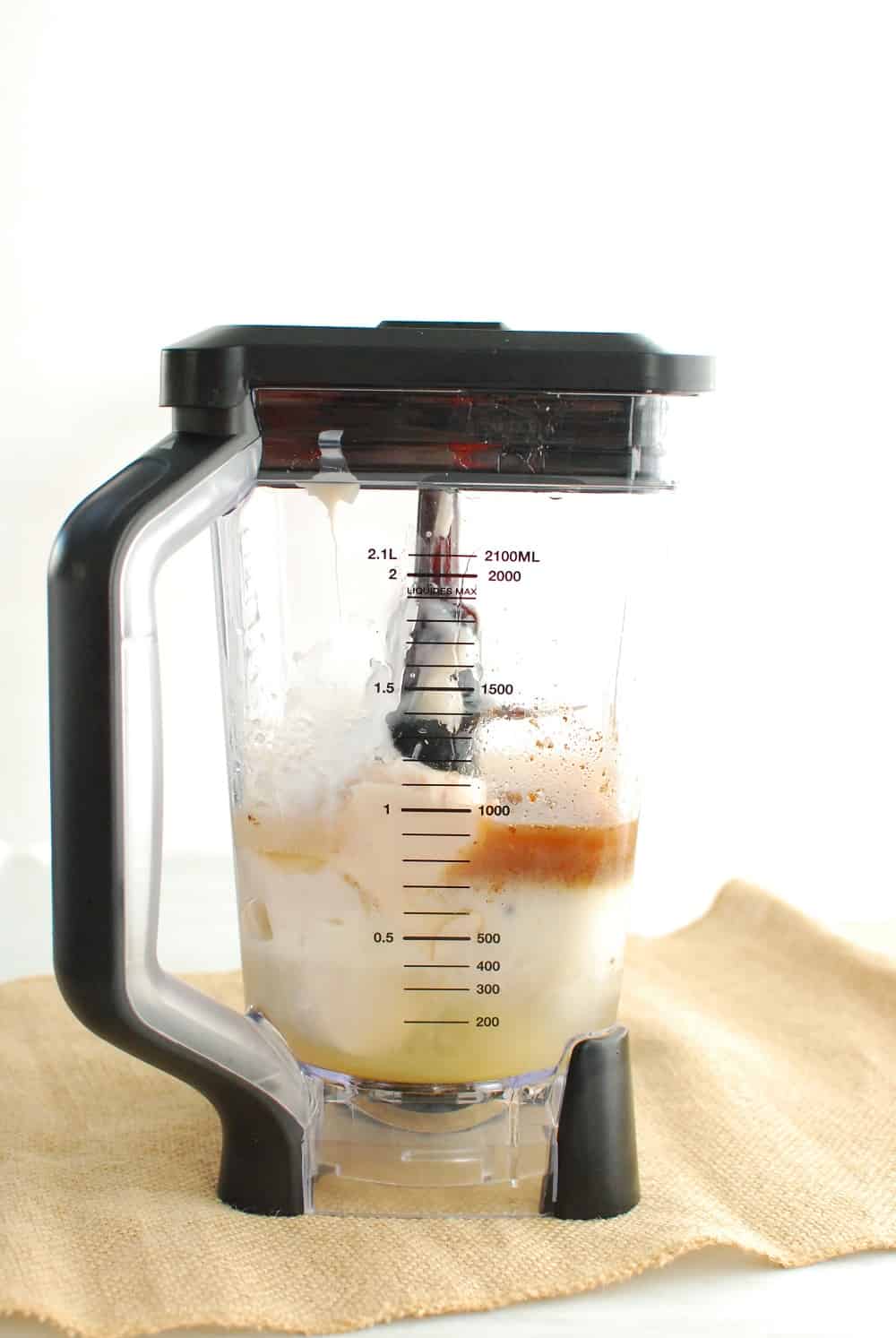 How much rum should you add?
In asking friends about their family coquito recipes, there seemed to be a lot of variation in how much rum was added! Some were pretty heavy handed with up to 1 1/2 cups, while others went more mild with 1/2 cup per batch.
I tested batches with 1/2 cup, 3/4 cup, and 1 cup of rum, and the 3/4 cup batch seemed to be the winner. It was strong-but-not-too-strong (in my opinion), still letting the coconut flavors shine through.
You can certainly adjust this to personal preference though. If you aren't a fan of the taste of rum, reduce the liquor to a 1/2 cup – it will be pretty mild this way. If you prefer a boozier option, go ahead and increase to 1 cup.
If you want to make an alcohol-free version for the kids, you can also do that by simply substituting extra oat milk in place of the rum.
Recipe FAQ:
Here are some other common questions that may come up as you prepare this:
Why not use evaporated coconut milk instead of oat milk? Because there is evaporated coconut milk on the market, it seems like a good substitute for the evaporated milk in standard recipes. However, I've found this doesn't give the right balance of flavors. The creamy oat milk, in my opinion, offers up a vegan coquito that tastes extremely similar to the standard version.
How long does coquito last? I know people who will leave it in the fridge for a while, but out of an abundance of food safety, I recommend using it within 5-7 days.
How do you fix coquito that is too strong? Went a little heavy handed on the rum? If you can, make a double batch by adding the other ingredients again. If you don't have those on hand, try mixing in equal parts extra oat milk and regular coconut milk.
Is coquito the same as horchata? Nope! Horchata is generally rice-based, while coquito is coconut-based.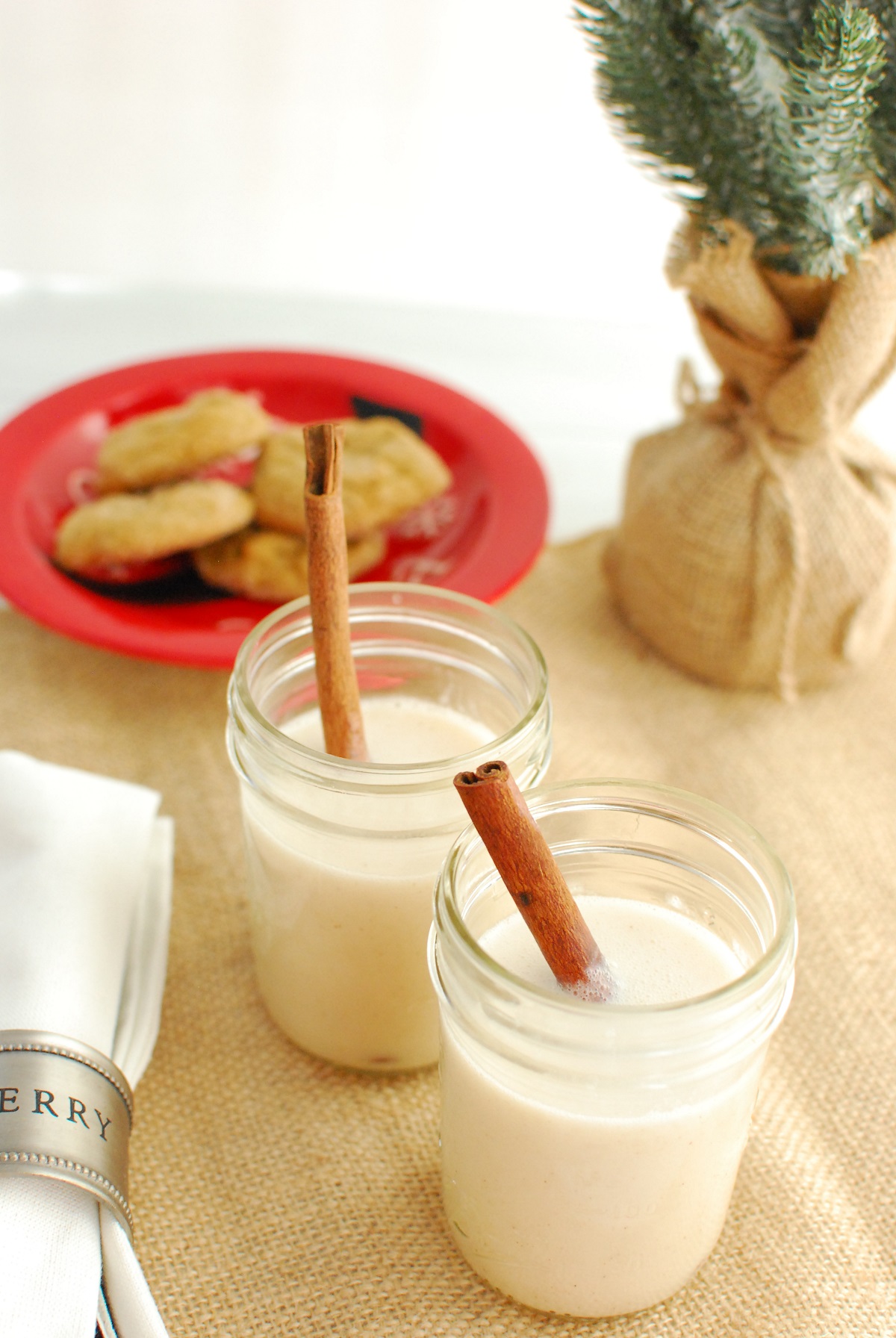 Allergens in this recipe
Disclaimer: Always double check product labels and ingredients before making a recipe. While I try to check all ingredients for allergens, there's always the chance I may miss something or manufacturer formulations can change.
As written, this recipe is dairy free, egg free, soy free, and peanut free. It should also be gluten free as long as the oat milk you choose is certified gluten free (I used Planet Oak, which at the time of publish was gluten free).
This recipe does contain coconut, which can be classified as a tree nut. Many people with tree nut allergies can safely tolerate coconut, but be sure to check with your doctor to be sure. (If you do have a coconut allergy, it would be difficult to modify this recipe since the base is really that coconut flavor).
I hope you enjoy this recipe as much as my husband and I do! If you get a chance to try it, I'd love for you to leave a recipe rating or comment below.
PS – Looking for more vegan holiday recipes? Try these hot chocolate bombs (just use vegan marshmallows) or these chewy vegan ginger cookies.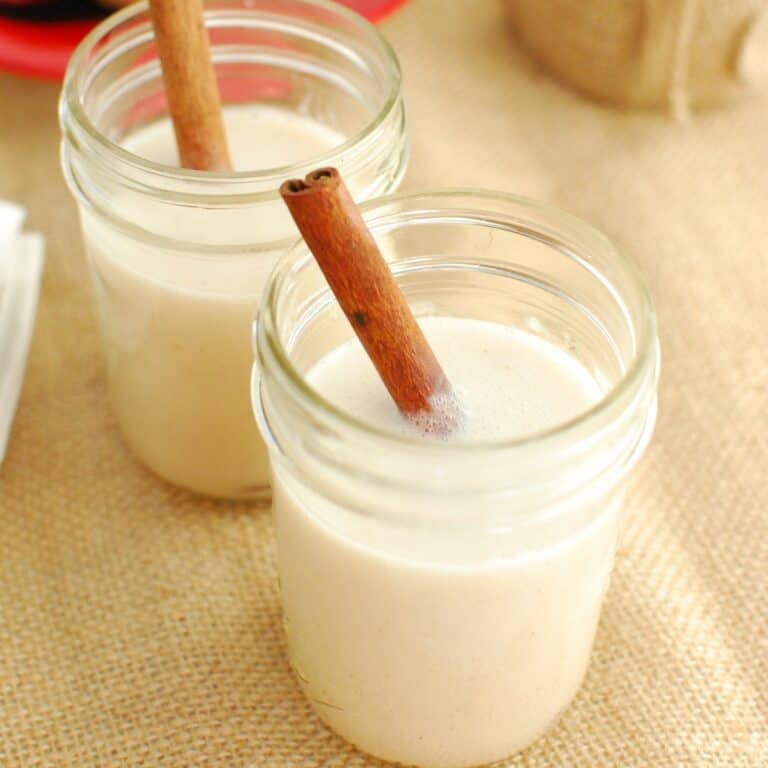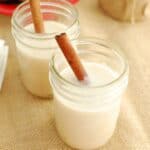 Vegan Coquito
This vegan coquito recipe makes the perfect boozy holiday drink!
Total Time
1
hour
10
minutes
Ingredients
15

ounce

can cream of coconut

11.25

ounce

can dairy-free sweetened condensed coconut milk

1 1/3

cup

extra creamy oat milk

3/4

cup

white rum

1

tsp

pure vanilla extract

1/4

tsp

cinnamon

1/8

tsp

salt

Cinnamon sticks for garnish
Instructions
Combine all the ingredients in a blender. Blend on high speed for about 20-30 seconds, or until well combined.

Pour the coquito into glass bottles or jars. Chill in the fridge for at least an hour (mixture will thicken upon chilling). Serve cold in small glasses garnished with cinnamon sticks.
Recipe Notes
This recipe makes a thick coquito. If you prefer a thinner version, increase the oat milk to 1 3/4 cups.
If you prefer a version that's less rum-forward, decrease the rum to 1/2 cup for the batch and increase the oat milk to 1 1/2 cups (or more, depending on your preferred thickness).
As written, this recipe makes around 40 ounces, or about ten servings of a 1/2 cup each.
Nutrition analysis (approximate per serving): 313 calories, 10 g fat, 8.5 g saturated fat, 90 mg sodium, 47 g carbohydrate, 41 g sugar, 0 g protein, Vitamin D: 3%, Calcium: 3%, Iron: 0%, Potassium: 2%
Share: Have you ever tried coquito? How did this vegan version stack up?
Don't forget to pin this recipe so you can refer back to it again later! 🙂