With just a few ingredients, you can whip up this delicious dairy free caramel oat milk latte! It's warm and comforting and perfectly sweet. You'll be ready to skip those morning coffee runs and make this at home from now on!
Disclaimer: This post contains Amazon affiliate links. As an affiliate I earn a commission on qualifying purchases.
Ingredients
Here's a quick run down of everything you'll need:
Oat milk – You can also use almond milk or soy milk or another dairy-free milk alternative. I like oat milk because it's naturally creamy and sweet, which works well in this recipe.
Caramel sauce – This is one of the tougher dairy free ingredients to find, but not to worry! You can either make your own homemade dairy free caramel, or you can splurge on one of these jars of caramel online (great to have on hand!):
Vanilla – This adds another layer of flavor to the drink.
Coffee – While traditional lattes are made with espresso, I know not everyone has that lying around. Instead, this recipe uses any standard coffee that you've got on hand. (However, you'll find instructions on making it with espresso if you prefer in the notes section of the recipe card).
Dairy-free whipped topping – This is an optional ingredient, but adds such a fun topping. Reddi Whip makes two dairy-free whipped toppings (an almond-forward version and a coconut-forward version) that are available at most major grocery stores. Pro tip – be sure to read the instructions on these carefully, as they instruct you to run them under warm water and shake prior to using. If you don't follow these, you may have trouble with getting the whipped cream to dispense.
Instructions
This is so simple to make! You'll find the full recipe amounts and instructions in the recipe card at the bottom, but here's a helpful overview.
Start by heating the oat milk, caramel, and vanilla in a small pot. Whisk it often and continue heating until it's just starting to steam (do not bring it to a boil).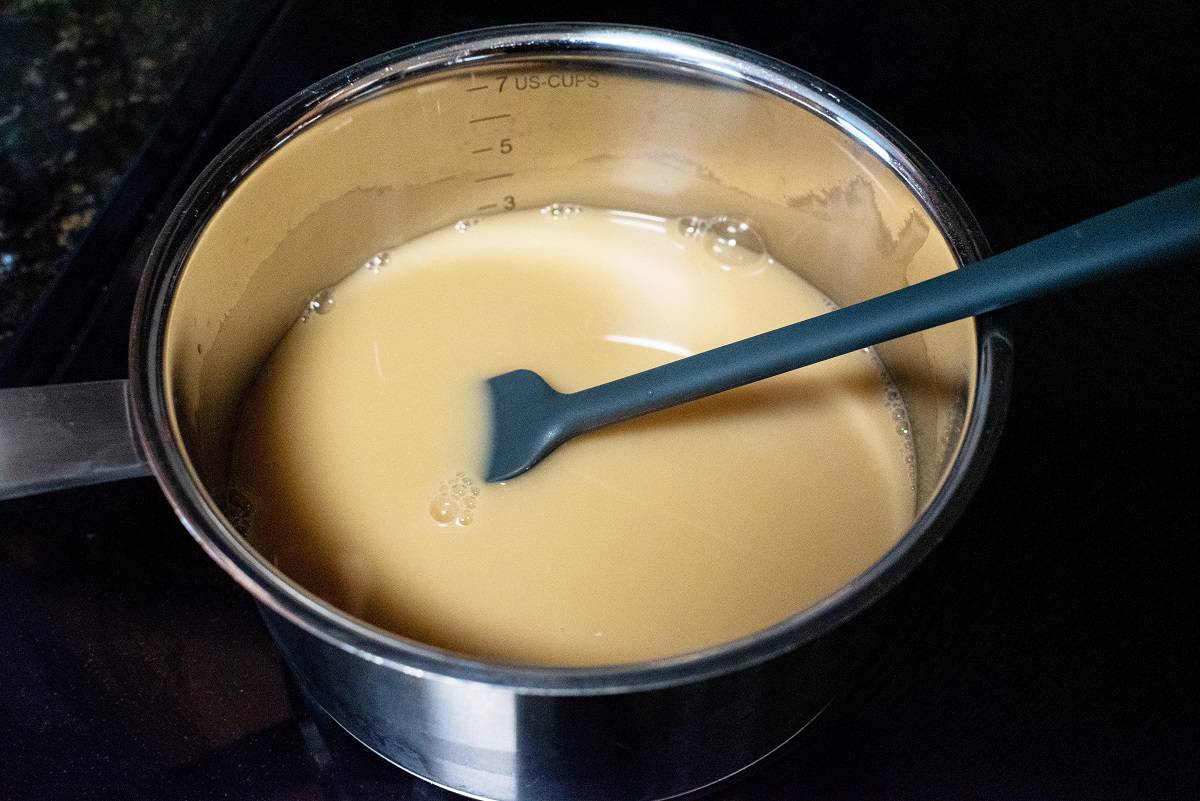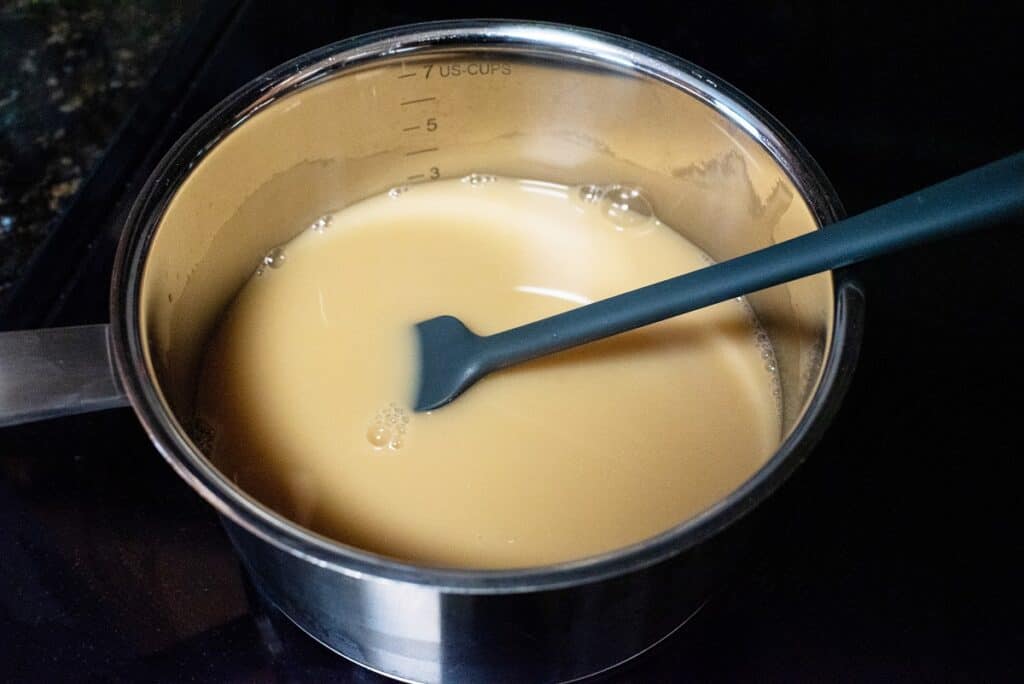 At this point, you can use a milk frother or you can even just whisk the milk vigorously to froth it. Whatever works!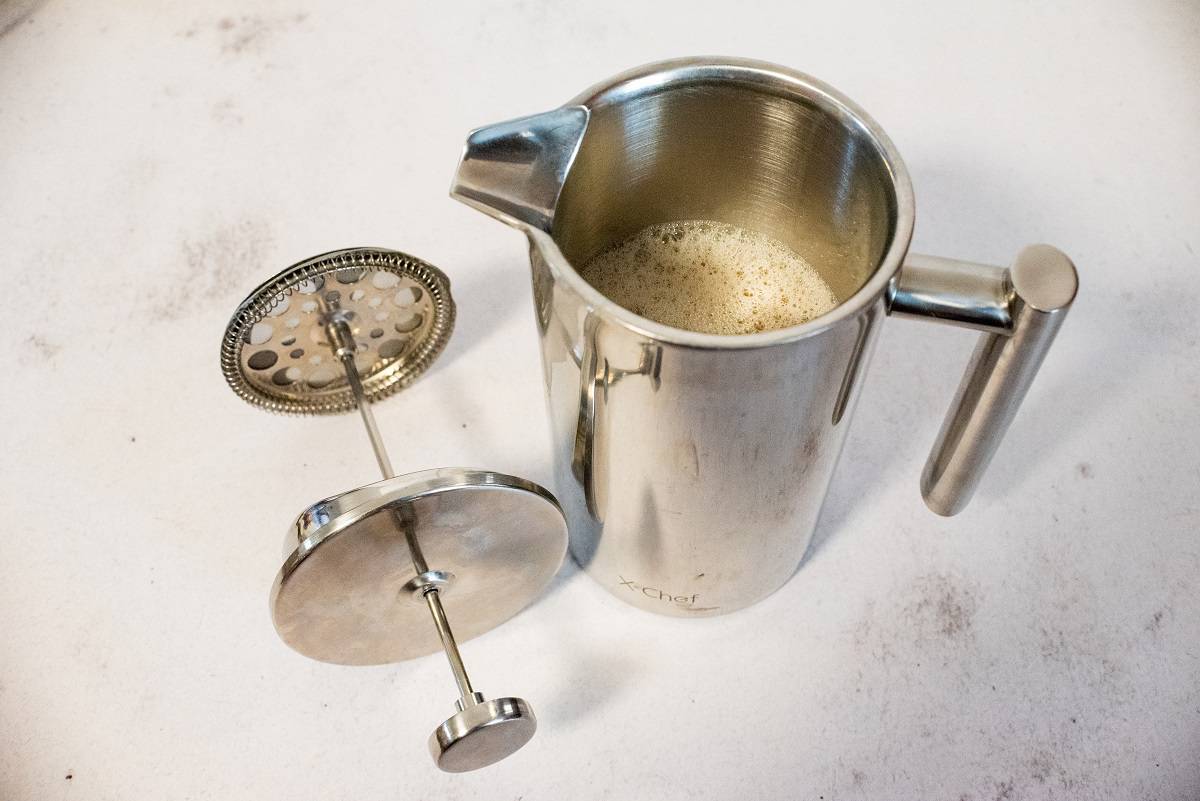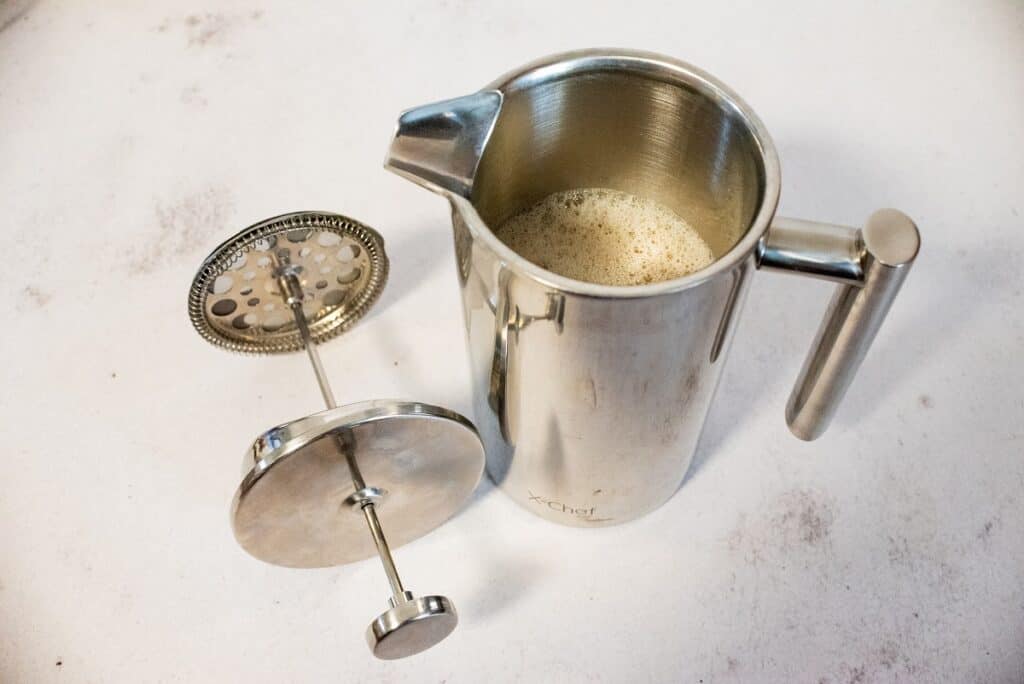 Pour the coffee into a heat-safe glass or mug, then pour the milk mixture over the top.
If you'd like, add a little dairy-free whipped topping and an extra drizzle of caramel on top. YUM!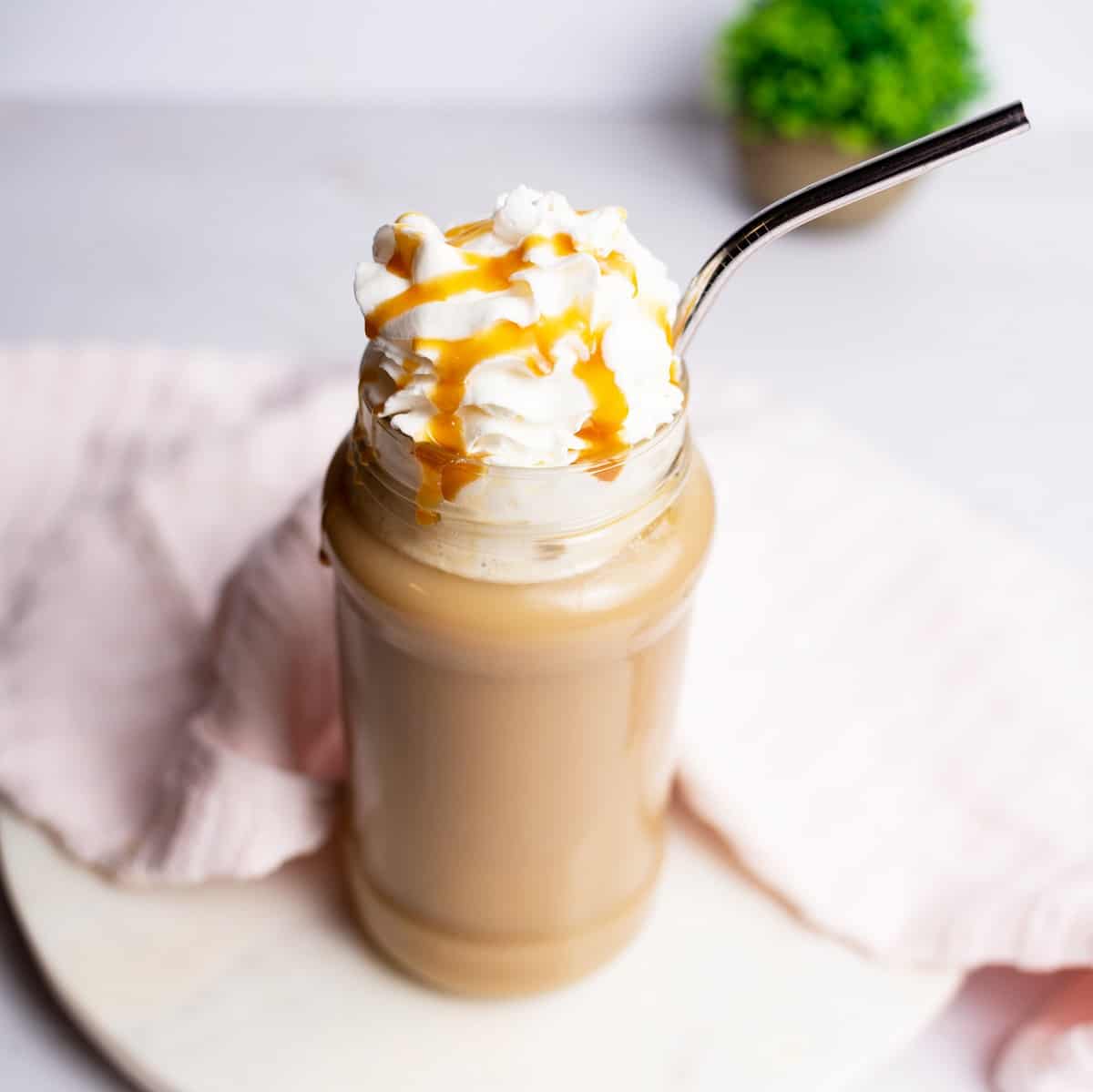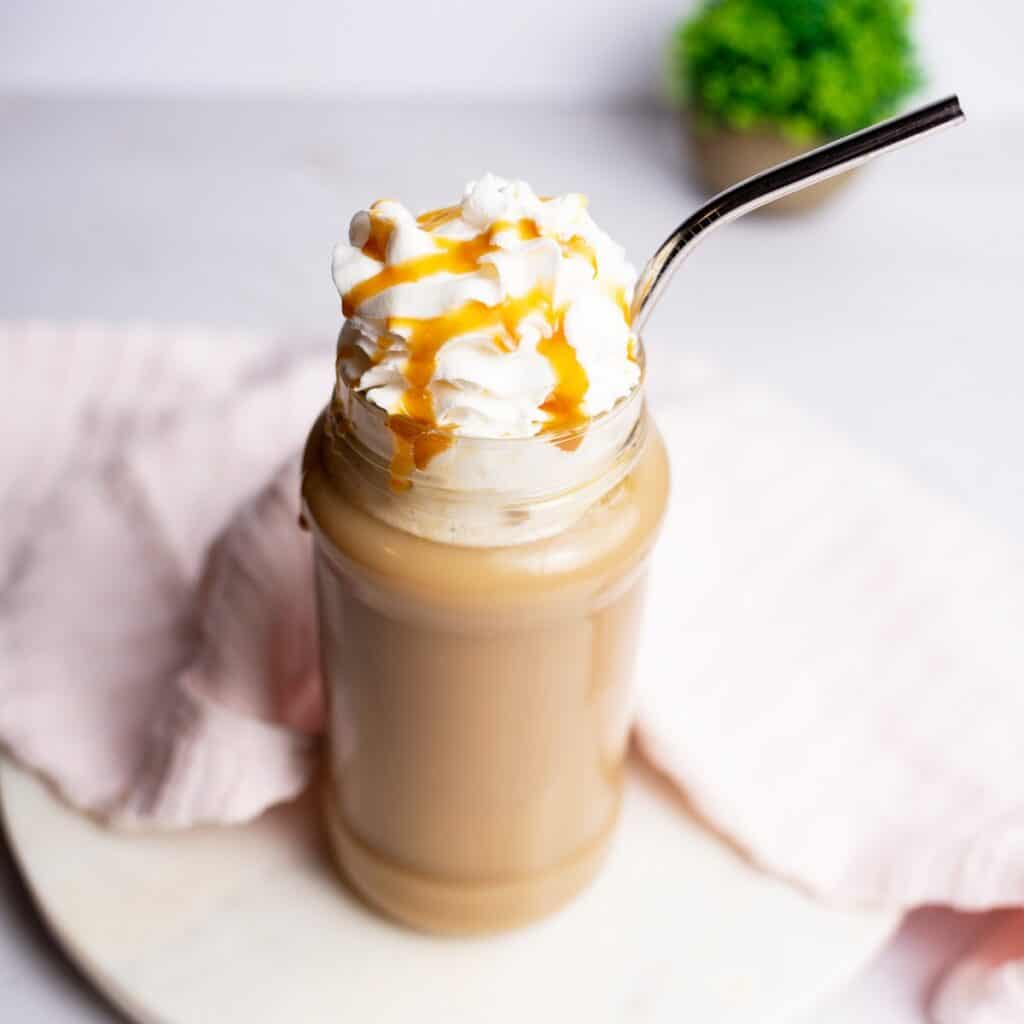 Recipe FAQ
Here are some common questions that may arise as you prepare this caramel oat milk latte recipe:
Can you make a caramel latte with decaf coffee?
Yes! Feel free to just substitute decaf for regular.
Can you make a caramel latte with espresso?
Yes. The typical ratio of espresso to hot milk tends to be around 1 part espresso to 3-4 parts milk (but can be adjusted to your taste preferences).
Allergens in this recipe
Disclaimer: Always double check ingredients and labels yourself prior to making a recipe. While I try to check all ingredients for allergens, there's always the chance I may miss something, or manufacturer formulations can change.
As written, this drink is dairy free. With the ingredients that I used, it was also soy free, egg free, and peanut free. (Double check your labels for these ingredients).
It does contain tree nuts in the form of coconut. Depending on the dairy free whipped topping you use, it may also contain almonds.
Depending on the brand of oat milk used, it may contain gluten. You can easily find a gluten-free oat milk though if needed.
More Dairy-Free Drinks
If you're looking for more tasty dairy-free drinks, try one of these options:
I hope you enjoy starting your morning with this tasty dairy free caramel oat milk latte! If you get a chance to try it, feel free to leave a recipe rating or comment below.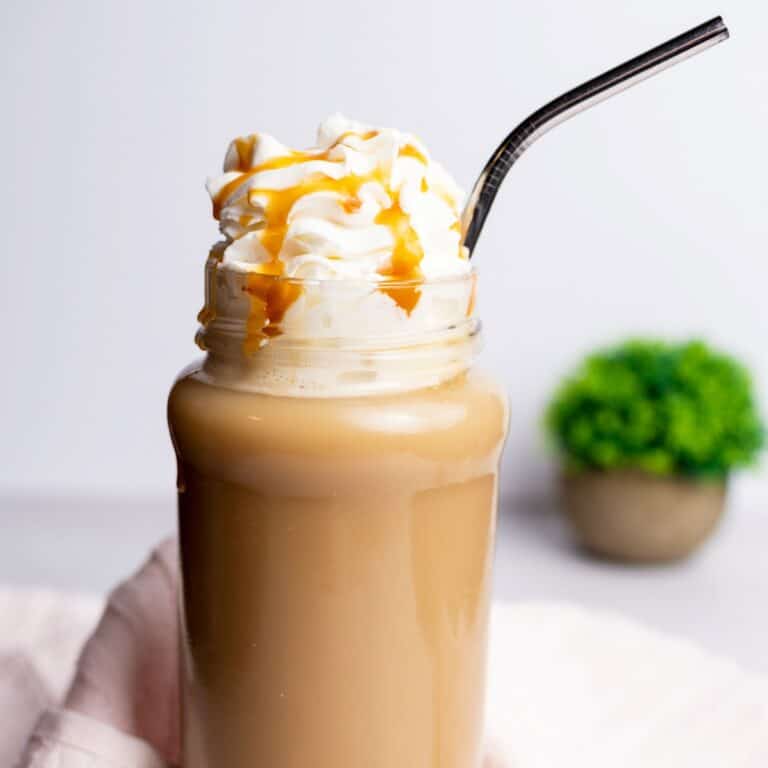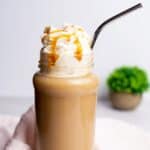 Dairy Free Caramel Oat Milk Latte
This dairy free caramel latte is a perfectly sweet treat to start your day!
Ingredients
For latte:
¾

cup

oat milk

(or another dairy-free milk)

1

tbsp

dairy-free caramel sauce

(see notes; add more to taste if you'd like)

¼

tsp

vanilla extract

½

cup

strongly brewed coffee
For topping (optional):
Dairy-free whipped topping

Additional dairy-free caramel sauce
Instructions
In a small pot, combine the oat milk, caramel, and vanilla over medium heat. Whisk frequently and heat until the milk mixture is just starting to steam. Remove from heat, and if desired, either whisk milk mixture vigorously or use milk frother to create froth.

Pour coffee into a heat-safe glass or large mug, and pour caramel milk mixture over the coffee.

If desired, top with dairy-free whipped cream and another drizzle of dairy-free caramel sauce. Enjoy!
Recipe Notes
You can use homemade dairy-free caramel, or you can order specialty dairy-free caramel syrup online. Try Hey Boo Coconut Caramel Sauce, Sweet Apricity Sea Salted Caramel Sauce, or Mr. Dewie's Vegan Caramel. You may also be able to find dairy-free caramel at your local health food store.
You can make a mocha latte the same way by using a dairy-free chocolate syrup instead of caramel syrup.
If you want to make a traditional latte with espresso instead of coffee, use 1 cup of oat milk and 2 ounces of espresso (based on your preferences).
Nutrition analysis (approximate, assumes 2 tablespoons of whipped topping used and 1 additional tablespoon of caramel drizzled on top): 213 calories, 5 g fat, 1.5 g saturated fat, 85 mg sodium, 38.5 g carbohydrate, 3.5 g fiber, 16.5 g sugar, 4 g protein, Vitamin D: 10%, Calcium: 19%, Iron: 8%, Potassium: 4%
Share: What's your favorite kind of coffee drink? If you tried this recipe, what did you think?
Feel free to pin this post to save for later.