Craving a classic glass of eggnog this Christmas – but following a dairy free diet? Not a problem! This dairy free eggnog recipe is rich, sweet, and flavored with delicious holiday spices. You can spike it if you'd like, or leave it alcohol-free for the whole family.
Ingredients
Here's what you'll need to make this recipe, along with selected ingredient notes.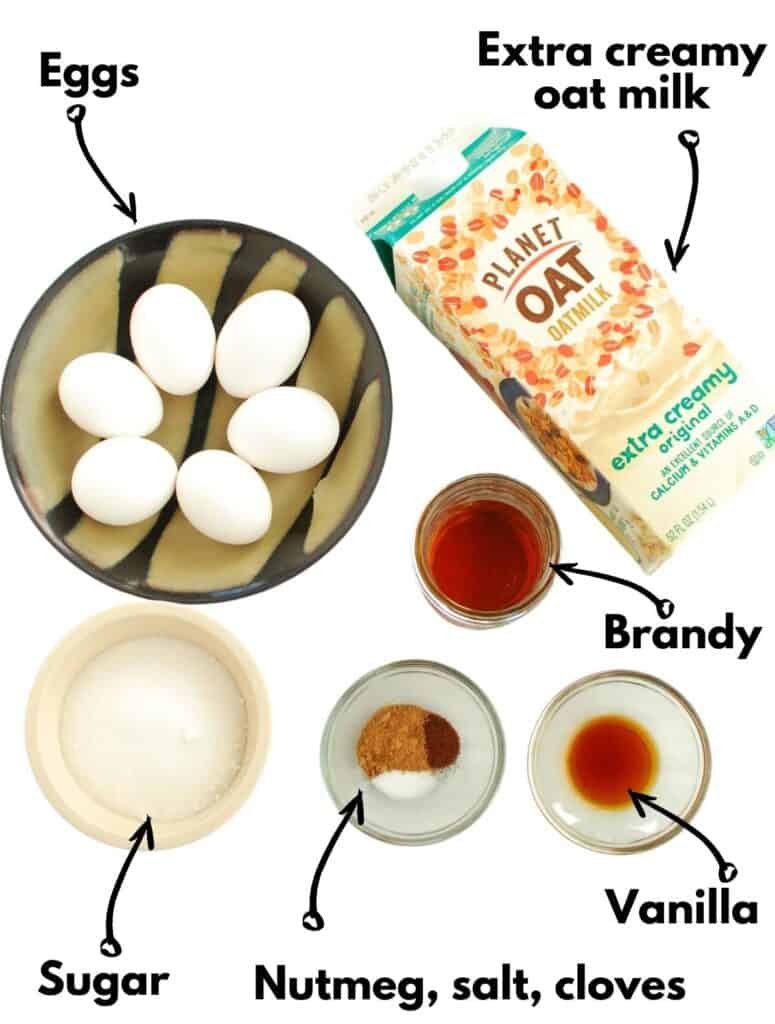 Oat milk – Extra creamy oat milk is key to making this recipe. This oat milk is thicker than most other dairy free milks, which will lend a creamy texture in the eggnog. Many dairy free recipes use full fat canned coconut milk, but in testing I've found that the coconut flavor comes through a bit more than I'd like – so this one is made exclusively with oat milk. Based on testing, I recommend Planet Oak extra creamy.
Egg yolks – You'll only use the yolks for this recipe, so you'll need to separate the egg whites from the yolks before starting. Don't toss the whites though! Try using them to make these angel food cake cupcakes. (Of course, you could also just scramble them for a healthy breakfast).
Brandy – Totally optional! Use it if you want to spike your eggnog, or leave it out if you'd prefer a non-alcoholic version.
Step by Step Instructions
You'll find full recipe instructions and amounts in the recipe card below, but here's some helpful step by step photos and tips.
Start by separating your eggs, adding just the egg yolks to the bowl.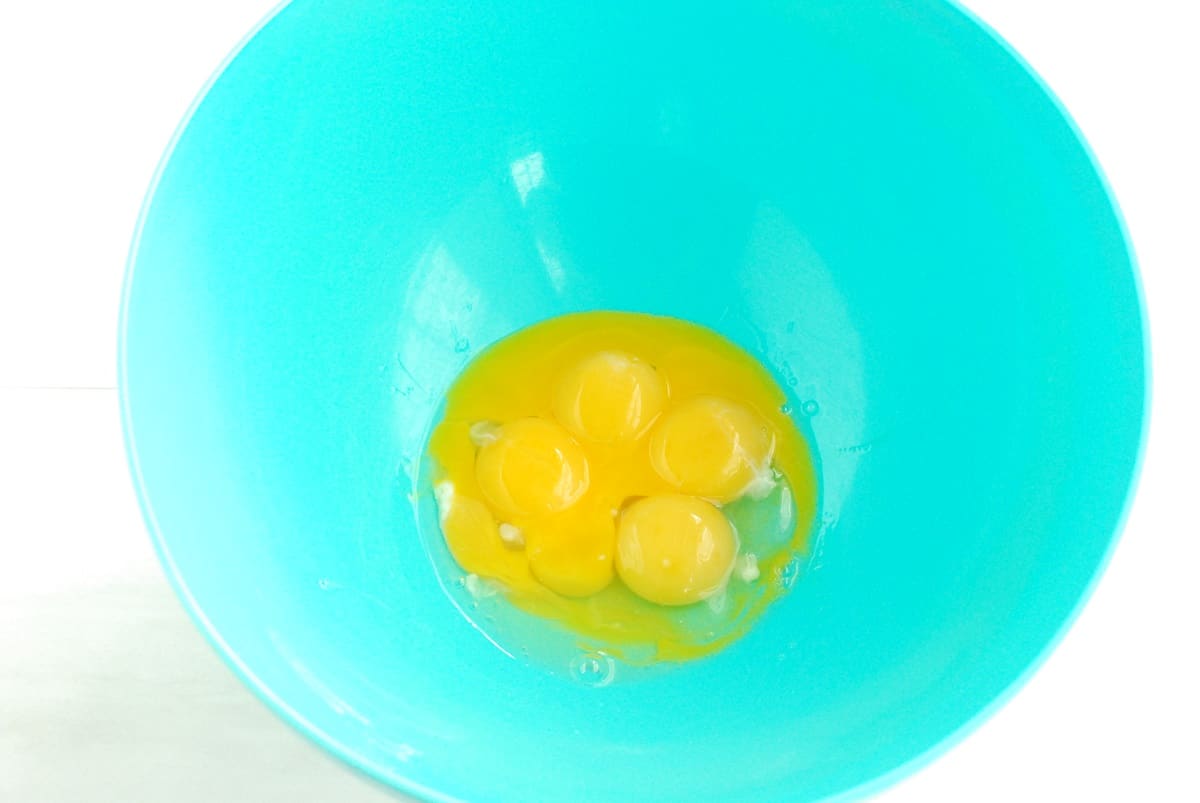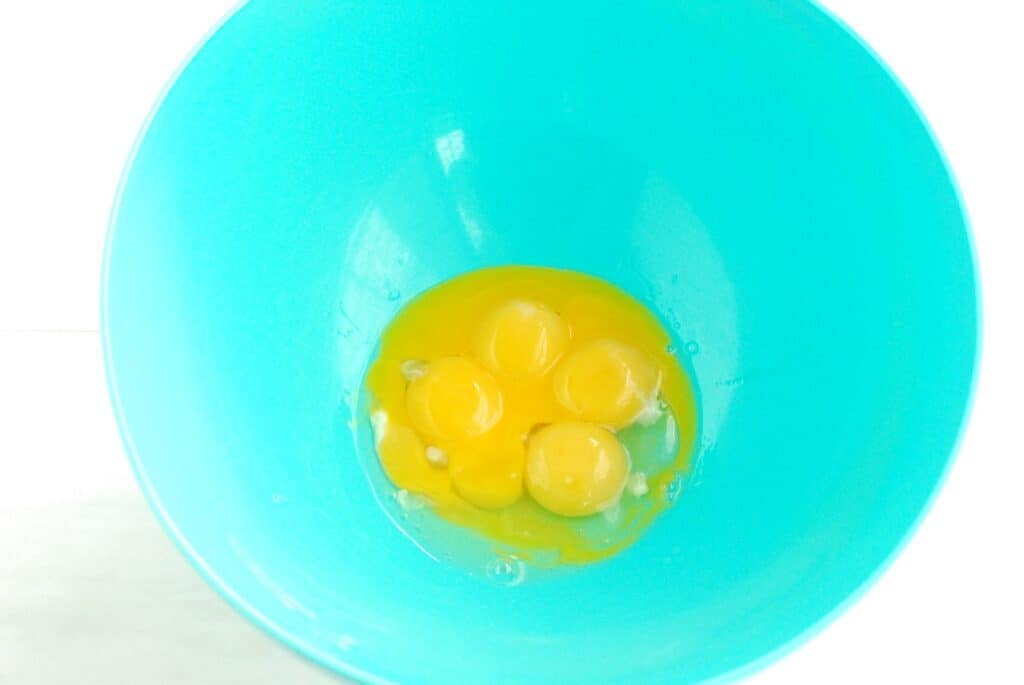 Mix in the sugar. Whisk it together until well-combined.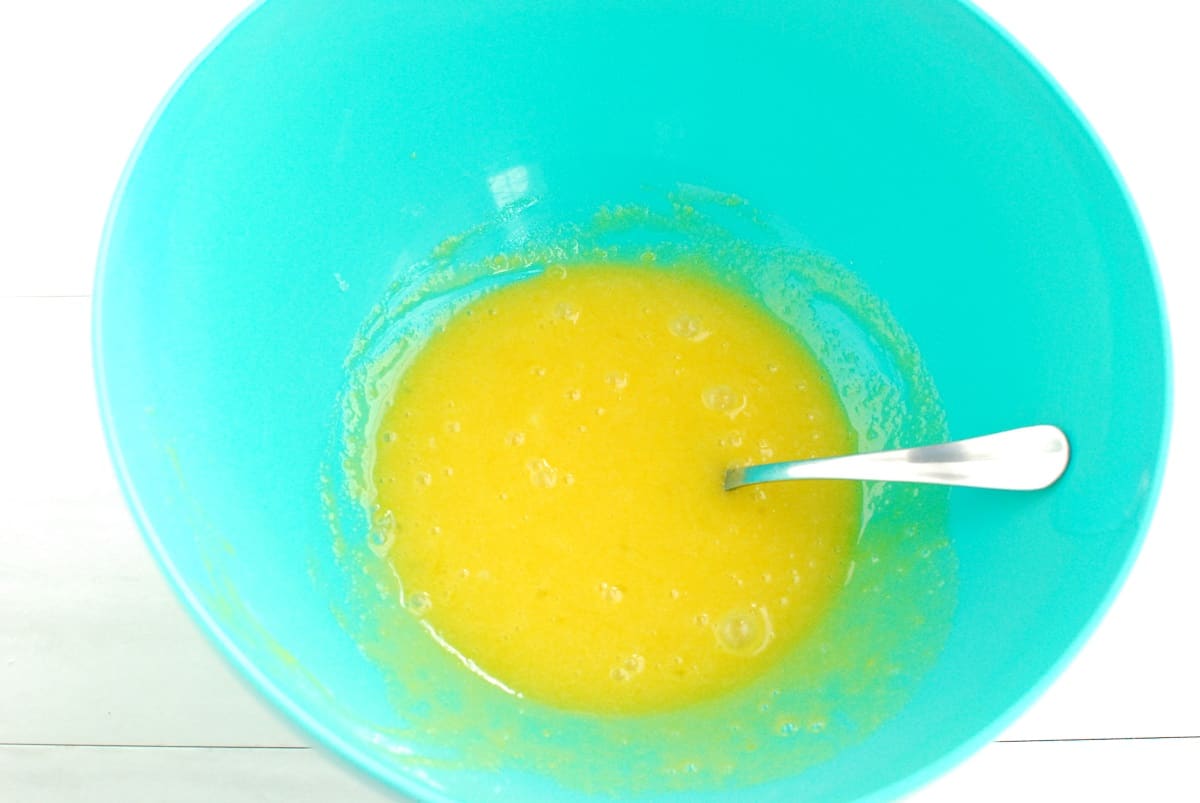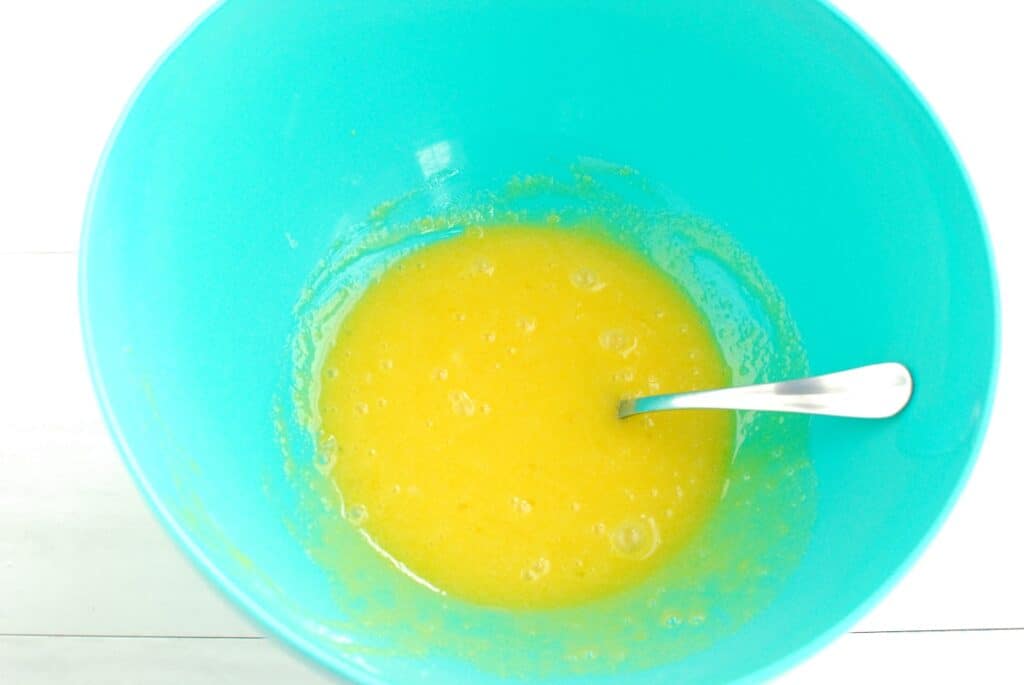 Next, add your oat milk, nutmeg, salt, and cloves (if using) to a pot. The clove flavor is definitely pretty prominent if you use it, but I personally love that – so definitely a personal choice if you want to add that or not.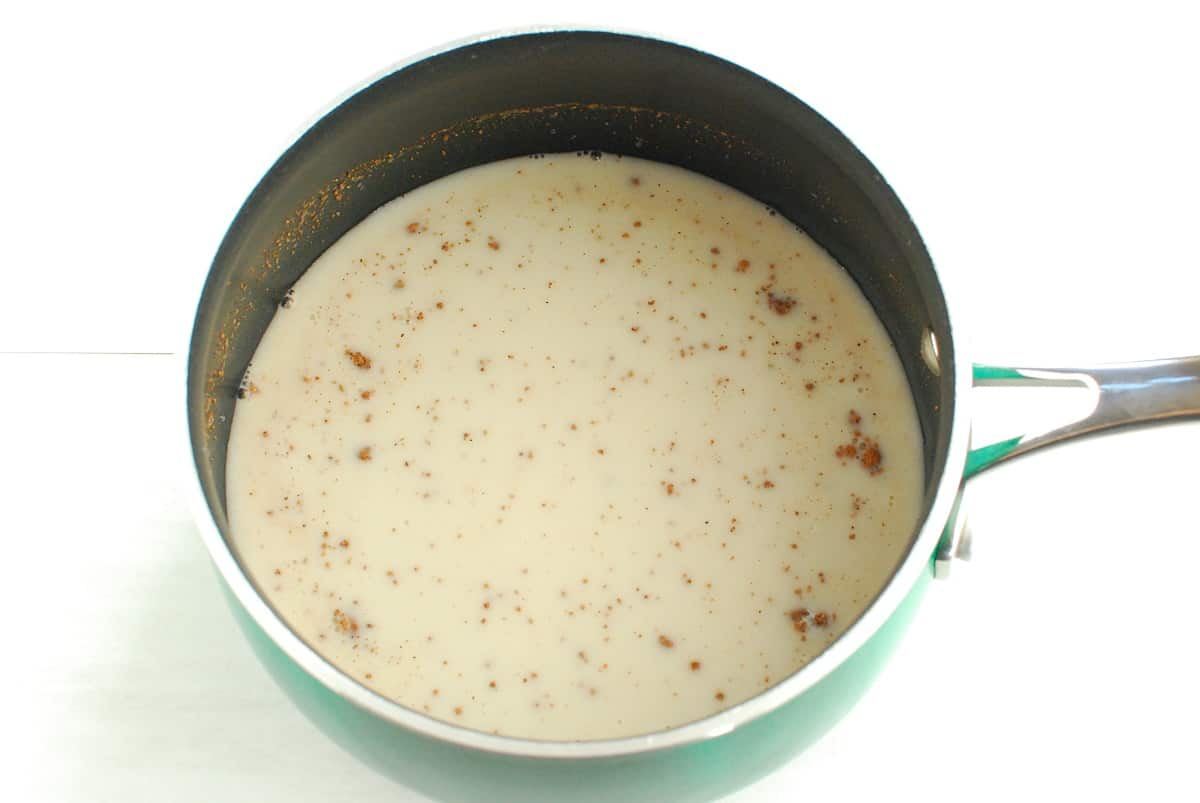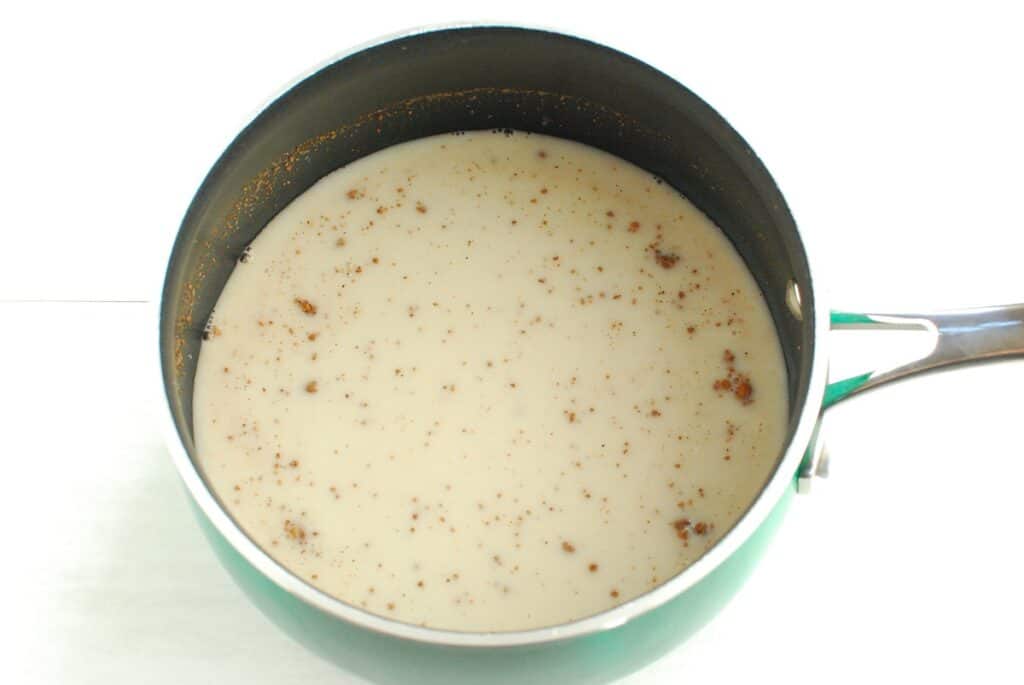 Heat up the oat milk mixture until it just starts to simmer, then ladle a little into the egg yolk and sugar mixture, whisking constantly. The goal with this step is to temper the eggs. You want to add the liquid slowly while stirring so that the eggs do not scramble, but instead seamlessly mix into the liquid to help add body and richness.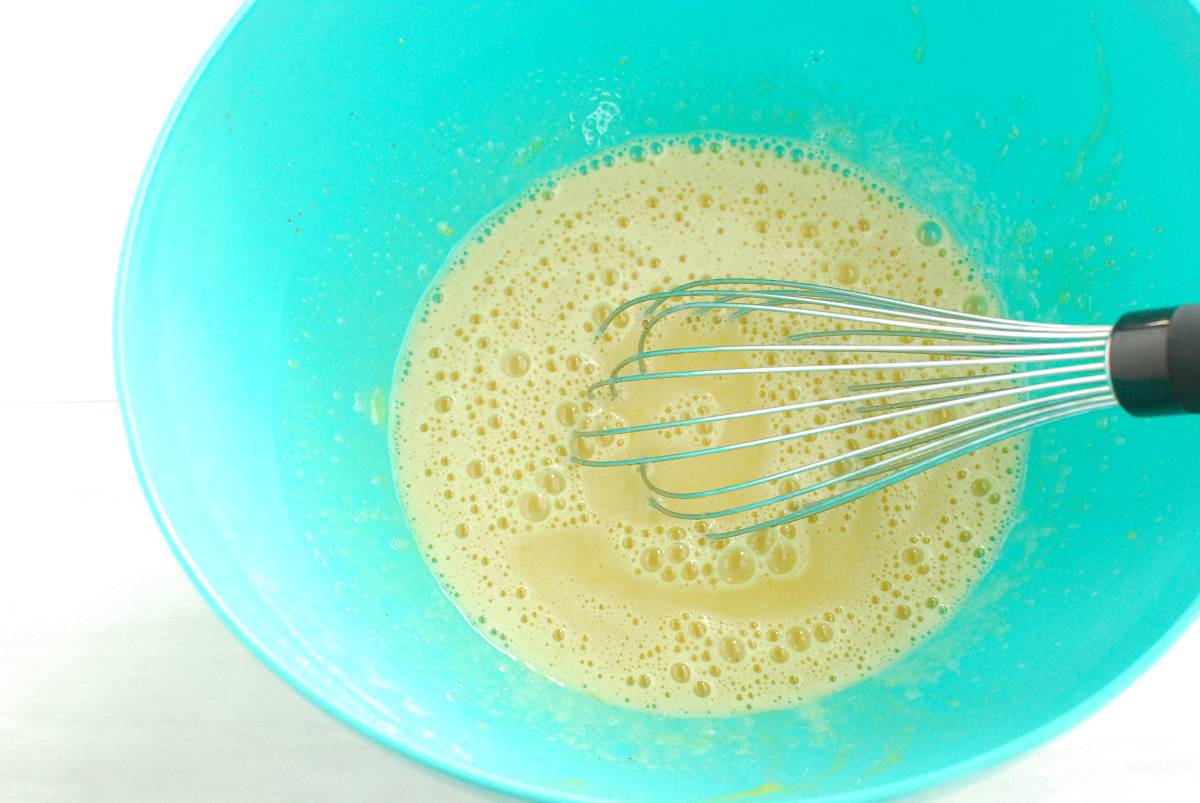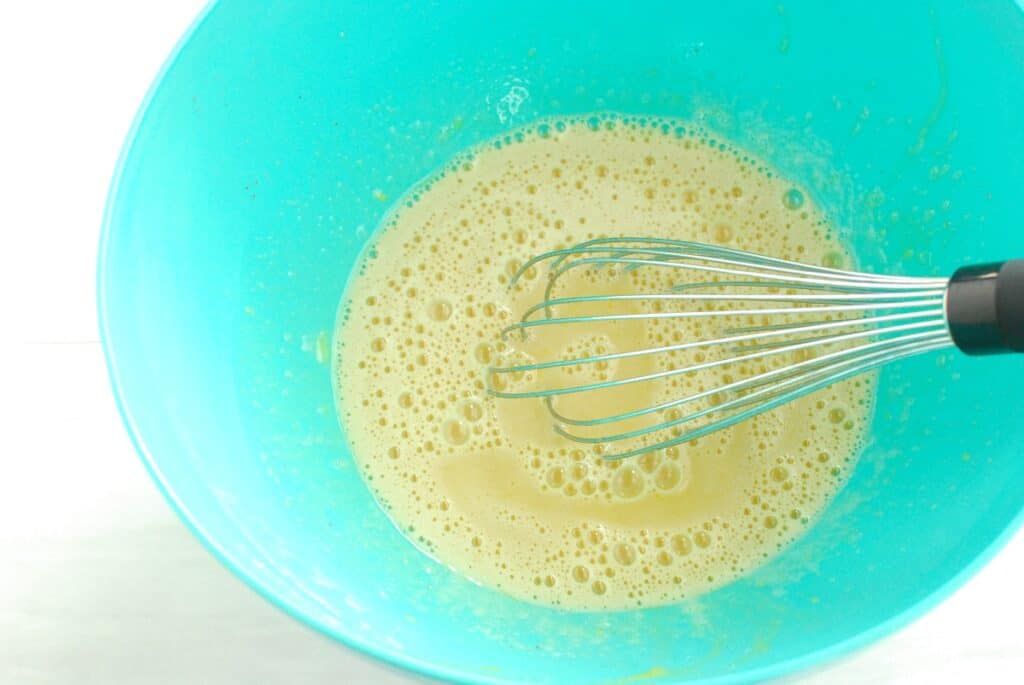 Once you've added all the oat milk mixture to the egg yolks and everything is well combined, go ahead and pour that back into the pot. Heat it up again for another few minutes, until the temperature reaches 160 degrees (this is for food safety to ensure any bacteria in the eggs is killed).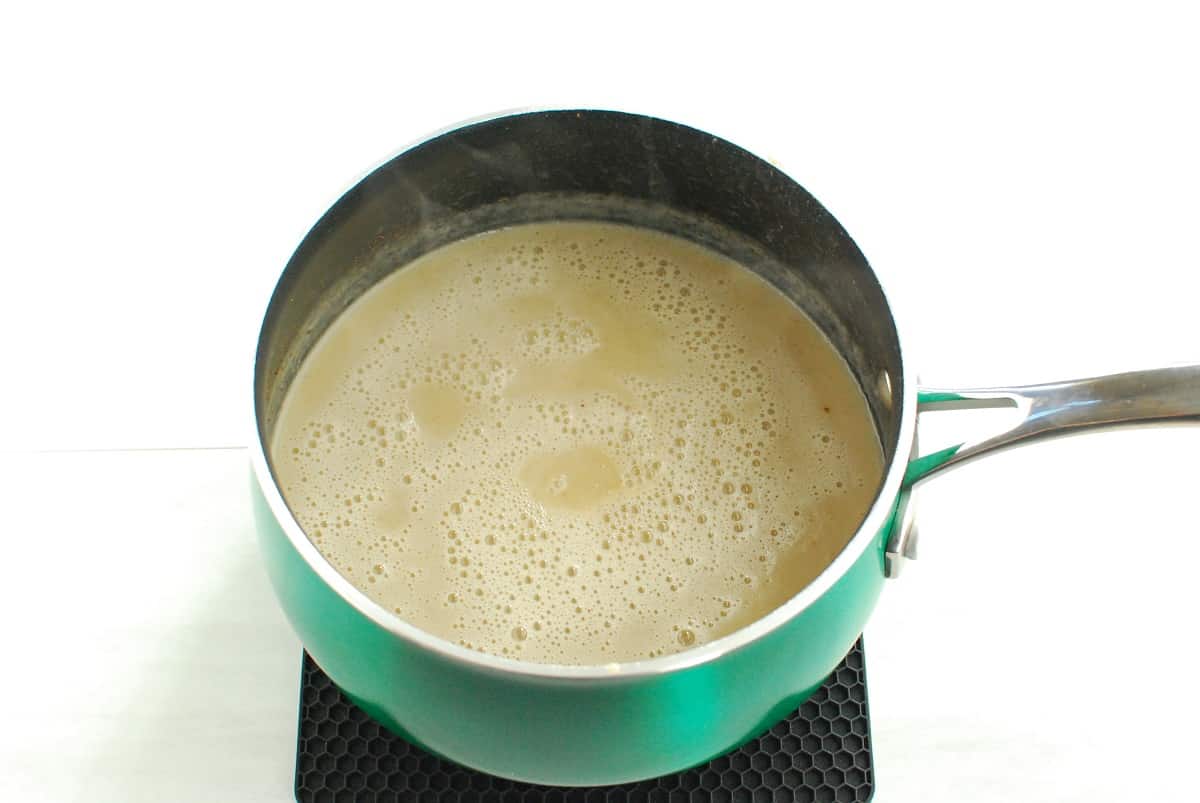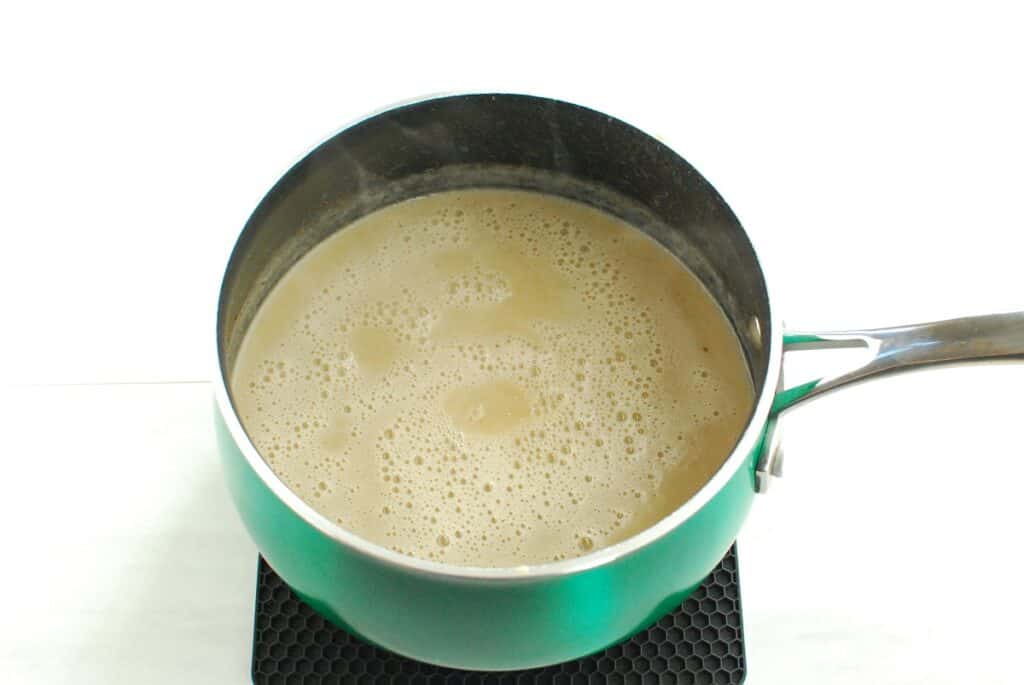 At this point, remove it from heat and stir in the vanilla and the brandy (if you're spiking it!).
Note: While many traditional eggnog recipes fold whipped egg whites in at the end for texture, I don't feel comfortable with drinking raw egg whites – so I do not use this in my recipe.
Alright, now all you need to do is pour it into a pitcher or large mason jar, and place in the fridge. The eggnog will continue to thicken up a little as it cools.
Serve cold and enjoy! I like to add a dash of cinnamon on top of the mug for garnish.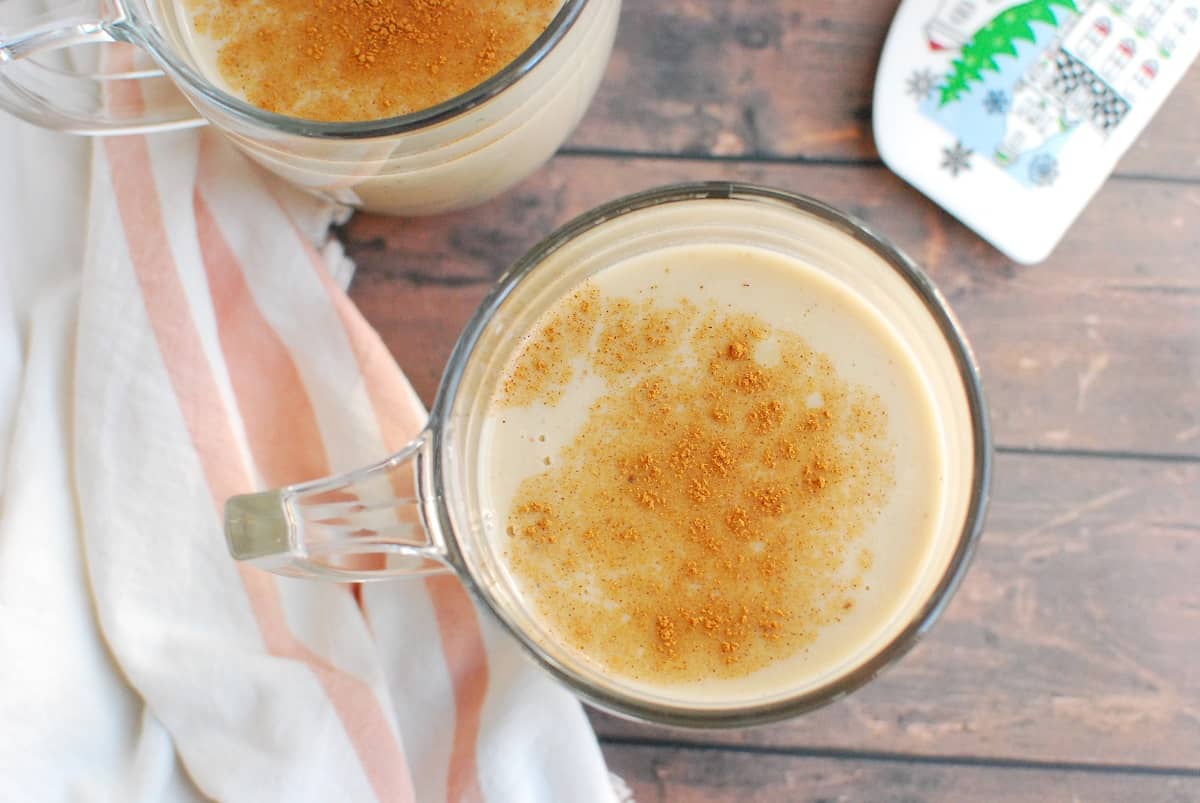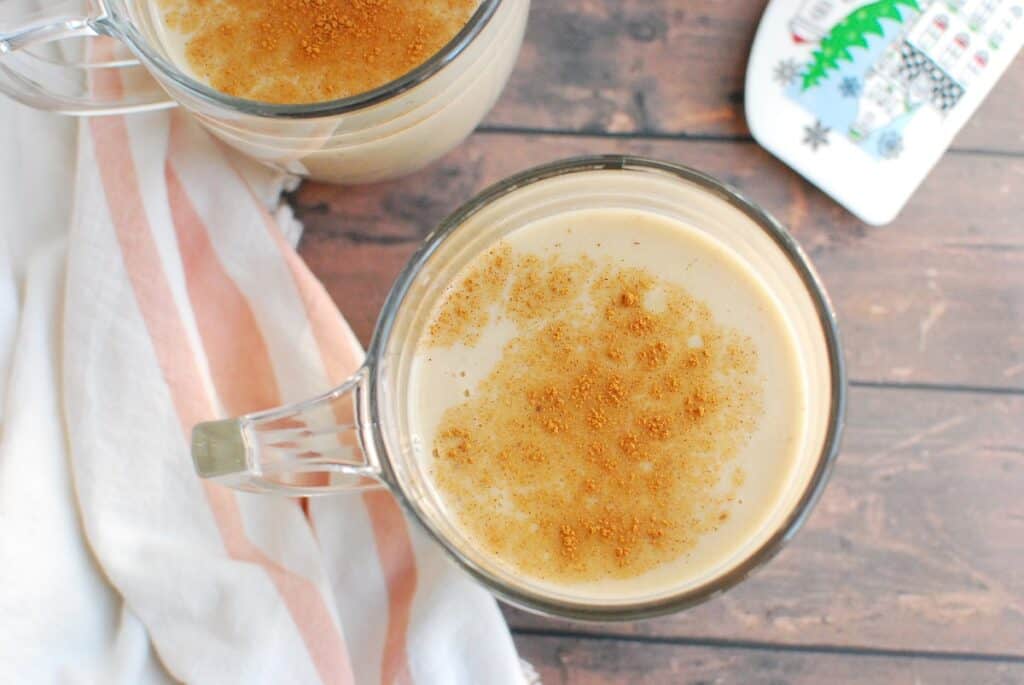 Recipe FAQ
Here are some common questions that may come up as you prepare this recipe:
What alcohol is best for eggnog?
Eggnog is traditionally made with brandy. However, bourbon, rum, or whisky are all additional popular choices. Feel free to experiment with different types of liquor.
How should you store dairy free eggnog?
Store in the refrigerator in a covered pitcher or large covered mason jar for up to 4 days.
Why is dairy free eggnog thinner than regular eggnog?
Traditional eggnog uses heavy cream to make up much of the liquid component, which is extremely rich and thick. Dairy free versions do not use this, making them a bit thinner. While there are dairy free heavy cream substitutes, the flavor isn't always great for a sipping drink. However, using extra creamy oat milk helps create a version that's thick and closer to the regular texture.
Allergens in this recipe
* Disclaimer: Always double check ingredients and product packaging to confirm a recipe meets your allergy needs. While I try to note potential allergens below, there is always the chance I may miss something or that manufacturer formulations may change.
As written, this recipe is dairy free, soy free, and nut free. As long as the oat milk you choose is certified gluten free, the recipe should also be free from wheat/gluten.
This recipe does contain eggs. (If you're looking for egg-free recipes, I'd recommend searching for a vegan eggnog – there are plenty available online.)
More Dairy Free Holiday Treats
If you're looking for more holiday treats that happen to fit a dairy free diet, try one of these tasty options:
I hope you enjoy this eggnog recipe without any milk or dairy! If you get a chance to try it, feel free to leave a recipe rating or comment below.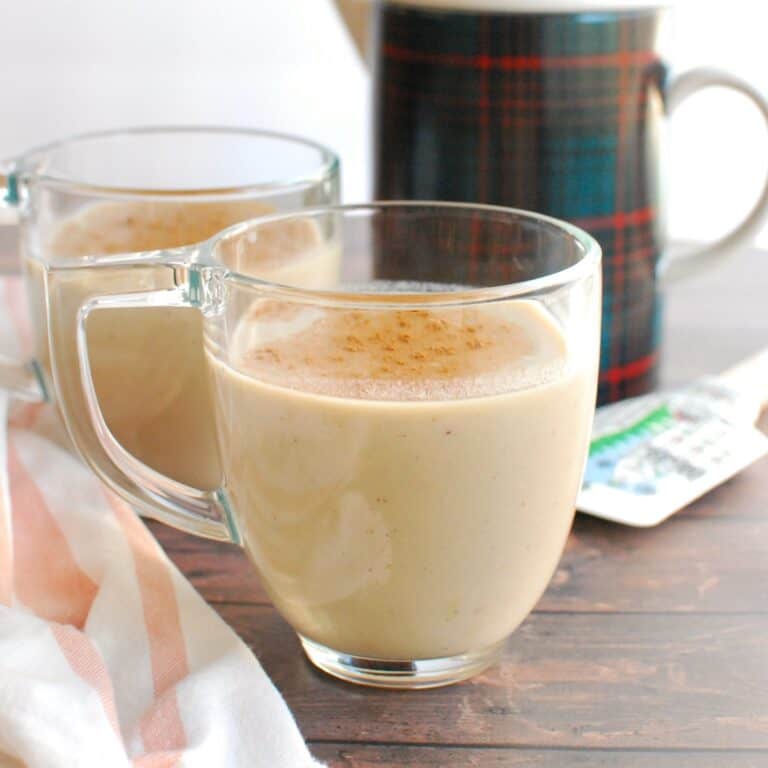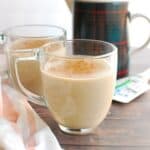 Dairy Free Eggnog
Sip on a glass of holiday delight with this dairy free eggnog recipe!
Total Time
2
hours
20
minutes
Ingredients
6

large egg yolks

½

cup

granulated sugar

3

cups

extra creamy oat milk

(we like Planet Oat Extra Creamy)

½

tsp

nutmeg

⅛

tsp

salt

⅛

tsp

cloves

(optional; add if you enjoy cloves)

½

tsp

vanilla extract

3

ounces

brandy

(optional; more or less according to taste)
Instructions
In a medium bowl, whisk together the egg yolks and sugar until well-combined.

In a small pot, combine the oat milk, nutmeg, salt, and cloves (if using) over medium-low heat. Stir frequently, bringing mixture to a simmer.

Ladle some of the hot oat milk mixture into the bowl with the egg and sugar, whisking continuously, to temper the eggs. Continue ladling in the oat milk little by little while whisking.

Once all the oat milk mixture has been combined with the egg yolk mixture, pour everything back into the pot. Heat over medium-low, whisking continuously for a couple minutes, until the mixture reaches 160 degrees and is slightly thickened.

Remove from heat. Stir in the vanilla, and brandy (if using). Pour into a pitcher and cool completely in the fridge. The mixture will further thicken upon cooling. Enjoy chilled!
Recipe Notes
If you do not have brandy, you can use bourbon, rum, or whisky instead.
Serving sizes for eggnog vary widely. Most store-bought versions assume ½ cup, while most homemade recipes assume 1 cup. For the purposes of the nutrition analysis, we've assumed a serving is approximately ¾ cup, and that this recipe makes about 5 servings.
Nutrition facts (approximate per serving): 256 calories, 7.5 g fat, 2.5 g saturated fat, 150 mg sodium, 34 g carbohydrate, 2 g fiber, 23 g sugar, 4.5 g protein, Vitamin D: 17%, Calcium: 18%, Iron: 5%, Potassium: 6%
Share: What's your favorite holiday drink? If you tried this recipe, what did you think?
Feel free to pin this post to save for later. 🙂