This dairy free hot chocolate charcuterie board is a fun way to celebrate the holiday season with your family! Surprise the kids with this for Christmas morning, or whip up a board anytime in the month of December when you want a tasty treat.
Disclosure: This post contains Amazon affiliate links. As an affiliate, I earn a commission on qualifying purchases.
What is a charcuterie board?
A charcuterie board is traditionally reserved for prepared meats and cheeses, often served alongside crackers, crostini, and jam or other spreads. However, we're mixing things up with this hot cocoa board that's lovely for dessert or holiday morning!
Essentially, this is just a fancy display of delicious hot cocoa ingredients and mix-ins that you can pair alongside mugs of warm dairy-free milk.
To make your board, you can use any large cutting board or platter that you have on hand. If you want to grab a new board, there are tons of options available on Amazon – you can easily find one to suit your tastes.
(And as an aside, Target often has really nice cutting boards as part of their hidden holiday clearance after Christmas. Keep your eyes peeled for a good one for next season!)
What to put on your board
Making your own charcuterie boards allows you to get creative with the ingredients, depending on your preferences and what you've got on hand. Here's what I included on ours.
Hot cocoa mix – We made an easy homemade version with just three ingredients: cocoa powder, sugar, and salt. These are ingredients we've always got on hand, so it's easy to throw together quickly – and then you just mix it into your favorite warm dairy-free milk when you're ready for a cup. But you can also just buy a dairy free hot cocoa mix if that's easier!
Dairy free dark or semi-sweet chocolate chips – These can be added to your mug of cocoa to add more rich, intense chocolate flavor. Be sure to choose dairy free versions, like Enjoy Life, Nestle Allergen Free, or Walmart's allergen-free brand.
Dairy free white chocolate chips – While these don't taste exactly like conventional white chocolate, they do have that light sweetness that white chocolate chips have to offer. Walmart and Nestle both offer dairy-free white chocolate chips (you need to look specifically for their allergen friendly line, not the normal lines). There's also brands available on Amazon like King David's vegan white chocolate chips and Pascha white chocolate baking chips. (Honestly though, the Walmart ones have been my favorite so far!)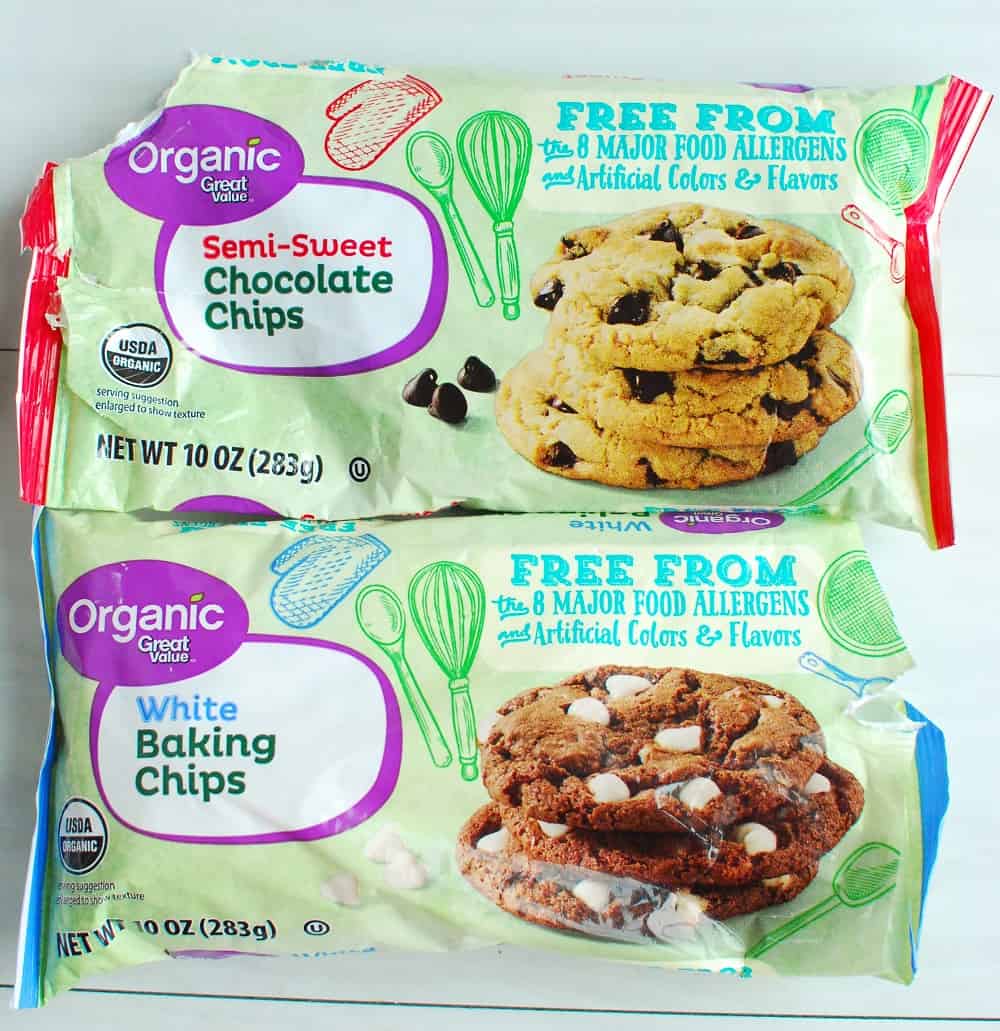 Shredded coconut – Who else loves the chocolate and coconut combo? Definitely try adding a little shredded coconut to your next mug of hot chocolate!
Orange zest – If you enjoy those chocolate orange candies, you'll probably love sprinkling a little zest right into your mug.
Marshmallows – Get festive with mini marshmallows! Most marshmallows are dairy free as-is. If you need vegan marshmallows, though, I definitely recommend Dandies which we used for this board. The white ones are Dandies mini vanilla marshmallows while the pink-ish ones are mini peppermint marshmallows.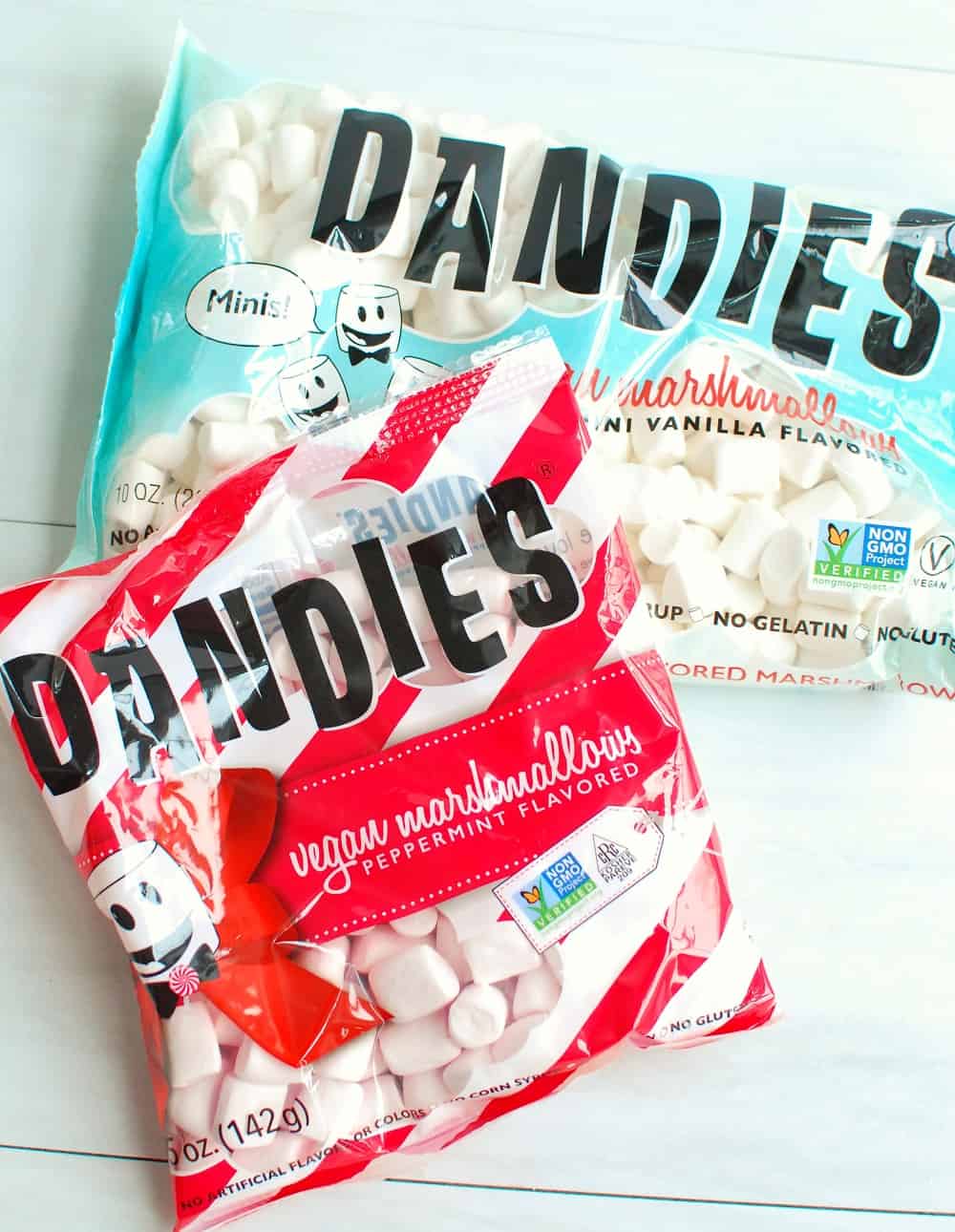 Candy canes – Speaking of peppermint, add some candy canes to your board. These can be used to stir your hot chocolate and add a bright, minty flavor.
Cookies – Whether you want to dunk cookies in your hot cocoa, or enjoy them alongside as a full-on dessert feast, they're a great addition to a hot chocolate charcuterie board. For this board, I used Enjoy Life chocolate chip cookies and Oreos (which are surprisingly dairy-free and vegan).
Birthday cake sugar and spice blend – How fun is this this product?! It's a blend of sugar and sprinkles, plus flavors that make it taste like vanilla birthday cake. Per the label, it does not appear to contain any allergens (and McCormick says they'll always label if there's a top 8 allergen) – but feel free to contact the company if you have a severe allergy or intolerance.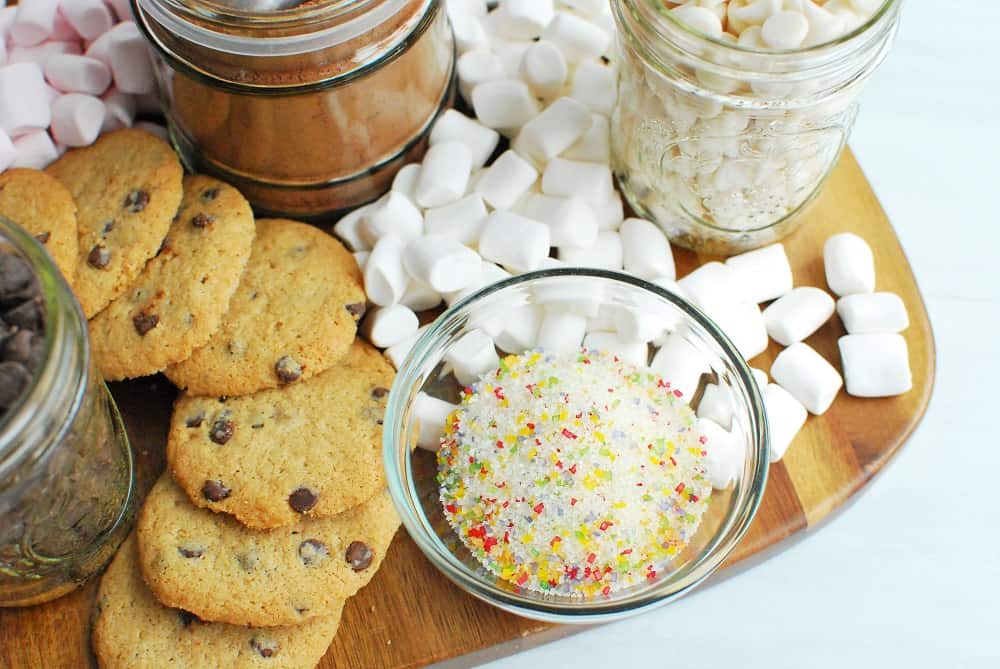 That's everything that we included in our dairy free hot chocolate charcuterie board!
Other ideas to include on your board might include…
Pretzel rods – That combo of sweet and salty can be fun to play with! The pretzel rods can be used for stirring and then eaten.
Flaky sea salt – A few sprinkles of flaky sea salt can help bring out the flavor of the chocolate.
Warm spices, like cinnamon or pumpkin spice – This allows you to make unique flavor combinations.
Chili powder or cayenne pepper – Try adding a little bit of fire to your hot chocolate!
Booze – From red wine to peppermint schnapps, there are all kinds of spiked hot chocolate combinations you can try out.
Maple syrup – Add a little Vermont-style maple goodness with a quick drizzle of pure syrup in your mug.
Dairy free whipped cream – These days you can find options like dairy-free spray bottle whip cream (Reddi Whip makes two non-dairy options) or frozen whipped topping like So Delicious Cocowhip.
Vegan caramels – While these are a little tougher to track down in store, you can easily find them online (like these ones for example). The caramel chocolate combo is so delicious!
Tips for making it vegan
If you're vegan, good news: most, if not all, of the options above should either be vegan friendly as-is, or be able to be found in vegan varieties.
What do I mean by vegan varieties? Well, some of these products contain regular sugar. Strict vegans often do not eat traditional cane sugar, though, since it's processed with animal bone char.
For items like the homemade hot cocoa mix, it's easy to use a vegan sugar (like Wholesome, or any organic sugar brand). However, it can be tough to know if the sugar in processed foods – like candy canes or the sugar and spice blend – are from sugar that undergoes this process.
If you're looking to make this hot cocoa board completely vegan, you'll want to search out options that specifically say vegan, or call the manufacturers to inquire about their products. (For example, by asking if the sugar goes through a bone char filtering process).
Allergens in this board
Disclaimer: Always double check ingredients and labels yourself prior to making a recipe. While I try to check all ingredients for allergens, there's always the chance I may miss something or manufacturer formulations can change.
This board is dairy free as written. The allergens will depend on what you choose to include. Here's a quick overview of the allergens in each of the ingredients I used, at the time of publish:
Homemade hot cocoa mix – The mix itself is top 8 allergen free. However, you'll need to look at whatever milk alternative you are using with it to assess the allergens in that (i.e if you use almond milk, you'd then have tree nuts).
Walmart allergen-free semi-sweet chocolate chips – Ingredients do not contain the top 8 allergens; contact for manufacturing practices for severe allergies.
Walmart allergen-free white chocolate chips – Ingredients do not contain the top 8 allergens; contact for manufacturing practices for severe allergies.
Shredded coconut – Contains coconut – some people with tree nut allergies may react.
Orange zest – Top 8 free.
Dandies Marshmallows – Contain soy. (Regular marshmallows can be used and typically do not contain dairy or soy. Regular marshmallows are not vegan due to gelatin used.)
Candy canes – Ingredients do not contain the top 8 allergens; contact for manufacturing practices for severe allergies.
Enjoy Life cookies – Top 8 free
Oreos – Contain wheat and soy
Birthday cake sugar and spice blend – Ingredients do not contain any of the top 8 allergens; contact for manufacturing practices for severe allergies.
And of course, if you add any additional ingredients or switch things up, be sure to check any allergen needs you're concerned about.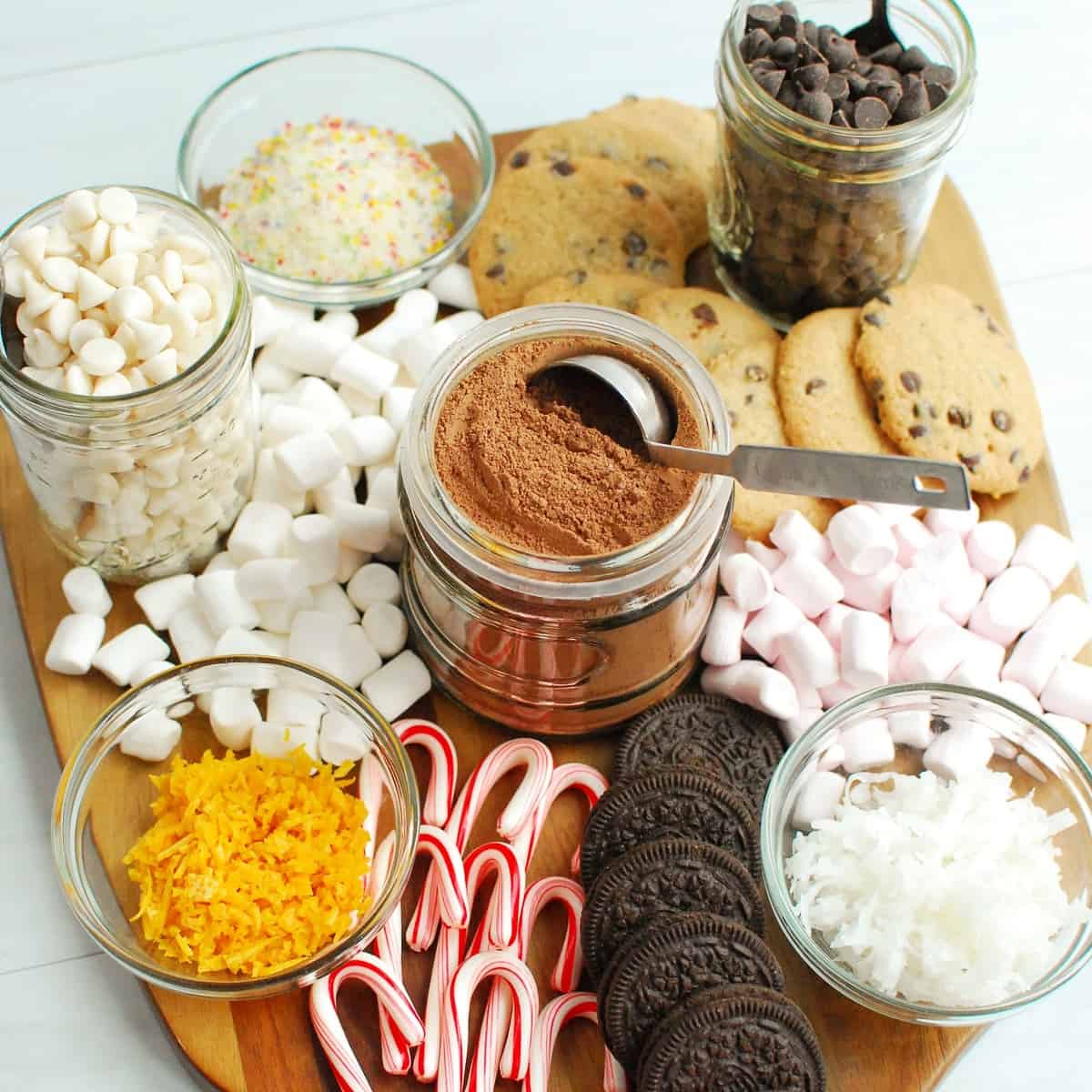 I hope you enjoy this dairy free hot cocoa board! If you get a chance to try it, be sure to leave a recipe rating or comment below.
PS – If you liked this recipe, I bet you'll love our dairy free hot cocoa bombs or our Halloween charcuterie dessert board.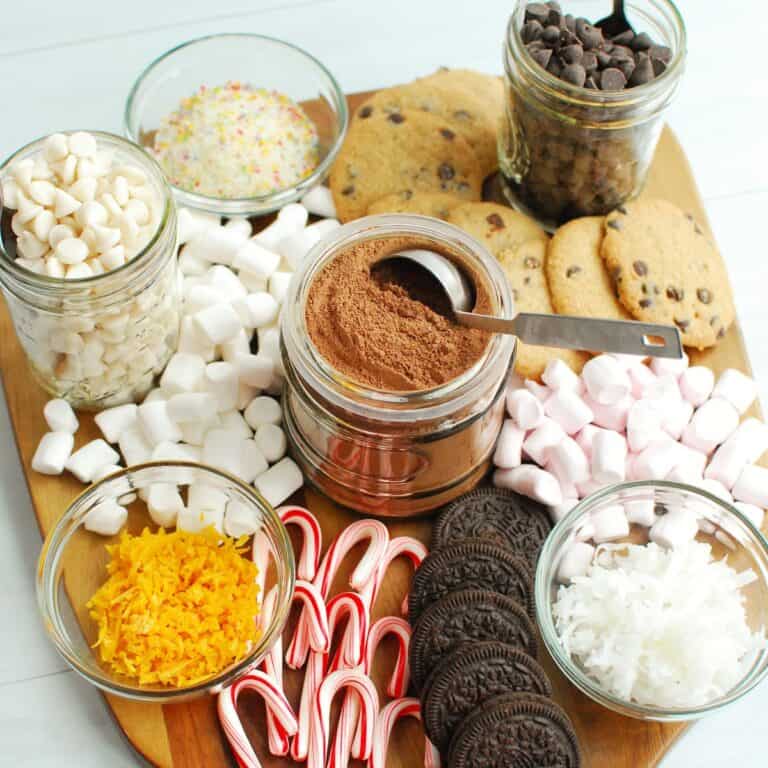 Dairy Free Hot Chocolate Charcuterie Board
This dairy free hot chocolate charcuterie board is a fun way to celebrate the holiday season!
Servings
1
charcuterie board
Ingredients
For the hot cocoa mix:
1

cup

unsweetened cocoa powder

3/4

cup

sugar

1/4

tsp

salt
For the remainder of the board:
Dairy free semi-sweet chocolate chips

Dairy free white chocolate chips

Shredded coconut

Orange zest

Vanilla mini marshmallows

Peppermint mini marshmallows

Candy canes

Enjoy Life chocolate chip cookies

Oreos

Birthday cake sugar and spice blend
For serving:
dairy-free milk of choice, like oat or almond
Instructions
Pour the ingredients for the hot cocoa mix into a large bowl, then stir together until thoroughly combined. Transfer to a small mason jar.

Place the jar of cocoa mix in the center of your charcuterie board. Arrange the additional ingredients on the board as you please.

When ready to enjoy hot chocolate, heat up your dairy free milk for serving. You can do this on the stovetop or in the microwave. For the microwavable single-serving, place 1 1/4 cup in a microwave safe cup and heat for about 1:30 to 2 minutes. (Be careful, cup may be hot when removing from the microwave).

Add 2 to 3 tablespoons* of hot cocoa mix to the mug, along with any other additions from your charcuterie board. Enjoy!
Recipe Notes
I recommend 3 tablespoons of hot cocoa mix per 1 1/4 cups of warm plant-based milk.  However, if you're adding in chocolate mix-ins like semi-sweet chocolate chips, you may want to only do 2 tablespoons of hot cocoa mix.
Share: Are you celebrating the holidays with festive and fun food pairings like this? What are your favorite meals and treats to make for Christmas?
PS – Don't forget to pin this post to refer to later! 🙂