Who's craving a delicious, cozy dish? Try this insanely good dairy free sweet potato casserole! This holiday classic swaps out a marshmallow topping for a brown sugar and pecan crumb topping. It can double as a side dish or a dessert, and is definitely a crowd pleaser!
What you'll need and how to make it
Here's the ingredients you'll need to make it, along with a few notes (keep in mind the full recipe and amounts are at the bottom of the post in the recipe card):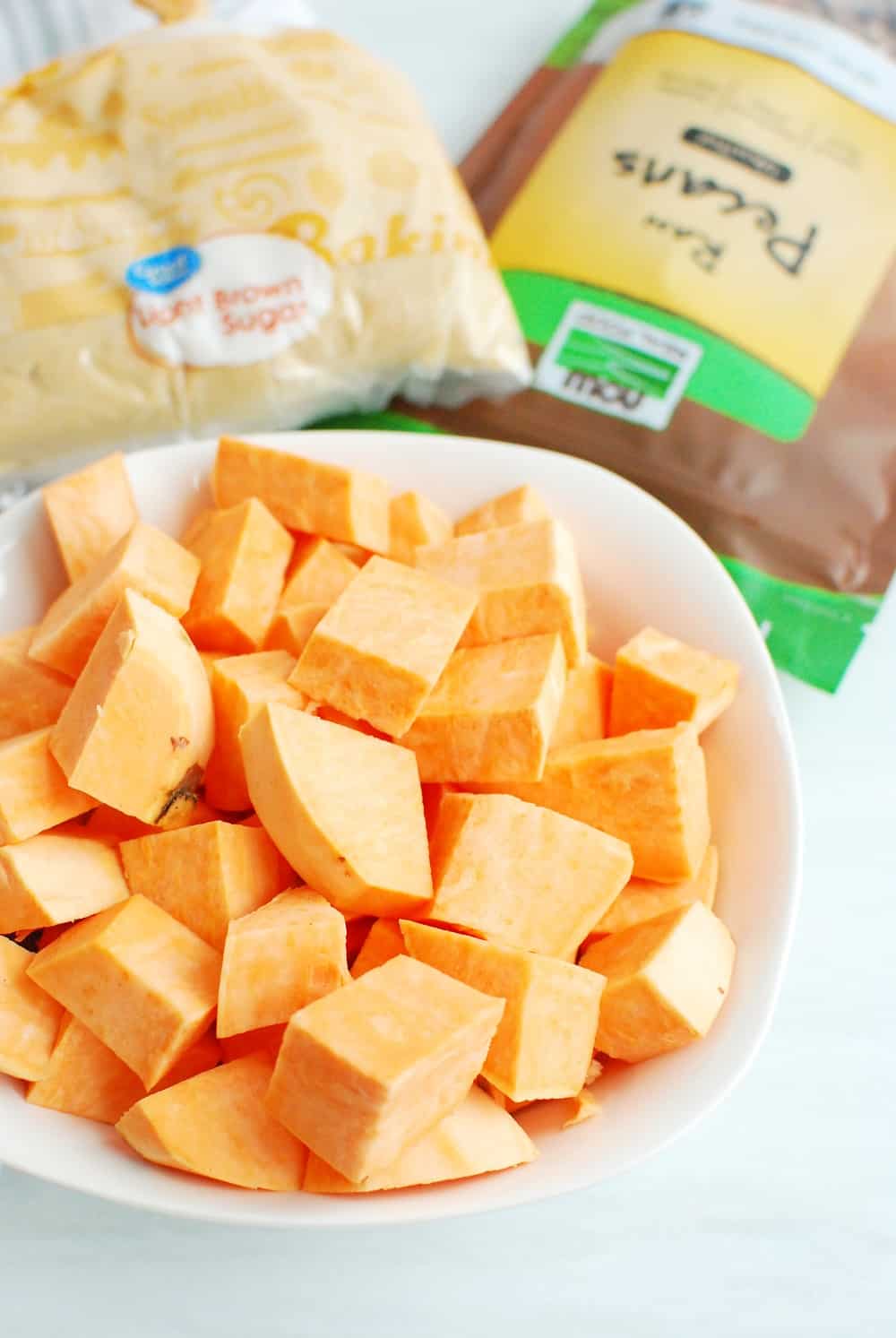 Sweet potatoes – Obviously, the key to this dish! This recipe calls for around 1 3/4 to 2 pounds, which can be anywhere from 2 big to 3-4 smaller sweet potatoes. If you're buying them from a store for this recipe, you can easily weigh them on a scale there to ensure the right amount.
Dairy-free butter – You can use any plant-based butter substitute of you're choosing. I'm a big fan of either the Country Crock plant butter sticks made with avocado oil (they're always in our fridge these days) or the red container of Earth Balance (great for soy-free families).
Unsweetened almond milk – This is used in the sweet potato mash part of the casserole. Don't feel obligated to use almond milk; any unsweetened dairy-free milk (like oat, soy, etc.) can be used here.
Egg – While many casserole recipes call for multiple eggs, I actually prefer the texture with just one egg. It's enough to add richness and body to the mash, but keeps it a little thinner which I prefer. If you're more of a classic fan, you can up this to two eggs.
Brown sugar – This isn't a health dish by any means, haha. You're going to use a little brown sugar in the sweet potato portion, and then more in the topping. Hello, perfectly sweet flavor!
Flour – This will be used in the topping along with brown sugar and dairy-free butter to create a great crumb-like topping.
Pecans – These nuts are also used in the topping, which add texture and their delicious, rich, almost buttery flavor.
Vanilla and salt – Flavor and seasoning!
To prepare the casserole, you'll start by boiling then mashing your sweet potatoes. You're going to add a few ingredients like dairy-free butter, brown sugar, egg, vanilla, and salt.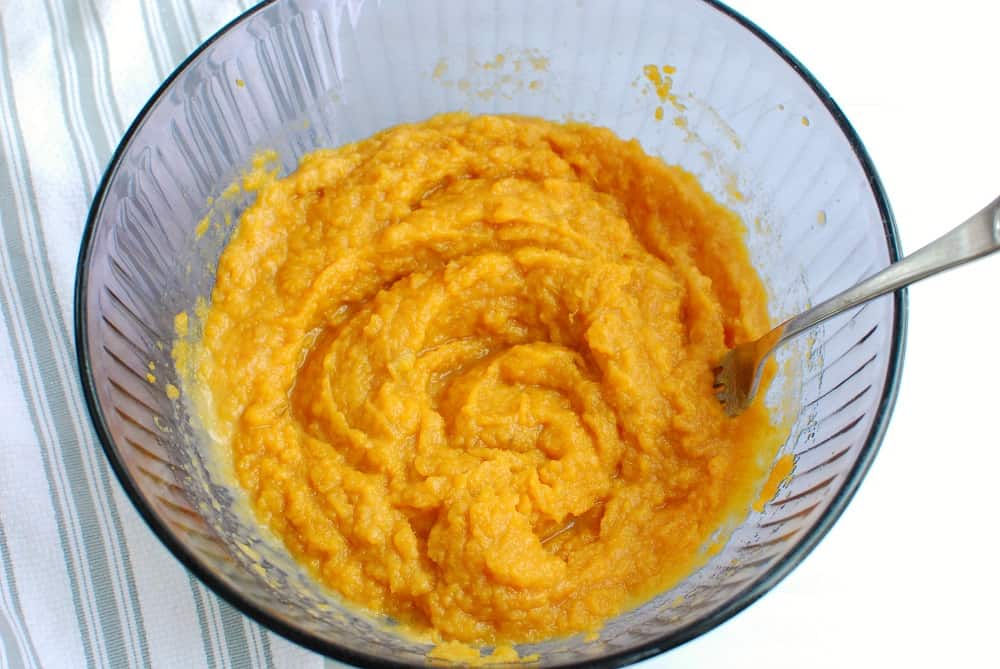 Then you're going to pop that in a casserole dish, and make your topping. The topping here is crazy good, made with flour, brown sugar, salt, dairy-free butter, and pecans.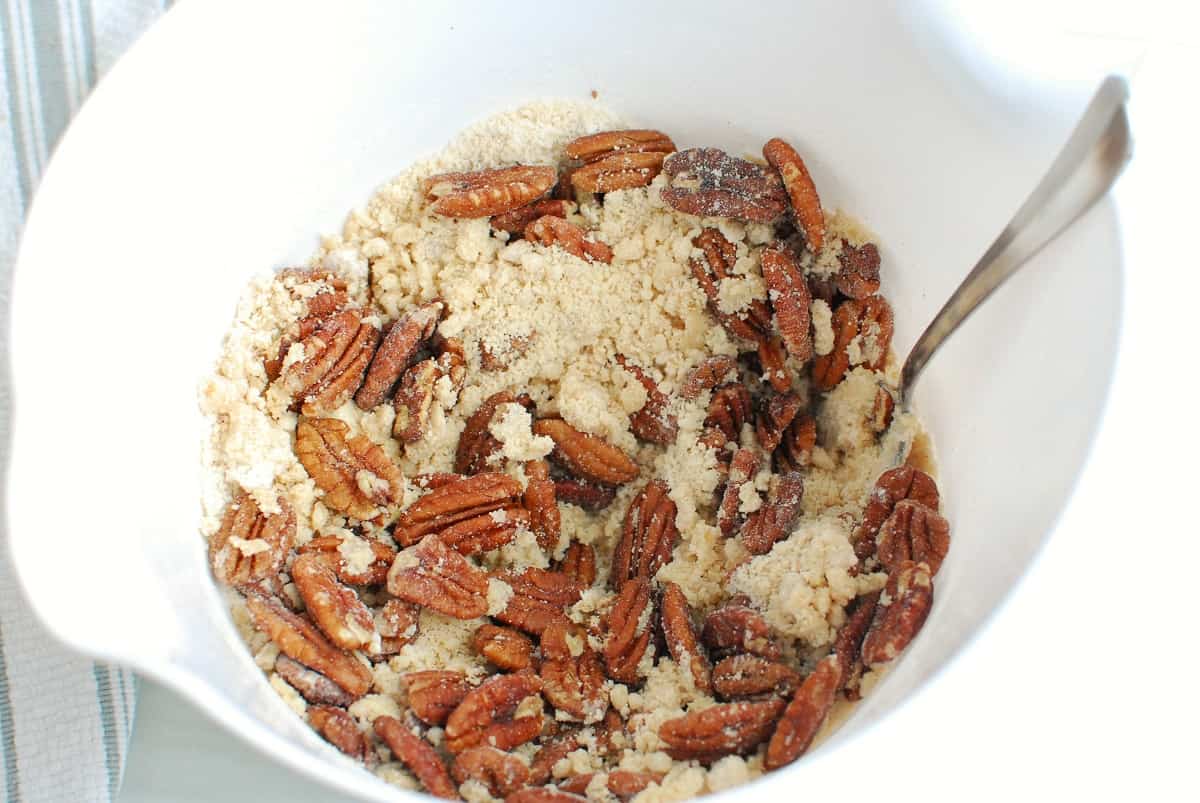 You'll add that on top of the sweet potatoes in the casserole dish, then bake everything up and get ready to dig into deliciousness!
Recipe FAQ
Here are some common questions that may come up as you make this recipe:
Can you bake the sweet potatoes instead of boiling them? Yes! Feel free to bake a few potatoes ahead of time and then use them for this dish. Boiling just saves time. Note that if you bake them, you may need a little extra almond milk as they won't have the same moisture level as when boiled.
I prefer a thicker casserole texture – what should I do? Use two eggs instead of one. This will create a thicker, more bound together mash. I prefer a thinner texture though, hence one egg.
How should you store this? Store leftovers in the fridge for up to 4 days. You can reheat single serving portions in the microwave, or re-bake once if using all the leftovers at one time.
How do you reheat sweet potato casserole in the oven? If re-heating in the oven, cover with foil and bake at 350 degrees F for about 15-20 minutes until warm. Note – I recommend letting the casserole dish come closer to room temperature by leaving it out for about 30 minutes prior to baking again. Going directly from a cold fridge to a hot oven can increase the likelihood of some dishes shattering.
Can you make this vegan? Yes, just leave out the egg and be sure to use a vegan-friendly brown sugar (i.e. one that does not go through bone char filtering).

Allergens in this recipe
Disclaimer: Always double check ingredients and labels yourself prior to making a recipe. While I try to check all ingredients for allergens, there's always the chance I may miss something or manufacturer formulations can change.
As written, this recipe is dairy free. It may also be soy free, depending on your choice of dairy-free butter – for example, the Earth Balance butter in the red tub is soy free.
This dairy free sweet potato casserole does contain tree nuts (almond milk and pecans), egg, and wheat/gluten (flour in the topping). Here are some suggested modifications if you need them:
To make wheat/gluten free: Use almond flour instead of all-purpose flour in the topping.
To make nut free: Use oat milk in the mashed sweet potatoes, and skip the pecans in the topping. Also, be sure the vegan butter you use does not contain nuts.
To make egg free: I like the texture with the egg, but you can also just leave this out of the recipe. The mash will cook up a bit thinner but that's completely fine!
I hope you enjoy this recipe! If you get a chance to try it, be sure to leave a recipe rating or comment below. And if you're looking for more great side dish ideas, try our dairy free twice baked potatoes or our homemade dairy free crescent rolls.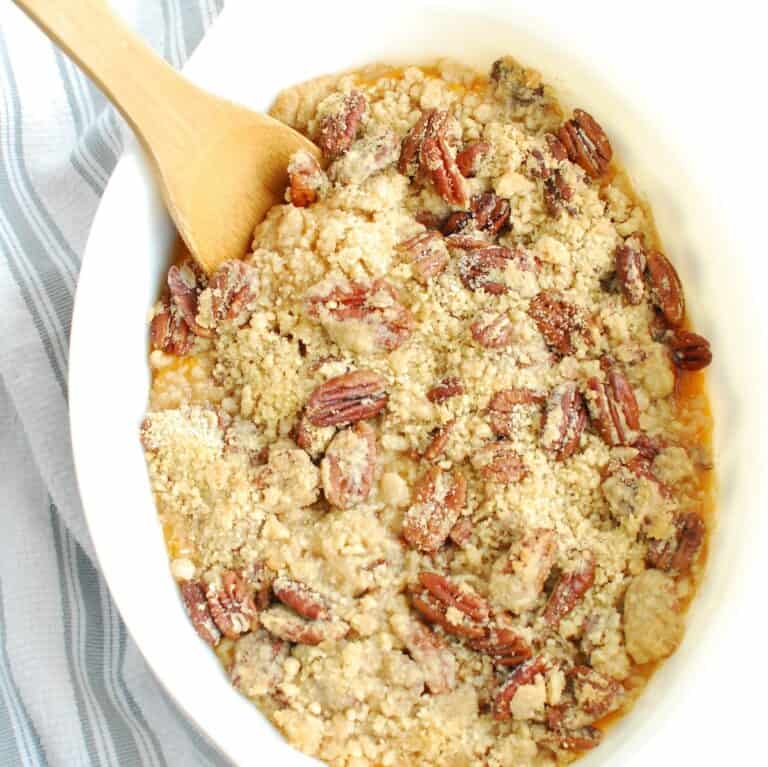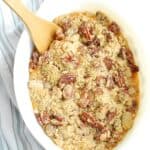 Dairy Free Sweet Potato Casserole
This delectable dairy free sweet potato casserole is cozy, rich, and sweet! Enjoy as a side dish or a dessert.
Ingredients
For the Sweet Potato Mash:
1 3/4 to 2

lbs

sweet potatoes, peeled and chopped

3

tbsp

dairy-free butter

(i.e. Country Crock plant butter or Earth Balance)

1/4

cup

unsweetened almond milk

1

egg

3

tbsp

brown sugar

1/2

tsp

vanilla

1/2

tsp

salt
For the Topping:
1/2

cup

all-purpose flour

1/2

cup

brown sugar

1/4

tsp

salt

1/3

cup

dairy-free butter, softened

3/4

cup

pecans
Instructions
Take your peeled chopped sweet potatoes and place them in a medium size pot. Fill the pot with water and bring to a boil. Once boiling, cook for about 15 minutes, until potatoes are tender.

About 5 minutes before the potatoes are done, preheat the oven to 350 degrees F.

When the potatoes are tender, drain them, pour into a large bowl, and mash. Add the vegan butter and let sit in the potatoes for a few minutes to melt.

With a fork, whisk the egg into the sweet potatoes, then stir in the brown sugar, vanilla, and salt.

Pour the sweet potatoes into a casserole dish.

Next, prepare the topping: mix together the flour, brown sugar, and salt. Stir in the vegan butter until the mixture looks crumbly. Mix in the pecans.

Pour the topping over the sweet potatoes in the casserole dish. Place in the oven and bake for 25-30 minutes, or until the sweet potatoes are hot and the topping is a nice light golden color. Enjoy!
Recipe Notes
This recipe makes 6-8 side dish or dessert size servings, depending on size.
Nutrition analysis (approximate, assumes 8 servings):  378 calories, 19.5 g fat, 6 g saturated fat, 400 mg sodium, 47.5 g carbohydrate, 4.5 g fiber, 23.5 g sugar, 4.5 g protein, Vitamin D: 1%, Calcium: 6%, Iron: 8%, Potassium: 10%
Share: What's your favorite sweet potato side dish? If you got a chance to try this, what did you think?
PS – Don't forget to pin this to refer to later and share with friends!