As we celebrate the holiday season, what better treat to make then a festive dairy free chocolate bark! This recipe is also peanut free and gluten free, making it an excellent option for many food allergy families. It's also a beautiful dessert to make as a homemade gift for family or friends.
What You'll Need and How to Make It
Making this recipe is quite easy and not very time consuming. You actually only need three ingredients to make this holiday chocolate bark. Here's what you'll need and why: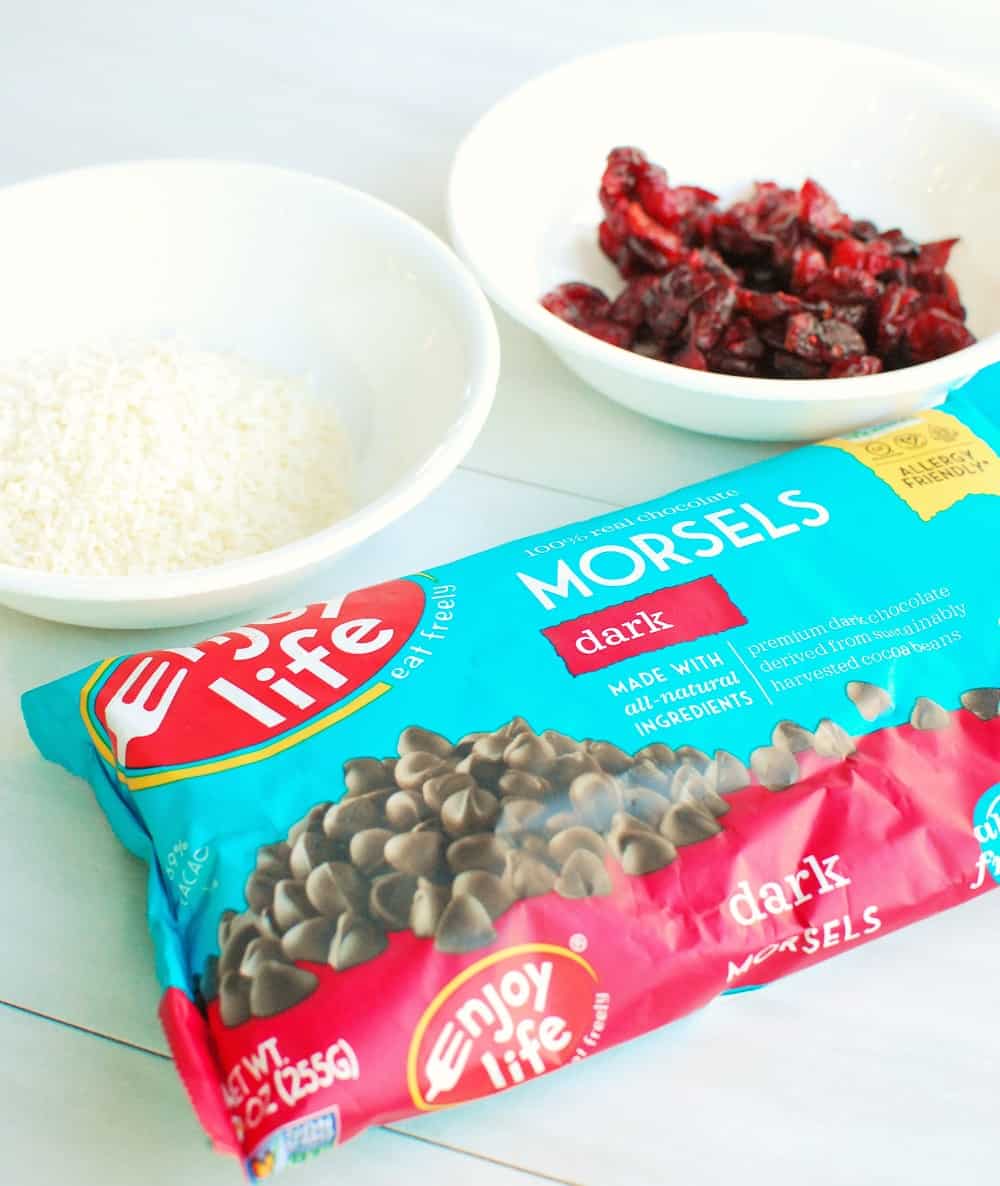 Dairy free chocolate chips – I think it's pretty obvious, but this makes up the bulk of this dish! 😉 We used Enjoy Life Dark Chocolate morsels, but you can use any dairy free chocolate chip you'd prefer.
Dried cranberries – This adds a bright pop of that ruby red color to the chocolate bark, and a delightful sweetness that pairs well with the rich dark or semi-sweet chocolate.
Unsweetened shredded coconut – Adding coconut is fun for a festive bark, almost looking like snow on your bark! Plus, the white color goes great with the red cranberries. And it adds that classic rich, sweet, almost nutty flavor.
You'll start by melting the chocolate. You can do this in a double boiler, or via the microwave. I use the microwave because it's simple and quick! Just make sure to melt it in 30-second increments and stir between each interval – this will ensure the chocolate does not burn and comes out perfectly melted.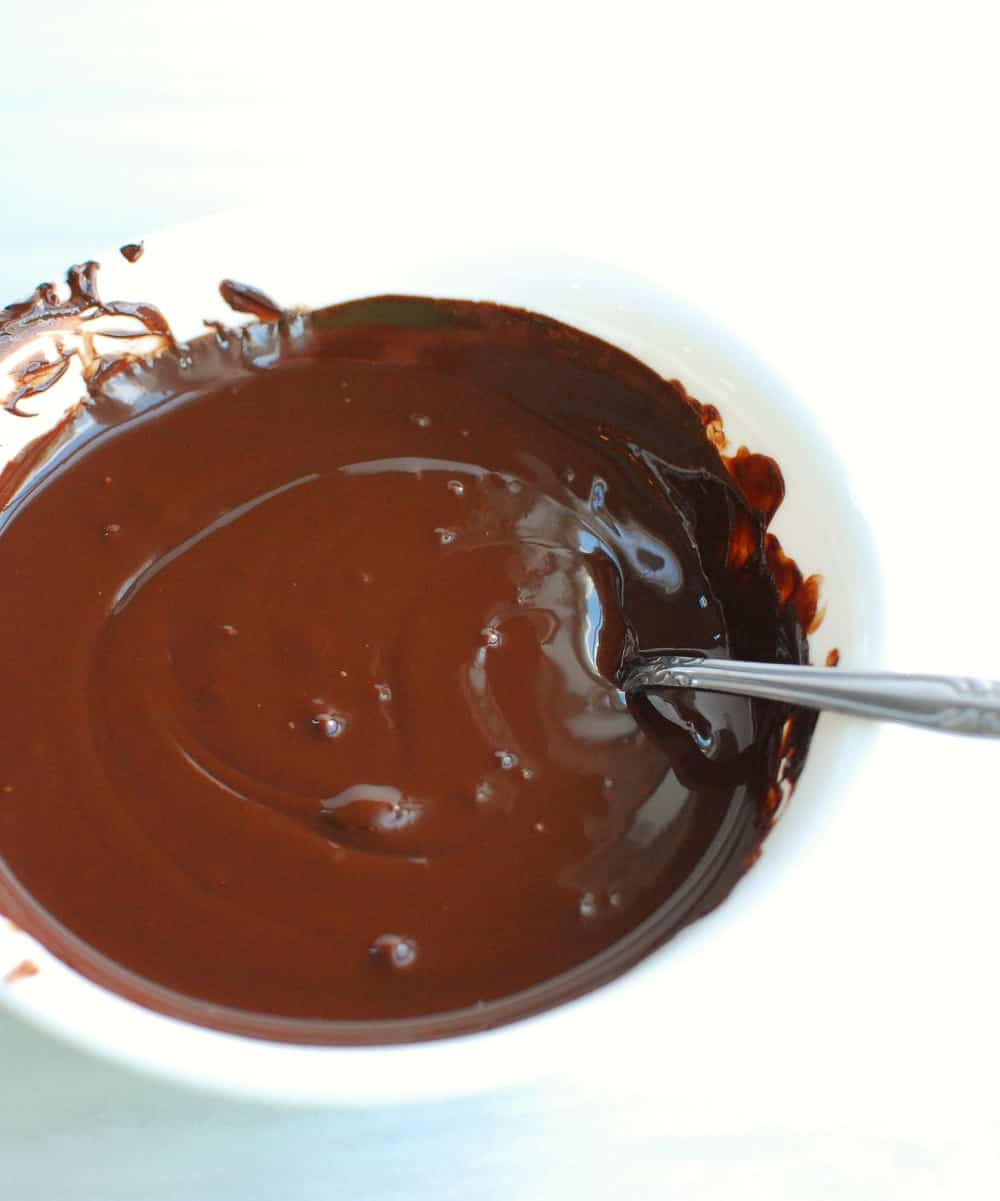 Next, you'll pour the chocolate on a parchment-lined baking sheet. Spread it out, then add your toppings! Be sure to do it relatively quickly, before the chocolate begins to set.
All you need to do is let it set in the fridge for a bit until it's solid, then break it into chunks and enjoy.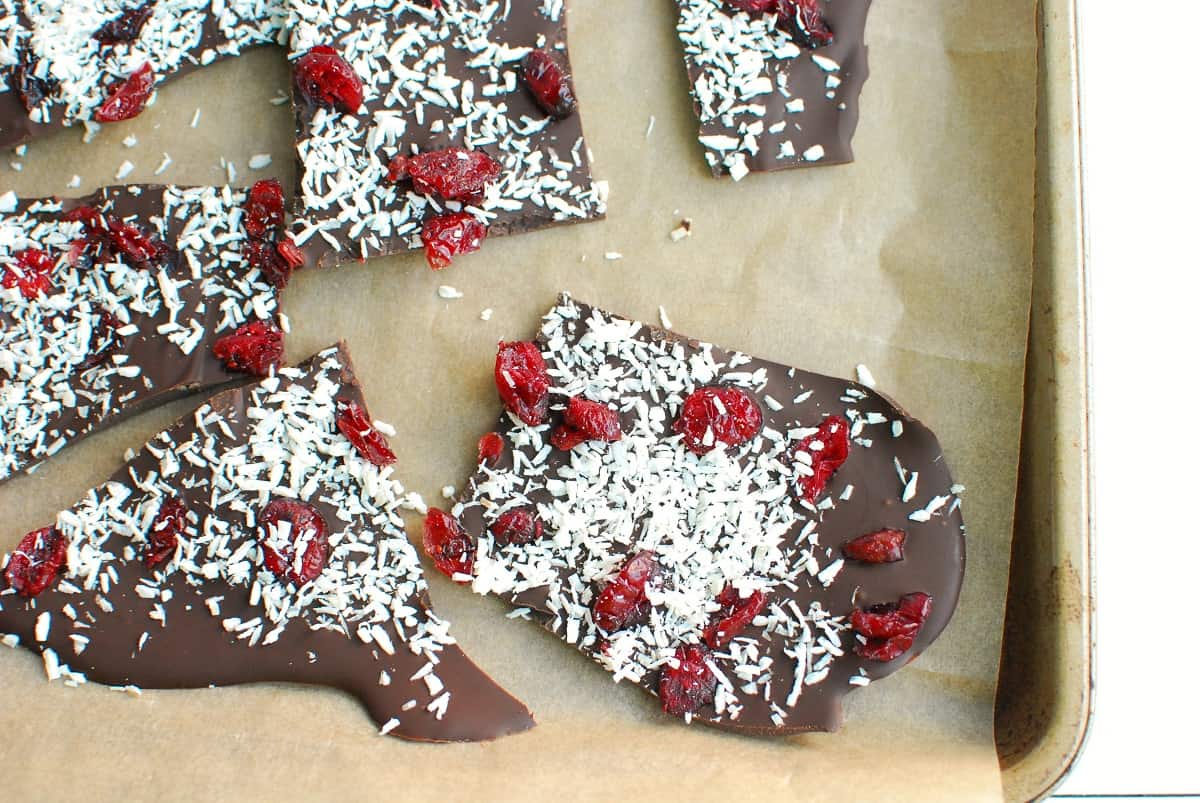 Dairy Free Chocolate Suggestions
Disclaimer: This section contains Amazon affiliate links. As an affiliate, I earn a commission on qualifying purchases.
Finding dairy free chocolate can feel like a challenge, but luckily there are a lot more products on the market now than there were a few years ago! Here are some recommendations for brands you can use for this recipe (and be sure to always double check labels for allergens):
Enjoy Life: This is generally my go-to brand – the dark morsels are SO good; a great option if you like that rich, indulgent flavor. They also have semi-sweet mini chocolate chips. You can order these online on the company website for only $5 per bag, and they're top 8 allergen free!
365 Everyday Value *Vegan* Chocolate Chips: Find these at the closest Whole Foods store near you! Keep in mind only the vegan variety is currently dairy free; the regular chocolate chips are not. (contains soy)
Nestle Allergen Free Morsels: This is a specific allergy-friendly line from Nestle that offers in three flavors – dark chocolate, semi-sweet chocolate, and white chocolate. Only this particular line is dairy free (and top 8 free), so be sure to check labels.
Walmart "Free From" Morsels: These are relatively new, but I love that Walmart is offering a convenient, low-cost option for dairy free chocolate chips. Only the "free from" line is dairy free (and top 8 free), so be sure to check the labels to ensure you have the right product. (Note: some anaphylactic individuals have mentioned these may be produced on shared lines, so please contact the company if you have a severe anaphylactic reaction to any top 8 allergen).
No Whey Milkless Chocolate Bars: Chocolate chips are not the only option for this recipe; chocolate bars can be chopped up finely and melted too. These No Whey Bars can be ordered online (or found at some stores) and are top 8 allergen free. These are great for a more mild, milk-chocolate-like flavor.
Recipe F.A.Q
Here are some common questions that may arise as you're making your dairy free chocolate bark:
My chocolate tastes weird – what happened?! If the chocolate doesn't taste good, it was most likely burnt during the melting process. Burnt chocolate = yuck! 😉 You need to make sure you melt in 30 second intervals in the microwave, and only until most (not all) is melted. Keep stirring and the rest will melt into it.
How do I properly cut my chocolate bark? The great thing about chocolate bark is that you can cut them up any way that you'd like. Just break it up into big or small pieces as you please!
How do you store this? You can store it at room temperature in a food storage container or zip-top bag in cool locations, or in the fridge if you live in a warm location.
What other toppings can you use for chocolate bark? Get creative! Here are some additional topping ideas – just be sure to consider any allergens in each:
Dried cherries
Raisins (regular or golden)
Dried apricots
Crushed peppermint sticks
Toasted coconut
Almonds, pecans, walnuts, or pistachios
Crystalized ginger
Potato chips (yaaaas for a sweet & salty combo!)
Pretzels (use gluten free if needed)
Freeze dried raspberries or strawberries
Your favorite chopped candy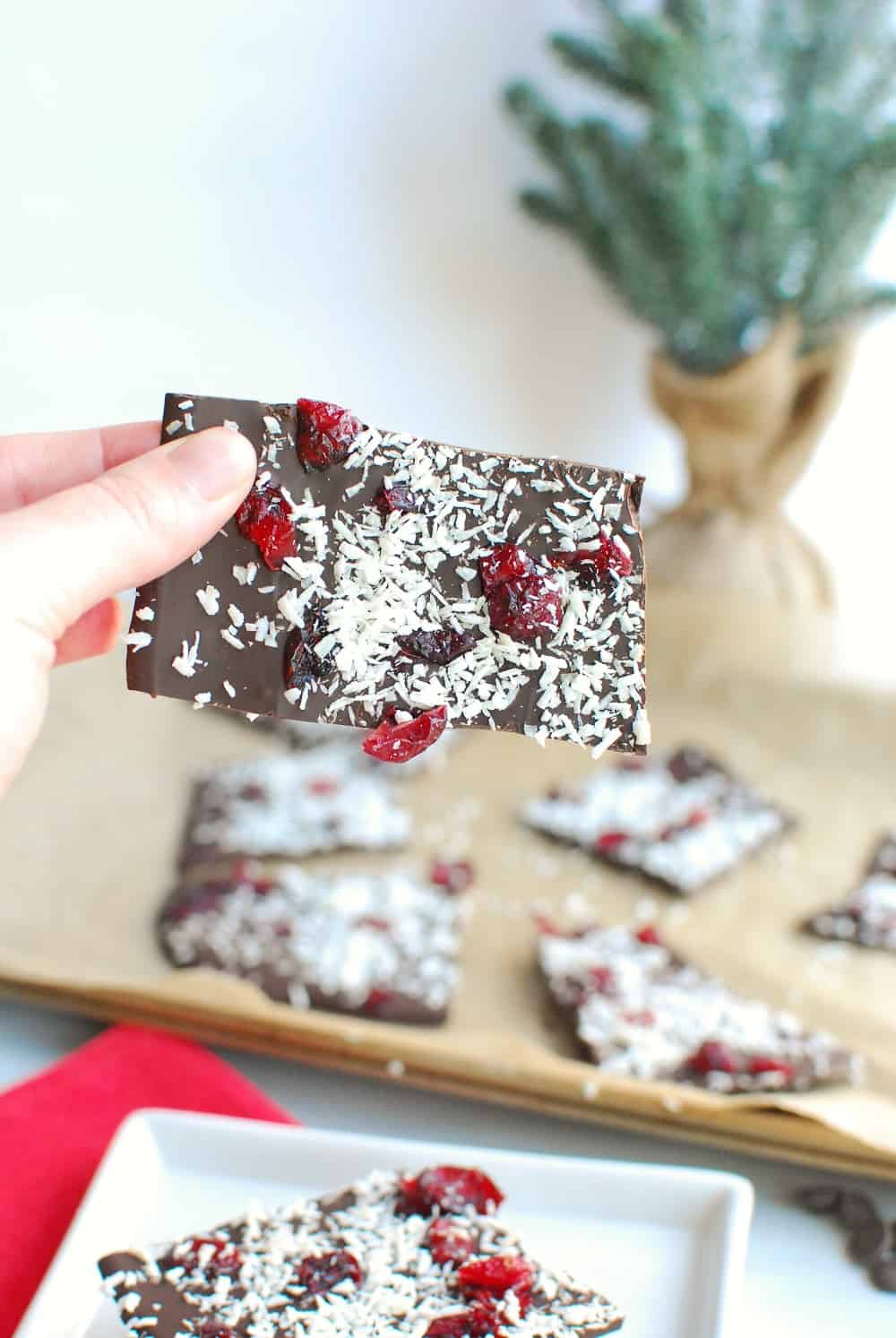 Allergen in this recipe
Disclaimer: Always double check ingredients and labels yourself prior to making a recipe. While I try to check all ingredients for allergens, there's always the chance I may miss something or manufacturer formulations can change.
As written, this recipe is dairy free, gluten free, egg free, and peanut free.
This recipe should also be soy free, as long as soy-free ingredients are used. Keep in mind in the past, some varieties of dried cranberries contained soy lecithin or soy oil. Most have phased this out, but worth a scan over the ingredients at the back of the label if this is a concern for you.
This recipe does contain coconut. While many people with tree nut allergies can safely consume coconut, some people may have allergic reactions. Please always follow your doctor's advice as far as which ingredients are safe or unsafe to consume.
You can always modify this recipe to your liking as far as the type of chocolate or toppings; just keep in mind that whatever additional ingredients you use may contain possible allergens.
I hope you enjoy this dairy free chocolate bark! If you get a chance to try it, please do leave a recipe rating or comment below. And if you're looking for more holiday desserts, try our dairy free molasses cookies or (for the grown ups!) some dairy free coquito.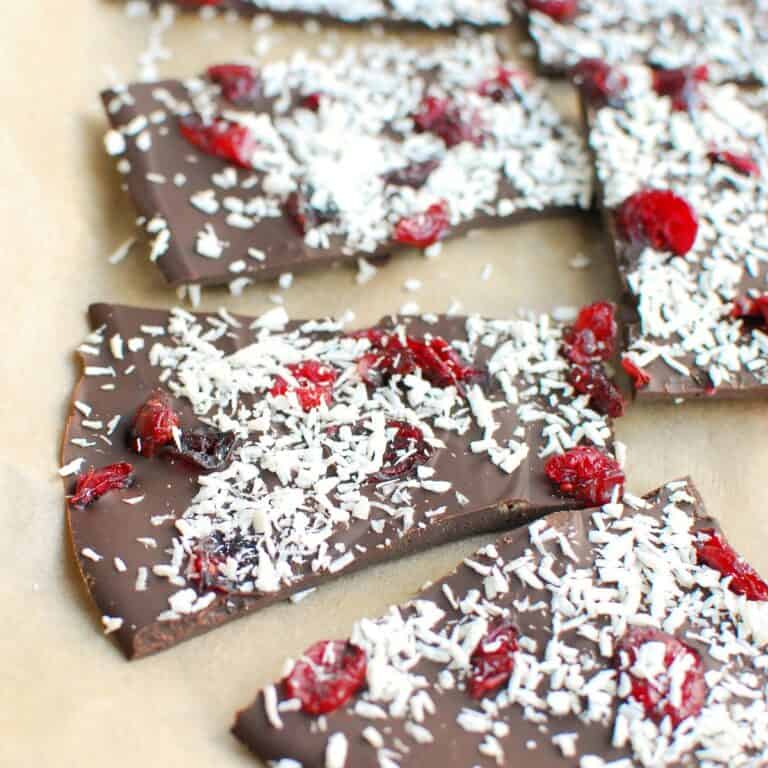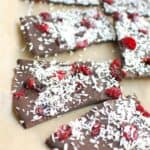 Dairy Free Chocolate Bark
This dairy free chocolate bark makes a fun festive dessert for the holiday season - or get creative with your toppings and serve it anytime!
Ingredients
9

ounce

bag Enjoy Life Dark Chocolate Morsels

(or another dairy-free chocolate chip)

1/3

cup

sweetened dried cranberries

3

tbsp

unsweetened shredded coconut
Instructions
Prepare a baking sheet with parchment paper.

Place the chocolate chips in a microwave safe bowl. Microwave in 30-second intervals, stirring between each interval. It should take about 3 to 4 intervals for the chocolate to be mostly melted. At this point, continue stirring and rest will melt.

Pour the chocolate on to the parchment paper. Use the back of a spoon to spread the chocolate into a rectangle, until it's about ¼-inch thick (it likely won't take up the entire baking sheet).

Sprinkle the dried cranberries and coconut on top.

Place in the refrigerator for 15-30 minutes, or until the chocolate is solid. Remove and break into 12 pieces. Serve at room temperature and enjoy!
Recipe Notes
Dark chocolate plays nicely against the sweetened cranberries, however if you prefer you can certainly use dairy-free semi-sweet chocolate chips.
You can use sweetened shredded coconut if you prefer that to unsweetened.
Add an optional 1/8 to 1/4 tsp flaky sea salt if you love a sweet and salty combination.
Nutrition analysis (approximate per serving): 121 calories, 9.5 g fat, 1 mg sodium, 15.5 g carbohydrate, 3.5 g fiber, 10.5 g sugar, 1.5 g protein, Vitamin D: 0%, Calcium: 0%, Iron: 22%, Potassium: 0%
Share: What are your favorite toppings to add to chocolate bark?
This post was written with the help of Geraldine Roca, a nutrition student at Winthrop University.
PS – Don't forget to pin this post to refer to later and share with your friends!