These dairy free molasses cookies are a delicious wintertime treat! Aromatic spices like ginger, cinnamon and cloves pair well with the rich, bold molasses in this tasty recipe. These chewy cookies are easy to make and come together quickly.
How to make them
This recipe is super simple. There's really only one ingredient that's different than the standard molasses cookie recipes you'll see. Here's what you'll need:
Vegan butter
Brown sugar
Molasses (usually found in the baking section)
Egg
Vanilla
Ginger
Cinnamon
Cloves
Flour
Baking soda
Salt
Granulated Sugar
As you can see, the vegan butter is the only "specialty" ingredient you'll need in this recipe. Luckily, these days it's easy to find at most grocery stores. I used Country Crock plant butter made with avocado oil for this recipe, but Earth Balance would also work great.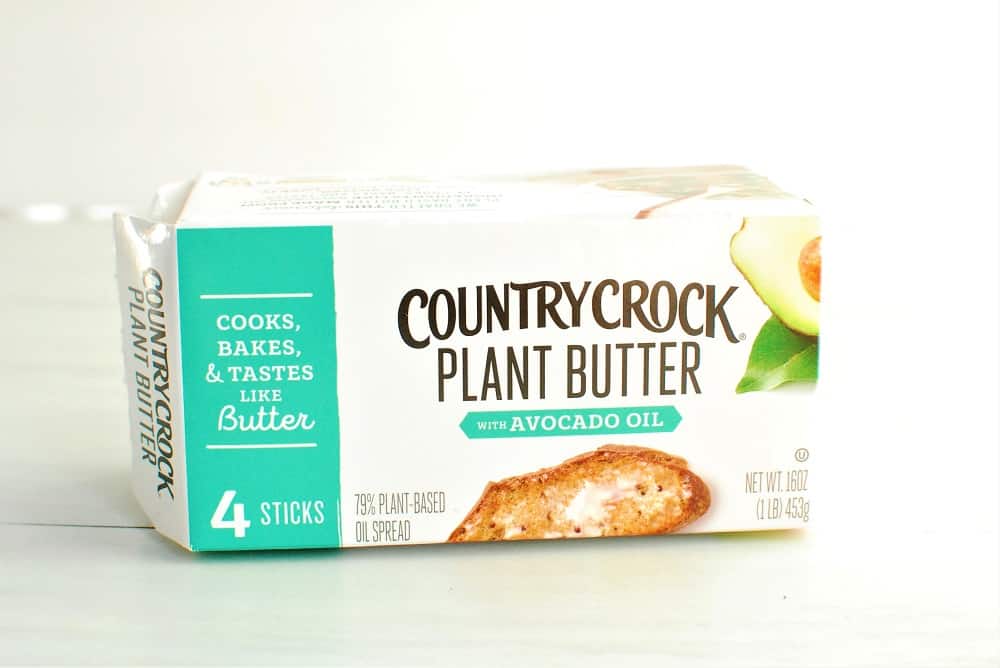 To make the cookies, you're going to combine all the ingredients except the granulated sugar. I prefer to do this in a few phases (i.e first creaming together the vegan butter and brown sugar) for best quality.
From there, I use a tablespoon to scoop out a heaping tablespoon of dough, then roll that in the granulated sugar. You'll put those on your baking sheet (no need to flatten with a fork or anything).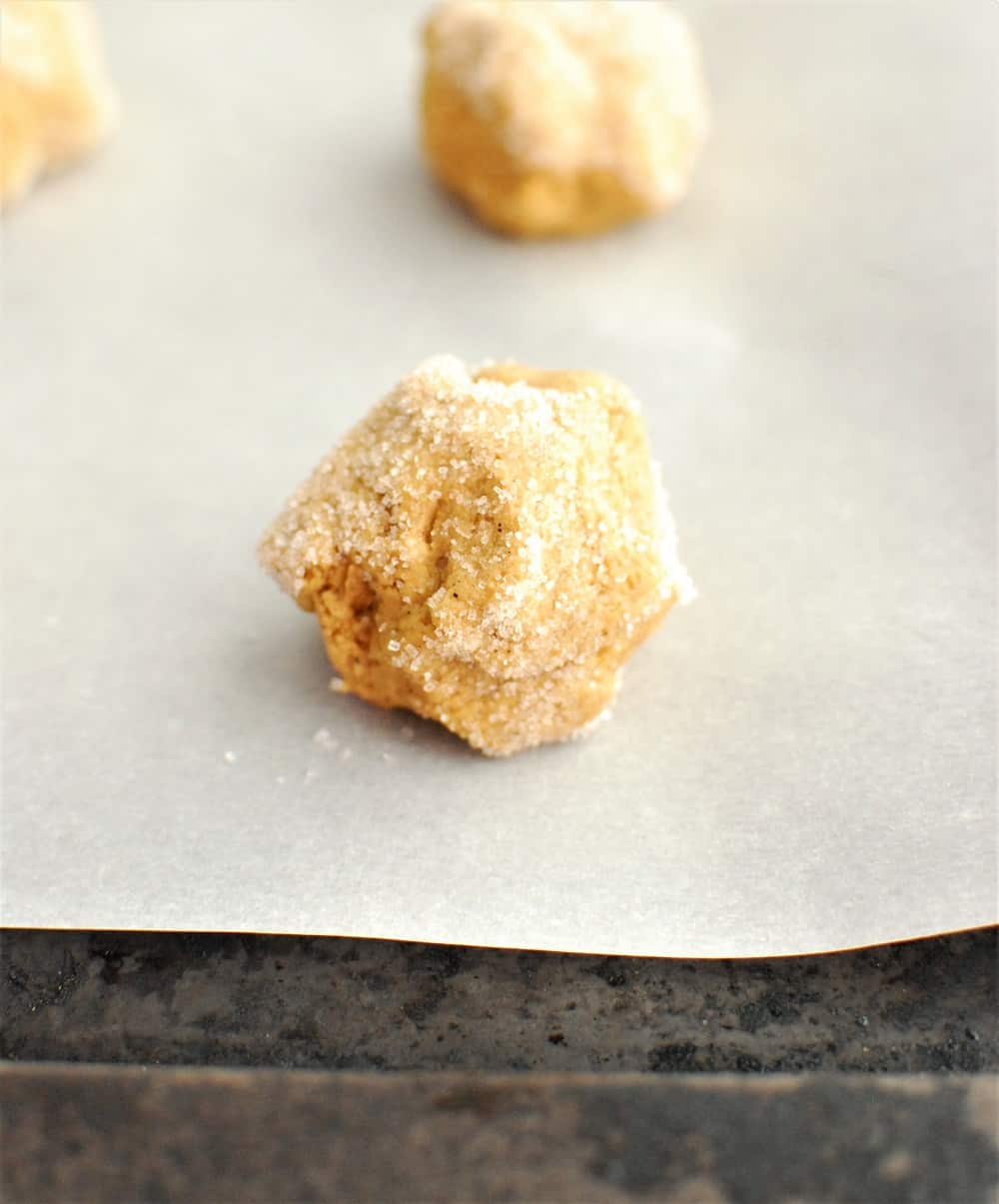 Last step of course is to bake them – and then enjoy!
Recipe FAQ
Here are some common questions that may come up as you prepare this recipe:
What type of molasses should you use for cookies? Use molasses that is labeled "original" or "regular". This type is less bitter than blackstrap molasses, and works best for these cookies.
Can you freeze the dough? Yes. After you roll the balls of dough in sugar, freeze them on a baking sheet for a couple hours. Then transfer to a freezer-safe zip-top bag to store in the freezer. You can bake from frozen but just keep in mind you may need a few extra minutes of baking time.
How should you store molasses cookies? Store them at room temperature in an airtight container or zip-top bag. According to the USDA, homemade cookies stay safe to eat for up to two weeks – however, quality and texture can start to decline after a few days. For this reason, I recommend eating them within 5 days. If you know you won't finish them by then, try either making a half batch, freezing some of the dough, or sharing some with your neighbors.
Can you make these cookies vegan? Yes – use a flax egg in place of the egg, and be sure to choose vegan-friendly brown sugar and granulated sugar (i.e. those that do not use a bone char filtering process).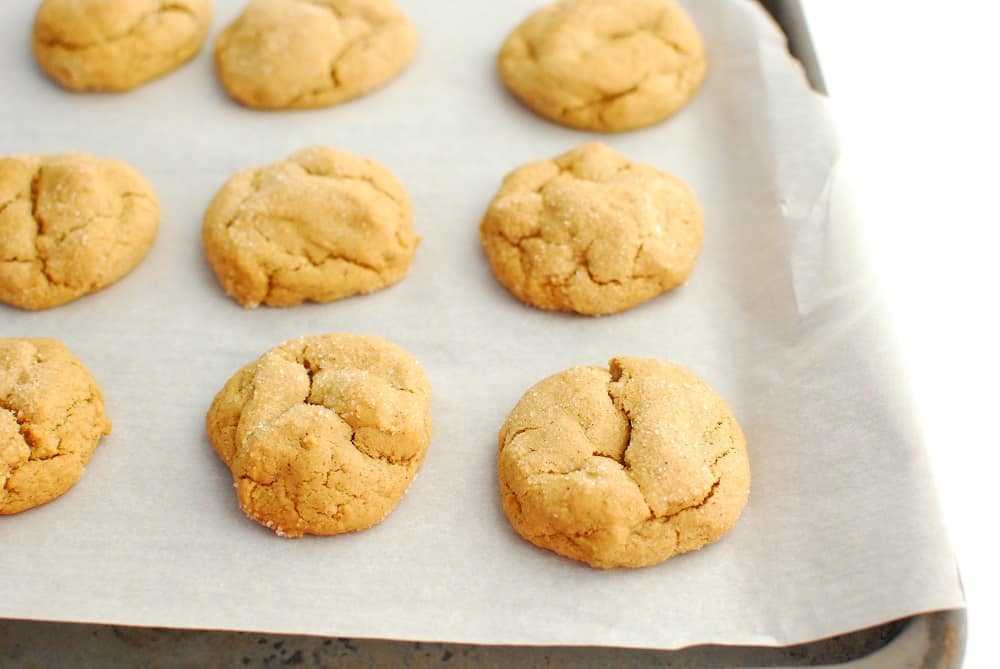 Allergens in this recipe
Disclaimer: Always double check ingredients and labels yourself prior to making a recipe. While I try to check all ingredients for allergens, there's always the chance I may miss something or manufacturer formulations can change.
As written, this recipe is dairy free.
Depending on your choice of vegan butter, this recipe may be nut free and soy free. However, you'll need to check that your vegan butter does not contain these.
If you're both nut-free and soy-free, I would recommend using the red tub of Earth Balance. Country Crock plant butter sticks with avocado oil do not contain nuts, however they make a very similar looking version made with almond oil which would contain nuts. The sticks do say "may contain soy".
These dairy free molasses cookies do contain eggs and wheat/gluten. I have modified this recipe in the past with success, though. Here are my suggestions:
To make this egg free, substitute the egg with one "flax egg" – i.e. 1 tablespoon of ground flax mixed with 2 1/2 tablespoons of hot water.
To make this gluten free, substitute the all-purpose flour with the equivalent amount of a gluten-free all-purpose blend.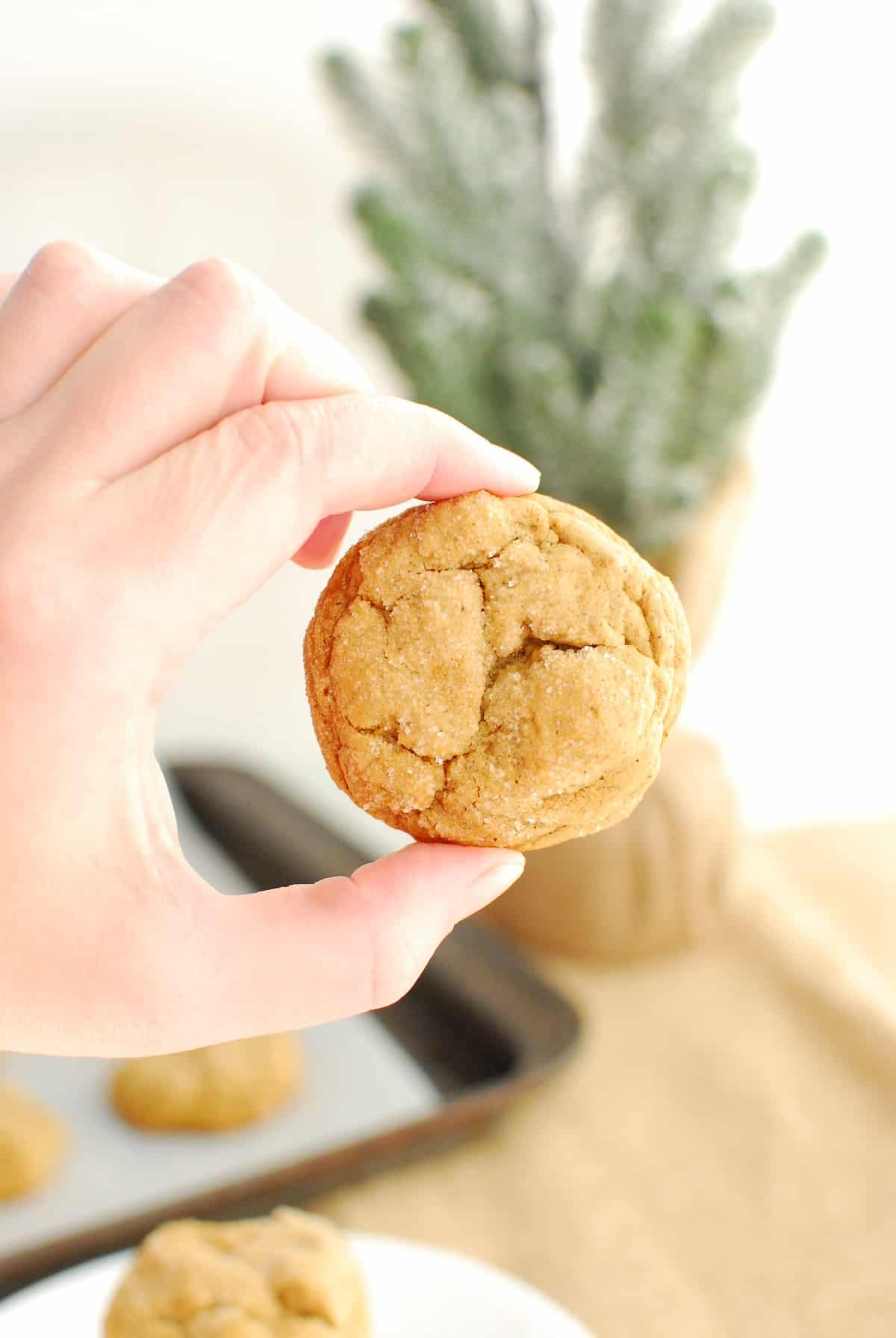 I hope you enjoy these cookies – they are always a hit with my family. If you get a chance to try 'em, please feel free to leave a recipe rating or comment.
PS – Looking for more dairy free holiday recipes? Try our dairy free hot chocolate bombs, vegan coquito, or dairy free gingerbread pancakes.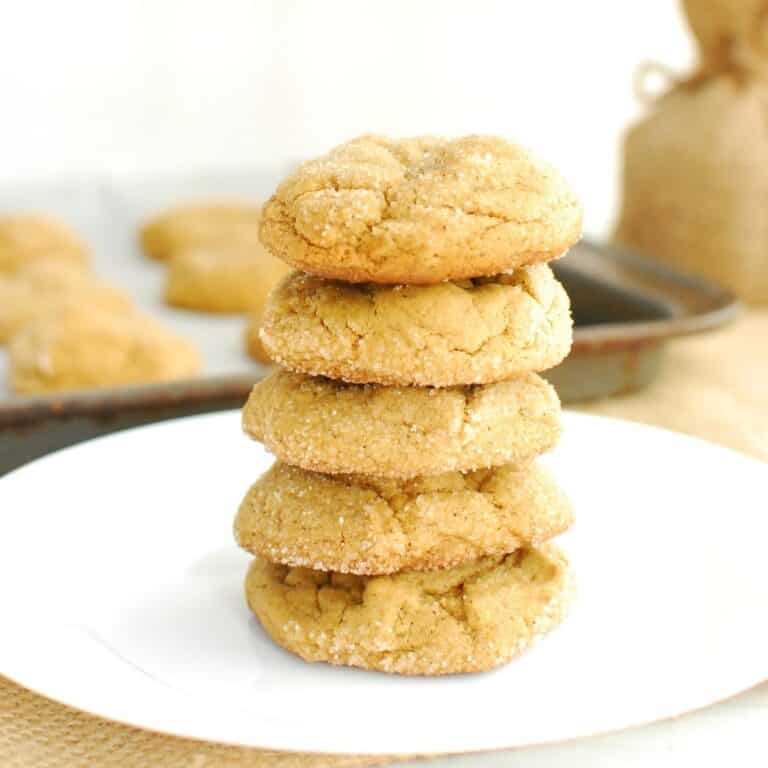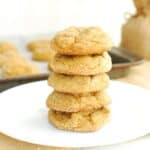 Dairy Free Molasses Cookies
Cozy up with these dairy free molasses cookies this winter - a delightful dessert packed with sweet spices.
Ingredients
1/2

cup

vegan butter

3/4

cup

brown sugar

1/4

cup

molasses

1

egg

1

tsp

vanilla extract

1

tsp

ground ginger

1

tsp

cinnamon

1/4

tsp

ground cloves

2

cups

all-purpose flour

1

tsp

baking soda

1/4

tsp

salt

1/4

cup

granulated sugar

(for rolling)
Instructions
Preheat the oven to 350 degrees F. Prepare two baking sheets with parchment paper or silicone baking mats.

In a mixing bowl, cream together the vegan butter and brown sugar. Stir in the molasses and egg until well-combined, then stir in the vanilla, ginger, cinnamon, and cloves.

Add the flour to the mixing bowl on top of the other ingredients. Add the baking soda and salt over the flour. Gently stir the baking soda and salt into the flour, then combine with the rest of the ingredients underneath until a dough forms. Do not overmix.

Place the granulated sugar in a separate small bowl. Roll heaping tablespoons of dough into the granulated sugar, then place on the baking sheet. Repeat until all dough has been used.

Bake the cookies at 350 degrees F for 9 to 12 minutes, or until the cookies are a light golden-brown color and starting to crack on top. Let cool then enjoy!
Recipe Notes
Nutrition analysis (approximate per cookie): 120 calories, 4 g fat, 2 g saturated fat, 120 mg sodium, 19.5 g carbohydrate, 0.5 g fiber, 11 g sugar, 1.5 g protein, Vitamin D: 0%, Calcium: 1%, Iron: 4%, Potassium: 2%
Share: What's your favorite holiday cookie recipe?
Don't forget to pin this recipe so you can save it to refer to again another time!