Angel food cupcakes are the perfect light and fluffy dessert! This classic dish is different than many other cupcake recipes, as it uses beaten egg whites to aerate them (no other leavening agent is used), and there is no butter or oil used in the recipe. The result is a low-fat sponge cake that's airy and delicious.
Ingredients
Here's everything you'll need to make this recipe, along with selected ingredient notes: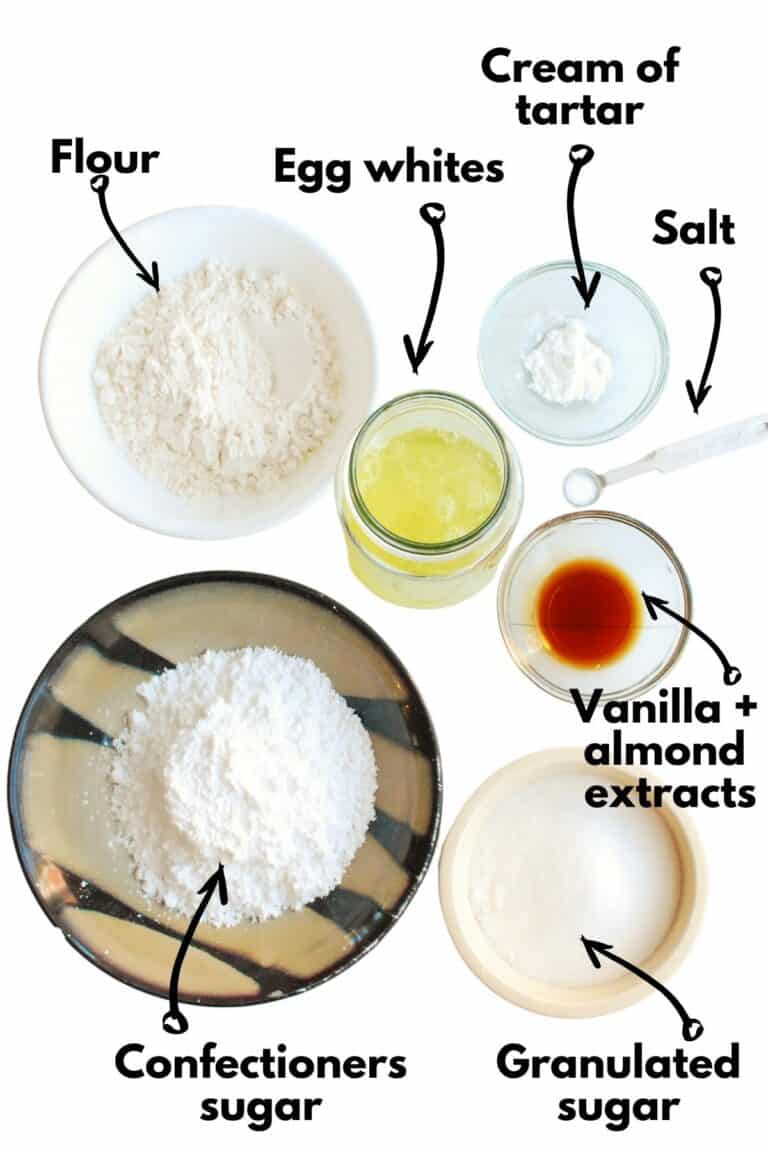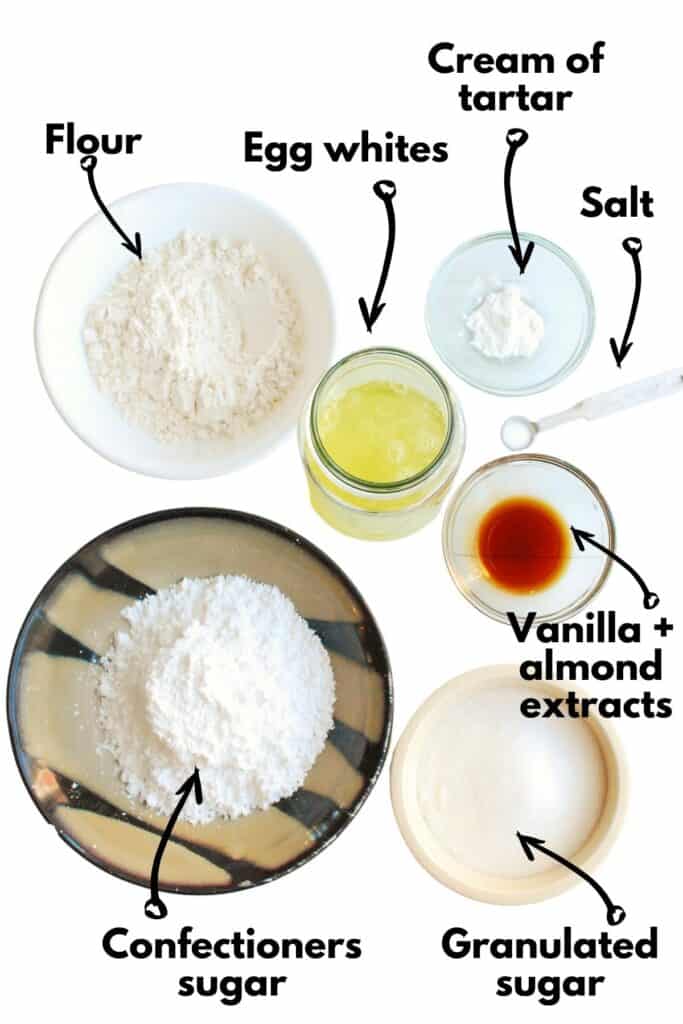 Egg whites – You'll need quite a few of these! I recommend separating out the yolks and setting those aside to make dairy free eggnog. You could also save the egg yolks to make a homemade dairy free hollandaise for a fancy eggs benedict brunch.
Cream of tartar – Even though "cream" makes it sounds like it could be a dairy-based ingredient, this does not contain dairy. Cream of tartar is a dry powder that's a byproduct of winemaking. It can be used in baked goods like this as a whipping agent, helping to stabilize the egg whites as you whisk them until they're light and fluffy.
Almond extract – I love the ever-so-subtle hint of almond flavor that this adds to the cupcakes, but you can certainly leave that out if you don't have it on hand.
Topping Suggestions
While not pictured in the ingredients above, you also will likely want a topping for these cupcakes.
Traditionally, angel food cupcakes are served with whipped topping, which is best added right before serving. Currently, there are two great dairy free options on the market:
So Delicious Original Coco Whip – I find this very similar to traditional dairy versions of whipped topping, with the addition of a slight coconut flavor. The texture is spot on! It's always my go-to.
Truwhip vegan whipped topping – Keep in mind they produce dairy-based versions too, so you'll just want to make sure you specifically select the vegan one if you're shopping for it. (Truwhip contains soy, as a heads up for those who are allergic to that.)
Along with a whipped topping, I highly recommend some fresh berries placed on top. Obviously, these are also best added when you're serving.
As an alternative, you can also serve this with frosting – either store bought or homemade. In the photos here, I made a quick homemade frosting as I was out of dairy free whipped topping.
Instructions
You'll find full recipe amounts and instructions in the recipe card below, but here's a quick overview with photos.
Start by mixing together the confectioner's sugar, all-purpose flour, and salt. You want to stir it with a large spoon, then scoop some up and let it fall back into the bowl. This will help to aerate the mixture.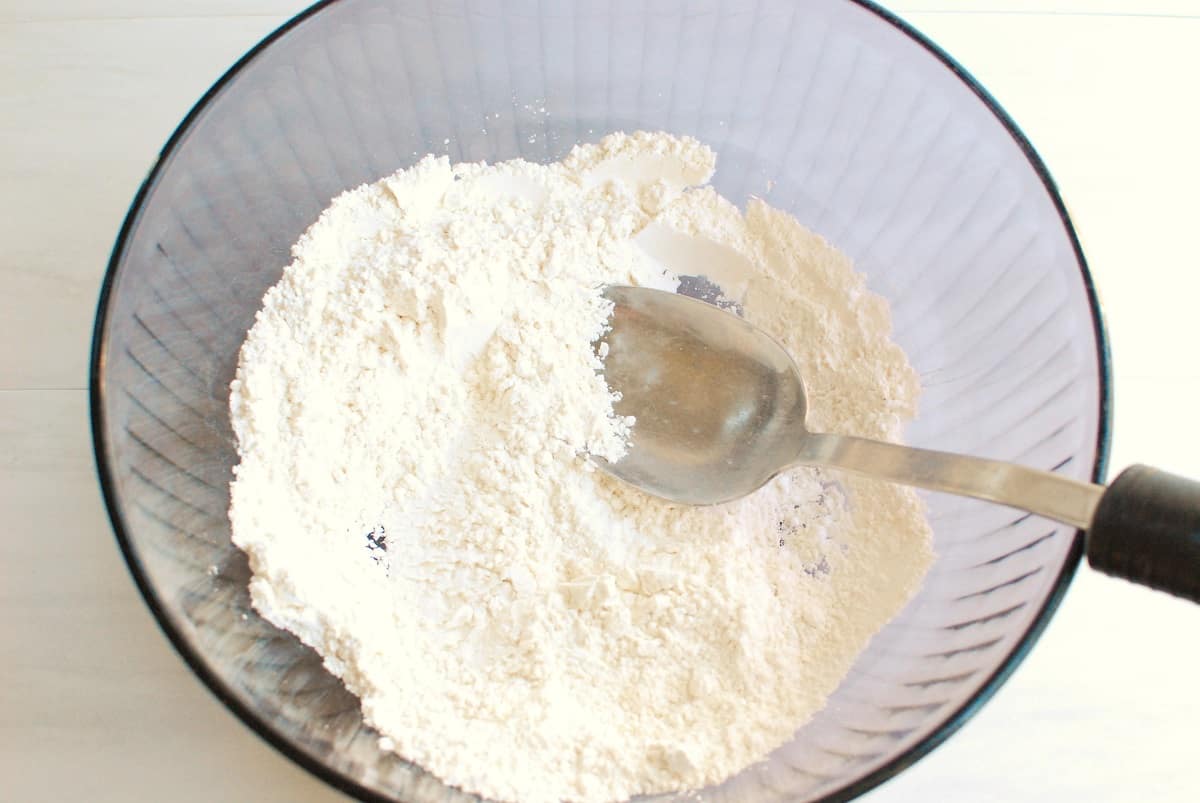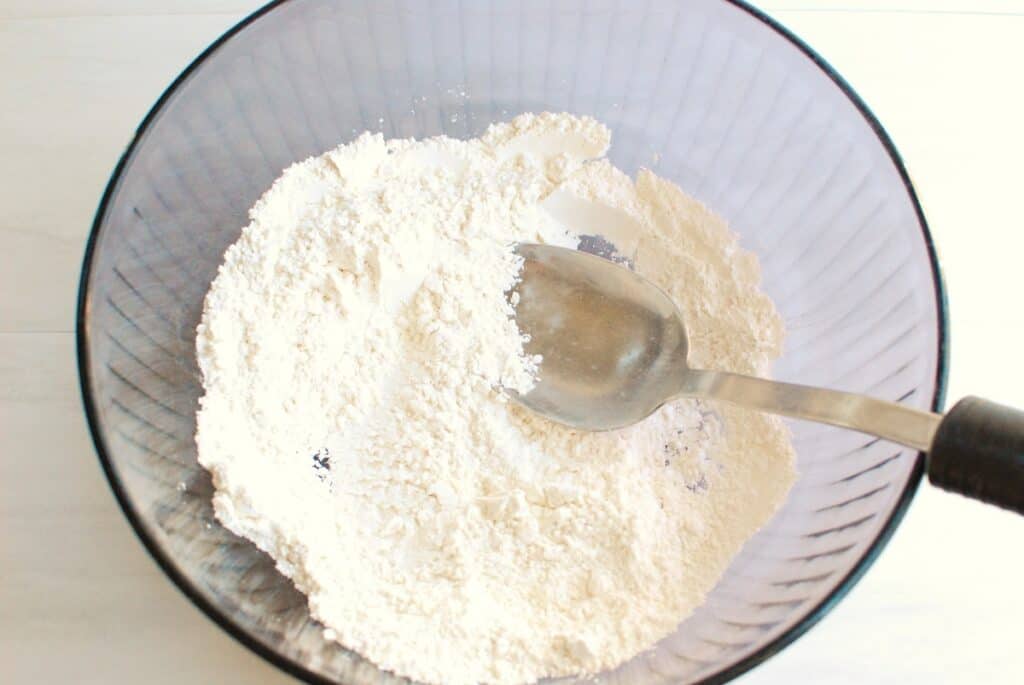 In another bowl, add all your egg whites and cream of tartar. I prefer using a stand mixer to whisk these together (using the whisk attachment) but you can also use a hand mixer or whisk by hand (it'll take a bit of time though!). You want the egg whites to get nice and foamy.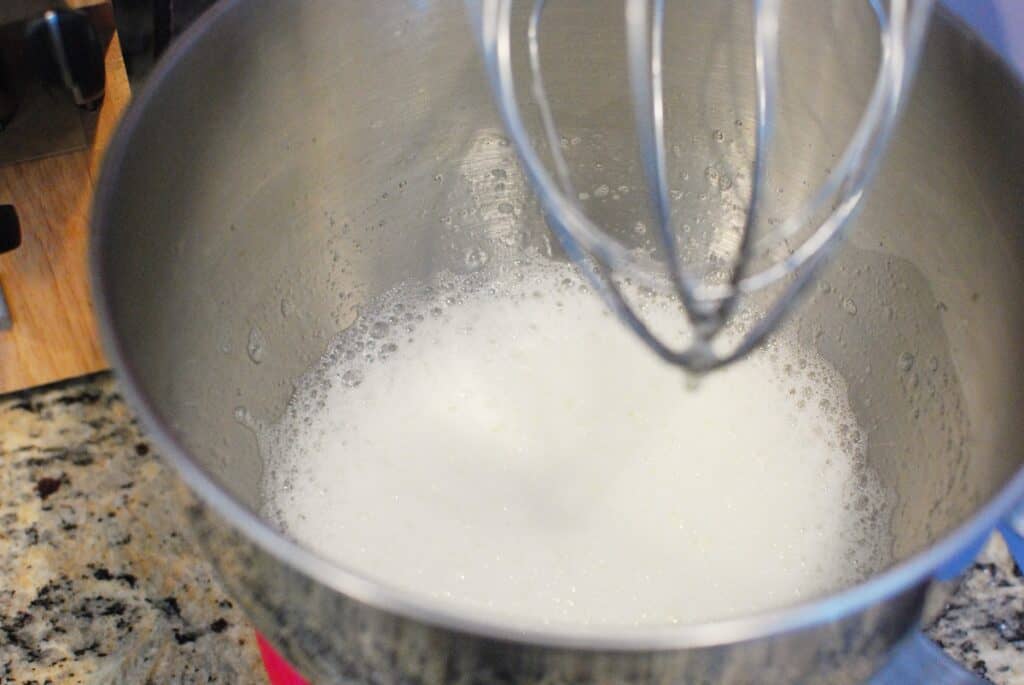 Now gradually add the sugar, beating on high, until soft peaks start to form. It'll look like this when it's ready: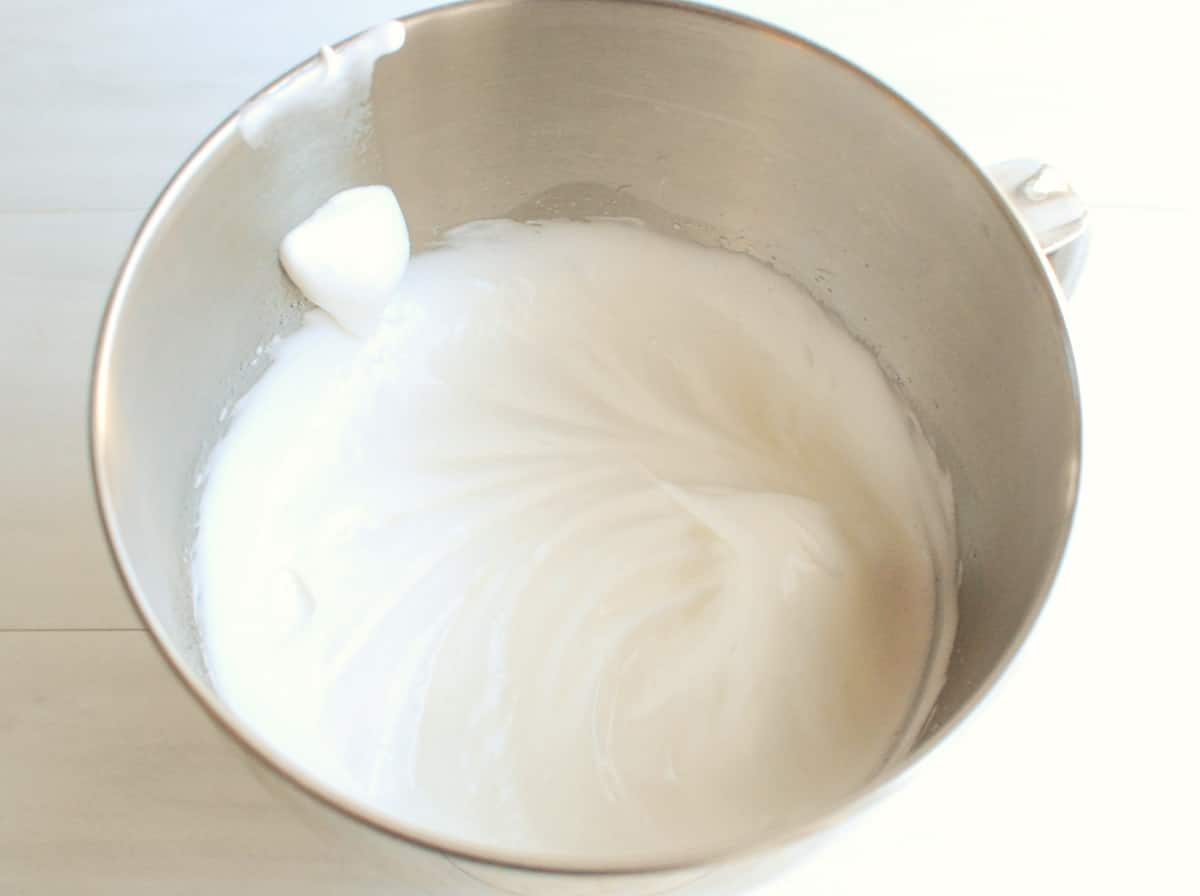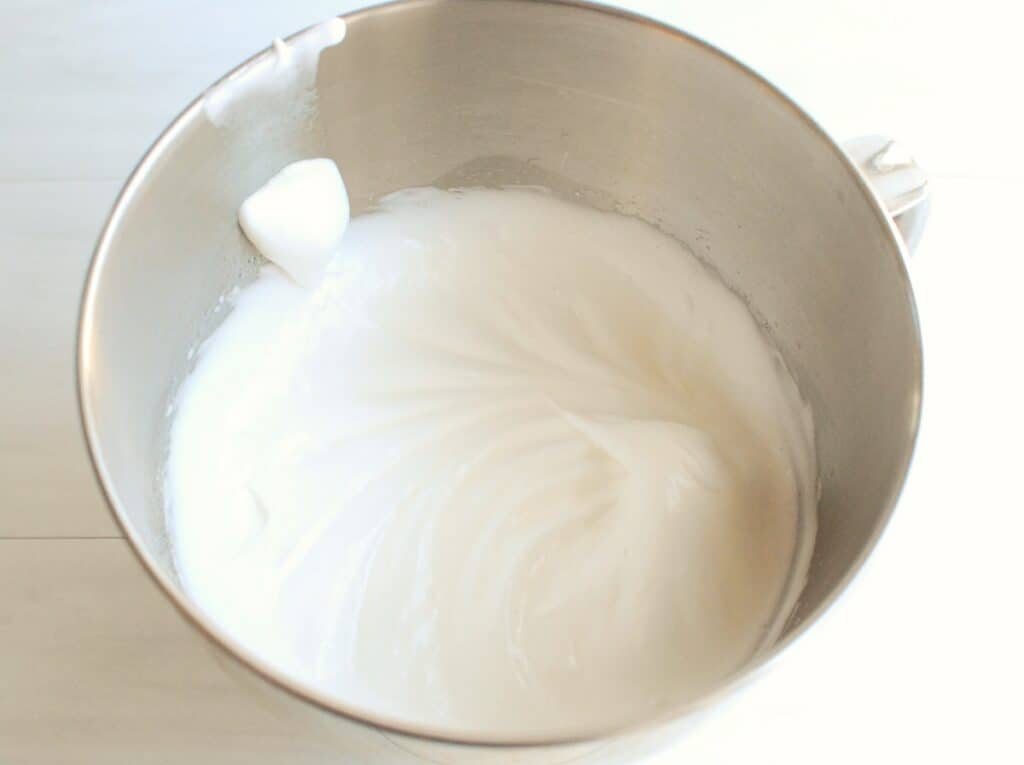 Fold the vanilla and almond extract into the egg whites, then very carefully fold the flour mixture into the egg white mixture a little at a time. The goal is to use a light tough and a gentle scooping motion, until the mixture is just combined.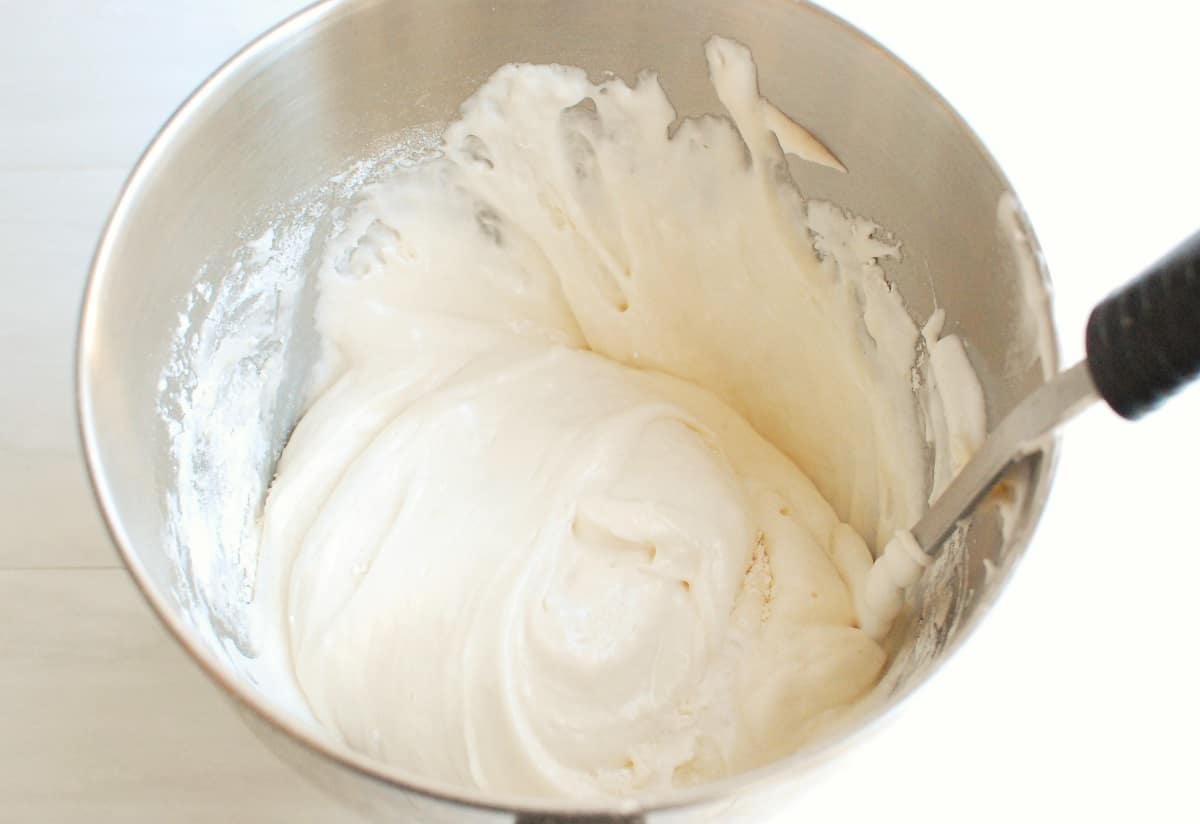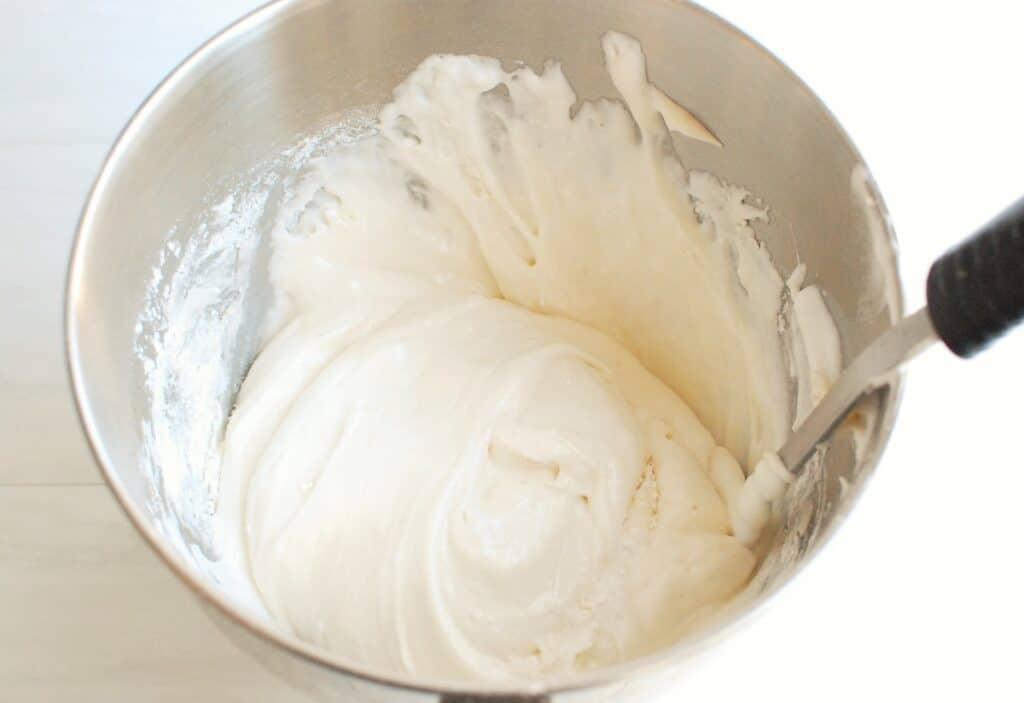 Do not stir vigorously or overmix the mixture or your cupcakes will be dense.
Gently spoon the batter into a lined cupcake tin.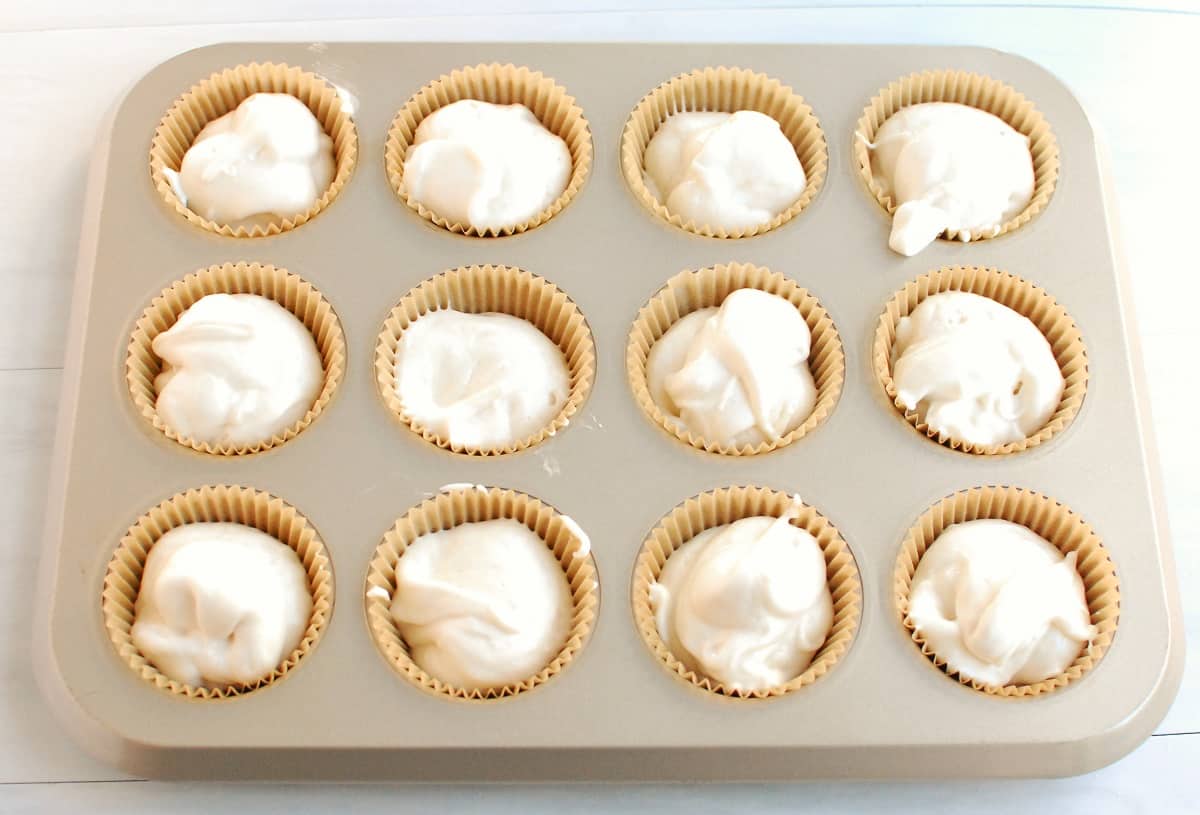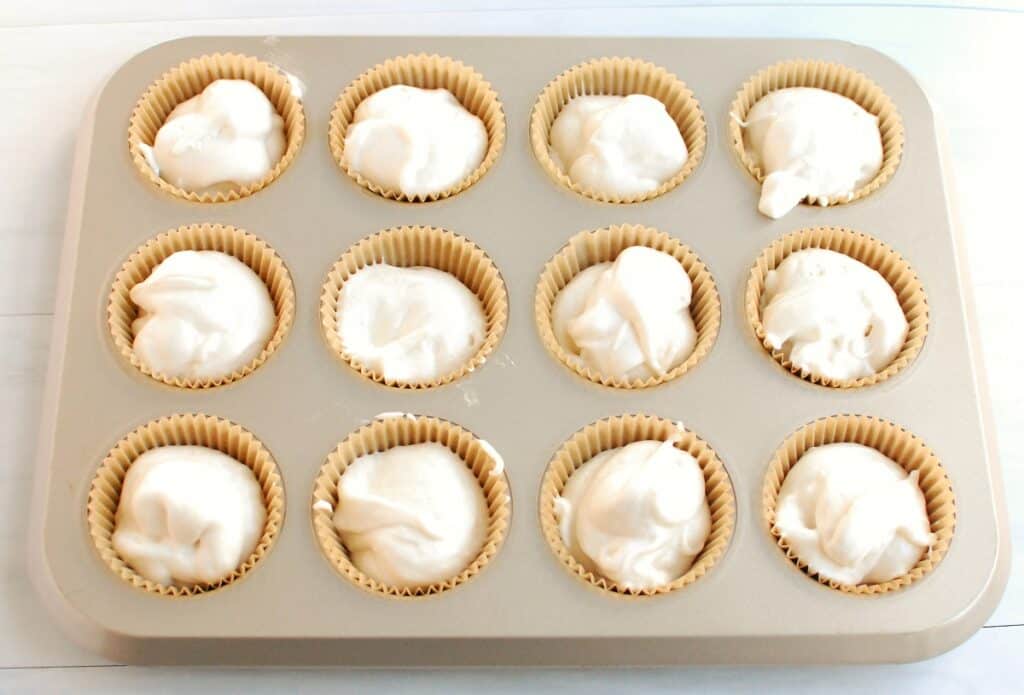 Bake them in the oven. After baking, let them cool in the pan for ten minutes, then remove and finish cooling on a wire rack.
Once cool, feel free to add any toppings of your choice!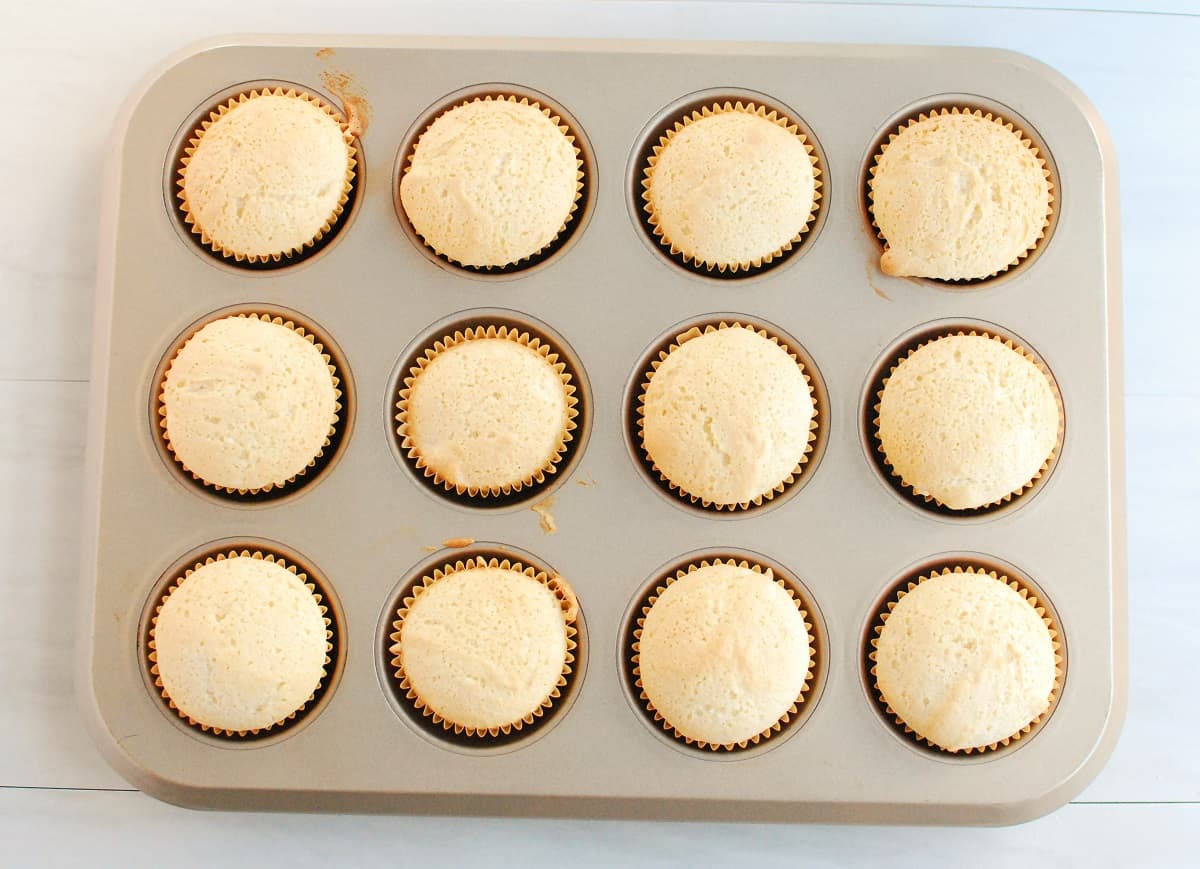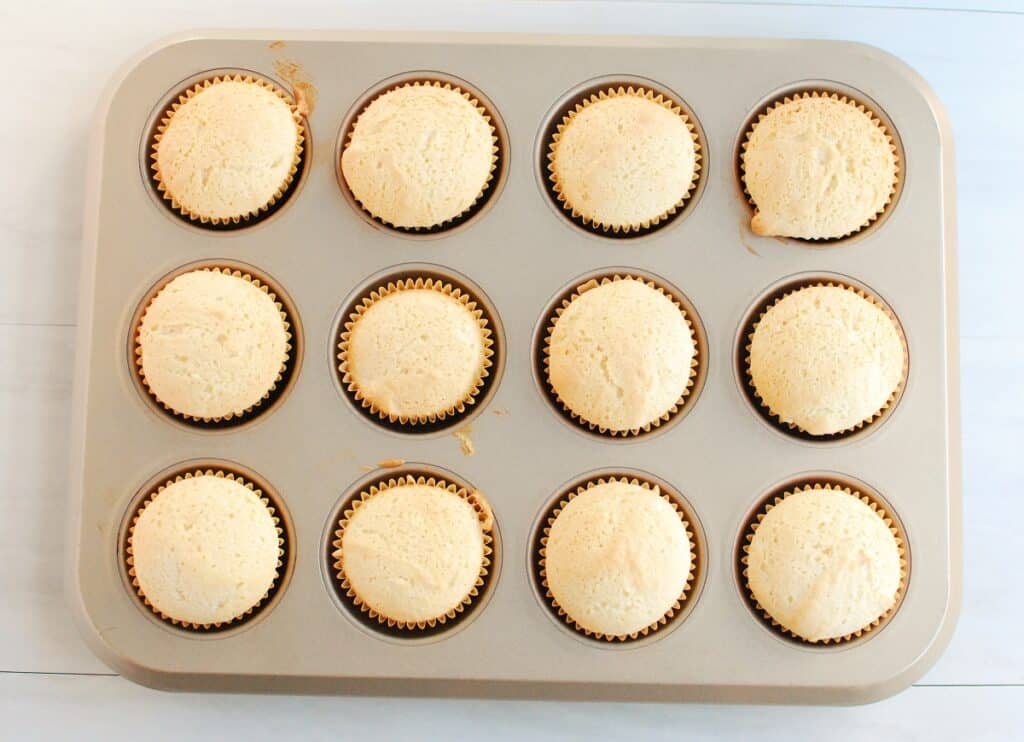 Recipe FAQ
Here are some questions that may arise as you prepare angel food cupcakes:
How should you store angel food cake cupcakes?
Store them in an airtight container at room temperature for one day (untopped) or in the refrigerator for up to 5 days.
Can you freeze angel food cake cupcakes?
Yes. Because the cake is delicate and sensitive to the effects of the freezer, it's best to wrap each individually in a layer of plastic wrap or tin foil, then place all the cupcakes in a large ziptop bag or storage container in the freezer. This will help retain their moisture. You can thaw in the refrigerator when ready to serve, or pop them in the microwave quickly if you're in a rush.
Why did my angel food cake fall or not rise?
This can occur if you did not properly whip the egg whites, or if you are heavy-handed when mixing the whipped egg whites with the flour mixture. Be gentle and softly scoop the mixture until it's just combined.
Allergens in this recipe
Disclaimer: I try to note potential allergens in all recipes – but as you know, manufacturers can change ingredient formulations or I may miss something. Always double check ingredients and labels prior to consuming if you have an allergy.
This recipe is naturally dairy free. As long as you choose a soy-free topping/frosting, it is also soy free.
This recipe does contain eggs (the key ingredient in angel food cake), wheat/gluten (in the flour), and tree nuts (in the almond extract).
If you need to make this a nut-free recipe, you can easily just leave out the almond extract. The cupcakes will still be delicious.
I do not recommend making substitutions to this particular recipe to make it gluten-free or egg-free, as those are both key ingredients for the cupcakes.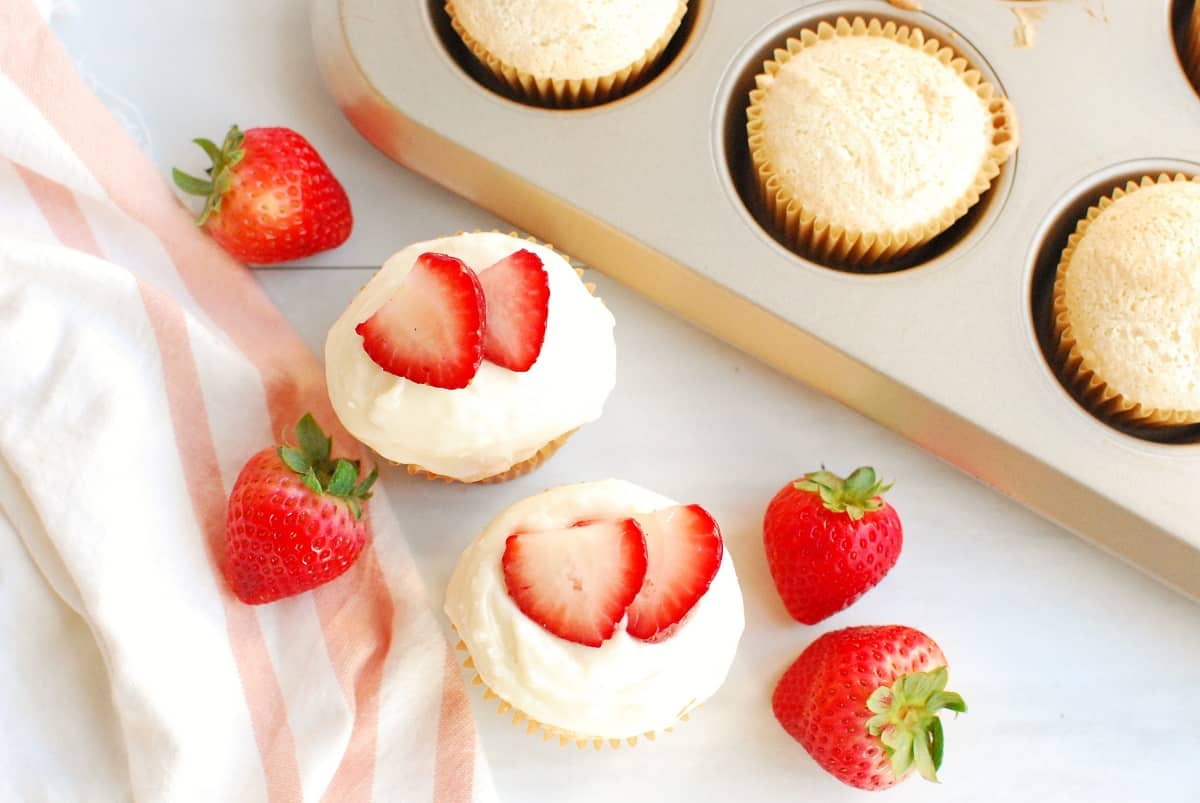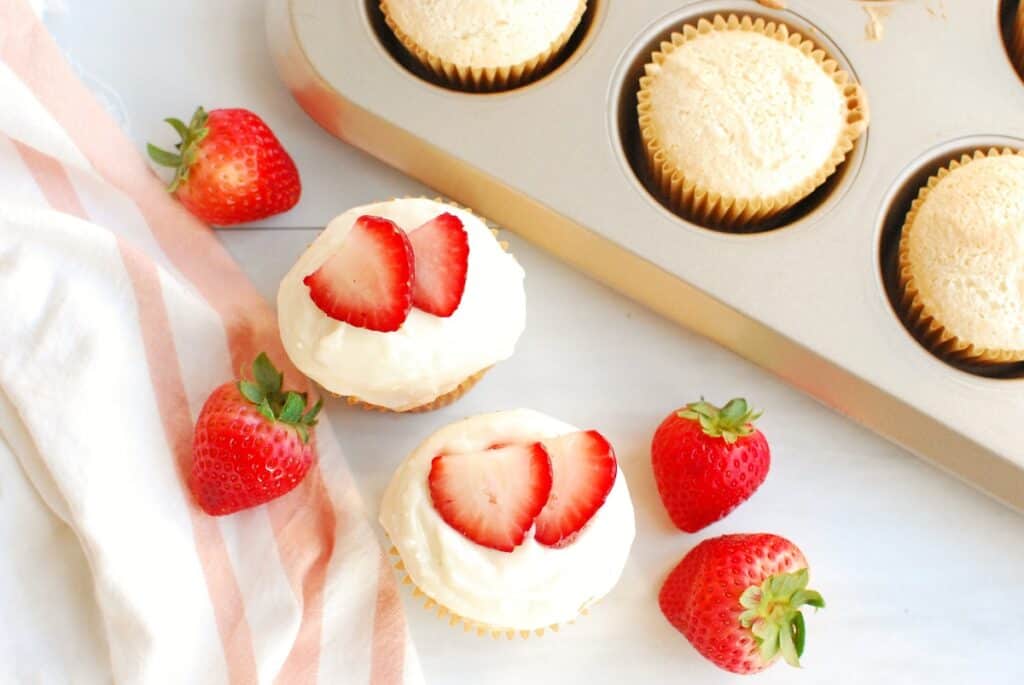 I hope you enjoy these angel food cupcakes! If you have a chance to try them, feel free to leave a recipe rating or comment below.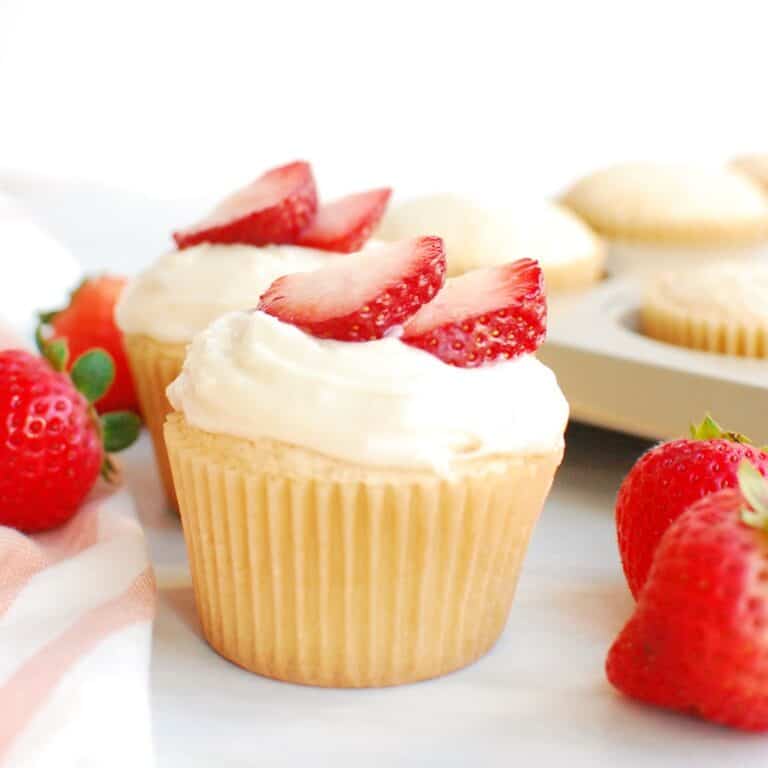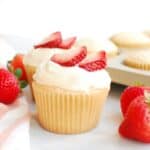 Angel Food Cupcakes
Angel food cupcakes are the perfect light and fluffy dessert!
Ingredients
For the cupcakes:
¾

cup

confectioner's sugar

½

cup

all-purpose flour

⅛

tsp

salt

6

large egg whites

at room temperature

¾

tsp

cream of tartar

½

cup

granulated sugar

1

tsp

vanilla extract

¼

tsp

almond extract
Optional for topping:
Dairy free whipped topping or frosting of your choice

Fresh berries
Instructions
Preheat the oven to 350 degrees F. Line a 12-count muffin tin with cupcake liners.

In a large bowl, mix together the confectioner's sugar, flour, and salt. Stir with a large spoon, spooning some of the mixture up and then letting it fall back down into the bowl (helping to aerate the mixture).

In a separate bowl, combine the egg whites and cream of tartar. Use a stand or hand mixer with a whisk attachment, or whisk by hand, until foamy. Gradually add the sugar, beating on high, until soft peaks form.

Fold in the vanilla and almond extract carefully, then gently and gradually fold the flour mixture into the egg white mixture, using a scooping motion. (Do not beat or overmix the batter or your cupcakes will be dense).

Spoon the batter into the cupcake tin. Bake for 18 minutes at 350 degrees F. Let cool 10 minutes in pan, then remove to a wire cooling rack. When cool, add any toppings of your choice.
Recipe Notes
Nutrition analysis (approximate per cupcake; does not include toppings): 91 calories, 0 g fat, 55 mg sodium, 20 g carbohydrate, 0 g fiber, 16 g sugar, 2.5 g protein, Vitamin D: 0%, Calcium: 0%, Iron: 2%, Potassium: 1%
Share: What's your favorite dessert these days? If you tried these cupcakes, what did you think?
Feel free to pin this post to save for later!