Just two ingredients stand between you and sweet and salty deliciousness! This dark chocolate potato chip bark is a perfect addition to your dessert repertoire. It's so simple to make and also serves as a great food gift during the holiday season.
Disclosure: This post contains Amazon affiliate links. As an affiliate, I earn a commission on qualifying purchases. I also received a free sample of Siete products (but was not required to post about them).
Ingredients
Here's a photo of what you'll need, which is pretty simple – just dark chocolate and potato chips! But see our ingredient notes below for some specific brand recommendations.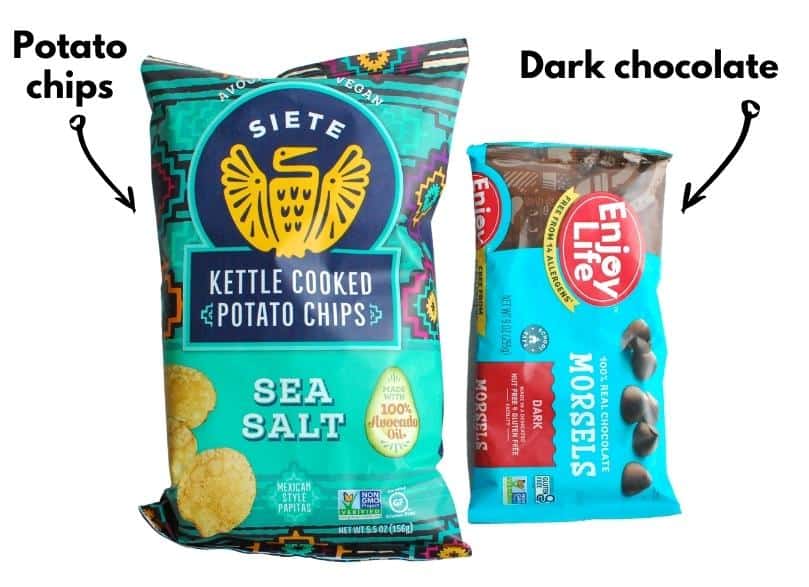 Potato chips: I'm personally a huge fan of Siete's kettle cooked sea salt potato chips. They're super crispy and perfectly salty, which makes them ideal for this bark. But you can certainly use other potato chips that you like. (PS – Siete has a great dairy free product line, including enchilada sauce and dairy free queso).
Dairy free chocolate: Luckily, there are a lot of dairy free chocolate products on the market these days! I prefer dark chocolate, but you can of course make this with dairy-free semi-sweet or dairy-free milk chocolate instead. Here are some easy-to-find brands:
Enjoy Life – This is always my go-to brand, because it's pretty easy to find at most grocery stores. Sometimes it's in the regular chocolate chip section, but I often find it in the "natural" section of the store. You can also order them online. The dark chocolate is so flavorful!
Nestle Allergen Free Morsels – This allergy-friendly line is often carried at Walmart as well as some standard grocery stores. I like the semi-sweet and dark chocolate a lot in this line. Keep in mind only this particular line is dairy free, so be sure to check labels.
Walmart "Free From" Morsels – These are a great option if you're limited in your selection, and it's typically the most cost-effective choice. I personally prefer the flavor of the other two varieties for standard chocolate (though the Walmart "free from" white chocolate is actually my favorite dairy free version of white chocolate). Keep in mind that only the "free from" line is dairy free (and top 8 free), so be sure to check the labels to ensure you have the right product.  (Note: some have noted that these may be produced on shared lines, so you may want to choose a different option if you have an anaphylactic allergy).
Instructions
Start by crushing your potato chips into smaller pieces (but avoid crushing them too much into small crumbs). The easiest and most mess-free way of doing this is tossing the potato chips in a zip top bag, getting out as much air as possible, then crushing a few times with a rolling pin (or anything else that's firm in your kitchen).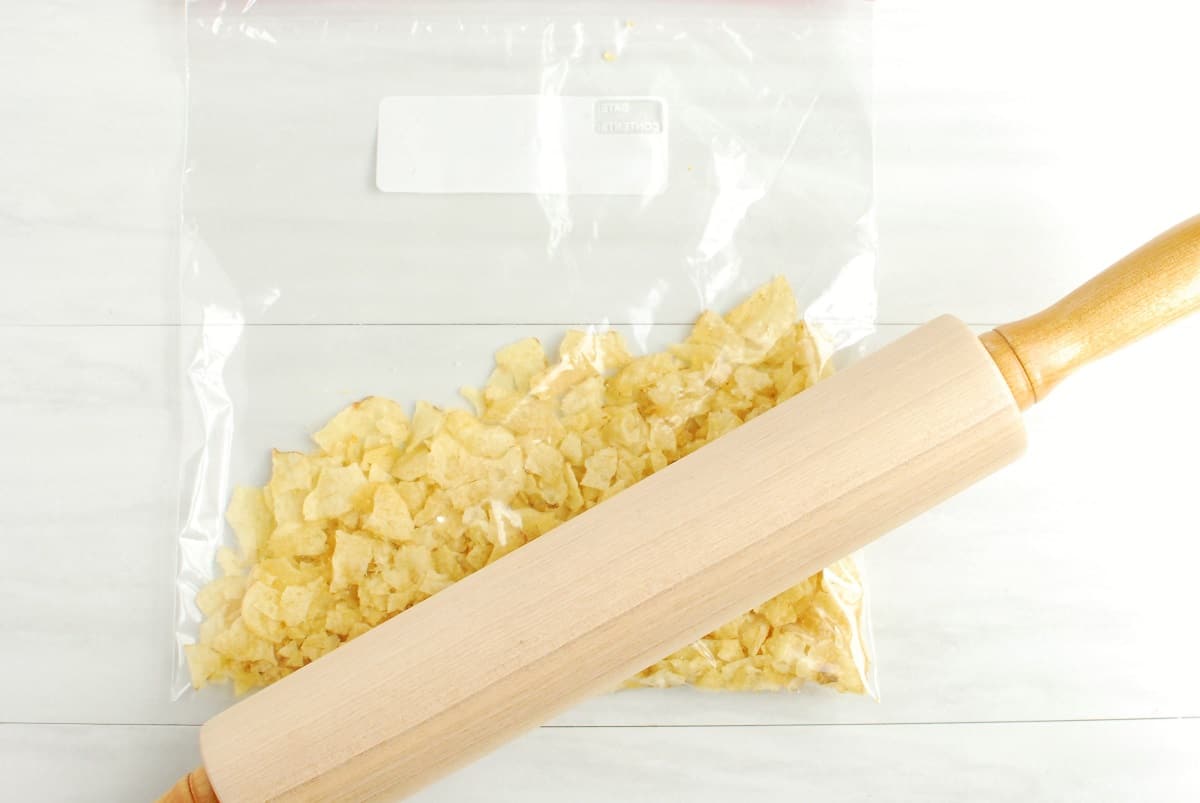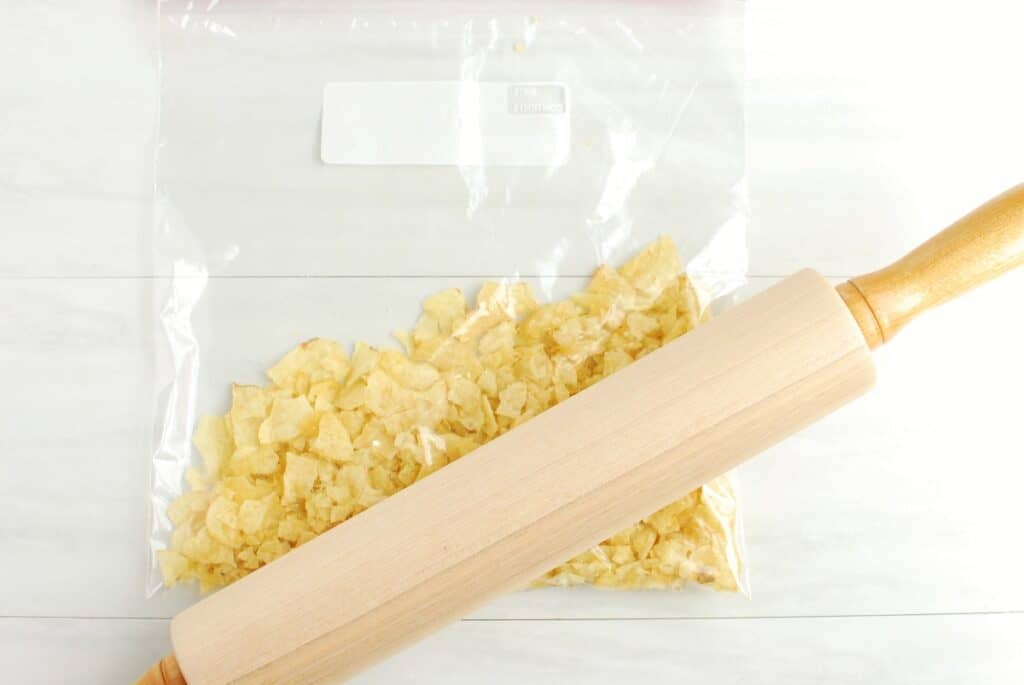 Next, melt the chocolate. You can do this in a double boiler or in the microwave. I tend to use the microwave just because it's so quick.
The key with melting chocolate in the microwave is using short intervals and stirring between each. If you cook the chocolate too long, it can start to burn, especially along the edges of the bowl. Use short 30-second increments and stir well between each. You'll only need 3 to 4 intervals for the whole bag.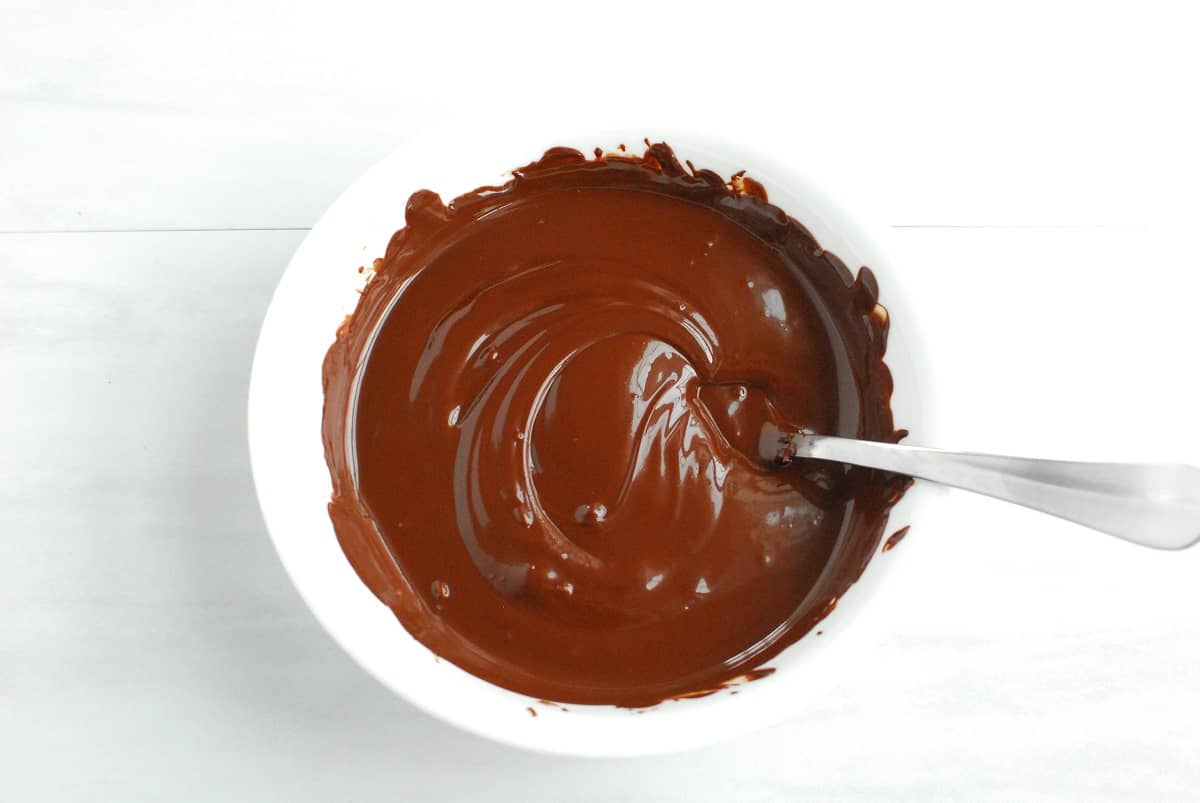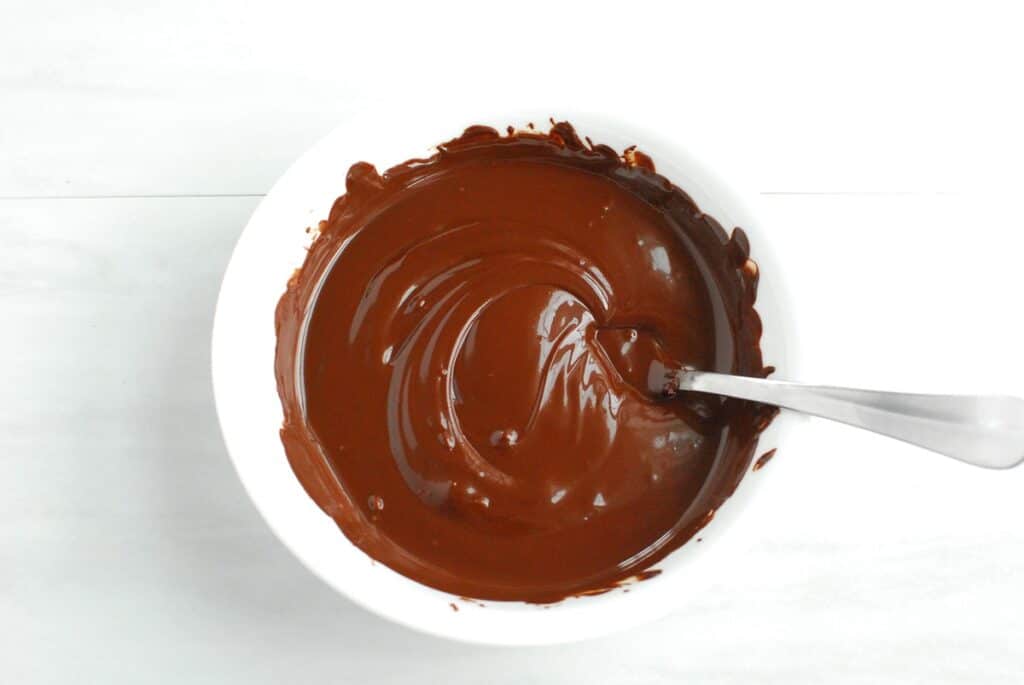 Now you've got perfectly melted chocolate! Pour that onto a baking sheet covered with parchment paper, and spread it with the back of the spoon into a big rectangle.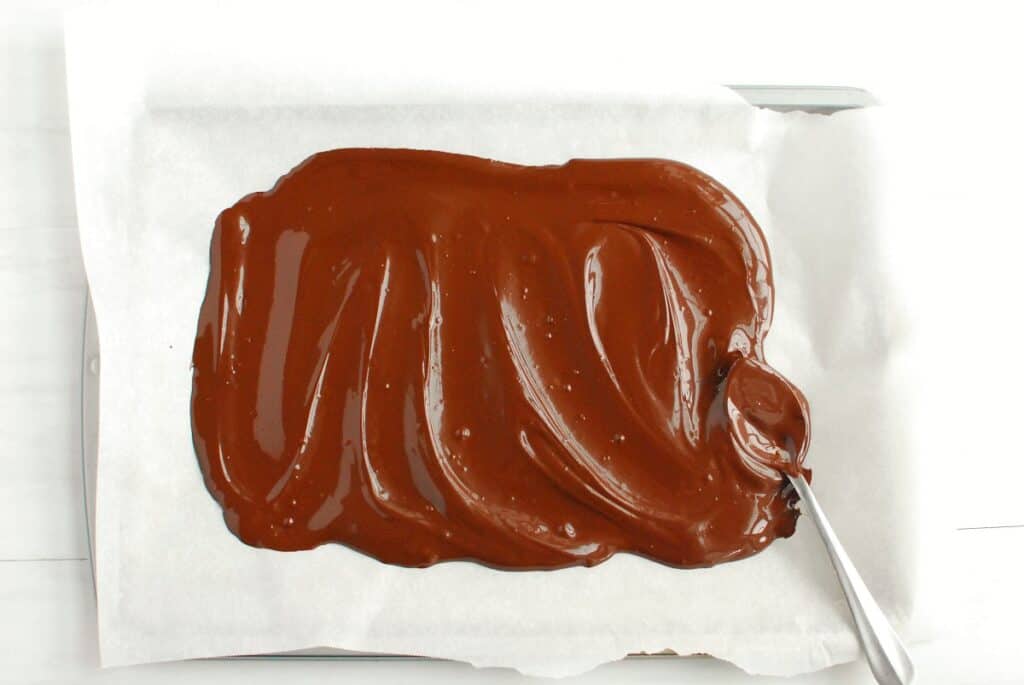 Quickly sprinkle the potato chips on top. Press down a little if needed to ensure they are pressed into the chocolate. Be sure to do it relatively quickly, before the chocolate begins to set.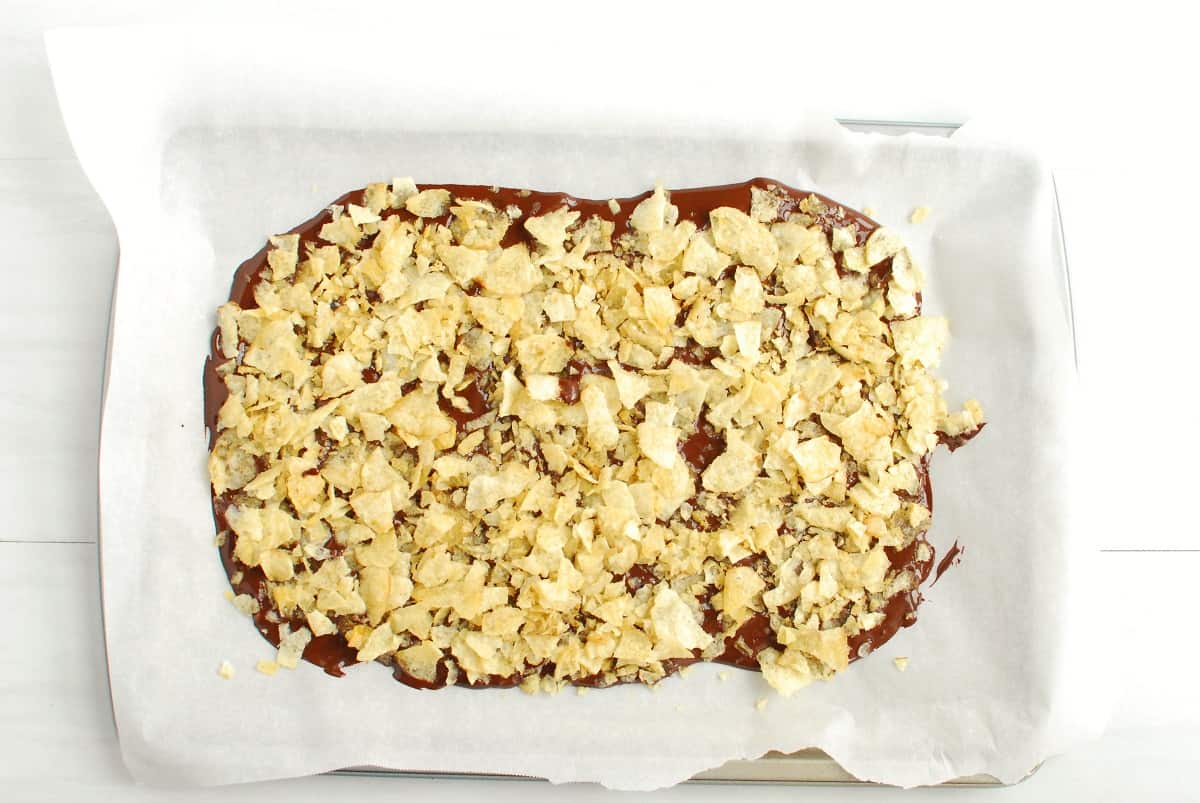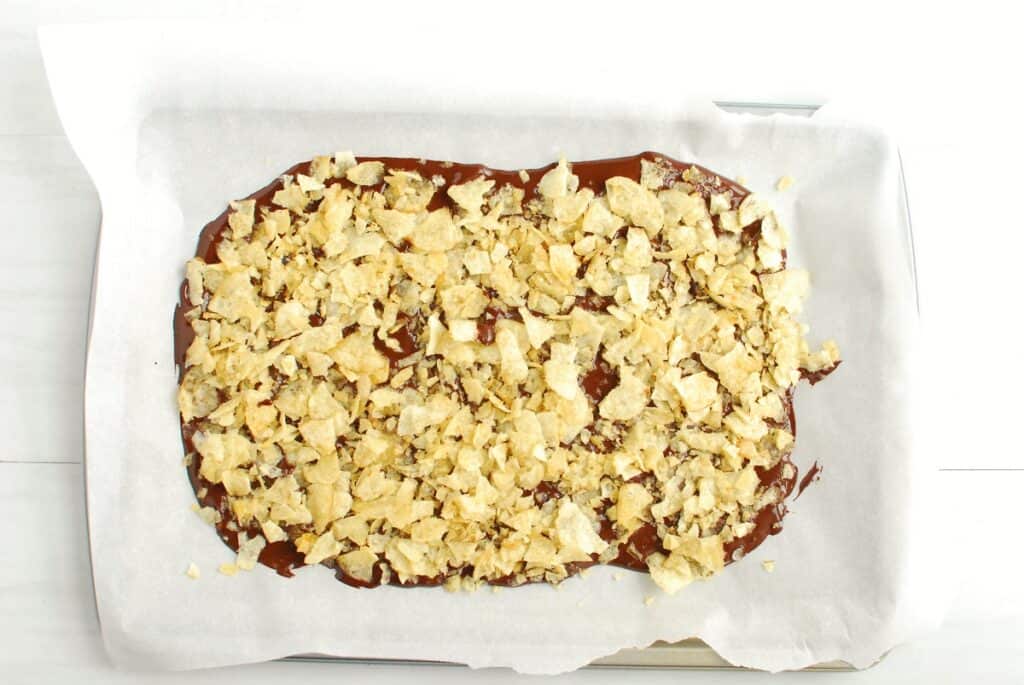 All you need to do is let it set in the fridge for a bit until it's solid, then break it into chunks and enjoy.
Recipe FAQ
Here are some common questions that may arise as you're making your potato chip chocolate bark:
How should you cut chocolate bark?
You can simply break apart chocolate bark by hand, or use a knife to help move the process along. Feel free to break it into pieces as large or small as you prefer.
How should you store potato chip bark?
Store it at room temperature in a food storage container if you live in a cool climate. If you live in a warm location and your kitchen runs warm, this is best stored in the refrigerator. Note that the potato chips will start to lose their crispness after a few days in the fridge, though.
How long does chocolate bark last?
Stored at room temperature, homemade chocolate bark should last up to a week (assuming there are no additional ingredients added to the topping that would require refrigeration).
Can you add additional toppings to potato chip bark?
Of course! Try the ultimate salty combo, using potato chips, pretzels, and salted nuts as your topping. Or you can try adding a sweet component like dried fruit.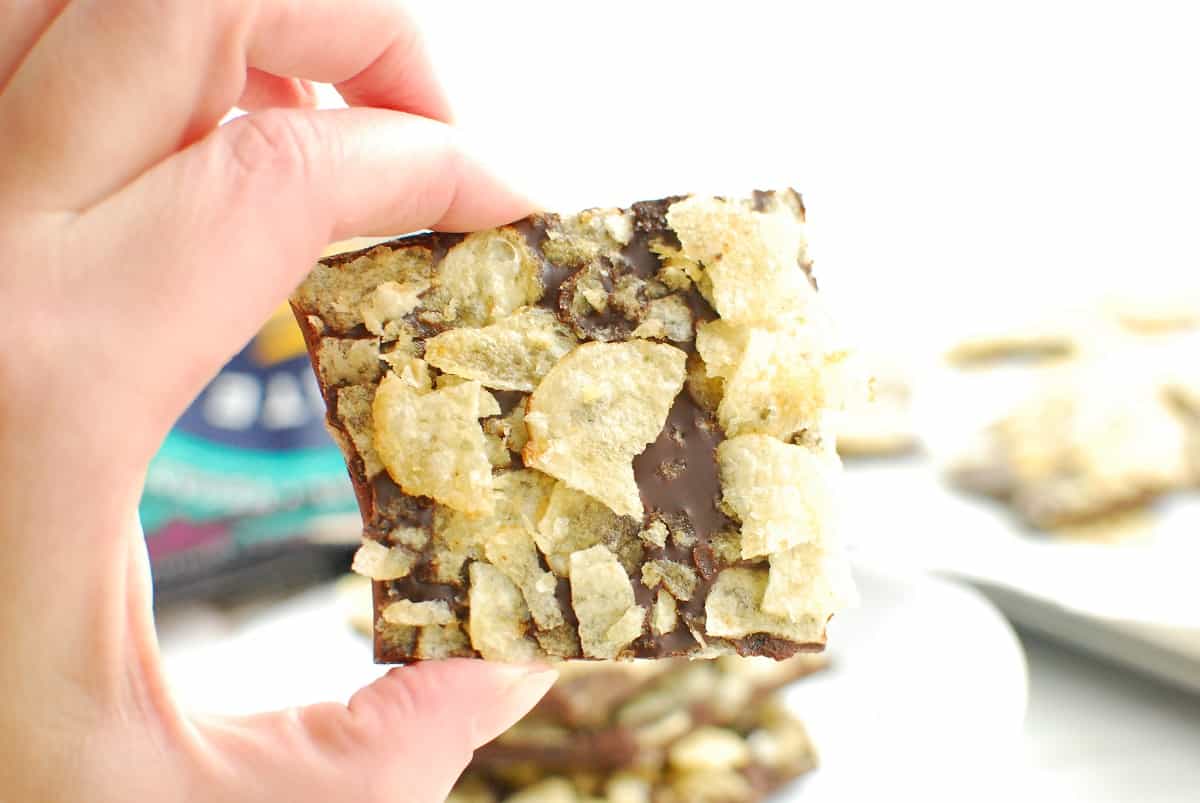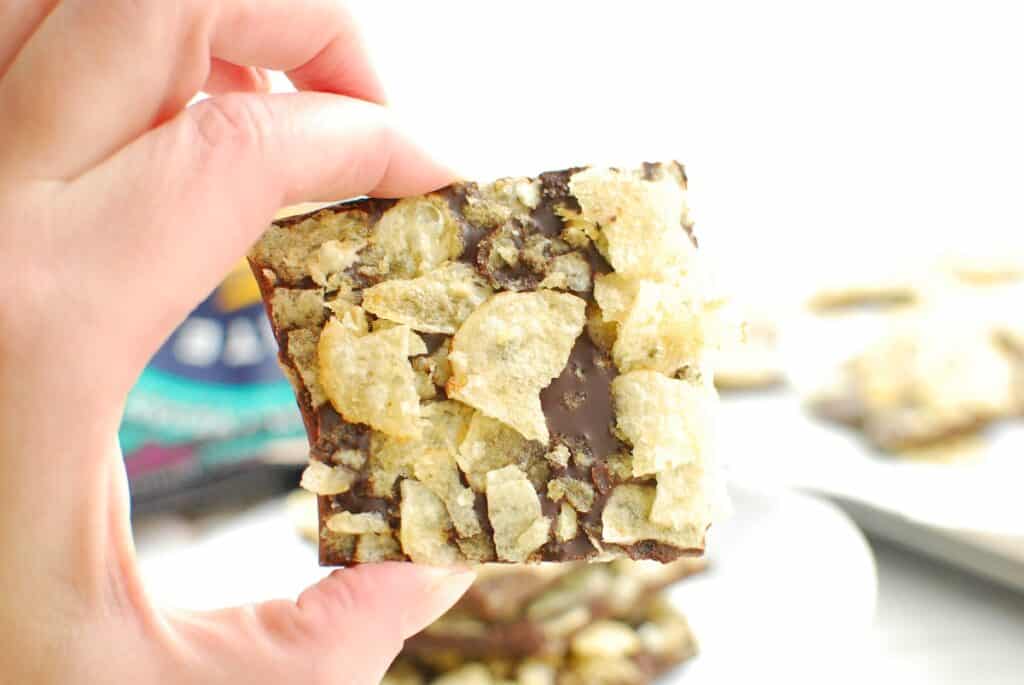 Allergen in this recipe
Disclaimer: Always double check ingredients and labels yourself prior to making a recipe. While I try to check all ingredients for allergens, there's always the chance I may miss something or manufacturer formulations can change.
Using Enjoy Life chocolate chips and Siete potato chips, this recipe is free of dairy, wheat/gluten, egg, soy, and nut ingredients.
Keep in mind that the facilities these products are produced in may handle other allergens, so if you have any anaphylactic allergies – it's best to reach out to the manufacturer to find out specific information:
Enjoy Life states on their dark chocolate morsel packaging: "Made in a dedicated nut and gluten free facility. The facility also processes dairy and soy; however this product is produced on a dedicated dairy- and soy-free line. Ingredients have been additionally tested to ensure strict allergen control standards are met."
Siete noted: "Our products are produced and packaged in facilities that manufacture other products, including ones that may contain multiple allergens. While we do clean and sanitize our lines between runs, it is important to note that our facilities are not allergen-free. We adhere to FDA allergen protocols in manufacturing and FDA guidelines for our labels."
If you choose other ingredients, though, always be sure to check the allergen information. For example, many standard brands of potato chips contain soybean oil, which may be a concern for those with anaphylactic soy allergies (though highly refined soybean oil doesn't have to be labeled as a soy allergen by current law).
More Dessert Recipes
If you're looking for more tasty treats, try one of these other delicious dairy free dessert recipes from our site:
I hope you enjoy this potato chip bark! If you get a chance to try it, please do leave a recipe rating or comment below.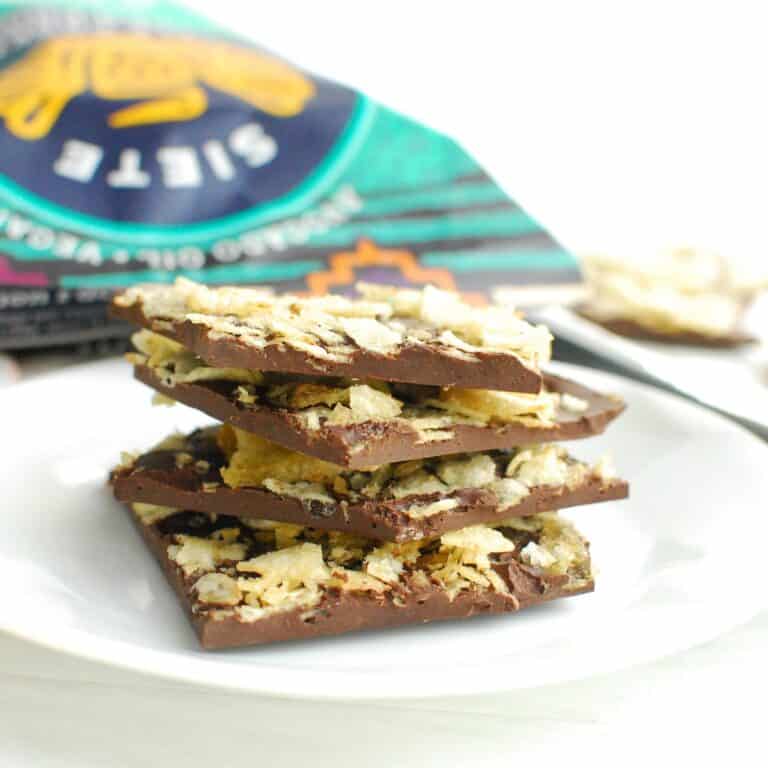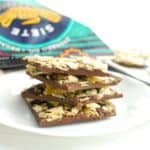 Dark Chocolate Potato Chip Bark
This chocolate potato chip bark is the easiest dessert recipe ever, made with just two ingredients. The perfect sweet and salty combo!
Ingredients
9

ounce

bag Enjoy Life Dark Chocolate Morsels

(or another dairy-free chocolate chip)

2.75

ounces

of Siete Sea Salt Potato Chips

(half of a 5.5-ounce bag; or any potato chip brand)
Instructions
Prepare a baking sheet with parchment paper.

Open the bag of potato chips and pour half into a zip top bag. Push the air out and seal the zip top bag, then use a rolling pin to crush the chips in the bag into smaller pieces.

Place the chocolate chips in a microwave safe bowl. Microwave in 30-second intervals, stirring between each interval. It should only take about 3 to 4 intervals for the chocolate to be mostly melted. At this point, continue stirring and rest will melt.

Pour the chocolate on to the parchment paper. Use the back of a spoon to spread the chocolate into a rectangle, until it's about ¼-inch thick (it likely won't take up the entire baking sheet). Immediately sprinkle the potato chips on top (you can press down slightly by hand if needed to push them into the chocolate).

Place in the refrigerator for 30 minutes, or until the chocolate is solid. Remove and break into 8 pieces. Store and serve at room temperature and enjoy!
Recipe Notes
Nutrition analysis (per serving): 197 calories, 15 g fat, 8 g saturated fat, 50 mg sodium, 23 g carbohydrate, 4.5 g fiber, 10.5 g sugar, 3 g protein, Vitamin D: 0%, Calcium: 0%, Iron: 33%, Potassium: 3%
Share: What's your favorite sweet and savory dessert combination?
Feel free to pin this post to share with others. 🙂