Dairy free magic bars are a rich, delicious, crowd-pleasing dessert! This version of the childhood classic is very simple to make with just a handful of ingredients. And it tastes exactly like the original – no one will know it's not the standard version with butter and condensed milk.
Disclaimer: Allergy information is provided below – however, always double check ingredients and labels yourself prior to making a recipe. While I try to check all ingredients for allergens, there's always the chance I may miss something or manufacturer formulations can change.
What are magic bars?
If you haven't always followed a dairy free diet, you've probably eaten these at some point in your life – that rich, buttery graham cracker bottom, layered up with chocolate and coconut and nuts, all drizzled with condensed coconut milk and baked to set.
This delightful dessert goes by a handful of names; magic bars are what we always called them growing up. According to Southern Living, you may also know 'em as Hello Dolly's (coined that way because they became popular when Carol Channing was starring in the musical Hello Dolly! on Broadway). And some people may refer to them by yet other names, like seven layer bars or coconut dream bars.
Whatever you call them, they're delicious. And while the traditional recipe isn't friendly for those on a dairy free diet, my version right here is a perfect substitute that tastes exactly the same!
Ingredient Tips
Disclosure: This section contains Amazon affiliate links. As an affiliate, I earn a commission on qualifying purchases.
Here's a list of the ingredients you'll need, with some helpful tips for those ingredients which may be unfamiliar to you:
Dairy free butter: We're so lucky that at this point in time, there is bound to be a dairy free butter substitute at almost every major grocery store. I used Country Crock plant butter sticks made with avocado oil for this recipe, but you can also use Earth Balance too.
Dairy free graham crackers: You can either buy pre-made crumbs, or just buy regular graham crackers and pulse them in a food processor (which is what I do).
Most graham crackers are naturally dairy free, but you'll want to double check the ingredients. Here are a few examples of graham crackers that (at the time of publication) were dairy free:
Kroger Original Graham Crackers
If you are vegan and do not eat any animal products, you'll want to double check that the graham crackers do not contain honey either.
You can easily make the graham cracker crumbs from regular graham crackers by pulsing in a food processor like this: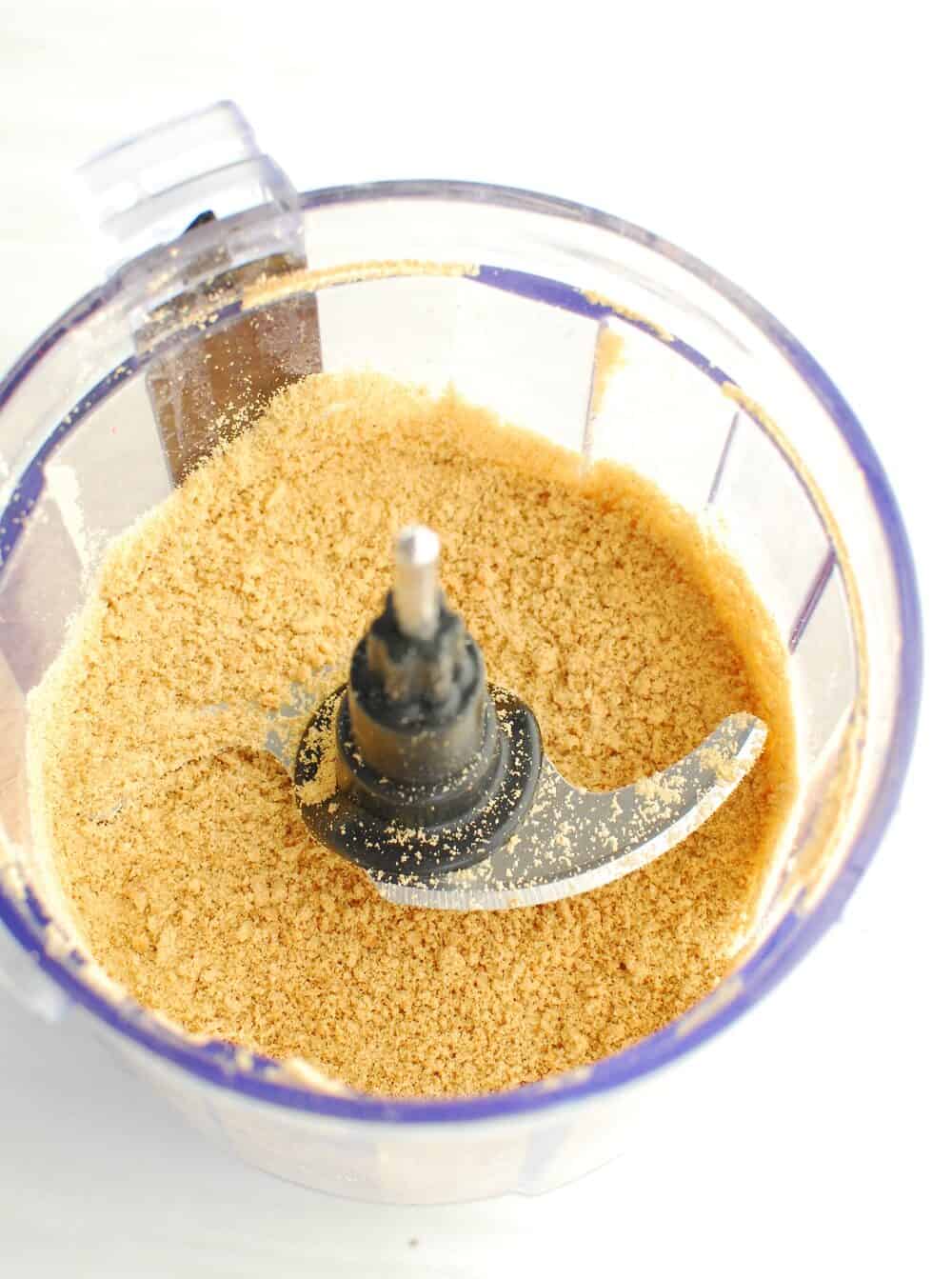 Sweetened shredded coconut: This is easy to find in the baking section of just about any grocery store, and should be naturally dairy free (but again, always wise to double check)!
Dairy free chocolate chips: Most chocolate contains milk, but you can find plenty of varieties on the market that do not. I love Enjoy Life – their dark chocolate morsels are delicious in here. You can also use the Nestle allergen-free line or the Walmart allergy-free line in this recipe.
Pecans: These add a lovely nutty flavor and additional textural component to this dairy free magic bar recipe. Use any brand you like!
Dairy Free Sweetened Condensed Coconut Milk – I'm so glad I've been able to find this in the last year at two grocery stores near me! I used this Andre Prost sweetened condensed coconut milk that is dairy-free. Nature's Charm is another brand and is both dairy free and vegan friendly.
If you're having trouble tracking this down, check three places in the store: 1) the baking aisle near the regular condensed milk, 2) the ethnic foods aisle near both the Latin foods and Thai cuisine, and 3) the natural foods section of the grocery store. If you can't find any, or if you'd just prefer making it from scratch, you can use this homemade vegan sweetened condensed milk recipe.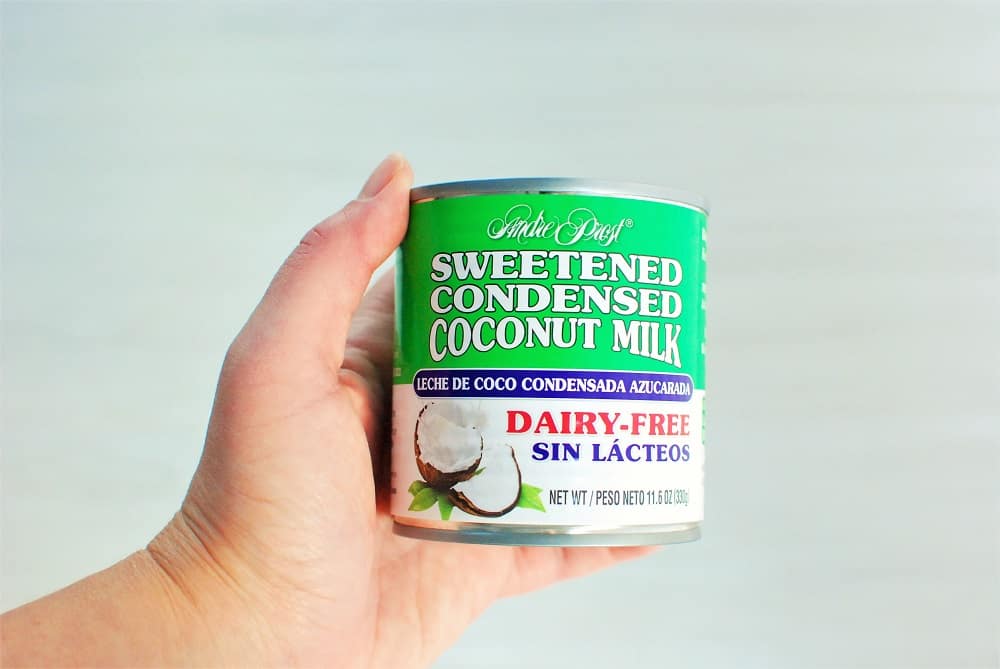 Recipe FAQ and Tips:
Here are some common questions that may arise as you're making your dairy free magic bars:
How do you store these? You can store magic bars at room temperature or in the refrigerator, whatever you prefer. If at room temperature, I recommend consuming within 3 days. If in the refrigerator, I recommend consuming within 5 days.
Can you freeze magic bars? Yep! Freeze individually on a baking sheet, then transfer into a large ziptop or food storage container. You can eat them straight from the freezer or thaw them in the fridge for a few hours before serving. They'll keep their quality for a few months in the freezer.
How do you make graham cracker crumbs from graham crackers? This is so easy! Just take the graham crackers and pulse them in a food processor a few times. Viola – graham cracker crumbs. I find it takes about 10-15 graham crackers (the full rectangles) to get about 1 1/2 cups of graham cracker crumbs for this recipe (the number depends on the thickness of the graham crackers).
What are some additional tips for making this recipe?
Be sure to stir your sweetened condensed coconut milk prior to pouring it on. Just like regular canned coconut, the cream tends to separate from the liquid. You want to make sure it's a uniform, syrupy mixture before pouring it on.
Let the magic bars cool completely (i.e. not warm at all) before serving! The sweetened condensed coconut milk needs to cool in order to solidify and hold everything together. They also taste much better cooled than warm.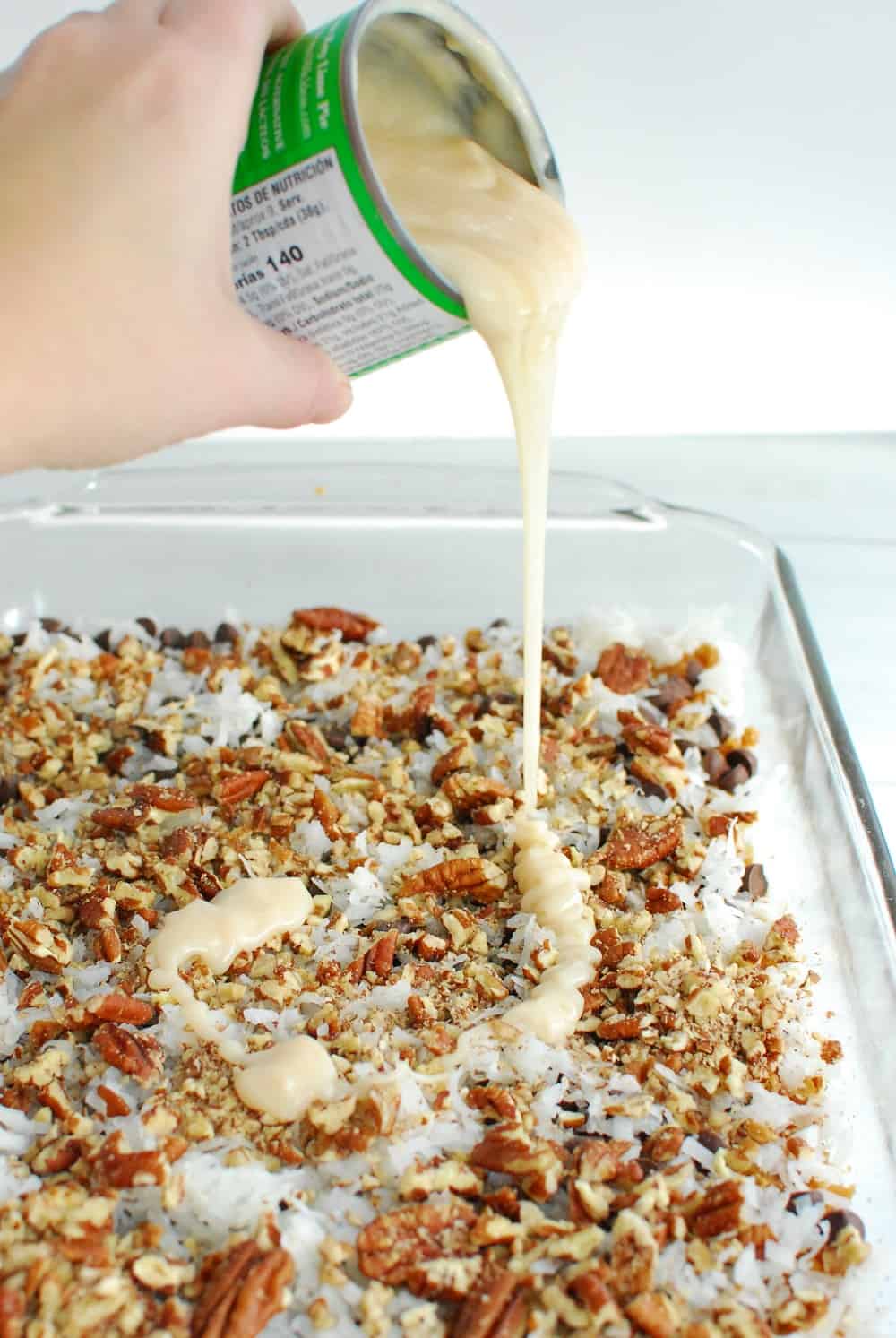 Allergens in this recipe
As written, this recipe is dairy free and egg free.
It may contain soy, depending on your choice of ingredients. To make this soy free, try using the red tub of Earth Balance, Nabisco graham crackers, and any allergen-friendly brand of chocolate chips. These are all (at the time of publish and to my knowledge) soy free.
This recipe does contain tree nuts, as it features pecans as one of the main ingredients. It also has coconut, in both the shredded coconut and condensed sweetened coconut.
This recipe also does contain wheat/gluten in the graham cracker crumbs.
To make nut free: Unfortunately, coconut is a main staple in this recipe, so if you can't tolerate that, I'd recommend searching for a different dessert recipe. However, if you were allergic to pecans but could tolerate coconut, I'd recommend subbing in pretzels for the pecans to make a modified version that is still delicious.
To make gluten free: You'll need to find dairy free gluten free graham crackers to use. The only brand I know of that fits this requirement is Kinnikinnick Foods Graham Crackers, but there may be other options out there.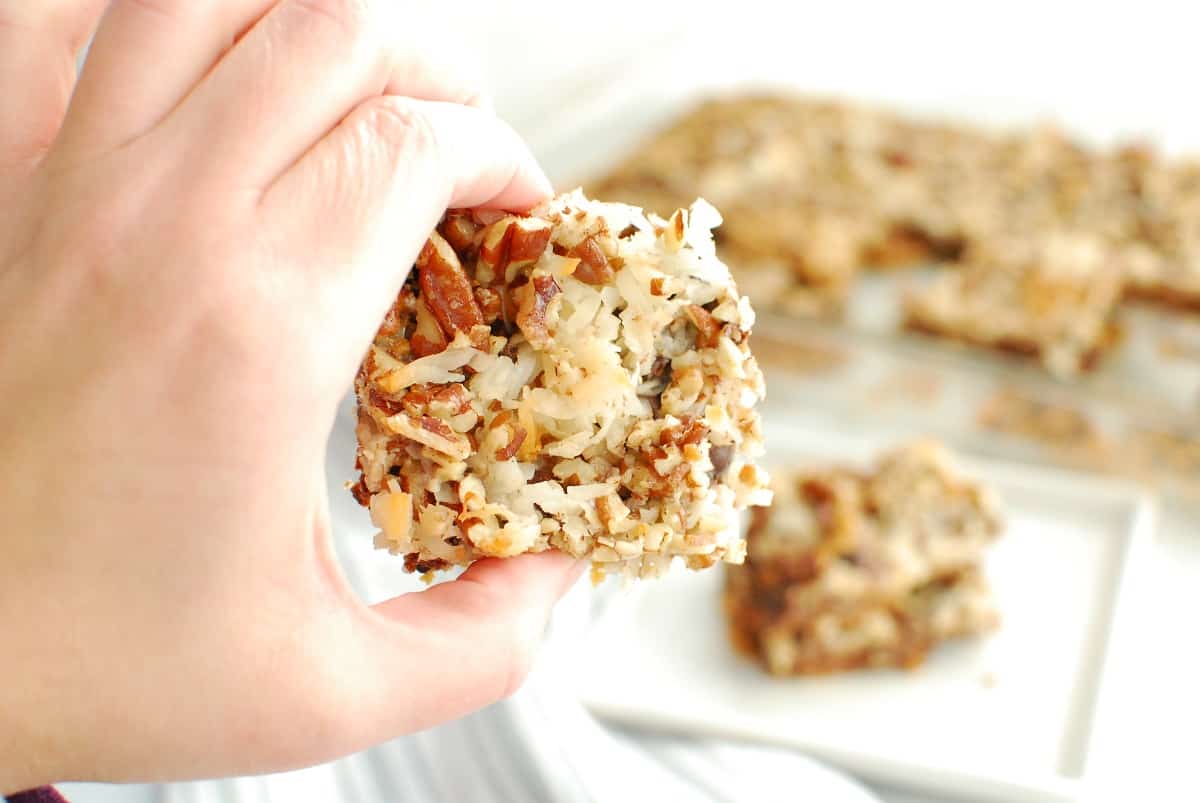 I hope you enjoy this recipe – my family (and neighbors) love it! If you get a chance to try it, I'd love for you to leave a recipe rating or comment below. And if you're looking for more dairy free desserts, be sure to try our dairy free sugar cookie bars or our cinnamon sugar donuts.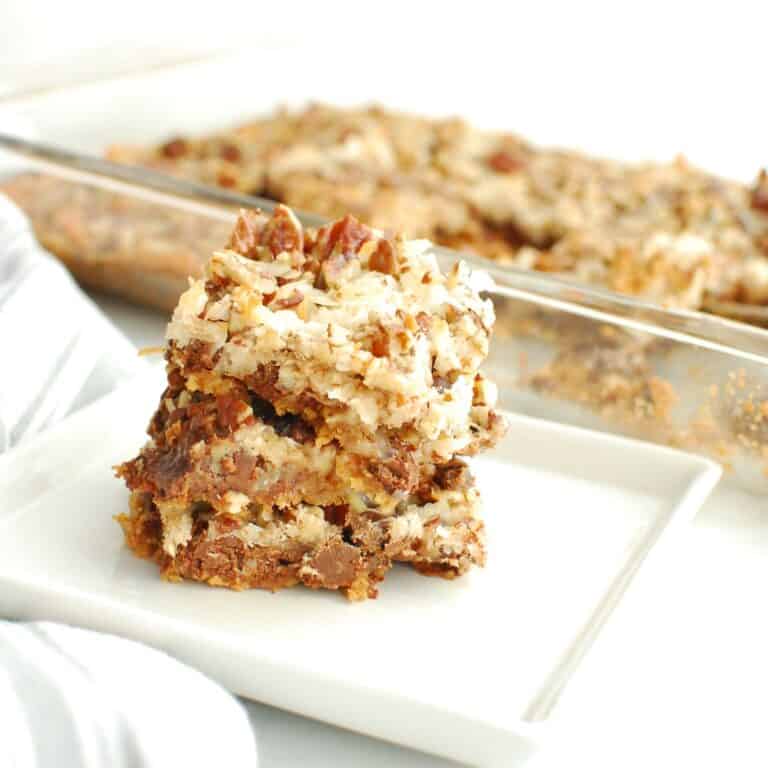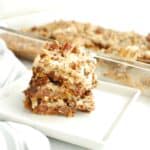 Dairy Free Magic Bars
These dairy free magic bars are rich, delicious, and a great crowd-pleaser dessert!
Ingredients
½

cup

dairy free butter

1 ½

cups

graham cracker crumbs

(double check to ensure dairy free or vegan if necessary)

1 ½

cups

dairy free chocolate chips

1 ⅓

cups

sweetened shredded coconut

1

cup

chopped pecans

11.6

oz

can sweetened condensed coconut milk
Instructions
Preheat the oven to 350 degrees F. Grease a 13x9 or 11x7 baking dish* and set aside.

In a small pot, melt the dairy free butter over medium heat. Stir in the graham cracker crumbs until combined, then pour the mixture into the baking dish and press down evenly with the back of a spoon.

Next, into the baking dish, layer on the chocolate chips, then the coconut, then the chopped pecans.

Open the can of sweetened condensed coconut milk and stir it well, then pour it over the rest of the ingredients. Spread it a bit with the back of a spoon.

Bake in the oven at 350 degrees F for 25 minutes. Remove from the oven and let cool completely in the dish (at least an hour). Cut into squares and enjoy.
Recipe Notes
*For thinner bars, use a 13x9 pan. For thicker bars, use an 11x7 dish.
Nutrition analysis (approximate per serving): 261 calories, 17 g fat, 8.5 g saturated fat, 105 mg sodium, 28.5 g carbohydrate, 2 g fiber, 21 g sugar, 1.5 g protein, Vitamin D: 1%, Calcium: 1%, Iron: 5%, Potassium: 2%
Share: What do you call these – magic bars, Hello Dollys, seven layer bars?!
PS – Don't forget to pin the image below so you can make it again later and share with your friends.