Who doesn't love a gooey marshmallow and rich, melty chocolate wedged between graham crackers?! These dairy free smores are easy to make and bring back all the childhood campfire vibes. Cook them outside over a crackling flame, or enjoy them inside cooked over the flame of a gas stove.
Disclaimer: This post contains Amazon affiliate links. As an affiliate I earn a commission on qualifying purchases.
Ingredients
Here's what you'll need to make these, along with selected ingredient notes: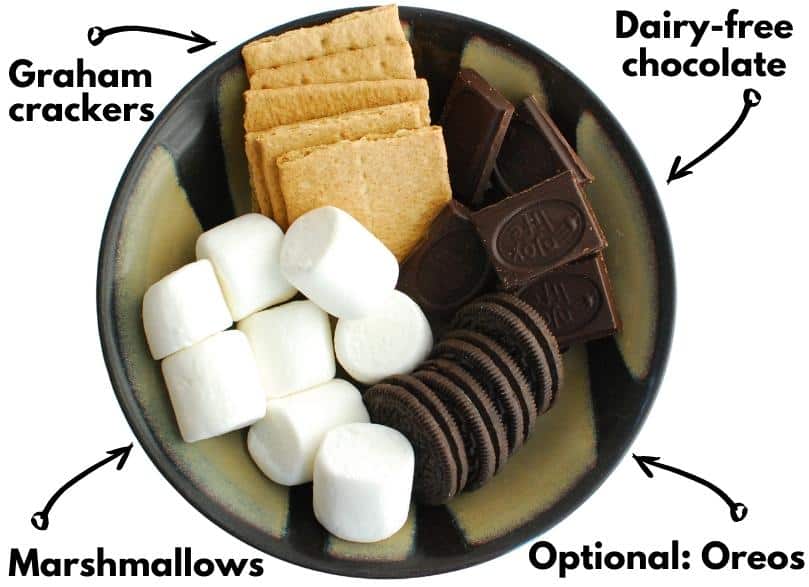 Dairy-free graham crackers: Many brands of graham crackers are dairy-free, just be sure to always check the labels as manufacturer formulations can change. Here are a few options that were dairy-free at the time of publish:
If you are vegan, keep in mind some graham cracker brands contain honey, which strict vegans do not eat. There are some brands on the market that do not contain honey though.
Marshmallows: Luckily, marshmallows are naturally dairy free (unless they're stuffed with chocolate or have some type of dairy-based flavoring added). Grab whatever your store has on hand!
If you are vegan, keep in mind that most marshmallows contain gelatin, which would not be vegan. You can find brands of vegan marshmallows though, like Dandies. (Keep in mind some vegan marshmallows contain soy).
Chocolate:  Most chocolate bars contain milk, but you can a few varieties on the market that do not.  I recommend the Enjoy Life chocolate bars which work perfectly for smores.
Oreos: In addition to regular chocolate, sometimes I like to also throw an Oreo in my smores. Leveling up, am I right?! Keep in mind that Oreos may have cross contamination with milk products in some locations, so if you have an anaphylactic reaction or serious allergy, it may be wise to avoid them and look for an allergy-friendly cookie if you want a stacked smores.
Instructions
Smores are so simple to make, and I'm assuming you've done them at some point – but if not, here's a quick guide!
Start by placing your marshmallow on the skewer. Roast it over a campfire or over the gas stove in your house. I love it when it gets brown and toasty and a bit charred on the outside, but you do you as far as your desired marshmallow doneness.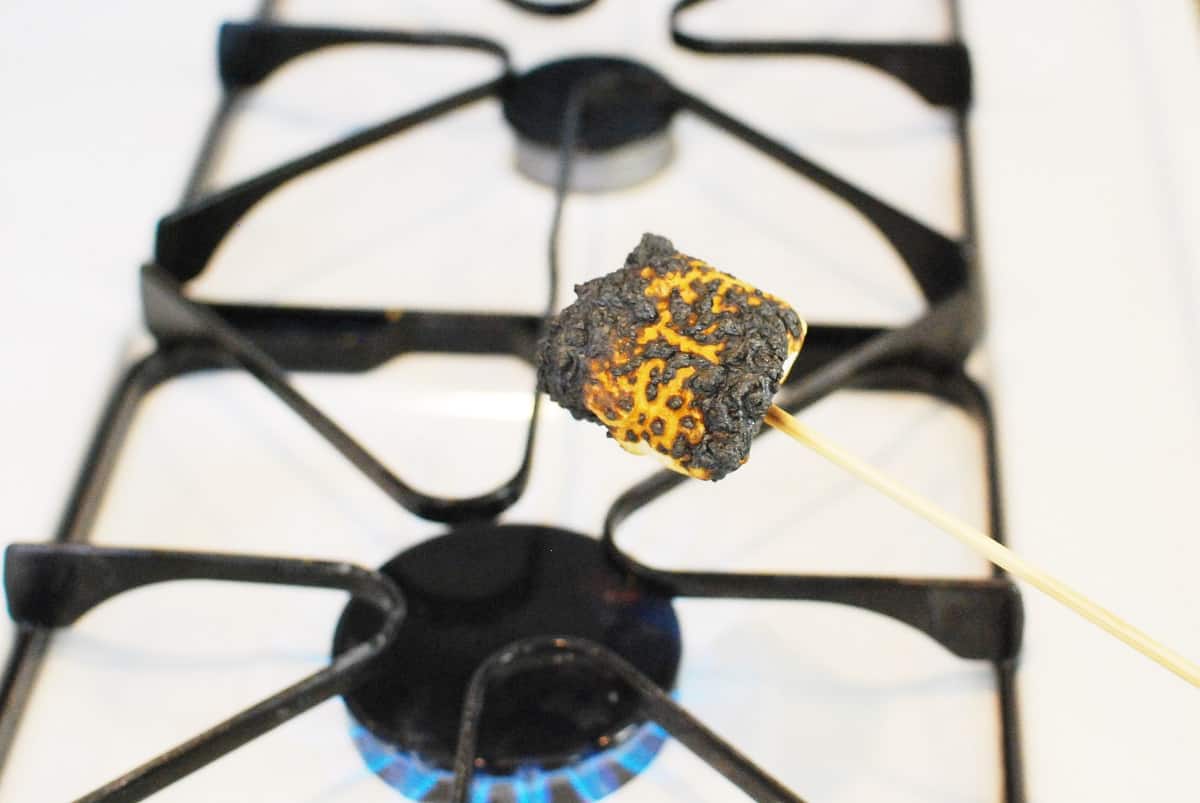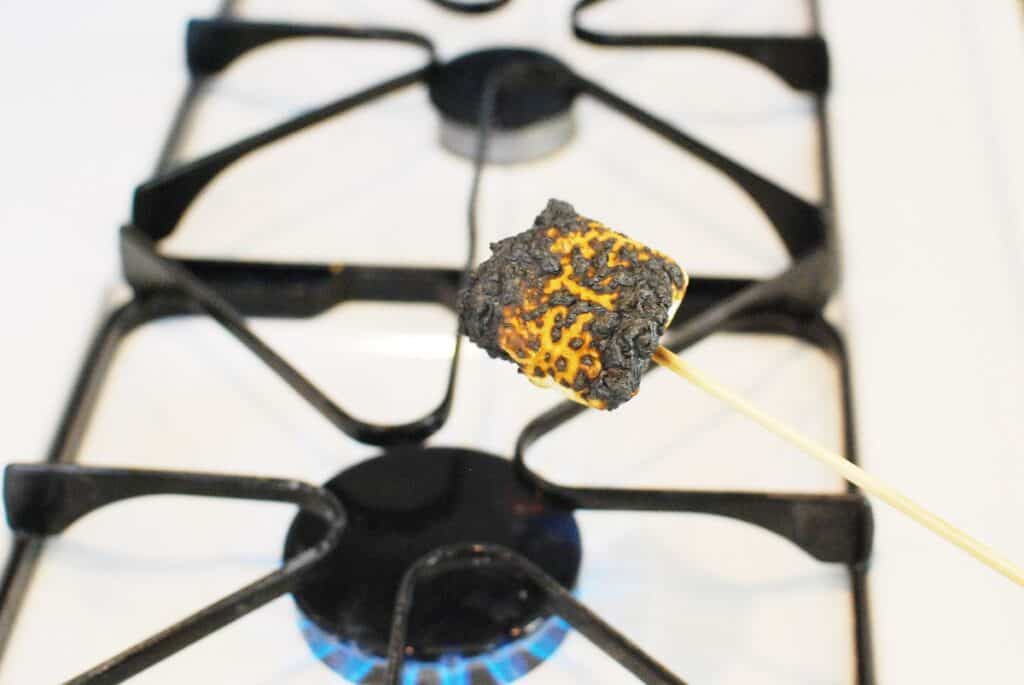 Pop that bad boy on top of a graham cracker with a piece of chocolate. (And if you want to try it, toss an Oreo in there too).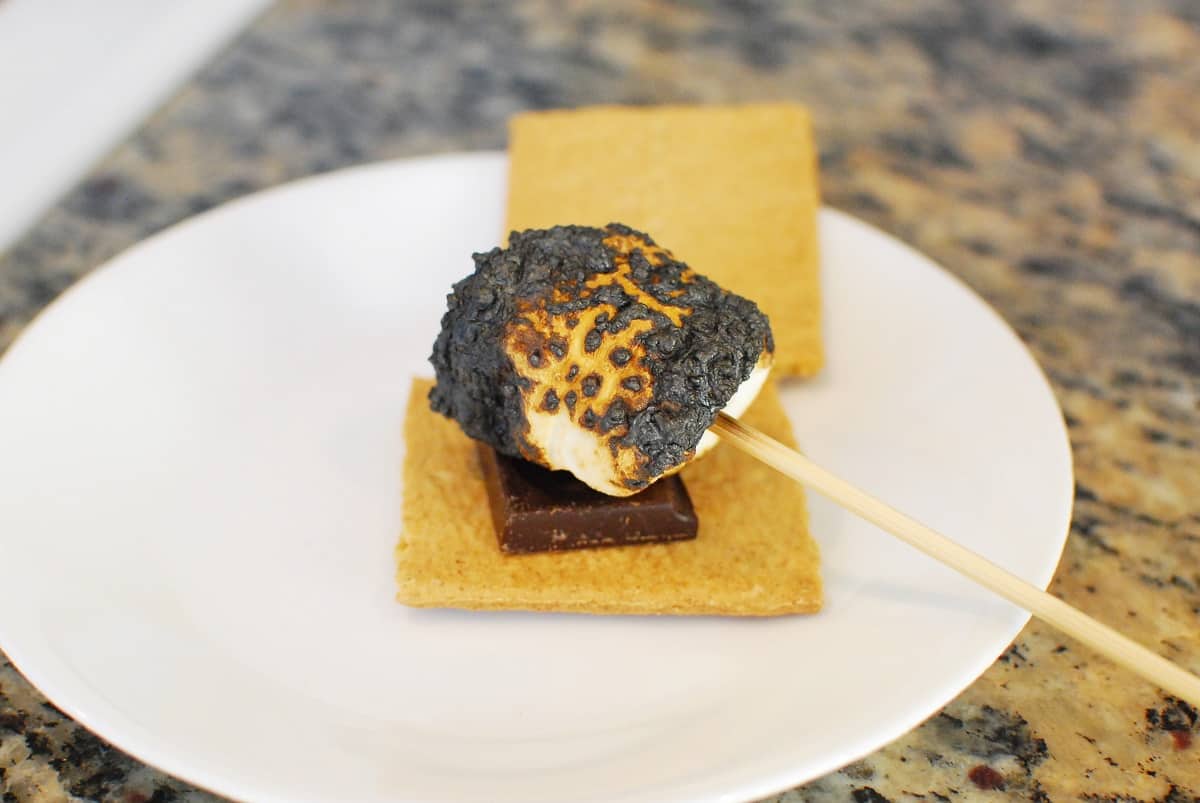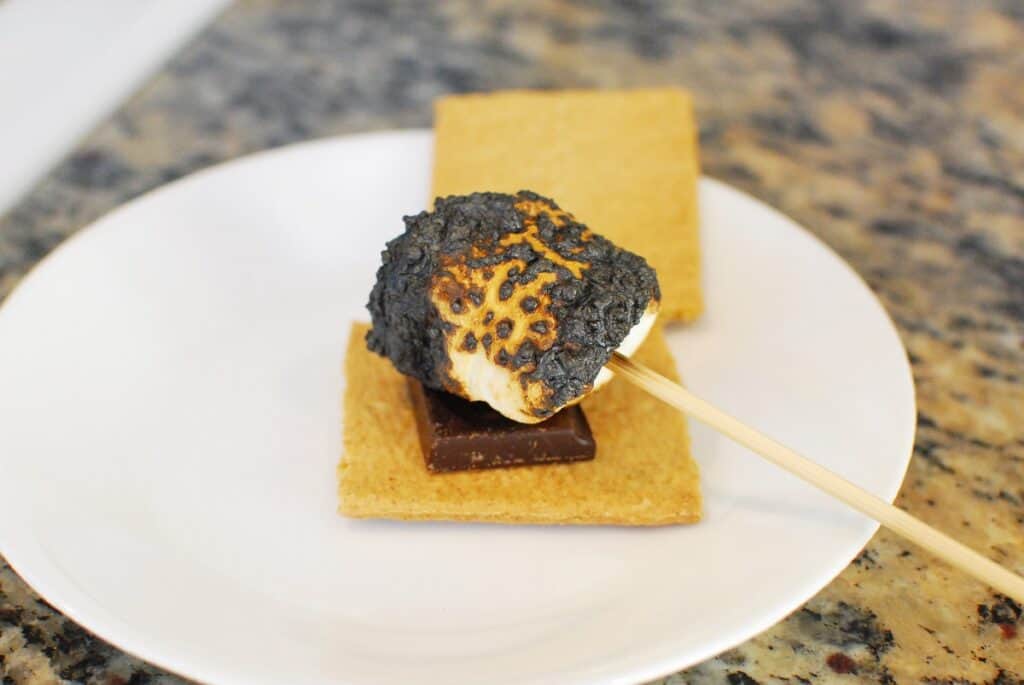 Place the other half of the graham cracker on top, holding it down to slide the skewer out from the marshmallow.
Enjoy!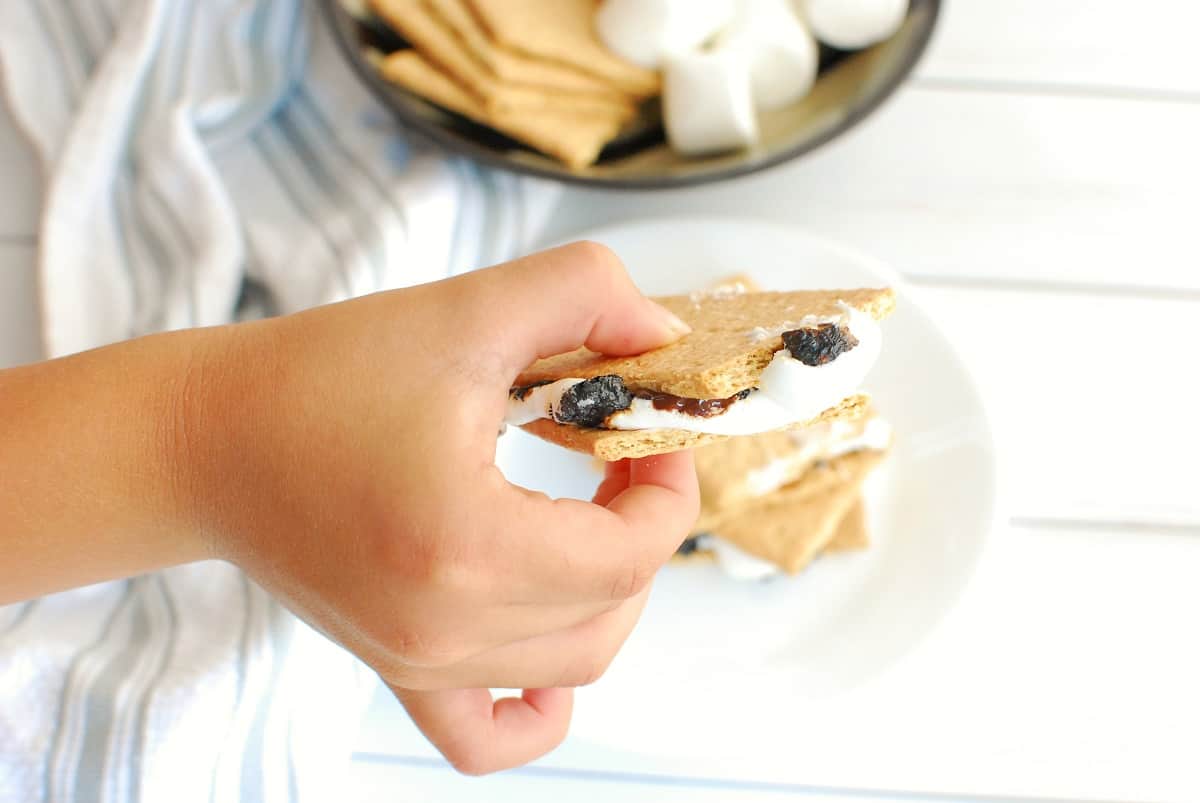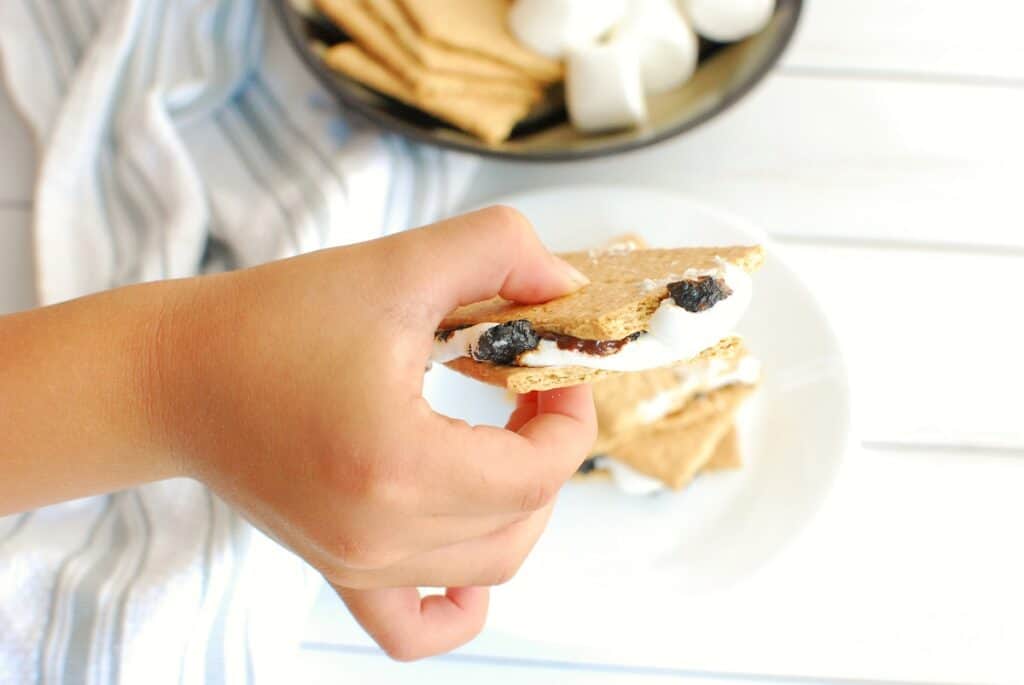 Recipe FAQ
Here are some common questions that may come up as you prepare these dairy free smores:
Is it safe to toast marshmallows on a gas stove?
While it's not completely risk free, as long as you are careful when cooking and aren't eating tons of smores daily, it's fairly safe. The gas flame may have slight impurities, but so does burning wood outside for a fire. Keep your smores to an occasional treat and there's little risk to either method.
Can you make smores in the microwave?
Yep. If you don't have a fire or gas stove available, feel free to use the microwave. Place the graham cracker on a small plate, top with the square of chocolate then the marshmallow. Place in the microwave for 20-30 seconds, or until the marshmallow puffs up. Remove and place the other graham cracker square on top. (You'll still get the ooey-gooey nature of the smores, but it won't have that classic campfire char.)
Allergens in this recipe
Disclaimer: Always double check ingredients and labels yourself prior to making a recipe. While I try to check all ingredients for allergens, there's always the chance I may miss something, or manufacturer formulations can change.
As written, with the ingredients I selected (Enjoy Life Chocolate and Nabisco Graham Crackers), this recipe was dairy free, soy free, egg free, and nut free. Note that other ingredients may contain some of these allergens.
This recipe does contain wheat/gluten, in the graham crackers. You can modify this to fit your needs by searching for a wheat-free graham cracker brand.
More Dairy Free Desserts
If you craving more delightful dairy free treats, try one of these tasty options:
I hope you enjoy these dairy free smores! Even though it's a simple recipe, we always love a good recipe rating and comment if you enjoyed 'em.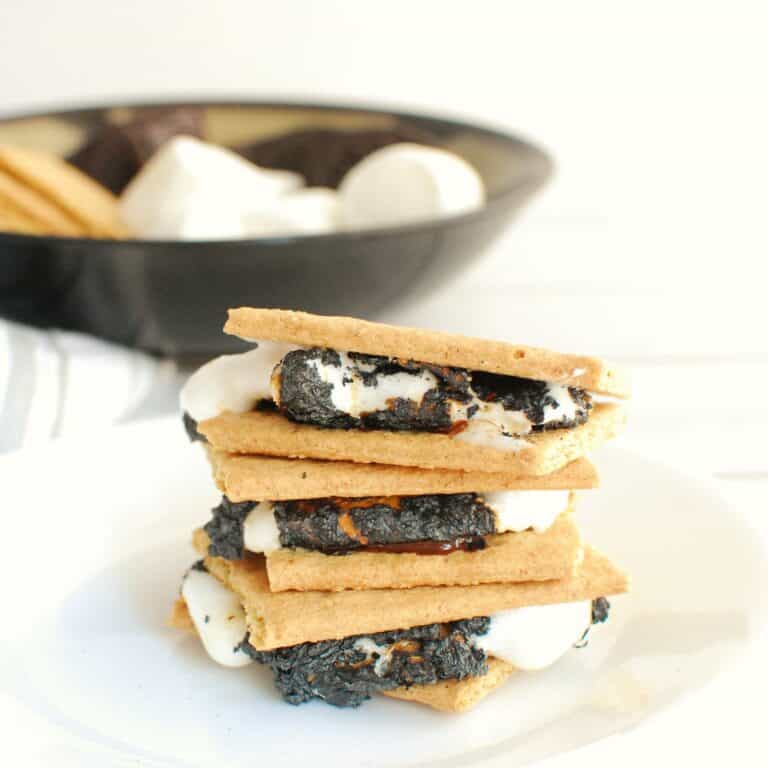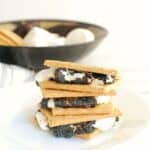 Dairy Free Smores
Bring back childhood campfire memories with these delicious dairy free smores!
Ingredients
8

dairy-free graham crackers

2

small Enjoy Life dark chocolate bars

(or any other dairy-free chocolate)

4

marshmallows
Instructions
Break the graham crackers into squares and place on a plate. Break the chocolate bar into several pieces. Place 1-2 pieces of chocolate (your preference) on half of the graham cracker squares.

Place the marshmallows on skewers (or work one at a time). Roast the marshmallows over a fire, or over the flame of a gas stove (being careful not to touch the stove itself).

When the marshmallows are golden brown and toasty, place on top of a graham cracker square that has chocolate. Place another graham cracker on top, pressing down as you remove the skewer. Dig in and enjoy.
Share: What's your favorite summertime treat? If you tried this recipe, what did you think?
Feel free to pin this post to share with others!