These vegan pumpkin brownies are perfect to satisfy your fall sweet tooth! Rich brownie batter is mixed pumpkin puree and dairy free chocolate chips for a tasty, indulgent dessert. Plus, it's super simple to make.
Disclosure: This post contains Amazon affiliate links. As an affiliate I earn a commission on qualifying purchases.
Ingredients
Here's a photo of everything you'll need to make this recipe, along with selected ingredient notes.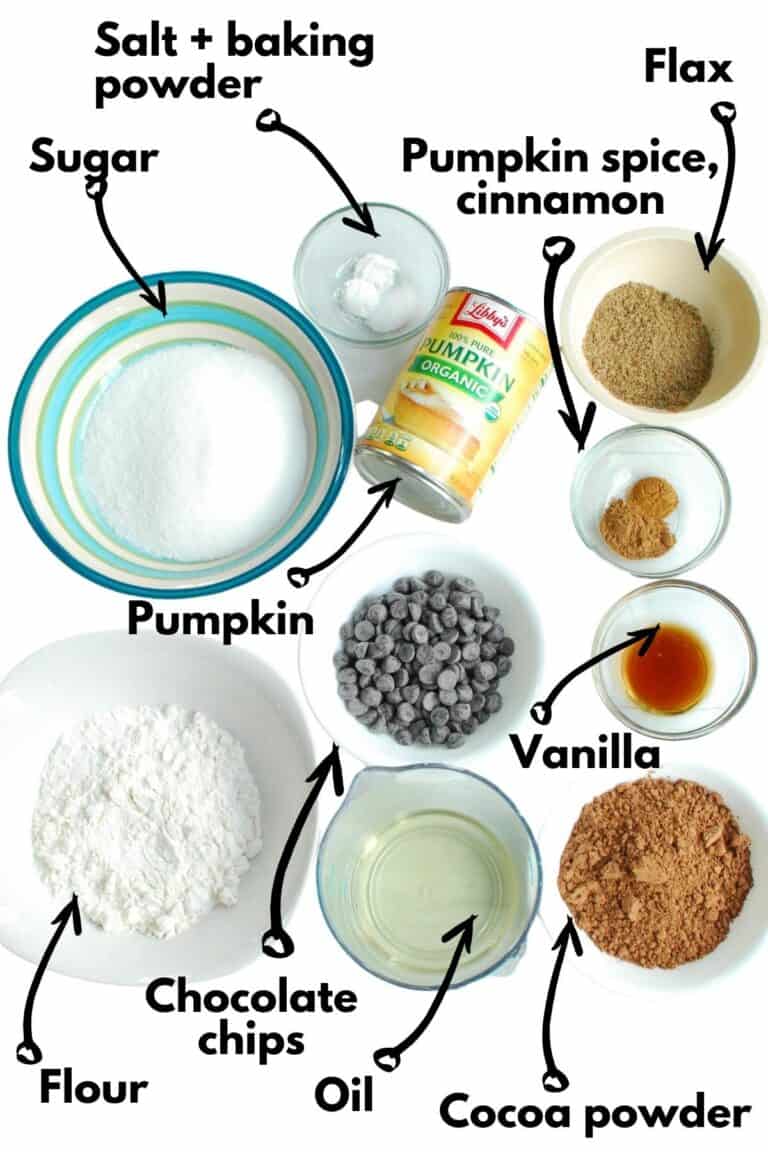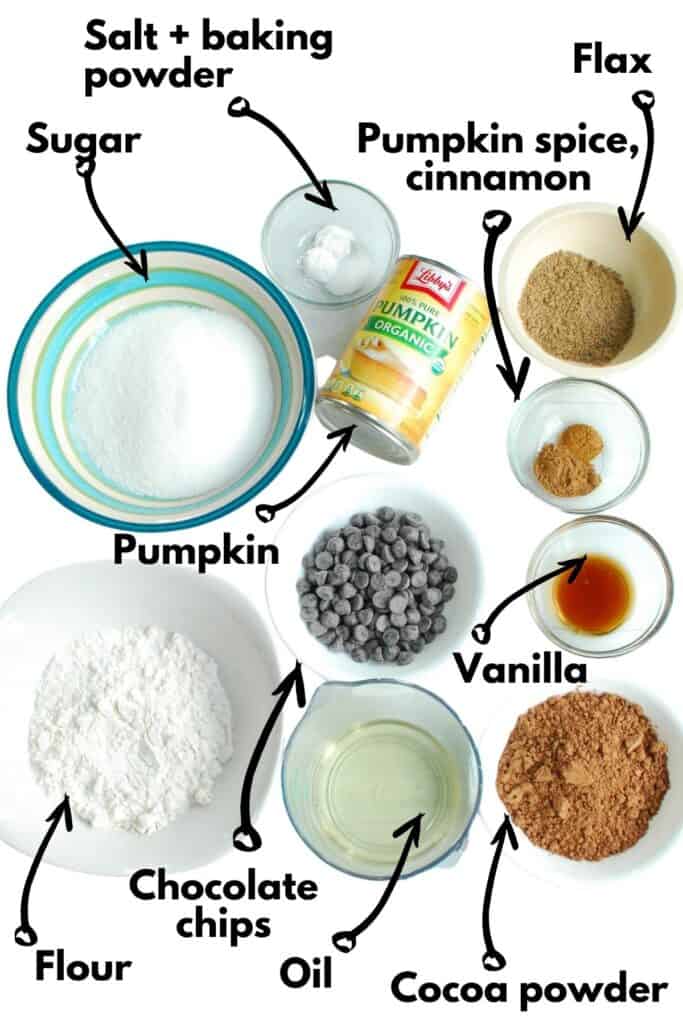 Chocolate chips – There are several brands of vegan chocolate chips on the market these days. I personally love Enjoy Life – you can find them in supermarkets or online, and their dark chocolate chips are super good. You could also use Nestle Allergen Free Morsels or Walmart "Free From" Morsels, both of which are allergy-friendly product lines. Just be sure to always check product labels, as a) manufacturer formulations may change, and b) the allergy-friendly product lines can look similar to the regular product lines.
Pumpkin – You can use plain canned pumpkin puree or homemade pumpkin puree. I do not recommend canned pumpkin pie filling, as this has additional sweetener added and would require adjustments to the sugar and spices in the recipe.
Sugar – If you are a strict vegan, remember that some brands of cane sugar go through a bone char filtering process. If you do not feel comfortable with this, be sure to look for beet sugar, organic sugar, or specifically labeled vegan sugar – none of which would use bone char filtering.
Instructions
You'll find step by step instructions in the recipe card at the bottom of this post, but here's a helpful overview with photos.
Start by making your "flax egg". When you combine ground flax and hot water, it becomes gelatinous and helps hold vegan baked goods together when cooked. Just mix the flax and hot water together and let it sit for about five minutes.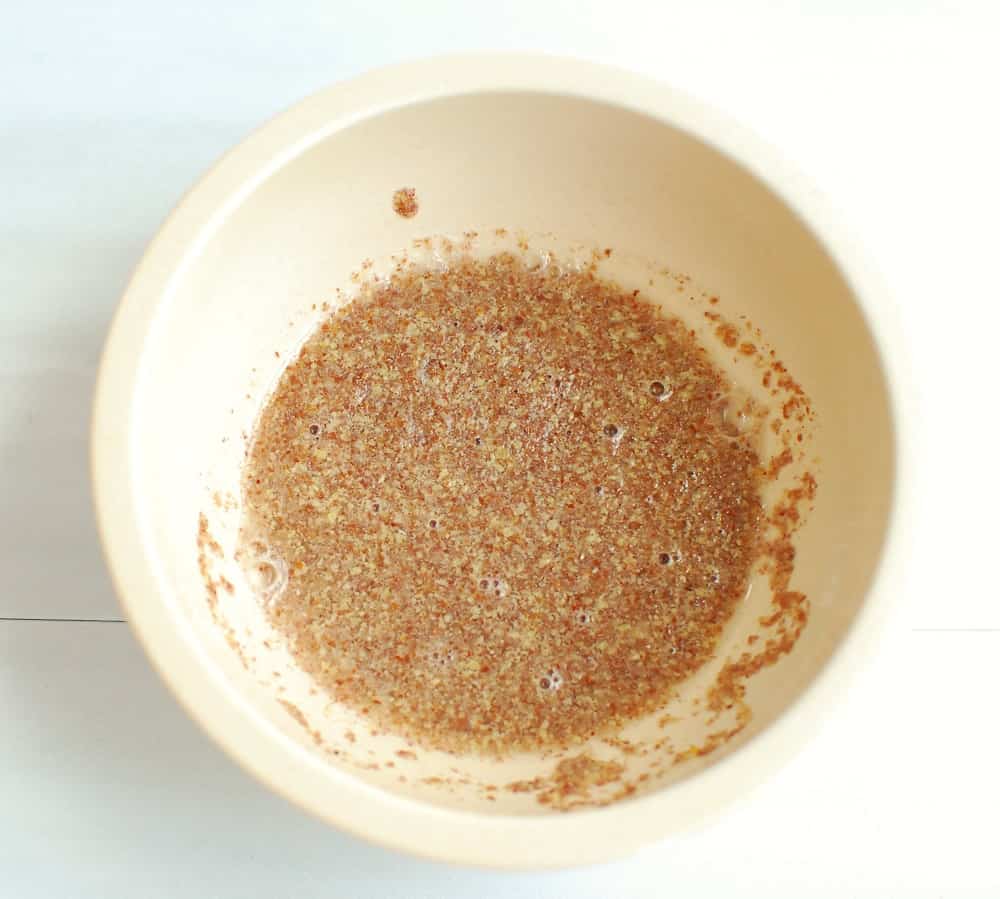 Meanwhile, mix your flour, cocoa powder, baking powder, salt, and sugar together.
Add the pumpkin puree, oil, additional water, vanilla, pumpkin pie spice, and cinnamon. Then fold in your chocolate chips.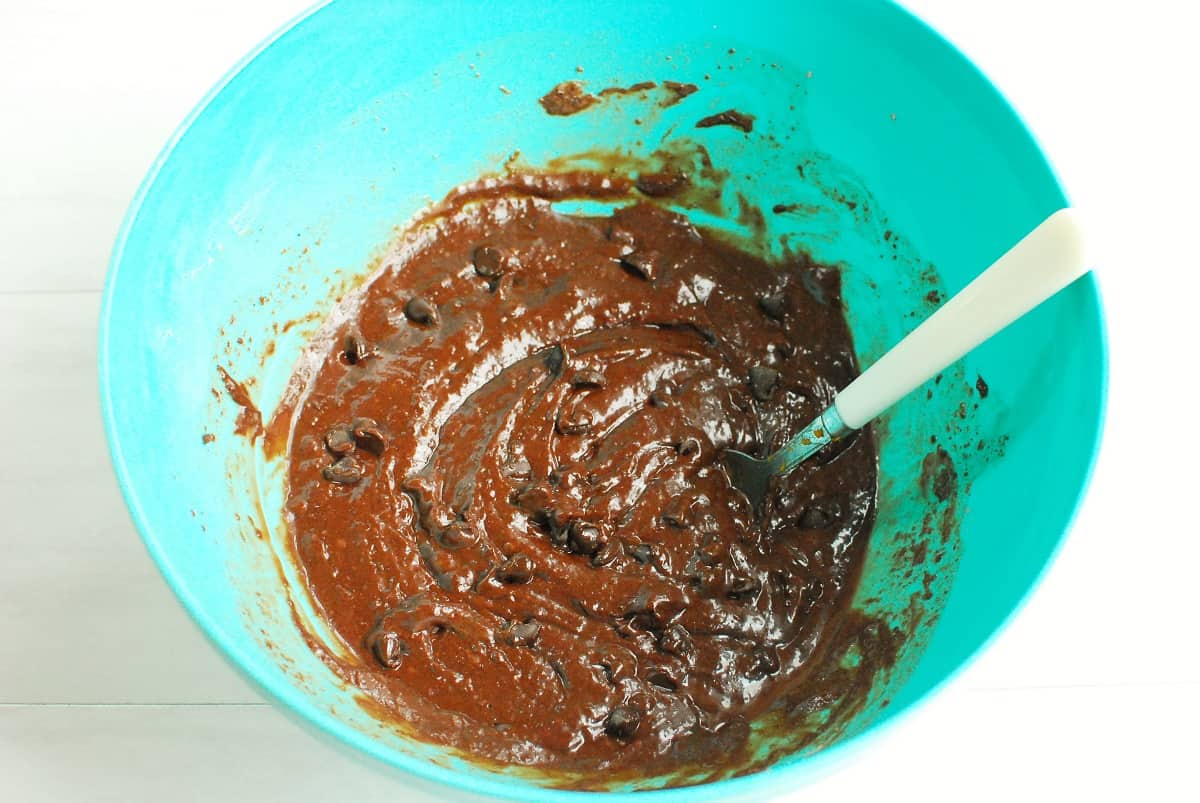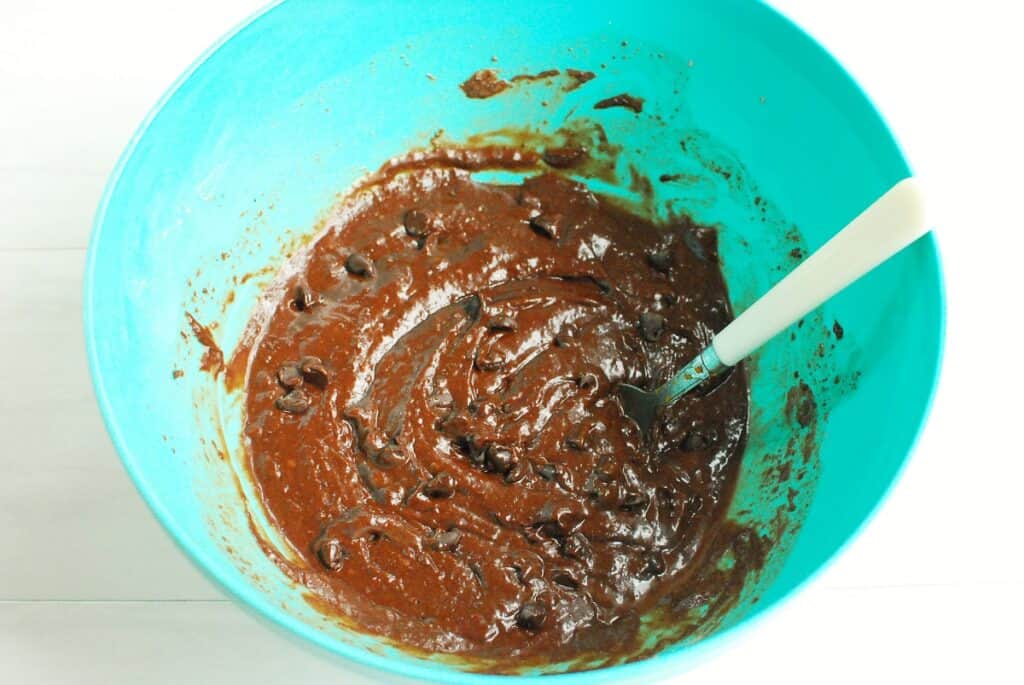 Pour that in an 8×8 dish and bake it! Couldn't be easier.
When you remove it from the oven, be sure to let it cool for at least ten minutes (but preferably a little longer) before trying to remove the brownies from the pan. If you cut into them too early, they'll fall apart.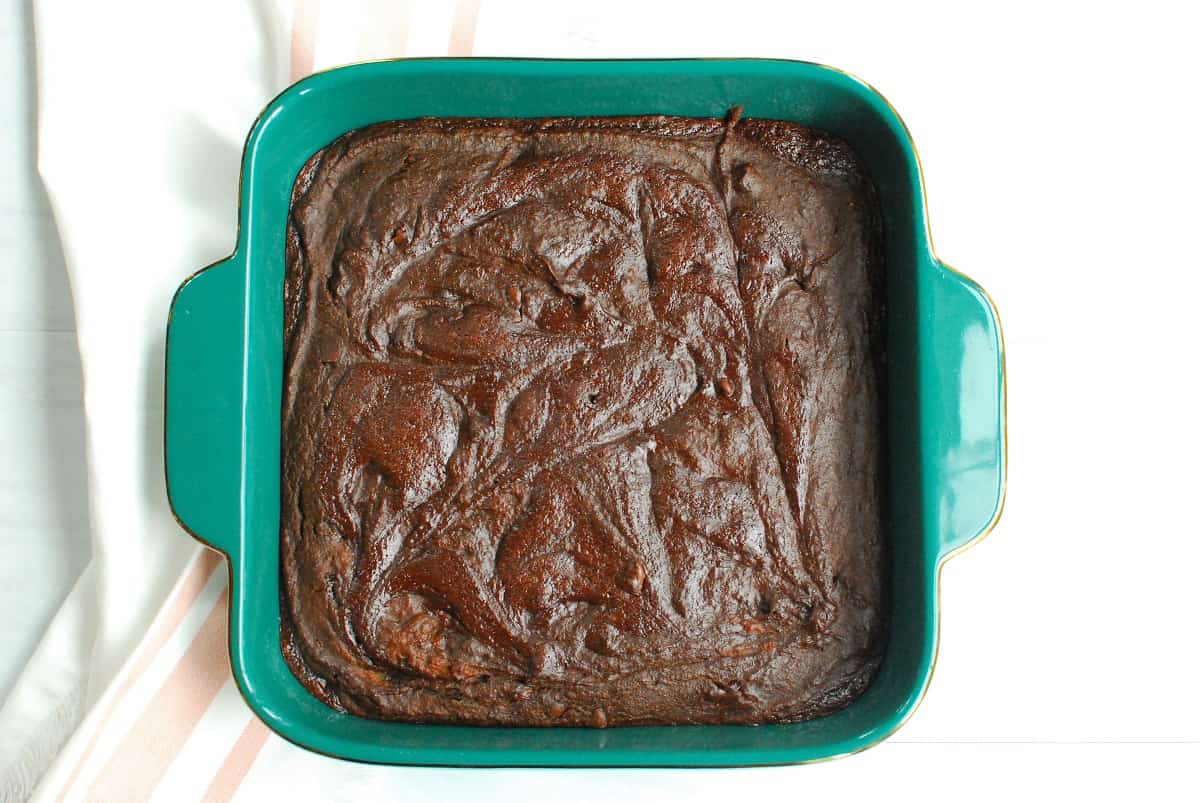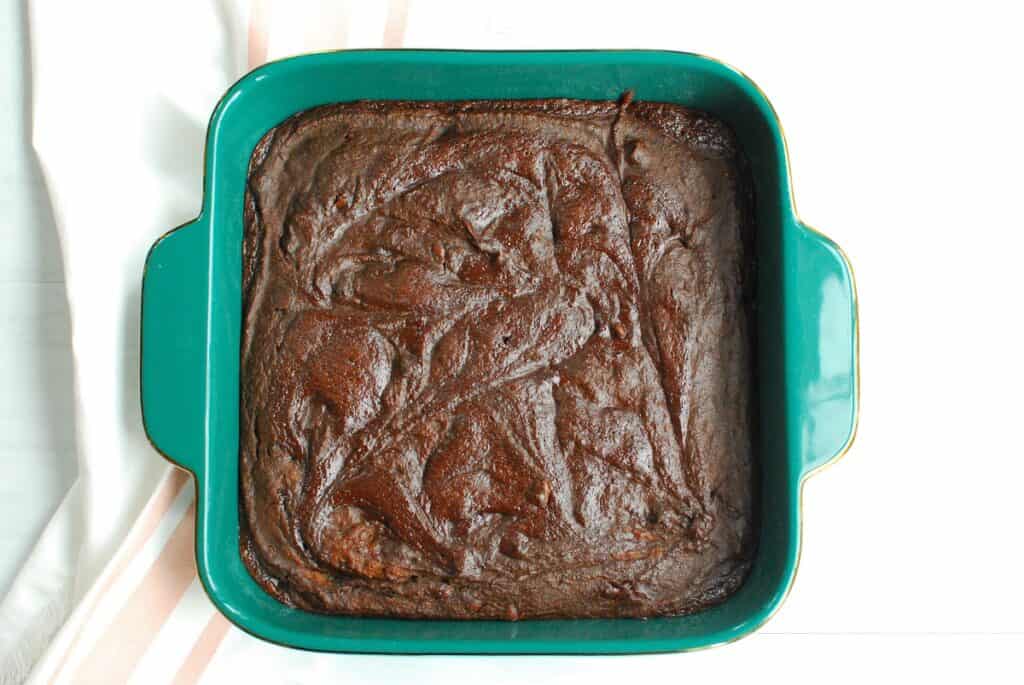 Recipe FAQ
Here are some common questions that may arise when preparing this recipe:
How should you store vegan pumpkin brownies?
While brownies are normally stored on the counter, because these are moist and have canned pumpkin in them, they're best stored in the fridge if you don't plan to eat them within one day.
Can you make pumpkin brownies with boxed brownie mix?
Yes – just combine pumpkin pie filling with the brownie mix to make an easy two ingredient recipe. If you want to use a quick recipe like this, try this version of pumpkin brownies.
Can you make frosting for pumpkin brownies?
Sure! A vegan cream cheese frosting would taste delicious on these brownies.
Allergens in this recipe
Disclaimer: Always double check ingredients and labels yourself prior to making a recipe. While I try to check all ingredients for allergens, there's always the chance I may miss something, or manufacturer formulations can change.
As written, this recipe is dairy free and egg free. As long as your oil and chocolate chips do not contain soy or nuts, this recipe should also be soy and nut free.
This recipe does contain wheat/gluten. You can try substituting a gluten-free all-purpose flour blend in place of the regular flour, however keep in mind I have not tested this substitution.
More Vegan Pumpkin Recipes
If you're looking for more pumpkin-inspired goodness, try one of these tasty recipes:
I hope you enjoy these brownies – my kiddo has been a huge fan of them! If you get a chance to try them, don't hesitate to leave a recipe rating or comment below.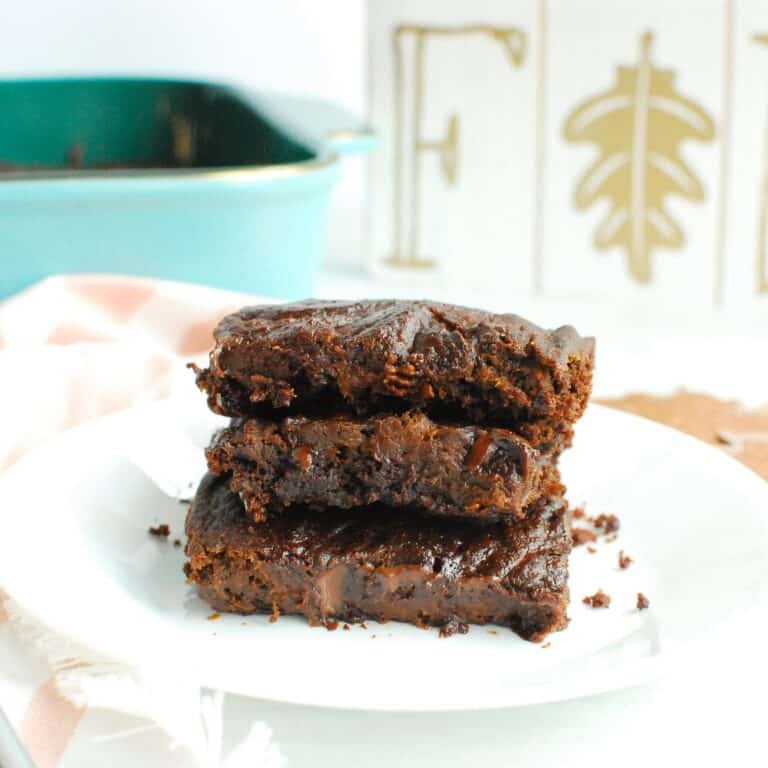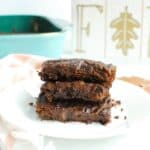 Vegan Pumpkin Brownies
These vegan pumpkin brownies are perfect to satisfy your fall sweet tooth! They're rich, fudgy, and oh-so-delicious.
Ingredients
2

tbsp

ground flax + 5 tbsp hot water

⅔

cup

all-purpose flour

½

cup

unsweetened cocoa powder

½

tsp

baking powder

¼

teaspoon

salt

1

cup

granulated sugar

¾

cup

pumpkin puree

½

cup

canola oil

¼

cup

water

1 ½

tsp

vanilla extract

1

tsp

pumpkin pie spice

¼

tsp

cinnamon

½

cup

dairy-free chocolate chips
Instructions
Preheat the oven to 350 degrees F. Grease an 8×8 baking dish.

In a small bowl, combine the ground flax with 5 tablespoons of hot water. Let sit for a few minutes.

In a large mixing bowl, combine the flour, cocoa powder, baking powder, salt, and sugar. Mix until well-combined.

Add the pumpkin puree, canola oil, water, vanilla extract, pumpkin pie spice, and cinnamon. Stir until combined.

Fold in the chocolate chips.

Pour the batter into the baking dish. Bake at 350 degrees F for 29-34 minutes, or until a toothpick in the center pulls out mostly clean.

Let mostly cool, then cut and enjoy brownies while still slightly warm.
Recipe Notes
These are very rich brownies. If you prefer sweeter, lighter brownies, you may want to alter the proportions of flour and cocoa powder.
This timing should yield fudgy brownies. If you prefer brownies that are more solid, you can cook a little longer, but be careful not to overcook.
This recipe yields 9 large brownies or 12 smaller brownies. The nutrition analysis below is based on 9 larger brownies.
Nutrition (approximate per brownie): 319 calories, 19 g fat, 4.5 g saturated fat, 100 mg sodium, 41.5 g carbohydrate, 5 g fiber, 27.5 g sugar, 3.5 g protein, Vitamin D: 0%, Calcium: 3%, Iron: 22%, Potassium: 3%
Share: What's your favorite pumpkin treat?
Feel free to pin this post for later.