This two-layer dairy free coconut cake makes a show-stopping dessert! Perfect for any coconut lover, there are coconut flavors built into the cake itself as well as the frosting. Don't be fooled by the look; this dessert is actually surprisingly easy to make.
Ingredients
Here is a photo of the ingredients you'll need to make this recipe, along with some selected ingredient notes.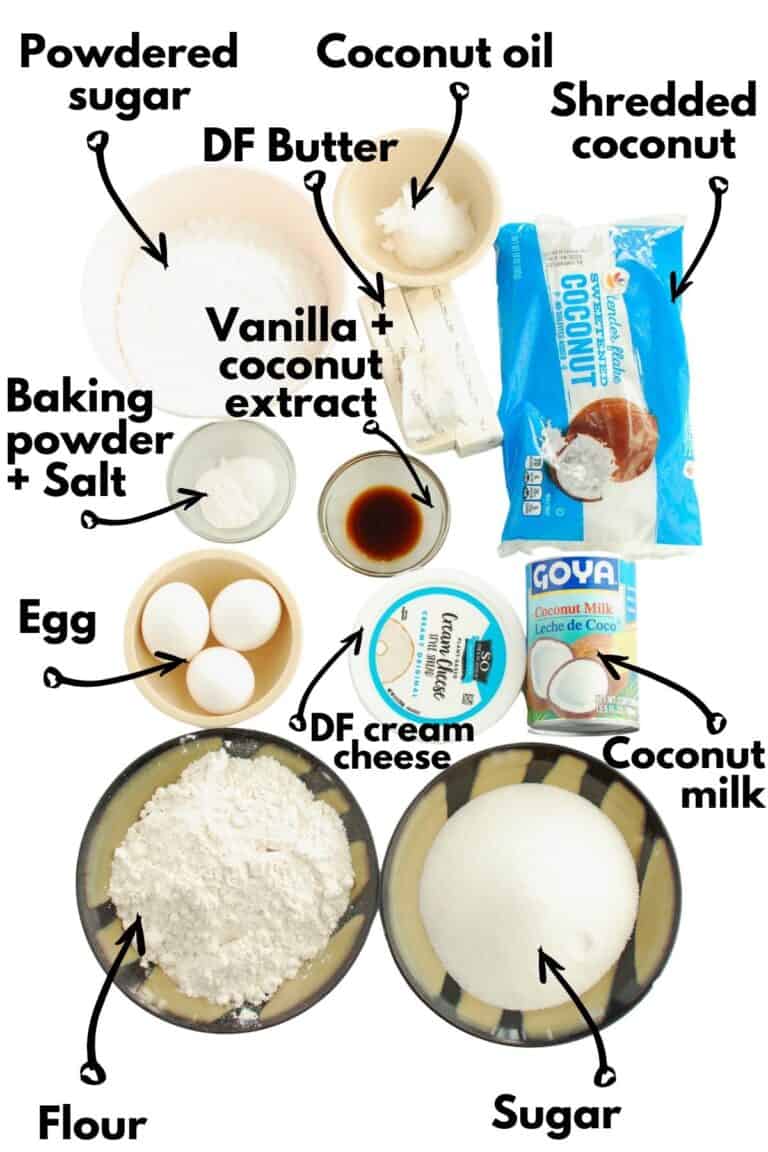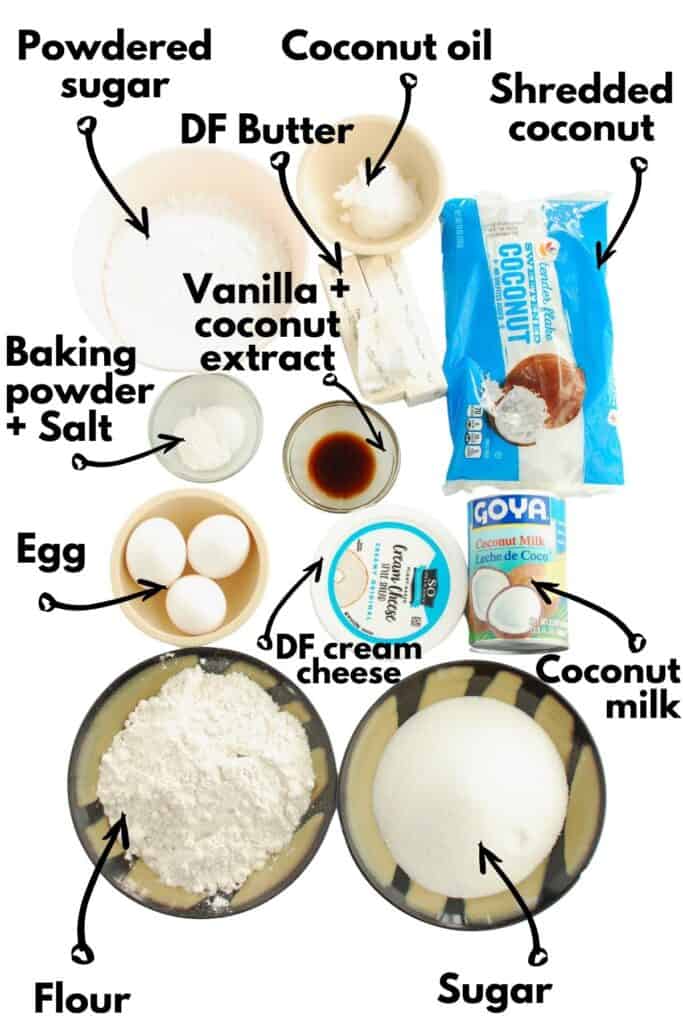 Coconut milk – I recommend using canned coconut milk, not the carton of coconut milk. The former has a higher fat content that contributes to the richness of this cake.
Dairy-free butter – For this recipe (and most baked goods!), Country Crock avocado oil sticks (recommended) or Earth Balance vegan buttery sticks are both excellent choices. You'll need quite a bit for both the cake and frosting, so make sure you've got enough on hand prior to starting the recipe (I've made that mistake before!).
Dairy-free cream cheese – The frosting uses dairy free cream cheese (though if you don't have any on hand, you can easily just stick with a dairy-free buttercream style frosting). I recommend SoDelicious Cream Cheese Style Spread for this recipe. It has almost a slightly sweet taste to it, which makes it perfect for the frosting. Feel free to try other alternatives if you prefer, but avoid using any dairy-free cream cheeses that have a more savory flavor.
Coconut extract – This is made by distilling the flavor of coconut meat into a liquid (similar to how vanilla extract has a strong vanilla flavor in baked goods). If you don't have any on hand, you can skip it. I've made the cake both ways and this just adds a little extra coconut oomph to it. But it still tastes amazing without!
Step by Step Instructions
You'll find full recipe amounts and instructions in the recipe card at the bottom of the post, but here's a helpful overview with some tips and photographs.
Start by preparing your two 9-inch cake pans. Add a cut-out circle of parchment paper to your pan and grease it well. The parchment paper will help the cake from sticking.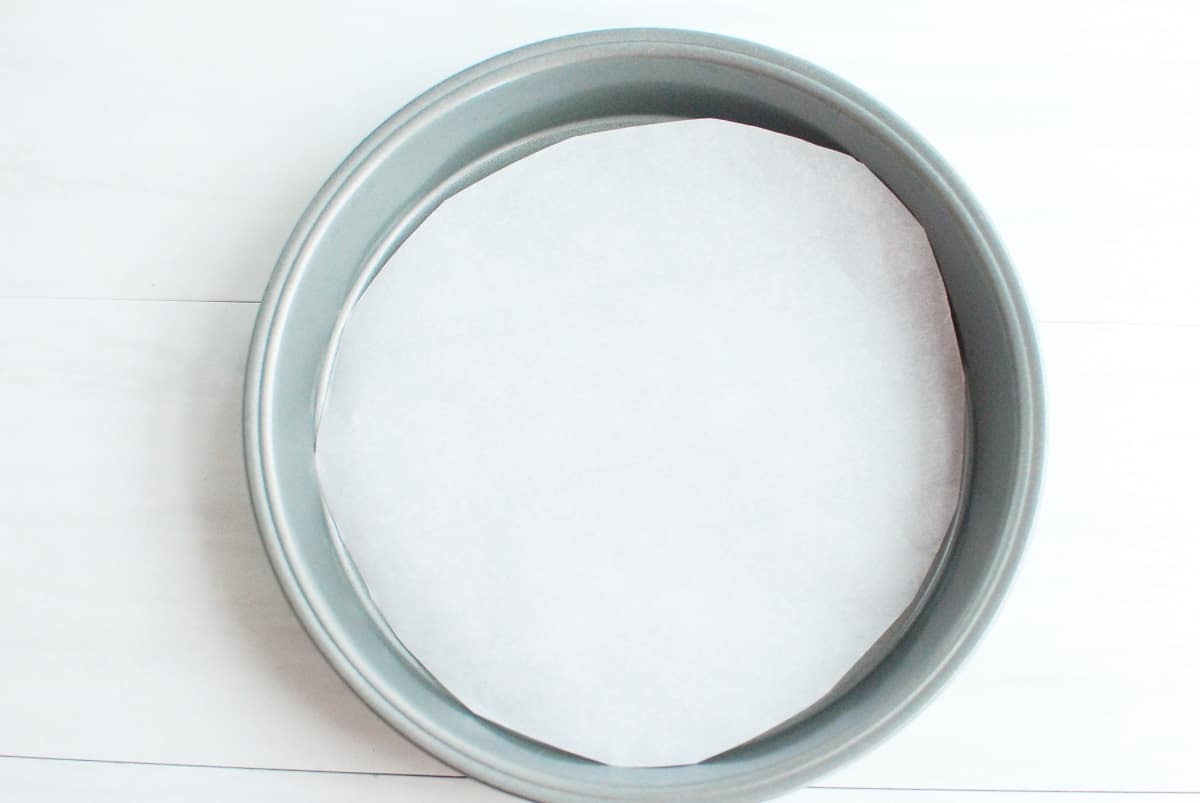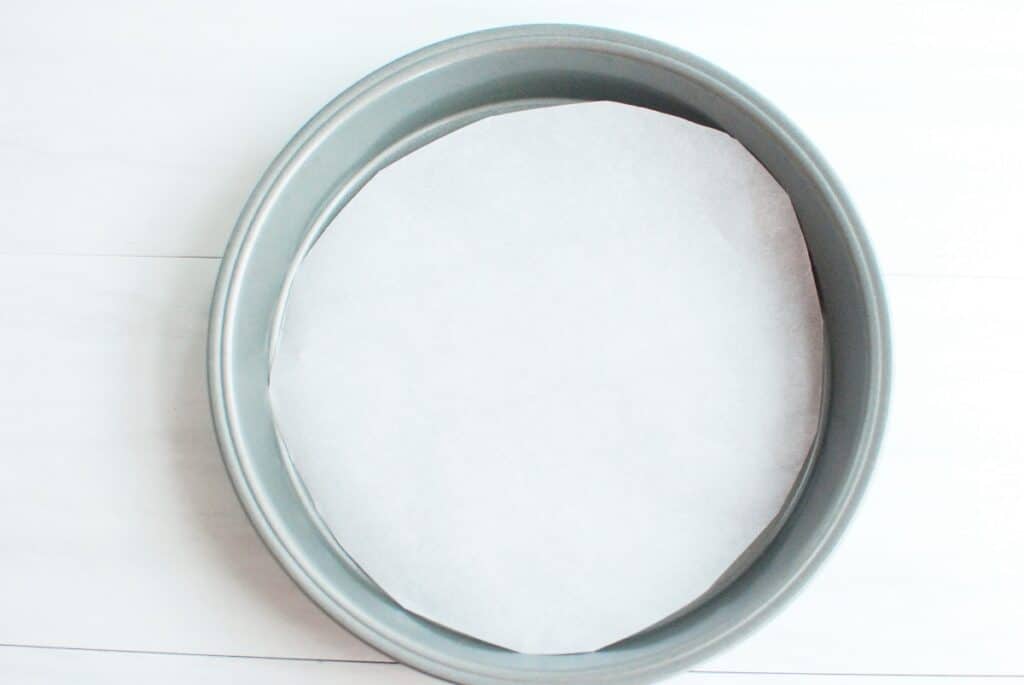 After that, prepare your cake batter. Cream together the dairy-free butter and sugar.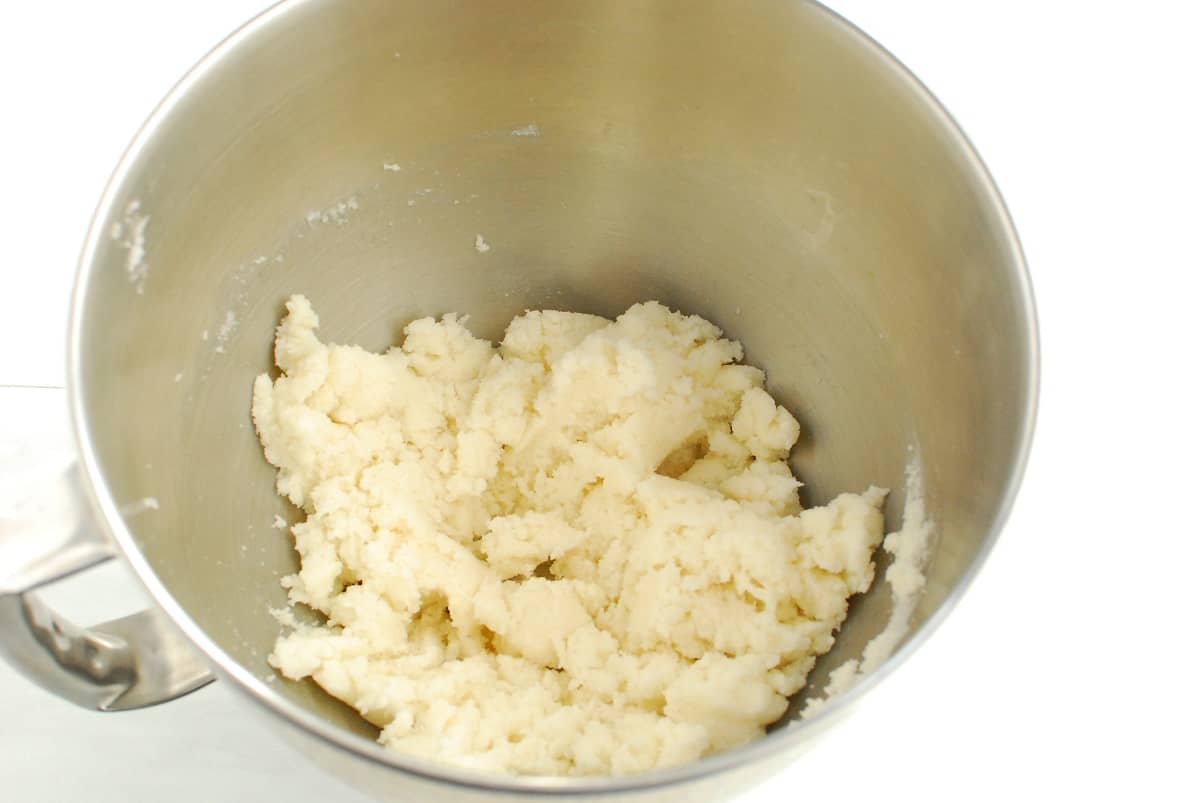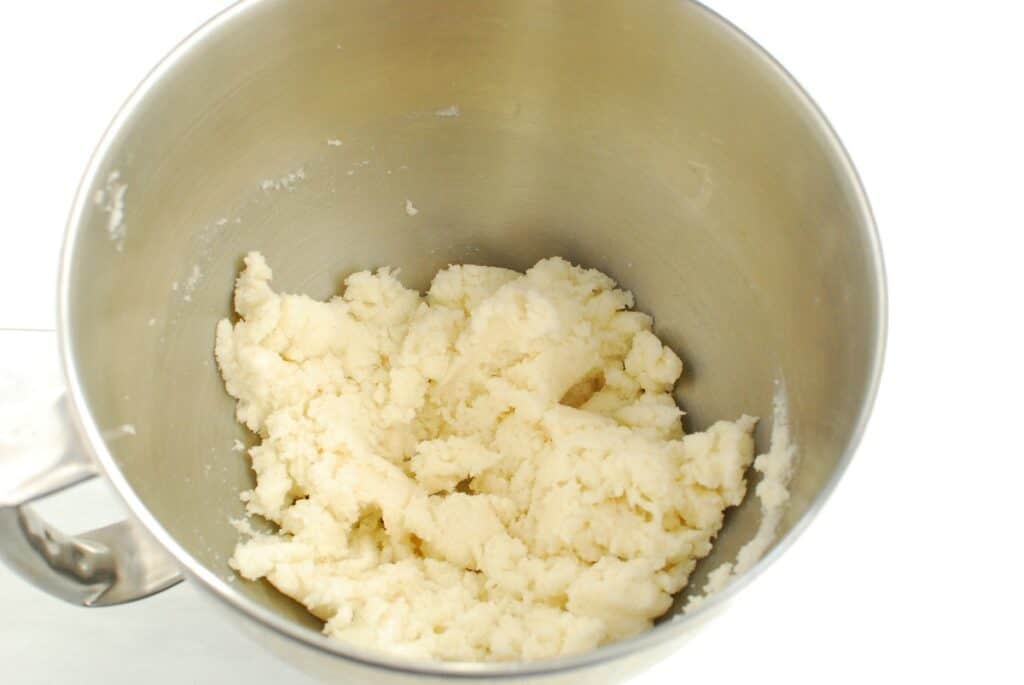 Next, add the eggs, vanilla, and coconut extract.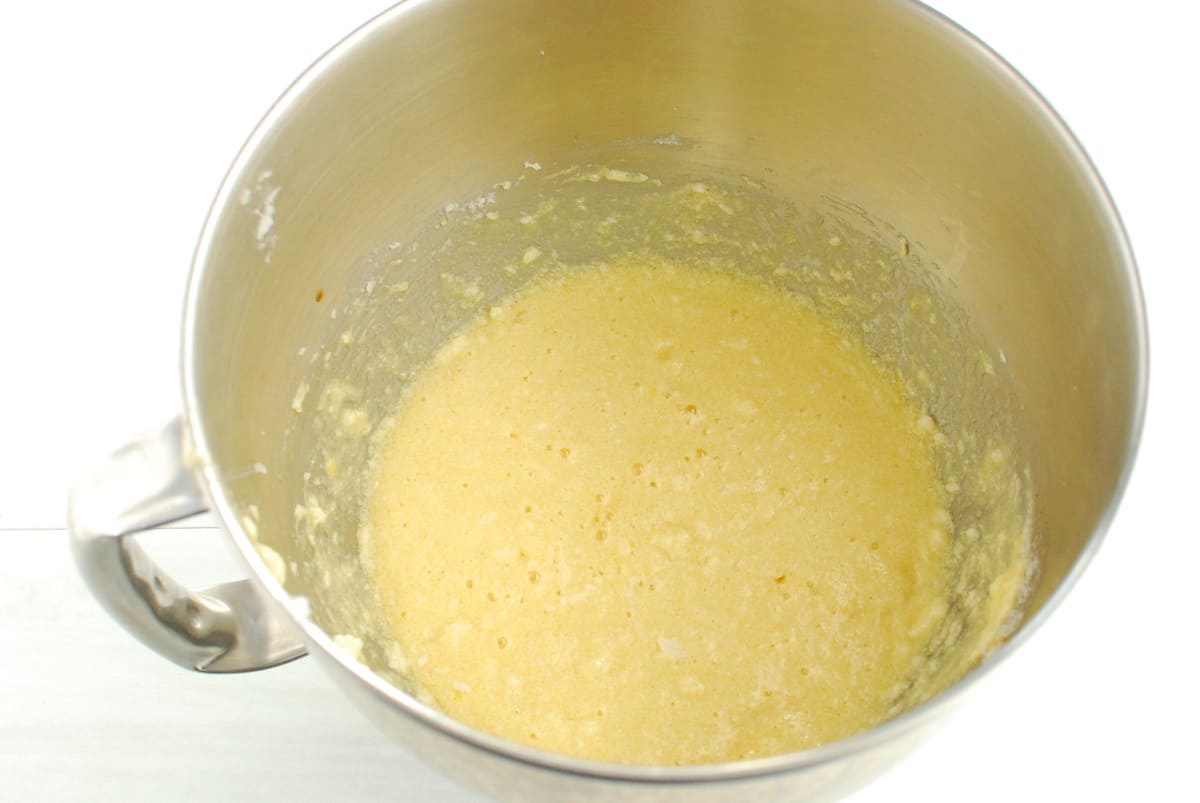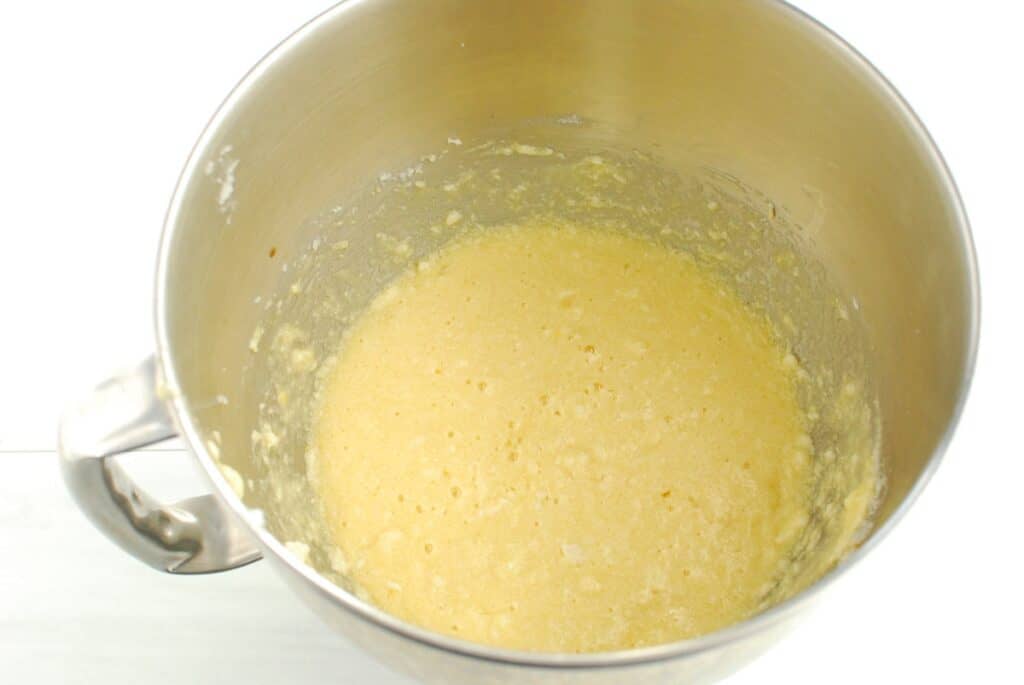 In a separate bowl, mix together your flour, baking powder, and salt.
Now add the dry ingredients to the wet ingredients. Pour in the coconut milk, and stir everything until it's just combined. Fold in the shredded coconut.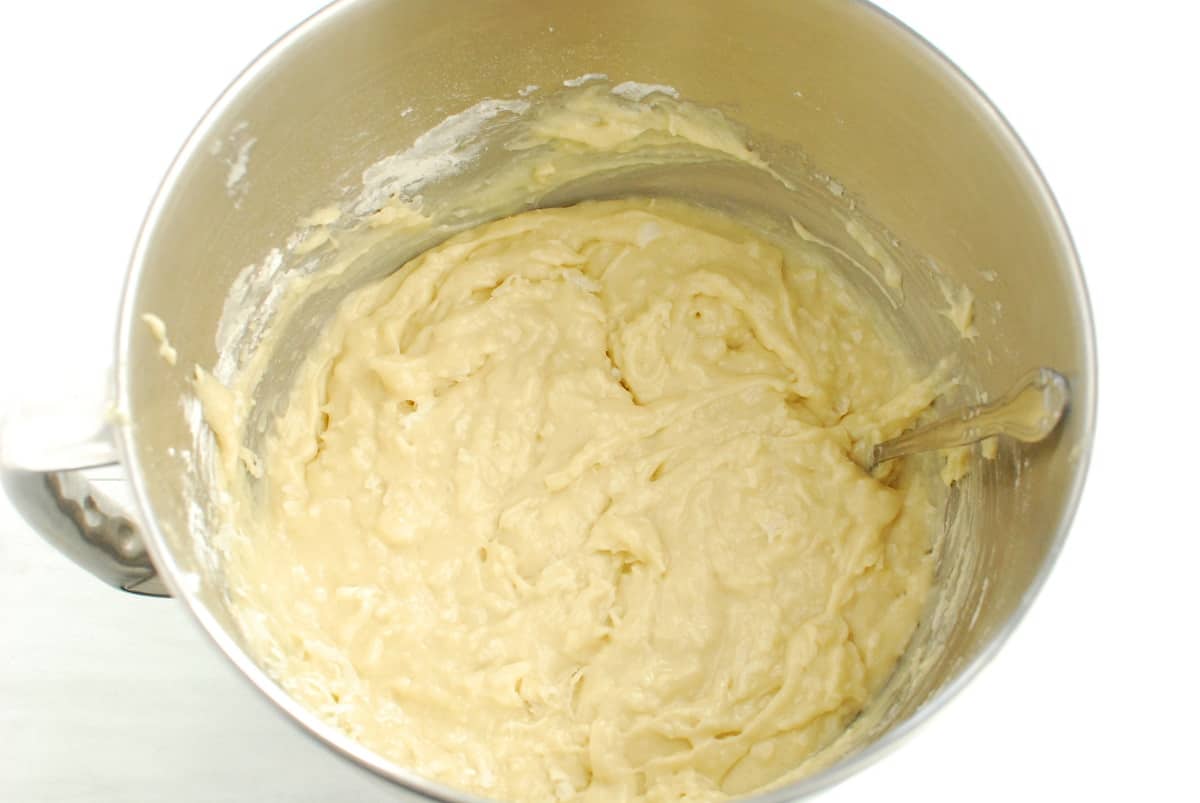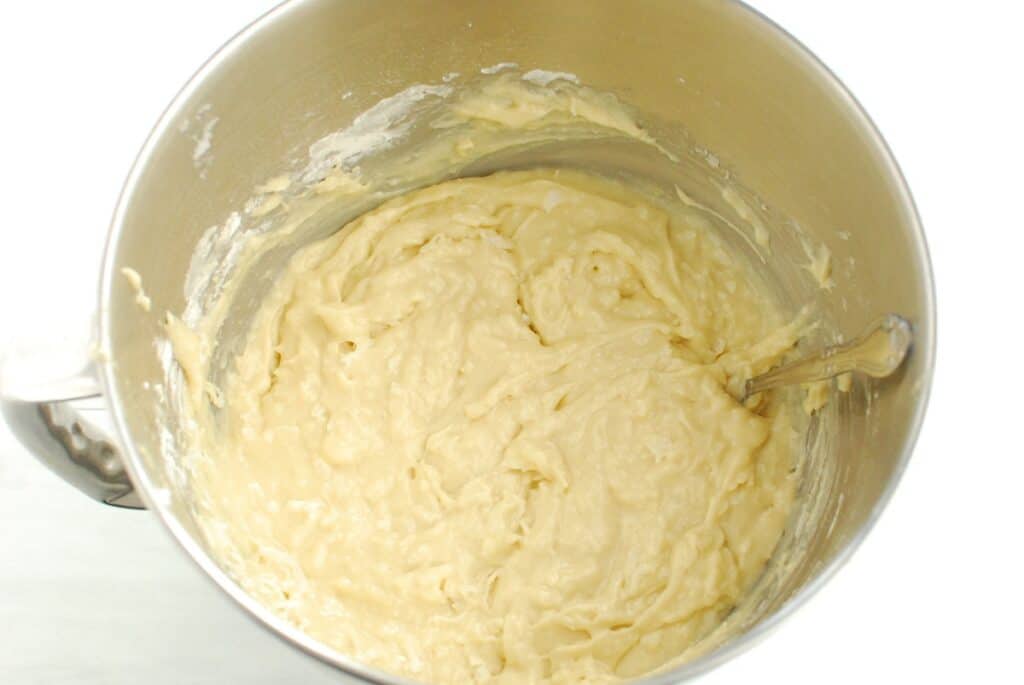 Pour the batter in your pans and bake your cakes.
When your cakes are done, let them cool in the pan for a few minutes, then transfer to a metal rack to cool completely. You can make the frosting while you're waiting, but don't put it on the cakes until they're completely cooled (or else it will melt and slide off).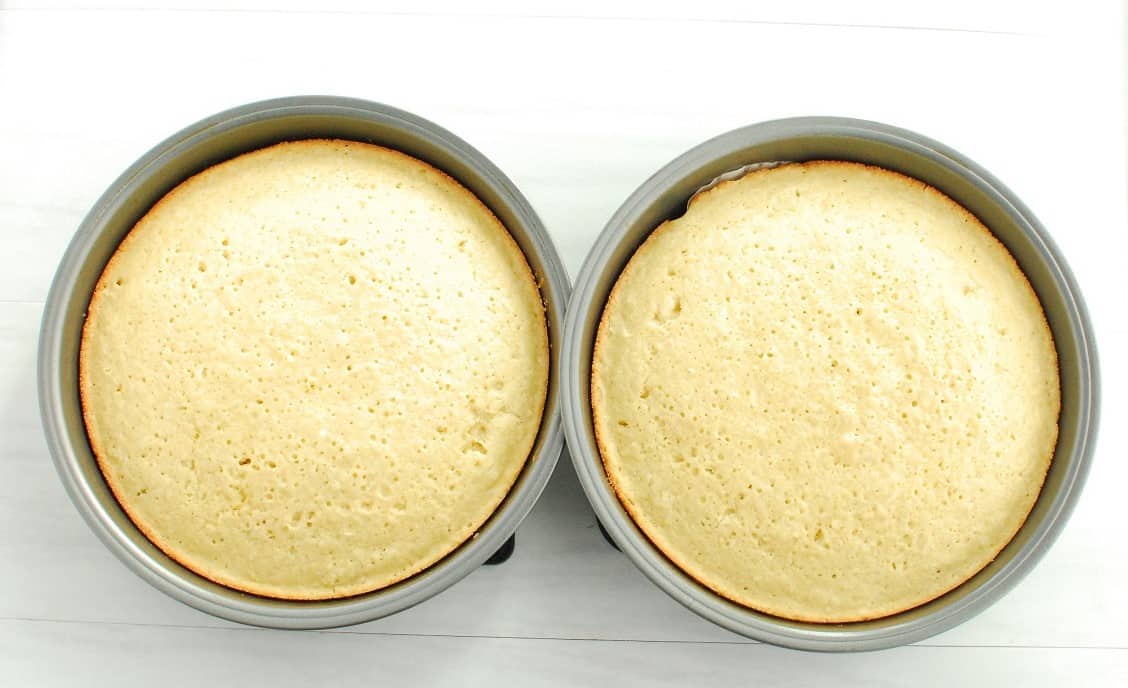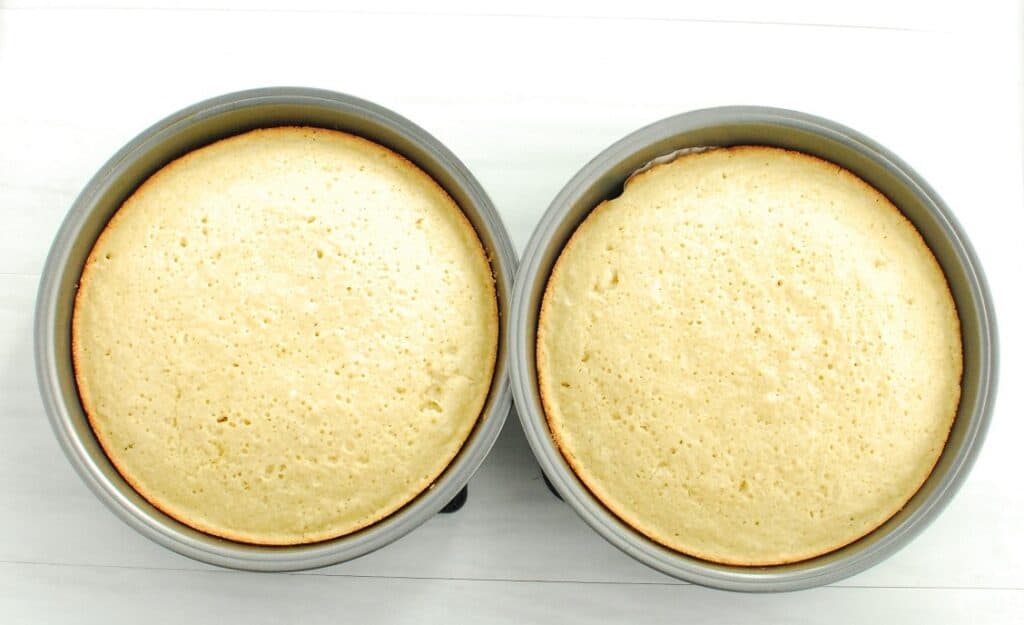 To make the frosting, just whisk together (either with a stand mixer, hand mixer, or by hand) the softened dairy-free butter, softened dairy-free cream cheese, vanilla extract, and powdered sugar. Beat on high until it gets light and fluffy.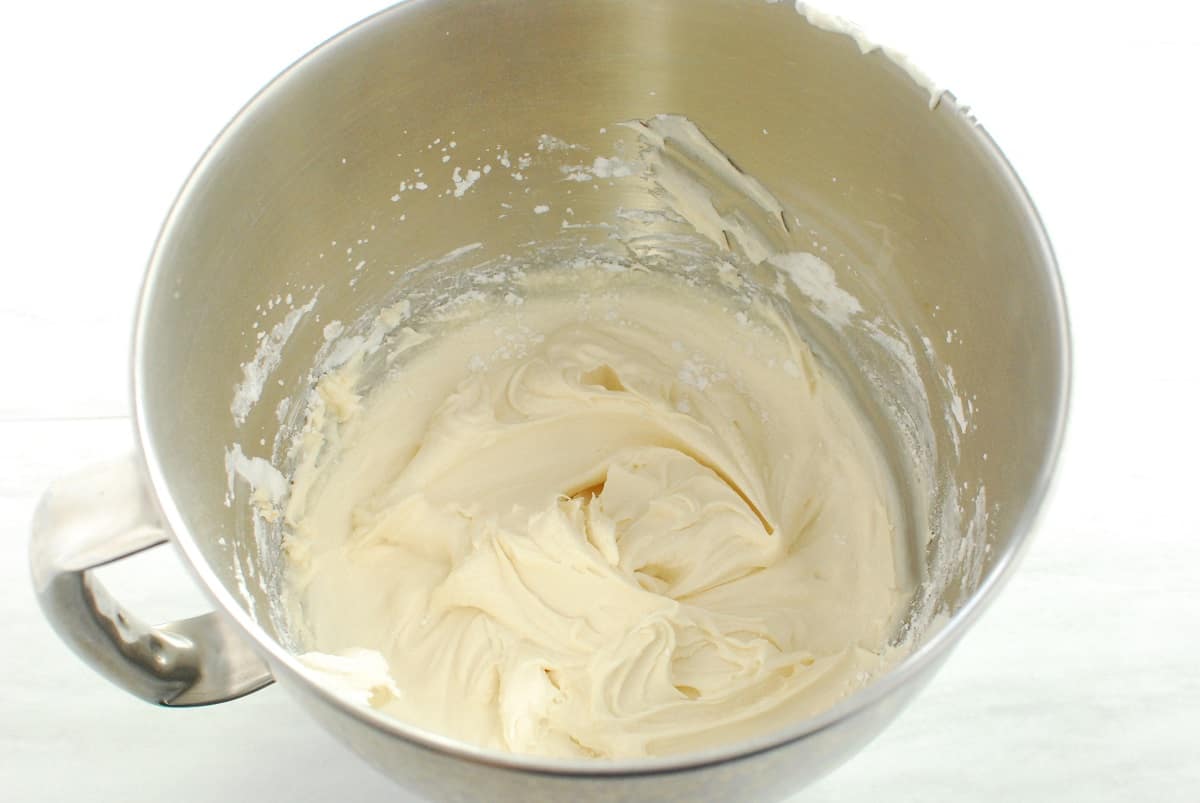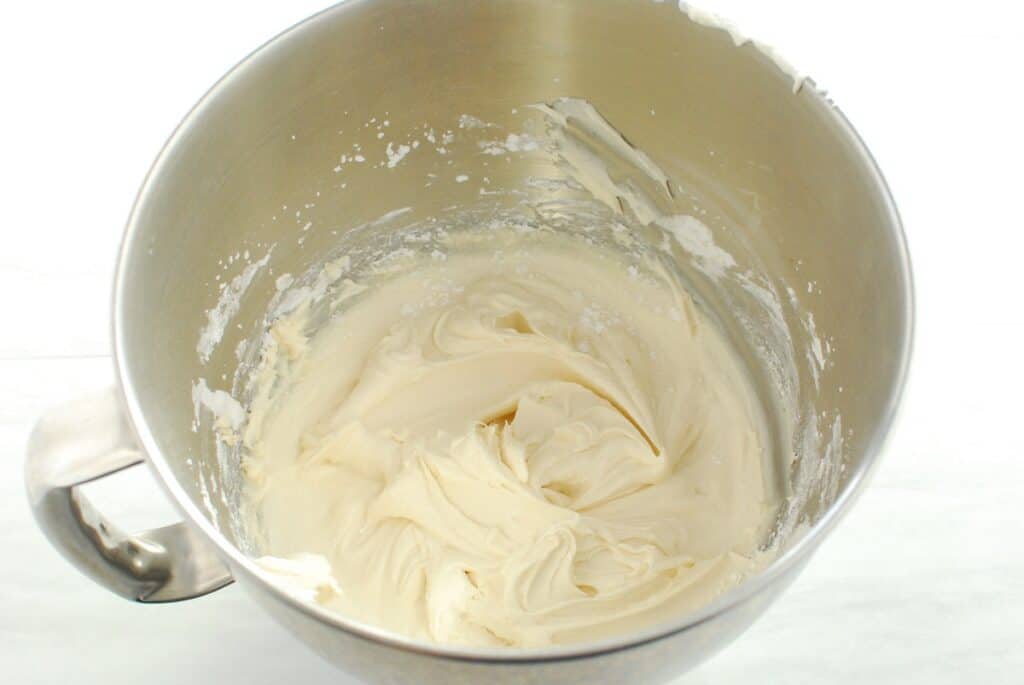 Frost one cake and sprinkle on some shredded coconut. Then layer the other, continue frosting, add the rest of the coconut – and you're done!
Easy and delicious.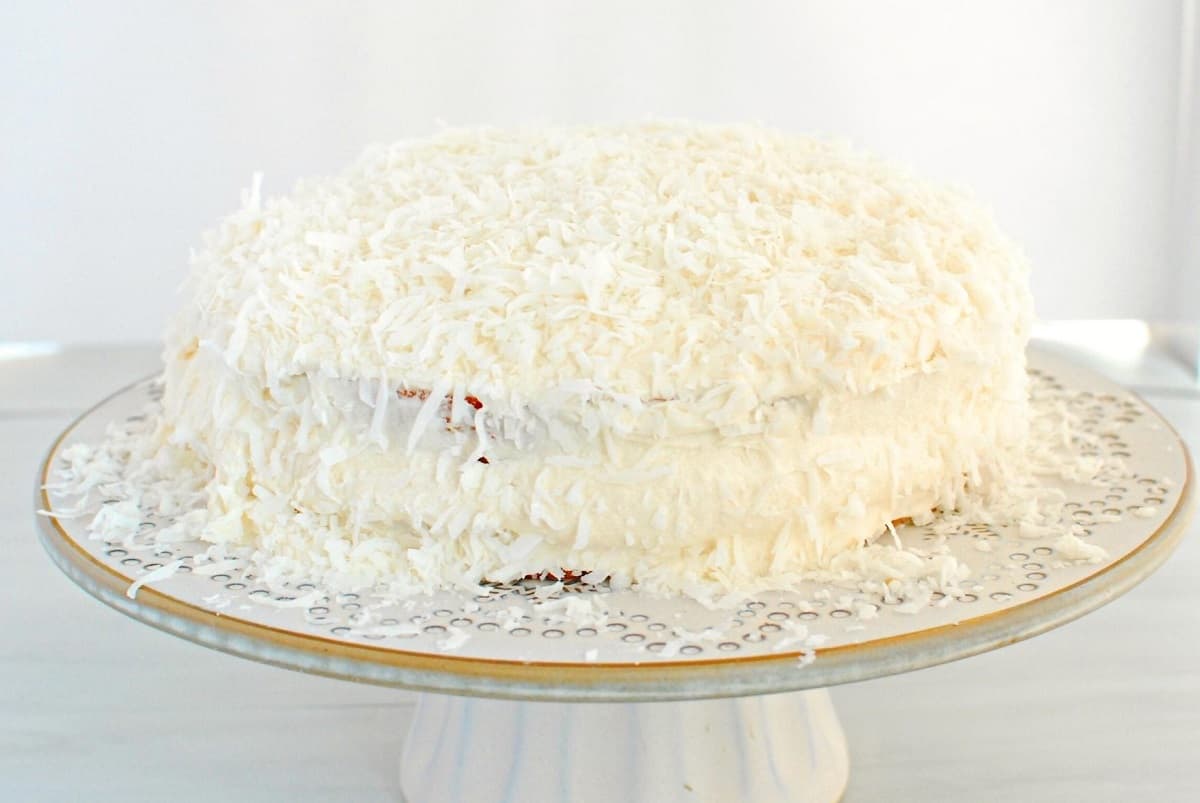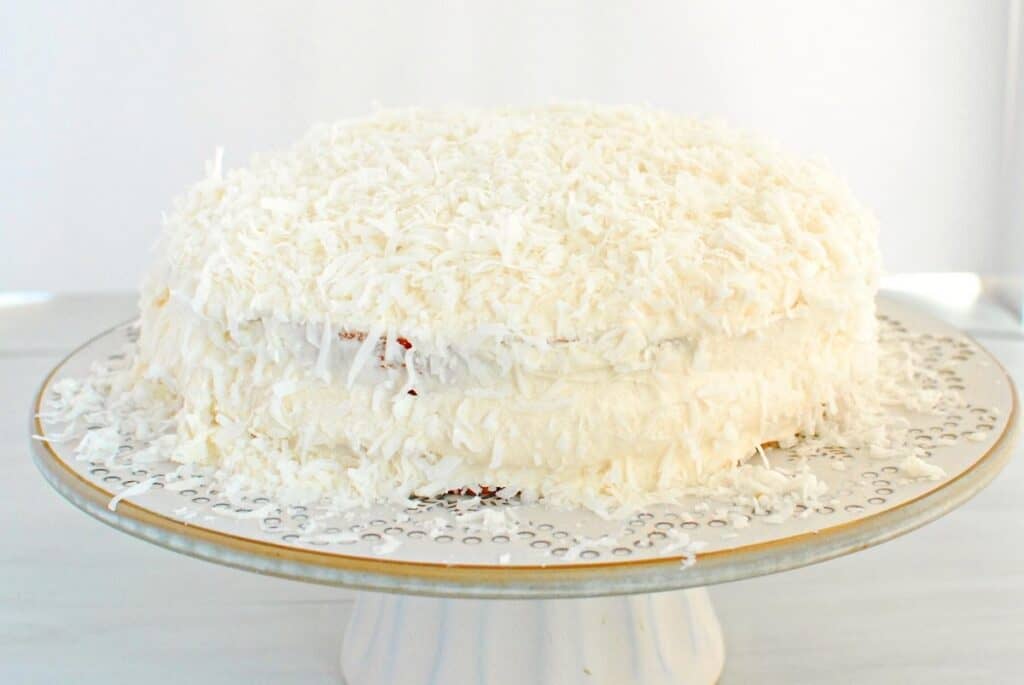 Recipe FAQ
Here are some common questions that may come up related to this recipe:
How should you store dairy-free coconut cake?
You can leave the cake at room temperature for a couple hours if you plan to enjoy it the same day. If not, store leftovers in the refrigerator (due to the dairy-free cream cheese in the frosting). For best quality, enjoy within 4 days.
Can you freeze coconut cake?
Yes. Wrap extra pieces of cake tightly in plastic wrap, then store in a zip top bag or airtight container in the freezer. When ready to enjoy, let thaw in the fridge overnight.
Are there store-bought dairy-free coconut cake mixes?
Sometimes, a store-bought cake is certainly easier than making your own! At the time of publish, Duncan Hines Coconut Supreme Cake Mix is free from dairy ingredients. Always double check labels at the time of purchase though. With any dairy-free cake mix, you may need to substitute dairy-free ingredients for those called for in the package instructions.
Allergens in this recipe
Disclaimer: Always double check ingredients and labels yourself prior to making a recipe. While I try to check all ingredients for allergens, there's always the chance I may miss something or manufacturer formulations can change.
As written, this recipe is dairy free.
Depending on your choice of dairy-free butter/cream cheese, this recipe may contain soy.  Choose soy-free options if needed to eliminate that allergen.
This recipe does contain wheat/gluten, eggs, and tree nuts (coconut). The eggs are necessary in this recipe for structure and richness in the cake, and I do not recommend substituting them in this recipe. You may be able to substitute the all-purpose flour for a 1:1 gluten free flour blend, though, if you need to eliminate wheat/gluten.
More Dairy Free Cake Recipes
Looking for more dairy free cakes? Try one of these options:
I hope you enjoy this dairy free coconut cake! If you get a chance to try it, feel free to leave a recipe rating or comment below. Enjoy!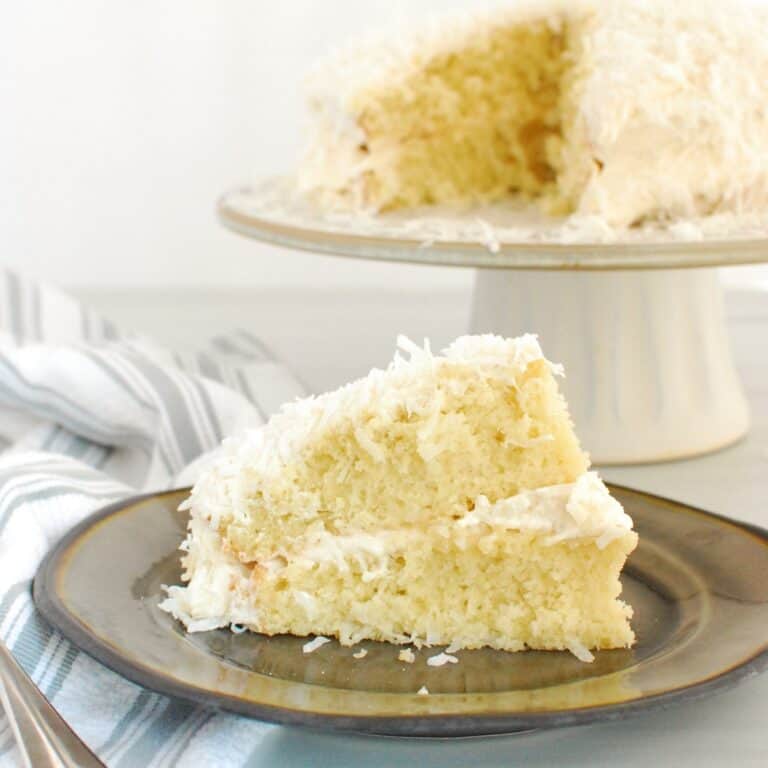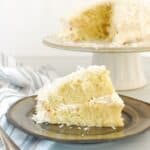 Dairy Free Coconut Cake
Dig into a slice of delicious dairy free coconut cake! This two-layer cake is packed with coconut flavor and is utterly delectable.
Ingredients
For the cake:
½

cup

dairy-free butter, softened

¼

cup

coconut oil, softened

1 ½

cups

granulated sugar

3

large eggs

1 ½

tsp

vanilla extract

1

tsp

coconut extract

2

cups

all-purpose flour

(spooned and leveled)

2

tsp

baking powder

½

tsp

salt

¾

cup

canned coconut milk

1

cup

sweetened shredded coconut
For the frosting:
¾

cup

dairy-free butter, softened

½

cup

dairy-free cream cheese, softened

3

cups

powdered sugar

1

tsp

vanilla extract

2

cups

sweetened shredded coconut

divided
Instructions
Preheat the oven to 350 degrees F. Line the bottom of two 9-inch cake pans with a circle of parchment paper, then grease well.

In a large mixing bowl, cream together the butter, oil, and sugar. Add the eggs, vanilla extract, and coconut extract, and mix until well combined.

In a separate bowl, combine the flour, baking powder, and salt. Once these have been mixed together, pour them into the other bowl with the wet ingredients. Add the coconut milk and stir everything together until just combined.

Fold in the cup of shredded coconut.

Pour the batter equally into your two greased cake pans. Place the cakes in the oven and bake at 350 degrees F for 22 to 26 minutes, or until the cakes are cooked through and a toothpick pulls out clean from the center.

Let the cakes cool in the pan for five minutes, then remove the cakes and let them finish cooling on a cooling rack.

Meanwhile, prepare the frosting: combine the dairy-free butter, dairy-free cream cheese, powdered sugar, and vanilla extract in a mixing bowl. Use the whisk attachment of a stand mixer or hand mixer to combine these until a light, fluffy frosting forms.

When the cakes are cool, spread frosting over the first cake and sprinkle on ¾ cup of the shredded coconut. Place the second layer of cake on top. Spread on the remaining frosting and sprinkle on the remaining 1 ¼ cup shredded coconut. Enjoy!
Recipe Notes
For best results, I used Country Crock Plant Butter Sticks with Avocado Oil and SoDelicious cream cheese style spread.
If you scoop your flour out of the container rather than spoon and level it, you may need to increase the coconut milk from ¾ cup to 1 cup to create the correct texture.
Refrigerate leftover cake (due to the cream cheese icing).
Nutrition analysis (approximate per slice): 523 calories, 29.5 g fat, 19 g saturated fat, 385 mg sodium, 62.5 g carbohydrate, 1.5 g fiber, 48 g sugar, 3.5 g protein, Vitamin D: 1%, Calcium: 3%, Iron: 7%, Potassium: 2%
Share: What's your favorite type of dairy free cake? If you tried this recipe, what did you think?
Feel free to pin this post to save for later.