These vegan apple pancakes are the perfect fall breakfast!  They're easy to make and perfectly sweet.  Enjoy them topped with pure maple syrup or double up on your apple fix and top with sauteed cinnamon apples.
Apple picking for pancakes!
Who else has gone apple picking this season?  My family went last week and we stocked up on so many delicious apples – Zestar (a personal favorite), Cortland, Gala, and Ginger Gold.  I can't wait to head back when Honeycrisp are ready for picking too.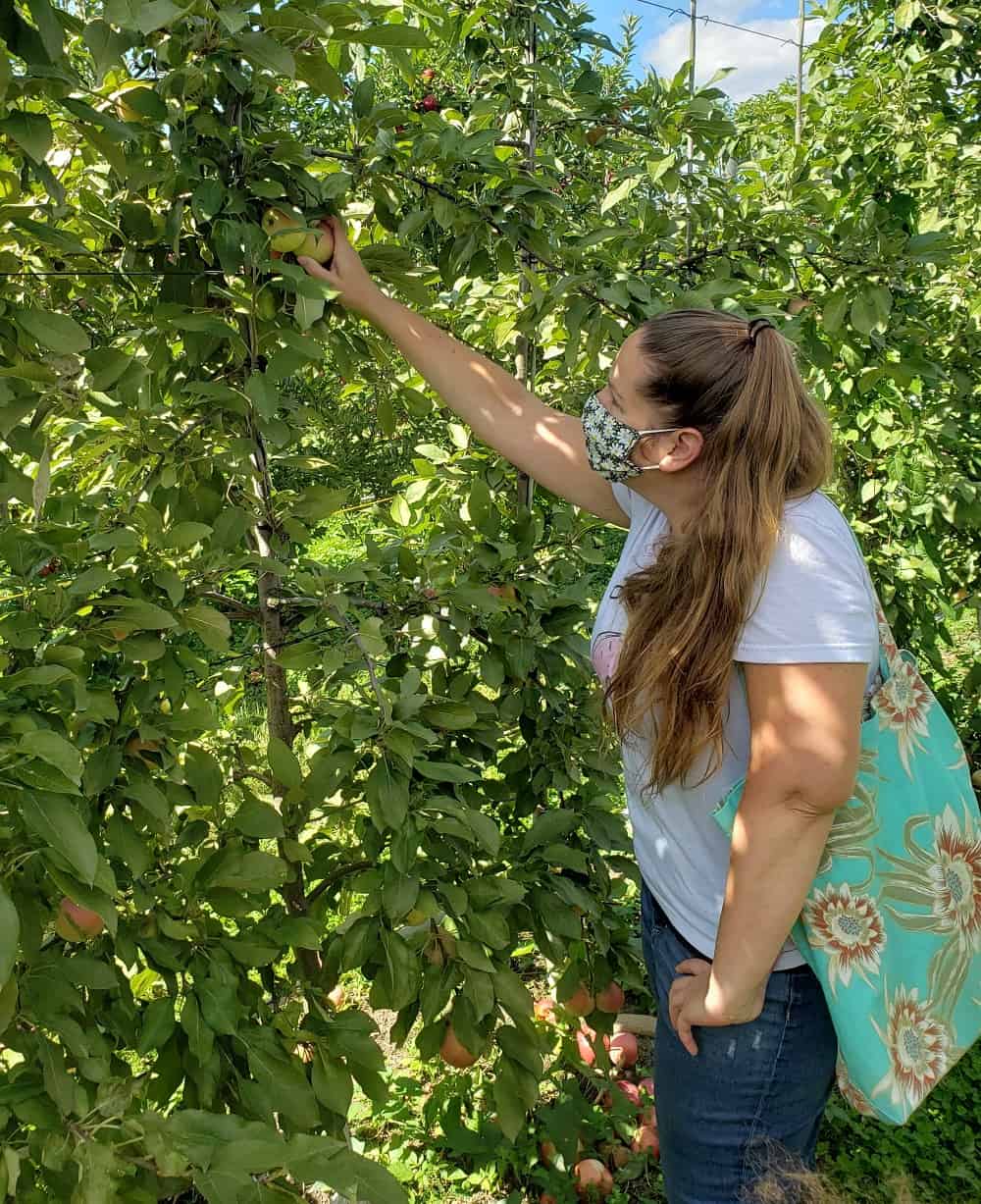 Of course, now that we have a half bushel of apples, it was time to get creative with recipes!  These vegan apple pancakes were one of the first things I made the day after we visited the farm.  I knew my family would love 'em for brunch.
To make these pancakes, here's what you'll need:
Vanilla almond milk (or any milk alternative)
Apple cider vinegar
All-purpose flour
Baking powder
Salt
Cinnamon
Avocado oil (or canola oil, or coconut oil)
Pure maple syrup
Water
And of course, apples!
You can find the full instructions in the recipe card below, but basically, you'll mix up your dry ingredients, add your wet ingredients, and fold in the apple.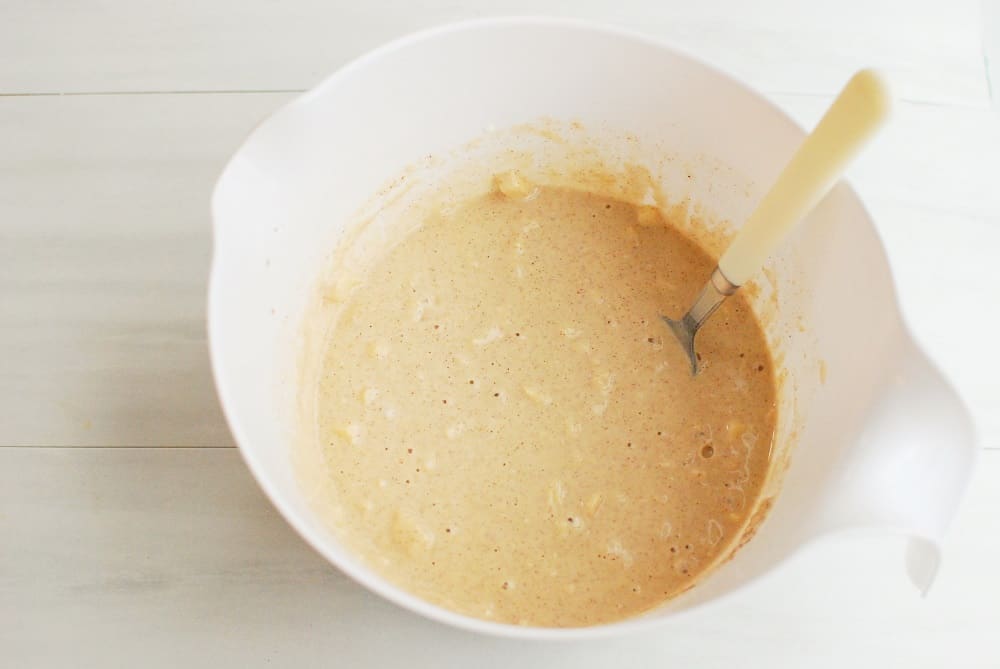 Then, cook 'em up on a skillet or griddle and enjoy!
Topping Ideas
I love these topped with pure maple syrup.  You can also top them with a cinnamon apple topping.
To make that, here's what you'll need (enough for two servings):
1/2 tbsp vegan butter
1 apple, peeled and sliced
1/8 tsp cinnamon
Heat the vegan butter in a skillet over medium heat.  Add the apple and cook for about 5 minutes, stirring frequently.  Mix in the cinnamon and cook for another minute.  Serve over your pancakes!
If you want to jazz things up a bit with something out of the box, here are a few additional ideas for toppings:
Warmed berries – just heat some frozen berries in the microwave until warm and juicy, and pour those on top.
Nut butter – drizzled peanut butter or cashew butter tastes amazing with the apples in these pancakes!
Dairy free vanilla yogurt – this adds a nice creamy element to your stack of pancakes.
Apple butter – get even more apple flavor in there by slathering on a few tablespoons of homemade or store-bought apple butter.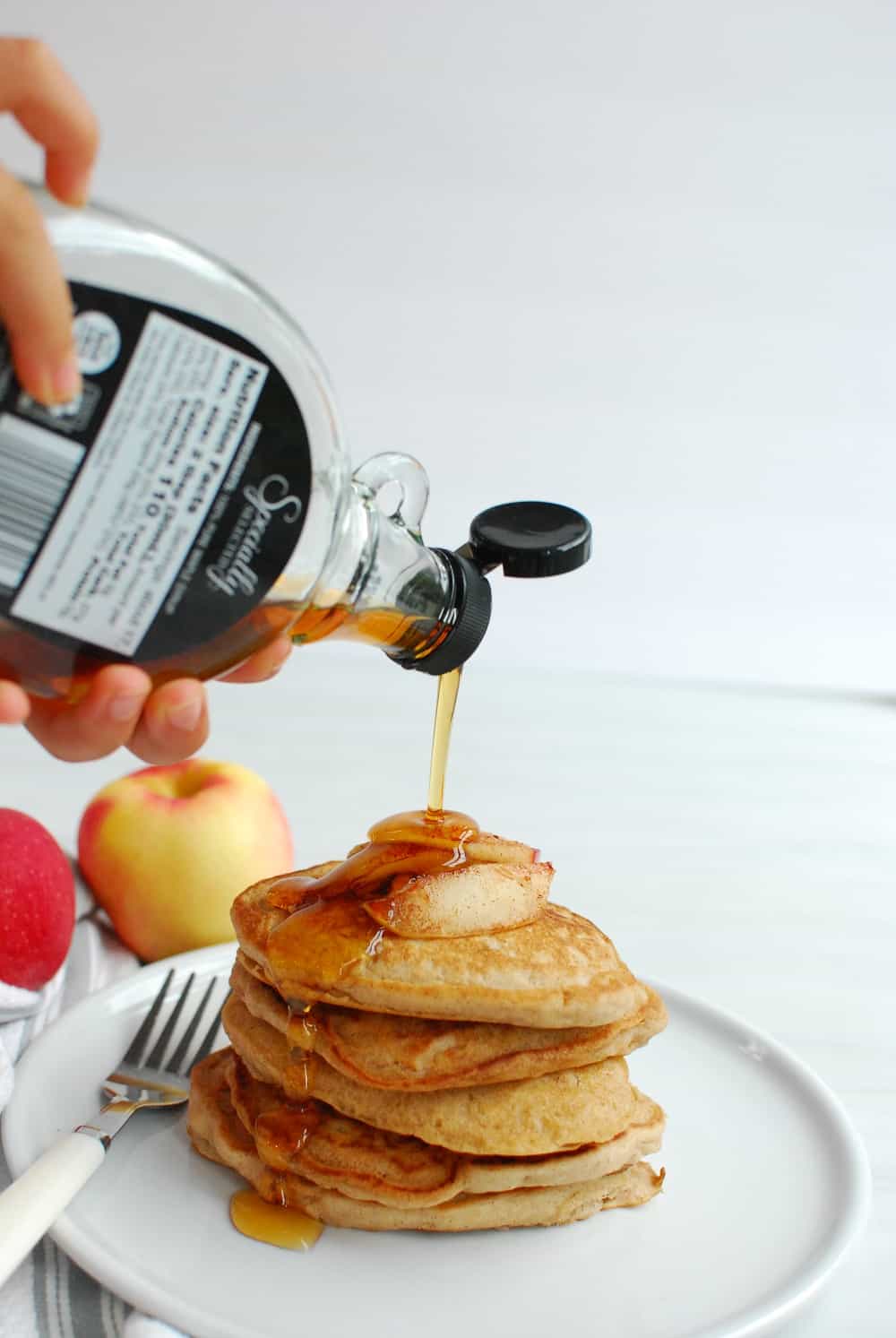 Recipe FAQ
Here's some common questions that may come up as you prepare this recipe.
Can you freeze these?
Yes!  I do it all the time.  Let the pancakes cool then place them flat and not overlapping in a zip top bag.  Place that flat in your freezer.
If you don't have a spot in your freezer to lay flat, it's fine to just toss 'em in the bag and let them overlap – the only issue is they can sometimes stick to each other and tough to break apart if you only need one on future mornings.
To reheat, place two pancakes on a microwave safe plate for a minute.
My pancakes are getting a little burnt before cooking through – what do I do?
Heat settings can be a bit of a challenge for pancakes on the stovetop, because the actual heat input depends on the type of pan you're using and whether you have a gas or electric stove.  If you tend to have problems with pancakes burning on your stovetop, start with medium-low heat instead of medium.
What should you serve with apple pancakes? 
I definitely think these are enough of a meal by themselves, but if you're making a brunch, you might want to have another dish to pair with this.  My personal preference – keeping with the fall theme! – is a sweet potato and plantain hash.
You could also serve up some vegan pumpkin smoothies, or a tofu scramble to pair with this.
Can you use a box mix instead to make these?
Sure!  If you'd rather use a vegan boxed pancake mix, prepare the batter according to directions (using dairy-free milk) and then just add in the maple syrup, cinnamon, and apple called for in this recipe.  Easy peasy.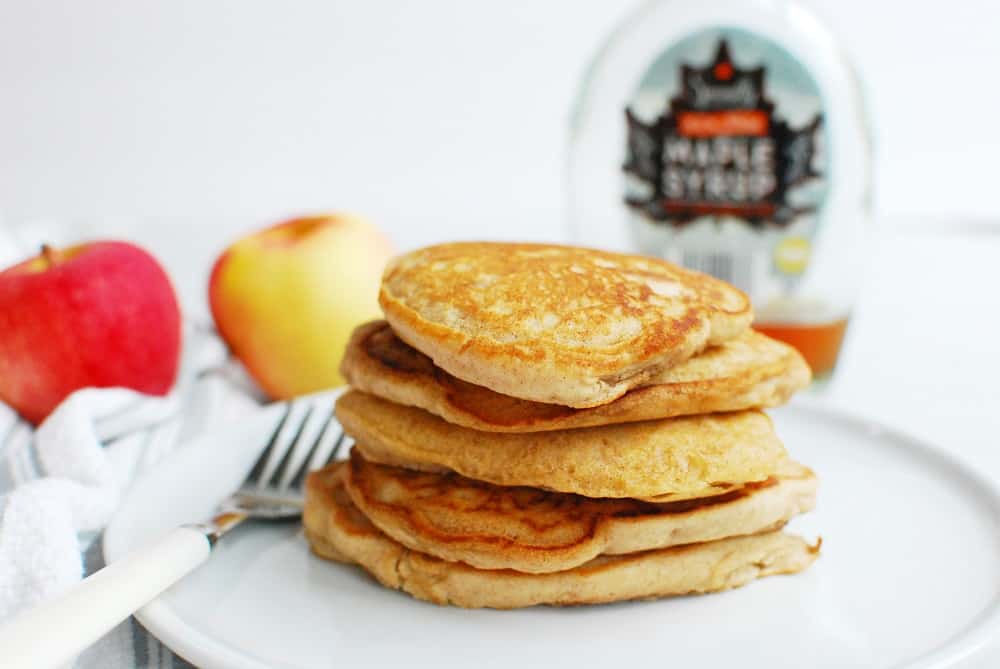 Allergens in this recipe
*Disclaimer – This is for informational purposes only.  I try to provide accurate allergy information, however there is always a chance I may miss something or a manufacturer may change ingredients.  Always double check labels and ingredients to ensure something fits your needs.
As written, this recipe is dairy free, egg free, and soy free.
It does contain wheat/gluten (in the all purpose flour) and nuts (in the almond milk).
You can easily adjust this recipe to be nut free by using oat milk rather than almond milk.
I have not personally tested this recipe with a gluten free flour blend, but I'd imagine a 1:1 blend like King Arthur should work in this recipe (if you test it out, feel free to post in the comments and let me know!).
I hope you enjoy these delicious vegan apple pancakes – I know my family was a huge fan of them!  If you get a chance to try them, please do leave a recipe rating or comment below and let me know your thoughts.
(PS – looking for more apple recipes?  Try our dairy free apple pie – easily vegan as long as you're selecting the right kinds of sugar).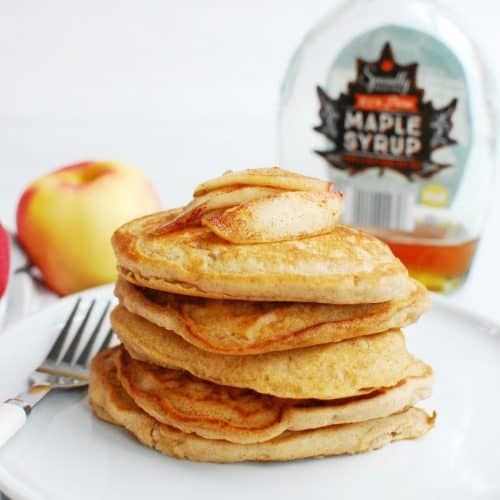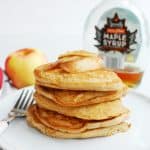 Vegan Apple Pancakes
These vegan apple pancakes are a perfect fall breakfast treat! Packed with chunks of fresh apple and spiced with cinnamon, you'll love them.
Ingredients
1

cup

vanilla almond milk

(or any milk alternative)

1

tsp

apple cider vinegar

1 1/2

cups

all-purpose flour

1

tbsp

baking powder

1/2

tsp

salt

1

tsp

cinnamon

2

tbsp

avocado oil

(or canola oil or coconut oil)

2

tbsp

maple syrup

1/4

cup

water

1

apple, peeled and finely chopped
Instructions
In a measuring cup, combine the almond milk and apple cider vinegar. Let that sit for a few minutes.

Meanwhile, in a mixing bowl, combine the flour, baking powder, salt, and cinnamon.

Add the oil, maple syrup, water, and almond milk mixture, stirring until combined (avoid overmixing). Fold in the chopped apple.

Lightly grease a large skillet with any oil of your choice. Heat the skillet over medium heat (let it get hot for a few minutes).

Pour the batter in to form three pancakes. Cook until the pancakes start to bubble, about 2-3 minutes. Flip and continue cooking for another 2 minutes, or until cooked through all the way.
Recipe Notes
This recipe makes 10 to 12 small pancakes.
Nutrition analysis (approximate per pancake, assumes 10 pancakes): 120 calories, 3 g fat, 0.5 g saturated fat, 280 mg sodium, 21 g carbohydrate, 1 g fiber, 5.5 g sugar, 2 g protein, Calcium: 14%, Iron: 6%, Vitamin D: 3%, Potassium: 2%
Share:  What's your favorite apple breakfast recipe?