If you're worried about creating meals while you're struggling financially or during a food shortage, this recipe is for you.  This dairy-free peach pancake casserole is made with just a handful of shelf-stable ingredients, no fresh ingredients necessary.  And it still tastes great!
You may have noticed I'm trying to include a few extra cheap, pantry-based meal ideas here lately (like these salmon fritters, for example).  That comes from chatting with a fellow dietitian, who mentioned she's seeing an uptick in families at the food pantry she works for.  Many people are relying primarily on that food – most of which is just shelf-stable ingredients – in order to create meals.  But some people are running low on ideas given the limited selection.
I figured if she's seeing it out there, then there's got to be some readers here who might be struggling too.  I hope this recipe helps you!
How to make a pancake casserole
Essentially, this is just a thick pancake recipe made in a casserole dish.  It's easy to pop in the oven and let it cook.  Great for busy mornings when you don't have time to stand over the stovetop to flip pancakes!
Here are the ingredients you'll need to make this (amounts at the bottom of the post in the recipe card):
Bisquick – Yes, Original Bisquick is dairy-free (at the time of publish)! Who else is excited by that?  I know when I had to follow a dairy-free diet for nursing, I was pleasantly surprised to find that out.  If you have another pancake mix, that works too – just double check to make sure it's dairy-free.
Powdered Eggs – I'm trying to write this for those who may not have any fresh ingredients on hand, and I know food pantries are distributing powdered eggs right now. That said, you can easily use regular eggs instead if you've got 'em!
Applesauce
Canned Peaches
Water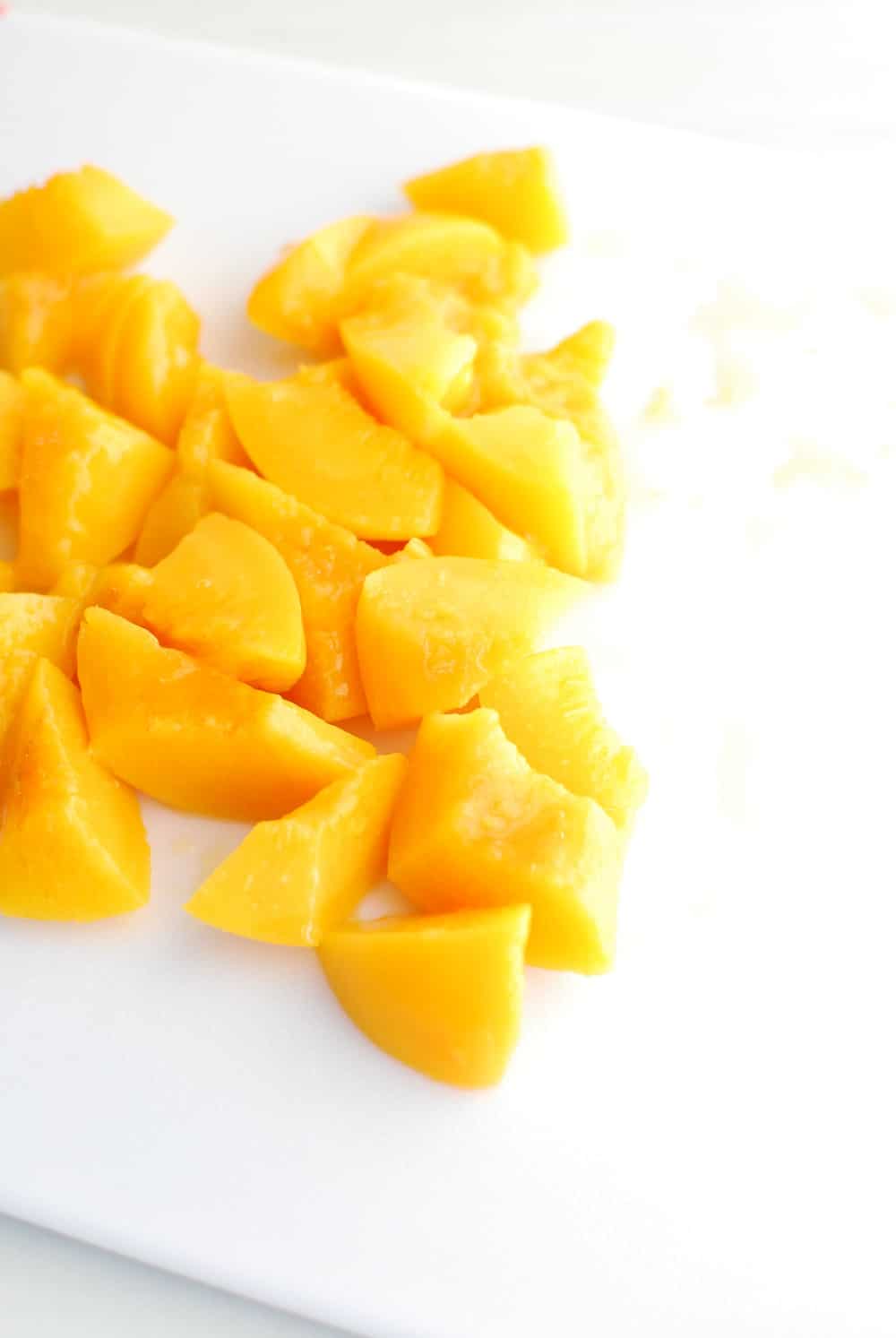 That's it!  Simple, right?  All you need to do is mix up everything, pour it in the casserole dish, and bake.
Here's what it looks like before: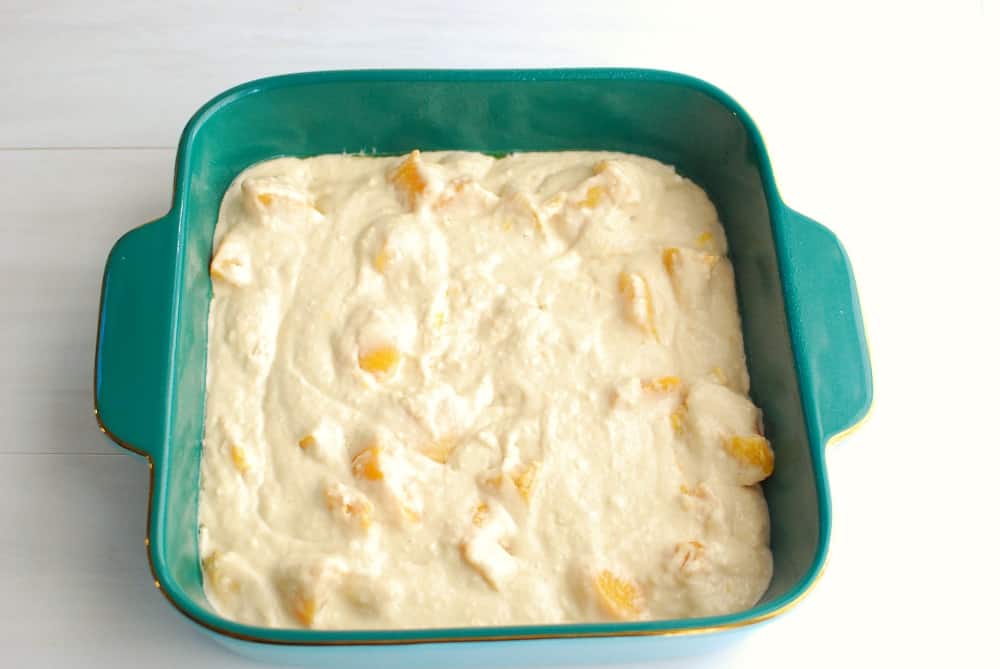 And here's what it looks like after: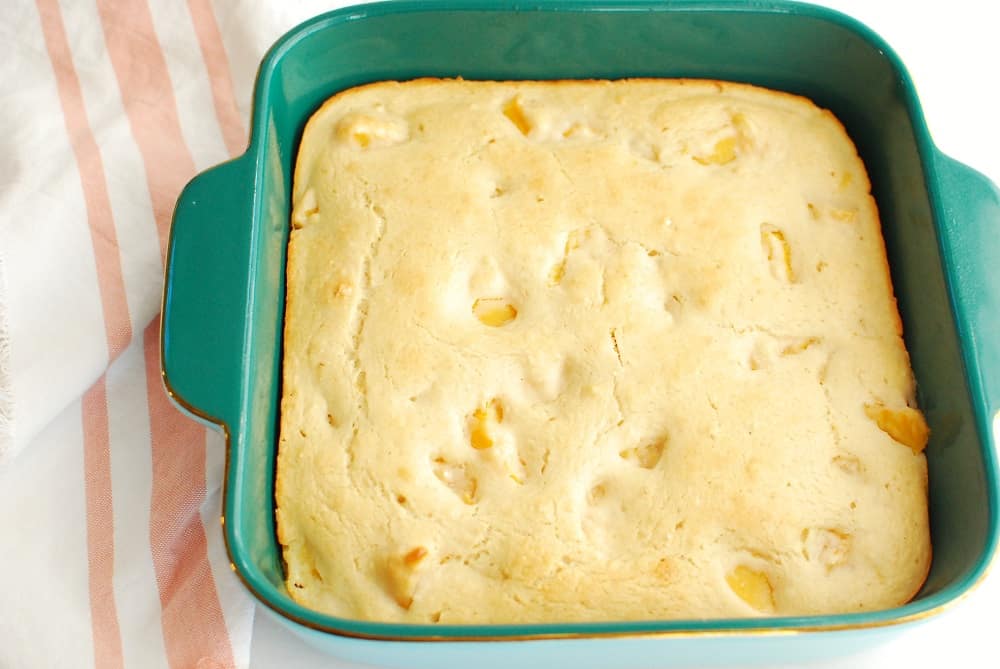 The final product will be a thick pancake with yummy peach flavor.  The texture and taste won't be exactly the same as "regular" pancakes made with milk alternatives but it's still super delicious and satisfying.
Topping suggestions
Syrup is my favorite topping, as it tastes wonderful on the fluffy, thick pancake.
But if you don't have any on hand, that's OK – just use the liquid from the can of peaches as your topping!  If the peaches are packed in juice, I like to heat it up a little to reduce it down so it's thicker.  If the peaches are already packed in syrup, though, you can just pour it right on.
You can also top this with other pantry staples like canned fruit, jelly, or peanut butter.
Allergens in this recipe
Disclaimer:  I try to note potential allergens in all recipes – but as you know, manufacturers can change ingredient formulations or I may miss something.  Always double check ingredients and labels prior to consuming if you have an allergy.
This recipe is naturally dairy free and nut free provided you're using a pancake mix that fits these needs like Bisquick– if you are using a different brand, just double check the ingredients.
This recipe does contain wheat/gluten (in the pancake mix) and eggs.  Most pancakes mixes contain soy oil, so keep that in mind if you have a soy allergy – some people tolerate that, others do not.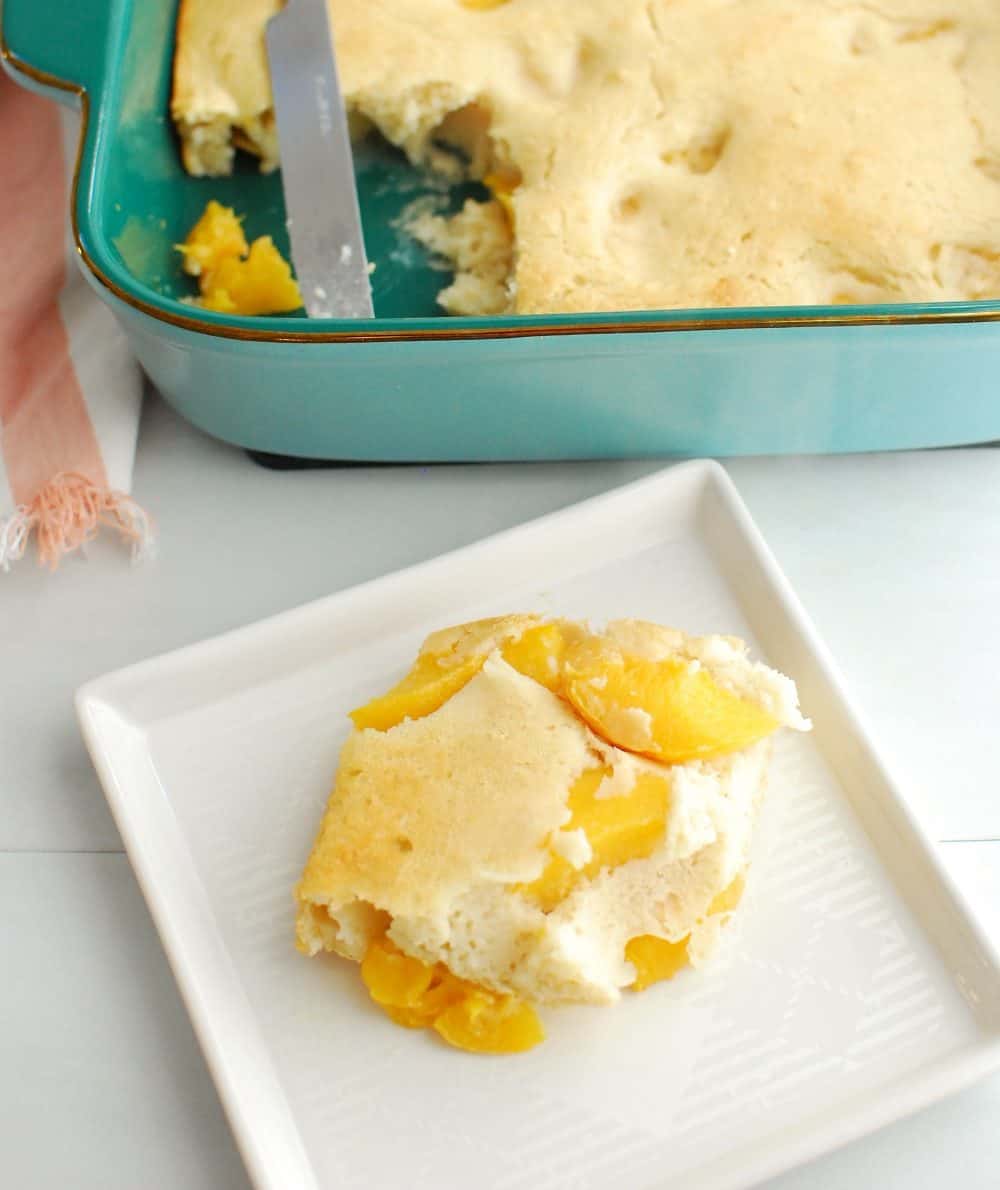 I hope you enjoy this easy meal!  Don't hesitate to leave a comment or recipe rating if you tried it.  And if you're looking for more ideas to use up shelf-stable goods, please let me know in the comments what you're looking to use – and I'll happily give you some ideas!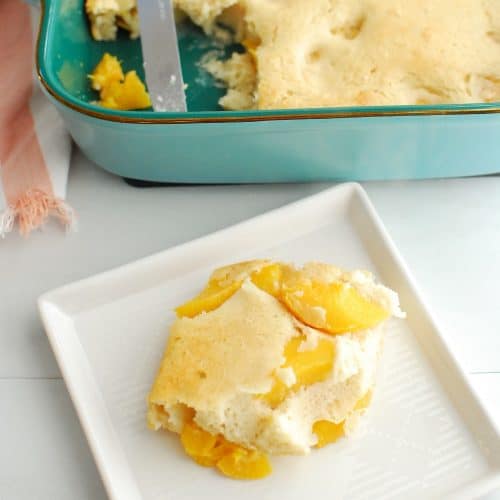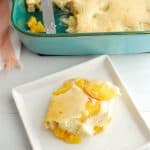 Cheap Peach Pancake Casserole
This cheap peach pancake casserole is a budget-friendly meal made exclusively with shelf-stable ingredients.
Ingredients
Ingredients for the Pancake Casserole:
1 1/2

cups

Bisquick

(or another dairy-free pancake mix)

1/4

cup

powdered egg*

(or egg white protein powder, or 1 large fresh egg)

1/2

cup

water*

(cut to 1/4 cup if using a fresh egg)

1/2

cup

applesauce

15

ounce

can peaches
Optional for Serving:
syrup, reserved canned peach liquid, jelly, or peanut butter
Instructions
Preheat the oven to 350 degrees. Grease an 8x8 or 9x9 baking dish.

In a large bowl, combine the Bisquick, powdered egg, water, and applesauce.

Remove the peaches from the can (note – you may want to reserve the peach liquid to make a "syrup"). Chop the peaches into bite size pieces and add to the batter.

Pour the batter in the baking dish. Bake for approximately 25 to 30 minutes, or until a knife pulls our clean. Serve with maple syrup, or if you don't have that, heat the reserved peach liquid and then pour that on top as syrup.
Recipe Notes
Notes:
This recipe was written to help people during times when fresh ingredients may not be available. If you have fresh eggs on hand, feel free to use those instead of the powdered egg, and then drop the water to 1/4 cup.
If using a larger baking dish, decrease cooking time.
Nutrition facts (approximate per serving, does not include topping):
187 calories, 6.5 g fat, 2 g saturated fat, 400 mg sodium, 30 g carbohydrate, 1.5 g fiber, 12 g sugar, 4.5 g protein, Vitamin A: 5%, Vitamin C: 7%, Calcium: 4%, Iron: 8%
Share:  If you tried this peach pancake casserole, what did you think?