If you or your kiddos have multiple food allergies/intolerances, it can be tough coming up with meal ideas that meet all your family's needs.  Removing both gluten and dairy sounds tough, but rest assured – there are still lots of tasty meal ideas out there!  Today, I'm sharing some of the best gluten free dairy free chicken recipes for you to try out.
Also, in case you have other allergies you're dealing with, I've noted which of the other top 8 allergens are in these dishes.  In fact, many of these are top 8 allergen free!  Of course, always double check the recipe yourself in case the ingredients changed.
15 Delicious Gluten Free Dairy Free Chicken Recipes
Top 8 Allergen Free
I'm always on the lookout for more chicken thigh recipes, because the thighs always seem to be on sale at the grocery store!  This recipe is perfect – you get that herbaceous basil along with the bright lemon flavor and a little pop of balsamic as well.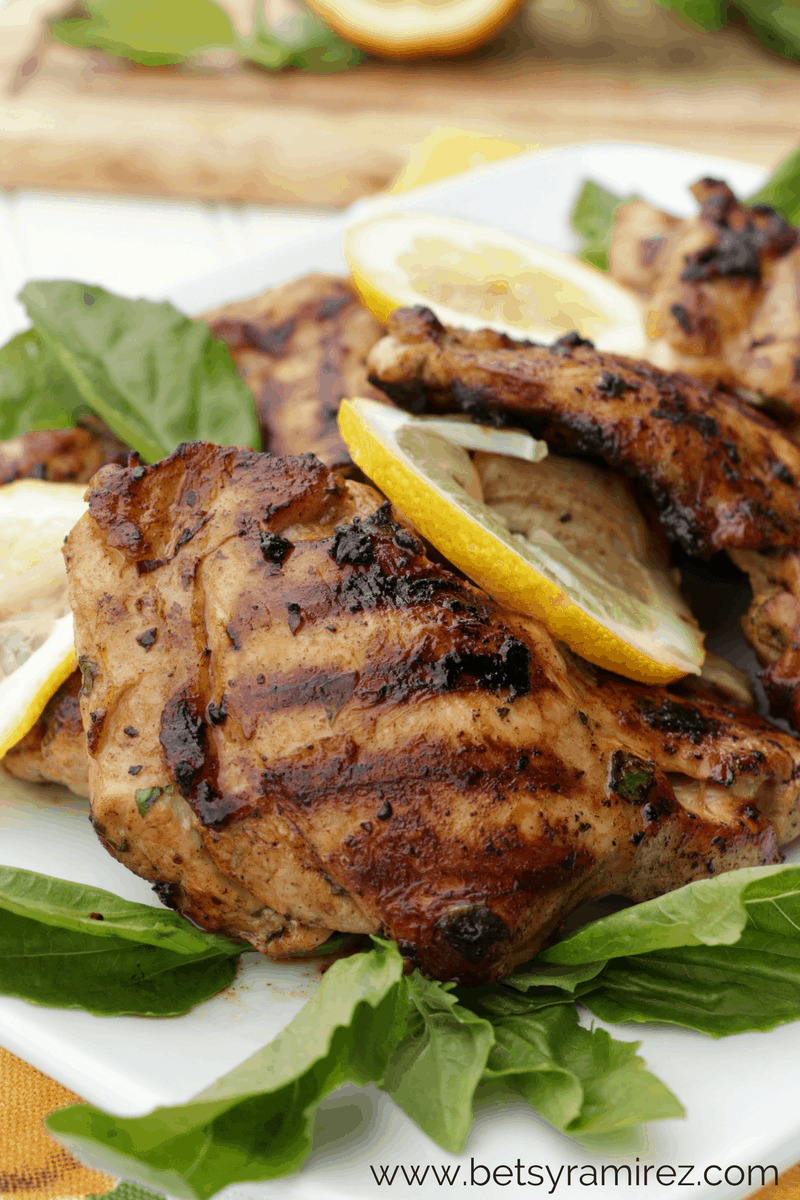 Top 8 Allergen Free (double check spice labels for severe allergies; some may be processed in facilities with nuts)
Curry is a total comfort food for me.  The scent of it cooking smells so good and just makes me feel all cozy.  I love this weeknight curry because it can be made in under 30 minutes.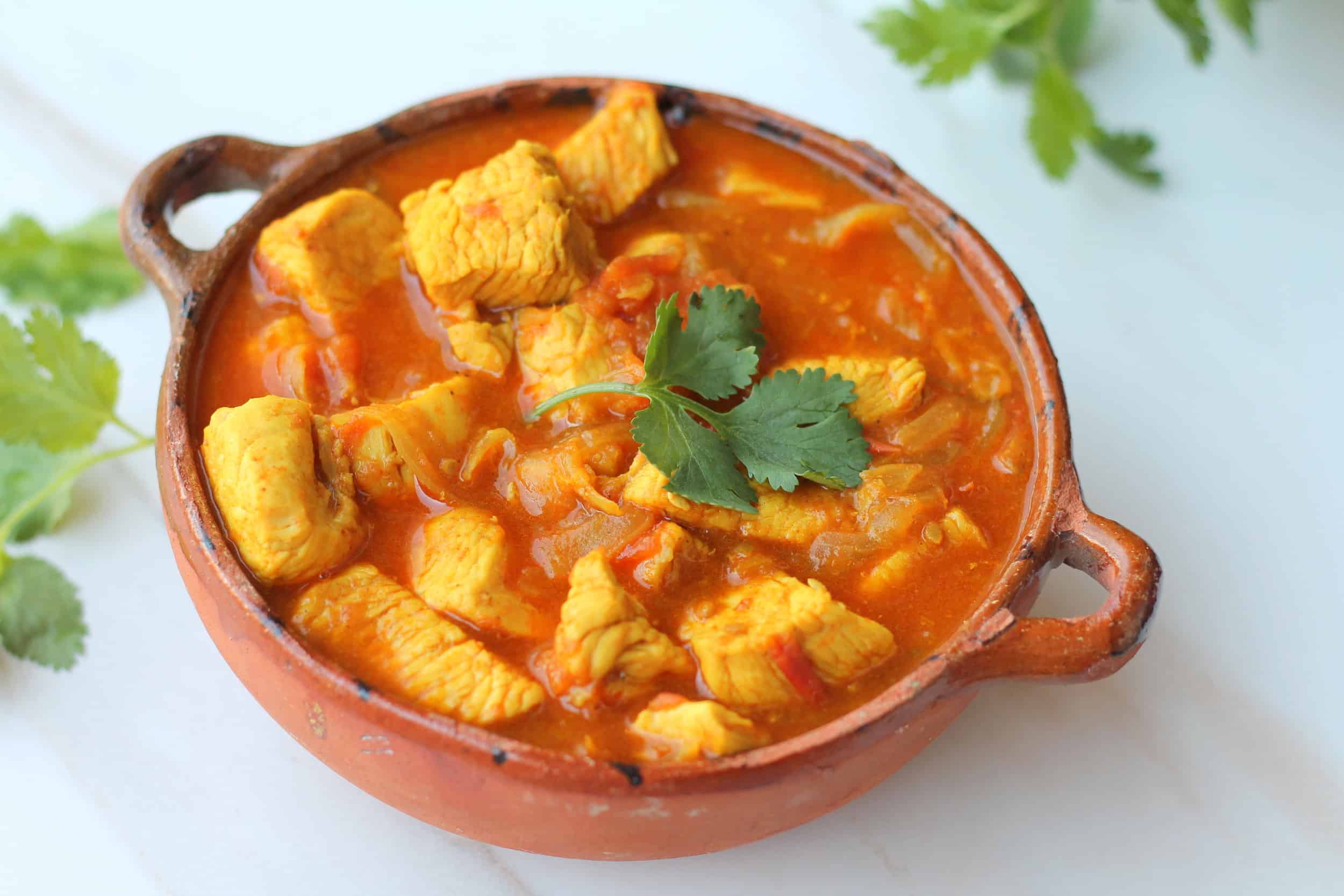 Top 8 Allergen Free; be sure to serve over gluten free pasta (or rice)
My instant pot has been sitting in my closet for an embarrassingly long amount of time now.  Perhaps this tasty chicken cacciatore recipe will be the motivation I need to break it out!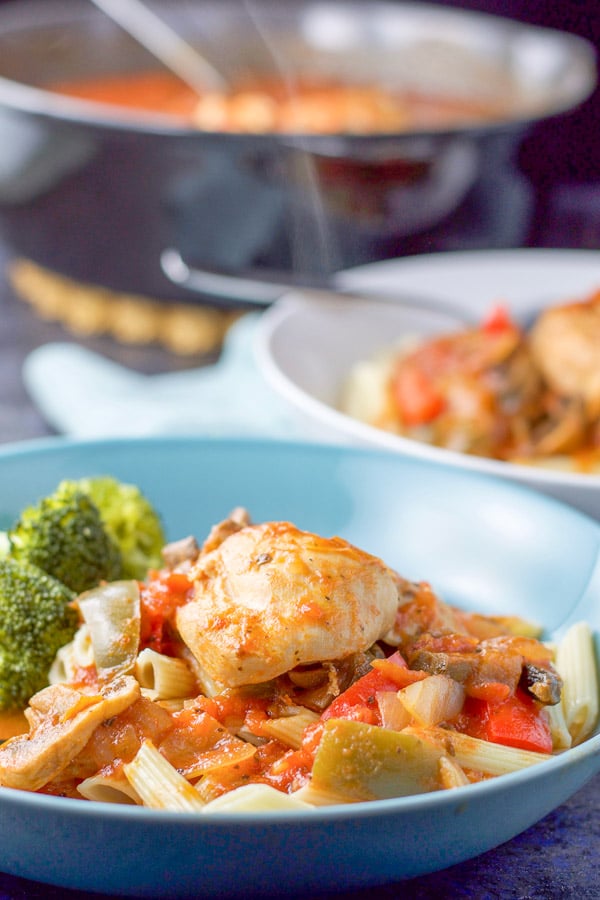 Top 8 Allergen Free if coconut aminos are used (contains soy if tamari is used)
I love that this dish uses spiralized white sweet potatoes to create a crispy yakisoba style noodle – that's grain free.  This dish also contains tons of other veggies and a homemade Worcestershire style sauce, which all comes together perfect along with the chicken.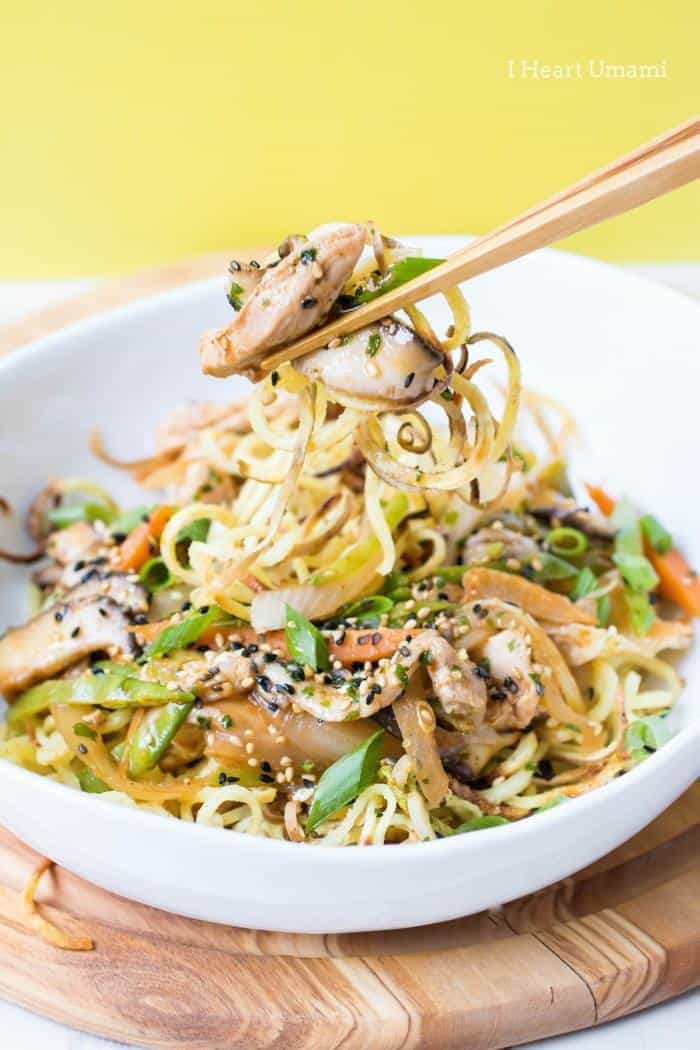 Top 8 Allergen Free; Double check mustard to ensure GF
Sometimes, I love making a big batch of plain shredded chicken that I can then use for different recipes throughout the week.  These lettuce wraps looking like a perfect use for that shredded chicken!  You'll make a homemade BBQ sauce to toss the chicken in, and then wrap it all up with some beans, mango, and other toppings of your choice.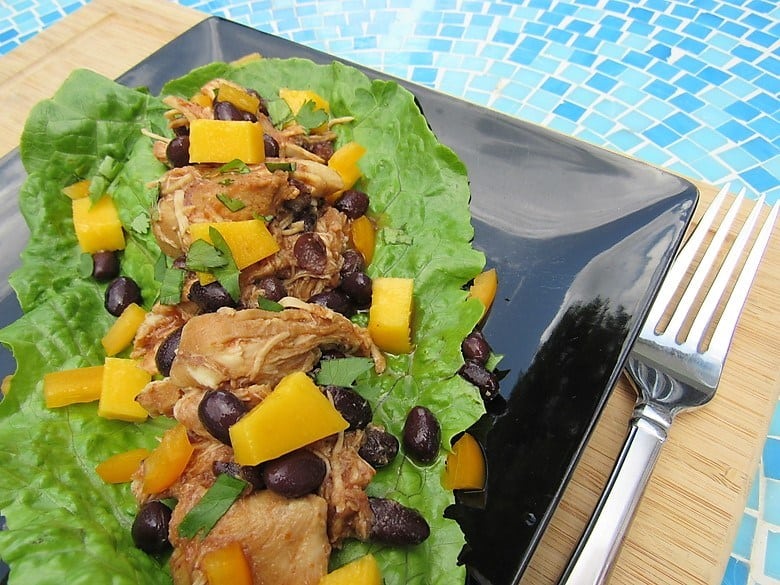 Contains peanuts and soy; be sure to choose gluten free tamari to make the dish gluten free
My husband loves a PB&J but hates peanut sauce in dishes; I am the complete opposite in that I dislike peanut butter on bread but loooove a good peanut sauce for chicken or noodles.  I could eat this grilled chicken satay any day of the week!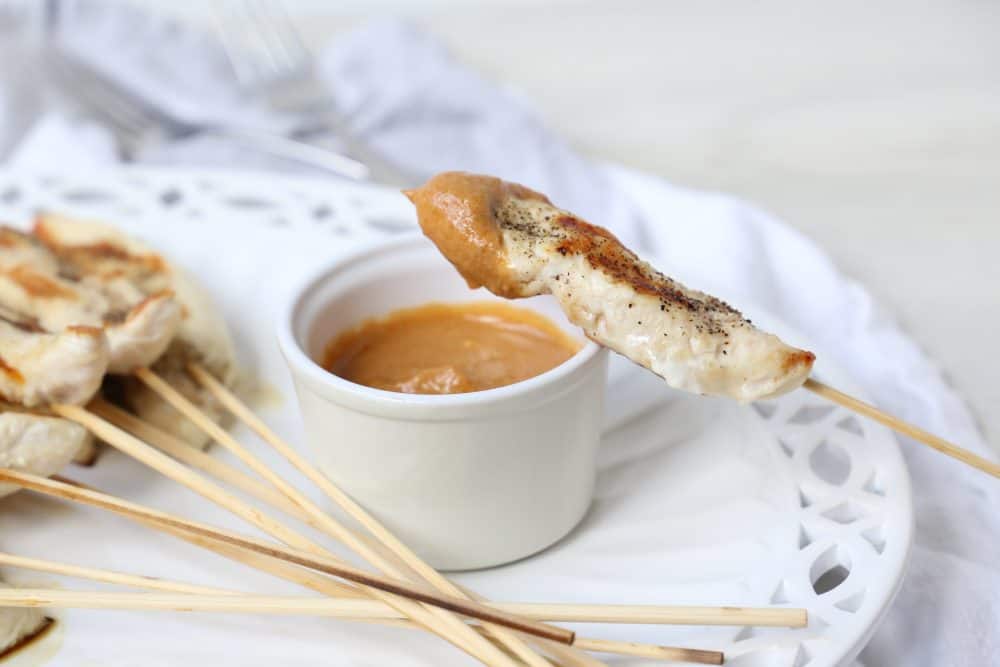 Contains tree nuts
This kid-friendly favorite uses almond meal and spices as the coating, rather than traditional flour.  They're also baked instead of fried.  Kelli from over at Hungry Hobby tells me the coating sticks just fine to the chicken sans egg or milk, so I can't wait to try these!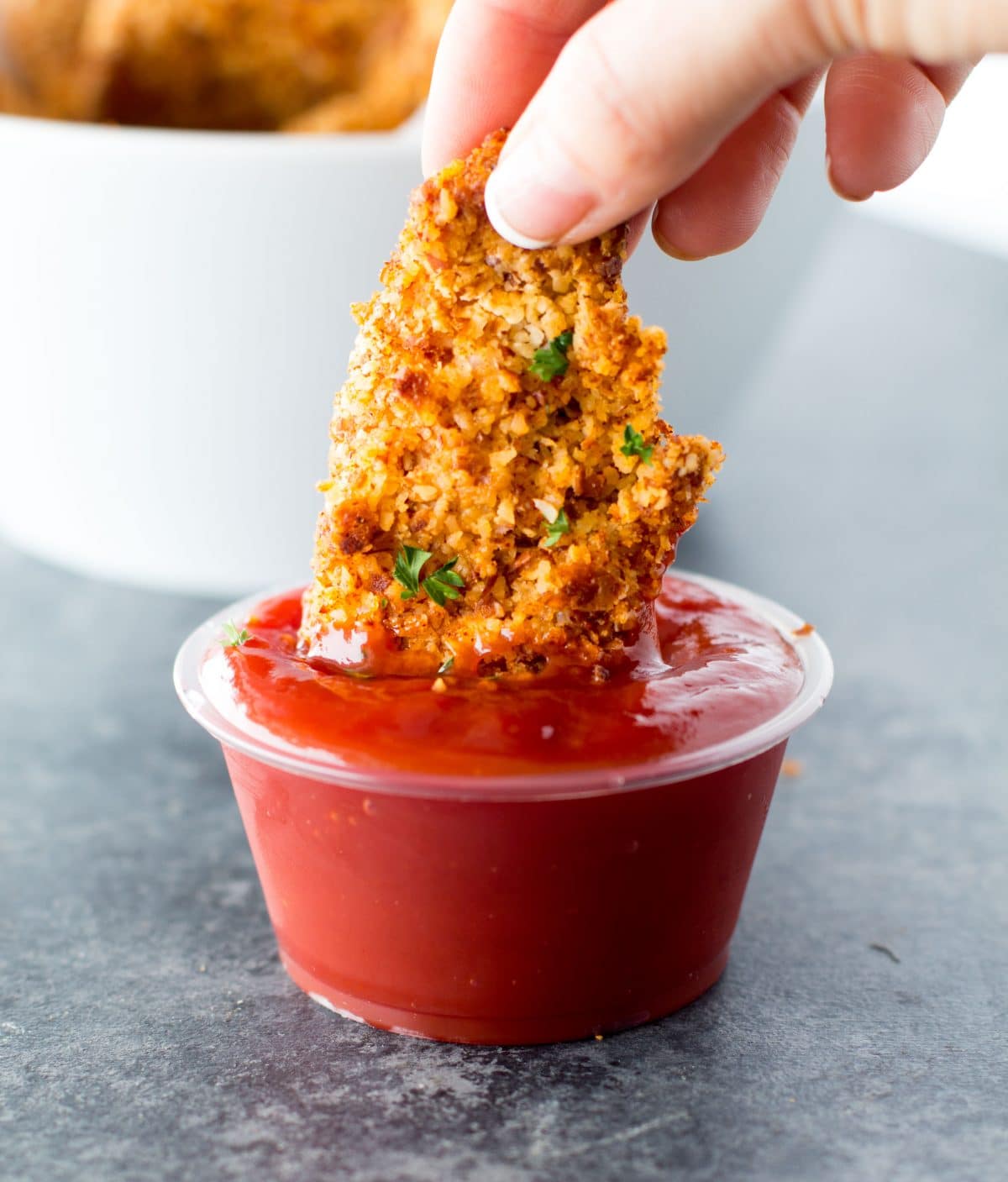 Top 8 Allergen Free
Is there anything more comforting than a big ol' bowl of chicken soup in the winter?!  This version from Prep Dish is so easy to make and you'll only need a few ingredients that you likely already have in your kitchen.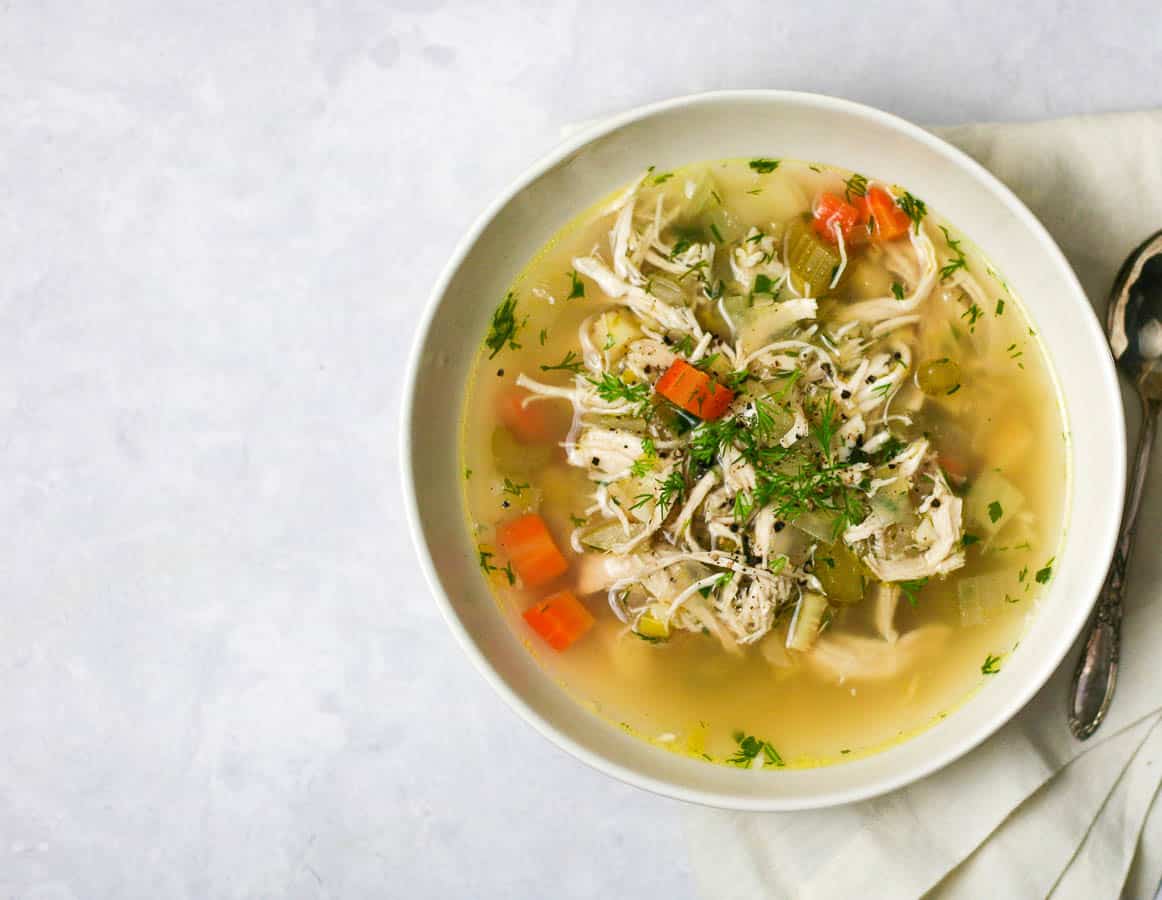 PS – If you're looking for some done-for-you meal plans, Prep Dish (where the recipe above came from) is an awesome choice.  Alison, the RD who runs it, created this gluten free meal plan subscription.  Most meals on the plan have no dairy, and for the few meals that include dairy, it's always optional (you can just skip them or sub them out).  When you sign up you get a list with 4 dinners, 1 breakfast, 1 snack, and 1 dessert recipe, along with a shopping list to go along with it.  They have both a $14 monthly meal plan option and a $99 yearly meal plan option.  (Affiliate links – if you use them I make a small commission 🙂 )
Contains Walnuts; Free of Other Allergens
I love dishes that combine unexpected flavors, like the chicken, grapes, and wild rice in this dish.  Plus, it's a one pan meal – hooray for little clean up!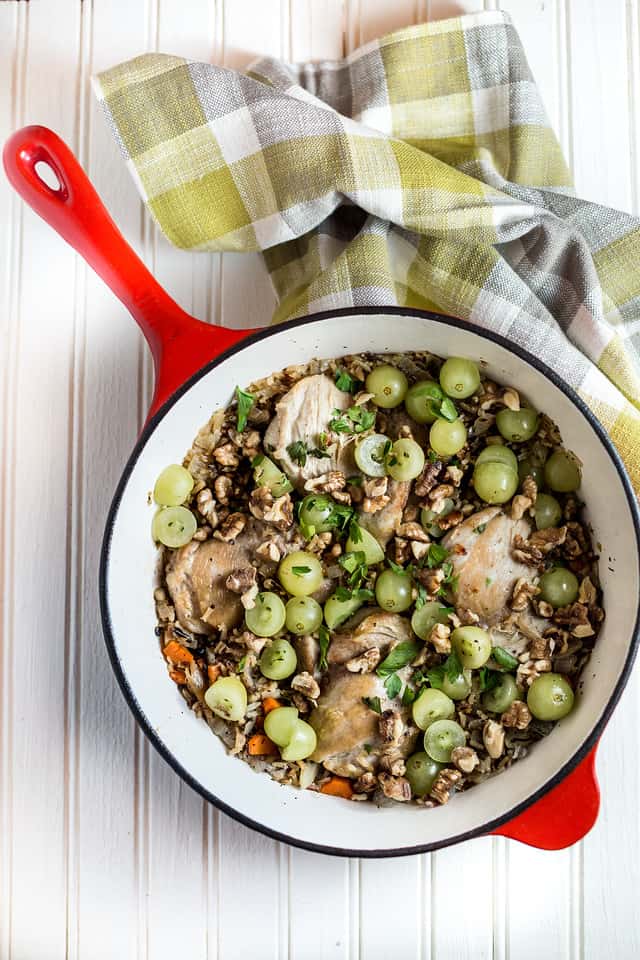 Top 8 Allergen Free (just remember to choose olive oil instead of butter where it gives you the option)
Have you ever had a mojo marinated piece of chicken?  It's got this incredible, bright citrus flavor.  I personally love to pair this with an avocado/mango salad.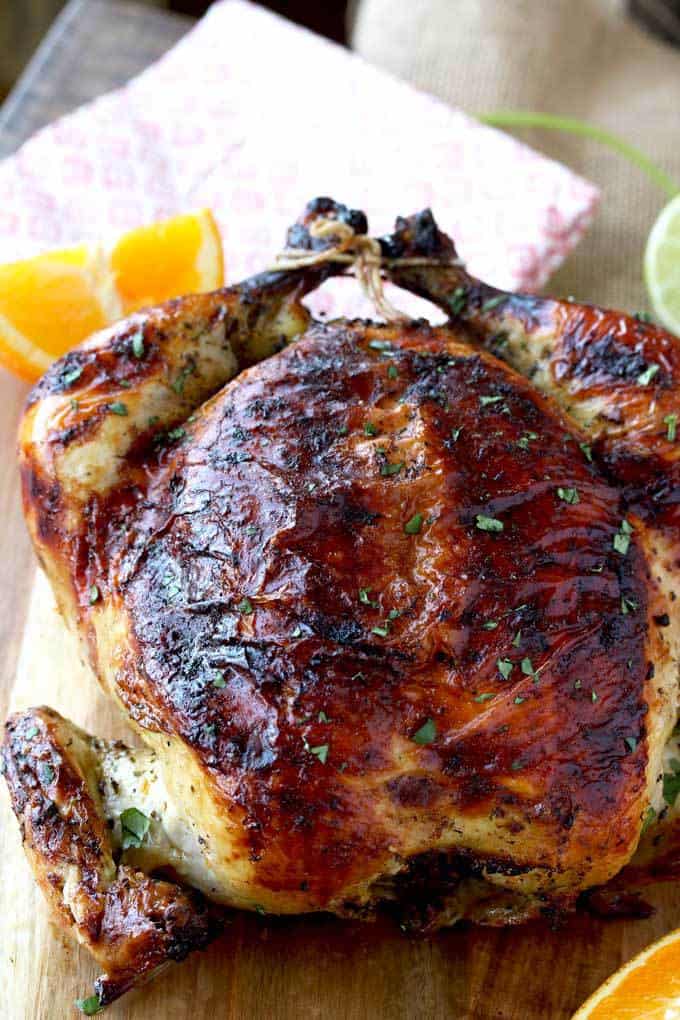 Contains nuts; be sure to use coconut aminos (for soy-free) or gluten free tamari sauce (contains soy) for gluten free version
If you've been wondering what to do with your ground chicken, this is it!  These coconut curry meatballs are incredible.  I've made them many times and they're always a hit.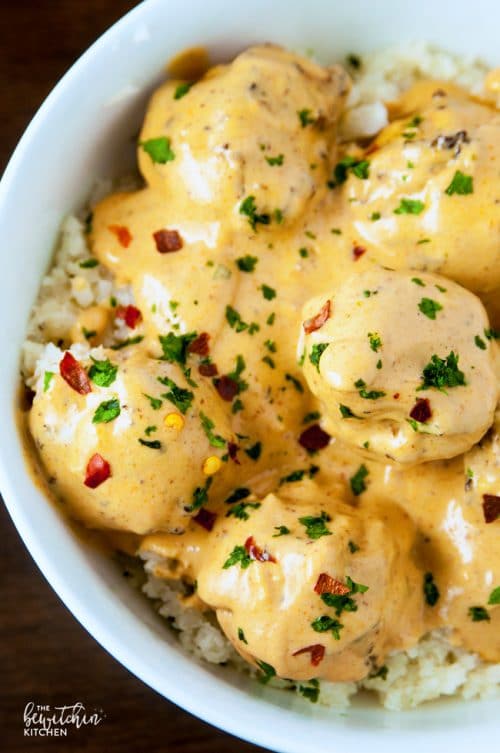 Top 8 Allergen Free; be sure to choose certified gluten free oats
Another great ground chicken recipe.  I love that this meatloaf includes shredded carrots and zucchini to boost the veggie content, and mixes things up with a cranberry (instead of tomato) topping.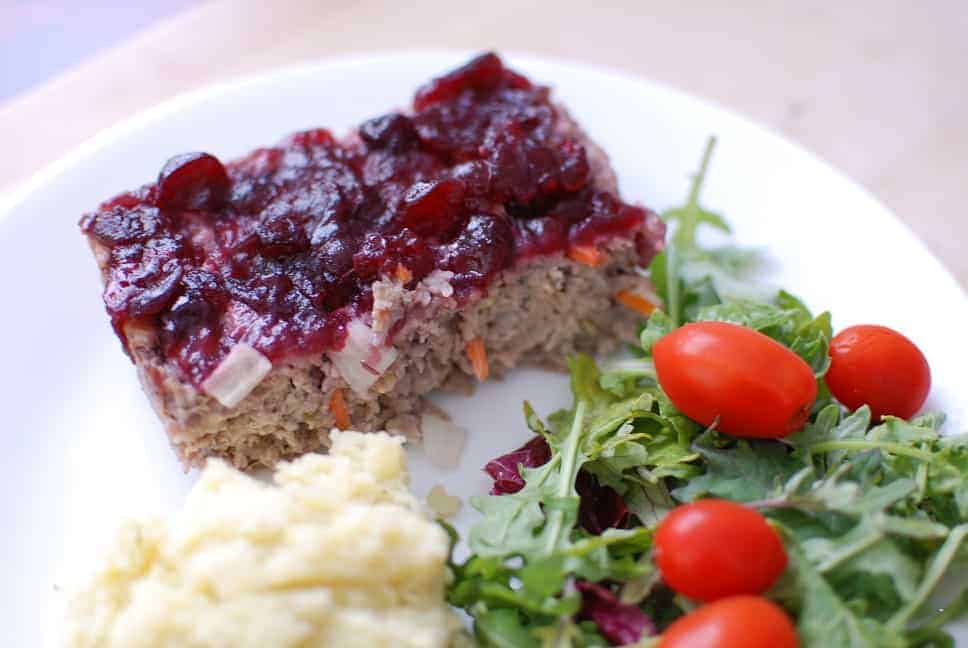 Top 8 Allergen Free
The artichokes, the olives, the spices, the mint – this dish just seems like it would pack in the most incredible flavor!  Definitely one of the top gluten free dairy free chicken recipes.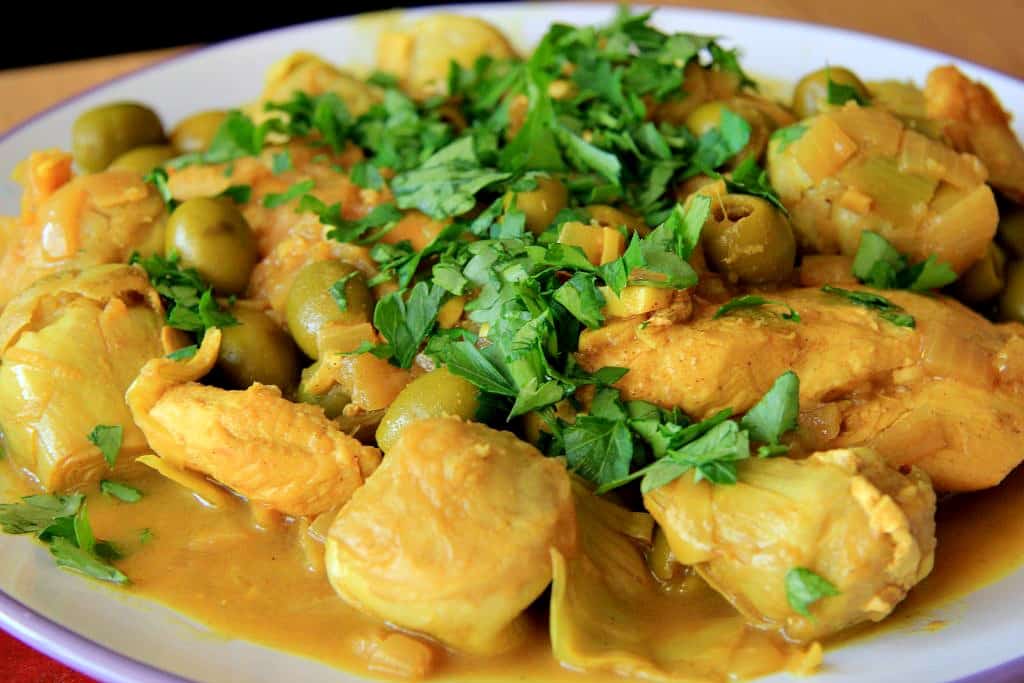 Top 8 Allergen Free
I would have never thought to combine cinnamon with chicken, but Linda's recipes are always fabulous so I have no doubt this combo works!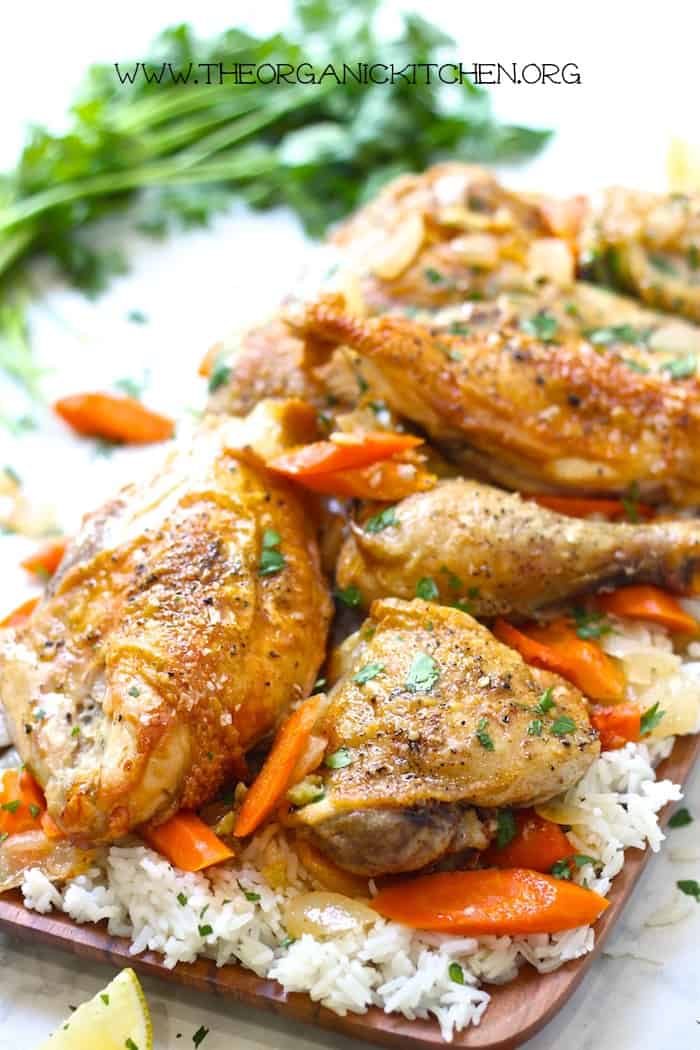 Contains soy; be sure to use tamari instead of soy sauce for gluten free
Ooooh, how I want this on my table right now.  The salty tamari, the sweet pomegranate, the rich coconut milk…it doesn't get much better than this!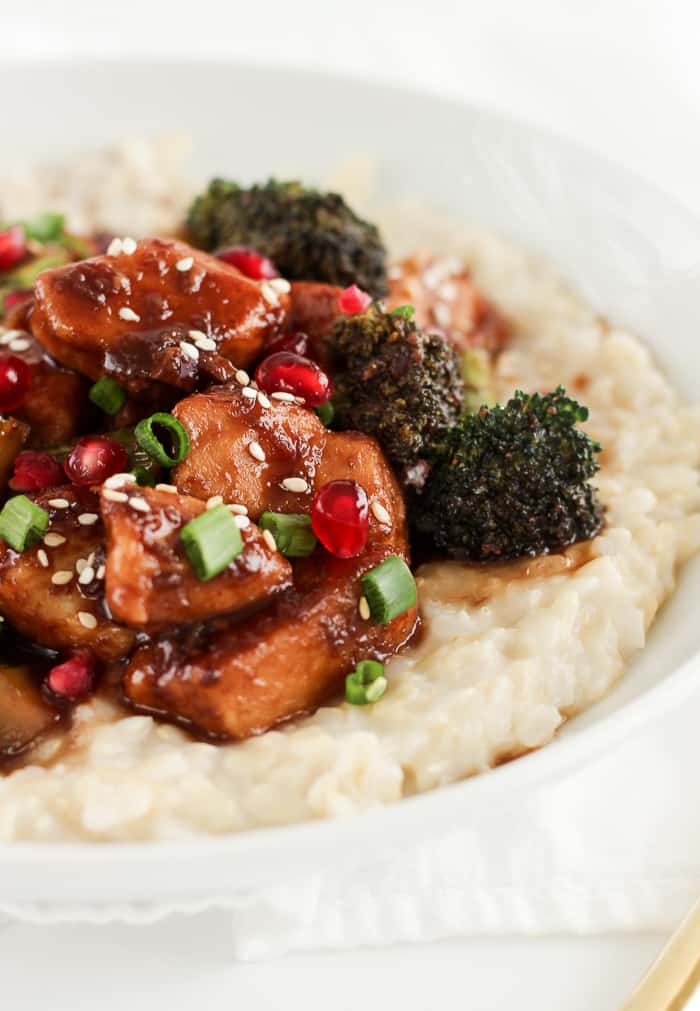 Share with me:  Which of these gluten free dairy free chicken recipes are you going to try out soon?