Start your morning with these dairy free banana pancakes for a tasty treat! These flapjacks are incredibly easy to make, and you'll love the hints of sweet banana flavor throughout each bite. They're also egg free, and are made with common kitchen ingredients.
Ingredients
Here's a photo of all the ingredients you'll need, along with selected ingredient notes: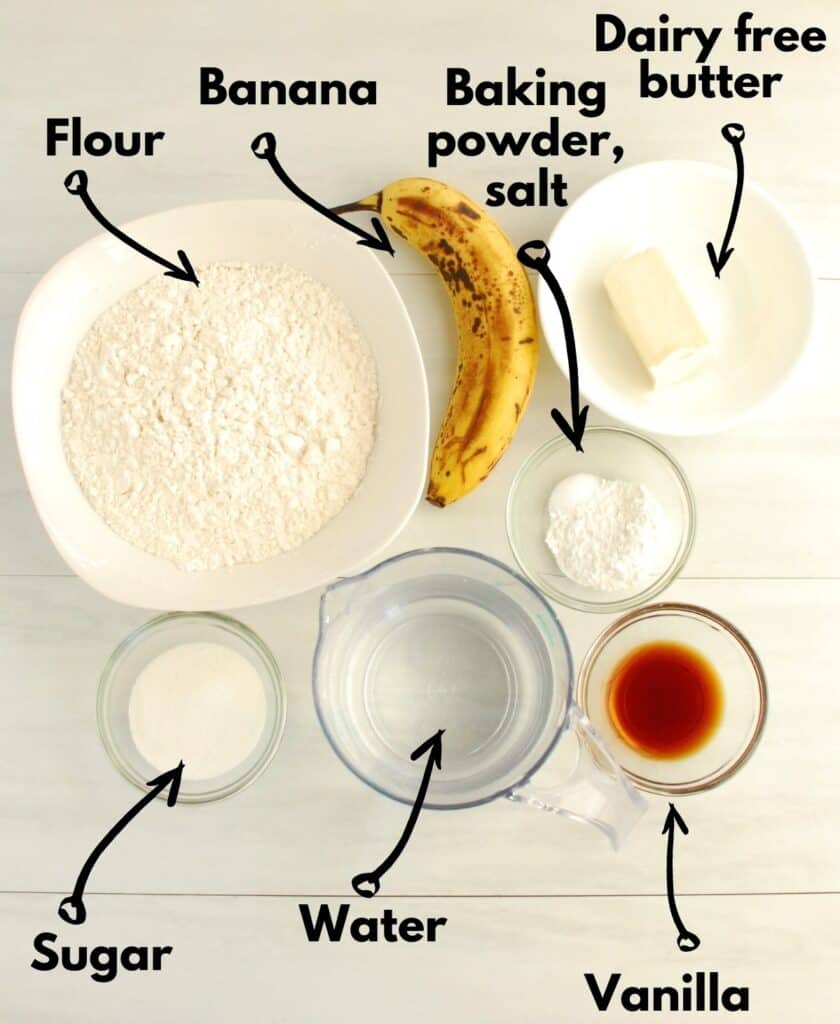 Banana – The riper the banana, the better. Look for those with lots of brown spots or even those starting to turn a little black on the peel. As bananas ripen, some of their starch turns to sugar. This means the pancake will be sweeter and have more hints of banana flavor.
Step by Step Directions
You'll find the full recipe with amounts and instructions below, but here's a helpful step by step guide with photos.
Start by mashing your banana in a bowl.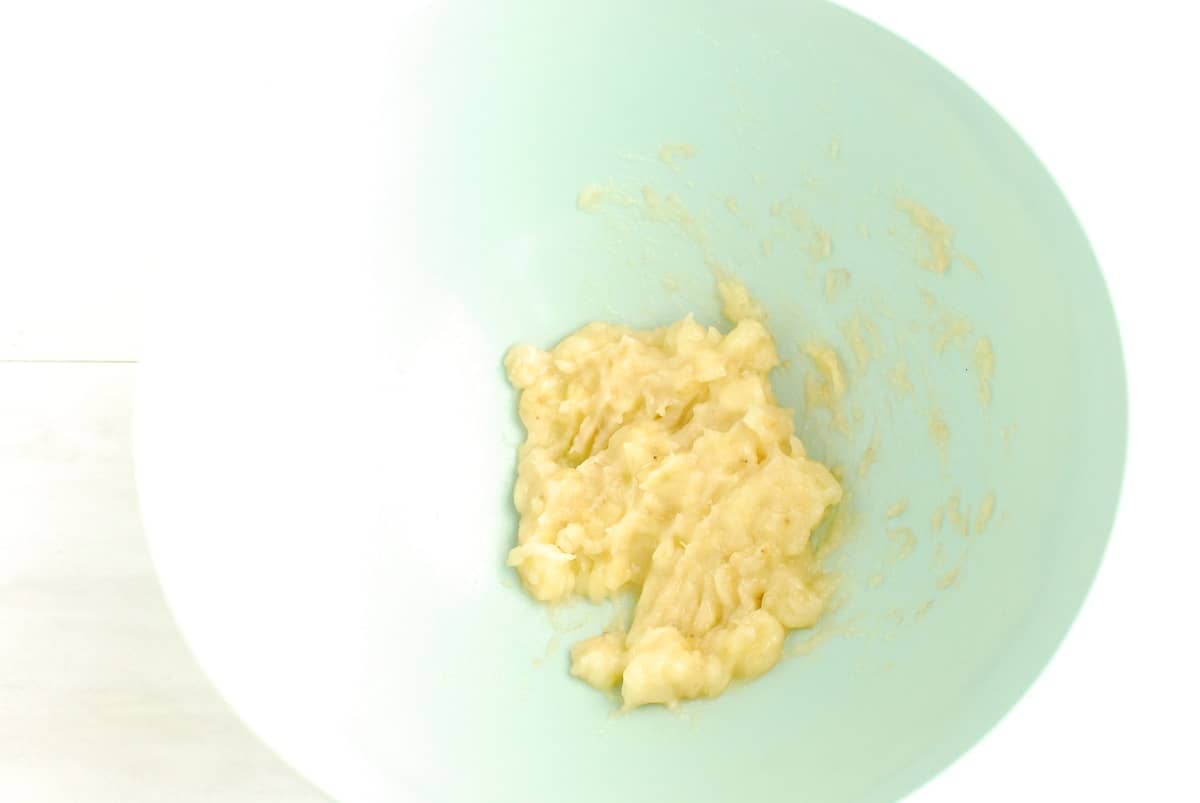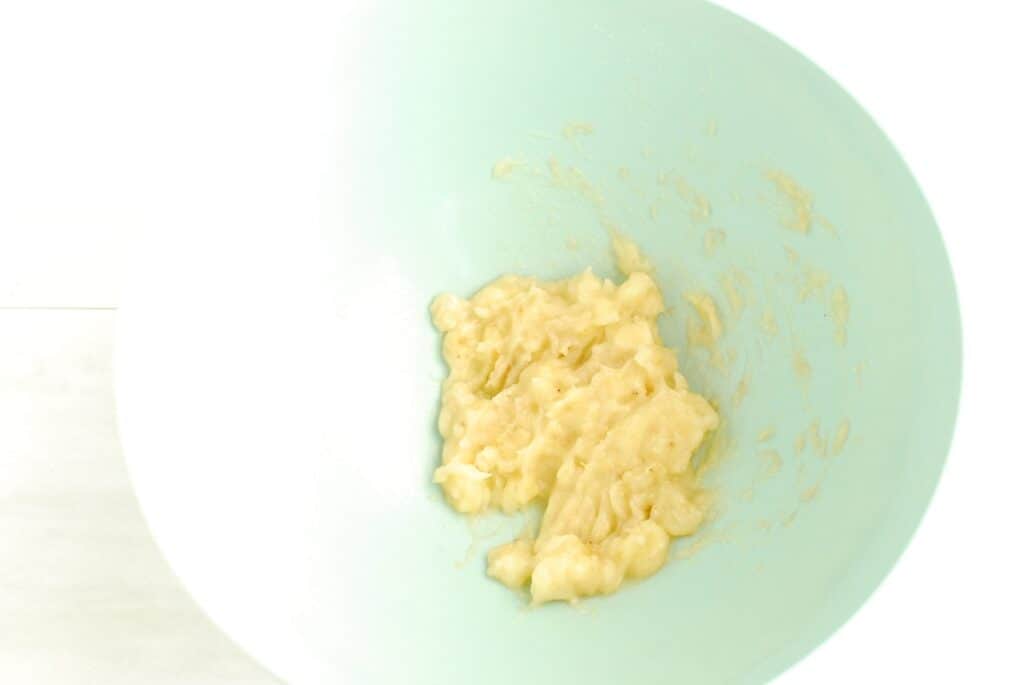 Add in the sugar, vanilla, and melted dairy-free butter.  Whisk together until well combined.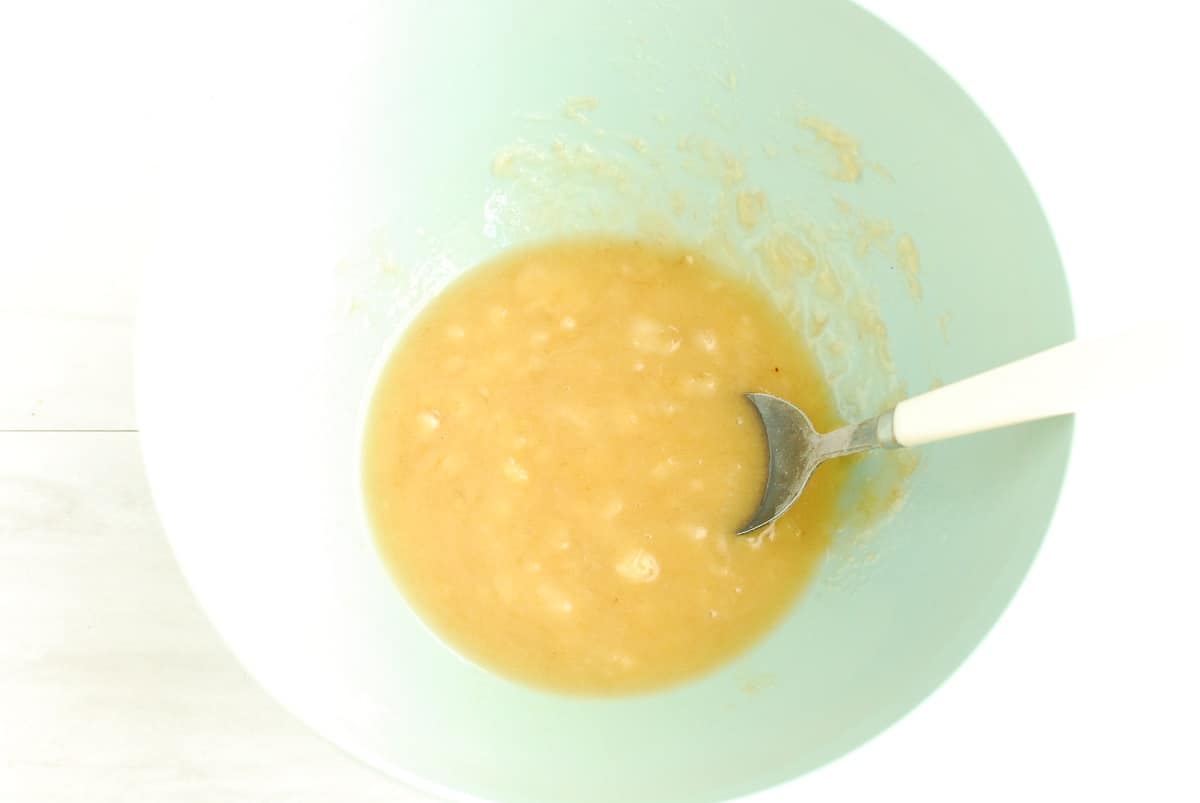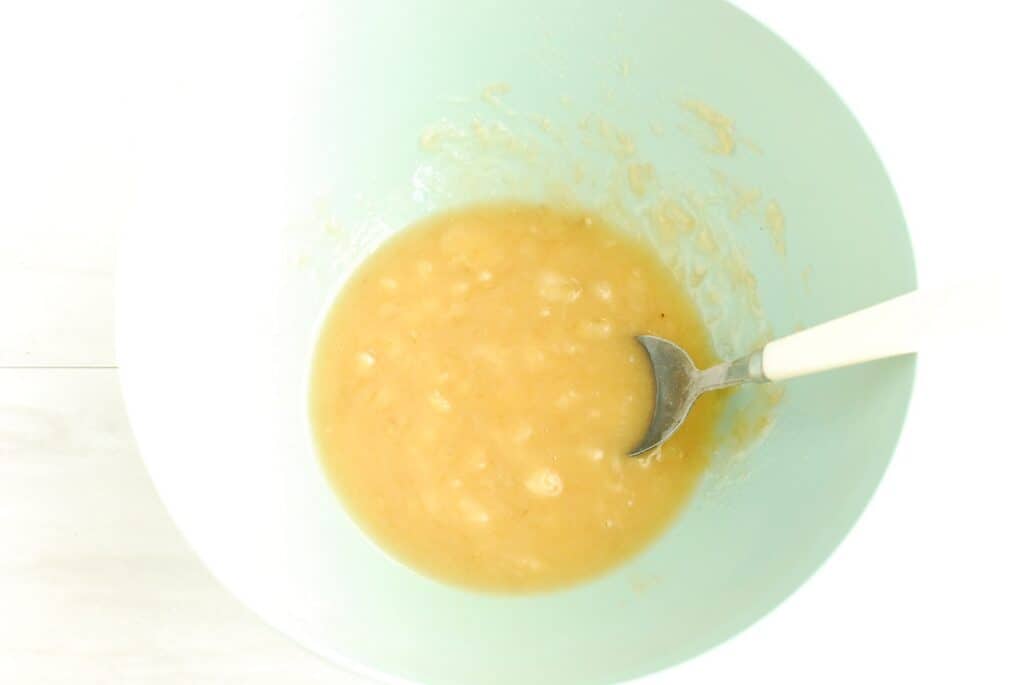 Add the flour, baking powder, and salt to the bowl with wet ingredients. Stir the dry ingredients on top first to combine, then pour in the water and fully mix together all the ingredients. Your batter should look like this: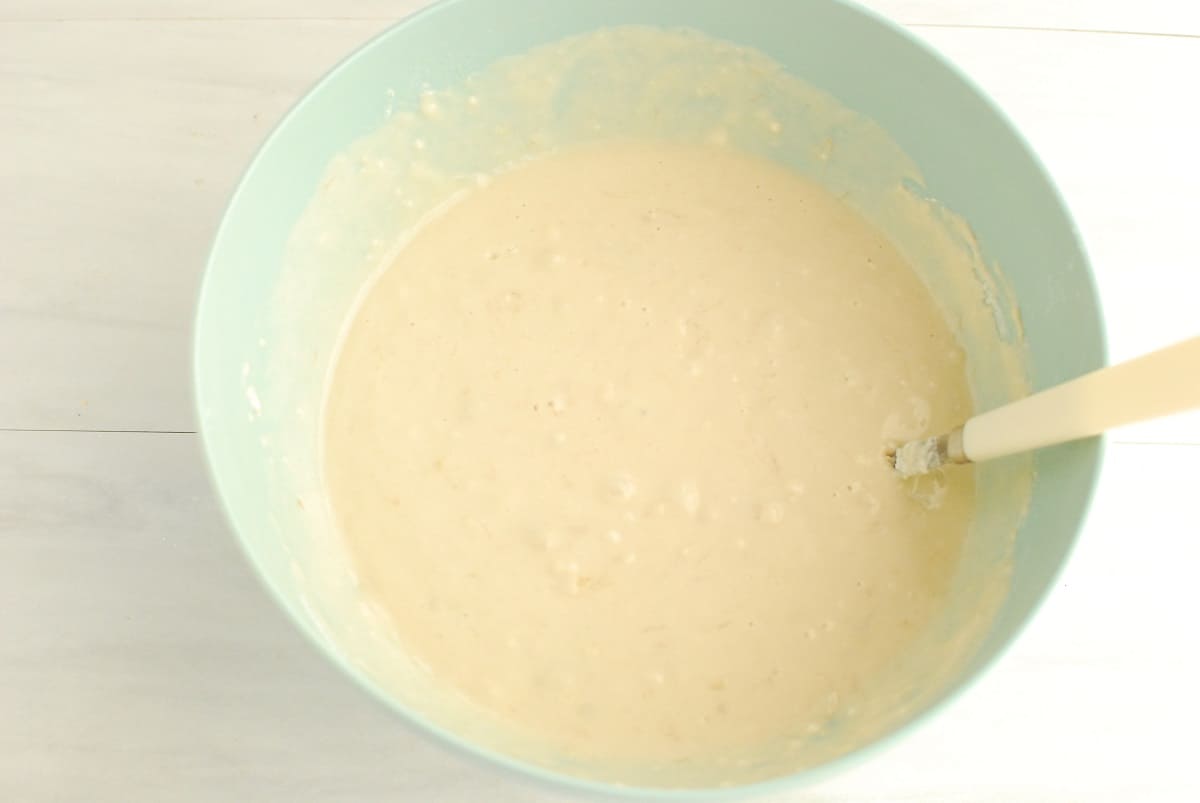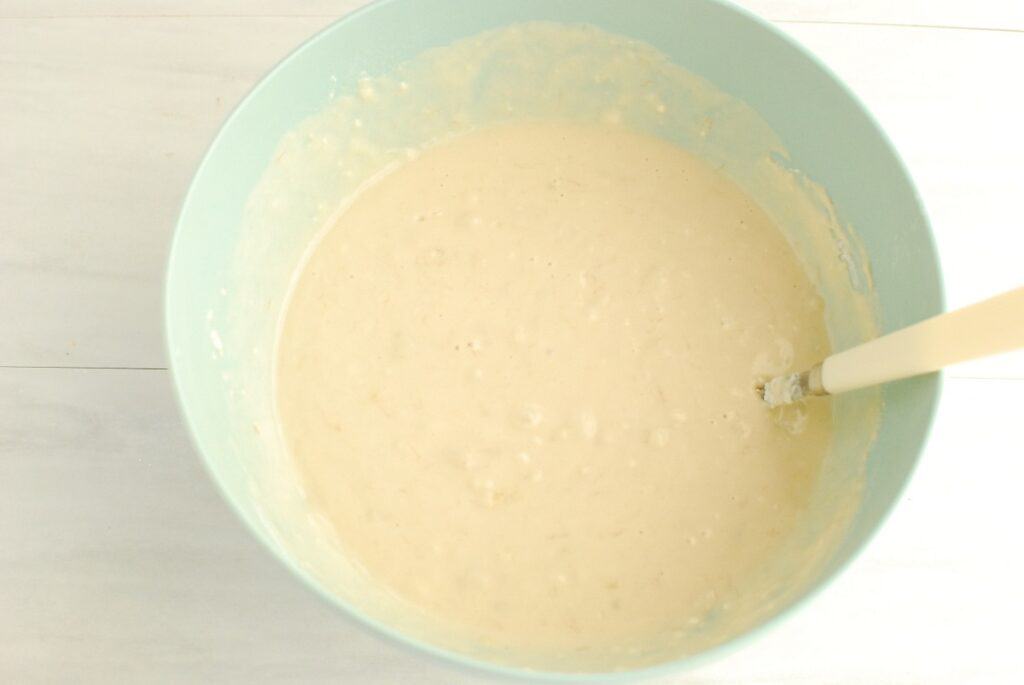 Let the batter sit for a few minutes while you preheat the griddle. Resting the batter allows the starches to swell, the gluten to "relax" a bit, and the leavening agent to start to work. The result is tender and fluffy pancakes!
When the griddle is hot, use a quarter cup measuring cup to portion the batter onto the griddle. Let cook for a few minutes on the first side, until bubbles start to appear on the top like this: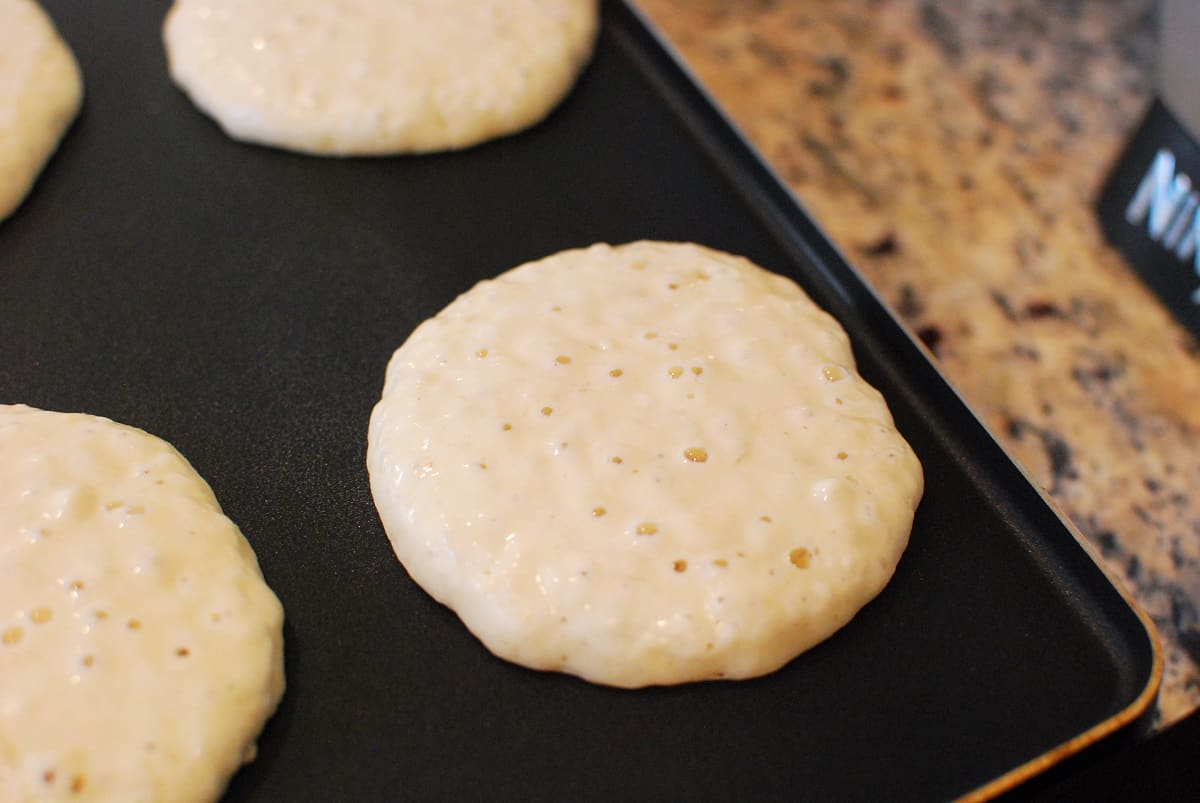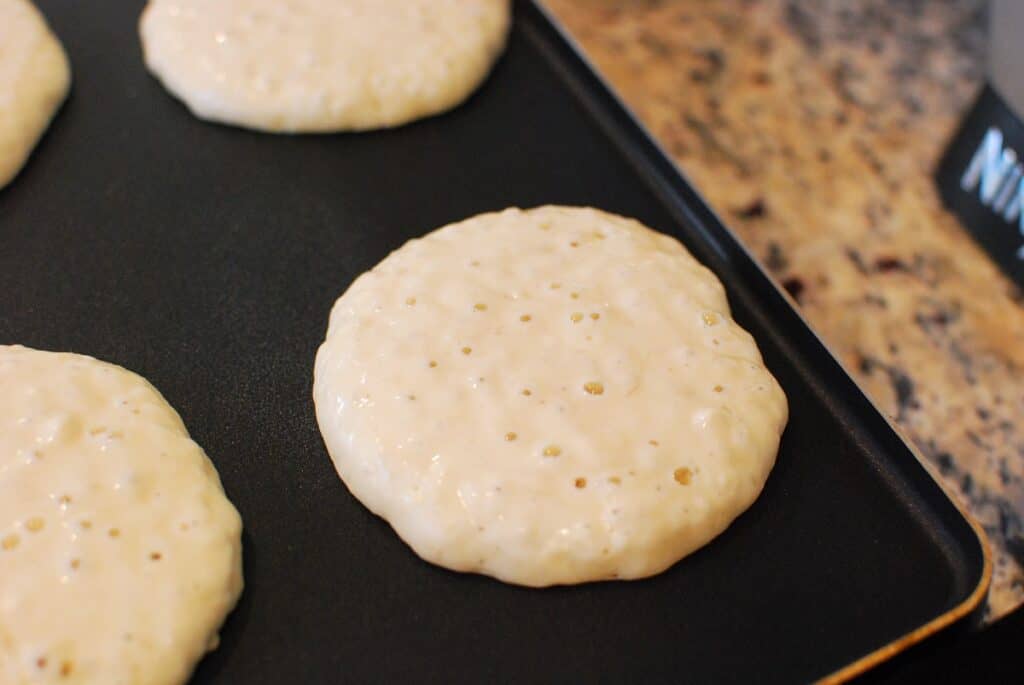 Then flip and continue cooking for another minute or two, until the pancake is fully cooked through. Repeat until all the pancakes are done.
Feel free to serve these dairy free banana pancakes with extra sliced bananas on top and pure maple syrup!  A friend of mine also loves these topped with a little peanut butter.
Recipe FAQ
Here are some common questions that may arise as you prepare this recipe:
What should you do if the pancake batter is too thick?
This frequently occurs when the flour is scooped directly from the bag, rather than spooned and leveled. In this case, simply add an additional ¼ cup of water to the batter and it should solve the problem.
Can you freeze banana pancakes?
Yes.  Place the pancakes in a single layer in a zip top bag, and freeze.  When you're ready to enjoy them, remove as many as you'd like to eat, place on a microwave-safe plate, and microwave until warm (usually 30 seconds per pancake).
Are these banana pancakes vegan?
This recipe does not contain any animal ingredients and is appropriate for a vegan diet.  If you are a strict vegan, be sure to choose a brand of sugar that does not use a bone char filtering process.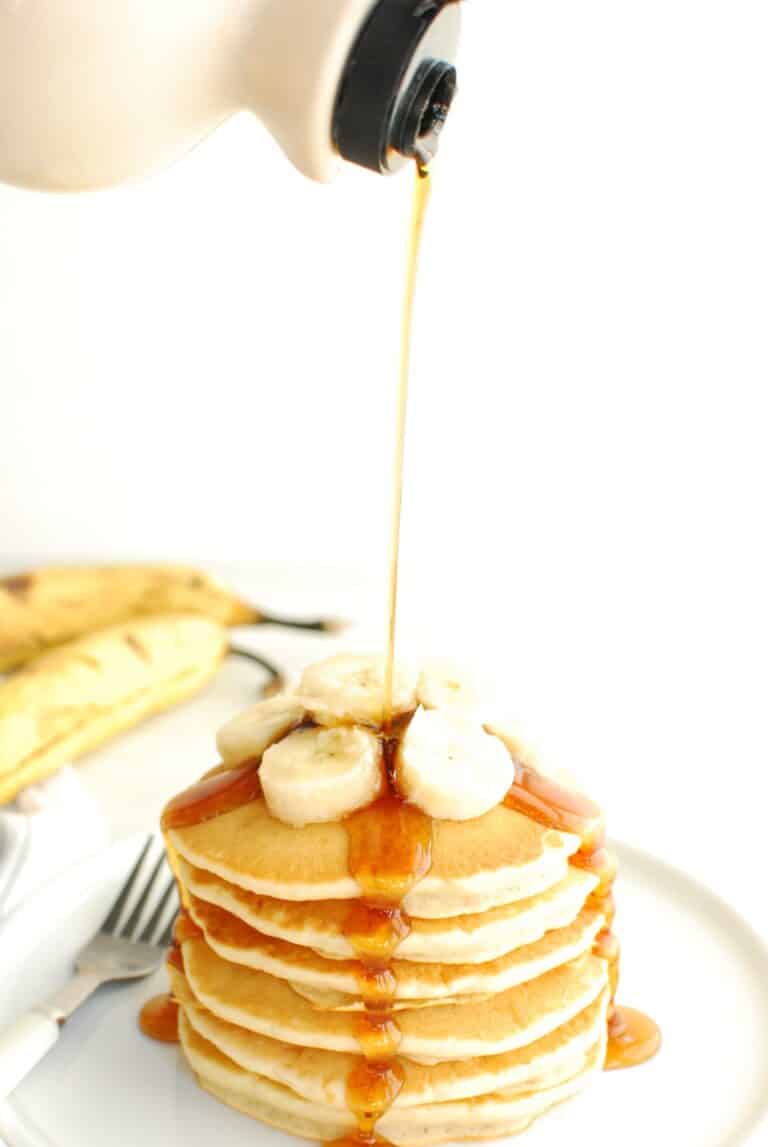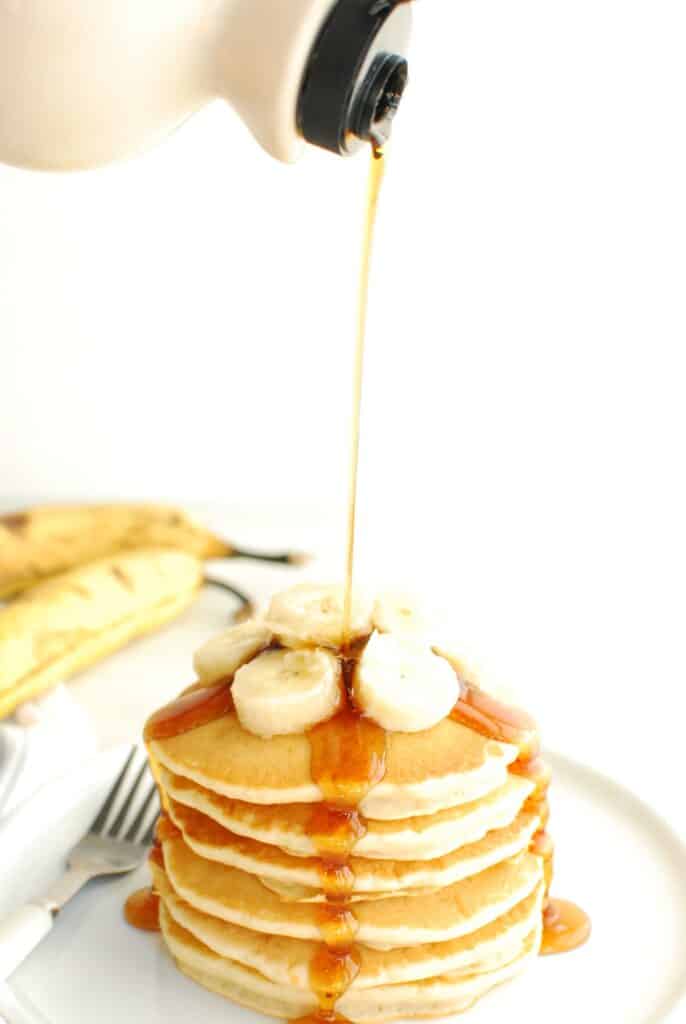 Allergens in This Recipe
* Disclaimer: Always double check ingredients and product packaging to confirm a recipe meets your allergy needs. While I try to note potential allergens below, there is always the chance I may miss something or that manufacturer formulations may change.
As written, this recipe is dairy free and egg free.
This recipe is easily nut free as long as you choose a dairy free butter that does not contain nuts. Both of the options mentioned in the ingredient notes were nut free at the time of publish.
This recipe is also easily soy free as long as you choose a dairy free butter that does not contain soy. Earth Balance soy free sticks would meet those needs. Country Crock sticks are soy free by ingredients, but do state that they "may contain soy" as a cross contamination warning – so if you have a serious allergy to soy, they may be worth avoiding.
This recipe does contain wheat/gluten, as traditional all-purpose flour is used.  While I haven't personally tried, you may be able to make this gluten free using a 1:1 gluten free flour substitute.
More Dairy Free Pancake Recipes
If you're on the hunt for more dairy free breakfast recipes, try one of these options:
I hope you enjoy these no milk no egg banana pancakes! If you get a chance to try, feel free to leave a recipe rating or comment below.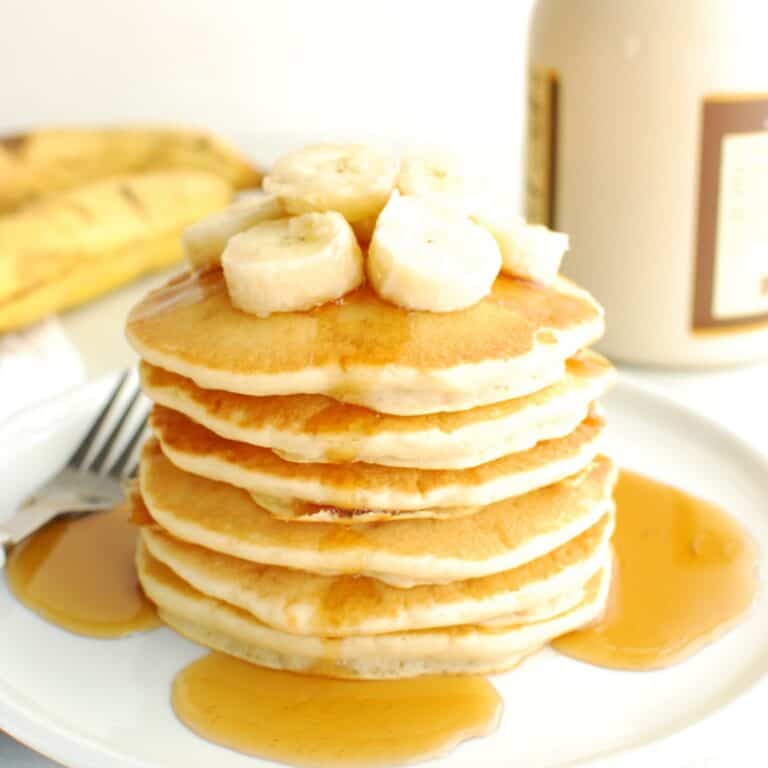 Dairy Free Banana Pancakes
These fluffy dairy free banana pancakes are perfectly sweet and delicious – no milk and no egg needed!
Ingredients
1

overripe banana, mashed

2

tbsp

granulated sugar

2

tsp

vanilla extract

¼

cup

dairy free butter, melted

2

cups

all-purpose flour, spooned and leveled

1

tbsp

baking powder

¼

teaspoon

salt

1 ½

cups

water*
Instructions
In a large mixing bowl, combine the mashed banana, sugar, vanilla, and melted dairy free butter.

Add the flour, baking powder, and salt to the top of those ingredients. Lightly stir together the dry ingredients on top, then pour the water in and fully mix everything together.

Let the batter sit for 5 minutes while you preheat a griddle to 350 degrees F.

Pour ¼ cup of the batter onto the griddle for each pancake. Cook for 2 to 3 minutes, or until bubbles have formed on top, then flip and cook another 2 to 3 minutes. Repeat in batches until all the batter is used.

Enjoy while warm. Feel free to top with extra dairy-free butter, sliced bananas, and maple syrup!
Recipe Notes
*If the batter is too thick, add an additional ¼ cup of water. This frequently occurs if the flour is scooped from the bag rather than spooned and leveled, and can also happen if you're using a less ripe, starchier banana.
For the dairy free butter in this recipe, I recommend Country Crock Plant Butter with Avocado Oil, or Earth Balance Soy Free Sticks.
This recipe makes 12 medium size pancakes using approximately ¼ cup batter per pancake. If you prefer large restaurant-style pancakes, you should probably get around 6 to 8 from this recipe.
Nutrition analysis (approximate per pancakes, does not include any toppings): 129 calories, 4 g fat, 1.5 g saturated fat, 210 mg sodium, 20.5 g carbohydrate, 1 g fiber, 3.5 g sugar, 2.5 g protein, Vitamin D: 0%, Calcium: 5%, Iron: 6%, Potassium: 1%
Share: What's your favorite kind of pancake? Do you prefer the traditional plain ones or do you like flavored varieties like this?
Feel free to pin this recipe to save for later.