Need to make some snacks for your little one? Try these baby banana muffins! With no added sugar and the perfect mini muffin portion size, these healthy muffins are ideal to keep on hand for snacking. You can prep a batch on the weekend and freeze them to pull out for weeks to come!
Ingredients
Here are the ingredients you'll need for this recipe, with selected ingredient notes: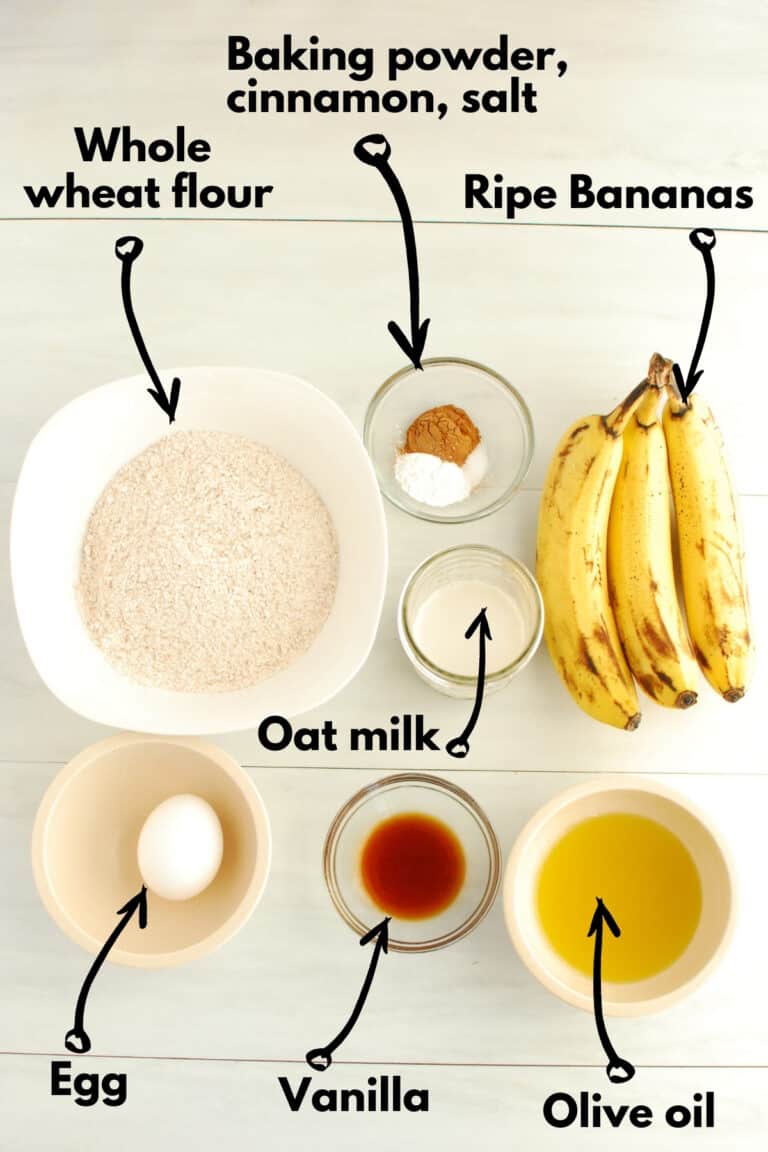 Banana – Look for overripe bananas – they should have brown spots, or even potentially be turning slightly black on the peel. These mash easier and add more sweet banana flavor to the recipe.
Dairy-free milk – You can use any preferred milk for this recipe. I'm partial to unsweetened oat milk, as many daycare settings can have restrictions on nut-based items – so making these with oat milk ensures that you could send them into with your little one's lunch. But if you don't have to worry about that, you could definitely use almond milk. Soy milk or rice milk also work. (And if you stumbled on this recipe and do not have a child with a dairy allergy/intolerance, you could also certainly use regular milk).
Olive oil – This is rich in both healthy fats and polyphenols, which makes it a great option for both kids and adults alike.
Step by Step Instructions
You'll find full amounts and instructions in the recipe card at the bottom of the post, but here's a helpful overview with photos.
Start by mashing your bananas in a bowl.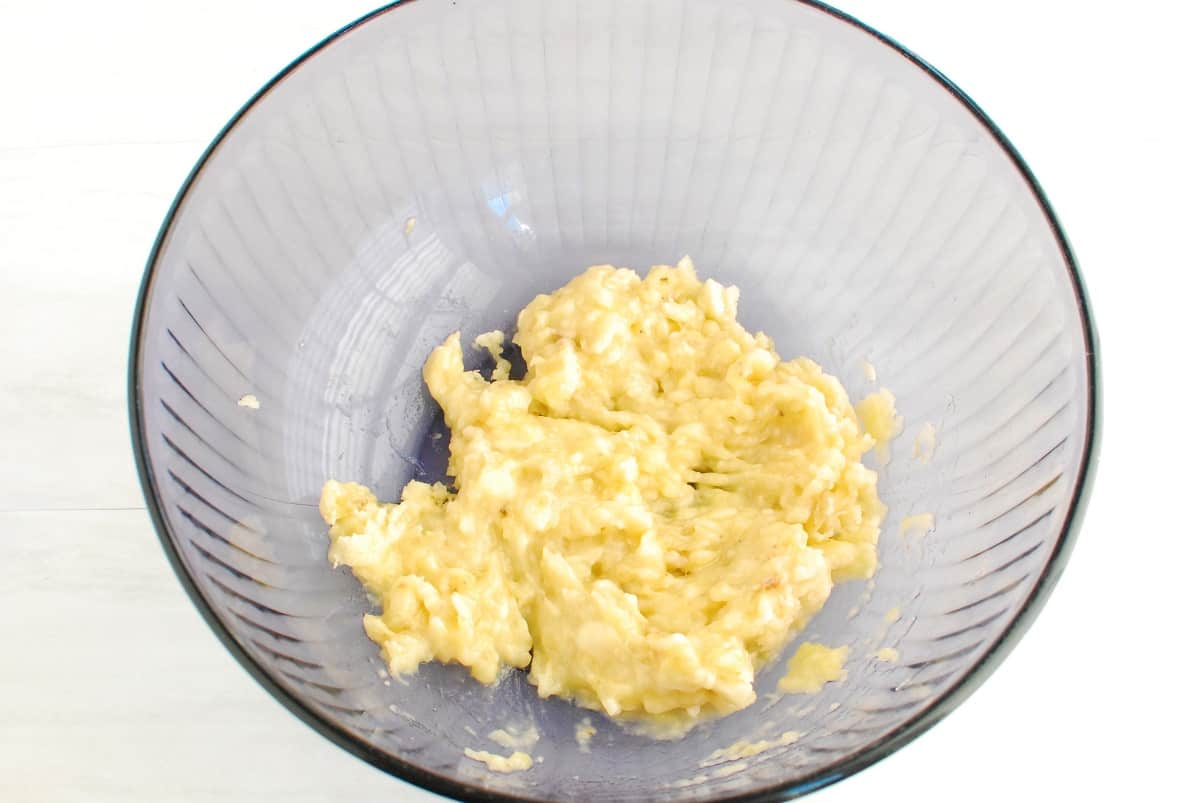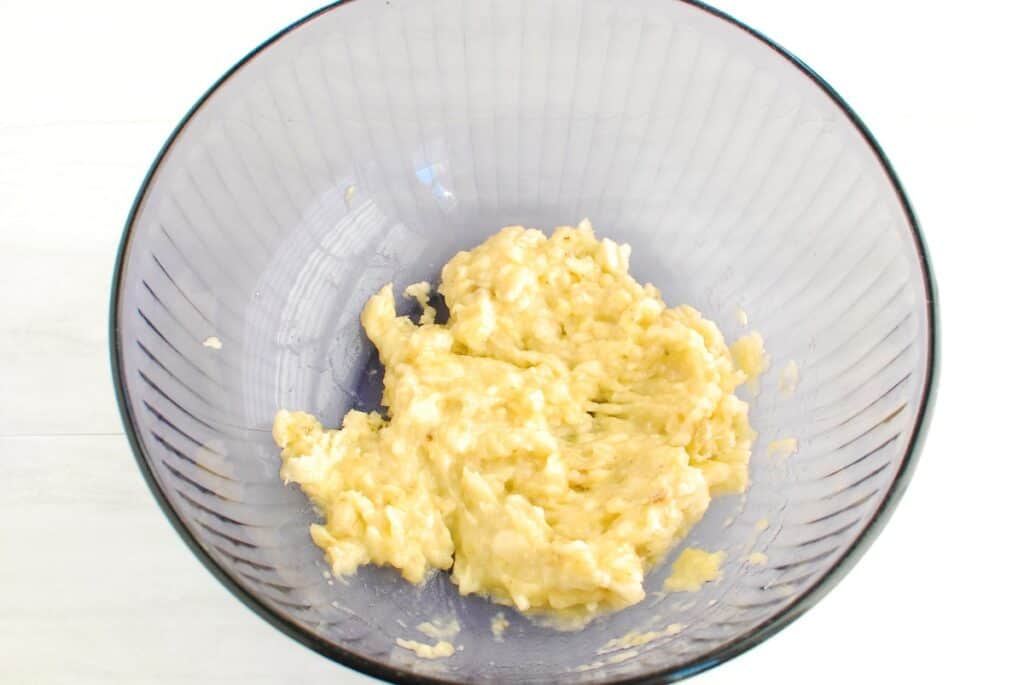 Then, mix in the egg, olive oil, dairy-free milk, and vanilla. At this point, your batter will look like this: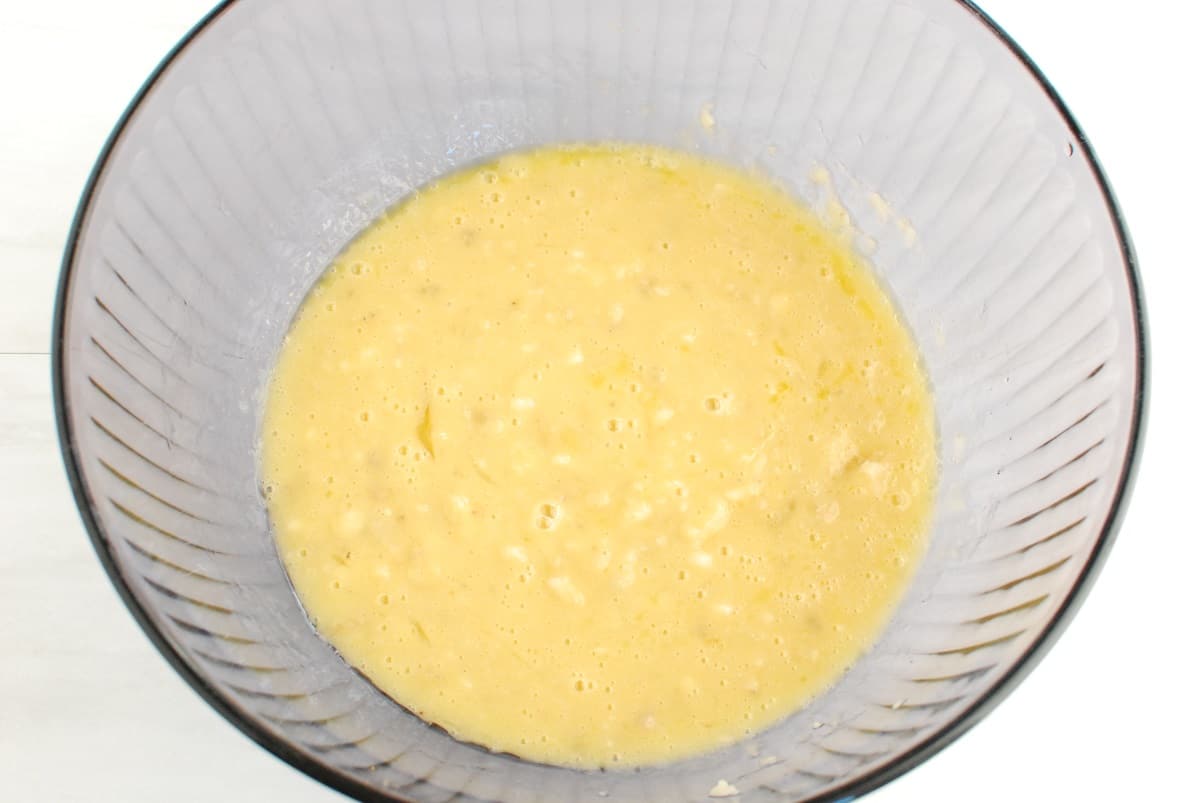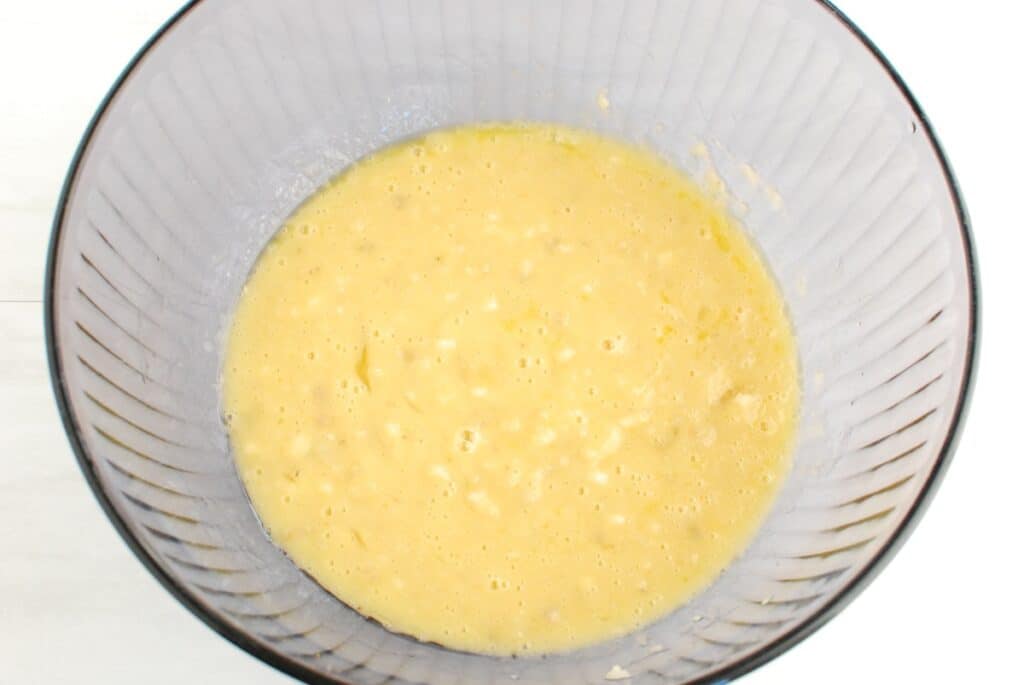 In a separate bowl, mix together your dry ingredients – the flour, cinnamon, baking powder, and salt.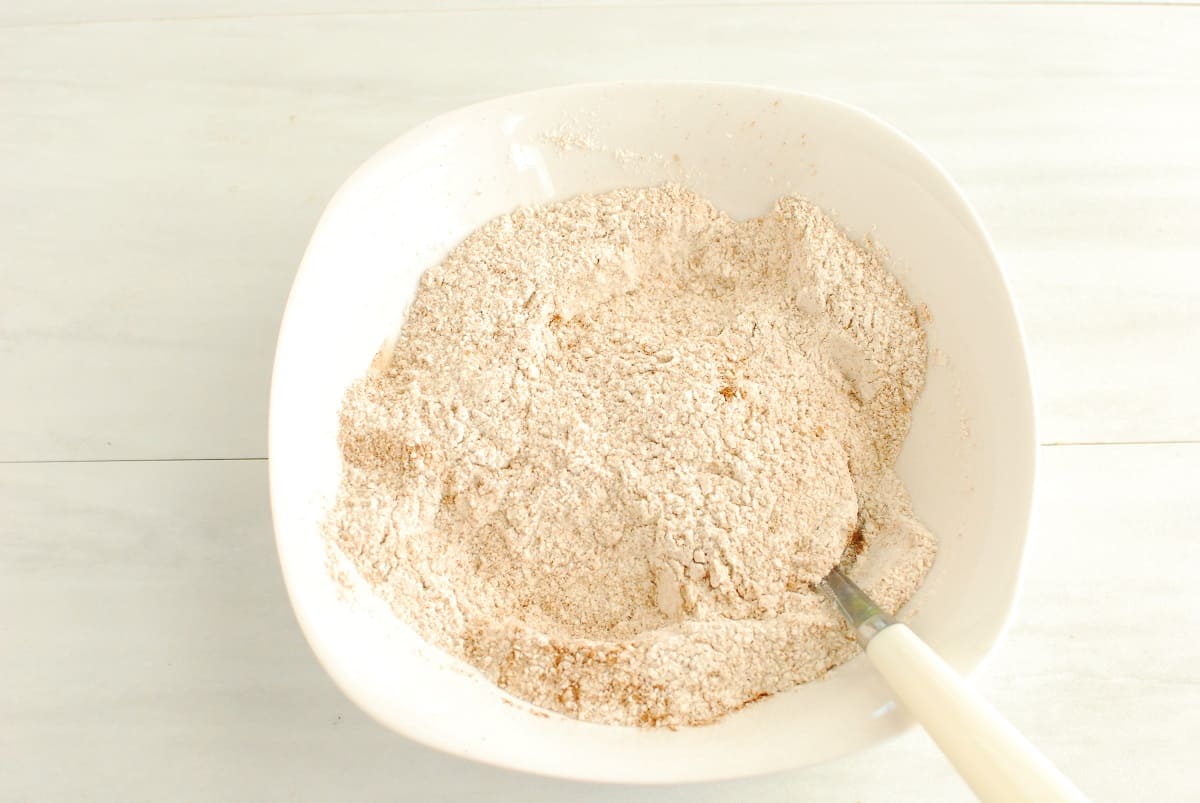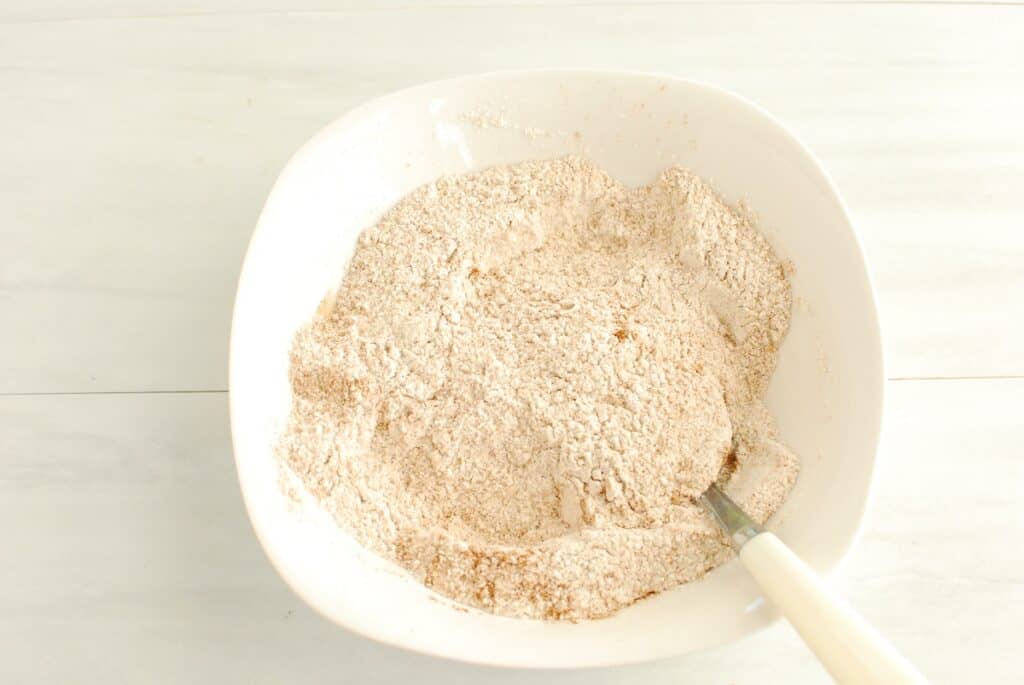 Then mix these dry ingredients into the wet ingredients until combined.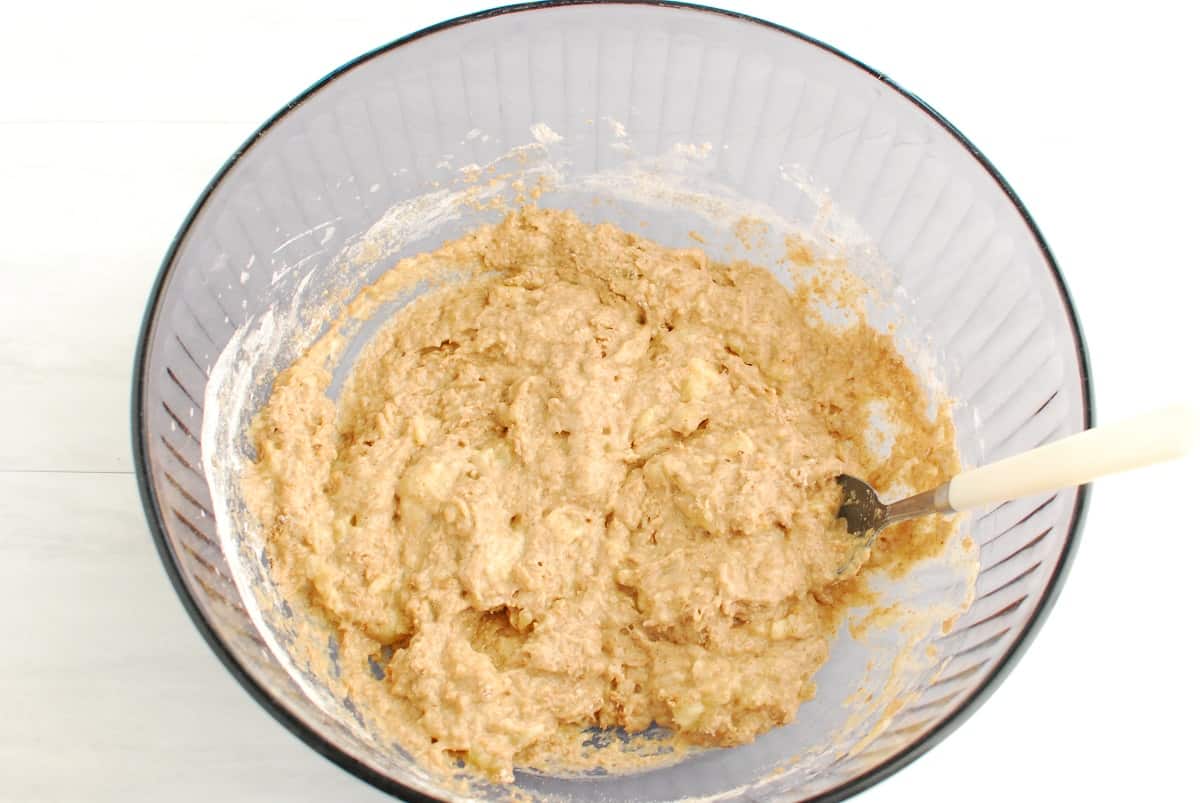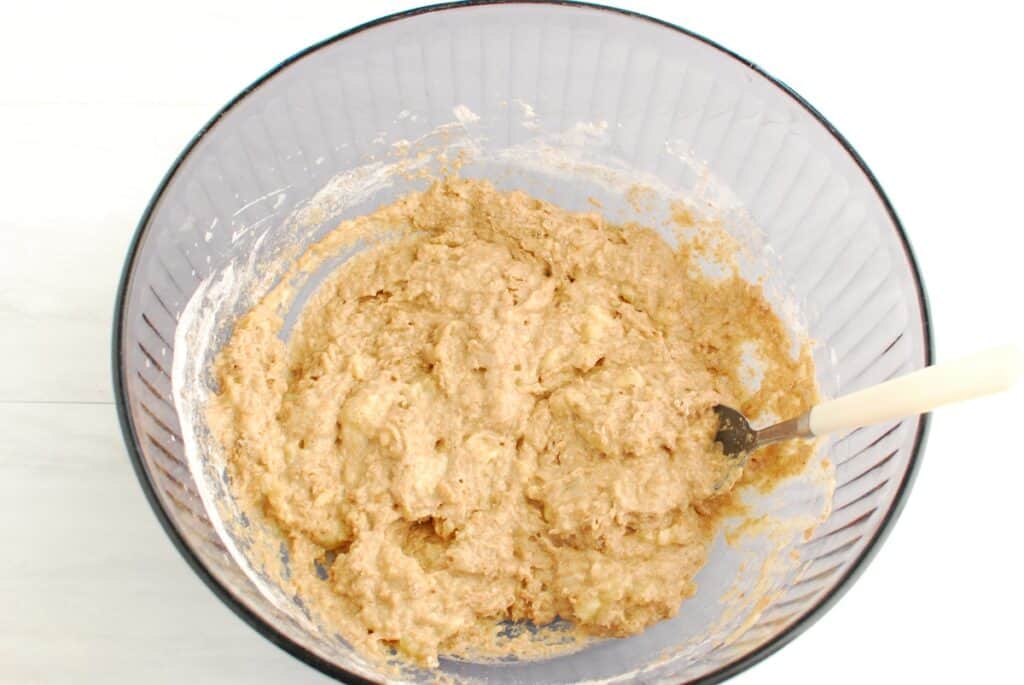 Pour the batter into your mini muffin tin and bake 'em! Easy peasy.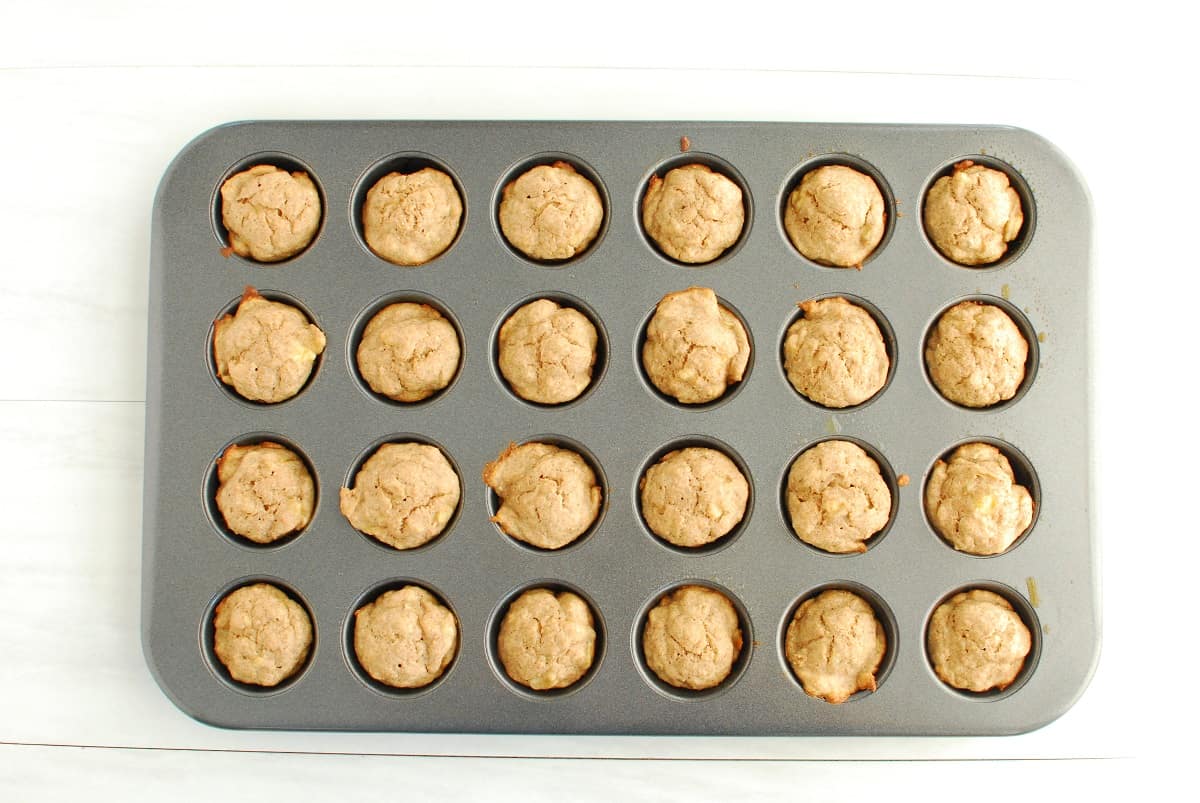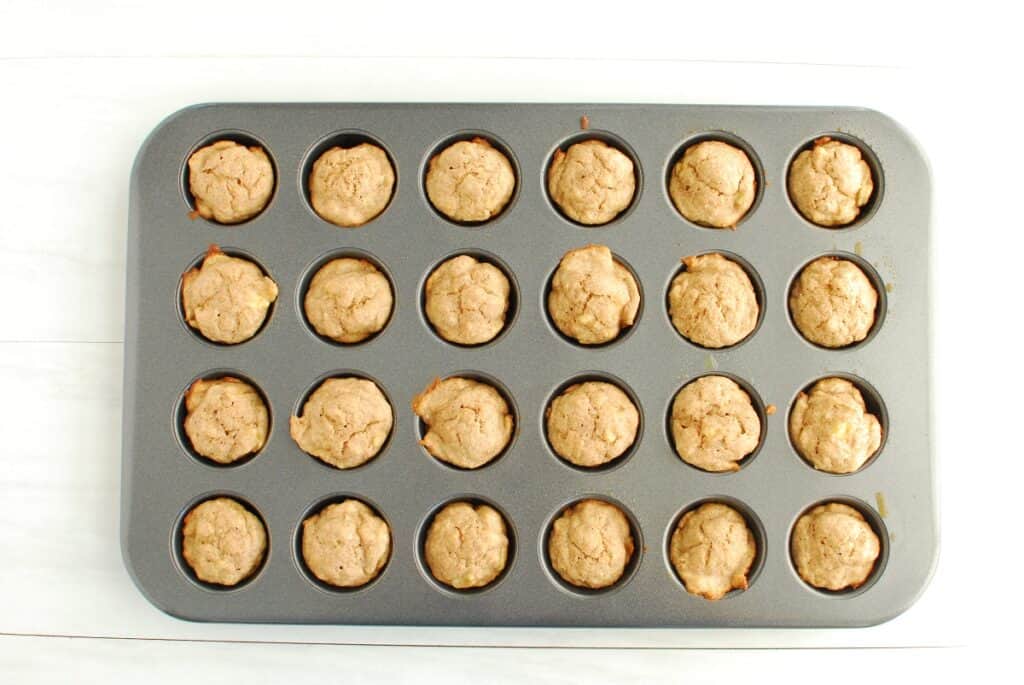 Why no added sugar?
You probably noticed in the ingredients and instructions that there is no sugar added to this recipe.  Why?  The newest version of the Dietary Guidelines recommends that parents avoid serving added sugar to children under the age of 2.
Does this mean you can never give your toddler a piece of cake at a birthday party or a piece of candy in their Christmas stocking?  Of course not.  As a dietitian, I believe in balance, and you don't have to stress out about the rare added sugar that your one- or two-year-old might enjoy at an event or during a holiday celebration.
But on an everyday basis, it's smart to try to limit added sugar for your little ones. (No judgement if you struggle with this, though. Sometimes our kiddos have minds of their own when it comes to food preferences! This article about raising adventurous eaters might be a good read if nutritious food is a struggle in your house).
These muffins are a great snack option that you can prep at home with no added sugar. They're naturally sweetened solely from the mashed bananas. At first, they may taste a little "light" (as my husband described) because of this – but I bet your kiddo will never be the wiser. And you might even find that you take a shine to them too.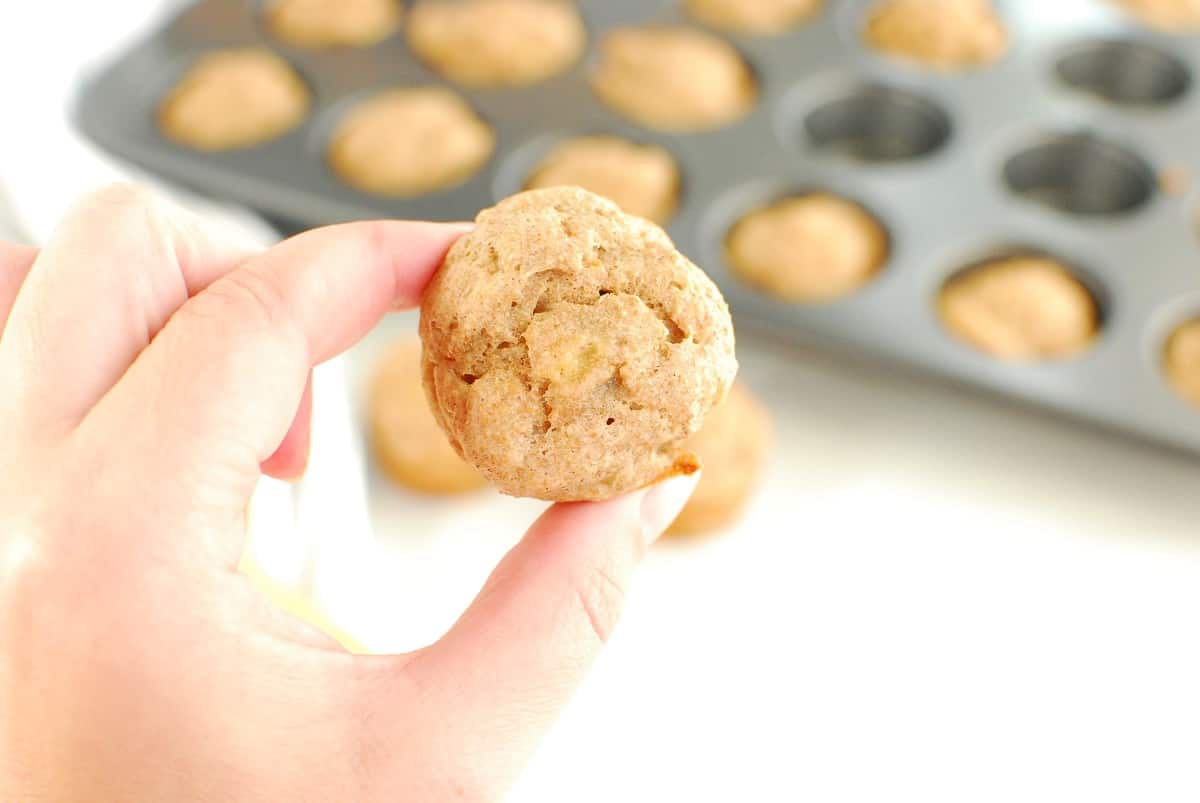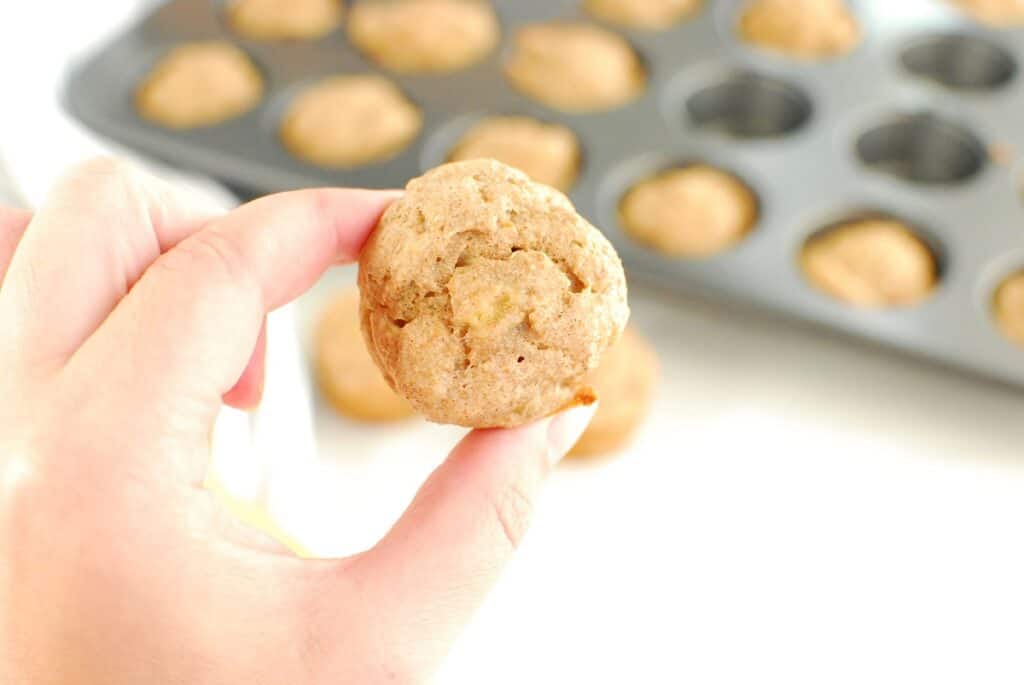 Recipe FAQ
Here are some common questions that may arise as you prepare this recipe:
Can you freeze baby banana muffins?
Yes.  Store in a large zip top bag in the freezer.  When ready to eat one, defrost in the microwave for about 15 seconds, or until it reaches the desired temperature.  Make sure the muffin is not too hot before serving to your little one, as microwave strengths can vary.
Can you make a mini muffin recipe in a regular muffin tin?
Yes.  Prepare the batter as directed.  The baking time will increase to approximately 18 to 22 minutes for a 12-count muffin tin at 375 degrees F.
How should you store baby banana muffins?
Because these do not have as much sugar and salt as regular muffins (which act as preservatives), these muffins will not last as long at room temperature. Store them for up to 1-2 days on the counter in an airtight container, or up to 5 days in an air tight container in the fridge. The fridge can sometimes cause banana muffins to dry out, so you can also freeze them the day that you bake them, which will retain their quality for a few months.
When can babies eat muffins?
Most babies are developmentally ready to eat muffins somewhere between 6 to 9 months (though specific timing can vary; talk to your doctor or dietitian about questions regarding your baby's readiness for certain solids). Break the muffin into small pieces for them to grasp and eat when ready. Note that some babies, especially those newer to solids, may struggle with muffins as the texture is soft and can ball up in the mouth – if this occurs, wait until they're a bit older before serving them.
Allergens in this Recipe
* Disclaimer: Always double check ingredients and product packaging to confirm a recipe meets your allergy needs. While I try to note potential allergens below, there is always the chance I may miss something or that manufacturer formulations may change.
As written, this recipe is dairy free.
You can easily make this suitable for other dietary restrictions too, depending on your choice of the milk alternative. For example, using oat milk would make this both soy free and nut free.
This recipe does contain wheat/gluten, as it uses regular whole wheat flour. To make gluten free, try substituting with a 1:1 all-purpose gluten-free flour blend. Also, double check that your milk alternative is gluten free (some of the oat milks may not be certified gluten free).
I hope you enjoy these baby banana muffins! If you get a chance to try them with your kiddo, let me know what you think with a comment or recipe rating below.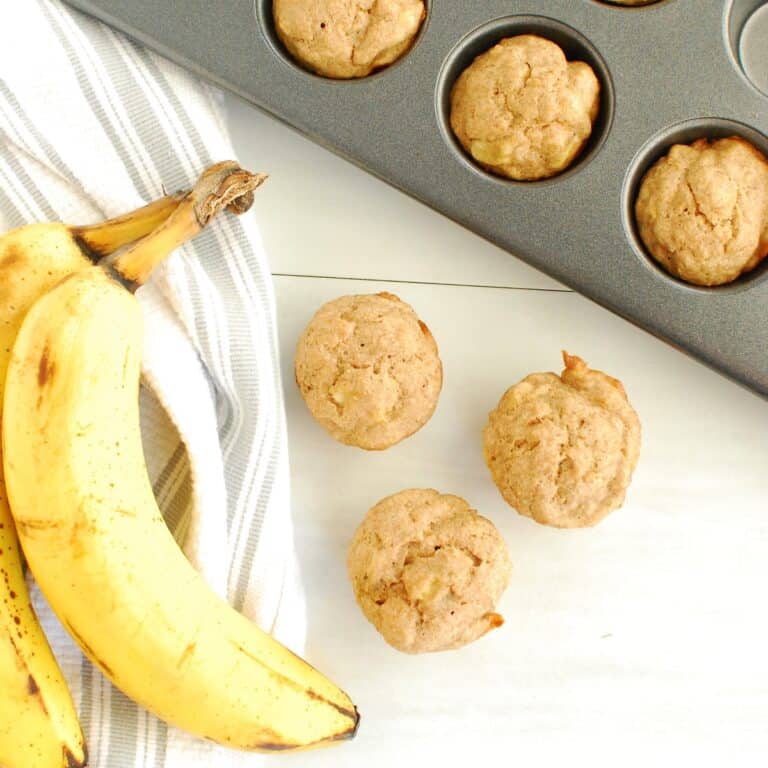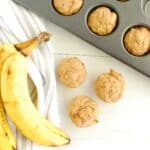 Baby Banana Muffins
These baby banana muffins are the perfect no-added-sugar snack for little ones!
Ingredients
3

overripe medium bananas, mashed

1

large egg

¼

cup

olive oil

⅓

cup

unsweetened oat milk

(or another milk alternative)

1

teaspoon

pure vanilla extract

1 ¼

cup

whole wheat flour

(spooned and leveled)

1

teaspoon

cinnamon

1

teaspoon

baking powder

⅛

teaspoon

salt
Instructions
Preheat the oven to 375 degrees F. Grease a 24-count mini muffin tin.

In a large bowl, whisk together the mashed bananas, egg, olive oil, dairy free milk, and vanilla.

In a separate medium bowl, combine the flour, cinnamon, baking powder, and salt.

Pour the dry ingredients into the bowl with the wet ingredients, and stir until combined.

Pour the batter into the mini muffin tin, filling each just slightly short of full. Bake at 375 degrees F for 13 to 16 minutes, or until the muffins are a light golden brown and a toothpick pulls out clean from the center.

Let cool in the muffin tin for about 5 minutes, then remove and allow to finish cooling. Enjoy!
Recipe Notes
Use overripe bananas for best results.
If your muffin batter seems too thick or dry (as can sometimes happen if the flour is not carefully spooned and leveled) – just add another 2 to 4 tablespoons of the dairy-free milk.  (Add one at a time until the batter is thick but not dry).
Nutrition facts (approximate per mini muffin): 60 calories, 3 g fat, 0.5 g saturated fat, 40 mg sodium, 8 g carbohydrate, 1 g fiber, 2 g sugar, 1 g protein, Vitamin D: 0%, Calcium: 2%, Iron: 2%, Potassium: 2%
Share:  What's your favorite snack to prep for toddlers?
Feel free to pin this post to share with others!