If you need a delicious meal that the whole family will love, try this dairy free tator tot casserole! It is quintessential winter comfort food – plus, it's easy to make. And while traditional casseroles are loaded with dairy, this one uses oat milk in the base instead. Your kiddos will love it!
Ingredients
Here's a photograph of all the ingredients you'll need, along with selected ingredient notes: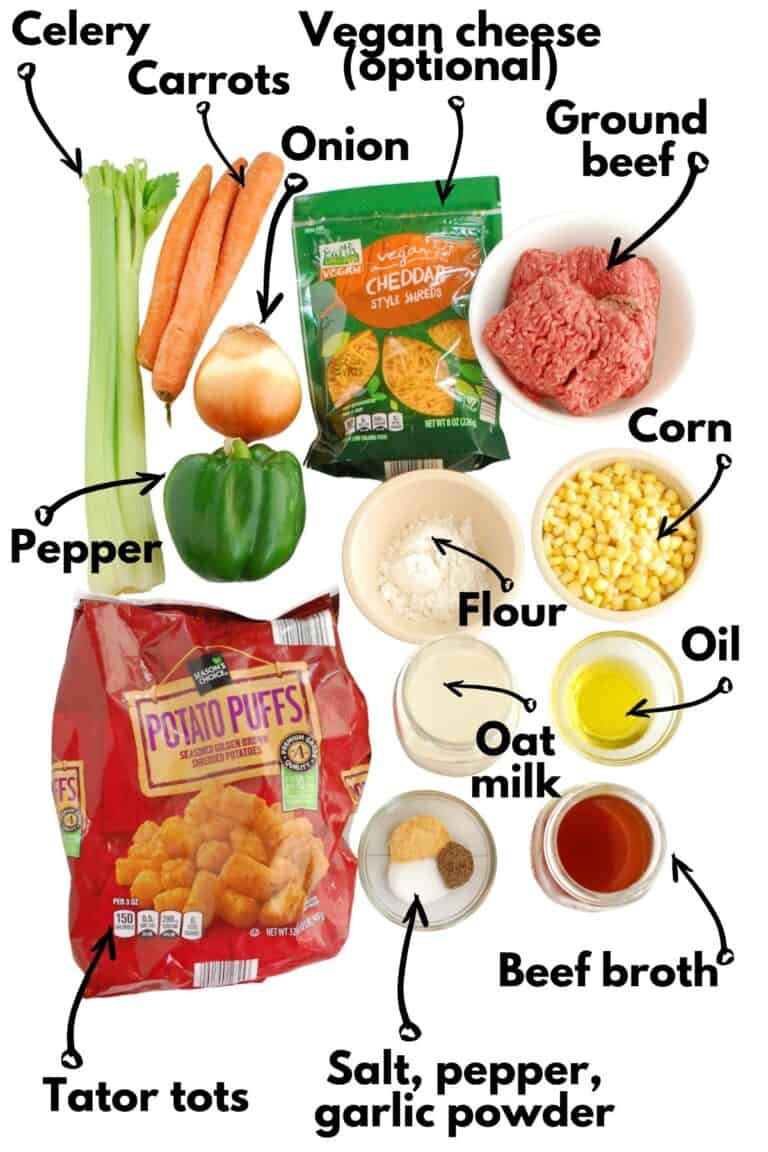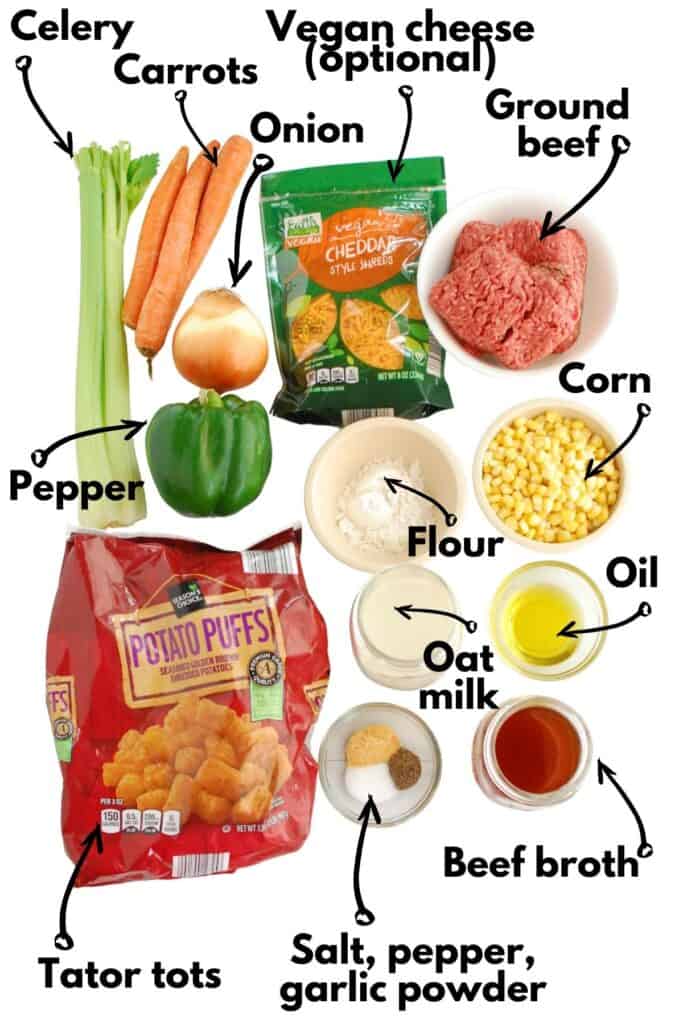 Oat milk – Oat milk is thicker and creamier than many other dairy-free milks (and doesn't have as strong of a taste as something like coconut milk), so it works well in the base of the casserole.
Tator tots – Yes, most store-bought tator tots are dairy free! Just be sure to double check the label and ingredients prior to purchasing. You'll use about two-thirds of the bag for this recipe. Feel free to save the rest in the freezer for a quick side dish or snack for another time.
Dairy free cheddar (optional) – In full honesty, we are very picky about dairy-free cheese, so we typically leave it out of most recipes. I tested it both ways for the purpose of this post and we do enjoy it both with and without the dairy-free cheese; we tend to make it more often without the cheese for simplicity's sake. Feel free to use whatever variety of dairy-free cheddar that you like, or just skip that all together.
Step by Step Instructions
You'll find full recipe amounts and instructions at the bottom of the post in the recipe card, but here's a helpful overview with photos.
Start with your mise en place. You've probably heard this French culinary term on cooking shows, and it just means getting everything prepared and in place. Get all your veggies chopped up and your ingredients gathered before you start cooking, and it'll make the cooking process go more smoothly.
(Or, feel free to use a bag of frozen mixed vegetables instead of fresh vegetables to save time on all the chopping.)
Next, sauté your onion, carrot, celery, and pepper.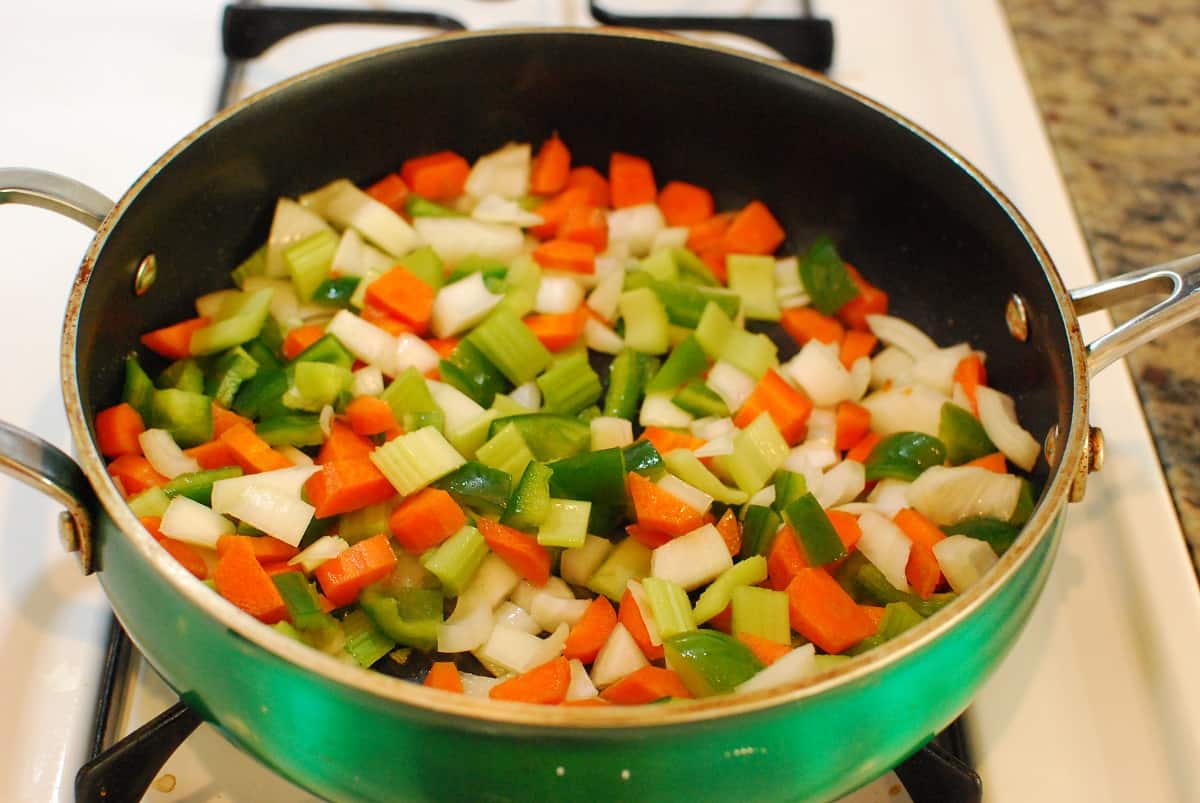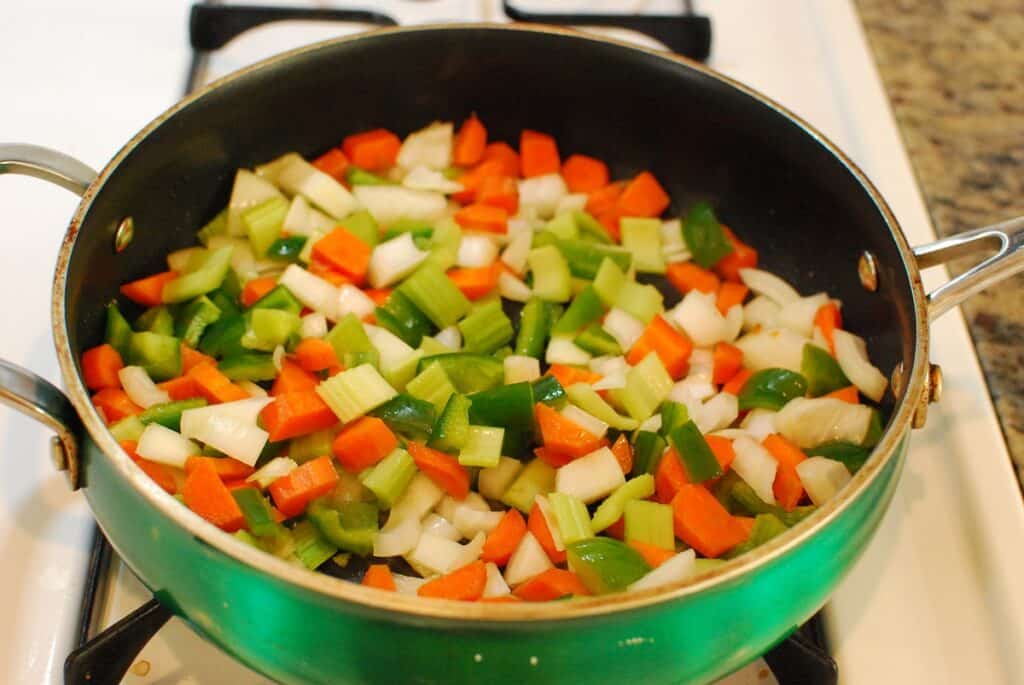 When those are a little tender, add in your ground beef and frozen corn. Cook until the beef is browned, using a spoon or spatula to break up the meat as it's cooking.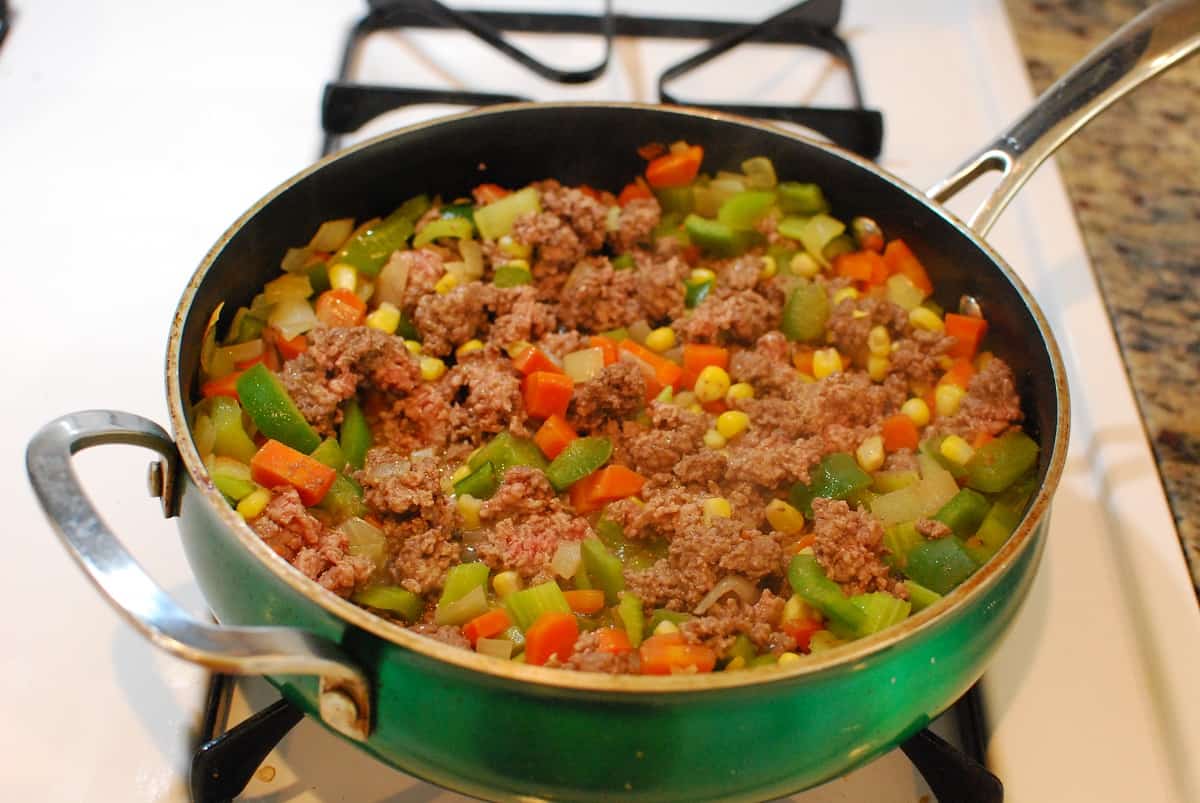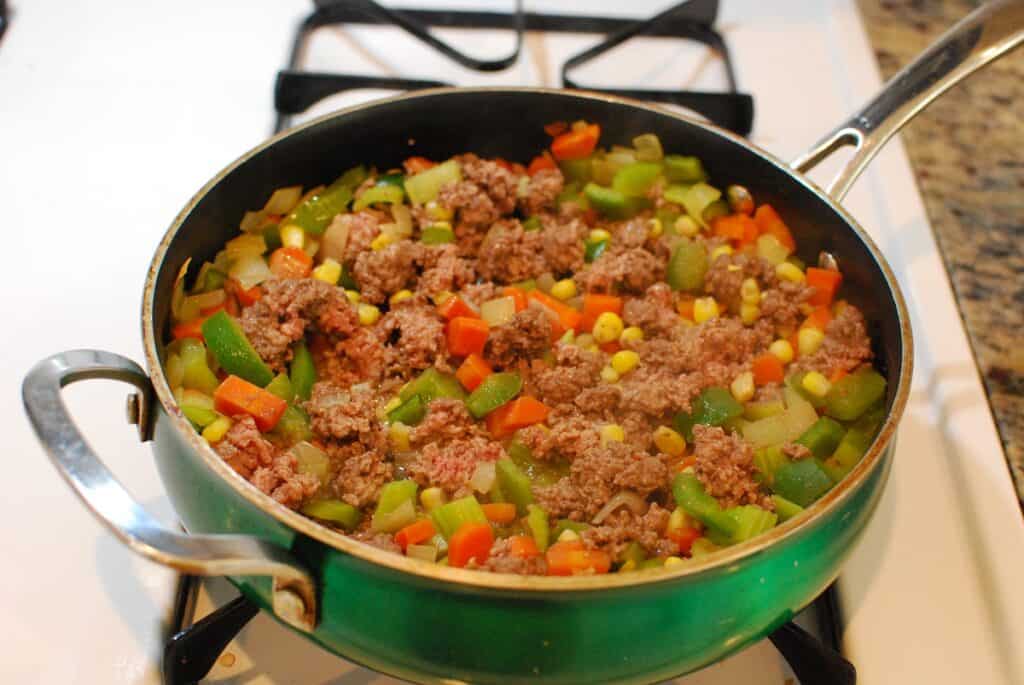 Take a look at the pan. If there is a little grease, proceed to the next step. If you used fattier ground beef and there's a ton of grease in the pan, though, drain off some of the fat in the pan. (The goal is to have a little fat in there to mix with the flour and thicken the liquid, but not so much that it affects the mouthfeel of the final dish).
Add your seasonings and flour, then gradually stir in the beef stock and oat milk. This mixture should thicken up as it is mixed in and heated.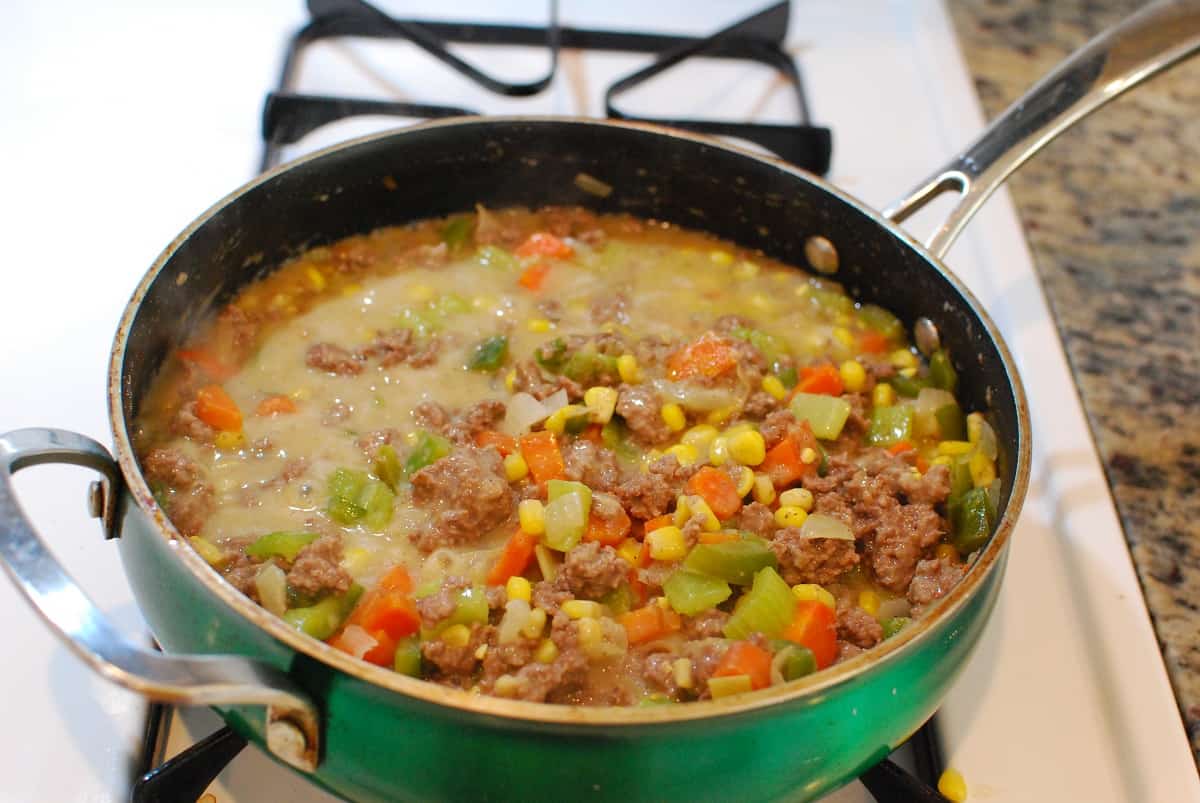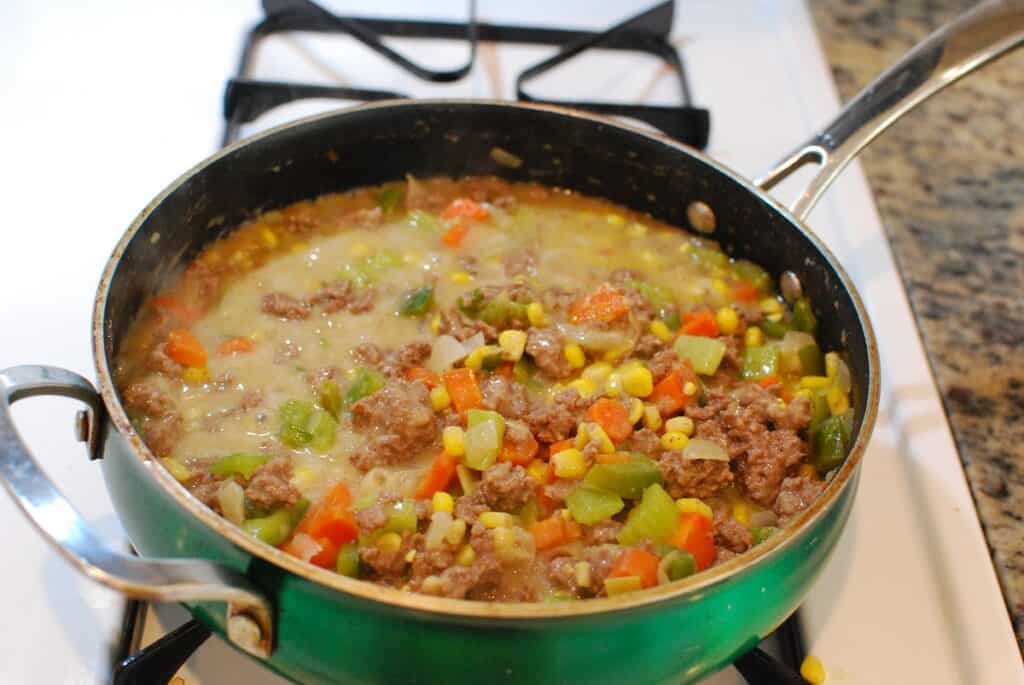 Turn off the heat and pour your base into a greased casserole dish.
If you want to use dairy-free cheese, feel free to add it in now.
Then layer the tator tots on top.
Bake up that casserole until the tator tots are crispy, then dig in!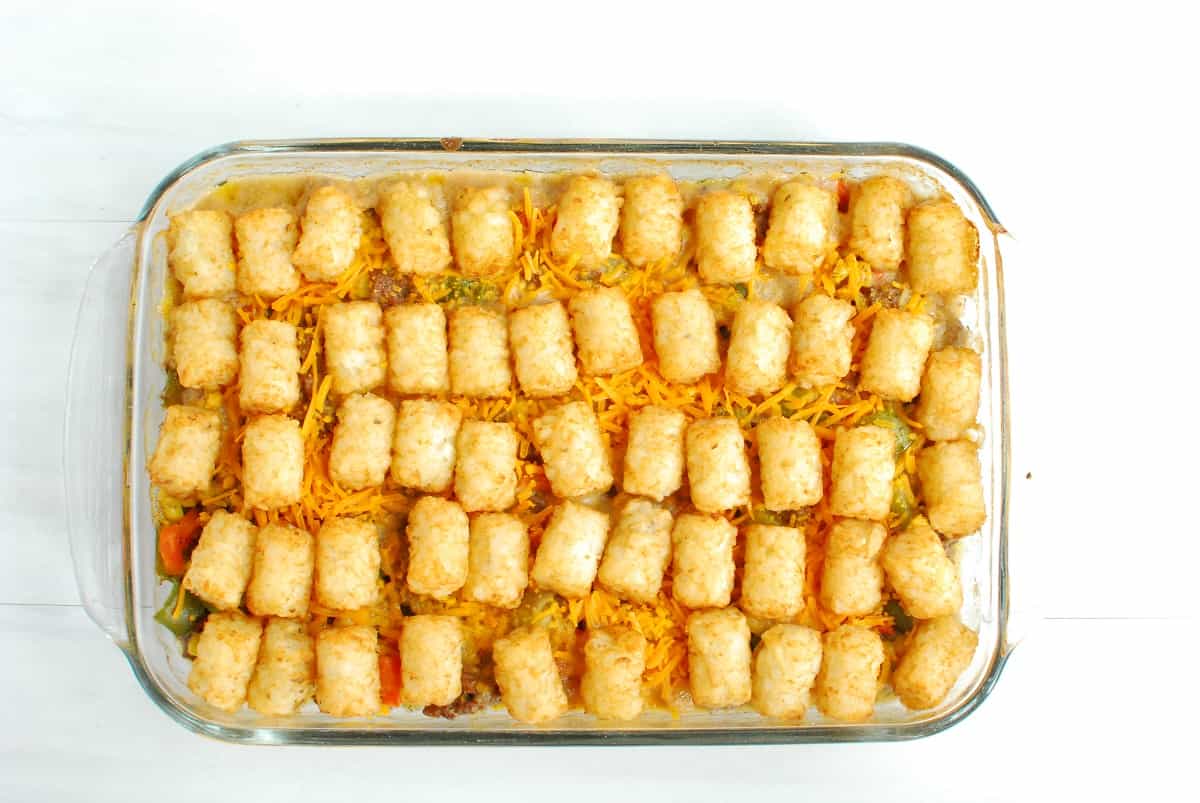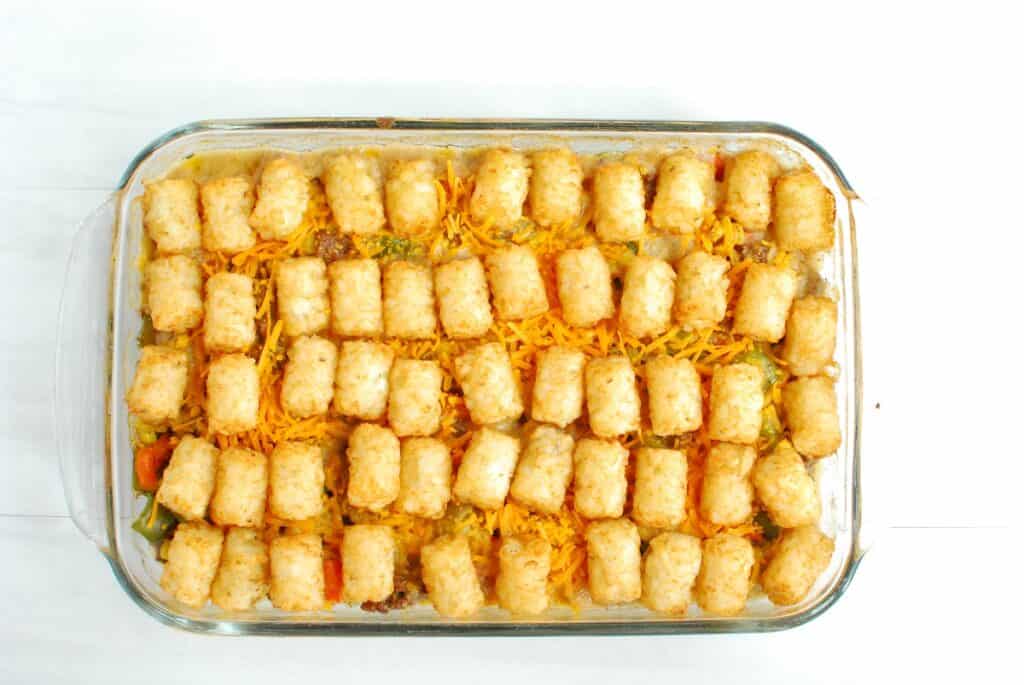 Recipe FAQ
Here are some common questions that may come up as you prepare this recipe:
How should you store leftover tator tot casserole?
Store leftovers in the refrigerator for up to 4 days. Feel free to reheat in the microwave, but note that the tator tots will not be crispy if they are reheated this way. For crispy tator tots, place the mixture in as small oven-safe dish and reheat in the oven at 350 degrees F, until the mixture is warm and tator tots are crispy again.
Can you freeze dairy free tator tot casserole?
Yes! This casserole freezes well. Prepare it as the recipe calls for and layer ingredients in a disposable baking dish, but do not proceed with actually baking it. Instead, cover tightly and freeze for up to three months. When you're ready to eat, you can bake from frozen. Note that you will need to increase the baking time to around 40-45 minutes.
Can you use different vegetables in tator tot casserole?
Yes – feel free to experiment with different vegetable combinations. For example, you could make a Tex-Mex tator tot casserole that includes tomatoes, green chiles, and beans in the base. Or you might experiment with a mushroom and asparagus version. Get creative and use whatever you have lying around in the fridge!
Allergens in this Recipe
* Disclaimer: Always double check ingredients and product packaging to confirm a recipe meets your allergy needs. While I try to note potential allergens below, there is always the chance I may miss something or that manufacturer formulations may change.
As written, this recipe should be dairy free, fish free, and egg free. (Be sure to check the ingredients on products like tator tots and broth though to ensure this is the case).
This recipe does contain wheat/gluten, as flour is used to thicken the base of the casserole. If you are gluten-free, you can try using a gluten-free all-purpose blend instead of traditional flour. You'll also want to check ingredient labels to ensure all the processed products you use are gluten free (like your oat milk and tator tots).
This recipe may contain nuts and soy, depending on product selections:
Most common brands of frozen tator tots do contain soybean oil, so if you have a soy allergy and that is problematic for you, try looking for a brand that does not contain that oil.
Many brands of vegan cheese contain coconut oil. Some people with nut allergies avoid coconut, but some can tolerate it – speak to your doctor to find out what is right for you.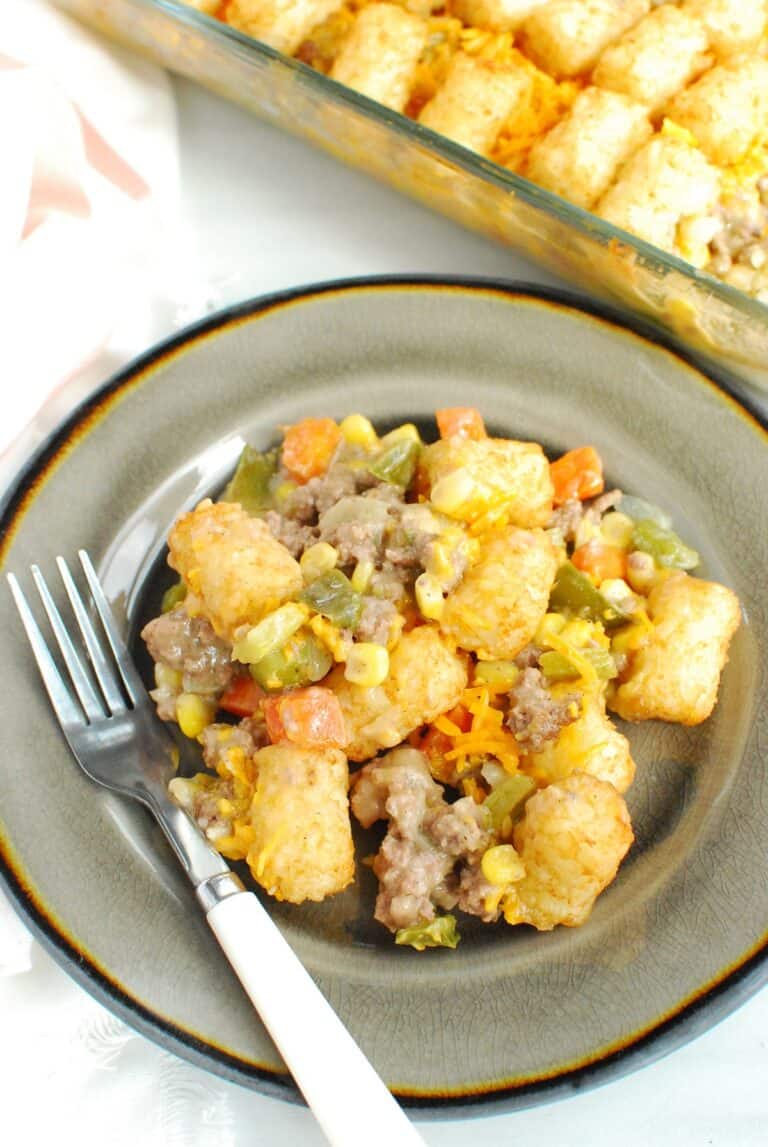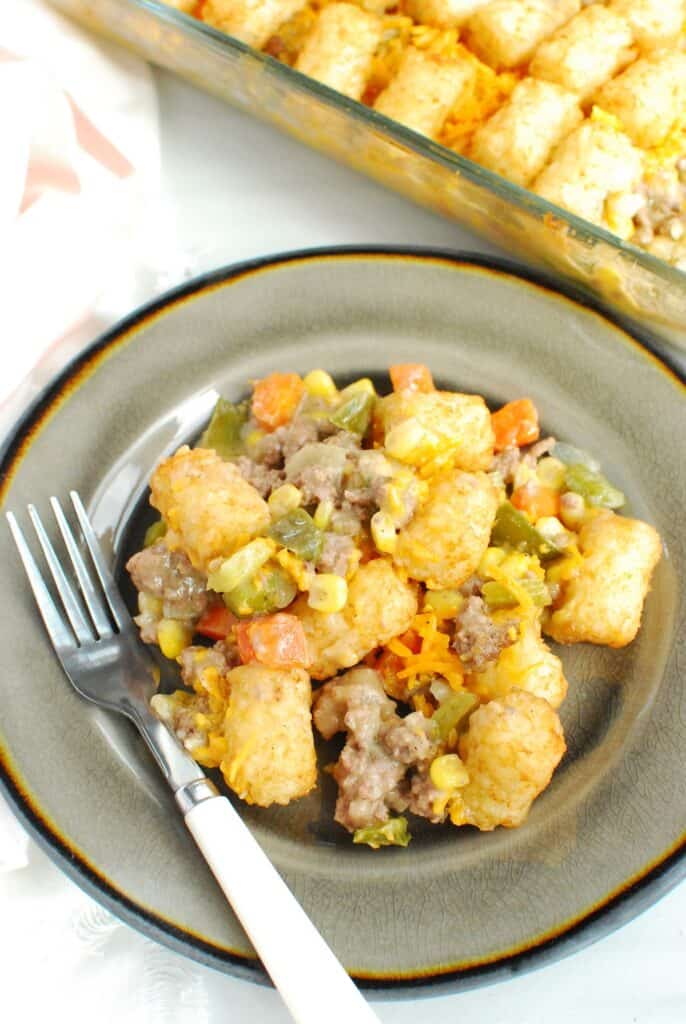 More Dairy Free Dinner Ideas
If you're looking for more delicious dairy free dinners, try one of these recipes:
I hope you enjoy this dairy free tator tot casserole as much as my family does! If you get a chance to try it, feel free to leave a recipe rating or comment below.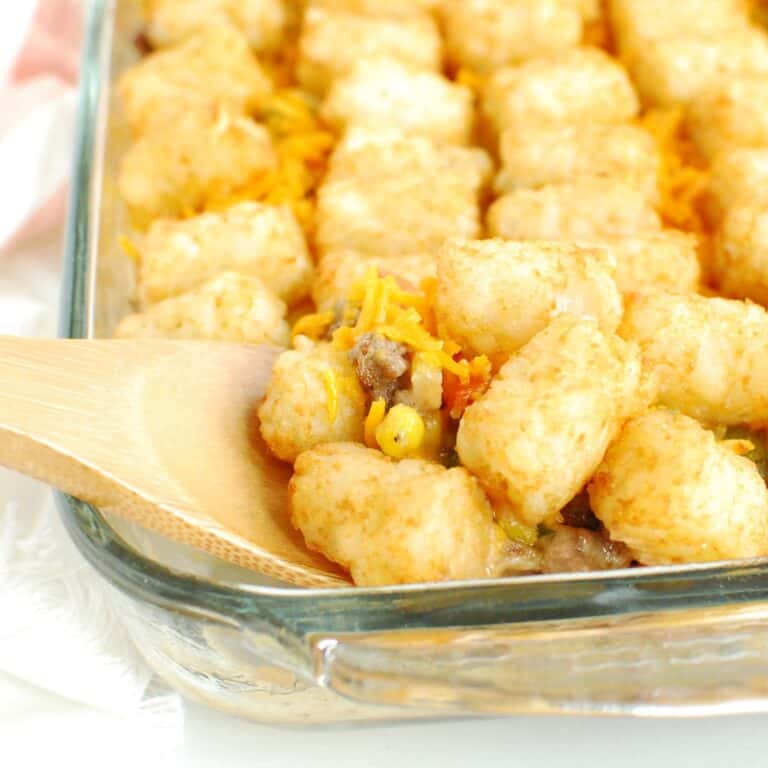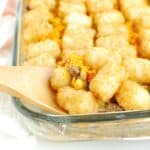 Dairy Free Tator Tot Casserole
Get ready for comfort food with this dairy free tator tot casserole – a family-friendly dinner that everyone will love!
Ingredients
1 ½

tbsp

olive oil

3

carrots, peeled and chopped

2

celery stalks, chopped

1

medium bell pepper, chopped

1

medium yellow onion, chopped

1

lb

85% lean ground beef

(or any ground beef you have on hand)

1

cup

frozen corn

½

tsp

garlic powder

½

tsp

salt

¼

tsp

pepper

3

tbsp

flour

¾

cup

beef broth

¾

cup

oat milk

1

cup

dairy-free cheddar-style shreds

(optional; tastes great without this)

⅔

bag of frozen tator tots

(⅔ of a 32-oz bag)
Instructions
Preheat oven to 400 degrees F. Grease an 11×7 casserole dish.

In a large sauté pan, heat the olive oil over medium heat. Add the carrots, celery, bell pepper, and onion. Cook for 5 minutes, or until the vegetables are slightly tender.

Add the ground beef and corn. Continue to cook for another 8 minutes, breaking apart the beef with a spoon or spatula, until beef is browned.*

Stir in the garlic powder, salt, pepper, and flour. Cook for another minute, stirring often.

Gradually add the beef stock and oat milk, stirring often. Cook for 2 to 3 minutes, until the mixture is thickened.

Pour the mixture into the greased casserole dish. Top with the dairy-free cheddar cheese (if using), then spread the frozen tator tots on top.

Bake at 400 degrees F for 25 to 30 minutes, or until the tator tots are crispy and the mixture is bubbly. Enjoy!
Recipe Notes
*When the beef has been browned, you ideally want just a little oil/grease in the pan which will mix with the flour to create a roux and help thicken the base. If there is excess fat after browning, though, drain off some of it prior to proceeding.
Nutrition analysis (approximate per serving, includes optional dairy free cheese, assumes 85% ground beef): 508 calories, 28.5 g fat, 10.5 g saturated fat, 1000 mg sodium, 48 g carbohydrate, 5 g fiber, 4 g sugar, 19 g protein, Vitamin D: 20%, Calcium: 15%, Iron: 17%, Potassium: 17%
Share: What's your favorite kid-friendly dinner idea? If you tried this recipe, what did you think?
Feel free to pin this post to refer to later.