Move over, butter – there's a new sheriff in town when it comes to chocolate chip cookies! Coconut oil is the star of this recipe, and it gives these cookies a delectable, rich flavor. These coconut oil chocolate chip cookies are perfect for anyone following a dairy free or egg free diet – or really anyone who just wants to dig into a freshly baked batch of deliciousness.
Disclosure: This post contains Amazon affiliate links. As an affiliate, I earn a commission on qualifying purchases.
Ingredients
Here's a photo of the ingredients you'll need for this recipe, along with selected ingredient notes: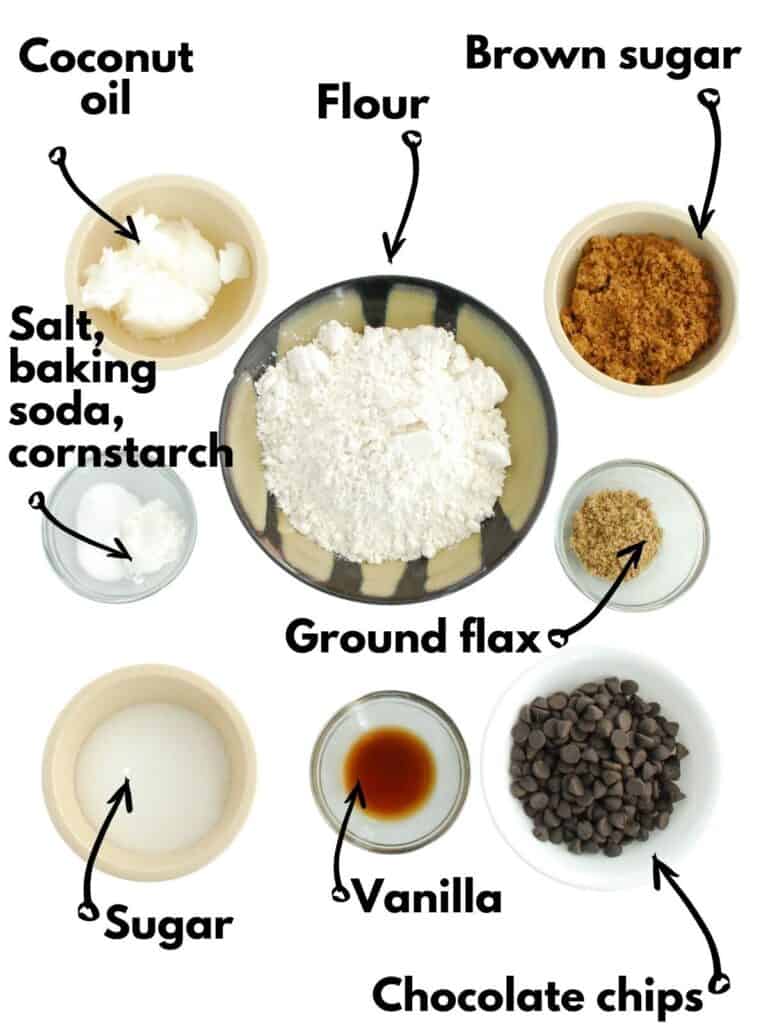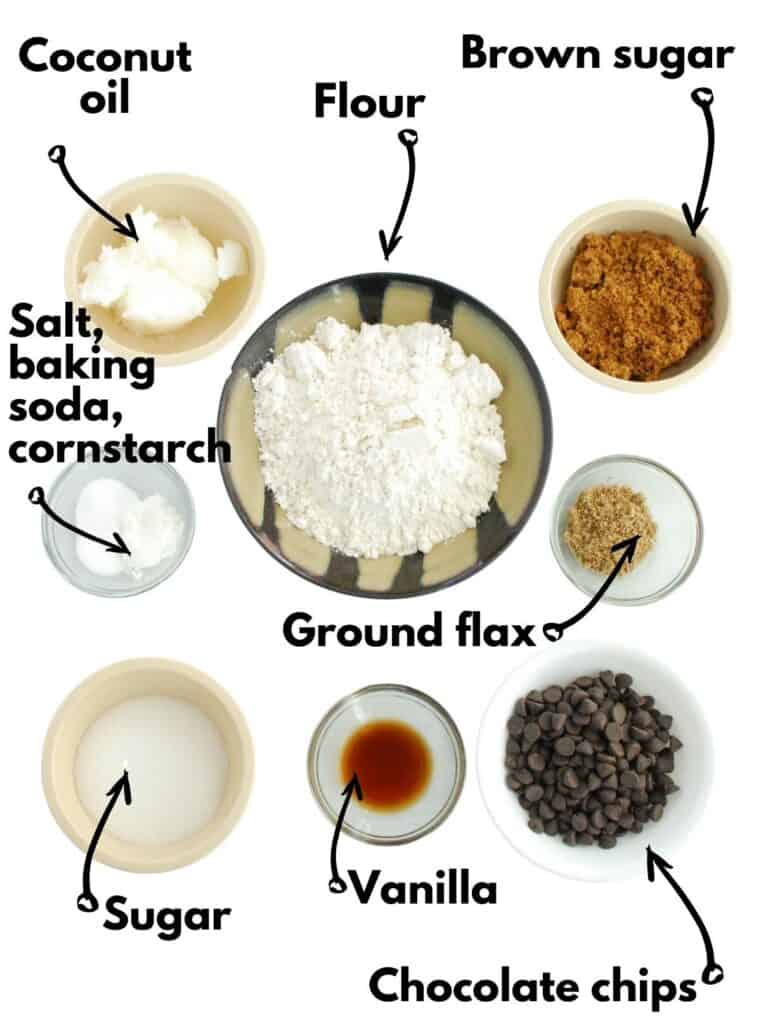 Coconut oil – There are two types of coconut oil on the market – unrefined (sometimes called virgin) and refined. Refined coconut oil undergoes additional processing which leaves it with a more neutral flavor. It's up to you which you use in this recipe. If you use unrefined, just keep in mind that your cookies will have a slight coconut flavor. (I personally prefer refined coconut oil for this recipe.)
Ground flaxseed – This is used as an egg substitute. When you mix ground flaxseed with hot water and let it sit for a few minutes, it creates a texture very similar to that of a whisked egg. (If you would like, you can feel free to substitute an actual egg in this recipe).
Chocolate chips – There are several brands of dairy-free chocolate chips on the market these days. I personally love Enjoy Life – their dark chocolate chips are SO good and you can find the brand at many major supermarkets. You could also use Nestle Allergen Free Morsels or Walmart "Free From" Morsels, both of which are allergy-friendly product lines. Just be sure to always check product labels, as a) manufacturer formulations may change, and b) the allergy-friendly product lines can look similar to the regular product lines.
Instructions
You'll find the full recipe ingredients, amounts, and directions in the recipe card at the bottom of this page – but below is a helpful overview with photos.
This recipe is simple and low fuss (aside from the chilling time, which I know is a little annoying but necessary for this recipe!).
Start by making your "flax egg" – mix together the flax seed and hot water, and let sit for about 10 minutes to thicken.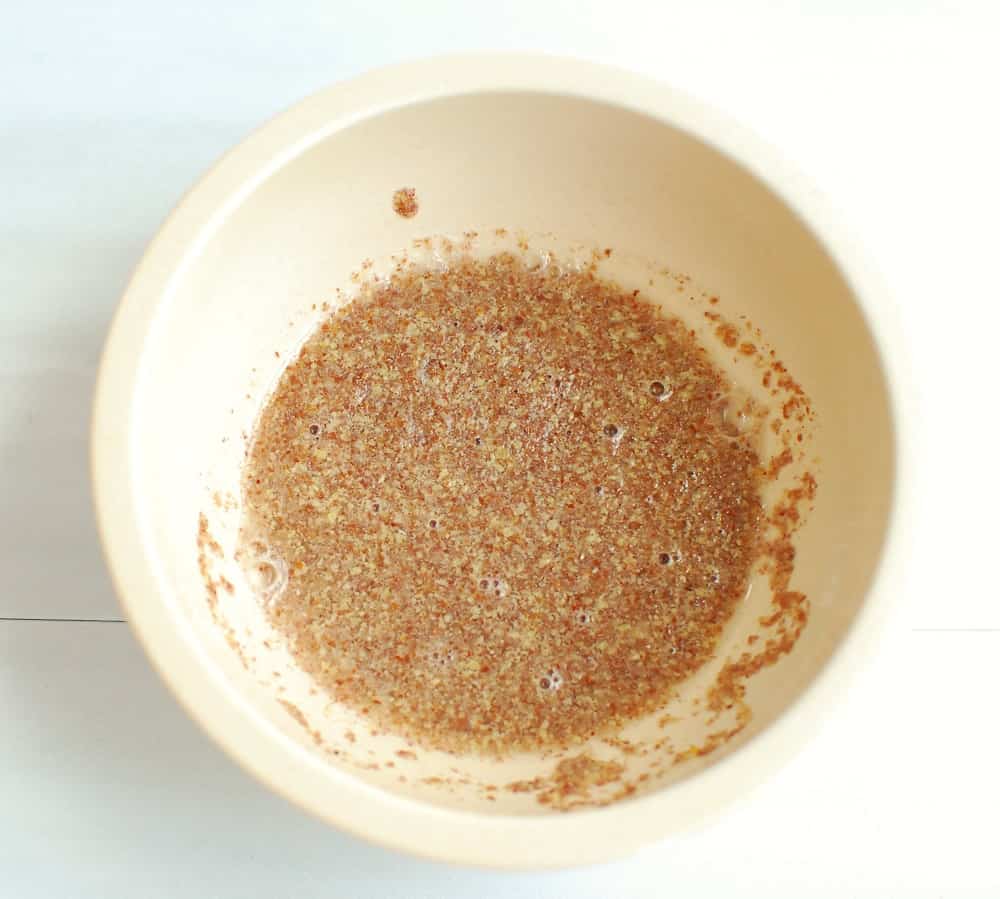 Next, combine your coconut oil, sugar, brown sugar, vanilla, and "flax egg", and beat together until light and fluffy, like this: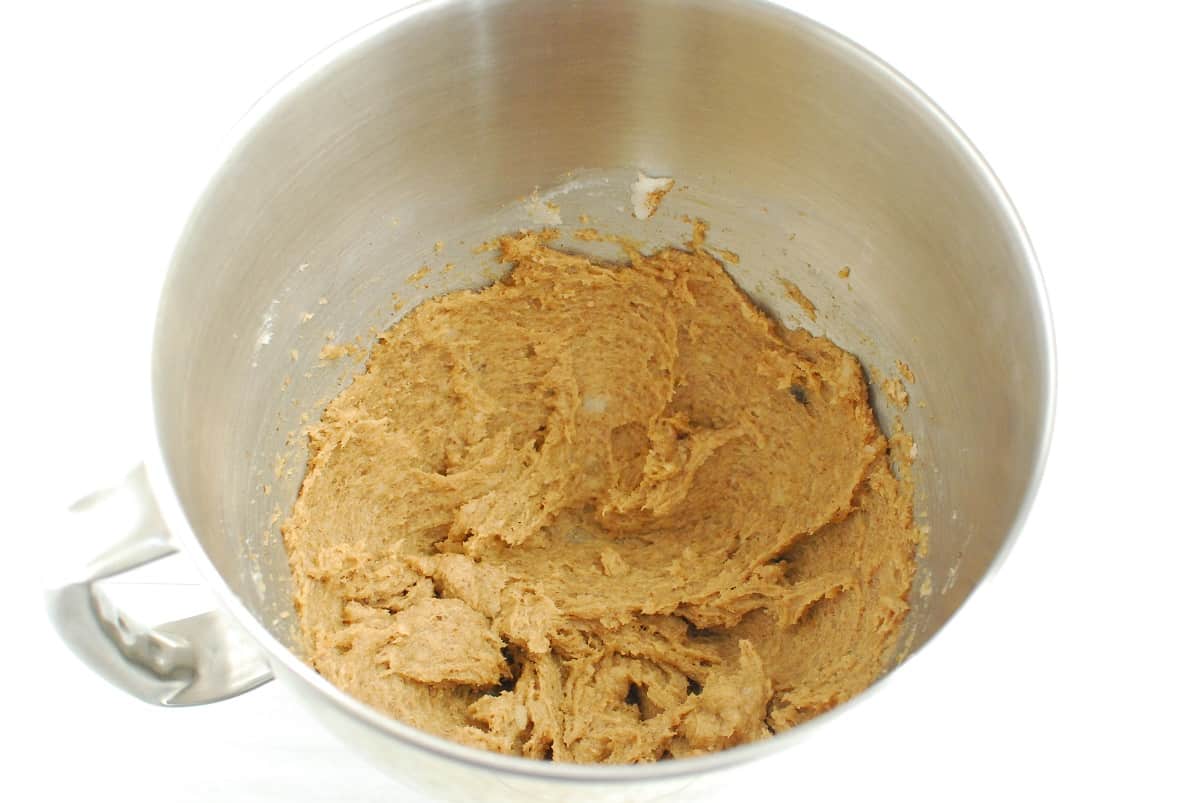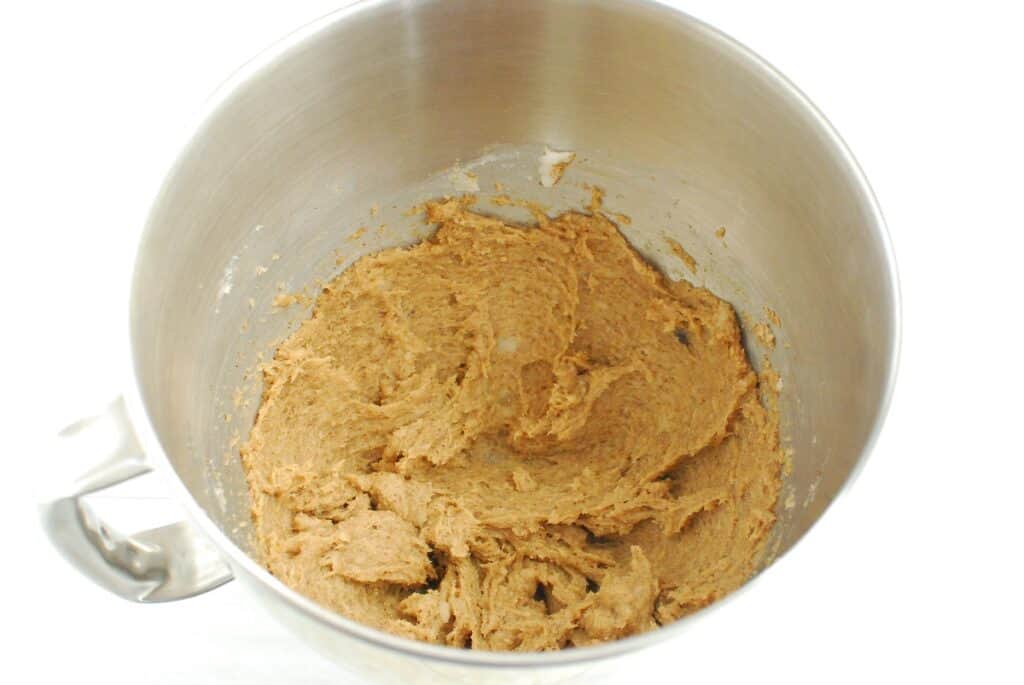 In another bowl, mix together your dry ingredients – the flour, cornstarch, baking soda, and salt.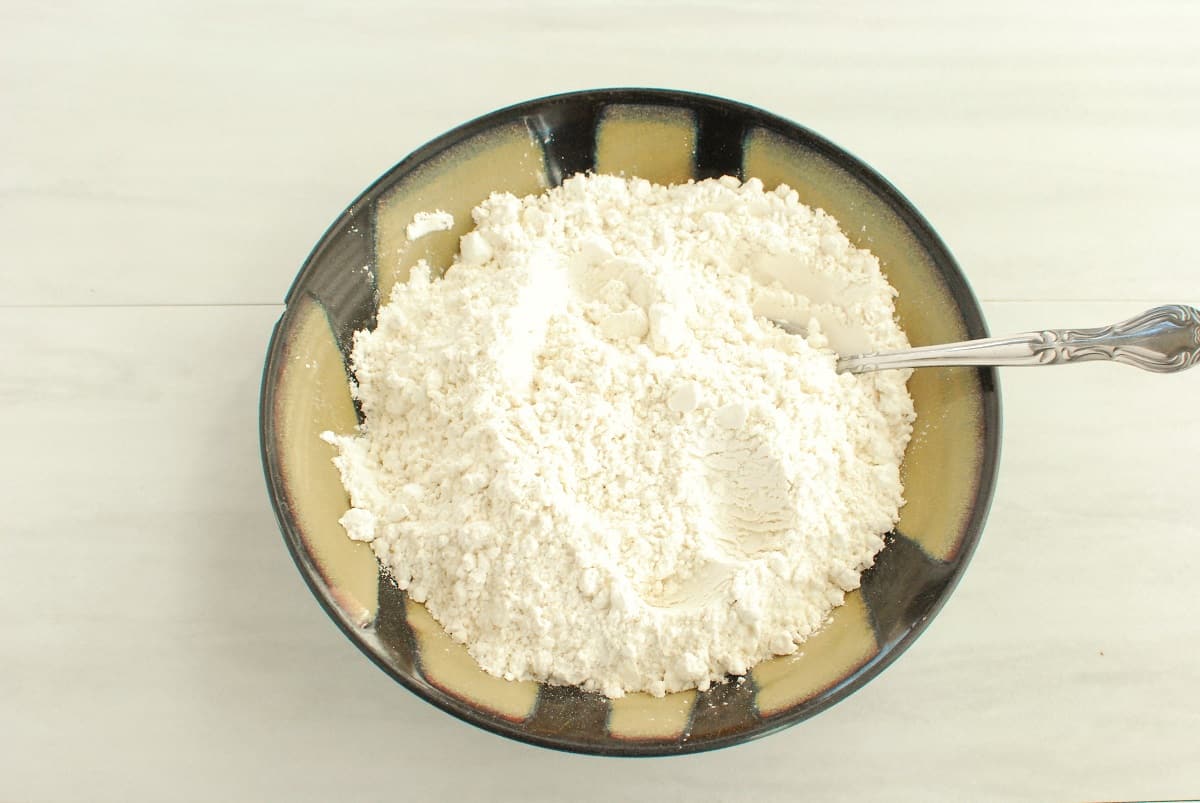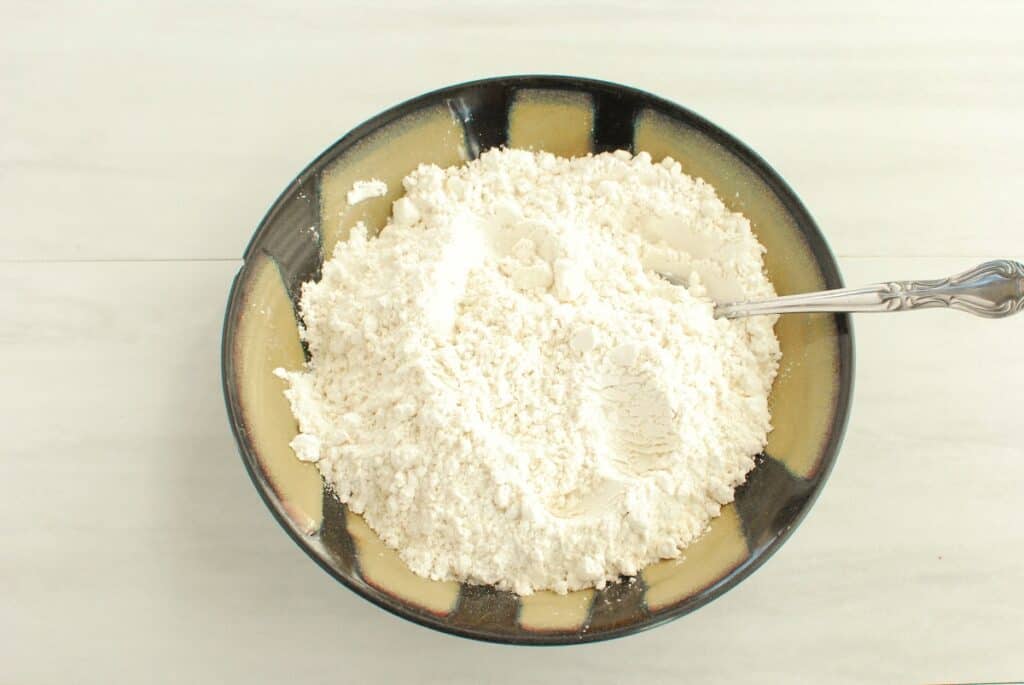 Add the dry ingredients to the wet ingredients. Now take a look at your cookie dough at this point – how does it look? It should be perfect, but if it's too dry, add a tablespoon or two of oat milk (or another dairy-free milk alternative).
Fold in the chocolate chips.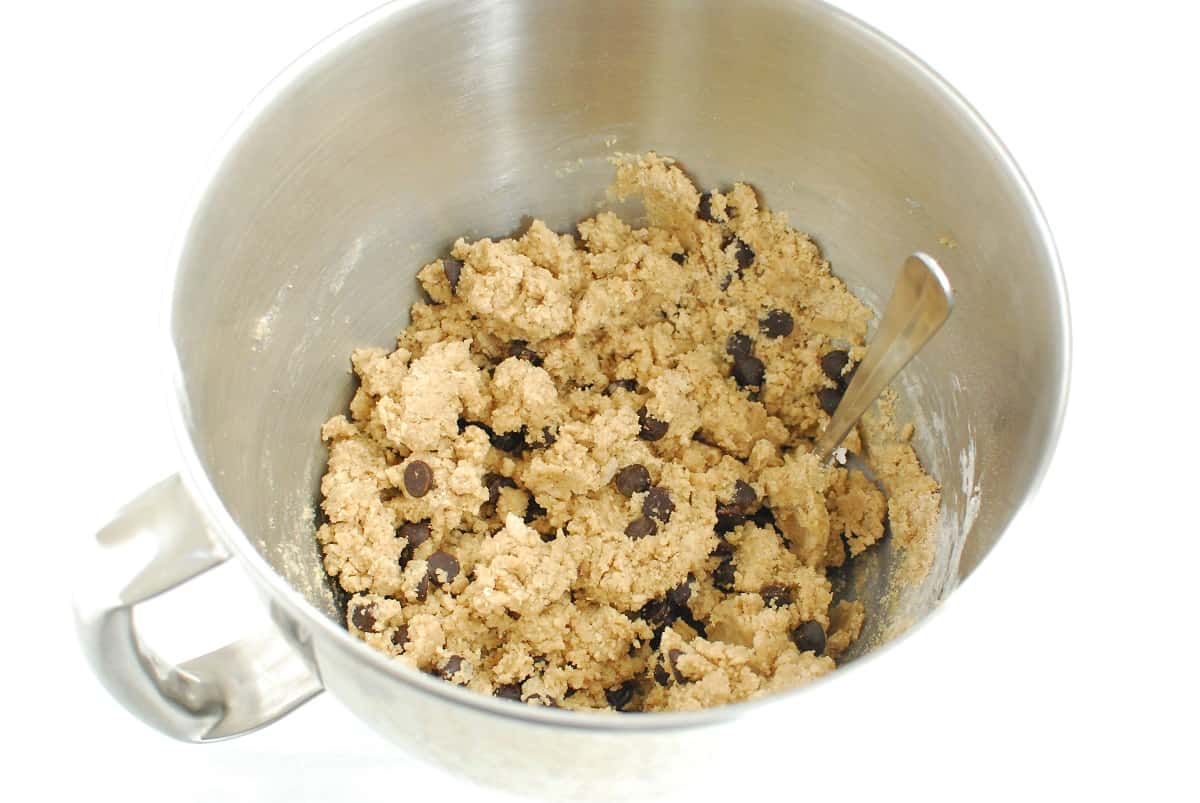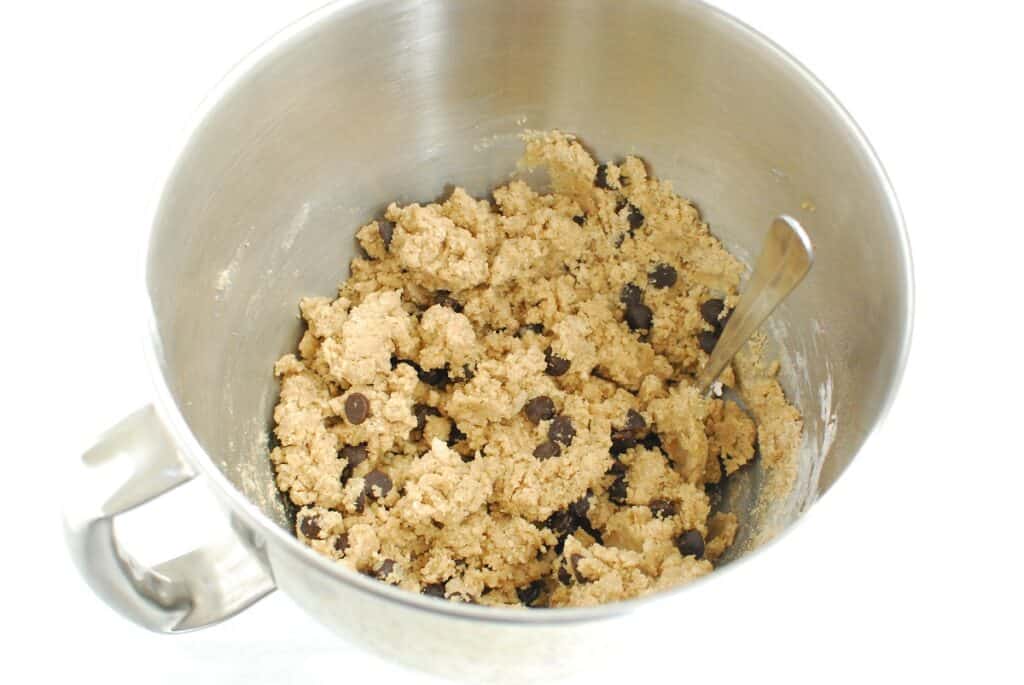 Use a cookie scoop to portion out the dough onto a plate, then place that in the fridge and chill for at least an hour. Don't skip this step; it's essential to prevent the cookies from spreading too much! (These cookies are a bit thinner than regular cookies anyway, so there's not much flexibility for additional spreading).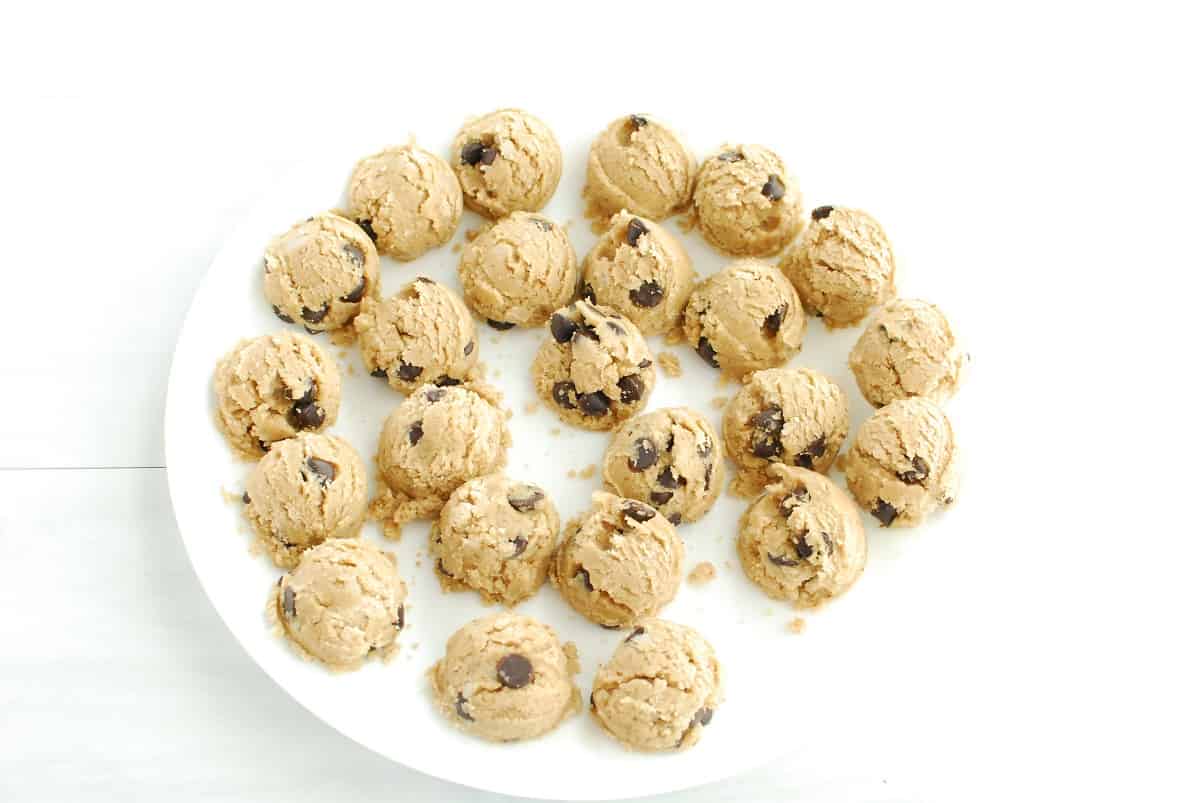 After chilling, pop them on a parchment lined baking sheet.
Bake them in the oven at 350 degrees F for about 10 minutes. Let cool on the pan and then dig in!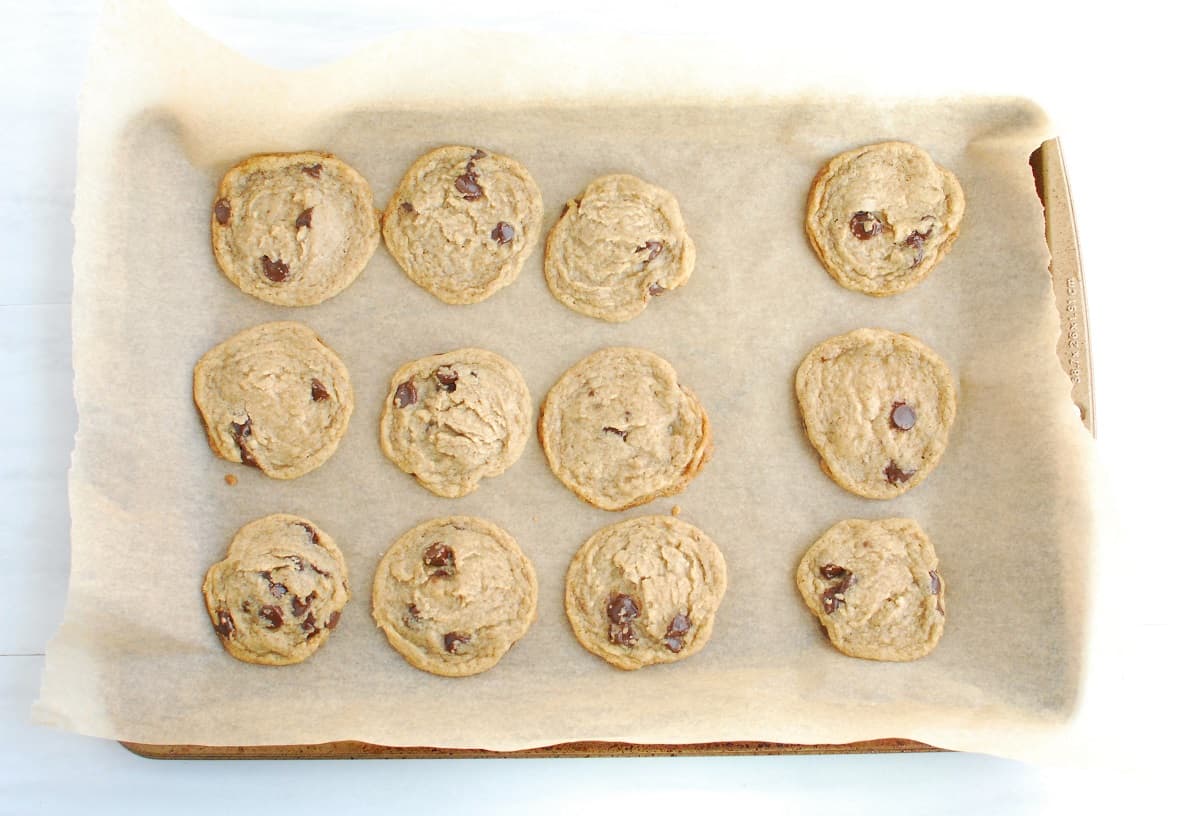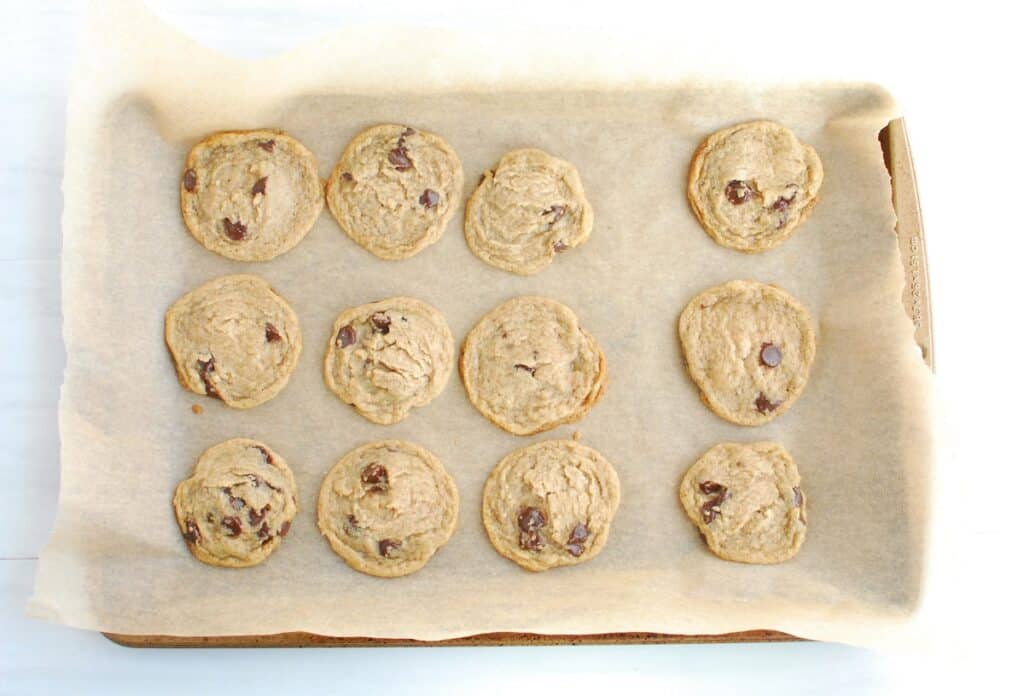 Recipe FAQ
Here are some common questions that may come up as you prepare this recipe:
What should you do if cookie dough is too dry?
Dry and crumbly dough usually occurs when flour is packed into the cup instead of spooned and leveled. It can also occur with undermeasurement of the fat component. If this occurs, try adding a tablespoon of oat milk or applesauce, then mix again. Repeat until you reach the right texture.
How should you store coconut oil chocolate chip cookies?
Store the cookies in a zip top bag or airtight container at room temperature. For best quality, enjoy within 3 days.
Can you freeze coconut oil cookie dough?
Yes. Portion out the dough but instead of chilling it, add it to a zip top freezer bag or food storage container and freeze it. You can bake the cookie dough from frozen; keep in mind you may need to adjust the baking time.
Why did my coconut oil cookies spread too much?
This can occur if you skipped or shortened the chilling time, which is necessary to prevent excess spreading. It can also occur if too little flour or too much coconut oil was used.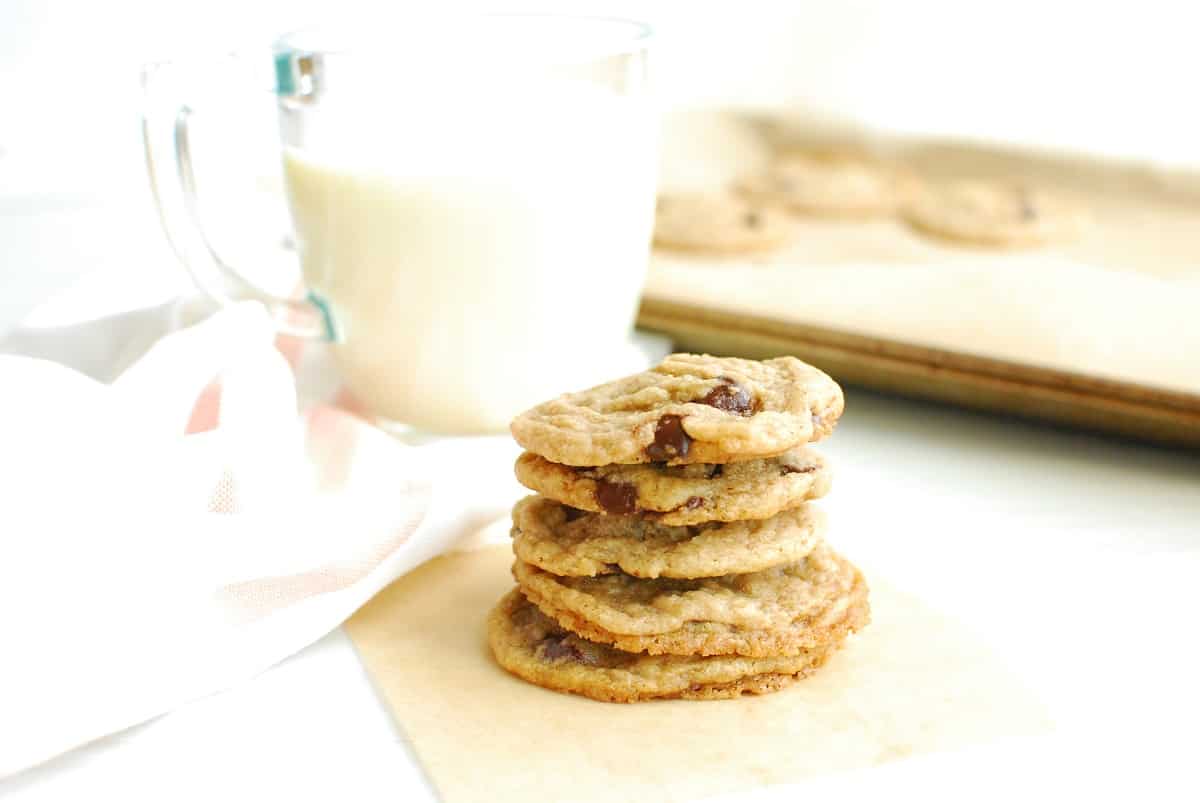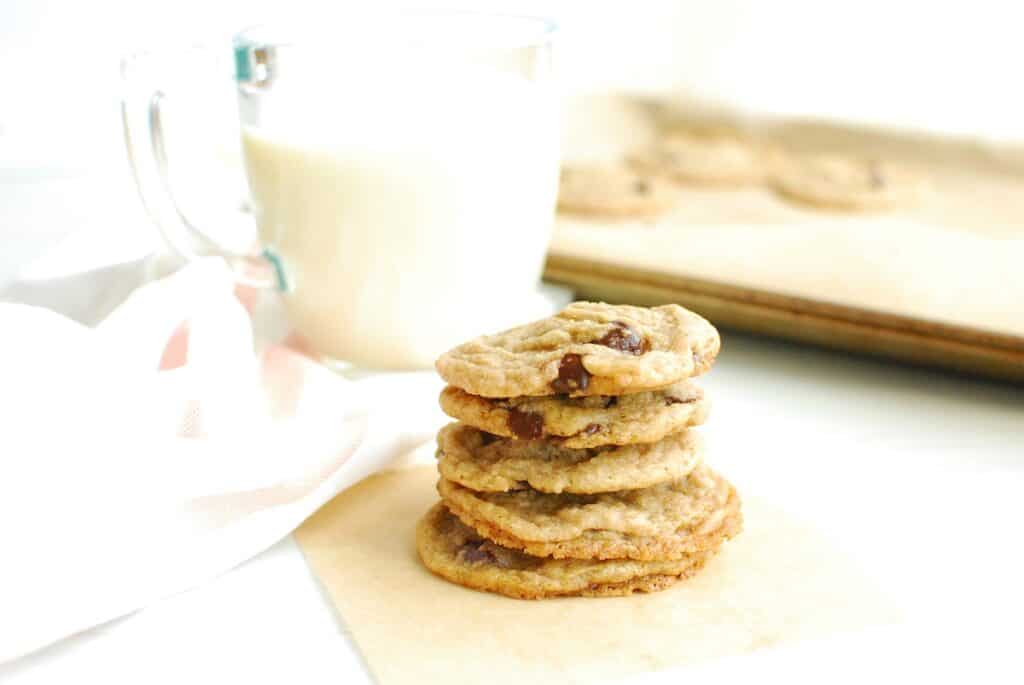 Allergen in this recipe
Disclaimer: Always double check ingredients and labels yourself prior to making a recipe. While I try to check all ingredients for allergens, there's always the chance I may miss something or manufacturer formulations can change.
This recipe is dairy free, egg free, and peanut free (as long as the chocolate chips do not contain these ingredients).
This recipe does contain wheat/gluten and coconut. Unfortunately, it is difficult to substitute either of these in this particular recipe.
Depending on the ingredients used (specifically, the type of chocolate chips), these cookies may contain soy. I used Enjoy Life chocolate chips which do not contain soy.
More Cookie Recipes
Looking for more tasty dairy free cookies? Try one of these options:
I hope you enjoy these coconut oil chocolate chip cookies as much as my family does! If you get a chance to try them, feel free to leave a recipe rating or comment below.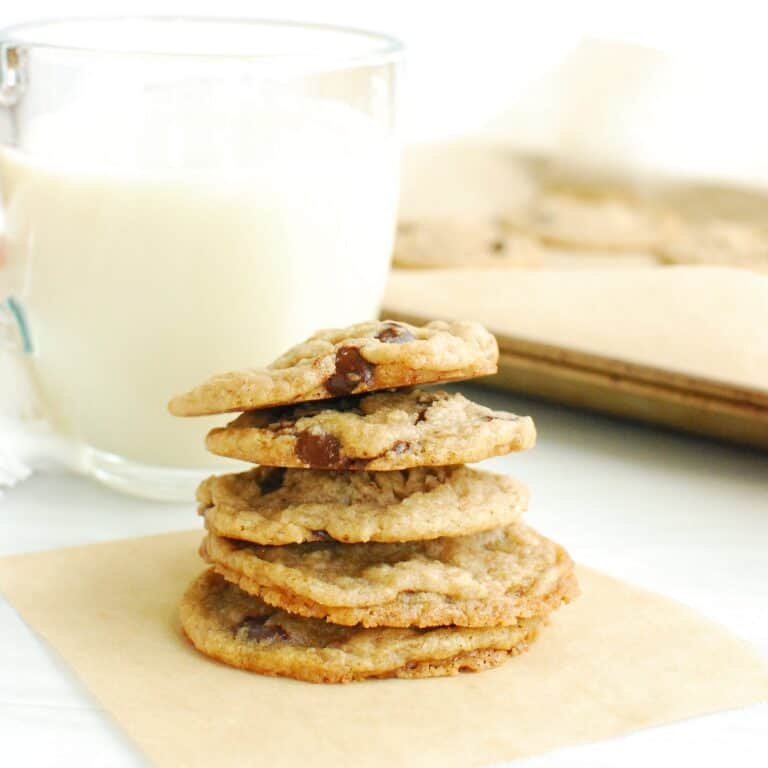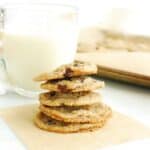 Coconut Oil Chocolate Chip Cookies
These coconut oil chocolate chip cookies are rich and decadent – no butter necessary!
Total Time
1
hour
25
minutes
Ingredients
1

tbsp

ground flax

2 ½

tbsp

hot water

½

cup

coconut oil

½

cup

brown sugar

⅓

cup

granulated sugar

1 ½

tsp

vanilla extract

1 ½

cups

all-purpose flour

(spooned and leveled)

2

tsp

cornstarch

¾

tsp

baking soda

¼

tsp

salt

½

cup

dairy-free dark chocolate chips

Oat milk

(only if needed, see directions)
Instructions
In a small bowl, combine the ground flax and hot water. Let sit for 10 minutes until thick and gelatinous.

In the mixing bowl of a stand mixer (or in a regular mixing bowl), combine the coconut oil, brown sugar, granulated sugar, vanilla, and flax mixture. Use the paddle attachment (or a hand mixer) to mix until well combined and fluffy.

To another bowl, add the flour, cornstarch, baking soda, and salt. Stir until well combined.

Add the dry ingredients to the bowl with the wet ingredients. Mix until just combined. If at this point the dough is too crumbly, add 1 to 2 tablespoons of oat milk to create a scoopable texture.*

Fold in the chocolate chips.

Using a cookie scoop or heaping tablespoon, portion the dough out into 24 cookies and place on a plate. Cover with plastic wrap or aluminum foil and place in the refrigerator. Chill for at least one hour.

When ready to bake, preheat the oven to 350 degrees F. Prepare two baking sheets with parchment paper.

Transfer the cookie dough balls onto the prepared baking sheets. Bake at 350 degrees F for 10 to 11 minutes, or until the cookies are golden brown and cooked through.

Let the cookies cool completely on the pan, then enjoy!
Recipe Notes
Dry crumbly dough can occur if the flour is packed (rather than spooned and leveled), or with slight mismeasurements of the coconut oil. This is not a big deal, though, just add the little bit of oat milk and the problem is easily solved.
Do not skip the chilling step or the cookies may spread too much.
Nutrition analysis (approximate per cookie): 123 calories, 6.5 g fat, 5 g saturated fat, 65 mg sodium, 16 g carbohydrate, 1 g fiber, 9 g sugar, 1 g protein, Vitamin D: 0%, Calcium: 0%, Iron: 7%, Potassium: 0%
Share: What's your favorite kind of cookie to bake? If you tried this recipe, what did you think?
Feel free to pin this post to refer to later.