These dairy free chicken wings are perfect for any game day get-together or upcoming party. They are easy to make and taste delicious. They're baked in the oven instead of fried, meaning no greasy wings. You will love how crispy and flavorful they are!
Ingredients
Here's a photo of everything you'll need to make this recipe, along with selected ingredient notes: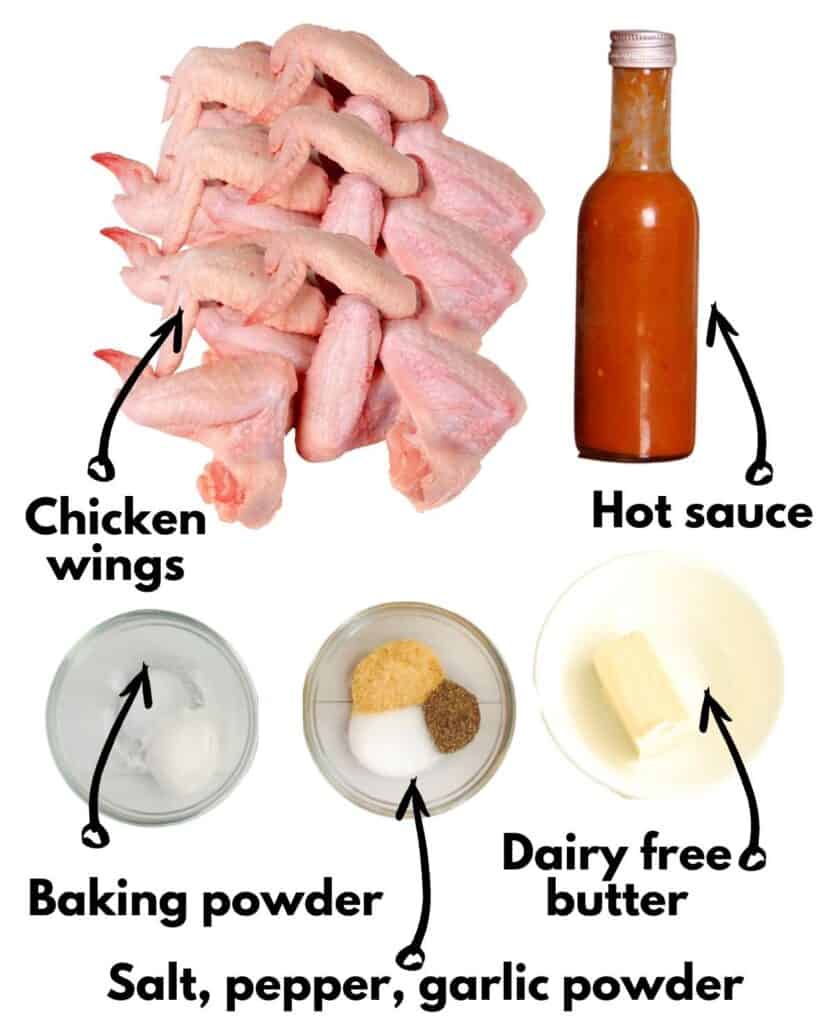 Baking powder – Yep, I know it sounds strange, but tossing the wings with a little baking powder will help them crisp up in the oven. Be sure to use aluminum free baking powder for the best taste. Do NOT use baking soda. This swap causes a bad taste in the finished product.
Hot sauce – I use Frank's Red Hot Original Sauce, which makes for the perfect buffalo wings when mixed with a little dairy-free butter. But you can use any dairy-free hot sauce that you prefer! Feel free to experiment with different flavors and varieties for your wings.
Instructions
You'll find full recipe instructions and amounts in the recipe card at the bottom of the post, but here's a helpful overview with photos and tips.
Start by breaking down your chicken wings. When you buy them at the store, they'll likely look a little different than when you order them at your favorite restaurant. Wings are made up of three parts:
Drumette – This is where the wing was connected to the animal, and it resembles a tiny drumstick.
Flat (or wingette) – This is the middle portion of the chicken wing, which has a somewhat flat oval shape.
Tip – This is the end of the chicken wing and is somewhat pointy.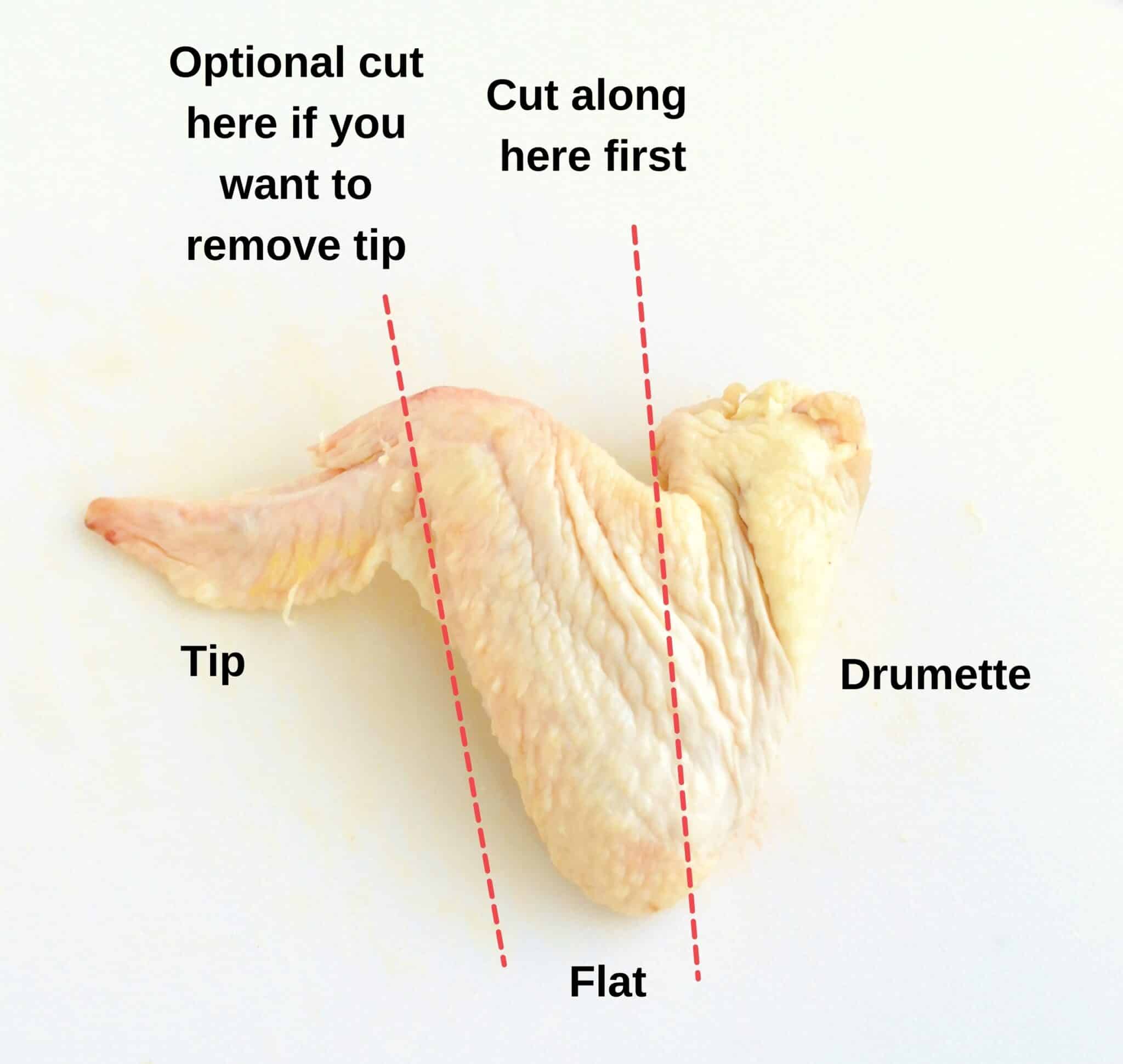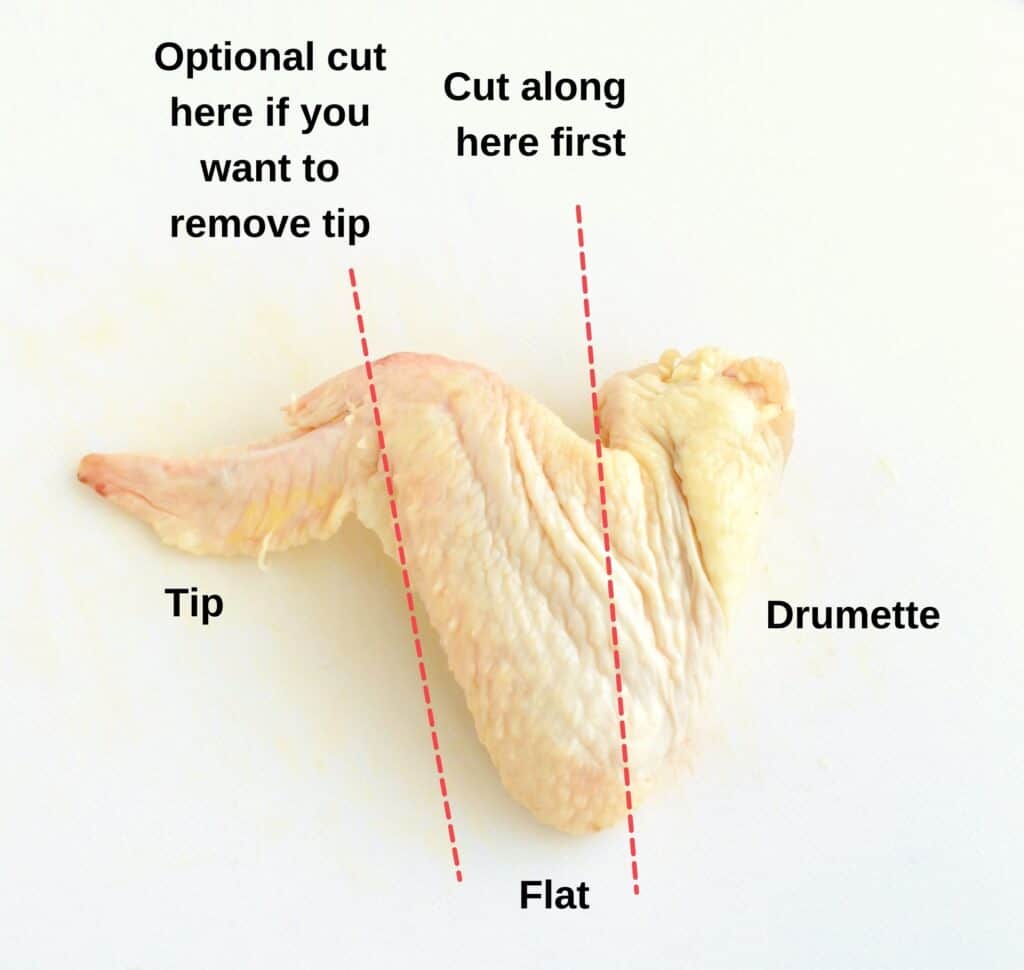 While you can leave the wings whole like this to cook, I do prefer breaking them down. You can decide whether to split it into three sections or two sections. I usually just split into two sections – 1) the drumette and 2) the flat and tip, which stay connected (I love the extra crispy skin on the tip, but there isn't much meat in there).
Other people chop the tip off, then save that piece to use for making homemade stocks and soups. Totally your call.
After you've broken down your wings, set 'em aside in a zip top bag.
Mix up the baking powder, salt, pepper, and garlic powder in a small bowl.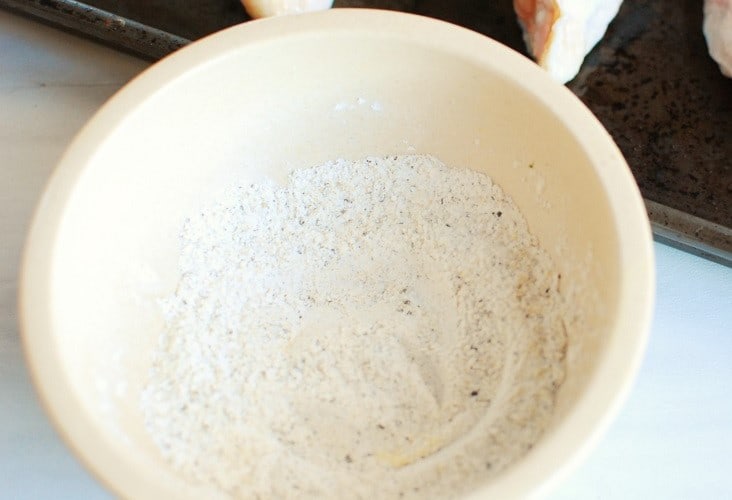 Toss that in the zip top bag with the wings and shake it up. The goal is not to have a thick coating of this mixture on the wings, but to just lightly dust them.
Place the wings on the baking sheets and bake them in the oven, flipping halfway through.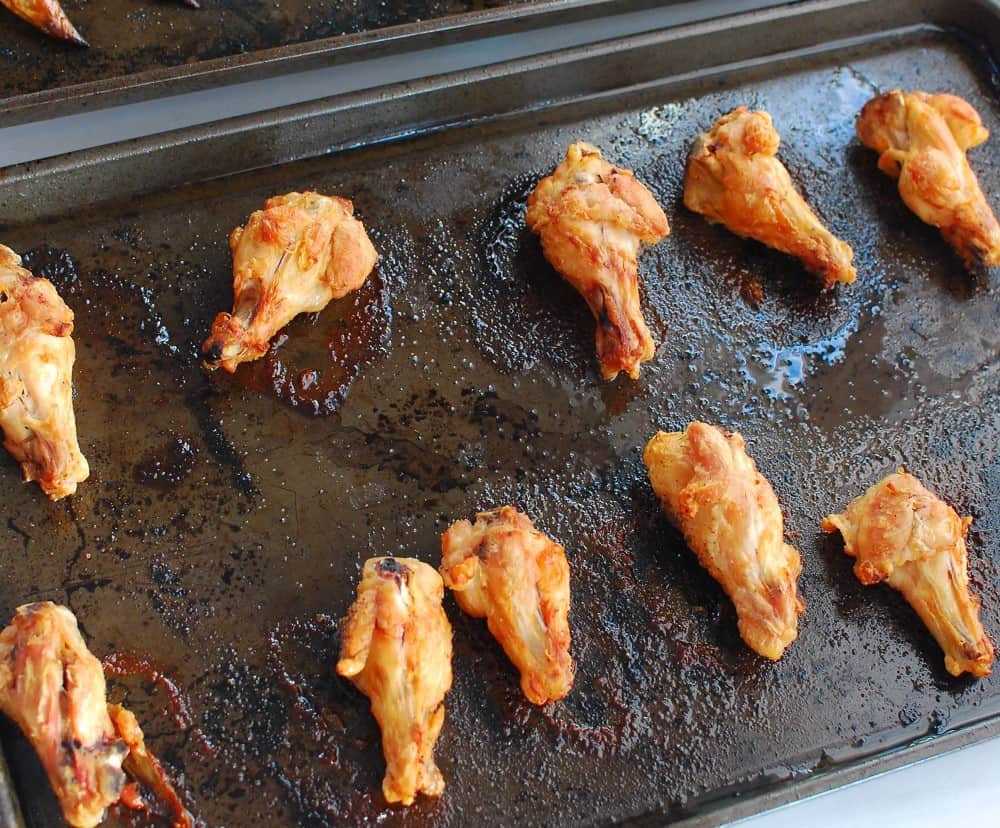 When they're done, make your buffalo sauce by mixing the Frank's red hot with some dairy-free butter. Toss your crispy wings in the sauce and serve!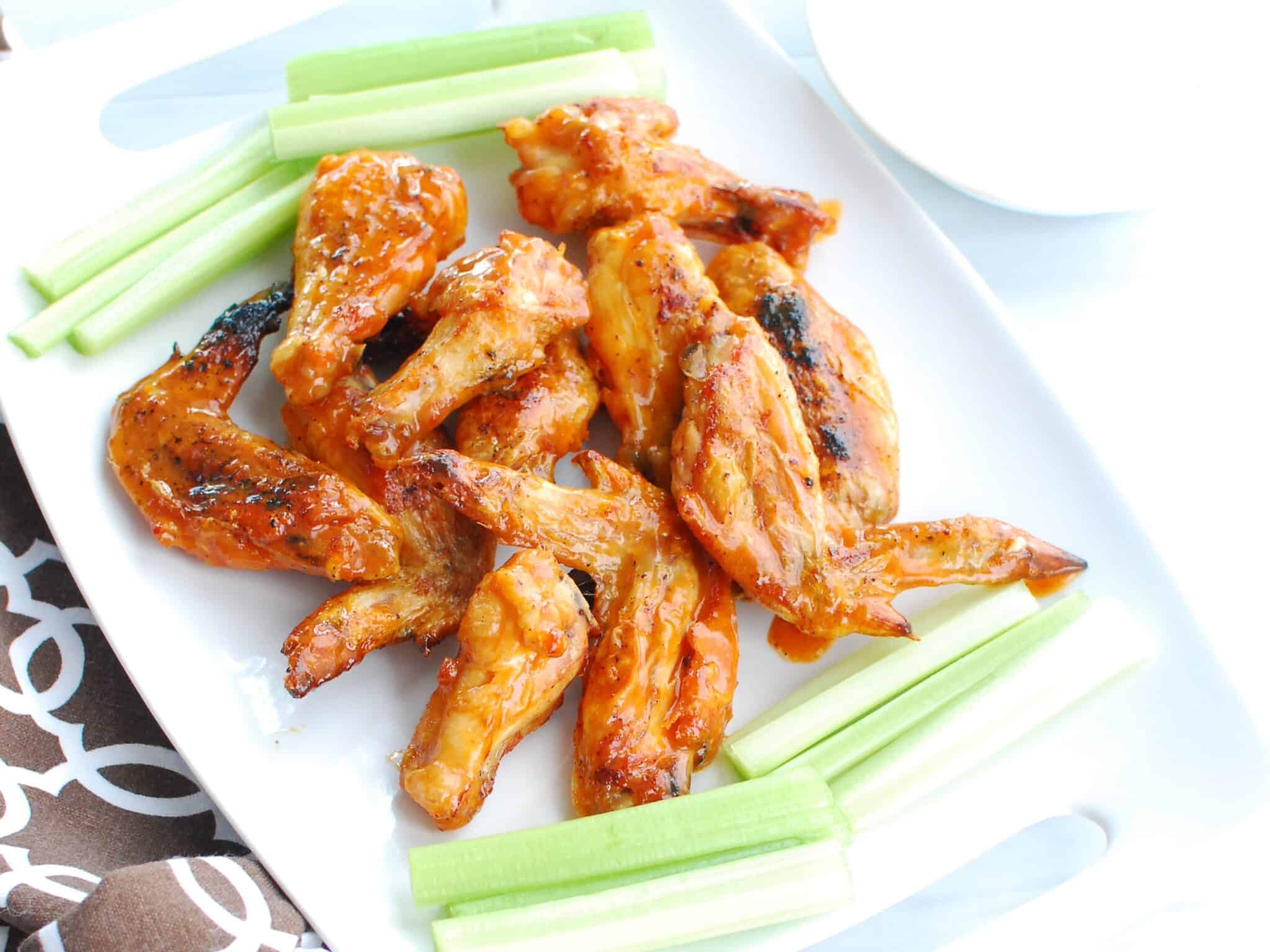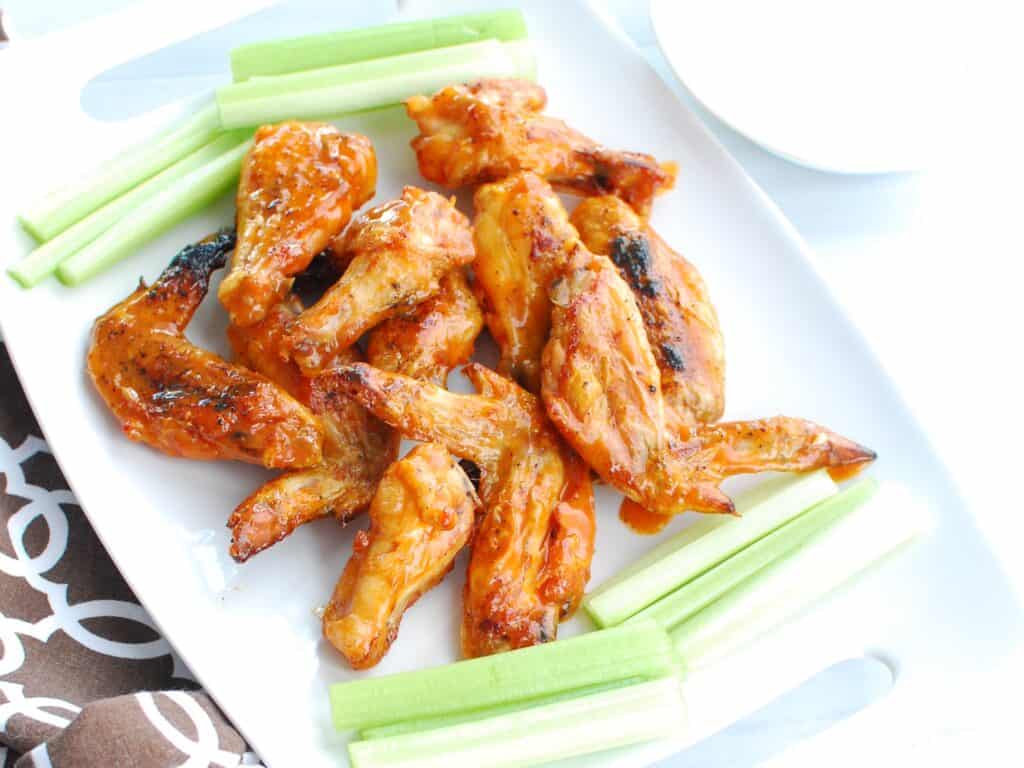 Recipe FAQ
Here are some common questions that may come up as you prepare these dairy free chicken wings:
Why is baking powder used to make crispy wings?
An often passed-along family trick, there seems to be several viewpoints on why baking powder makes crispy wings. Baking powder combines an alkaline powder with an acidic salt and neutral starch, so some say this combination affects the pH of the chicken skin during cooking which could help it brown and get crispier. Others say the baking powder draws moisture out of the chicken skin helping it to crisp better.
Can you use baking soda instead of baking powder for chicken wings?
While baking soda will still give you crispy wings, it will have an unpleasant taste. Do not use baking soda.
Why is my oven smoking when I make chicken wings?!
There are several reasons this can occur when cooking wings at a high temperature. If you previously had food drop to the bottom of your oven, it could smoke during high temp cooking. If your baking sheet is warped or too small, chicken grease can drip down from the pan to the bottom of the oven and cause smoking. If your oven runs hot (i.e. the temperature inside the oven is actually hotter than the temperature you've set), it can also cause smoking. If you greased the pan with a low smoke point oil, smoking can occur as well. In any of these scenarios, try opening some windows in your kitchen and lower the oven temperature by 25 degrees F.
How should you store leftover dairy free chicken wings?
Store leftovers in the refrigerator for up to 4 days. Note that they will lose their crispiness upon storing and reheating, but they still taste wonderful.
More Chicken Wing Flavors
While standard buffalo is always my favorite choice, here are a few other dairy free favorites:
I hope you enjoy this recipe as much as my family does! If you get a chance to try it, feel free to leave a recipe rating or comment below.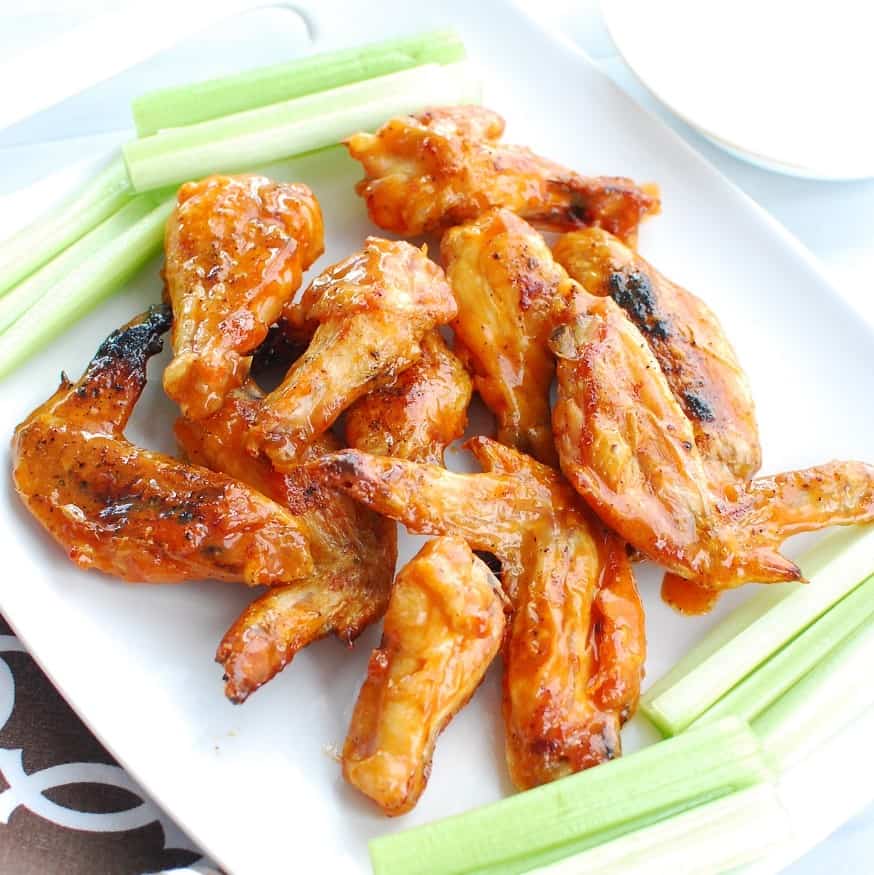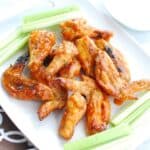 Dairy Free Buffalo Chicken Wings
These dairy free chicken wings are the ultimate game-day food choice! Super crispy and easy to make.
Ingredients
½

tbsp

avocado oil

(or another cooking oil to *very lightly* grease the pan)

3 ½

lbs

chicken wings

2 ½

tsp

aluminum-free baking powder

(NOT baking soda)

½

tsp

garlic powder

¼

tsp

salt

¼

tsp

pepper

¾

cup

Frank's Original Red Hot Sauce

(or another hot sauce)

3

tbsp

dairy-free butter
Instructions
Preheat the oven to 440 degrees F. Prepare two baking sheets by greasing very lightly with the avocado oil (which will prevent the wings from sticking during the beginning of the cooking process).*

Break down the chicken wings into the drumette and the flat/tip. Use a paper towel to dry them well, then place them in a zip top bag.

In a small bowl, combine the baking powder, garlic powder, salt, and pepper. Add this to the zip top bag and toss with the chicken wings so they are very lightly coated.

Place the chicken wings on the baking sheets. Bake in the oven and cook at 440 degrees F for 20 minutes. Take the baking sheets out, and if necessary, drain off any excess grease*. Flip the wings over on the pan, return to the oven and cook for an additional 20-30 minutes, until the wings reach an internal temperature of 165 degrees and are crispy on the outside.

When the wings are done, prepare the buffalo sauce. Melt the dairy-free butter in a bowl in the microwave. Stir in the hot sauce.

Toss the wings in the buffalo sauce, then serve!
Recipe Notes
Anywhere from 3 to 4 pounds of wings will work for this recipe. The number of wings per pound will vary based on how large they are.
*Avocado oil is used to lightly grease the pan because it prevents the wings from sticking and has a high smoke point. If you prefer, you can skip greasing the pan and bake the wings on a metal rack on top of the pan.
*I usually don't have to drain off excess grease, but if you're using a small baking sheet it may accumulate and you don't want it to spill in your oven.
*Smoking can occur if a) chicken grease drips to the bottom of your oven, b) there was other food that previously fell to the bottom of your oven, or c) if your oven temperature runs hotter than it displays. In any of these cases, open windows and reduce the oven temperature by 25 degrees.
For the nutrition analysis, we assume you'll purchase about 20 full wings, which will breakdown to 40 pieces when split, and a serving is around 5 wings (drumettes or flats). This makes 8 servings for the full recipe.
Nutrition analysis (approximate per serving): 418 calories, 30 g fat, 9 g saturated fat, 1250 mg sodium, 0.5 g carbohydrate, 0 g sugar, 35 g protein, Vitamin D: 1%, Calcium: 7%, Iron: 6%, Potassium: 8%
Share: What's your favorite sauce for wings? Do you prefer crispy wings or soft wings?
Feel free to pin this post to save for later!