This dairy free clam chowder is one of the best comfort food recipes for winter! It's shockingly creamy, filled with flavor, and easy to make.
And not to toot my own horn, but this recipe was named "Best Overall Chowder" in my neighborhood's recent Chili & Chowda Fest. 😉 I find this a pretty high honor considering it was up against standard dairy-containing options, and it still managed to get top ranks for taste. You know a recipe is good if that happens!
Ingredients
Here's a photograph of all the ingredients you'll need, along with selected ingredient notes: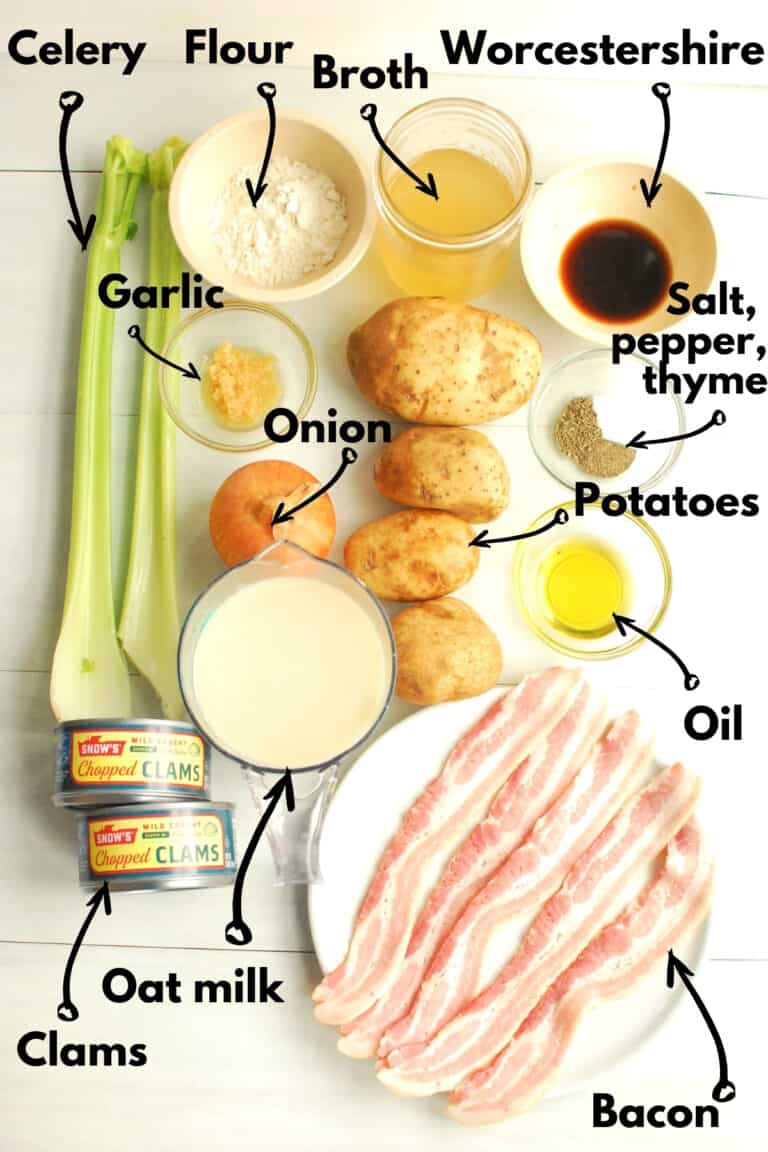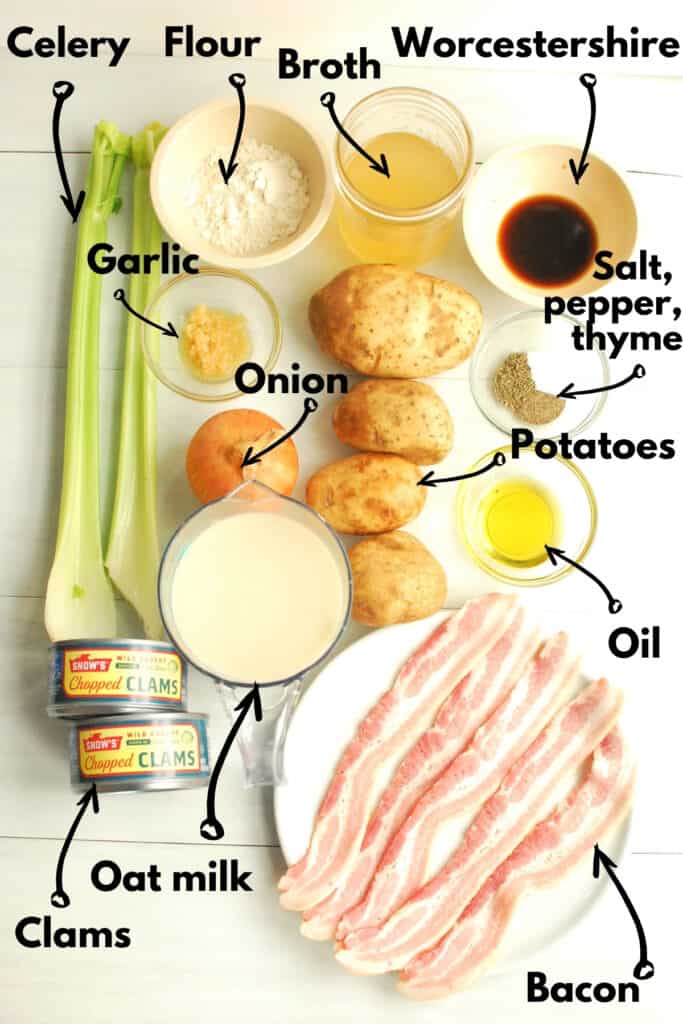 Clams – As a fan of convenience, we've used canned clams for this recipe. I actually really love using these, as they're typically packed in clam juice and this adds a ton of flavor to the soup. If you'd prefer using fresh clams, though, you can certainly do so.
Oat milk – Extra creamy oat milk is the key to this recipe. It's thicker and helps make the recipe – as you'd expect – creamy! I use Planet Oak (which is widely available at Stop and Shop where I live) but you can also use Silk or Chobani varieties too.
Potatoes – Russet potatoes work well for this recipe, since they're starchy and help thicken the soup. But you could also use Yukon Gold instead.
Step by Step Instructions
You'll find full recipe amounts and instructions at the bottom of the post in the recipe card, but here's a helpful overview with photos.
You're going to start by chopping up the bacon and cooking it in your pot.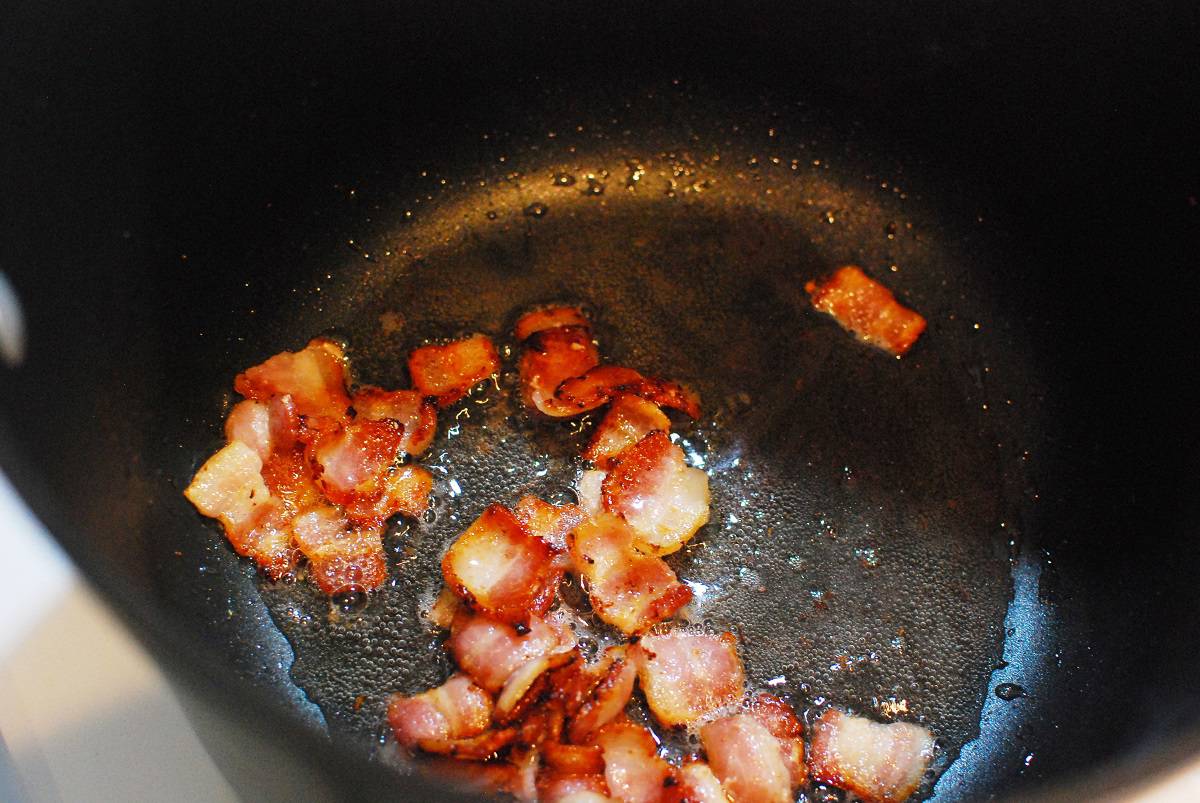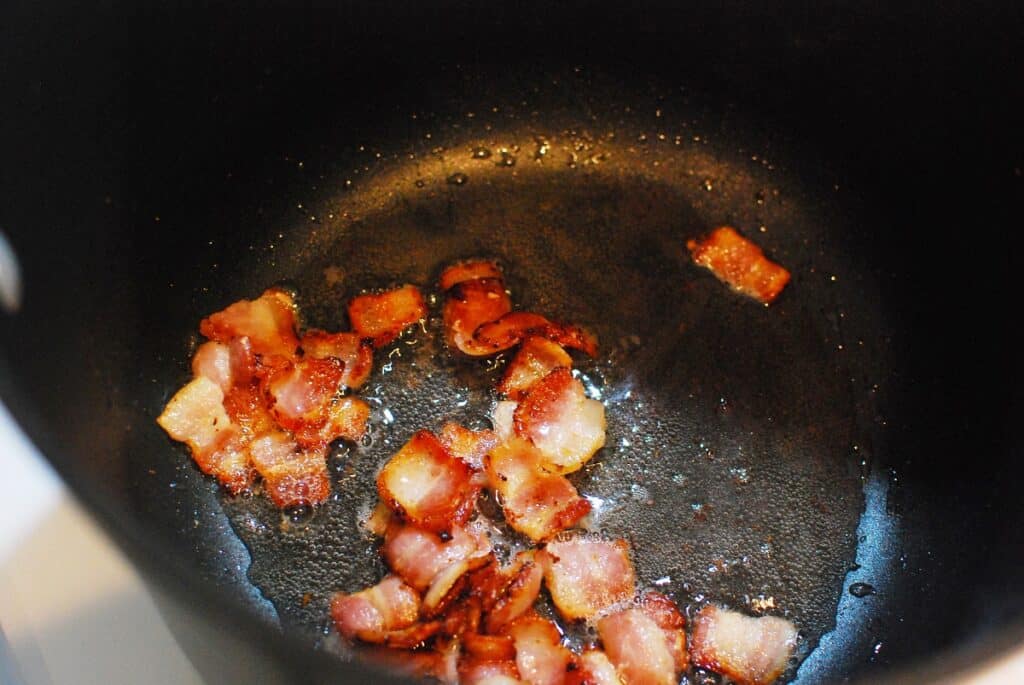 When it's cooked through and crisping up, remove to a paper towel lined plate and set aside for now.
Leave the bacon grease in the pot, and add the olive oil along with it. Then add the onion and celery, cooking for about 4-5 minutes, until they start to get tender. Stir in the garlic and cook for another minute.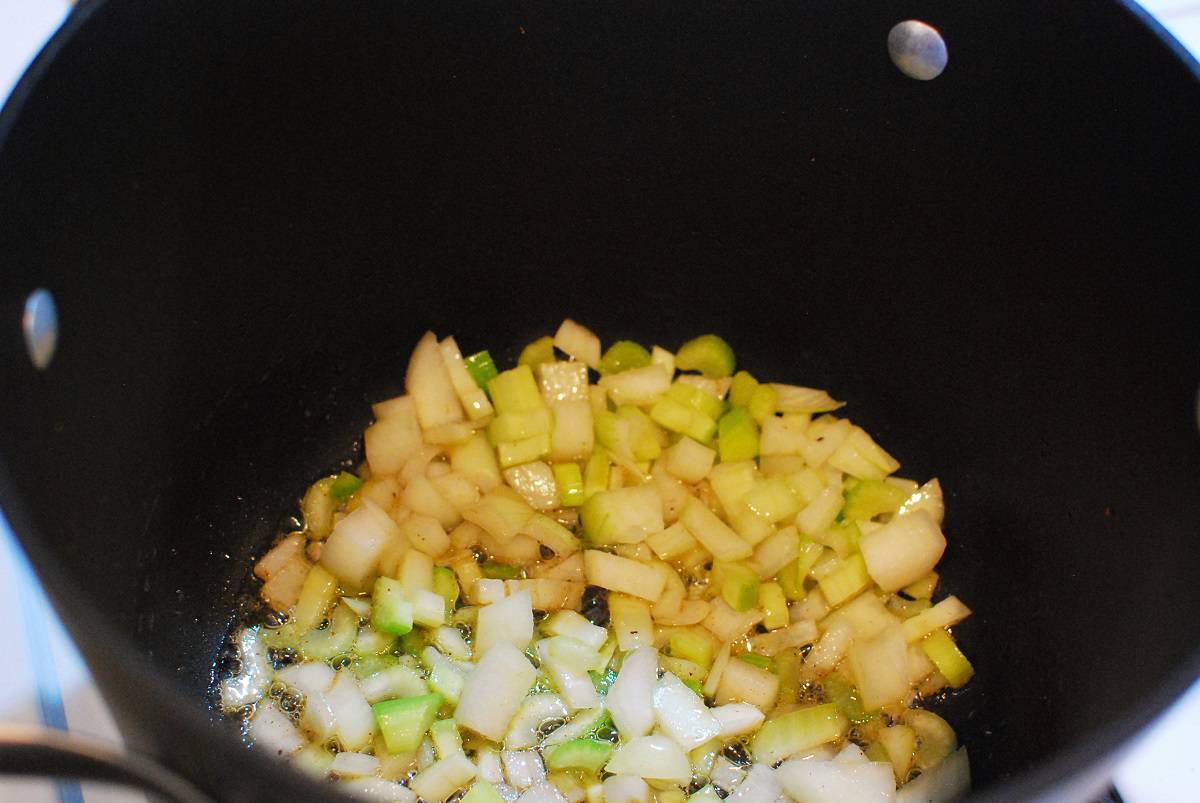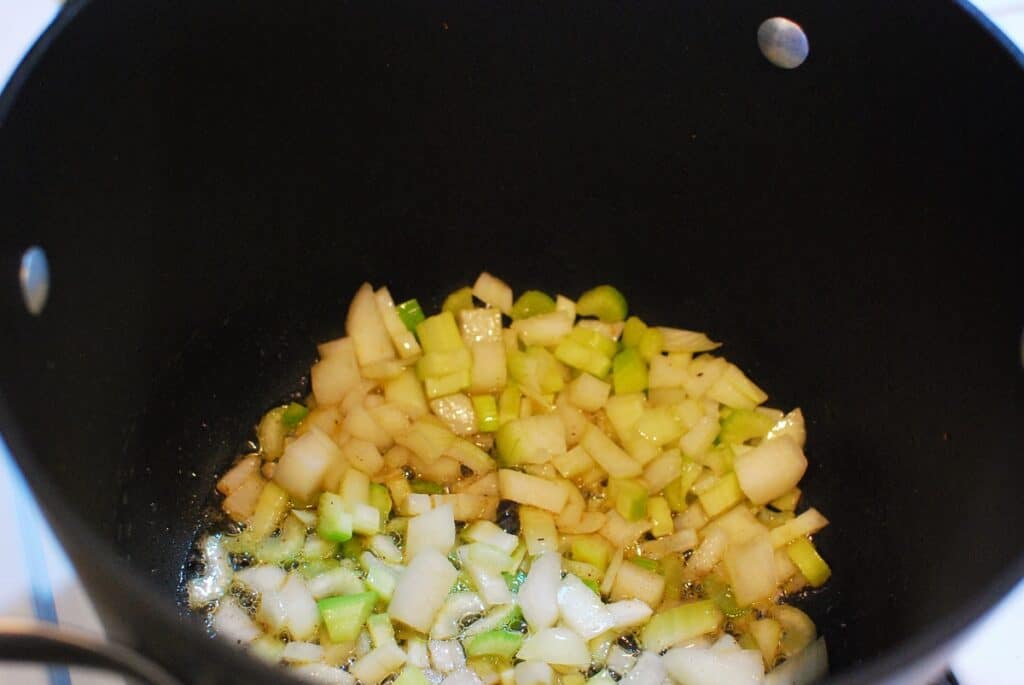 Add the flour to the pot, stirring everything around for a minute or two. This allows the flour to absorb the oil, and get a little toasty.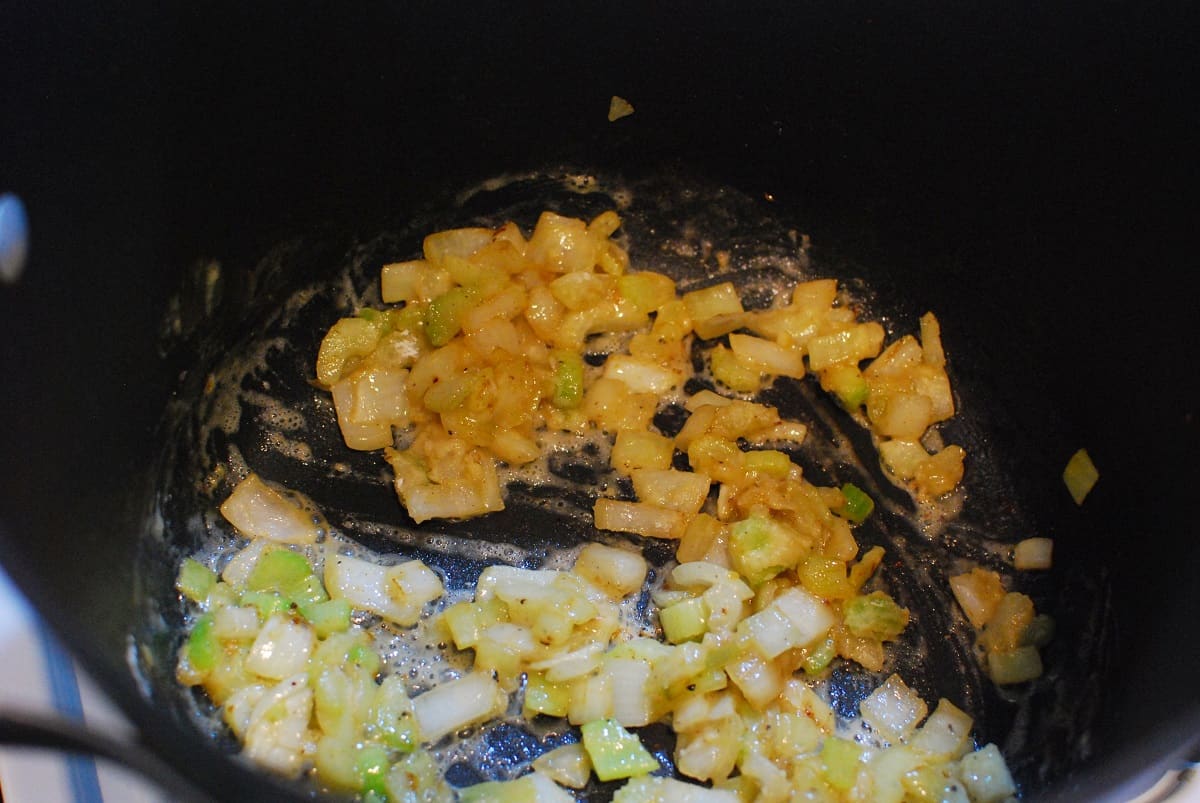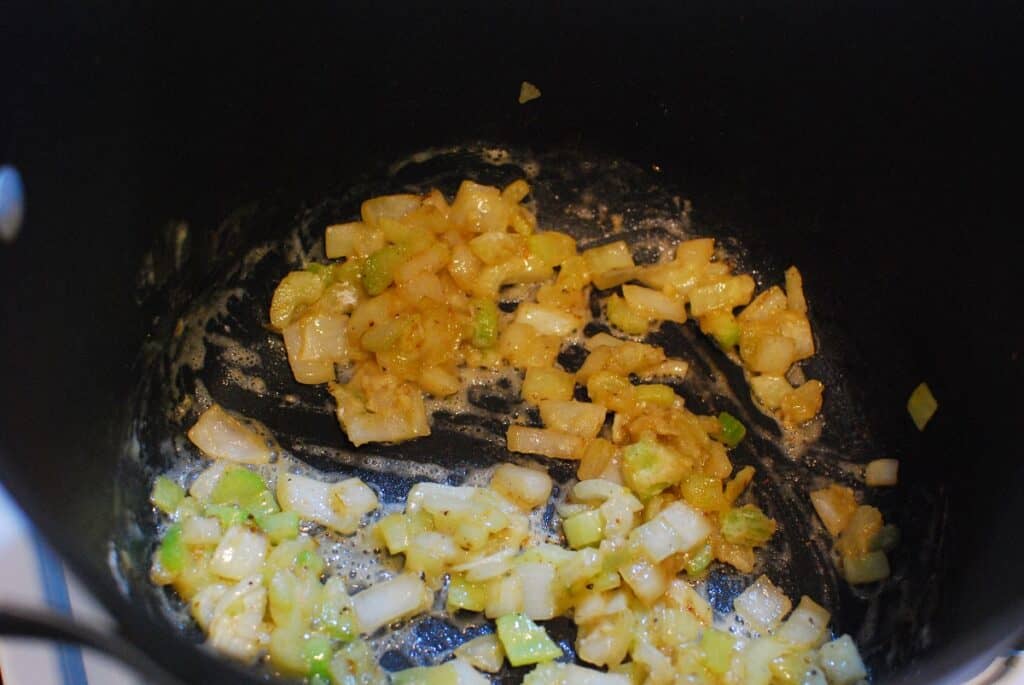 Take your stock and pour it in slowly, whisking consistently as you do so.  This allows the flour mixture to blend into the stock evenly, which will let it thicken the whole soup. This is what it should look like after you've mixed in the cup of stock – nice and thick: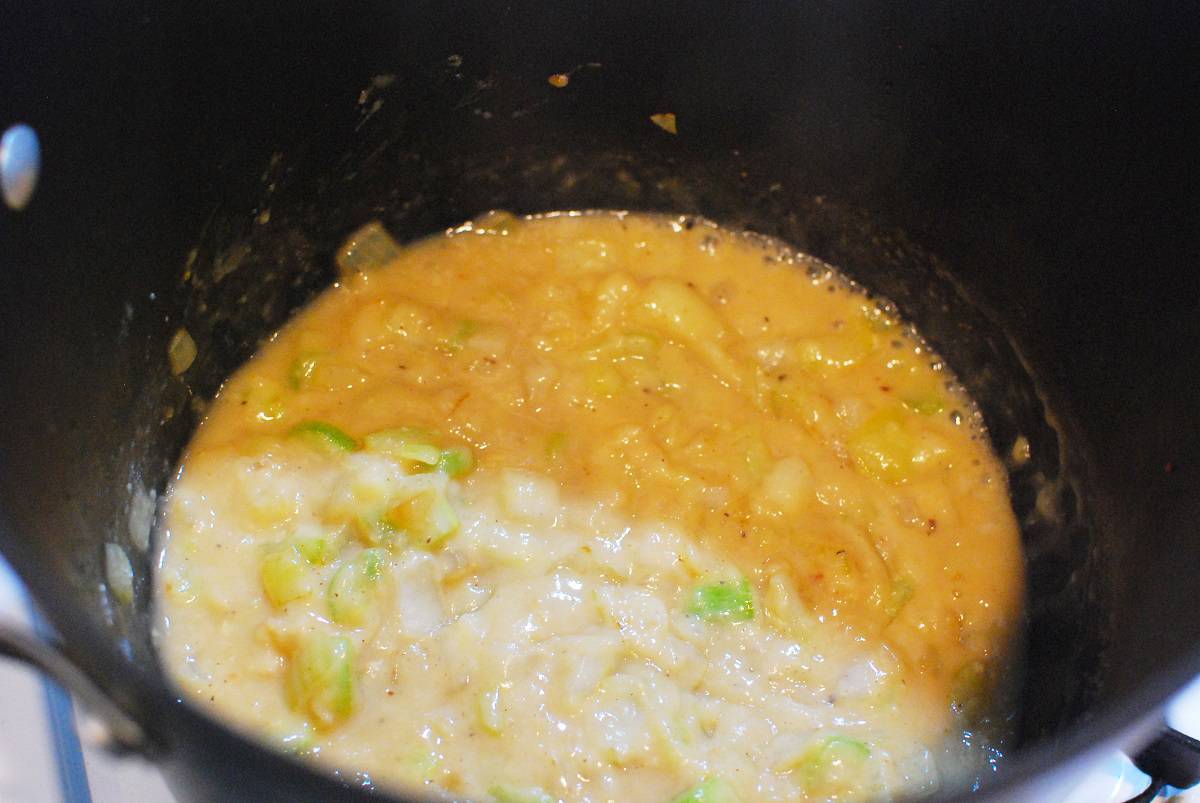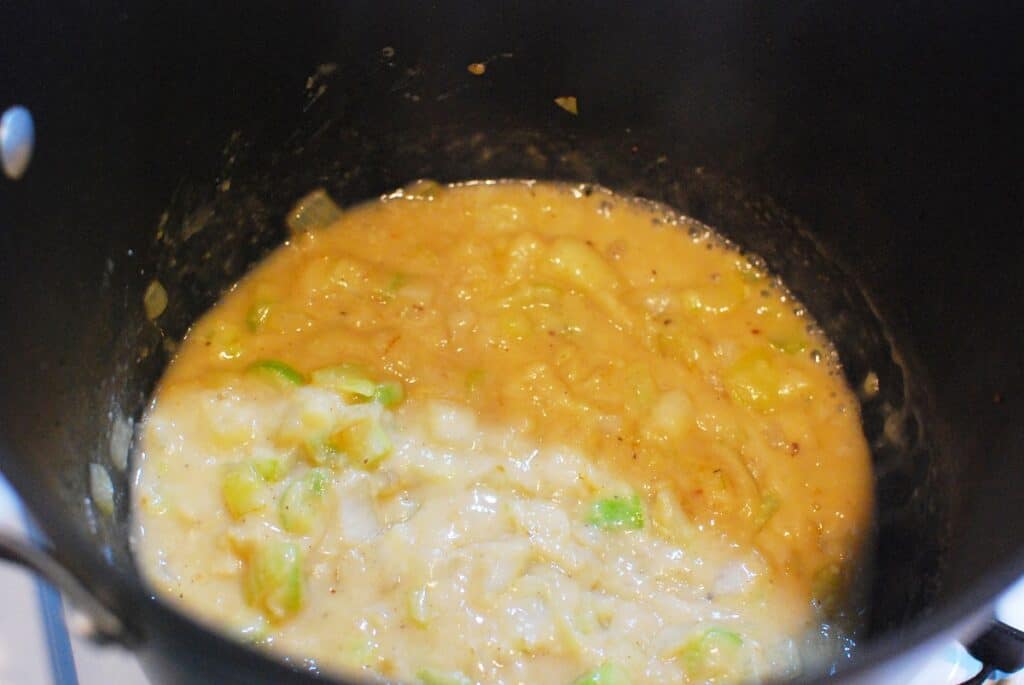 Once all the stock is in, go ahead and add the oat milk, Worcestershire, thyme, salt and pepper. You'll also want to open you cans of clam juice and drain the juices into the pot – but don't add the actual clams just yet!
Put your chopped potatoes in the pot.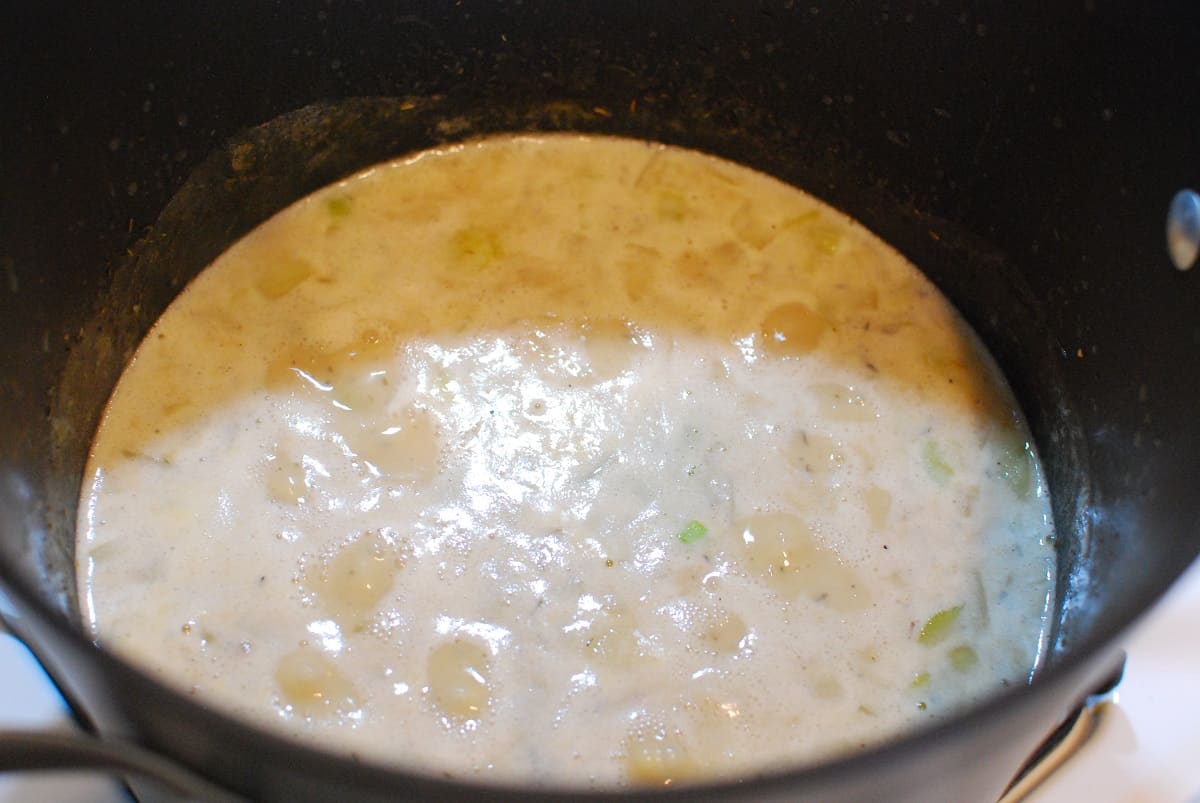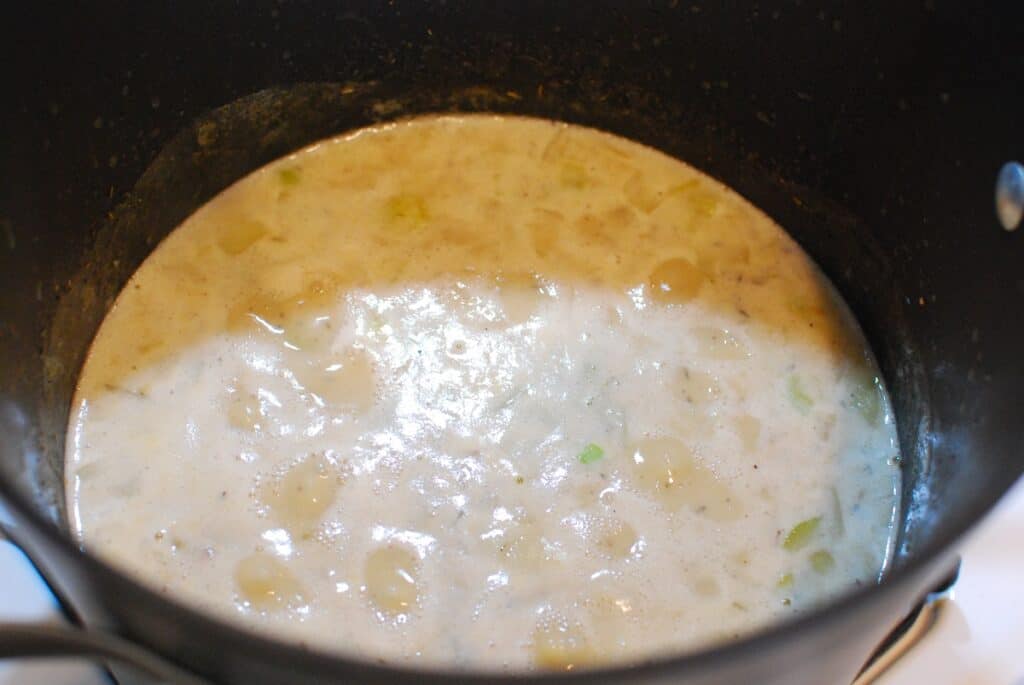 Bring that mixture to a boil, then reduce that to a simmer, and let the potatoes cook for about 15 minutes – or until they're nice and tender.
Now add those clams in and cook for just a few more minutes, until everything is warm and the flavors have melded. Add that bacon on top and dig in!
Recipe FAQ
Here are some common questions that may come up as you prepare this recipe:
Can you use fresh clams rather than canned clams for chowder?
Yes.  If you'd prefer using fresh clams, look for cherrystone clams (or quahogs if you can't find cherrystone).  You can steam them as you're cooking your aromatics or potatoes.  When they open, dump any juices into the pot, then set the clams on a cutting board.  Remove the shells so that you're left with a pile of fresh clam meat.  Chop it all into pieces, then add it to the pot in the last few minutes of cooking.
How long will homemade clam chowder last?
Stored properly in the fridge, this soup should last for 3 to 4 days.
Can you freeze dairy free clam chowder?
You can, but the texture of the potatoes will change a bit upon reheating.  I recommend making this recipe fresh rather than freezing.  But if you do choose to freeze, do so in individual portions that can be reheated in a small pot (or microwave).  Stir frequently when reheating.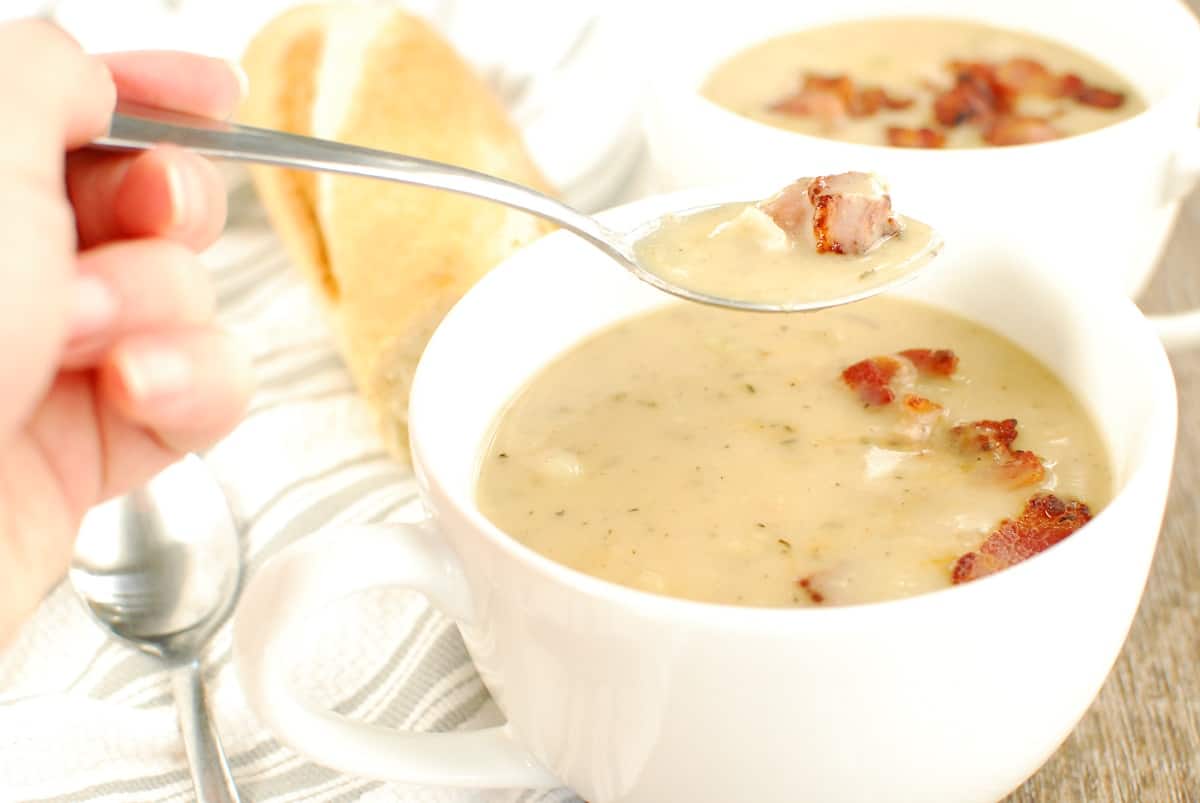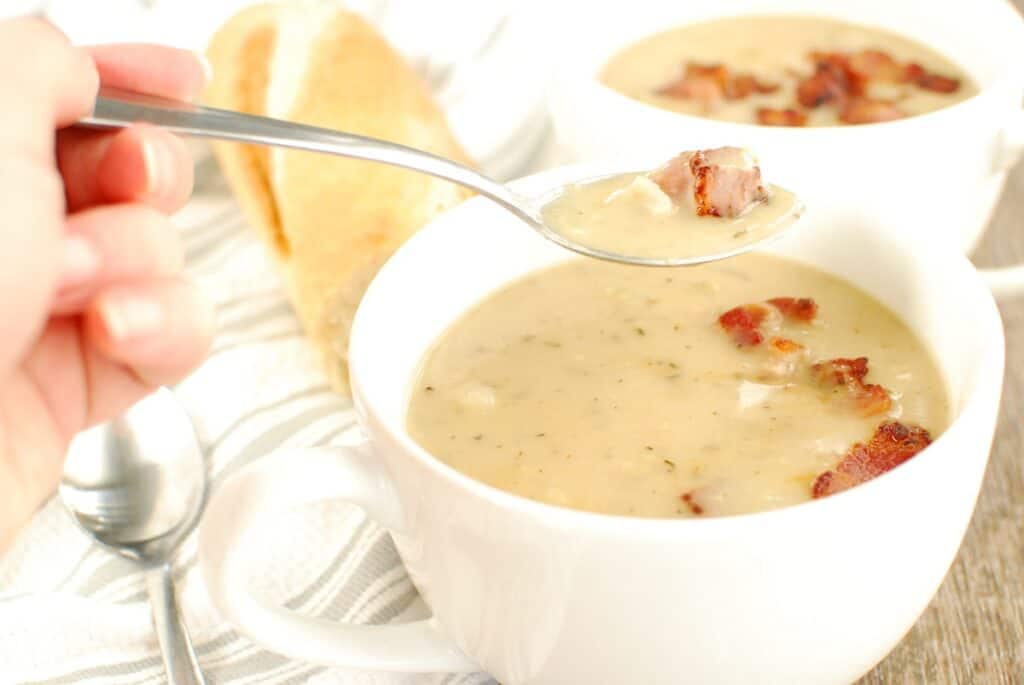 Allergens in this Recipe
* Disclaimer: Always double check ingredients and product packaging to confirm a recipe meets your allergy needs. While I try to note potential allergens below, there is always the chance I may miss something or that manufacturer formulations may change.
As written, this dairy free clam chowder recipe is dairy free and nut free.
This recipe should also be soy free (however, double check the ingredients on the canned clams, as very rarely canned fish can contain soy).
This recipe does contain fish (clams – obviously, haha – but also anchovies in the Worcestershire) and wheat/gluten (in the flour, and sometimes in Worcestershire).
If you need to make this gluten free, you can use a gluten free all-purpose flour in the recipe, and double check to ensure that your Worcestershire is gluten free. Depending on what's in your all-purpose gluten free blend (as the different flours have different thickening properties), you may need to add a little bit of a cornstarch slurry to thicken the soup at the end if it's too thin.
More Dairy Free Soups
If you're looking for more cozy soups and stews to warm up those winter nights, here are a few tasty options:
I hope you enjoy this recipe as much as my family and neighbors did. If you get a chance to try it, please leave a recipe rating or comment below!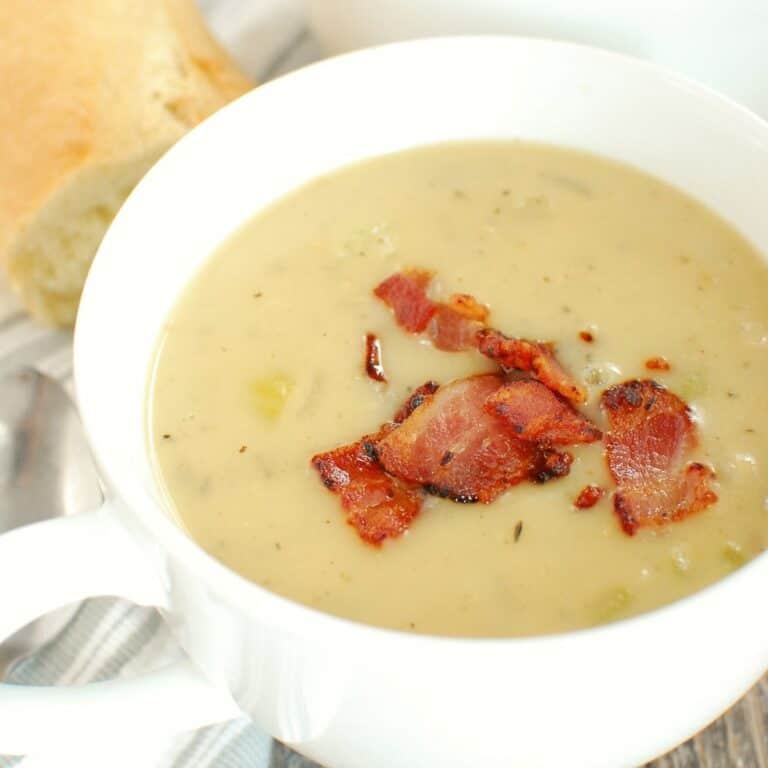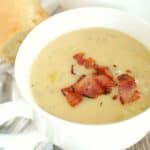 Dairy Free Clam Chowder
This creamy dairy free clam chowder is the perfect cozy soup recipe for a chilly winter night!
Ingredients
5

slices

bacon, chopped

1

tablespoons

olive oil

1

medium yellow onion, diced

2

celery stalks, diced

2

teaspoons

minced garlic

3

tablespoons

all-purpose flour

1

cup

chicken broth

2

cups

extra creamy oat milk

1

tablespoon

Worcestershire

½

teaspoon

dried thyme

½

teaspoon

salt

¼

teaspoon

pepper

1

bay leaf

2

6.5-ounce

cans chopped clams in clam juice

(*liquid will be added to the pot separately than the actual clams)

1 ½

lbs

russet potatoes, peeled and chopped into ½- to 1-inch pieces

(about 3-4 potatoes)
Instructions
In a large pot, cook the bacon over medium heat until crisp. Remove with a slotted spoon, leaving the bacon grease in the pot, and set aside on a paper towel lined plate.

Add olive oil to the pot with the bacon grease. Add the onion and celery and cook for 4-5 minutes, until slightly tender. Add the garlic and cook for another minute.

Whisk in the flour, letting it absorb any oil in the pot, letting cook for about 1 minute, until lightly toasted. Slowly add stock, continuously whisking and letting it thicken.

Stir in the oat milk, Worcestershire, thyme, salt, pepper, and bay leaf.

Open the cans of clams and pour just the liquid into the pot; do not add the actual clams yet.

Add the potatoes and bring mixture to a boil. Reduce heat and simmer about 15 minutes, uncovered, until potatoes are tender.

Stir in the clams. Let cook for another 2-3 minutes. Serve garnished with the bacon. Enjoy!
Recipe Notes
For added flavor in the broth, add a bay leaf while the potatoes are cooking.  We usually skip over this because I always seem to be out of them! 🙂
This recipe makes 4 larger servings or 6 smaller appetizer-sized servings. The nutrition analysis below is based on 4 large servings.
Nutrition analysis (approximate per serving): 381 calories, 9 g fat, 2 g saturated fat, 1400 mg sodium, 62 g carbohydrate, 5 g fiber, 6 g sugar, 14 g protein, Vitamin D: 10%, Calcium: 16%, Iron: 16%, Potassium: 24%
Share:  What's your favorite dairy free soup for this time of year? If you tried this recipe, what did you think?
Feel free to pin this post to refer to later.