This fall, dig into this creamy dairy free potato soup!  It's flavor-filled and packed with hearty ingredients like potatoes, carrots, celery – and of course, a bacon topping.  Using extra creamy oat milk in your base gives this a surprisingly creamy texture that many would not guess was dairy free.  Throw on your favorite flannel, gather round the table and enjoy your warm bowl of soup!
Note: This recipe was developed by Teresa Chaney, a dietetic student at the University of Alabama.
Ingredients
Here's a photo of everything you'll need to make this soup, along with selected ingredient notes: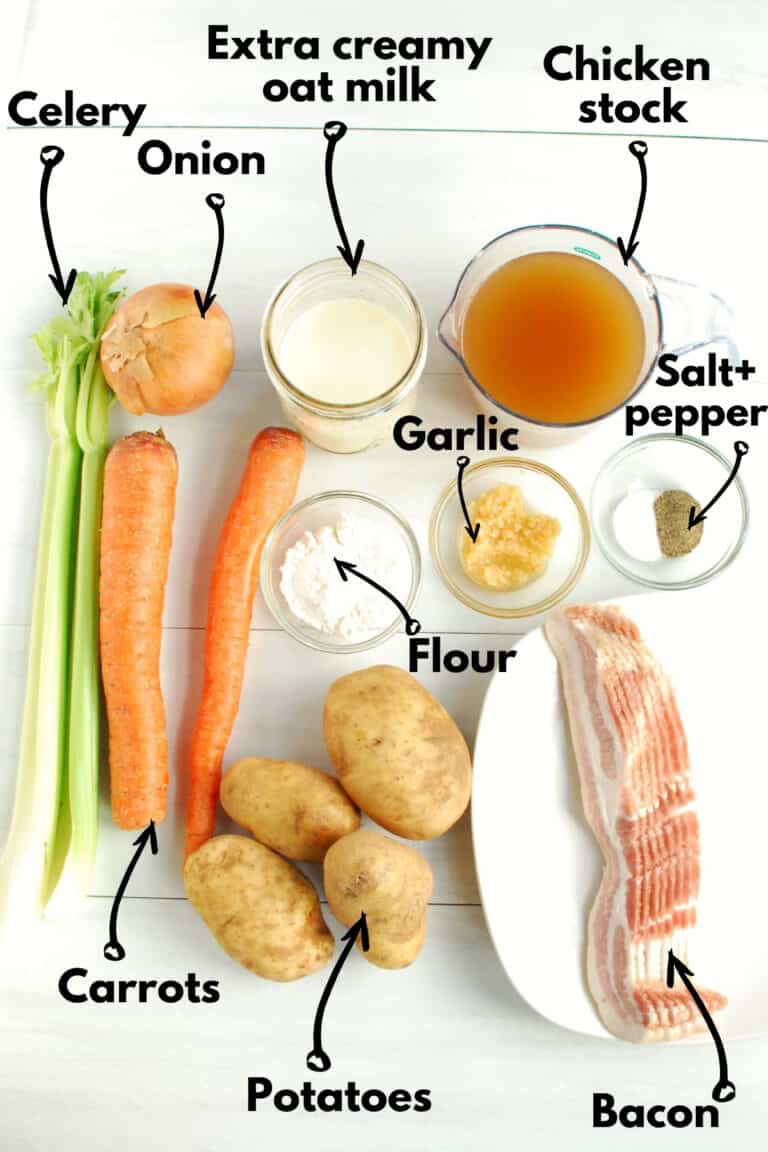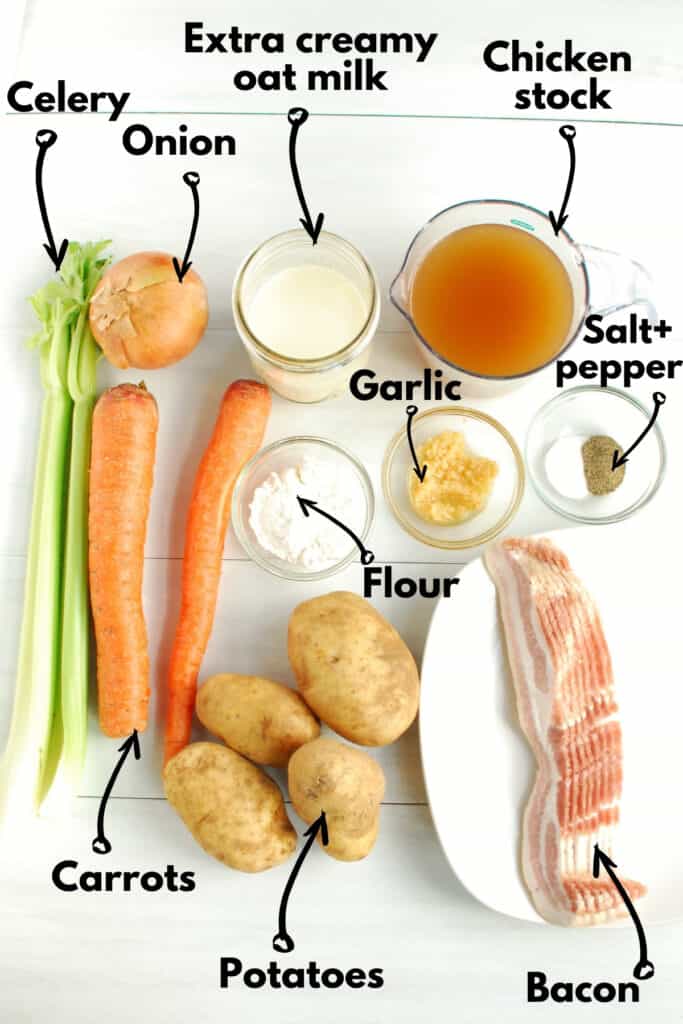 Oat milk: You'll find this in the refrigerated section near the other milk alternatives. Ideally, purchase extra-creamy plain oat milk (though regular plain will do in a pinch). The extra creamy variety will help give the broth the body and thickness that you've come to expect in a potato soup. (Don't get any flavored varieties – we don't want vanilla soup, after all!).
Potatoes: Russet potatoes work well for this recipe, because they're starchy and break down a bit during cooking (which I prefer). Yukon Gold potatoes are also great, especially if you like a little more "bite" to your potatoes in the soup.
Bacon: The bacon is a pretty essential ingredient here, as you'll use the cooked pieces for topping your soup and the grease for cooking your vegetables. While you can make it without, I really recommend this for optimal flavor – it adds that salty subtle smokiness you want in a potato soup.
Step by Step Instructions
You'll find the full recipe card with amounts and instructions at the bottom of this post, but here's a helpful overview with photos.
Start by chopping your bacon and cooking it in a pot.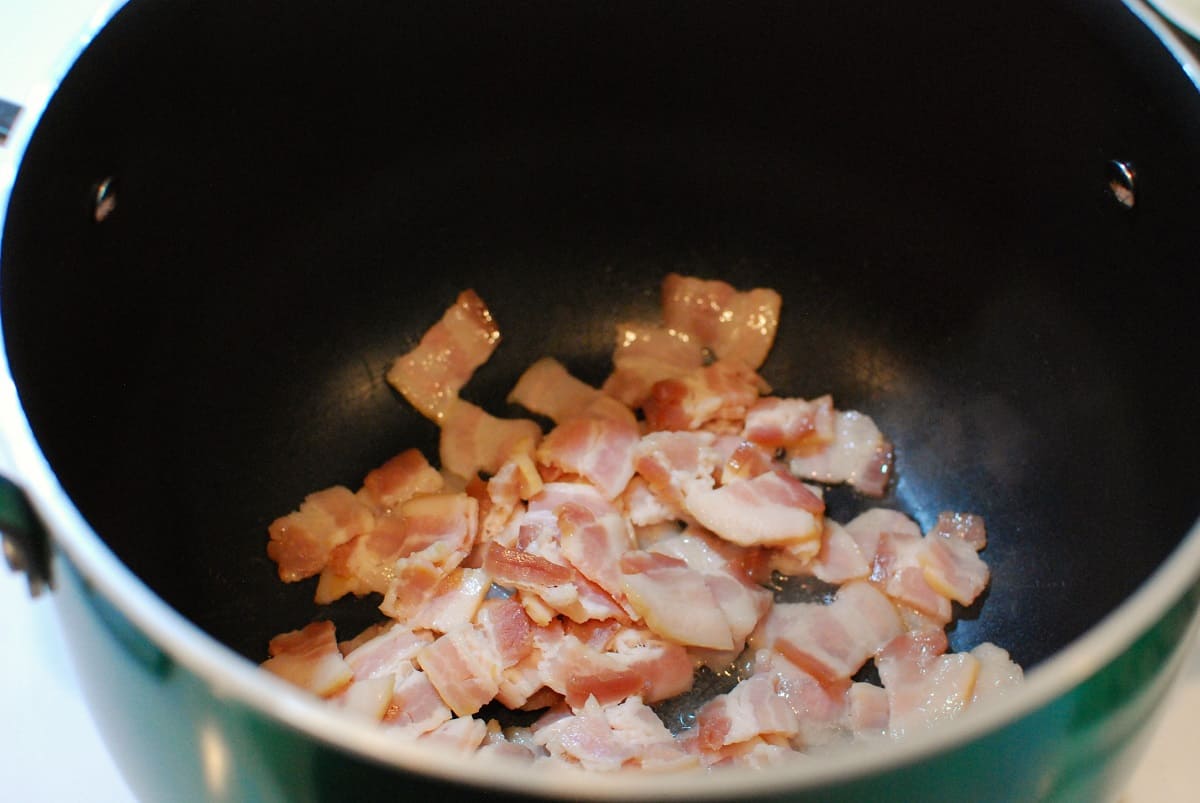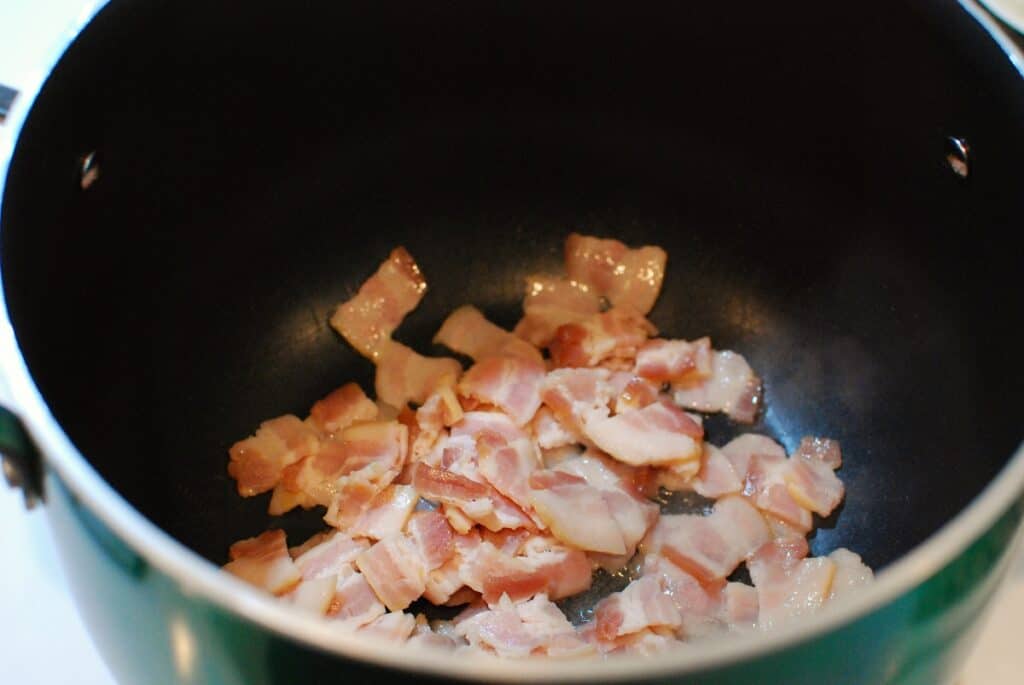 When it's done, you want to remove it with a slotted spoon to set aside, but leave the bacon grease in there. We're going to sauté our veggies in it, which adds extra flavor and seasoning to the soup!
Go ahead and put your onion, carrots, and celery in the pot. Sauté for about 5 minutes, until they're starting to get a little tender.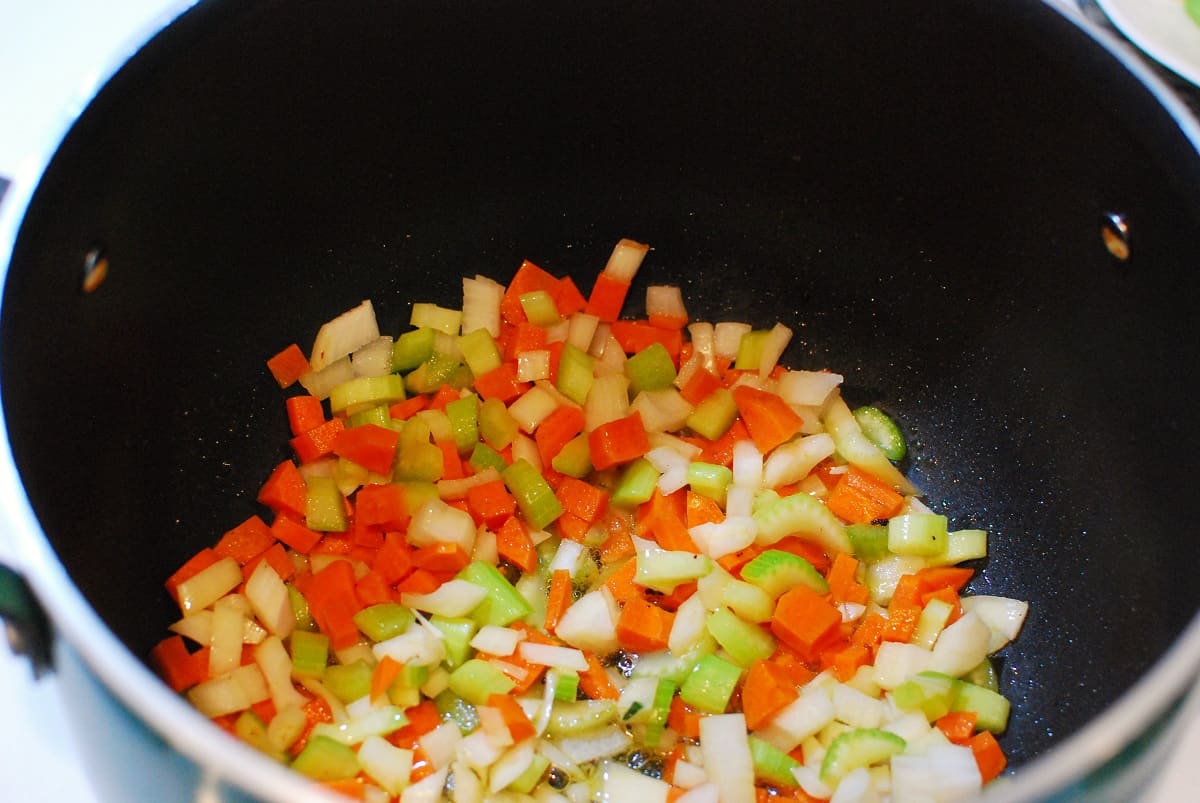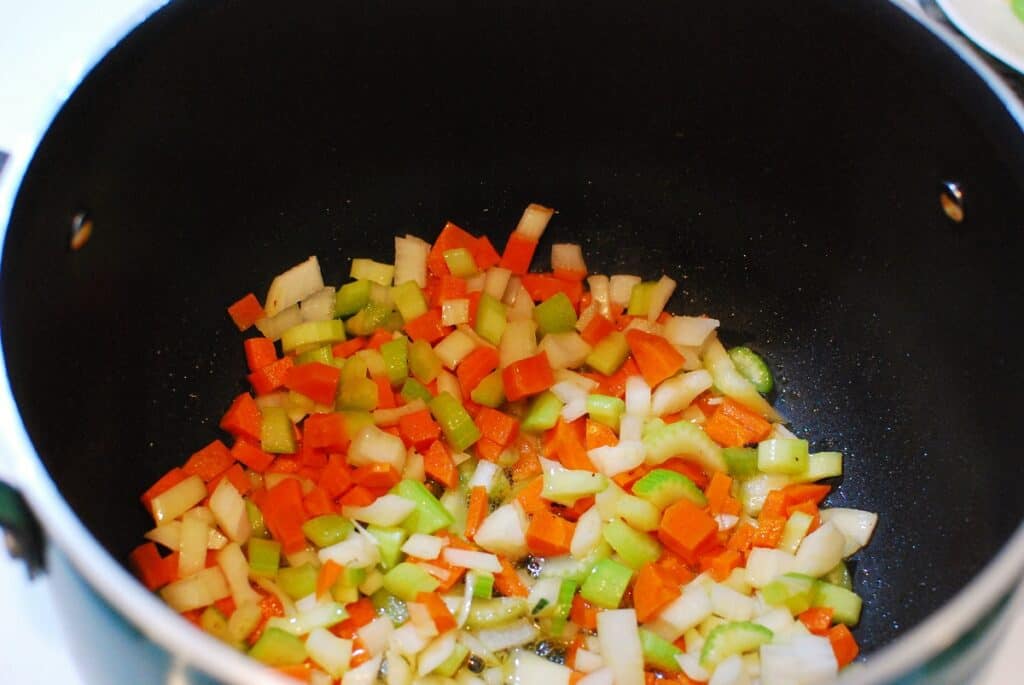 Add your garlic, salt, and pepper, and cook for another minute.
Then add your flour. You want the flour to absorb all the bacon grease left in the pot. Stir it continuously for a minute, letting the flour get a little toasty.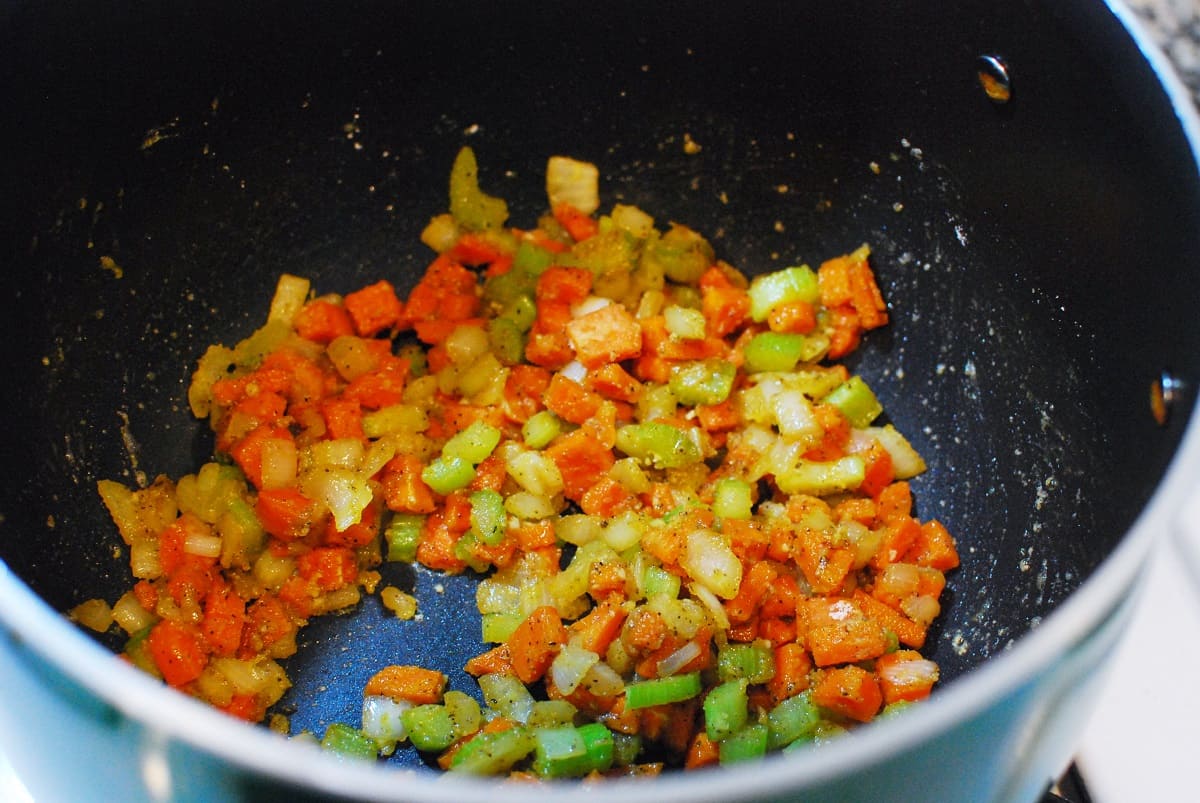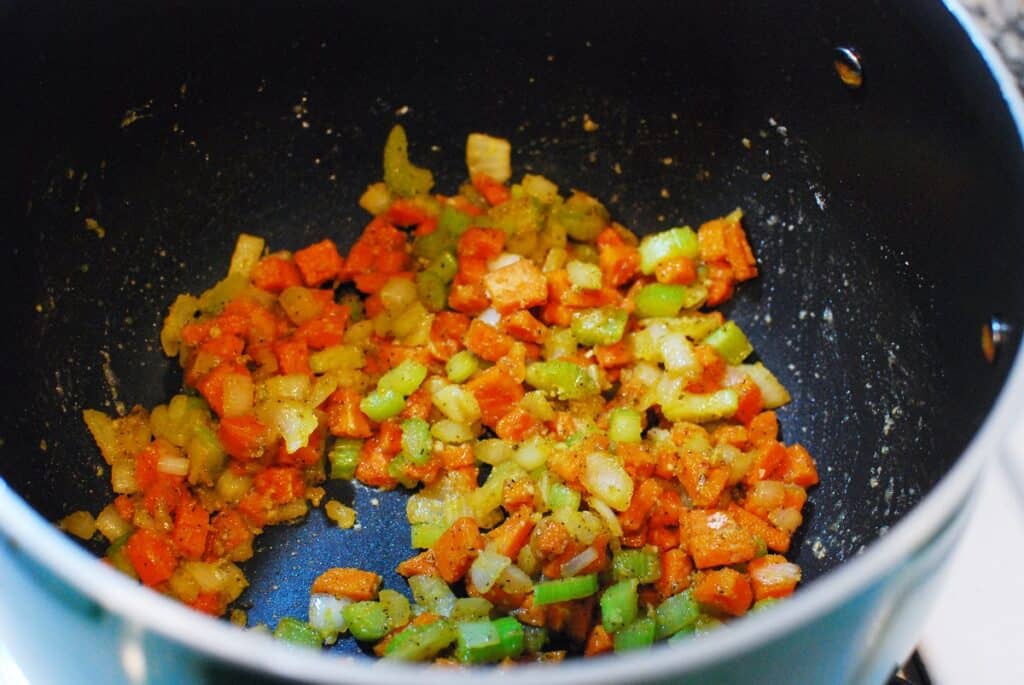 Go ahead and slowly add your chicken broth a little bit at a time. Stir continuously, letting the flour in the pot work it's way in and thicken the broth each time you add a little.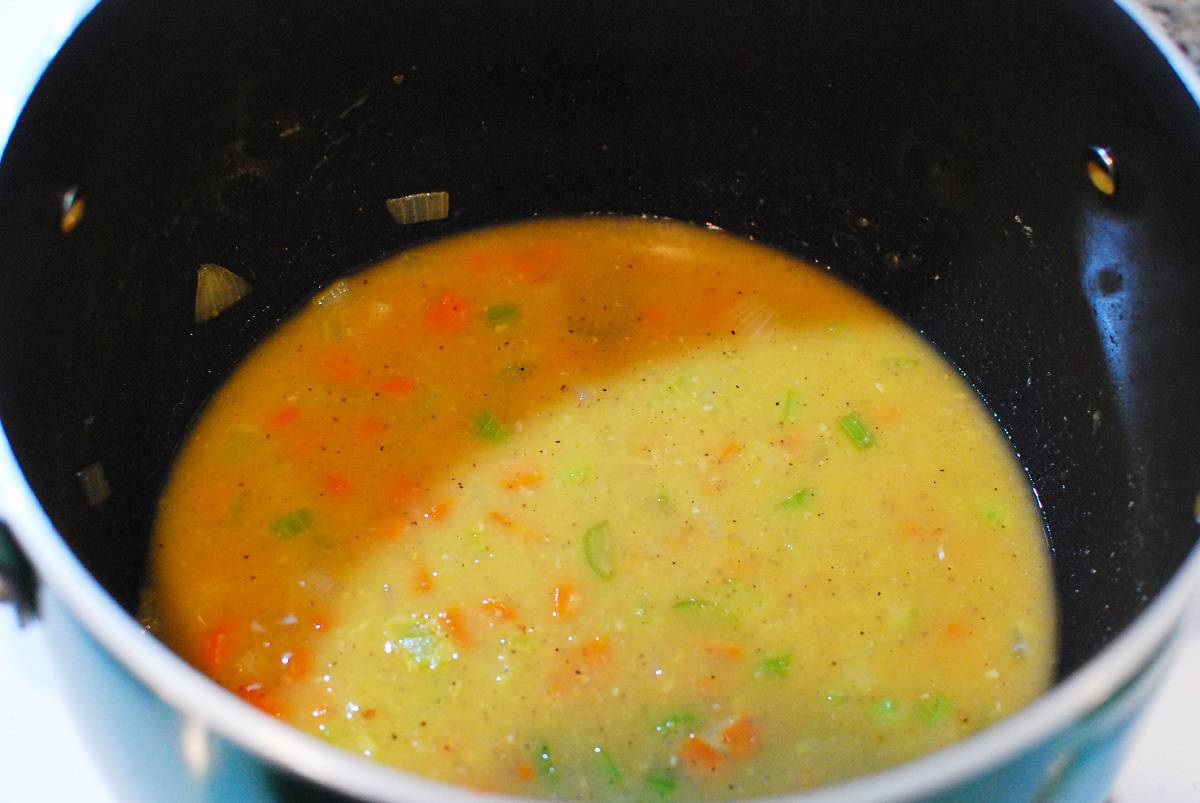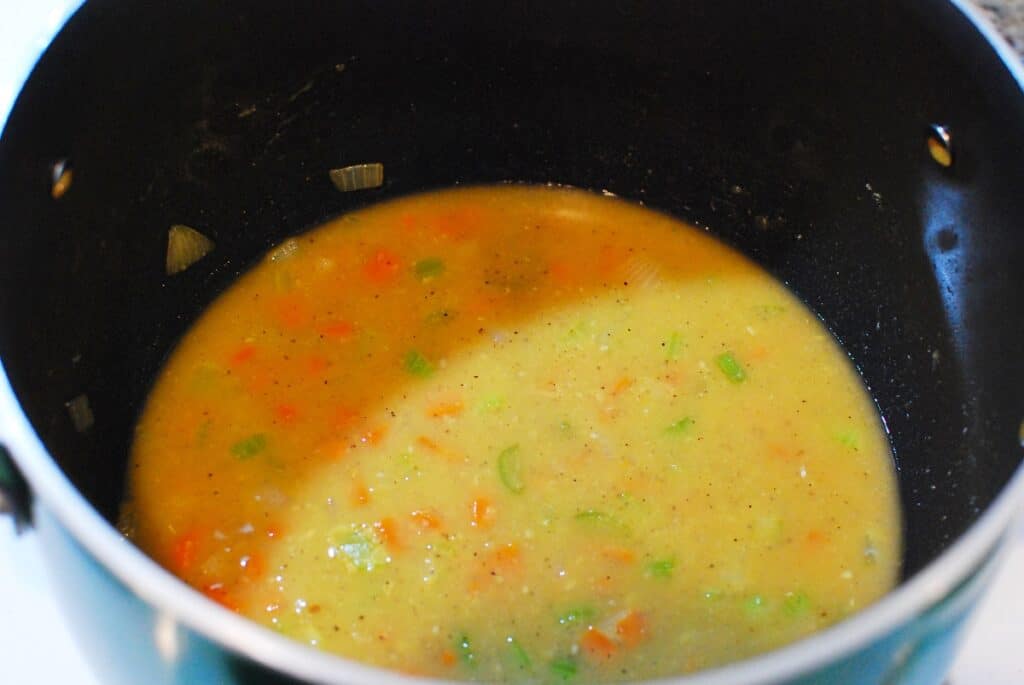 Continue until all the broth has been added, then go ahead and add the oat milk and potatoes.
Bring everything to a simmer and cover the pot, letting it cook for around 20 minutes, until the potatoes are getting tender. Remove the cover and cook another 5 minutes, allowing some of the excess liquid to evaporate out.
At this point, I like to take an immersion blender to the pot and puree some of the soup. This step is optional, but it helps make the soup even creamier. I'd say I normally do about around ⅓ to ½ of the soup, and leave the rest as-is so I've got chunks of veggies and potatoes. (You can adjust this however you'd like, whether you don't want to puree any of it or whether you prefer the whole thing being creamy. )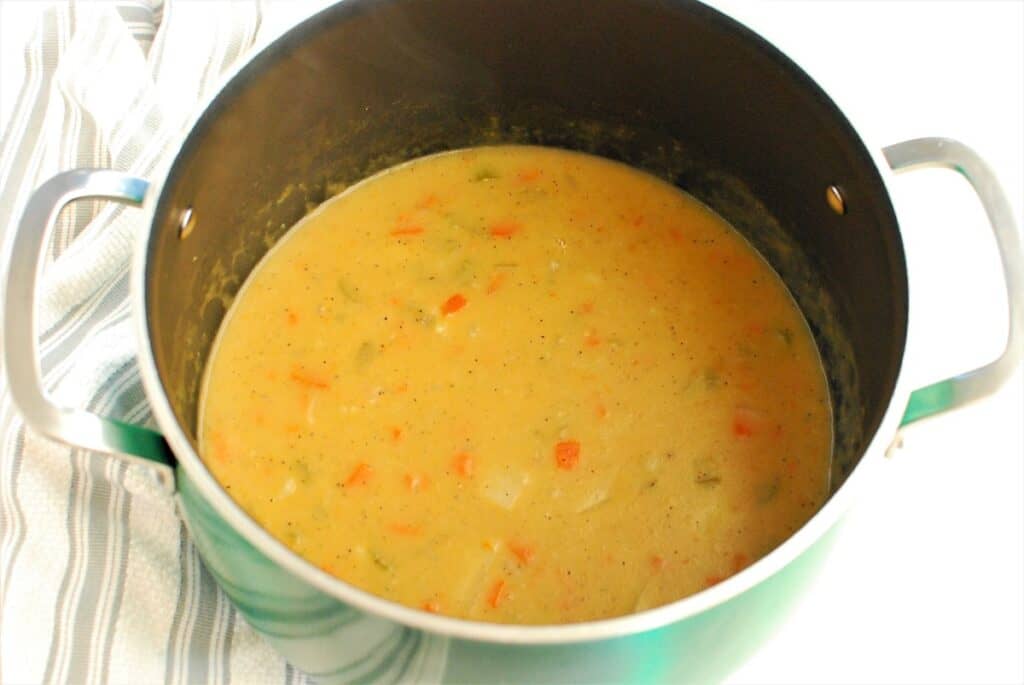 All that's left to do is portion it out, top it with your bacon (and chives if you want to use those too), and dig in!
Recipe FAQ
Here are some common questions that may come up as you prepare this recipe:
How long does potato soup last?
Stored properly in the refrigerator, this soup will stay good for 3-4 days.  If storing large volumes of leftover soup, divide into smaller containers to accelerate cooling in the fridge.
Can you freeze dairy free potato soup?
It's best to make potato soup when you'd like to enjoy it, rather than making ahead and freezing. The potatoes can take on an off texture upon reheating from frozen.
Can you make a vegan potato soup?
Yes.  To make the recipe vegan, omit the bacon used at the start of the recipe and substitute a tablespoon of olive oil to sauté the vegetables.  Also, use vegetable stock instead of chicken stock.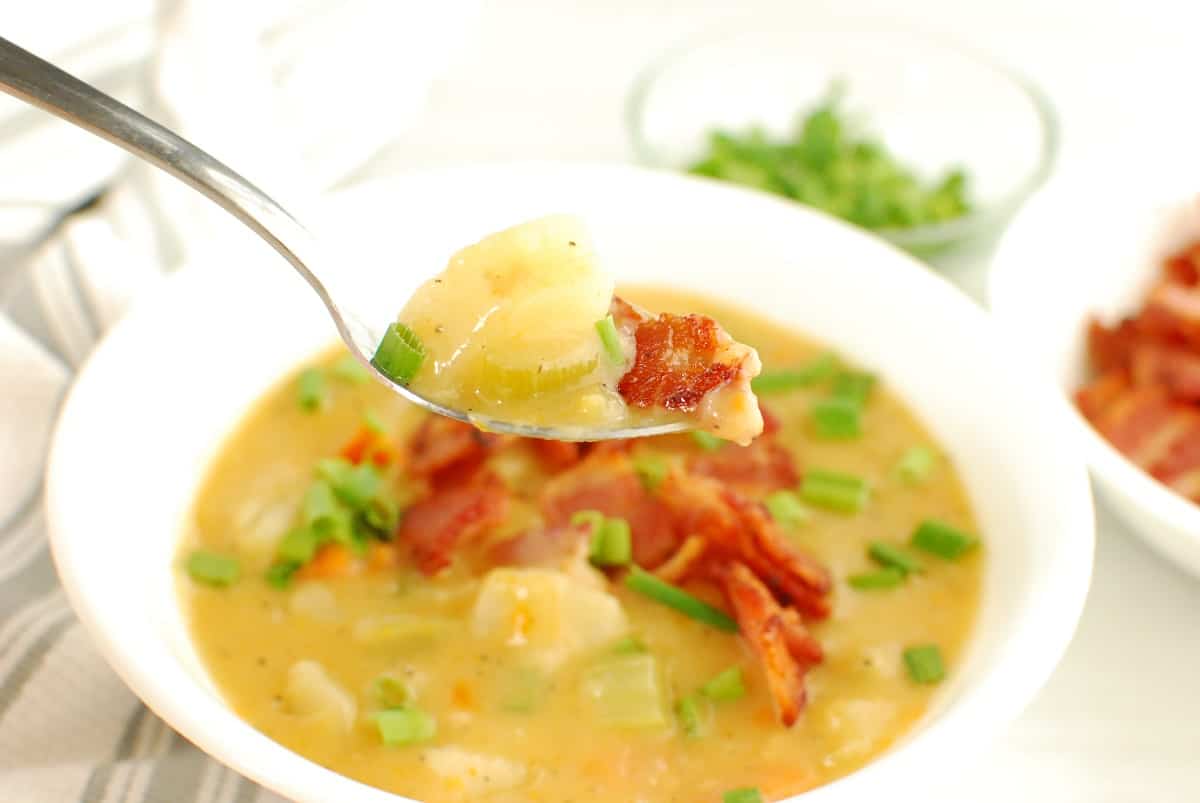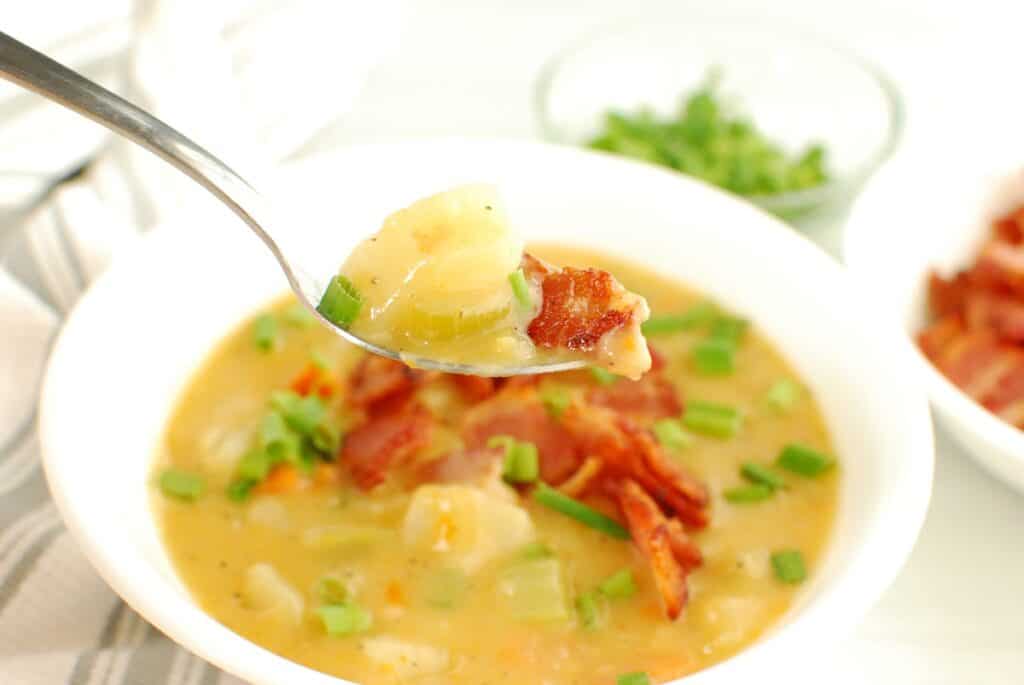 Allergens In This Recipe
* Disclaimer: Always double check ingredients and product packaging to confirm a recipe meets your allergy needs. While I try to note potential allergens below, there is always the chance I may miss something or that manufacturer formulations may change.
As written, this recipe is dairy free, nut free, soy free, and egg free. (Always double check ingredients on your packaged goods like oat milk and chicken stock to ensure the products you select meet these needs).
This recipe does contain wheat/gluten.
To make gluten free: Use a 1:1 gluten free all-purpose blend, rather than regular flour. Keep in mind that some gluten free flours do not thicken as well as others. If you notice your soup is a bit thin, cook uncovered a bit longer to reduce it down. Also, double check your oat milk to ensure that it is certified gluten free (some brands are and others are not).
More Dairy Free Soups
Looking for more delicious soups to help warm you up on a chilly night? Try one of these options:
I hope you enjoy this creamy dairy free potato soup! If you get a chance to try it, please feel free to leave a recipe rating or comment below.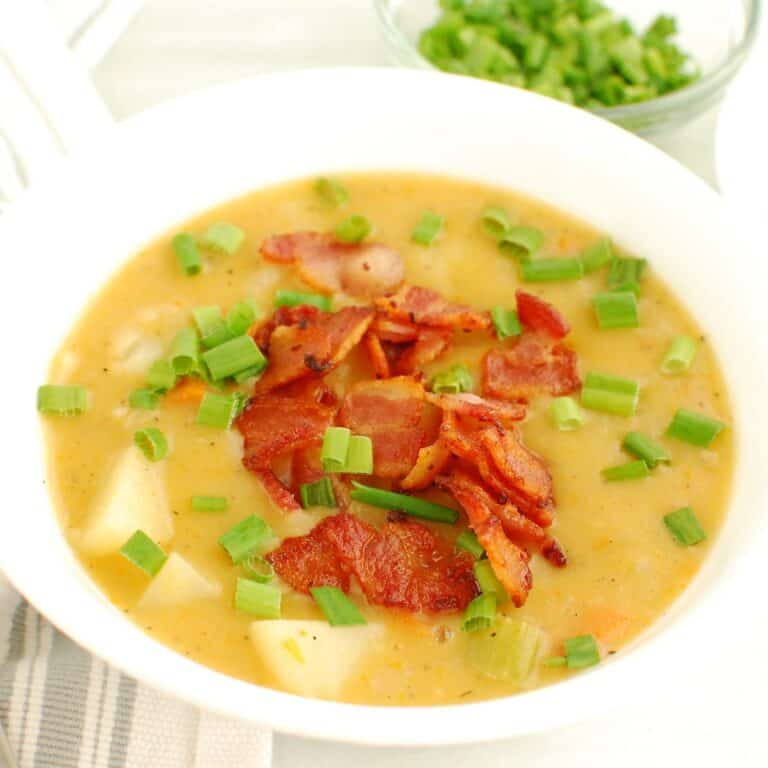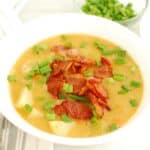 Dairy Free Potato Soup
This dairy free potato soup is easy to make, hearty, and delicious!
Ingredients
8

slices

bacon, chopped into 1-inch pieces

2

celery sticks, diced

2

medium carrots, diced

1

medium yellow onion, diced

3

garlic cloves, minced

½

teaspoon

salt

½

teaspoon

pepper

2 ½

tablespoons

all-purpose flour

2

cups

chicken stock

1

cup

creamy oat milk

1 ½

pounds

russet potatoes, peeled and diced into 1" cubes

(about 4 medium potatoes)

4

chives, sliced thinly

(optional)
Instructions
Heat a large pot over medium-low heat. Place the chopped bacon in the pot and cook, stirring occasionally, until cooked through. Remove with a slotted spoon (leaving the bacon grease in the pot) and set aside on a paper-towel lined plate for later use.

In the same pot over medium low heat, add the onion, celery, and carrot, sauteing the vegetables in the bacon grease. Cook for about 5 minutes, until fragrant and the onion is slightly translucent.

Add the garlic, salt, and pepper, and cook for another minute.

Sprinkle the flour in the pot, stirring to combine. Cook for about 1 minute, stirring consistently, letting the flour fully absorb the grease in the pot and get a little toasty.

Slowly pour in the chicken broth a little at a time, stirring consistently, letting the broth thicken.

Add the oat milk and the potatoes. Bring the mixture to a boil, then cover and reduce heat to low to simmer. Simmer for 20 minutes, then remove the cover and continue simmering for another 5 minutes uncovered.

At this point, the potatoes should be tender and easily pierced with a fork. Use an immersion blender to blend some of the soup to thicken (around ⅓ to ½), but don't blend all of the soup – you want some chunks of potatoes and veggies in there.

Serve the warm soup topped with the reserved bacon and chives (if using). Enjoy!
Recipe Notes
You can use Yukon gold potatoes instead of russet potatoes if you prefer.
You can skip the immersion blender step if you don't have one on hand; this just helps make the soup thicker and creamier.  You can also remove a portion of the soup and blend in a regular blender instead.
Nutrition analysis (approximate per serving): 292 calories, 7 g fat, 2 g saturated fat, 1100 mg sodium, 47 g carbohydrate, 5 g fiber, 5.5 g sugar, 11.5 g protein, Vitamin D: 5%, Calcium: 11%, Iron: 12%, Potassium: 24%
Share: What's your favorite kind of dairy free soup? If you tried this recipe, what did you think?
About the Recipe Developer: Teresa is a senior at the University of Alabama majoring in Food and Nutrition. She graduates in Spring 2022. Her goal is to intern and become a registered dietitian. When Teresa isn't studying, she enjoys reading, cooking, jogging, and time spent with her husband and three children.
Feel free to pin this post to save for later.