Is there anything better than the scent of fresh baked banana muffins floating through your house?! Treat yourself today by baking a batch of these dairy free banana muffins. Made with olive oil and a blend of whole wheat flour and almond flour, these wholesome muffins are incredibly tender and infused with sweet banana flavor throughout. Your whole family will love this simple recipe that's perfect for breakfast or snack time.
Ingredient Notes
Here's a photo of all the ingredients you'll need, along with selected ingredient notes: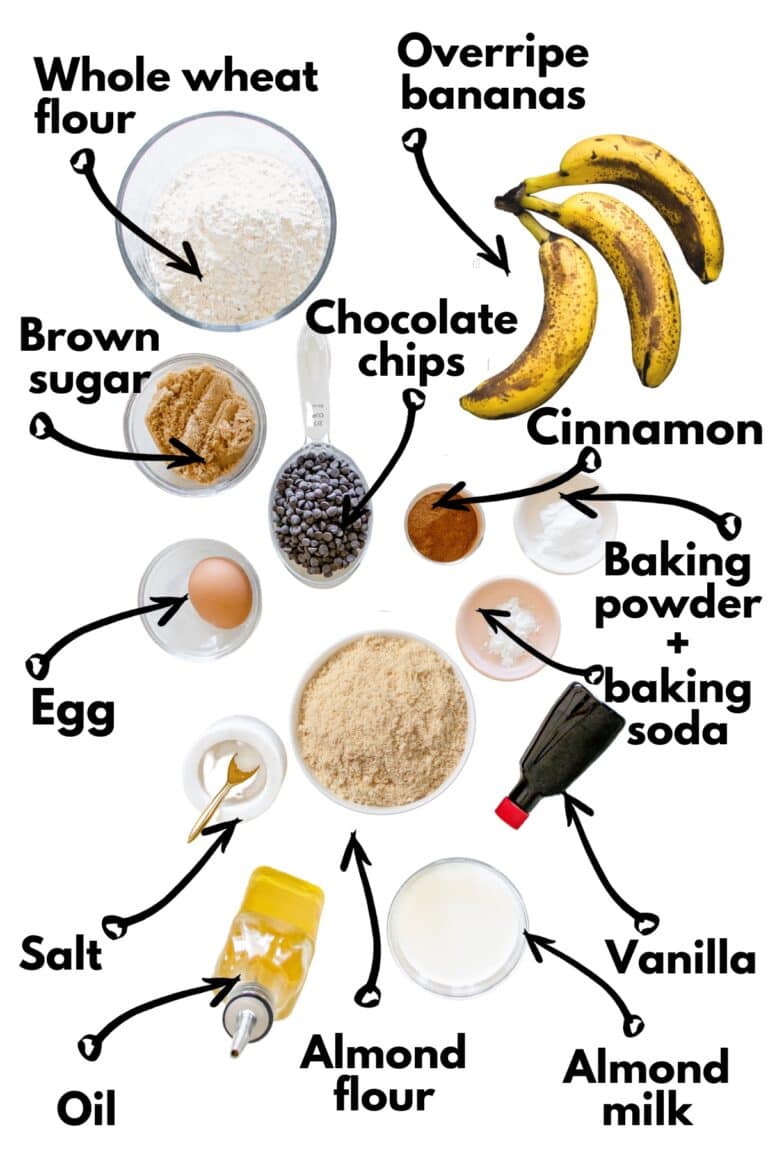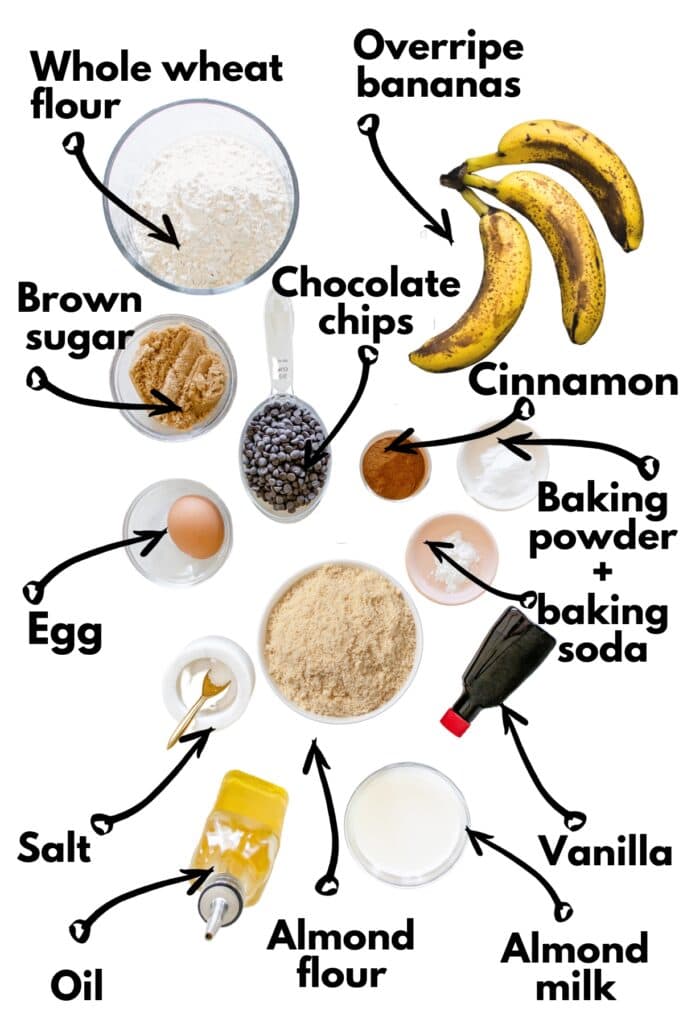 Bananas – Be sure to choose overripe bananas for this recipe; you want them to have a lot of brown spots or be turning mostly brown. These will be easier to mash and offer more sweetness to the recipe.
Flour – I like using whole wheat flour in this muffin recipe to add a bit of fiber and minerals. If you prefer, you can use all-purpose flour instead.
Almond flour – This addition adds a hint of nuttiness but also serves to add moisture to the muffin, making them tender and delicious. Almond flour is relatively easy to find these days in the baking section at your grocery store.
Instructions
You'll find the full recipe amounts and instructions in the recipe card below, but here's a helpful overview with photos and tips.
Start by combining the mashed bananas, brown sugar, olive oil, almond milk, egg, vanilla, and cinnamon in a bowl.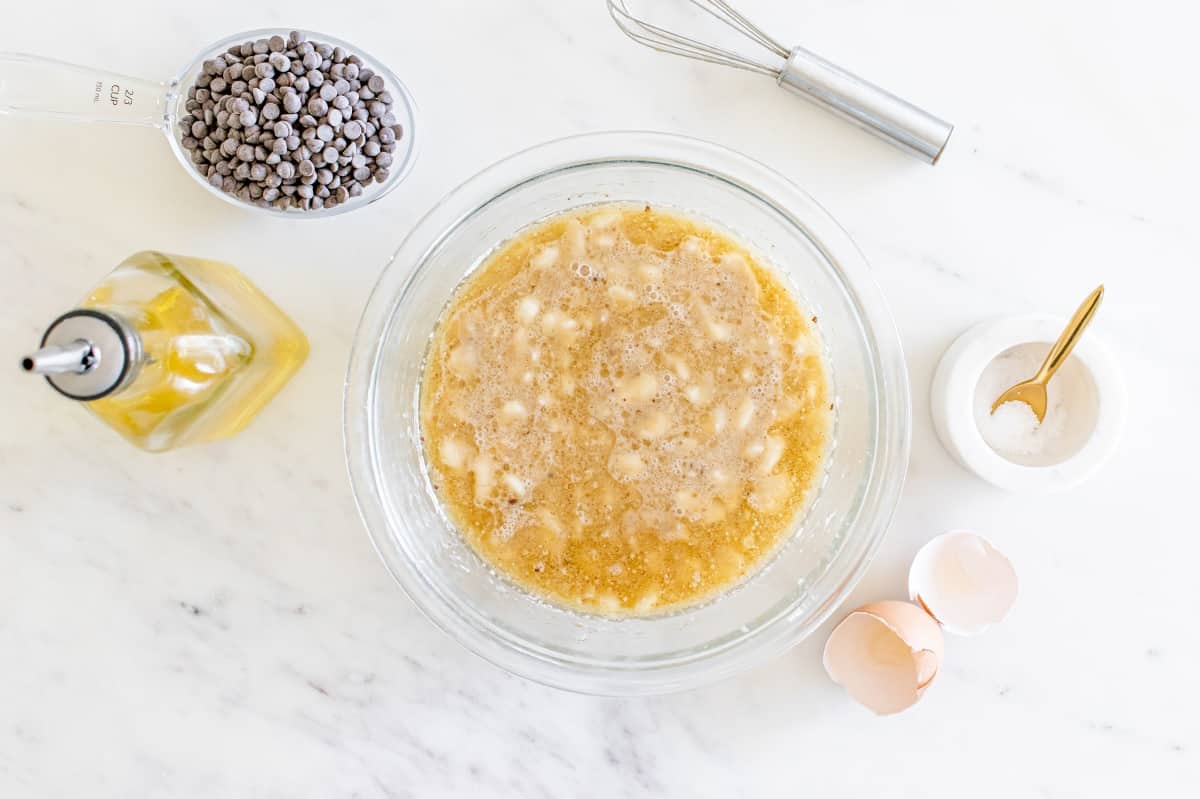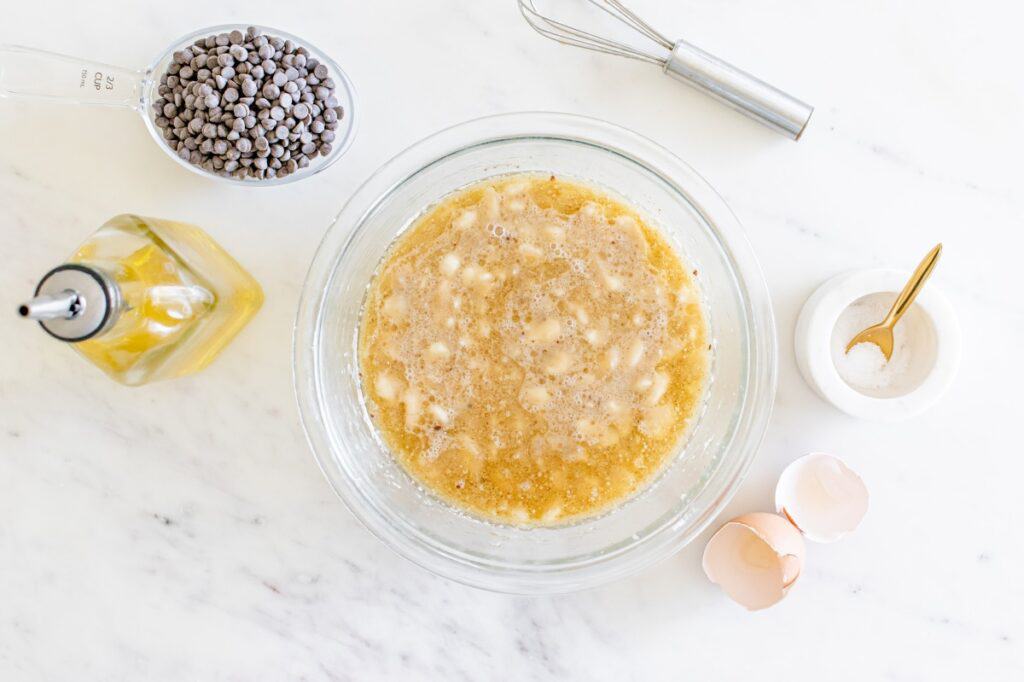 In another bowl, mix together the dry ingredients – the wheat flour, almond flour, baking powder, baking soda, and salt.
Once those are combined, pour them into the wet ingredients and stir until combined. Fold in the chocolate chips if you're using them.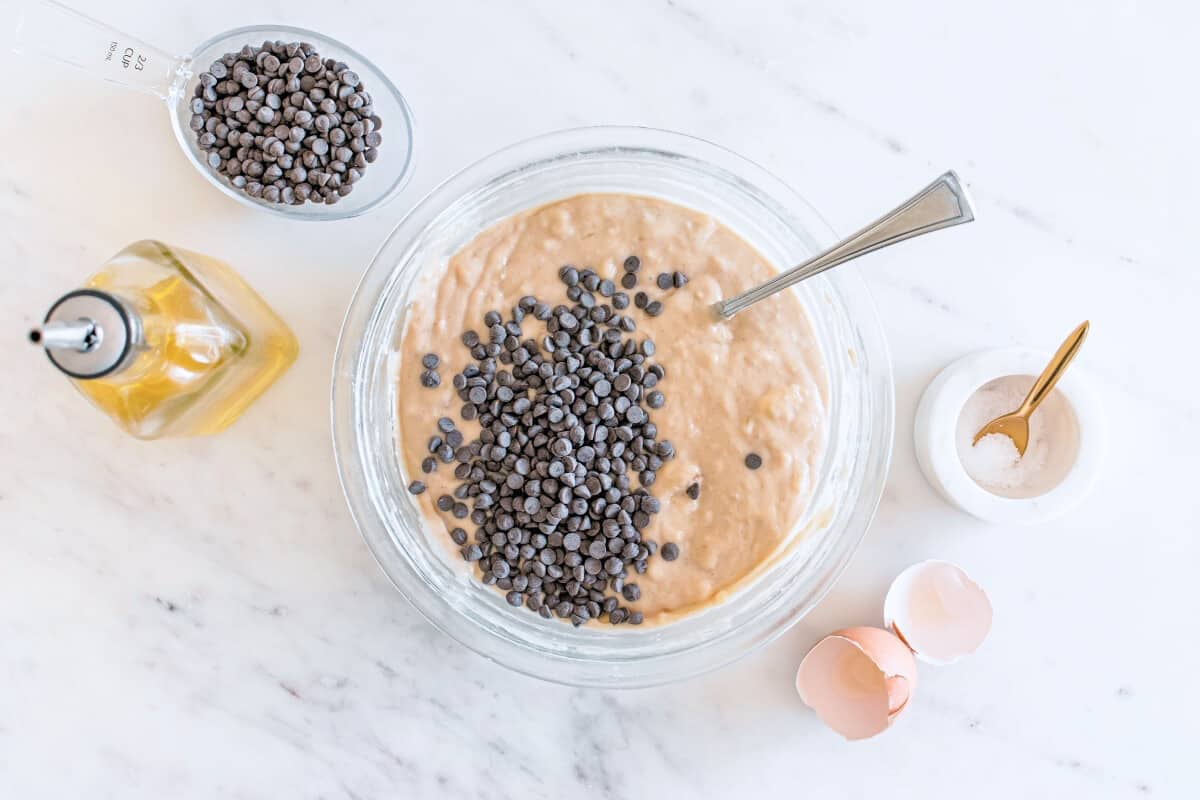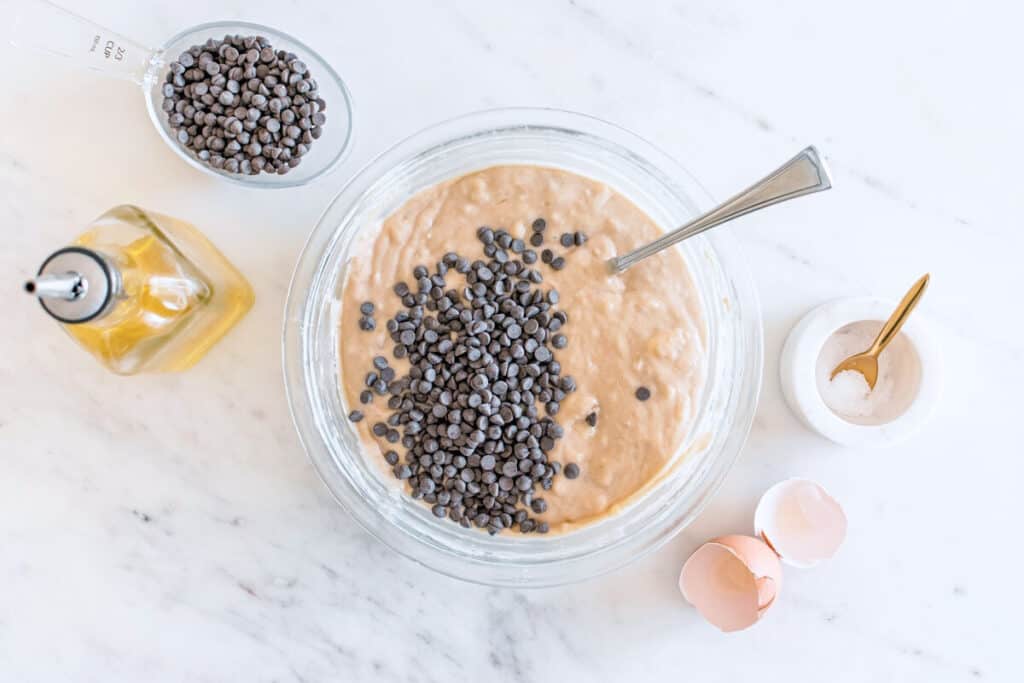 Pour that batter into a greased muffin tin or a muffin tin with paper liners, then bake, and boom – a delicious treat awaits!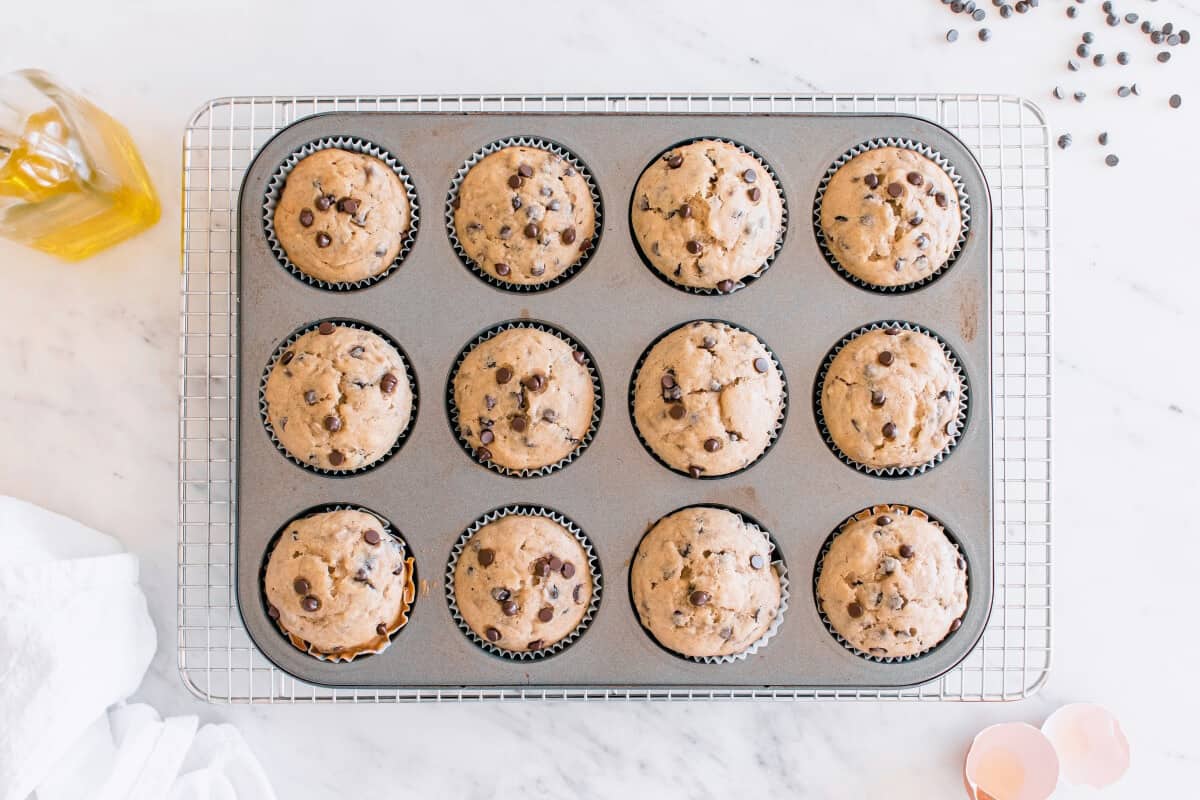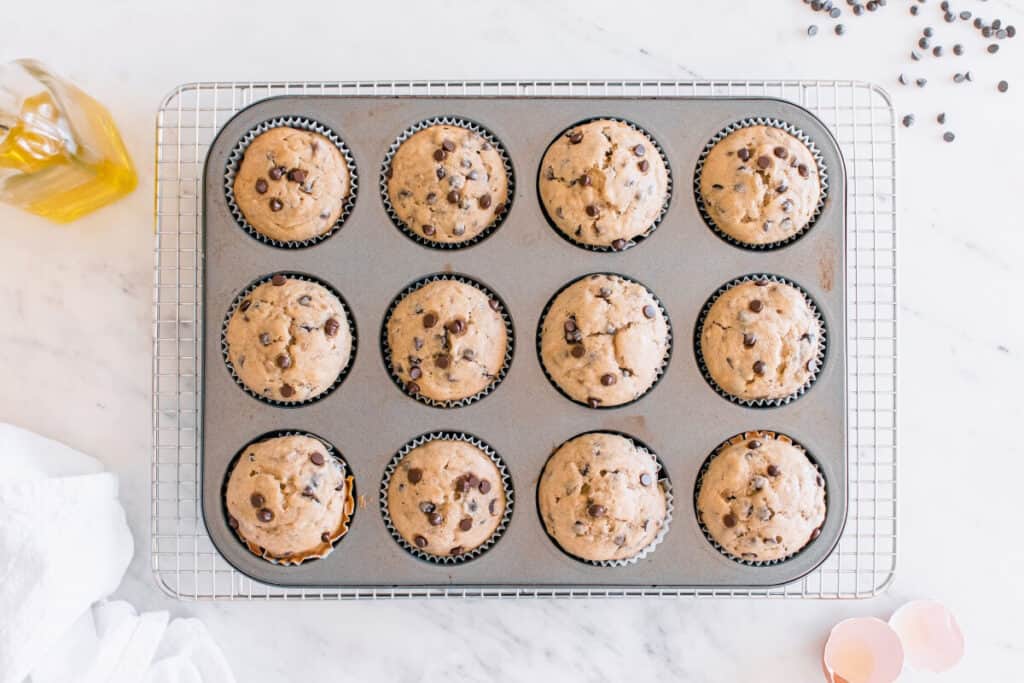 Recipe FAQ
Here are some common questions that may come up as you're preparing this recipe:
How do you know when banana muffins are done baking?
Insert a toothpick or a clean knife into the center of a muffin. If it comes out clean or has just a few moist crumbs attached, the muffins are ready. Be sure not to overbake them, as doing so can cause dry muffins.
How should you store banana muffins?
Store at room temperature in an airtight container or zip top bag for up to 2-3 days. If you plan to have leftovers longer than that, freeze them instead.
Can you freeze these dairy free banana muffins?
Yes! After the muffins are baked and have cooled completely, wrap them individually in plastic wrap then place in a zip top bag or airtight container. Wrapping individually will help prevent freezer burn. Use within three months for best quality. When ready to enjoy, thaw one at room temperature or pop it in the microwave.
Can you add other mix-ins to banana muffins?
Yes, but keep the overall amount of mix-ins to under 1 ½ cups, or the muffins may become too dense. You can add chocolate chips, chopped nuts, fresh berries, dried fruit, shredded coconut, or whatever else you'd like.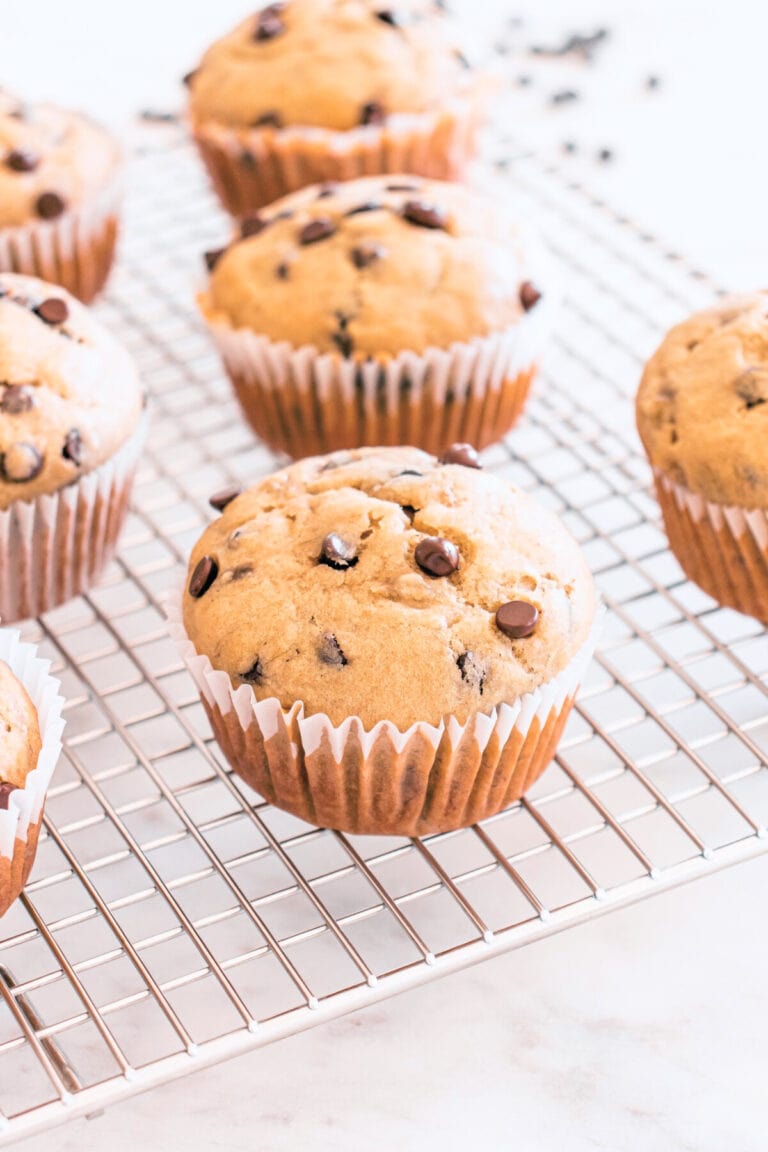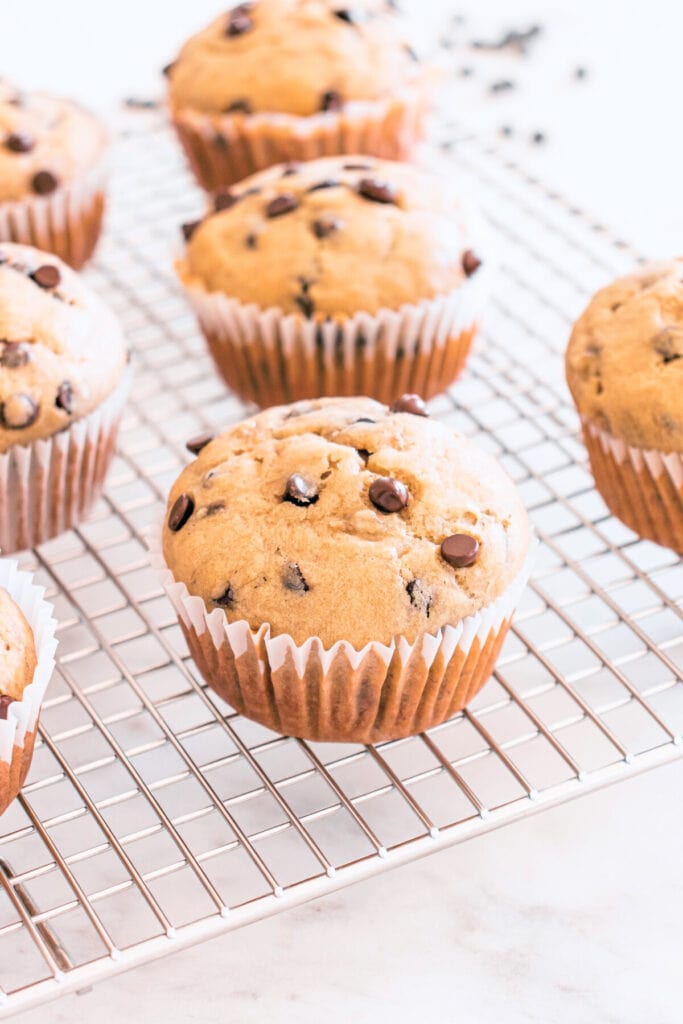 Allergens in this Recipe
Disclaimer: Always double check ingredients and labels yourself prior to making a recipe. While I try to check all ingredients for allergens, there's always the chance I may miss something, or manufacturer formulations can change.
As written, this recipe is dairy free. As long as your ingredients like chocolate chips do not contain soy, then this recipe is also soy free.
This recipe does contain wheat/gluten (in the flour), tree nuts (in the almond flour and almond milk), and egg. While I don't recommend substituting the almond flour or egg in this recipe, you can make this recipe wheat/gluten-free by swapping out the whole wheat flour for a gluten-free all-purpose blend. (Make sure the blend contains xanthan gum.)
More Dairy Free Muffins
If you're looking for more delicious dairy free muffins, be sure to give one of these a try:
I hope you enjoy these banana muffins as much as my family does – they are one of our favorite recipes that we make on repeat! If you get a chance to try them, feel free to leave a recipe rating or comment below.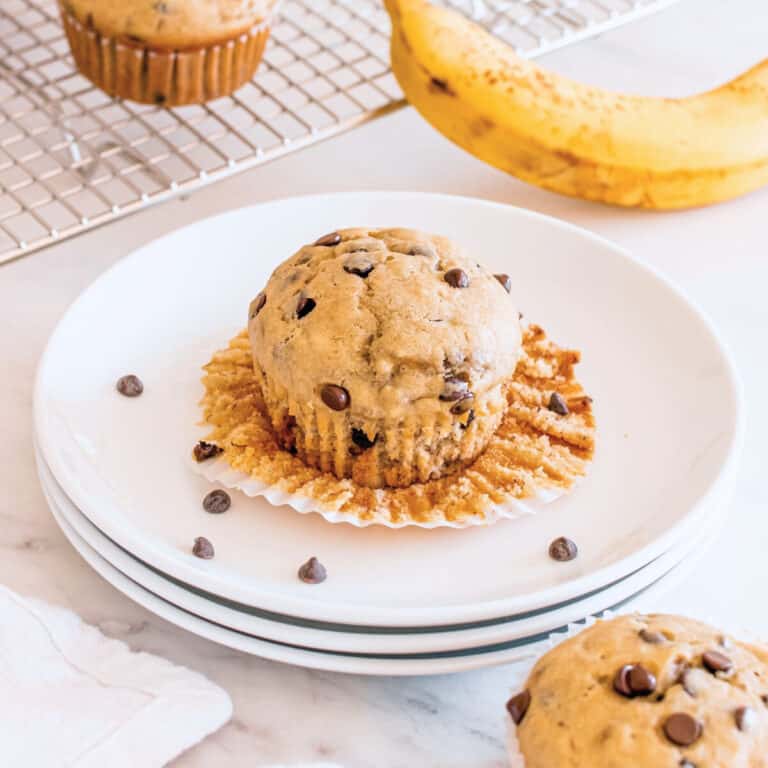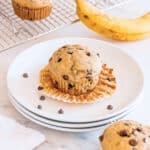 Dairy Free Banana Muffins (Made With Olive Oil)
These dairy free banana muffins are the most delicious muffin you'll ever have! They're tender and packed with sweet banana flavor throughout.
Ingredients
3

medium overripe bananas, mashed

½

cup

brown sugar

½

cup

olive oil

½

cup

plain unsweetened almond milk

(or any dairy-free milk)

1

large egg

1

teaspoon

vanilla extract

¼

teaspoon

ground cinnamon

1 ½

cups

whole wheat flour

⅔

cup

almond flour

½

teaspoon

baking powder

¾

teaspoon

baking soda

¼

teaspoon

salt

⅔

cup

dairy-free chocolate chips

(optional; recommend Enjoy Life brand)
Instructions
Preheat oven to 355 degrees F. Grease a muffin tin (or line it with paper liners).

In a large mixing bowl, combine mashed bananas, brown sugar, olive oil, almond milk, egg, vanilla, and cinnamon. Whisk together until well combined.

In a separate mixing bowl, combine wheat flour, almond flour, baking powder, baking soda, and salt.

Pour the dry ingredients into the wet ingredients, and stir until combined. Fold in the chocolate chips.

Portion the batter equally into the muffin tin, until almost full. Bake at 355 degrees F for 19-22 minutes, or until cooked through, golden brown, and a toothpick pulls out clean from the center.

Let cool in the tin for about 5-10 minutes, then remove and allow to finish cooling on a cooling rack. Enjoy.
Recipe Notes
Bananas should be overripe and have a lot of brown spots for the best flavor and texture.
Regular whole wheat flour or "whole white wheat" flour can be used for this recipe. You can also substitute all-purpose flour instead of the whole wheat flour (I do not recommend substituting all-purpose flour for the almond flour though).
Nutrition Facts (approximate per muffin): 300 calories, 17.5 g fat, 4.5 g saturated fat, 165 mg sodium, 33 g carbohydrate, 4 g fiber, 16 g sugar (11 g added sugar), 5.5 g protein, Vitamin D: 1%, Calcium: 5%, Iron: 12%, Potassium: 7%
Feel free to pin this post to save for later!