These bakery style dairy free blueberry muffins are fluffy and packed with flavor.  It's a tasty variation on the classic lemon and poppy seed combo, bursting with fresh blueberries.  Plus, you only need one bowl and about 30 minutes to make these from start to finish.
How to make dairy free muffins
Most muffin recipes are actually very easy to modify for a dairy free diet!  Typically, a muffin might have either butter, yogurt, and/or sour cream.  It's rare that you'd see many other dairy-based ingredients.  These are all easy to modify.  You can substitute vegan butter or oil for regular butter, and dairy free yogurt for both regular yogurt and sour cream.
Of course, that's just if you've already got a regular recipe to modify.  Here, I'm sharing one of my favorite dairy free recipes with you!
To make these dairy free blueberry muffins, you'll need a handful of ingredients.  You've probably got most in your pantry or fridge already:
Sugar
Canola oil (or vegetable or avocado oil)
Eggs
Vanilla dairy-free yogurt
Lemon juice & zest
Flour
Baking powder
Baking soda
Salt
Poppy seeds
Blueberries
You'll start by mixing together your sugar, oil, eggs, and lemon zest.  Then add in your dairy free yogurt and lemon juice.
I prefer vanilla dairy free yogurt for this recipe, but you can experiment with other flavors.  Since this is a lemon blueberry muffin, using lemon yogurt could work well too.
Then you'll add your dry ingredients – the flour, baking powder, baking soda, salt, and poppy seeds.  Most professional chefs would recommend mixing these in a separate bowl first and then adding to the wet ingredients, but I am always too lazy for that. 😉  This recipe works just fine if you toss it all in and mix it up.
You'll then fold in your blueberries, pour in your muffin tin, and bake these lovely little delights!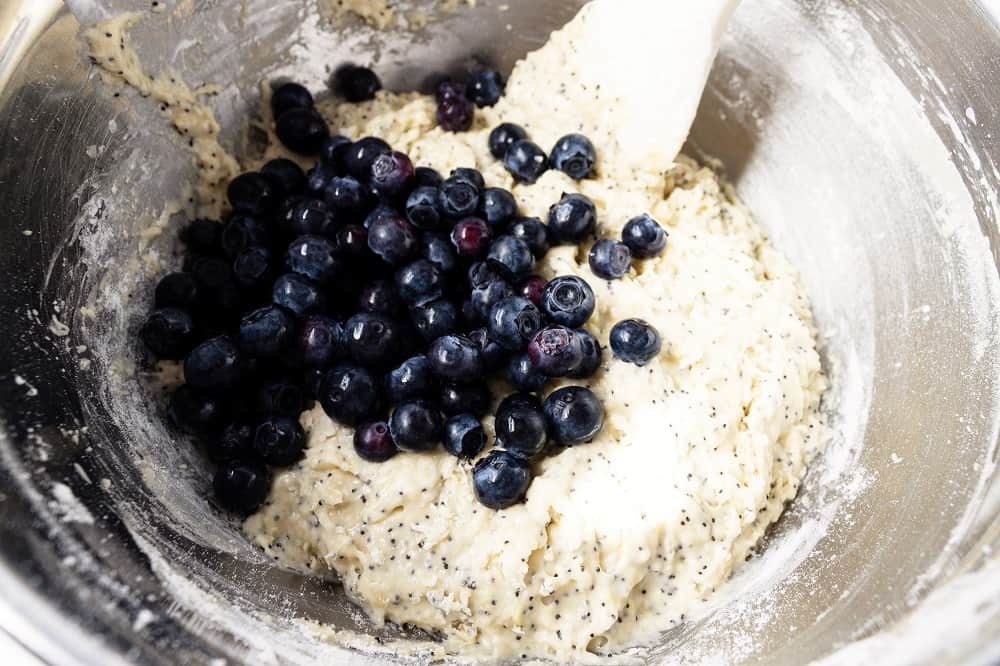 We love having these on hand as a sweet treat to go with breakfast, an easy grab-and-go snack, or even dessert (because they're nice and sweet).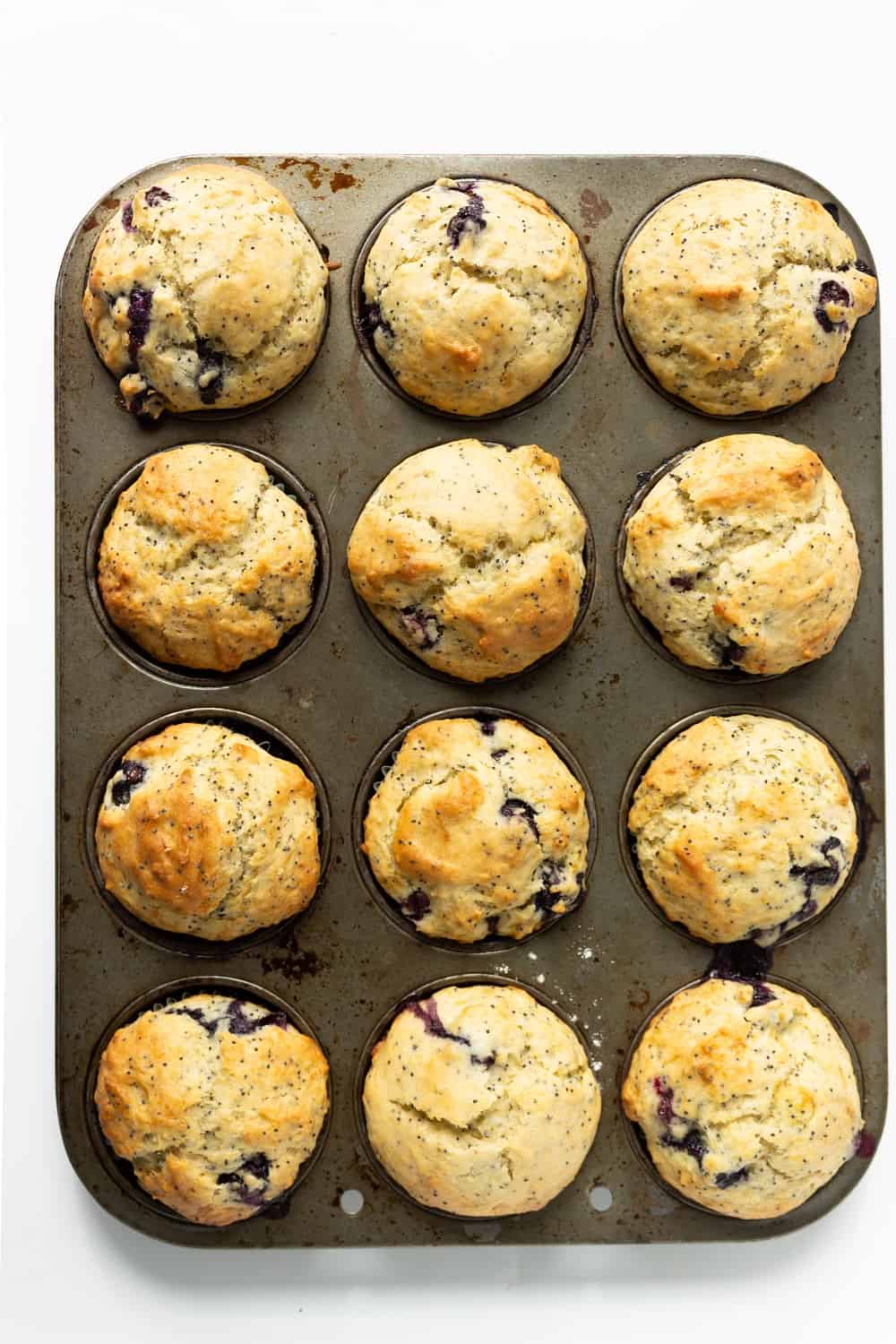 Recipe FAQ:
Here are some common questions that may arise as you're making these muffins:
Where do you find poppy seeds?  I was so confused about where to buy these when I first started baking with them!  Originally, I thought perhaps they'd be near the baking aisle, or maybe near where chia seeds are kept.  Interestingly, I figured out that they are generally kept in the spice section.  For example, McCormick sells a normal size spice bottle with them.
Can you skip the poppy seeds?  Yes, the recipe will work fine without them if you don't have any on hand.
Should you use fresh or frozen blueberries?  Either will work!  I like fresh in the summer when I can find good cheap local berries, but in the winter I veer towards frozen.
Can you freeze blueberry muffins?  Yes!  Once the muffins are fully cooled, place into a freezer safe bag and store in the freezer.  To reheat from frozen, heat in the microwave for approximately 60 seconds.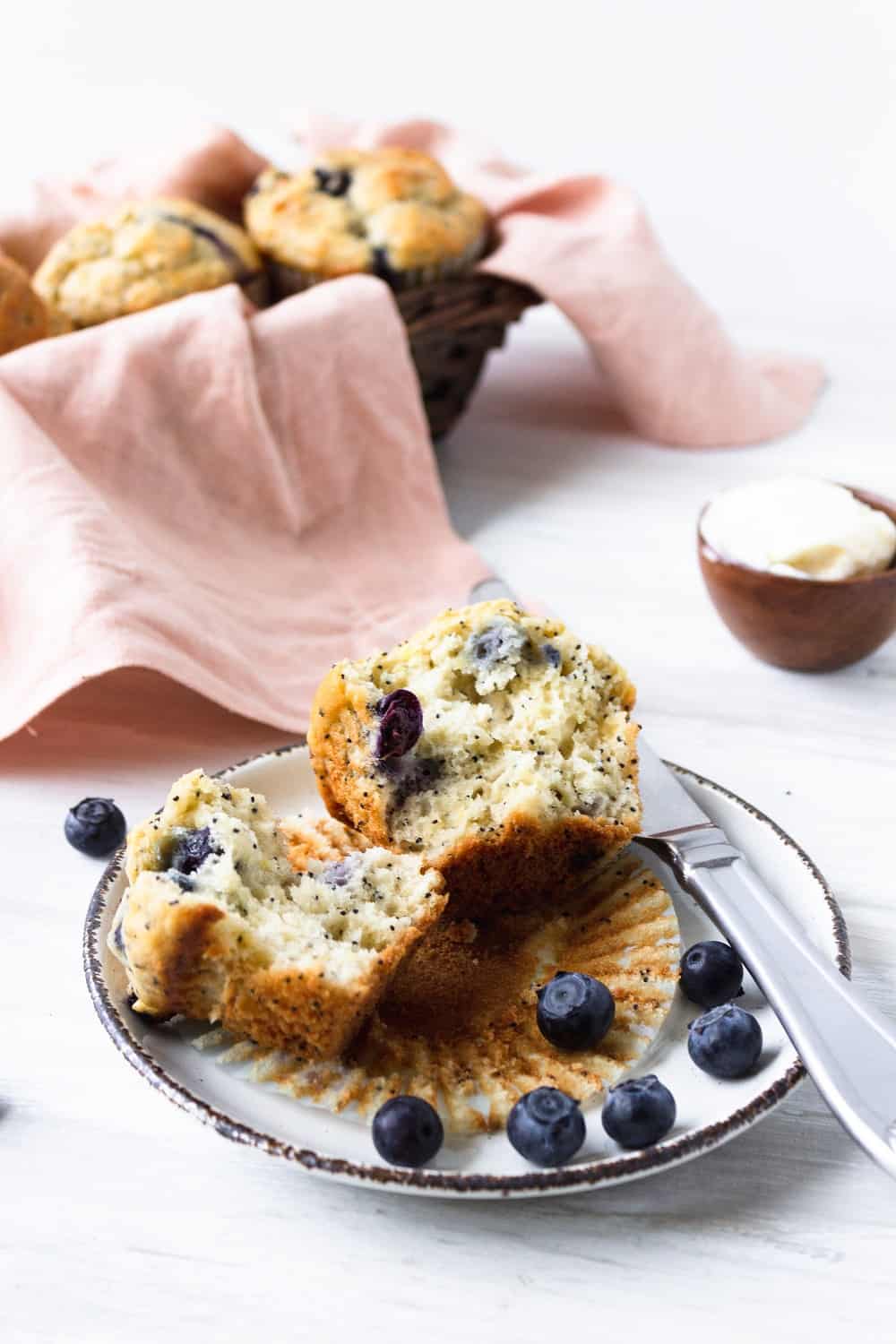 Allergens in this recipe
As written, this recipe is dairy free.  It is also soy free as long as you use a soy free yogurt.  That said, if you have a severe soy allergy that includes soy oil, I know some people do worry about contamination of soy oil with canola oil.  In that case, purchasing a safe avocado oil might be worthwhile for this recipe.
Depending on the yogurt you choose, the recipe may contain nuts.  For example, if you choose a almond milk yogurt, clearly this would contain almonds.  I used So Delicious vanilla coconut milk yogurt alternative for this recipe, which contains coconut (typically not a problem for most with nut allergies, but worth mentioning).
You can definitely modify this to be nut/coconut-free by selecting an oat milk yogurt.
This recipe does contain wheat (gluten) and eggs.  I have not tried modifying this recipe for those allergies, but I would imagine you could.  For wheat, I'd recommend a high quality 1:1 gluten free all purpose substitute.  King Arthur Flour has a great one.  For eggs, I'd recommend using flax eggs in this recipe, but just know they may be a bit denser without the structure the egg lends.
I hope you enjoy these dairy free blueberry muffins!  If you get a chance to try them, definitely leave a recipe rating or comment below with your thoughts.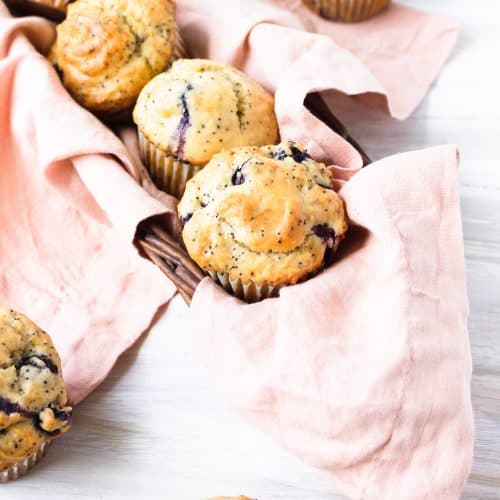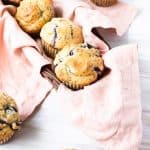 Dairy Free Blueberry Lemon Muffins
These bakery style dairy free lemon blueberry muffins are a wonderful sweet breakfast treat!
Ingredients
1/2

cup

granulated sugar

1 1/2

tbsp

lemon zest

1/3

cup

canola oil

(or vegetable or avocado oil)

2

large eggs

2

5.3-ounce

containers of vanilla dairy free yogurt

2

tbsp

fresh lemon juice

2 1/8

cups

all-purpose flour*

2

tsp

baking powder

1/2

tsp

baking soda

1/2

tsp

salt

2

tbsp

poppy seeds

1 1/3

cup

blueberries
Instructions
Preheat the oven to 375° F. Grease a 12-count muffin tin.

In a large mixing bowl, whisk together the sugar, lemon zest, oil, and eggs until well combined. Add yogurt and lemon juice and whisk until creamy.

Stir in the flour, baking powder, baking soda, salt, and poppy seeds. Mix until just combined – do not over mix. Fold in the blueberries.

Divide the mixture evenly in the muffin tin. Bake for 19 to 23 minutes, or until a toothpick inserted into the center of the muffin pulls out clean.

Allow the muffins to cool in the pan for 10 minutes before removing and transferring to cooling rack. Enjoy!
Recipe Notes
2 1/8 cups of flour is equivalent to 2 cups plus 2 tablespoons.
If you have a large container of dairy free vanilla yogurt, you can add a heaping cup instead of adding the two 5.3-ounce containers.
Nutrition analysis (approximate per muffin): 215 calories, 8.5 g fat, 1.5 g saturated fat, 250 mg sodium, 31.5 g carbohydrate, 1.5 g fiber, 12.5 g sugar, 4 g protein, Vitamin A: 1%, Vitamin C: 6%, Calcium: 11%, Iron: 8%
Share:  What's your favorite kind of muffin?  Did you enjoy these dairy free blueberry muffins?