Whether you need a fun recipe for your next party, or you just want to change things up this week for your family dinner – you'll love these dairy free walking tacos. A walking taco is simply a single-serve bag of chips that's loaded up with your favorite taco ingredients. Made with just a handful of simple ingredients, these are easy to make and always a crowd pleaser (for kids and adults!).
Ingredients
Here's a photo of everything you'll need to make this recipe, along with selected ingredient notes: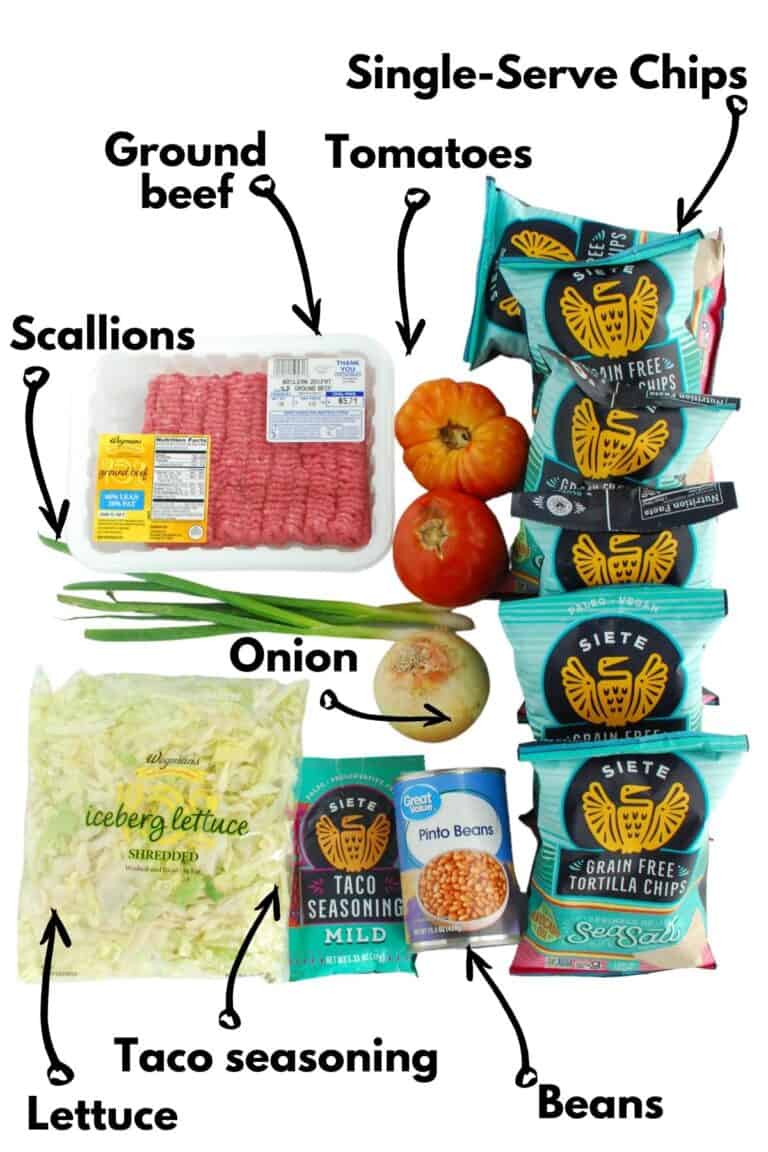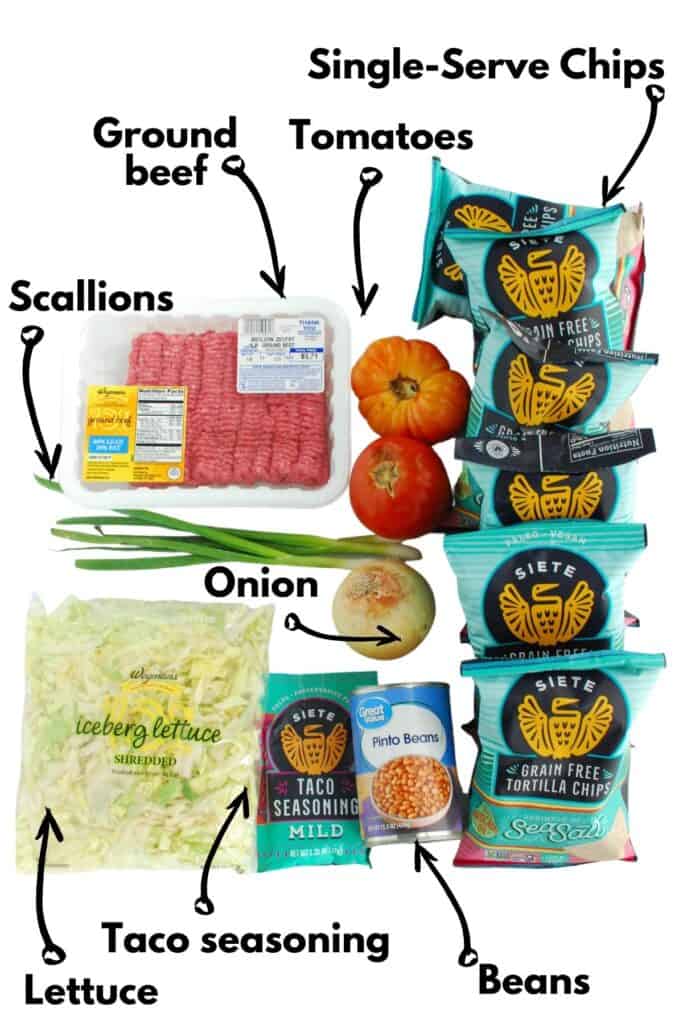 Single-serve bags of chips – I used Siete tortilla chips for this recipe, which is a nice option for those looking for a grain-free chip. Plus, they taste delicious. But you can also use single-serve bags of Frito's original corn chips, which are dairy free at the time of publish, or another chip of your choice.
Taco seasoning – While it's less common now than it was ten years ago, occasionally some taco seasoning packets will contain dairy. Double check labels to ensure the one you choose is dairy free. I like Siete's mild taco seasoning. Or you can also make a homemade taco seasoning blend.
Instructions
This recipe is super simple to make! You'll find the full recipe amounts and instructions in the recipe card below, but here's a helpful overview with tips.
Start by chopping up all your topping ingredients like the tomatoes, lettuce (if not already shredded), and scallions. Set those aside in bowls.
Next, heat a skillet or sauté pan, and add your ground beef and onion.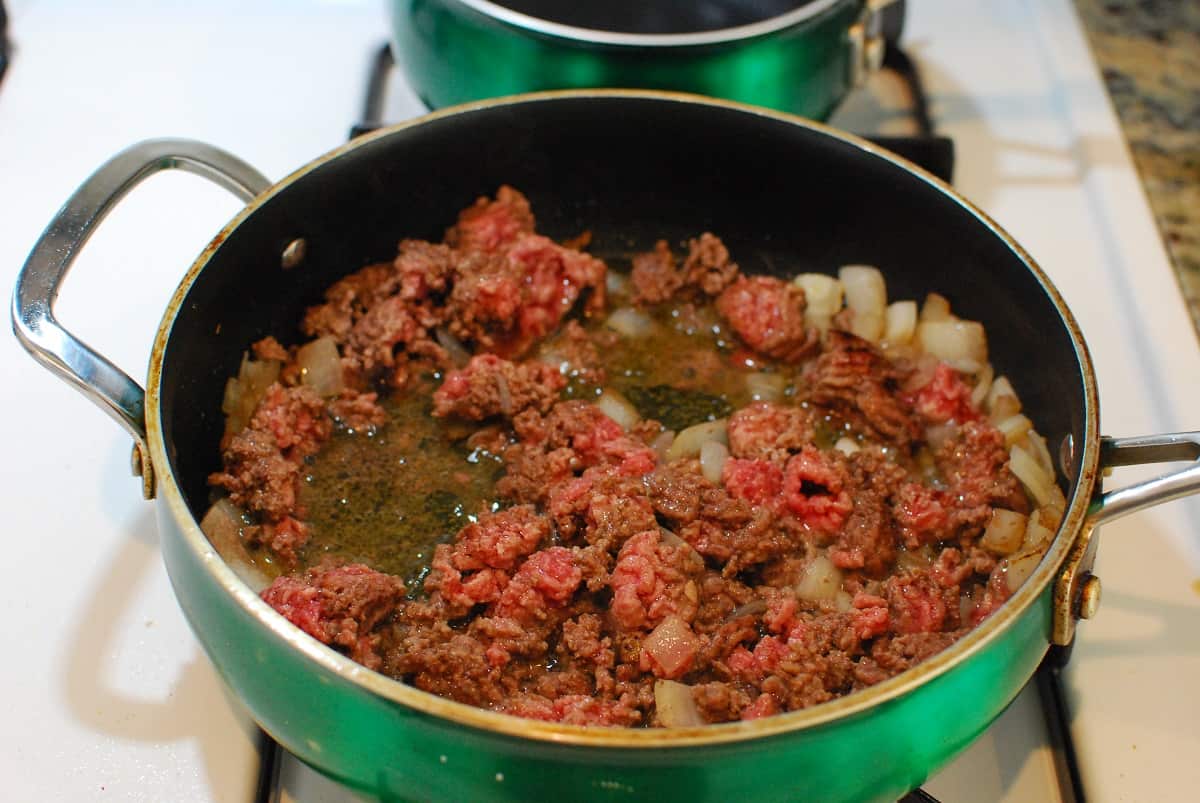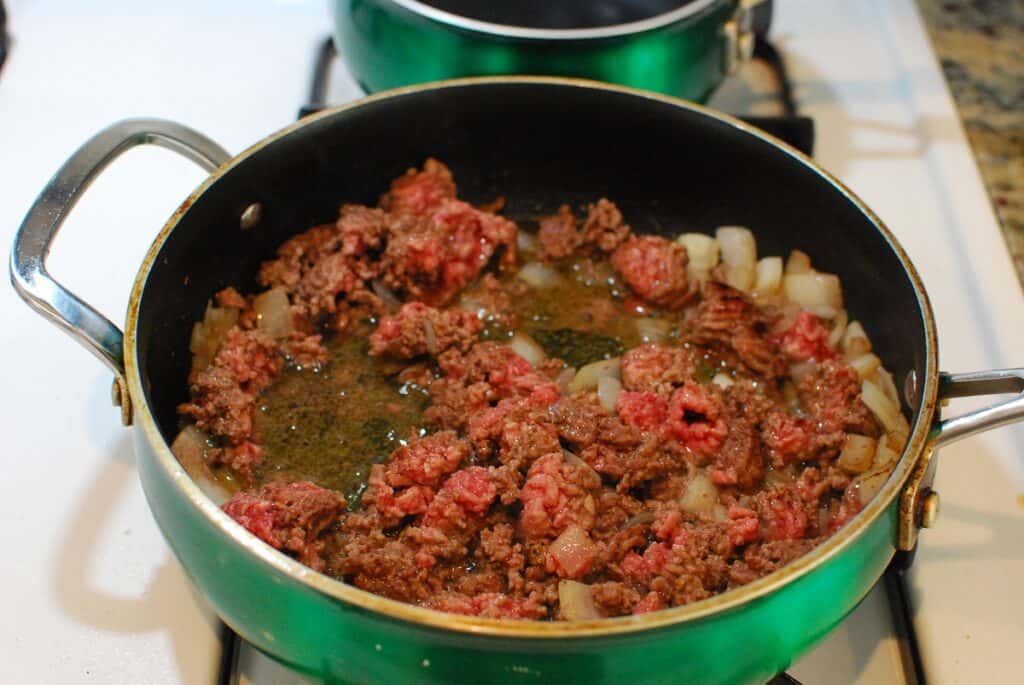 Cook it for 7-8 minutes, until browned, using one of those slanted edge spatulas (or a spoon) to break up the meat into chunks as it cooks. Drain any excess grease from the pan if necessary (this will depend on the ground beef you use; 80/20 will likely require draining but 93/7 will likely not).
Add the beans, taco seasoning, and a little water (according to package directions), then cook for another couple minutes.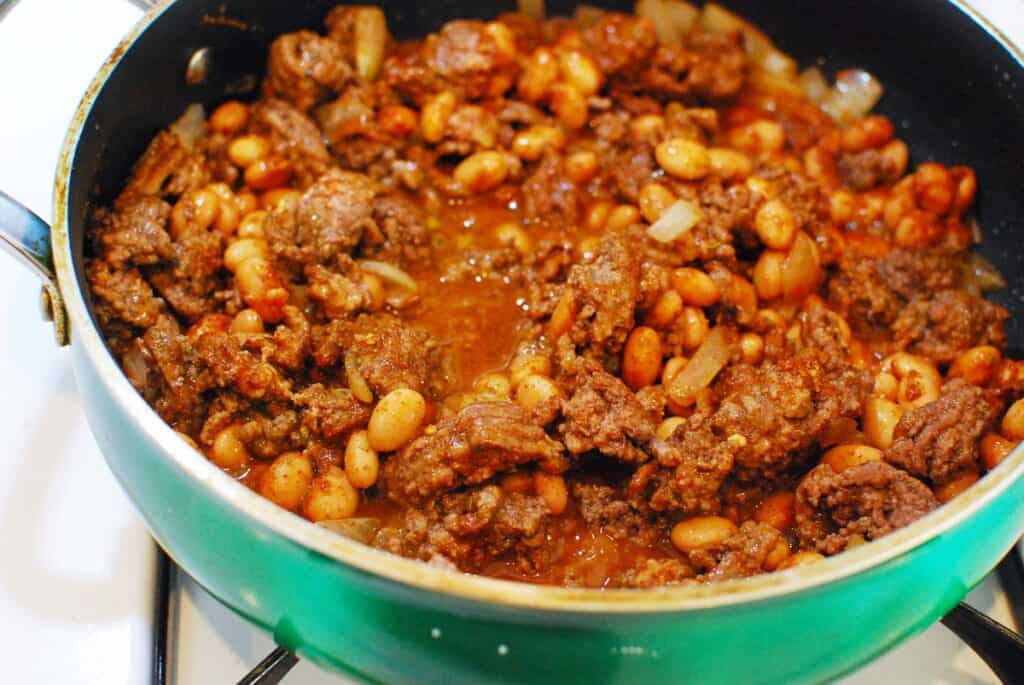 Now all you need to do is scoop some of the taco meat blend into the bag of chips, add your veggie toppings, and dig in!
One important note – you don't want to add the meat to the bags of chips until you're ready to eat, or the chips will get soggy. If you're serving them for a party, place all the ingredients out and guests can add the ingredients when they get hungry.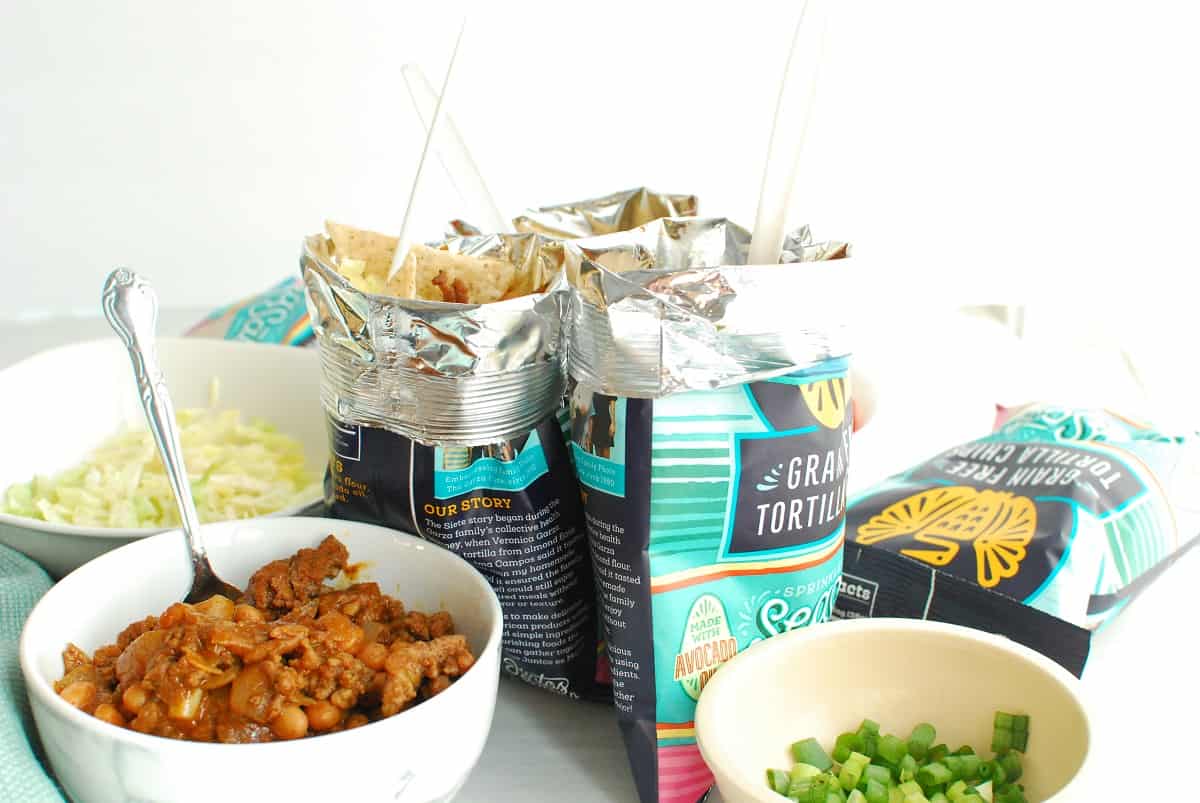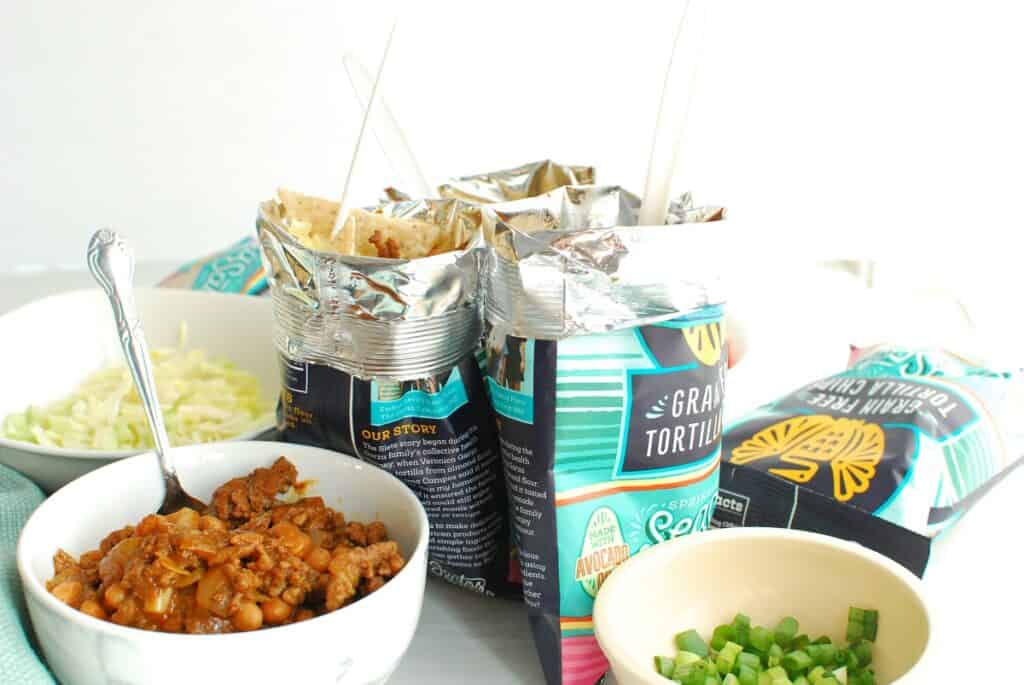 Recipe FAQ
Here are some common questions that may arise as you prepare this recipe:
What are some other taco toppings that can be added to walking tacos?
You can keep it simple with lettuce, tomato, and scallions – or you can get as creative as you'd like. Different topping ideas include pickled red onions, cilantro lime rice, seasoned roasted potatoes, corn, tomatillo salsa, and chopped mango.
Can you make vegan walking tacos?
Sure! The ground beef is the only ingredient in this recipe that is animal-based. Instead of ground beef, you can use a plant-based meat alternative, or you can double up on the beans.
Are walking tacos gluten free?
As long as you choose gluten-free ingredients (like gluten-free chips and taco seasoning), it is easy to make walking tacos a gluten-free dish.
Allergens in this recipe
* Disclaimer: Always double check ingredients and product packaging to confirm a recipe meets your allergy needs. While I try to note potential allergens below, there is always the chance I may miss something or that manufacturer formulations may change.
As written, this recipe is dairy free, egg free, and peanut free.
If you use the Siete products pictured, it is also soy free and wheat/gluten free. (Note some other taco seasonings and chips contain soy or wheat/gluten, so if that's a concern, be sure to read labels carefully).
This recipe does contain coconut in the Siete tortilla chips. Substitute other chips if this is a concern.
More Dairy Free Kid-Friendly Meals
Need more dairy free dinners that will please a crowd? Try one of these recipes:
I hope you enjoy this recipe! If you get a chance to try it, please feel free to leave a comment or recipe rating below.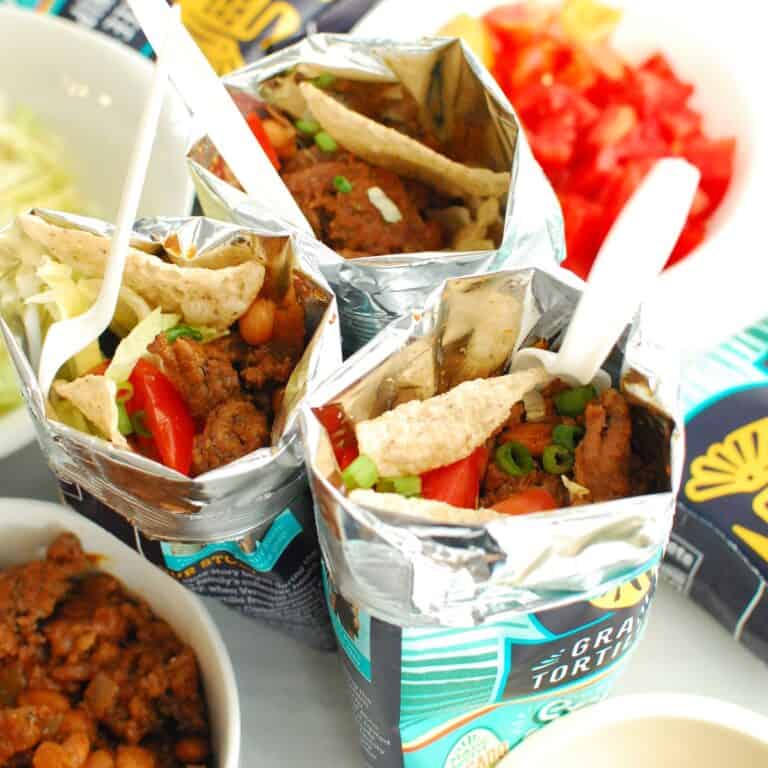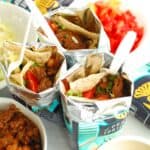 Dairy Free Walking Tacos
These dairy free walking tacos are the perfect party food or fun family dinner!
Ingredients
1

lb

ground beef

½

medium yellow onion, chopped

15.5

oz

can pinto beans, drained and rinsed

1

packet Siete mild taco seasoning

(or another dairy-free taco seasoning)

⅓

cup

water*

6

single-serving bags of tortilla chips or corn chips

(I like Siete tortilla chips)

2

tomatoes, chopped

2

cups

shredded lettuce

3

scallions, finely chopped
Instructions
Heat a large sauté pan or skillet over medium heat. When the pan is hot, add the ground beef and the chopped onion. Cook for 7-8 minutes, using a spoon or spatula to break apart the meat as it cooks, until fully browned. Drain the pan if there is excess fat present after browning.

Add the pinto beans, taco seasoning, and water to the pan. Cook for another 2-3 minutes over medium heat, until the sauce thickens and the beans are warm.

When ready to eat, scoop the taco meat mixture into the bags of tortilla chips, and top with tomatoes, lettuce, and scallions. Enjoy!
Recipe Notes
*The amount of water used here is proportional to the Siete taco seasoning; if you use another brand of taco seasoning follow package directions for how much water to use.
If there is excess grease in your pan, do not drain it into your sink, as the fat can clog pipes. Drain into a heat-safe bowl, and when the fat cools, you can throw it in the garbage.
Don't add the taco meat to the bags of chips until directly before eating, or the chips will get soggy. If serving for a party, you can place bowls with all the ingredients out, and allow people to serve themselves when ready.
Nutrition analysis (approximate per serving): 411 calories, 21.5 g fat, 8 g saturated fat, 710 mg sodium, 36 g carbohydrate, 8 g fiber, 5.5 g sugar, 19.5 g protein, Vitamin D: 0%, Calcium: 7%, Iron: 18%, Potassium: 16%
Share: What's your favorite fun party meal? If you tried these dairy free walking tacos, what did you think?
Feel free to pin this post to save for later!