Looking for delicious and healthy snack ideas that will keep you satisfied and fuel your healthy lifestyle? Check out these dairy free high protein snacks! All of these snacks contain at least 5 grams of protein (and many with a lot more than that!), making them the perfect choice if you're looking to increase your protein intake.
Disclaimer:  Always double check ingredients and product packaging to confirm a recipe meets your allergy needs. While I have done my best to provide product suggestions, manufacturer formulations can change at ANY time.
Disclosure: This post contains Amazon affiliate links. As an affiliate, I earn a commission on qualifying purchases.
1. Hard boiled eggs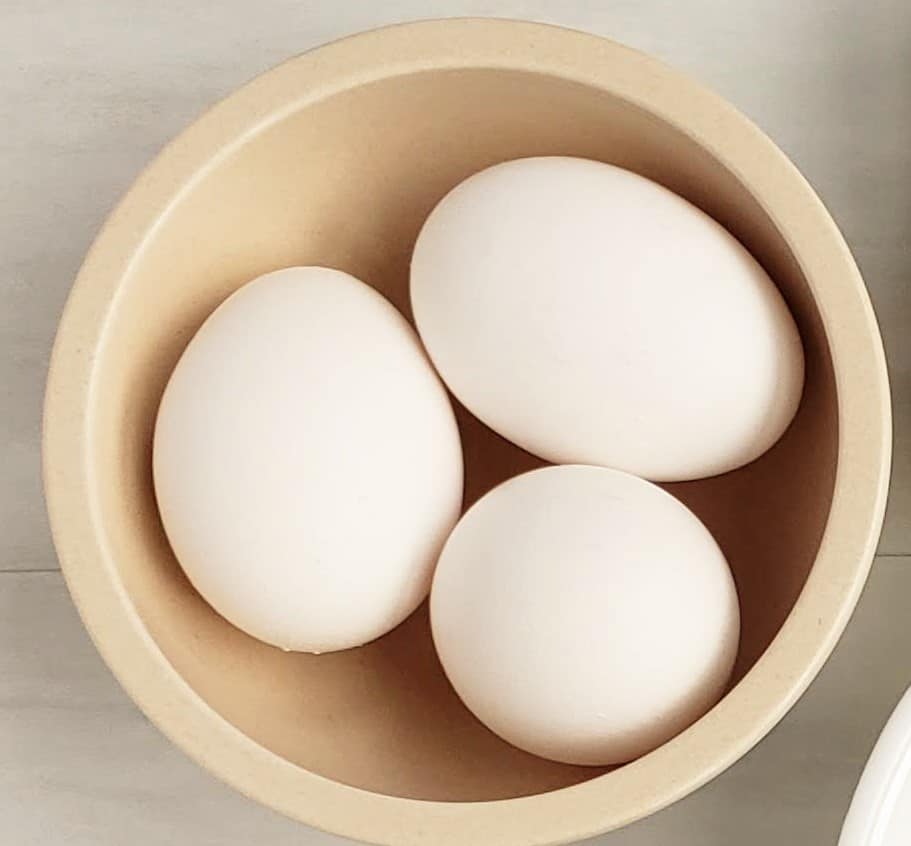 Hard boiled eggs are one of my favorite options, and for good reason – they're easy to make and super affordable (even with rising food prices, each egg still runs only about 20-35 cents each). One large egg packs in 6 grams of protein, while two will provide 12 grams.
You can eat them plain, make regular or avocado deviled eggs, or whip up some egg salad to throw on bread for a sandwich (great when you need a hearty snack!).
2. Roasted chickpeas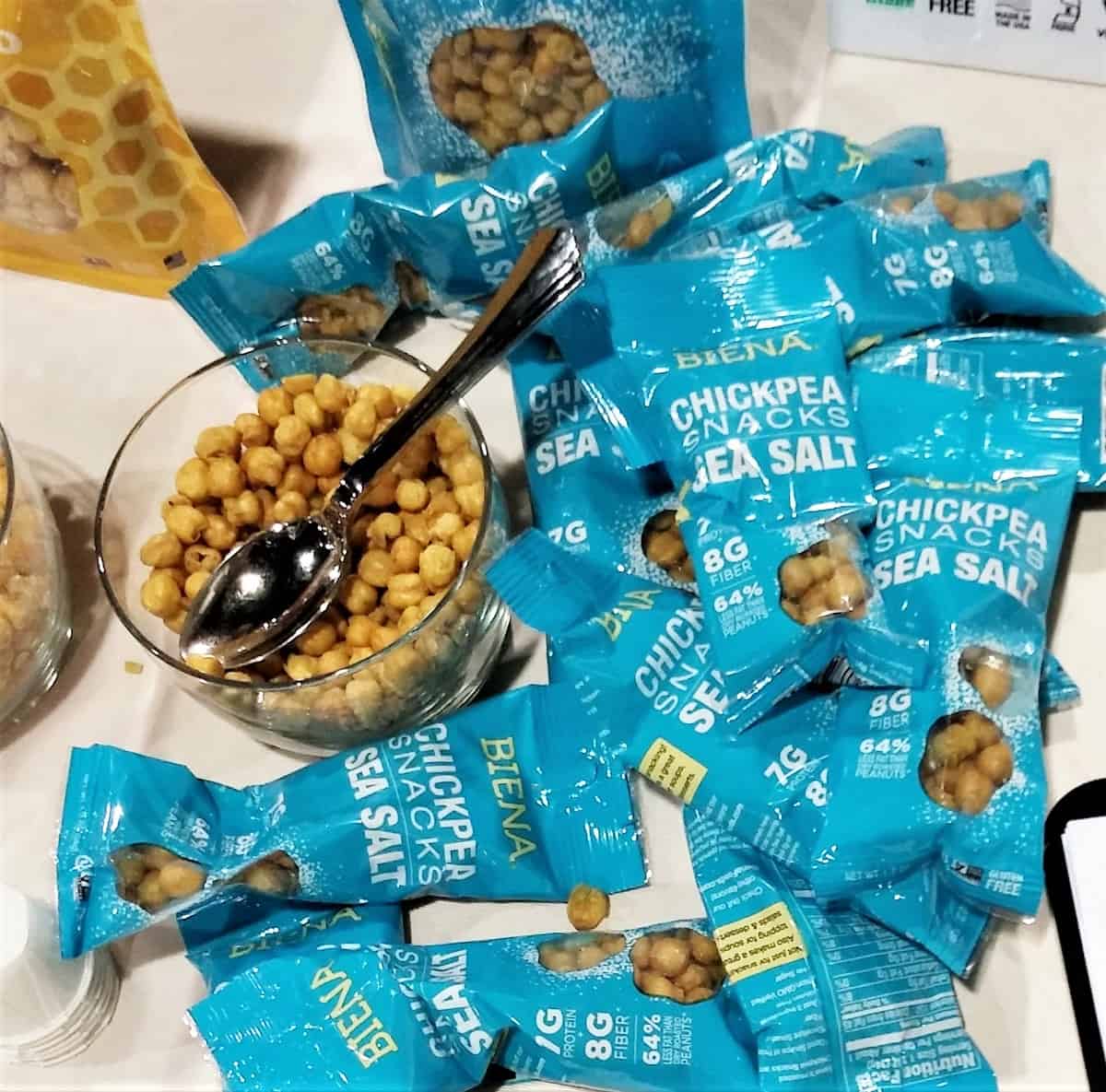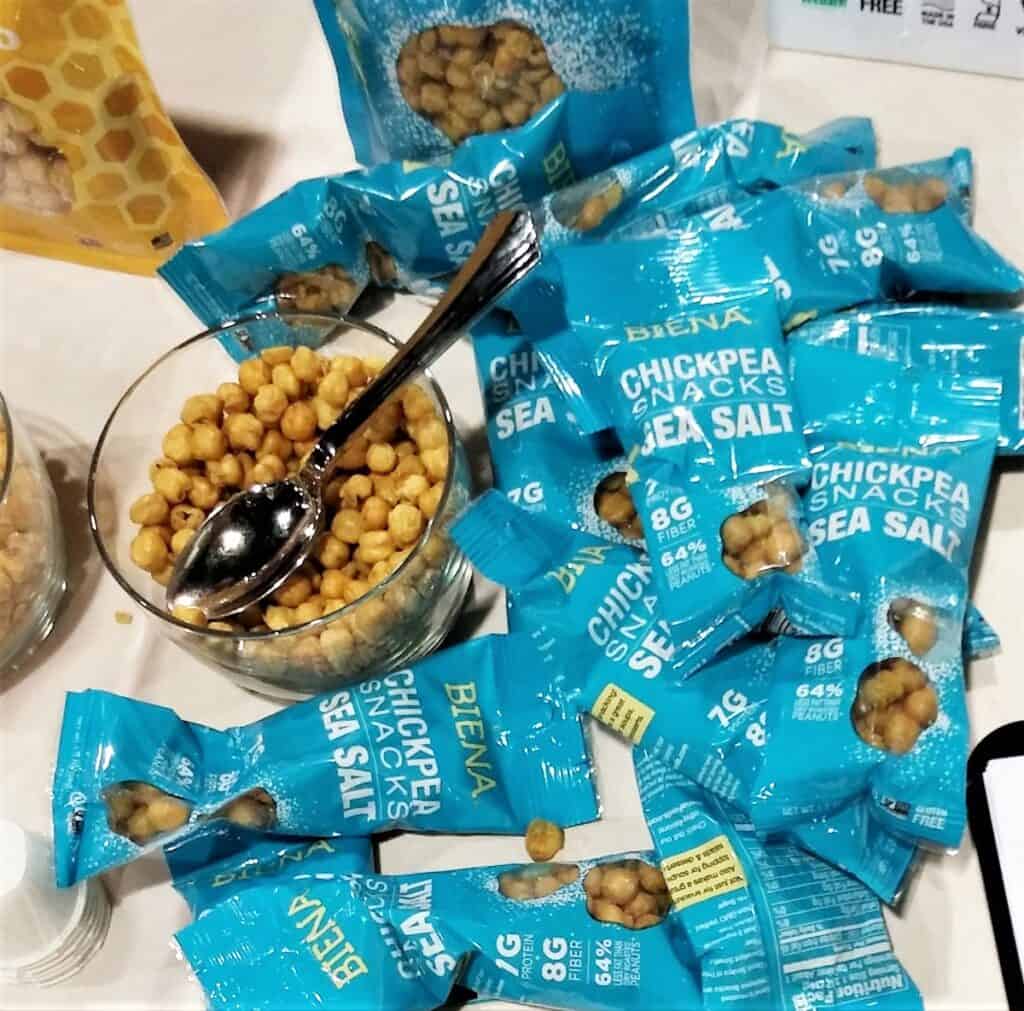 Another dairy free high protein snack option is roasted chickpeas. Chickpeas provide protein as well as fiber and complex carbohydrates, making them an ideal snack to keep you full and support digestive health.
A half cup of canned chickpeas (made into your own roasted snack) or 1 ounce of store-bought roasted salted chickpeas provides about 6 grams of protein.
Roasting your own chickpeas is easy – simply roast the drained chickpeas in an oven at 400 degree F for 15 minutes, then toss them in olive oil and your favorite seasonings, and roast them again for another 15-20 minutes. Let them cool on the baking sheet for a while so they finish crisping up.
I like to make a savory version with chili powder, cumin, and a little cayenne – or a sweet version with cinnamon and a little brown sugar.
You can also buy these at the store or on Amazon – here are a few dairy free options:
3. Tuna Pouches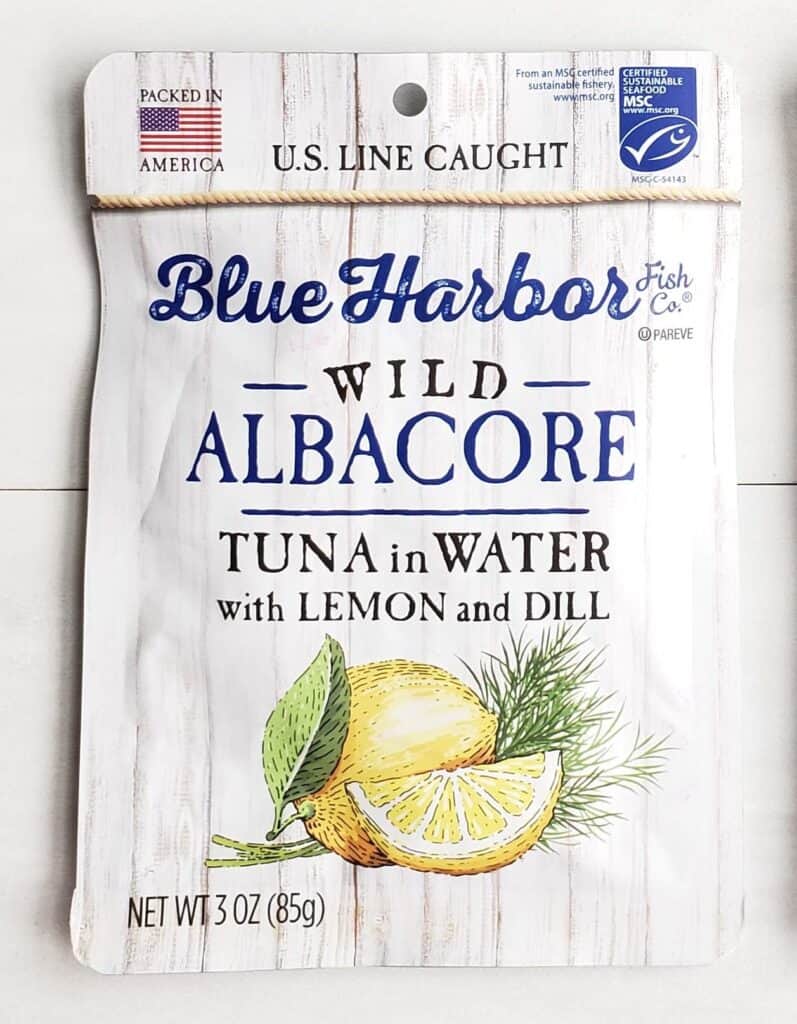 Are tuna pouches not the best invention ever?! It makes it so easy to pack this as a portable snack and dig into it on the go – no can opener necessary. Most pouches are around 2.5-2.6 ounces, and pack in around 15-18 grams of protein each.
Plain pouches of tuna are almost always dairy free, and many of the flavored varieties are as well. However, some of the flavored versions do contain dairy ingredients, so you'll want to carefully check the ingredients.
Here are some store-bought options that are dairy free:
4. Jerky and Beef Sticks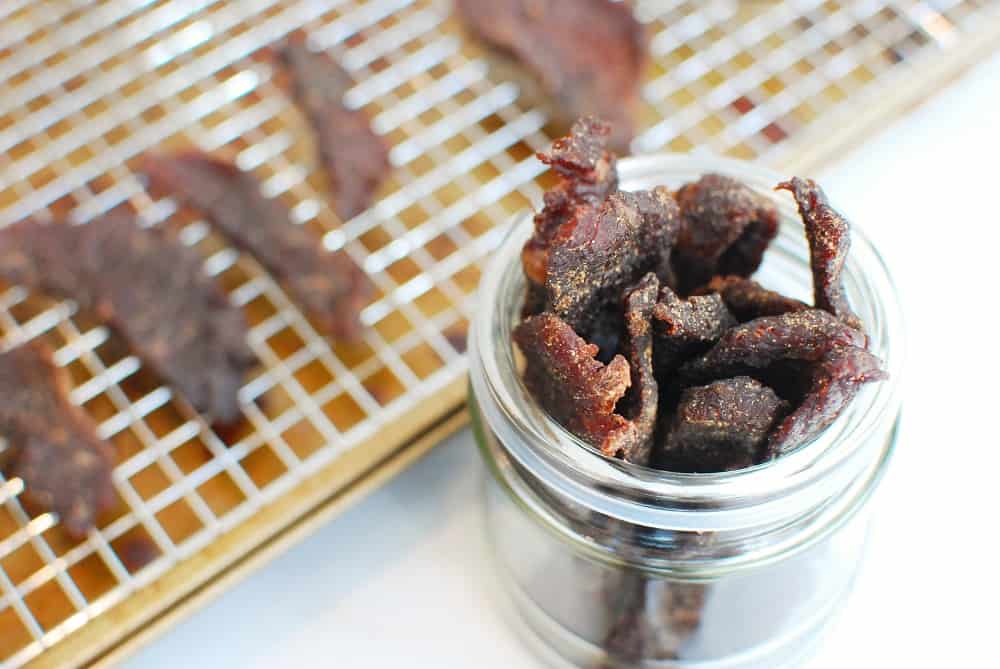 Jerky and beef sticks are two more great dairy free high protein snacks, and there are so many delicious flavors to choose from.
A one ounce serving of jerky provides around 9-10 grams of protein (depending on the brand and flavor), and a beef stick typically provides around 5 to 9 grams, depending on the size and type. This makes both perfect on-the-go options when you need something to tide you over until your next meal.
When choosing a store-bought jerky or beef sticks, be sure to check the ingredients. Occasionally, dairy derivatives can be used as a flavor enhancer (though this is not the norm).
Here are some dairy free options you can grab at the grocery store:
You can also make your own beef jerky if you want a fun weekend project! You don't need a dehydrator; it's possible to make it in a low temp oven.
5. Trail Mix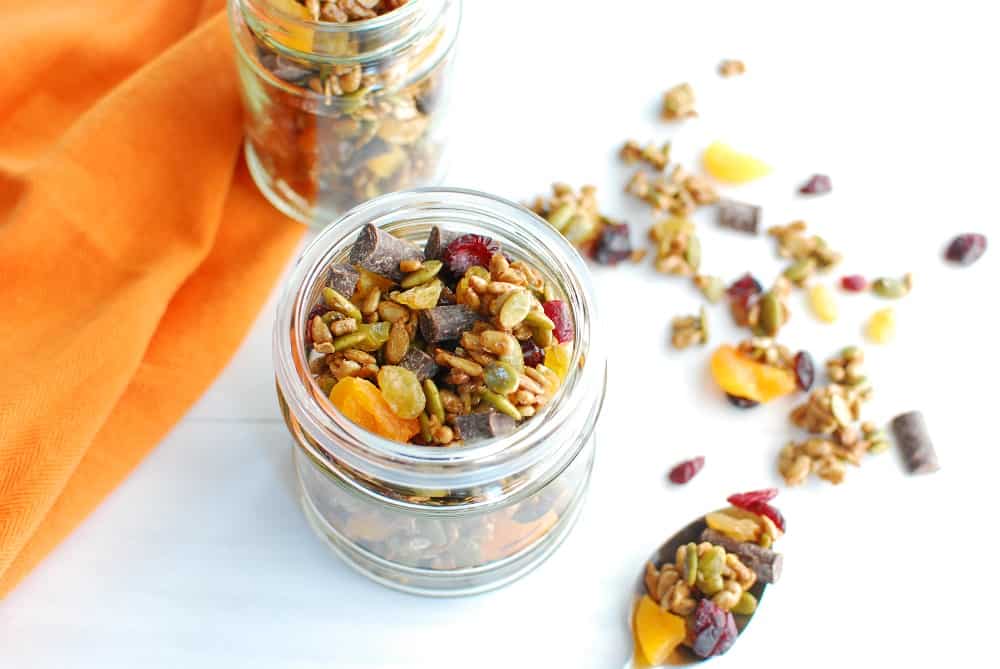 A dairy free trail mix is a great option when you need something to snack on that will give you sustained energy – like during a hike, or during a long road trip with some antsy kiddos.
The nutrition facts on trail mix varies based on the type, but generally you'll get around 5-7 grams of protein in a ⅓ cup serving. (Note many packages call for a ¼ cup serving, but I find that to be a little slim. ⅓ cup gives you a little more protein and usually ends up being around 200-250 calories, which is reasonable for a hearty snack.)
If you need a nut-free trail mix, you'll get a little less protein, but by using seeds you can still buy or create a version that provides around 5 grams of protein in a ⅓ cup serving.
Obviously, it's important to double check store-bought trail mix, as many will contain dairy-based chocolate or candies. If you can't find a dairy-free version at the store, it's very easy to make your own. Just combine:
Nuts – almonds, peanuts, etc.
Seeds – sunflower seeds or pumpkin seeds
Dried fruit – raisins, apricots, cherries, cranberries, mango, etc.
Extras if desired – Dairy free chocolate chips or candies (I like Enjoy Life dark chocolate chips or Choco No No Candies), beef jerky, popcorn, mini marshmallows, roasted chickpeas, cereal, etc.
Here are a few store-bought options as well:
6. Protein Bars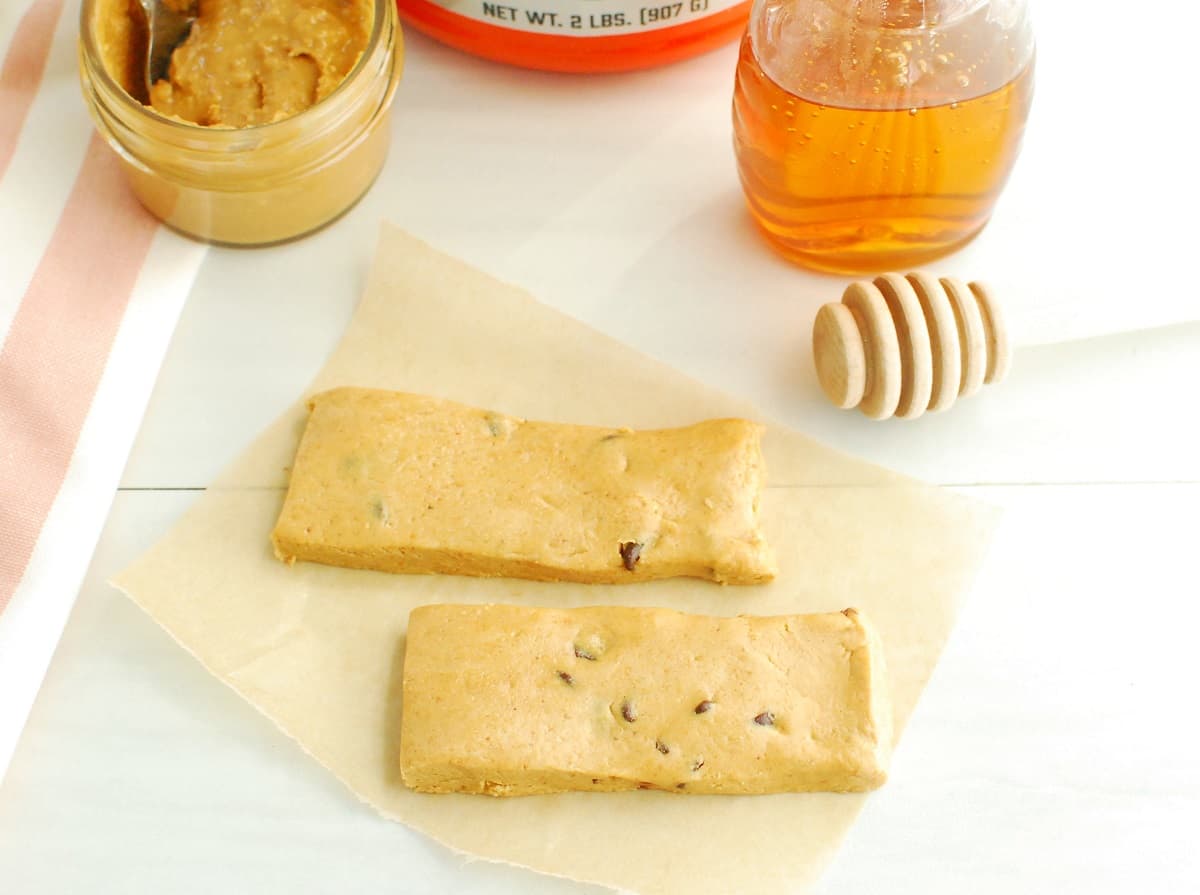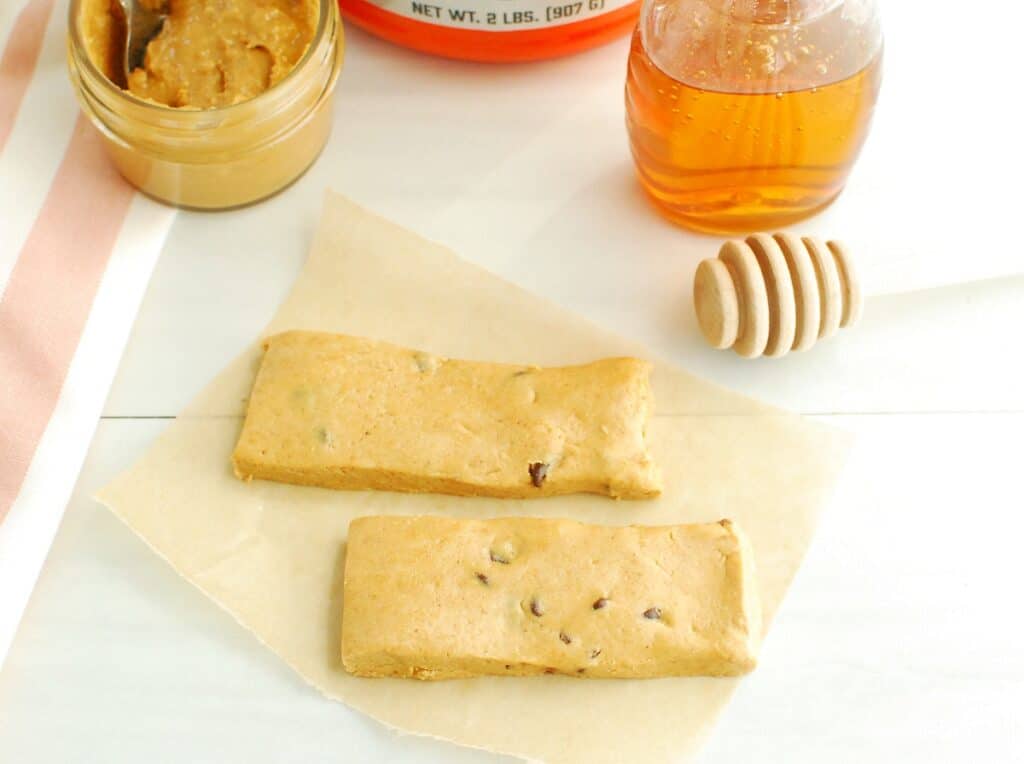 This is one of my all time favorite snack options! I'm going to give you the easiest recipe to make your own – seriously, so simple. Just combine:
Mix those ingredients together then press them into a parchment-lined 8×8 dish. Pop that in the fridge for a few hours then cut into 10 bars. They'll be a little soft but they are oh-so-delicious. And each bar contains about 10 grams of protein (give or take; specific amount depends on the protein powder you use)!
If you'd prefer instead to buy store-bought bars and save time, here are a few great options. Each contains 10 to 20 grams of protein:
7. Higher Protein Dairy Free Yogurt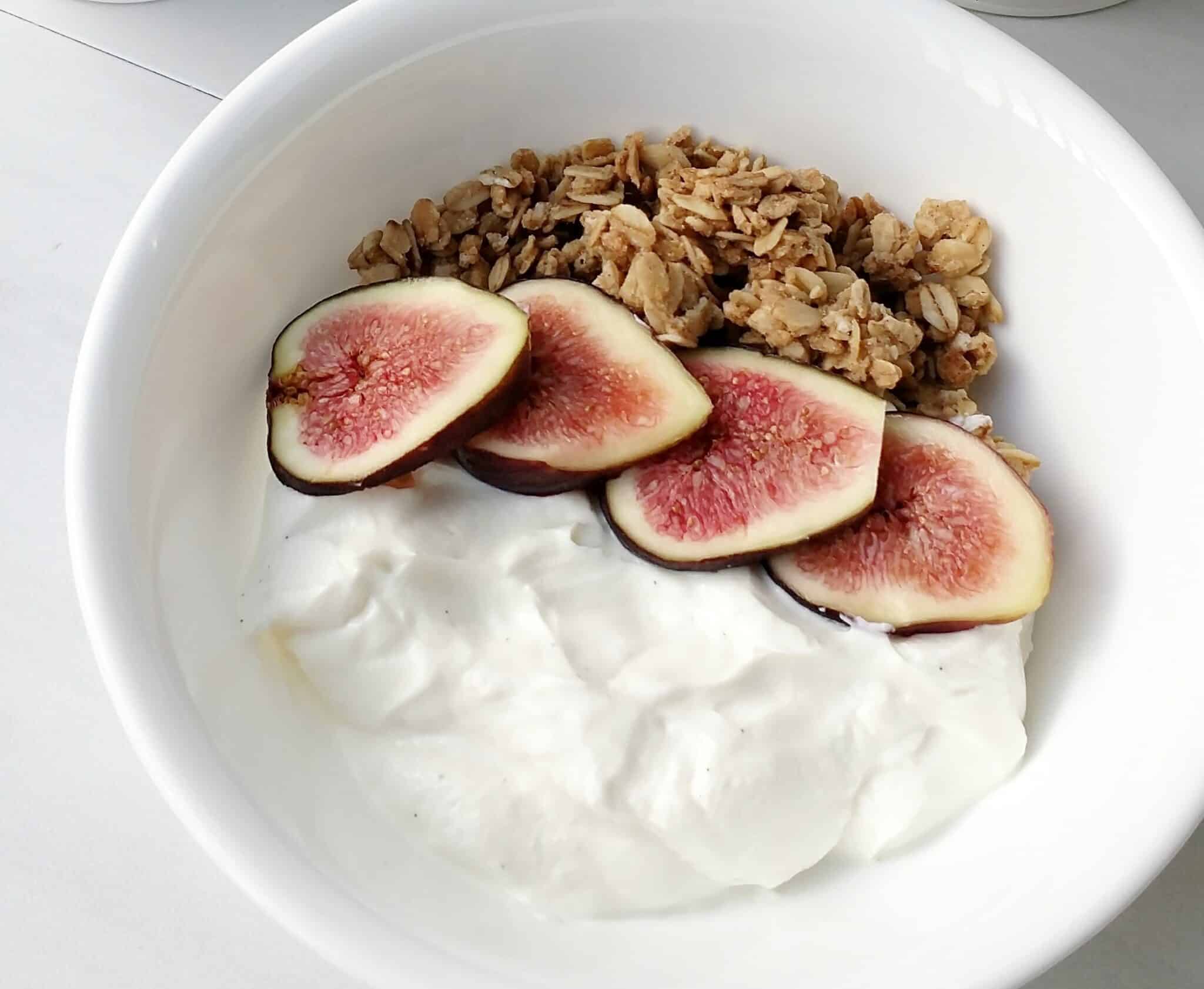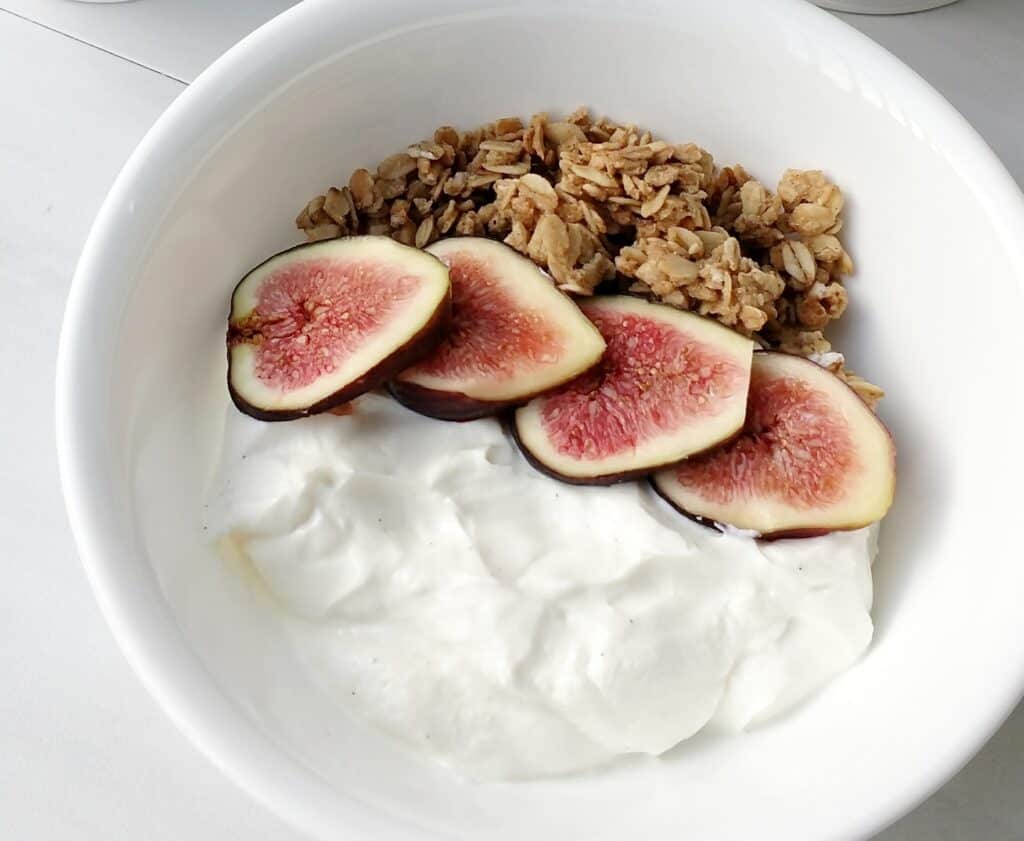 Unfortunately, most dairy-free yogurt tends to be low in protein, as their bases (like coconut or oats) are relatively low in protein. But there are still a few good higher-protein options on the market! These include:
Kite Hill Protein Almond Milk Yogurts – They make four options (plain, blueberry, vanilla, and strawberry) and each provides at least 10 grams of protein per serving. The protein source is soy protein isolate.
Siggi's Plant Based Cups – These are probably my favorite, due to both the taste and low added sugar content. They make a variety of plant-based flavors, including vanilla, coconut, peach, strawberry, mixed berry, raspberry, mango, and plain. Each of the small cups provides 10 grams of protein, which comes from pea protein.
Nancy's Oatmilk Non-Dairy Yogurt – These yogurts are both gluten free and vegan, with tons of fun flavors like cold brew vanilla, strawberry hibiscus, and apple cinnamon. They're a little lower in protein than the other two options at 6 grams each, but still a nice snack option. The protein in these comes from faba beans.
8. Smoothies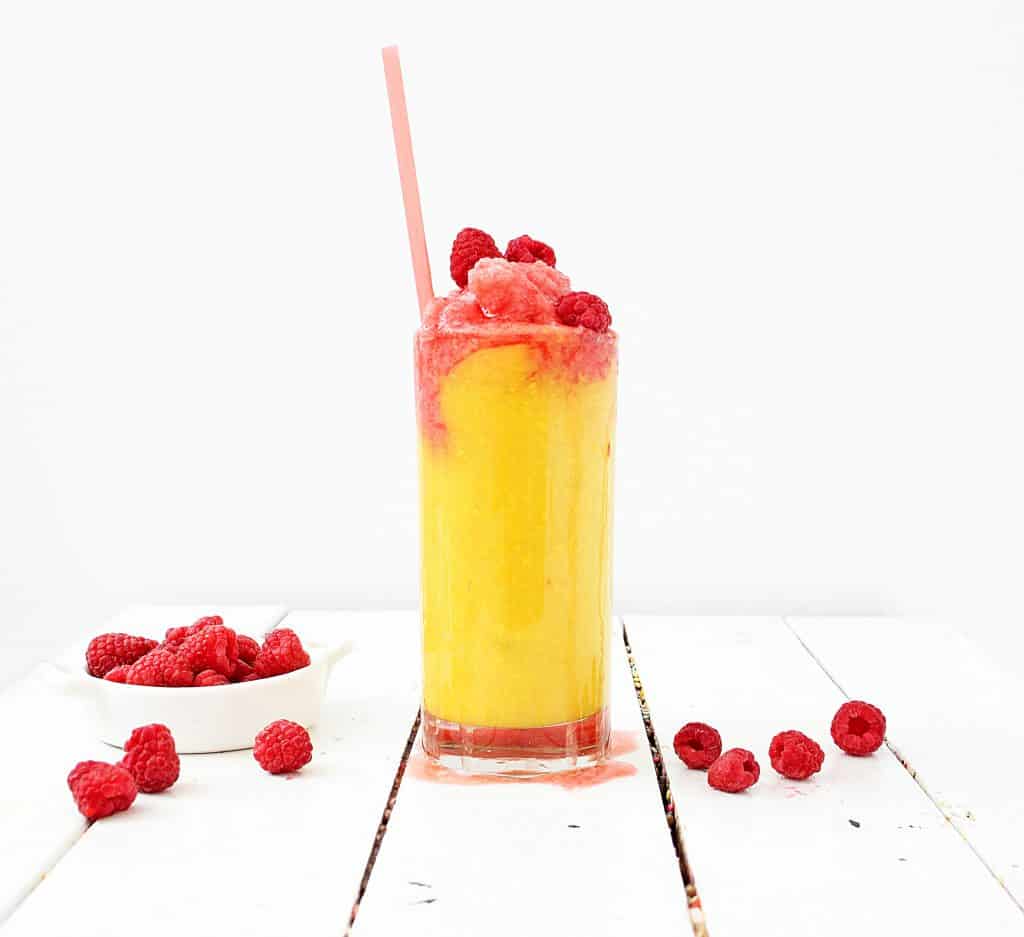 A dairy free smoothie is a great way to get in some extra protein, especially if you struggle to eat enough throughout the day. You can make them as simple or complicated as you want – add in whatever fruits, veggies, and dairy free milk you have on hand. The protein content can vary based on what you add, so just be sure to add some source of protein to your concoction.
Get creative by mixing and matching ingredients from these categories:
Fruit – bananas, mango, berries, pineapple, peaches, etc.
Veggies – kale, spinach, carrots, beets, cucumber, etc.
Liquid – almond milk, cashew milk, oat milk, hemp milk, coconut water, juice, water
Protein source – silken tofu, higher-protein dairy-free yogurt (like those mentioned in the last section), peanut butter, almond butter, plant-based protein powder
Extras – chia seeds, ground flaxseed, dairy free chocolate chips, honey, cinnamon, fresh ginger, turmeric
There are endless flavor possibilities and you can tailor them to whatever you love.
9. Edamame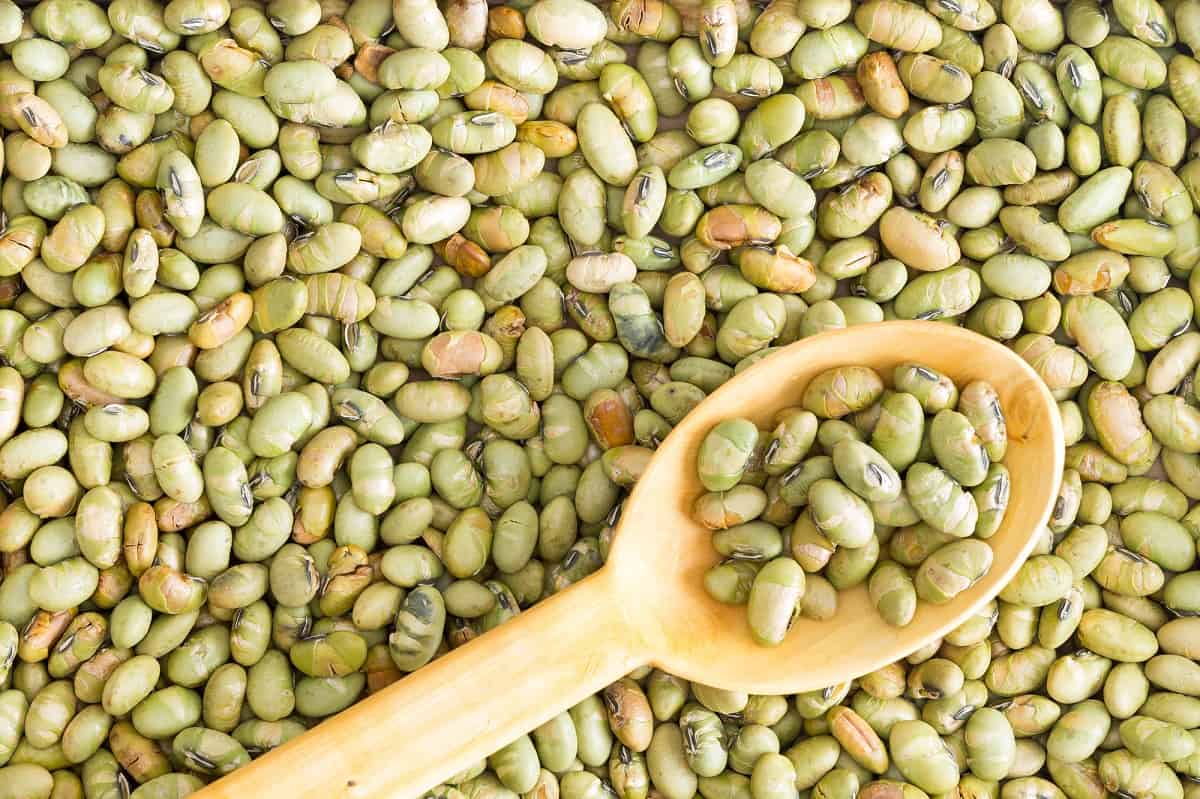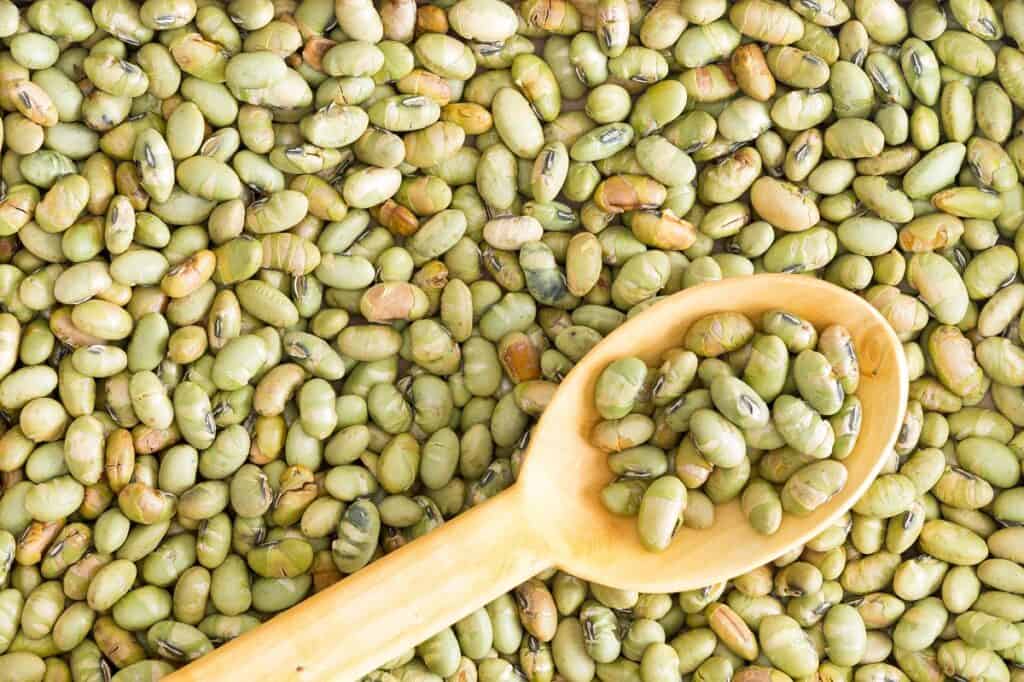 Edamame are whole, immature soybeans that are still in their pods. You can eat it two ways – cooked from frozen, or dried edamame snack packs.
A cup of cooked edamame contains 17 grams of protein, while a crunchy snack pack contains around 10-14 grams of protein in each pack (depending on the brand and size).
If you want to cook some at home yourself, you can find them frozen in the grocery store – just be sure to get the ones that are already shelled to save time. Sauté it in a little oil, then toss with a little salt and soy sauce. Yum!
If you want to try the dried snacks for a more on-the-go option, here are a few dairy-free products:
10. Lentil Snacks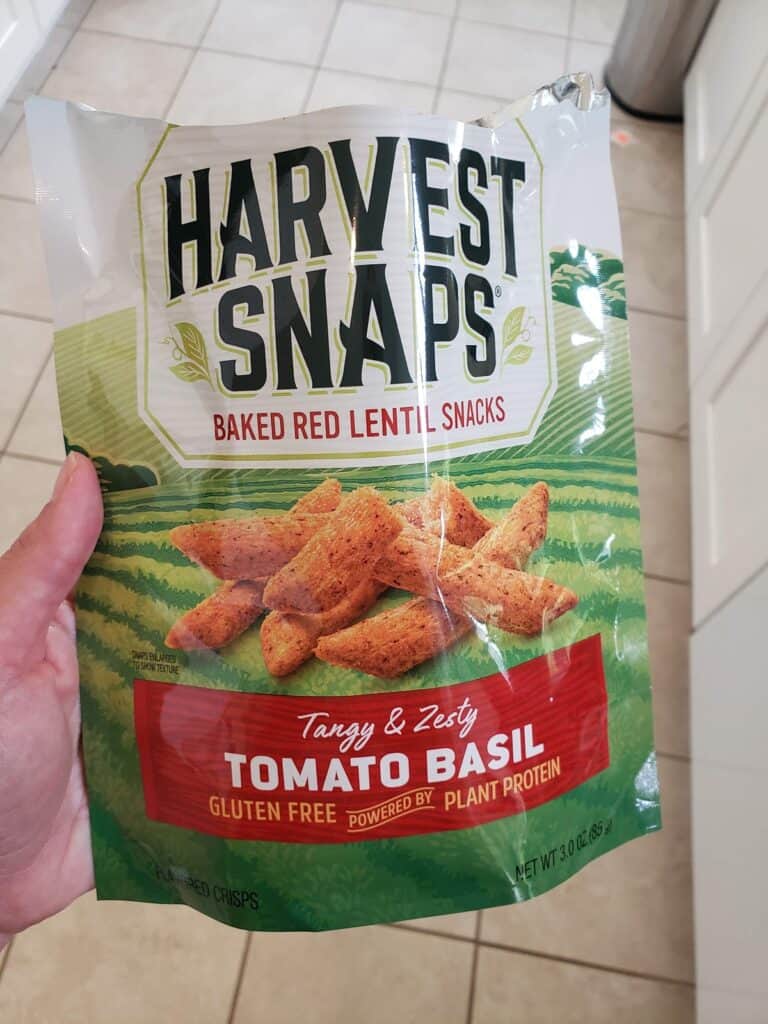 There are several brands of lentil snacks that have been hitting the market lately, and I have two favorites!
The first are the Harvest Snaps Tomato Basil Flavor. A one ounce serving provides 5 grams of protein and 3 grams of fiber. These are a puffed crunchy snack (kind of like the texture of a cheese puff if that helps you visualize it) and taste similar to pizza. They're so delish!
As a heads up, the packaging does note a cross contamination warning that they're packaged on shared equipment with milk-containing products, so if you are anaphylactic to dairy, you may want to skip over this particular product.
The second are the Mighty Lil' Lentils made by Seapoint Farms. They are crunchy lentils that kind of remind you of a mix between popcorn and potato chips, but much smaller – if that description makes any sense, haha.
A quarter cup serving provides 5 grams of protein and 5 grams of fiber – great for snack time sticking power so you're not getting hungry 15 minutes later.
Dairy free flavors include the Pink Himalayan Salt, Falafel, Texas BBQ, and Cinnamon Churro. You can buy a variety pack featuring several flavors on Amazon.
The Bottom Line
There are a ton of dairy free high protein snacks out there to keep you satisfied and your hunger at bay. With so many delicious options, it's easy to find something you'll love.
Share: What's your favorite snack from this list? If you have other ideas, feel free to drop them in the comments!