Need a creative way to use up extra bread? Try this dairy free bread pudding recipe! It's just as delicious as the conventional versions, but safe for those who are lactose intolerant or have a milk allergy. Plus, it's super easy to make!
Ingredients
Here's a photo of everything you'll need to make this, along with selected ingredient notes: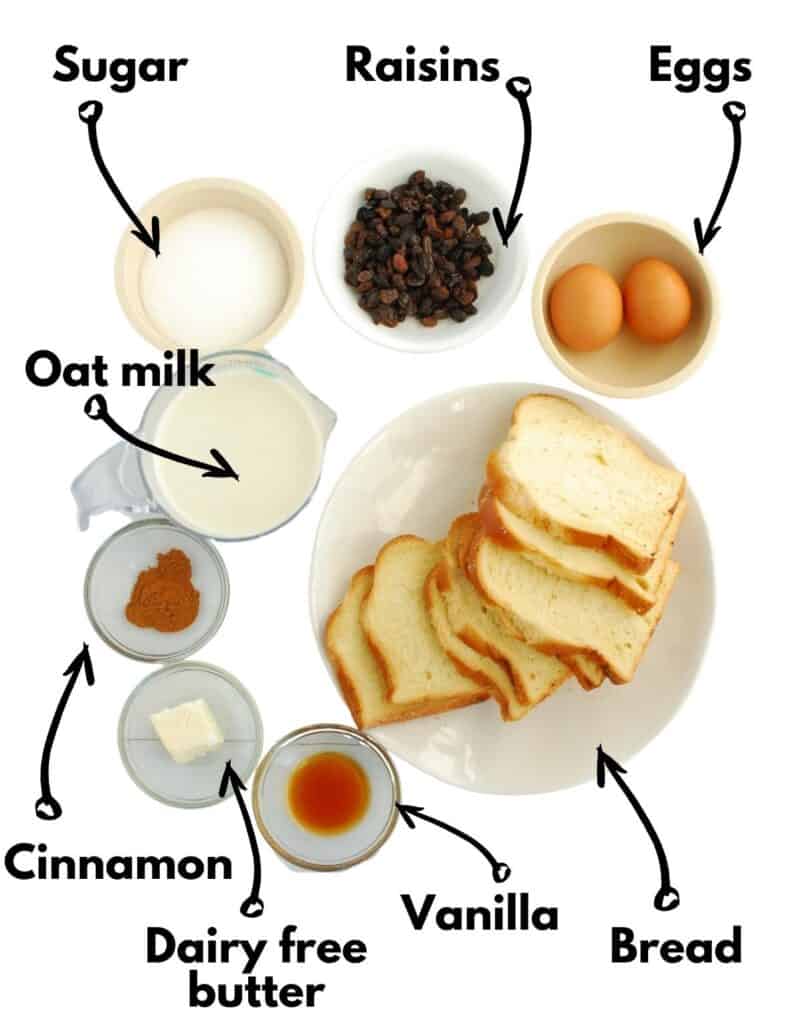 Oat milk – I recommend oat milk that's labeled "extra creamy" or "full fat". These have a thicker, creamier texture that work well in the custard base. But you can also use regular oat milk as well if that's all you have on hand.
Challah bread – This is my personal favorite for bread pudding. It's rich, soft, and has a slight sweetness to it that pairs perfectly with the other ingredients. By definition, challah should be free of any dairy ingredients – but you certainly should always double check the label in case the bakery made it a non-traditional way. If you can't find challah bread, any other dairy-free bread will work!
Instructions
You'll find the full recipe instructions and amounts in the recipe card, but here's a helpful overview with photos.
Start by cubing your bread and popping it in a greased 8×8 baking dish. Sprinkle raisins on top.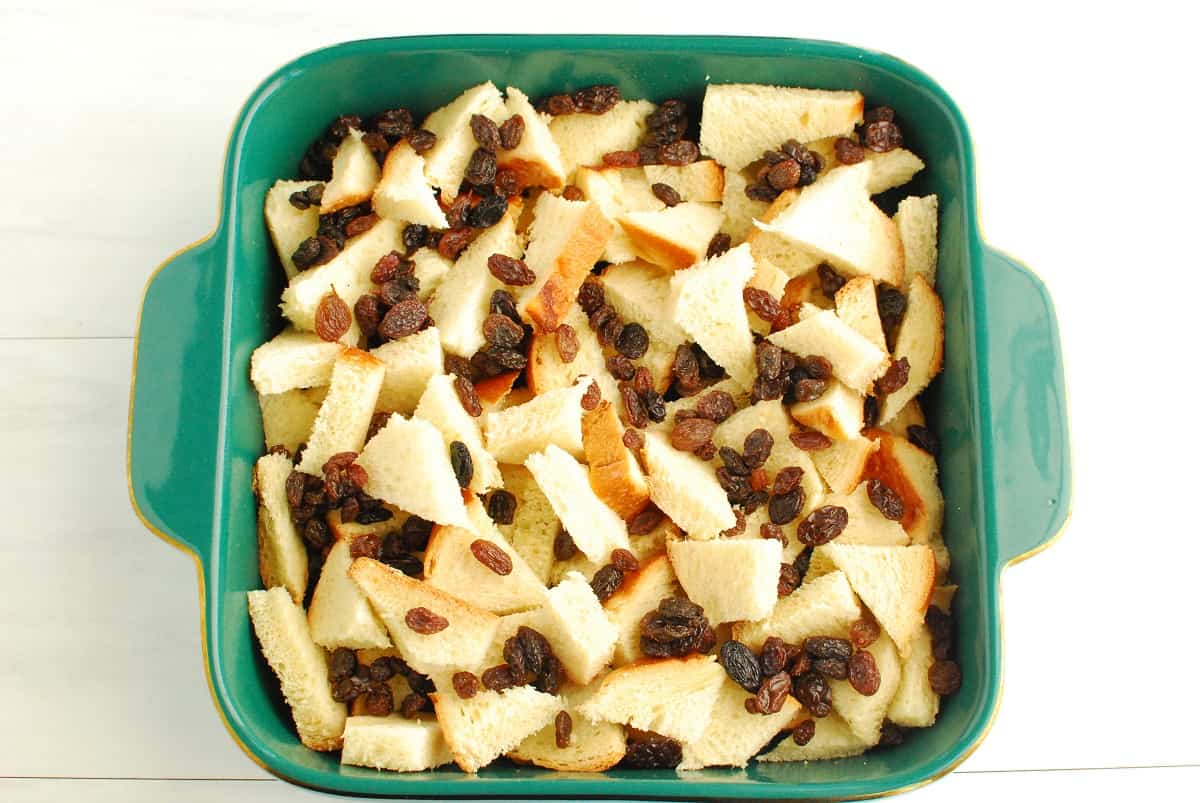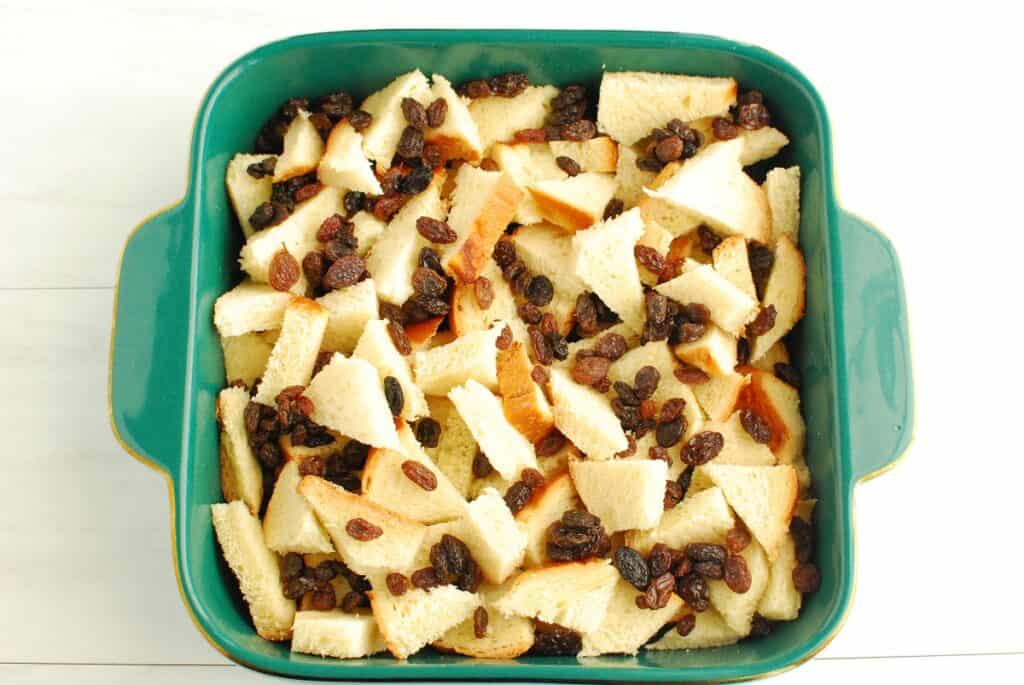 In a large bowl, combine all the rest of the ingredients – the oat milk, sugar, eggs, dairy free butter, vanilla, and cinnamon. Whisk that together.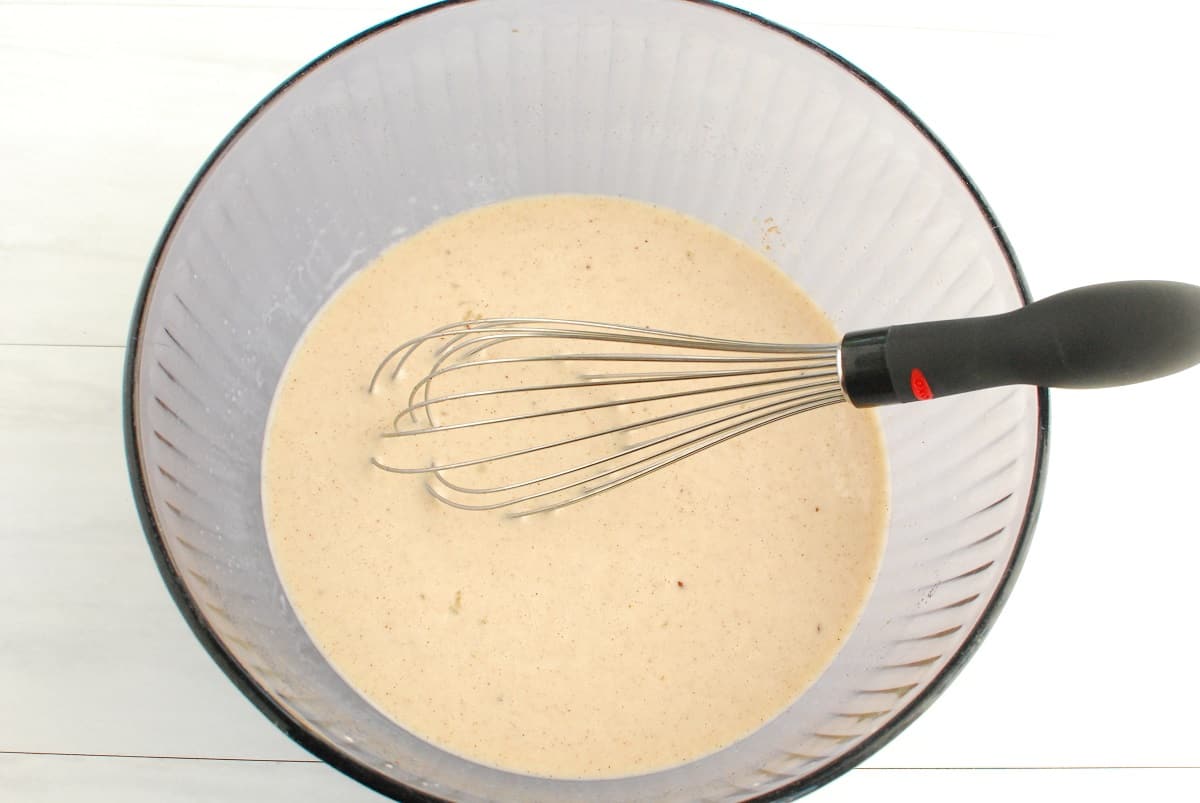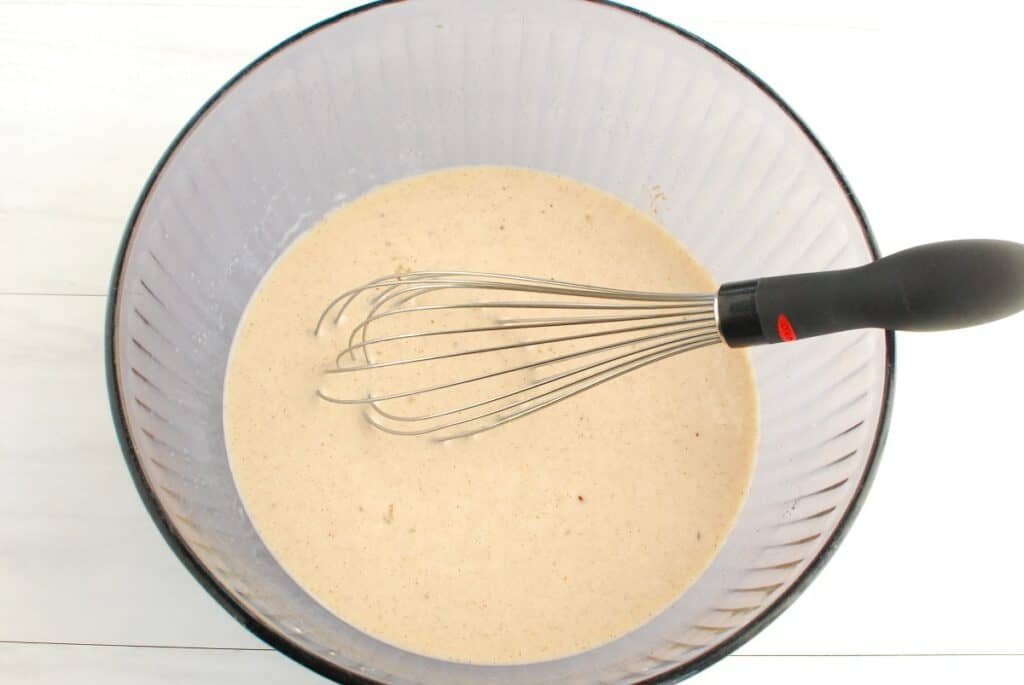 Pour the milk mixture over the cubed bread, being sure to carefully coat all the pieces. You can use a fork to push down the bread a bit into the mixture to make sure everything is soaked in the mixture.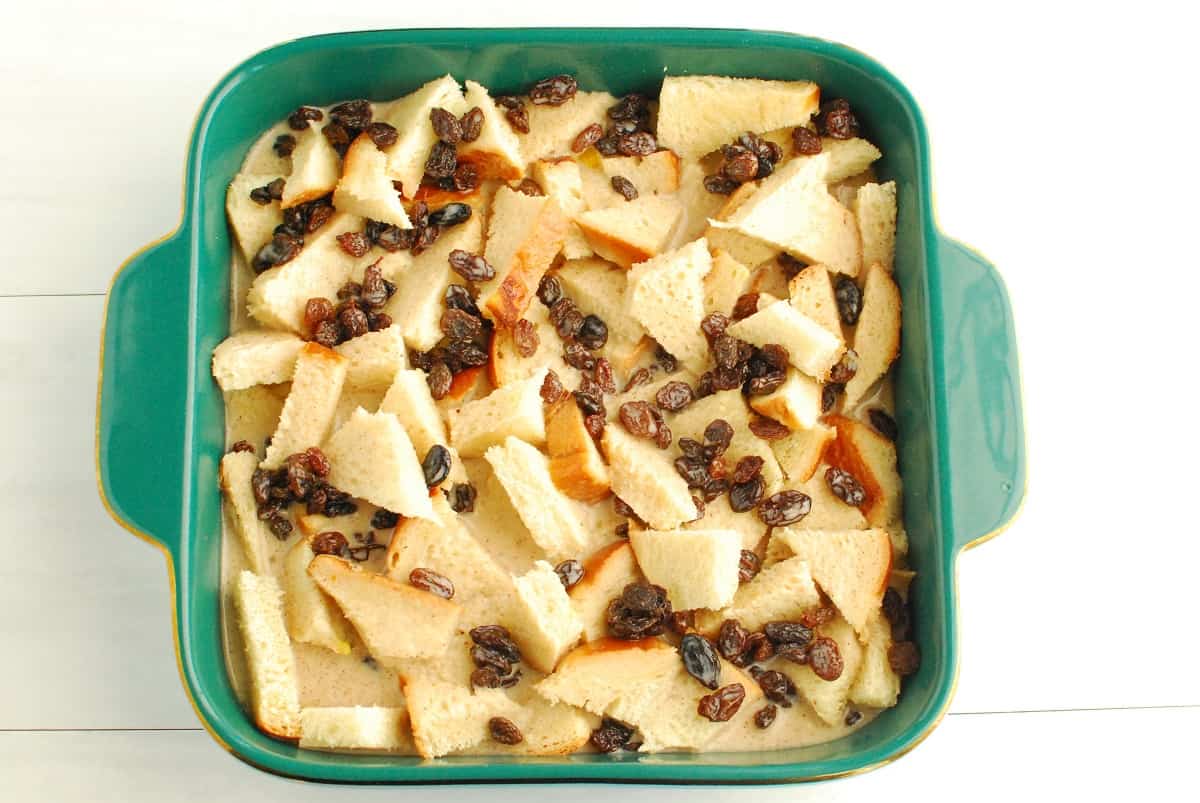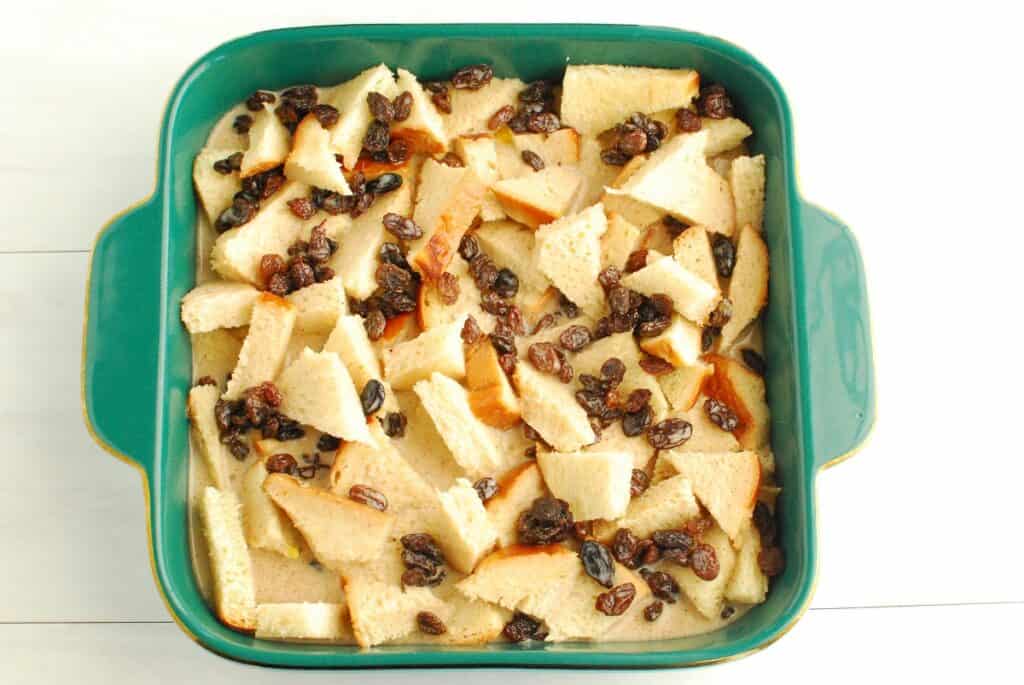 Pop that in the oven for 40-45 minutes, and boom – your bread pudding is done!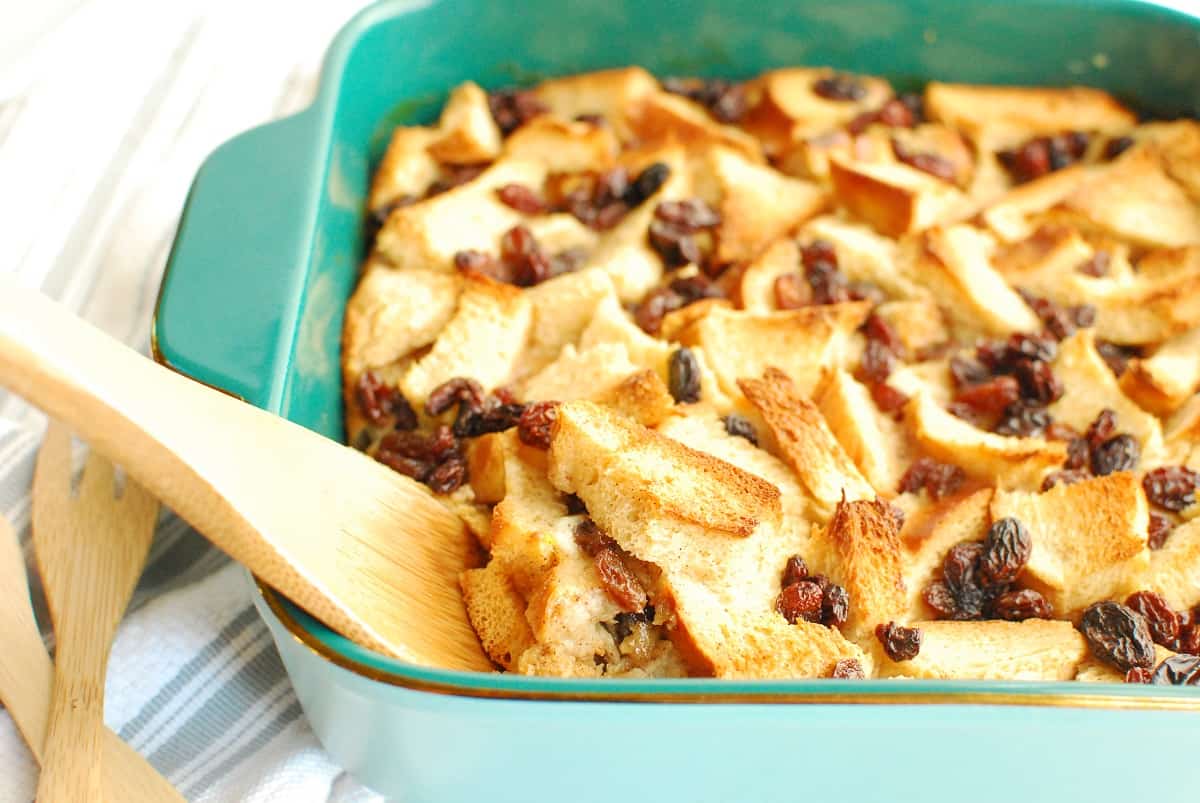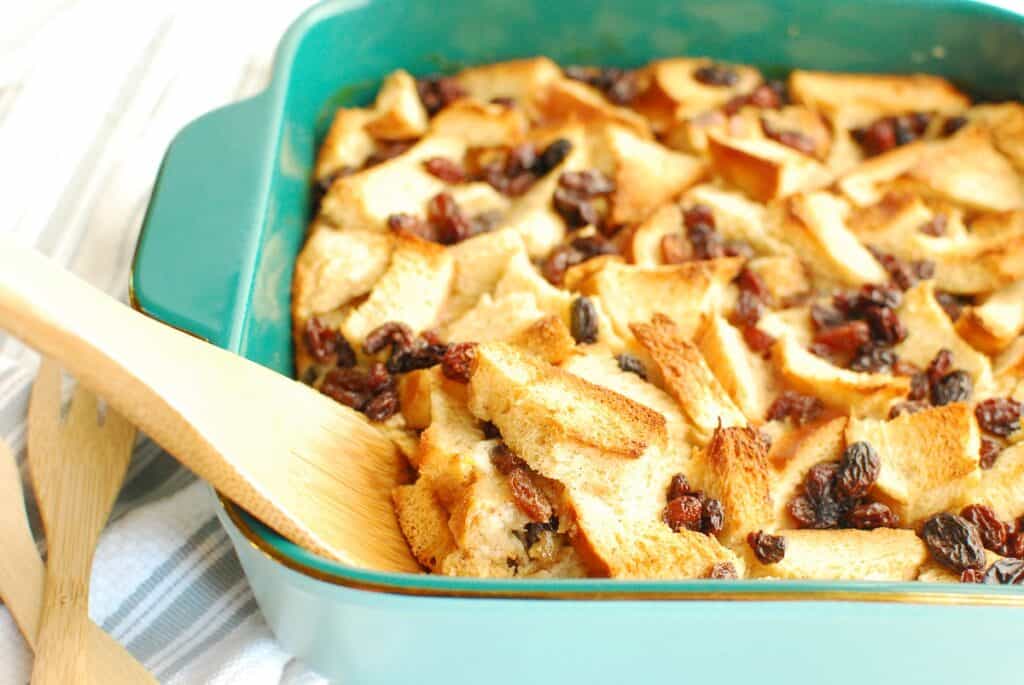 Recipe FAQ
Here are some common questions that may come up as you prepare this recipe:
How should you store leftover dairy free bread pudding?
Store leftovers in the refrigerator for up to 4 days. Reheat individual portions in the microwave.
What are some unique flavor combinations for bread pudding?
While raisins are a classic, you can change up your bread pudding in lots of ways! You can try using other dried fruit, like cranberries, or use fresh fruit like raspberries or blueberries. You can also add nuts, chocolate chips, or shredded coconut. Or, try topping the standard recipe with dairy-free caramel or vanilla sauce!
Allergens in this recipe
* Disclaimer: Always double check ingredients and product packaging to confirm a recipe meets your allergy needs. While I try to note potential allergens below, there is always the chance I may miss something or that manufacturer formulations may change.
As written, this recipe is dairy free.
This recipe may contain soy or nuts depending on your choice of ingredients. As long as your bread and dairy-free butter are free from soy and nuts, you can easily make this recipe free of both.
This recipe does contain wheat/gluten (in the bread) and eggs (in the bread and ingredients).
You can easily make this a wheat-free/gluten-free recipe by substituting a gluten-free bread in place of the challah bread, and double checking that your oat milk does not contain gluten.
I do not recommend substituting the eggs in this recipe, as they're key to helping the custard-like filling set.
More Dairy Free Desserts
Here are a few more sweet treats you might enjoy!
I hope you enjoy this recipe! My family is a big fan. If you get a chance to try it, feel free to leave a recipe rating or comment below.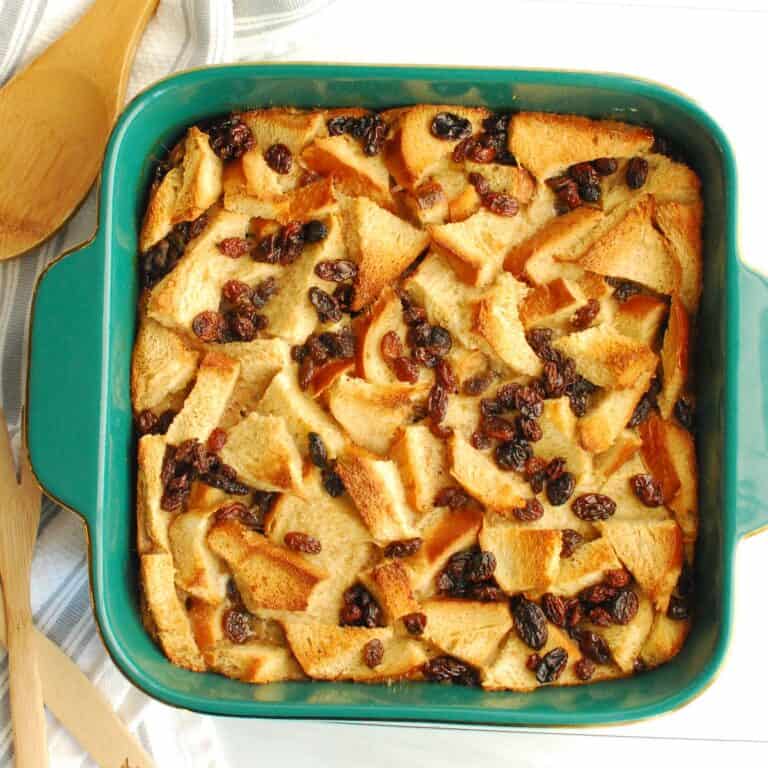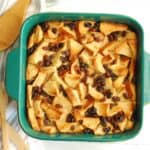 Dairy Free Bread Pudding
This dairy free bread pudding is a great way to use up leftover bread in a perfectly sweet dessert.
Ingredients
6

cups

day-old challah bread, cubed

(or any dairy-free bread)

½

cup

raisins

2

cups

oat milk

(preferably full fat or extra creamy)

½

cup

sugar

2

large eggs

2

tbsp

melted dairy-free butter

1

tsp

vanilla

1

tsp

cinnamon
Instructions
Preheat the oven to 350 degrees F. Grease an 8×8 baking dish.

Add the cubed bread and raisins to the baking dish. Set aside for now.

In a large bowl, whisk together the oat milk, sugar, eggs, melted dairy-free butter, vanilla, and cinnamon. Pour the milk mixture over the bread in the baking dish, carefully pouring over all sections. Press the bread down a little bit with a fork to ensure all pieces are coated.

Bake in the oven at 350 degrees F, uncovered, for 40-45 minutes. When done, the top will be golden brown, the filling will be cooked through, and the bread pudding will spring back a little bit when pressed down.

Let cool for 15 minutes in the pan, and enjoy slightly warm.
Recipe Notes
Nutrition analysis (approximate per serving): 324 calories, 10 g fat, 3 g saturated fat, 155 mg sodium, 50.5 g carbohydrate, 2.5 g fiber, 31 g sugar, 6.5 g protein, Vitamin D: 9%, Calcium: 12%, Iron: 10%, Potassium: 6%
Share: What's your favorite dairy-free dessert? If you tried this bread pudding recipe, what did you think?
Feel free to pin this post to share with others!