Craving a delicious appetizer for your upcoming party – but need a dairy free version?  This dairy free spinach artichoke dip is sure to please you and your guests!
One of the toughest things I dealt with when I had to be dairy free for nursing was parties, especially around the holidays.  You never knew if there'd be "safe" foods at the event.
While brainstorming creative dairy free appetizers got a little challenging, I loved when I made one and it came delish – like this spinach artichoke dip.  It's so nice to bring these kinds of appetizers along, knowing that you'll have something yummy to enjoy on your night out.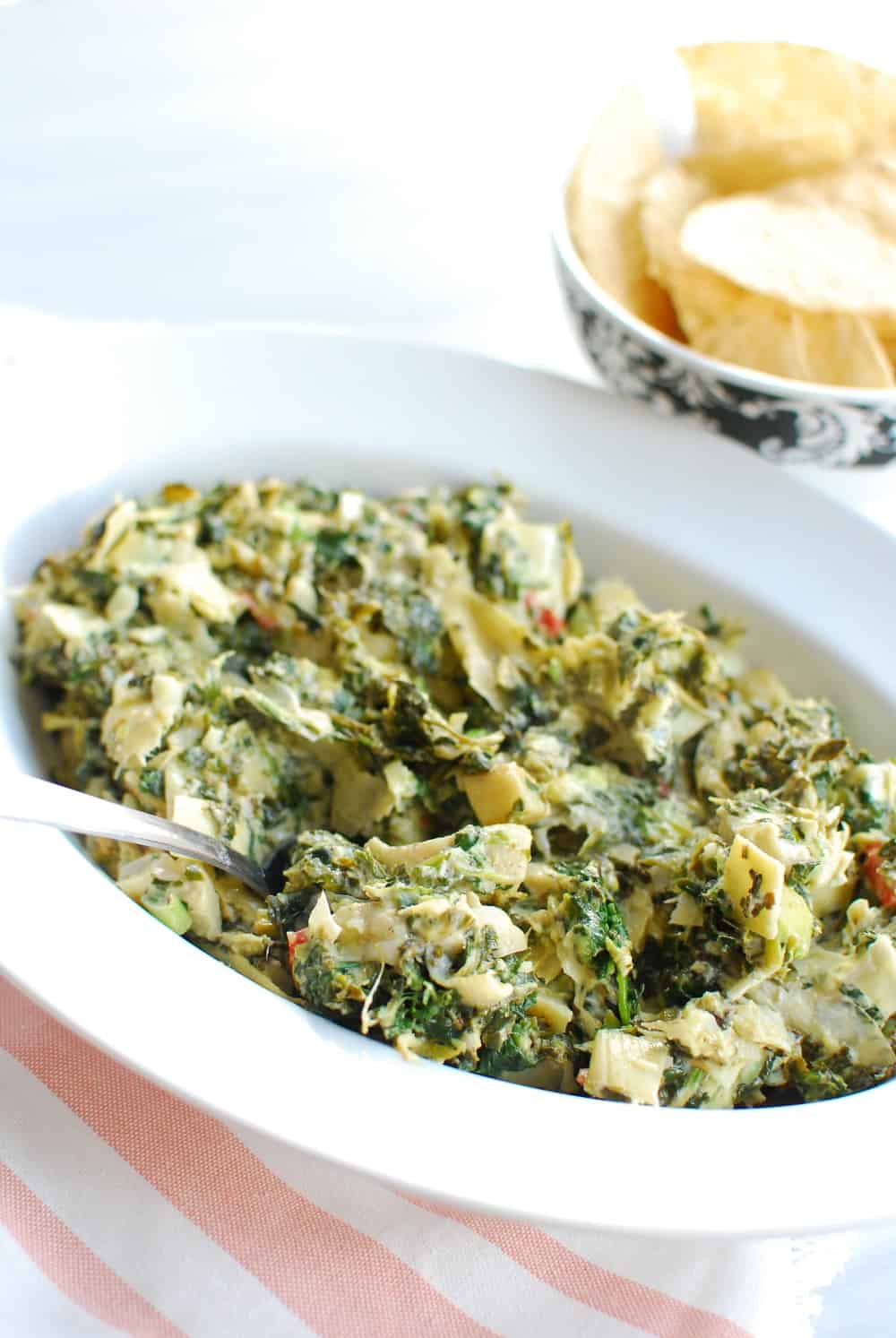 Why I love dairy free spinach artichoke dip
How could anyone not love this dip?!  It's packed with veggies and tastes amazing! 😉  For real though, it's a definite winner for your parties – or just to munch on at home.
No, it's not cheesy like the original.  But it's still creamy and rich and oh-so-tasty.  Your dairy-loving friends will enjoy it just as much as you do.
Allergen and diet modification tips
This dip is dairy free, and is also typically wheat/gluten free (as long as the mayo meets those requirements, which most do).
If you have other allergens or diet modifications that you're concerned about, consider the mayo that you are choosing.  Here are some tips…
Disclosure:  This information contains Amazon affiliate links.  As an affiliate, I earn a commission on qualifying purchases.
Can't have soy?  Or on a Whole30 diet?
Most mayo is made with soybean oil.  A lot of people are surprised that soybean oil is actually fairly well tolerated among many people with food allergies and intolerances, since it is the fat portion – and does not generally contain high enough levels of the soy protein to cause reactions.  This is why food manufacturers do not have to declare a soy allergen if highly refined soybean oil is used in a product.
That said, there are still some people who are sensitive to soy oil.  If that's you or your child, try a mayo like Primal Kitchen.  This is made using avocado oil instead of soy oil.
Primal Kitchen Mayo also fits your needs if you're on a Whole30 diet, since it doesn't contain any added sugar (unlike many other mayos on the market).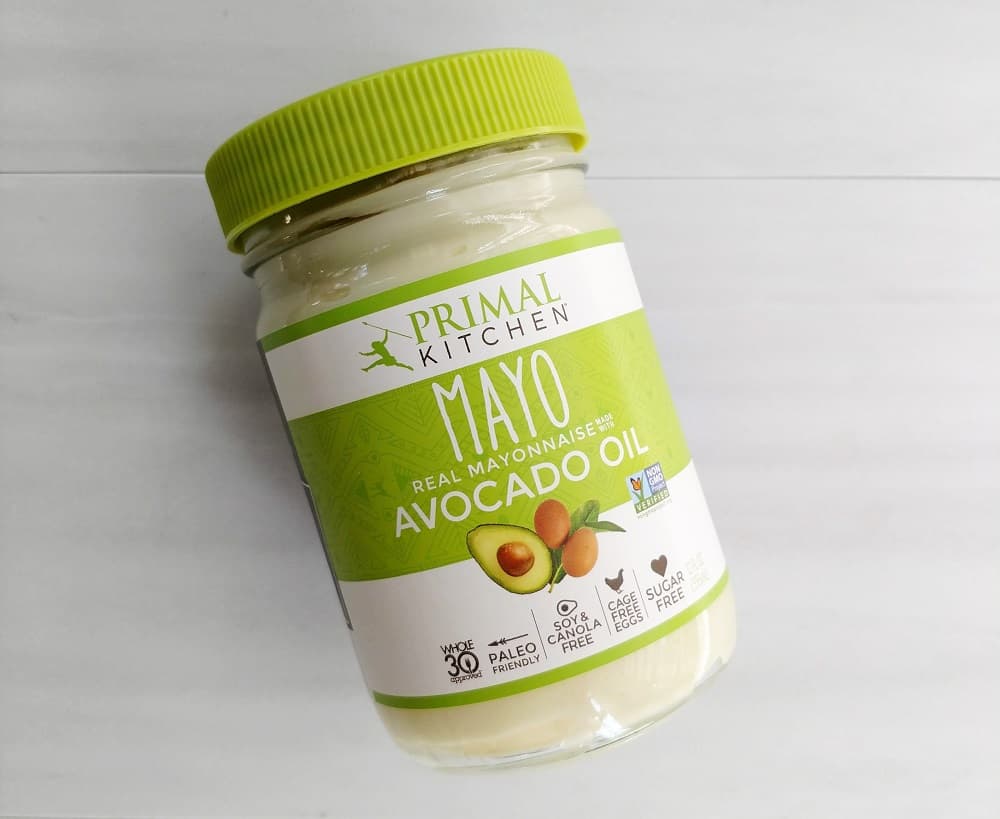 Can't have eggs?  Or on a vegan diet?
Most versions of mayo on the market contain eggs – it's really one of the main ingredients.  Luckily for anyone with allergies, there's been some new products that have hit the market without eggs.  Just Mayo is one of them, and I've spotted it on the shelves at my local grocery stores.  (Note that the label states it may contain soy.)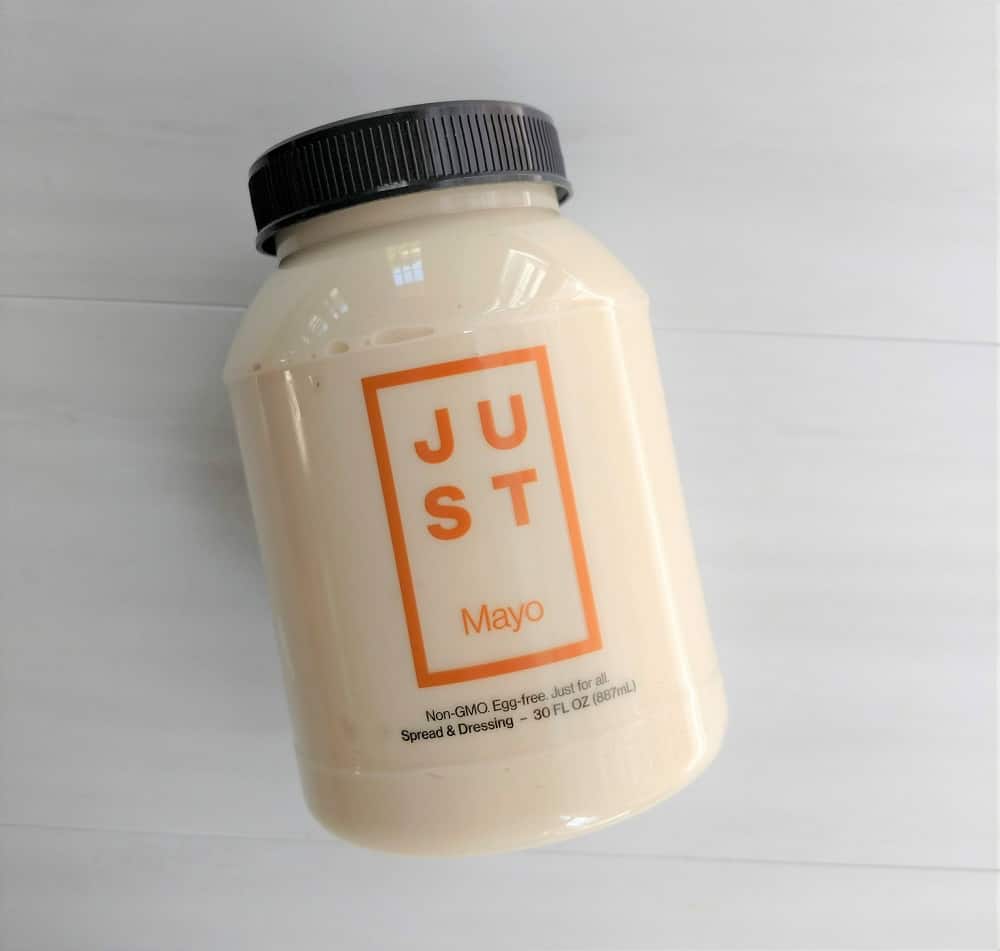 Can't have soy and eggs?
Aquafaba – the liquid leftover from cans of beans – is going to be your friend when it comes to an egg and soy free mayo.  You can blend it up with some oil to make your own mayo at home (there's lots of recipes out there, and I hope to get one up here soon!).  Or, you can buy a commercial product, like Chosen Foods Vegan Mayo.

What to serve with this dip
I'm a big fan of some tortilla chips with this dip.  Did you know many tortilla chips are free of the top 8 allergens?  Most are just made with corn, oil, and salt!
Other ideas for serving include:
Sliced and toasted baguettes
Chopped celery, carrot sticks, or cucumber slices
Crackers
Soft pretzels
Homemade roasted potato or sweet potato chips
Of course, what you choose will depend on your dietary needs, so pick whatever works best for you!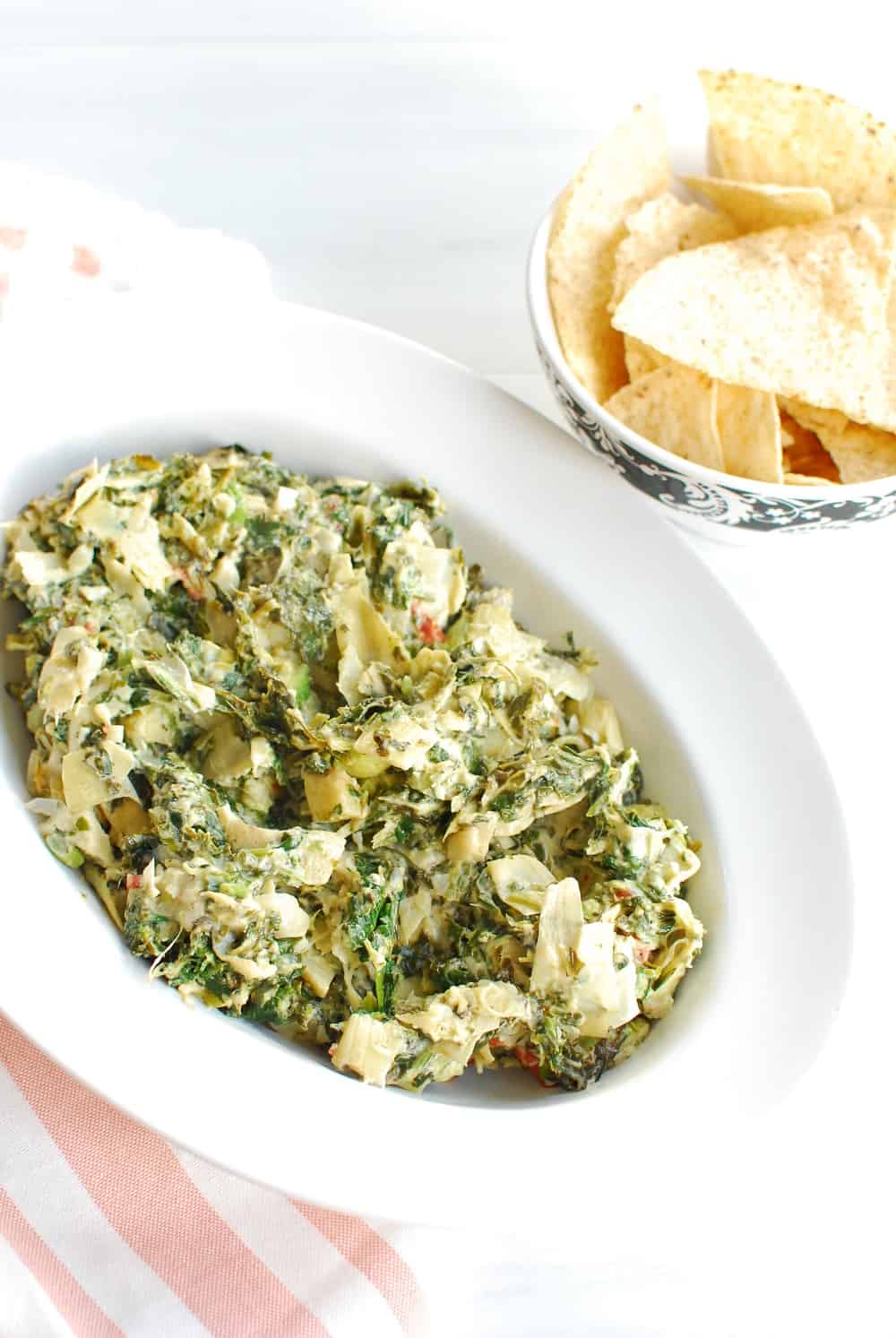 Need more dairy free dip ideas?
Try one of these other tasty recipes:
I hope you enjoy this tasty dairy free spinach artichoke dip as much as I do!  If you try it, be sure to leave a recipe rating and let me know how ya liked it. 🙂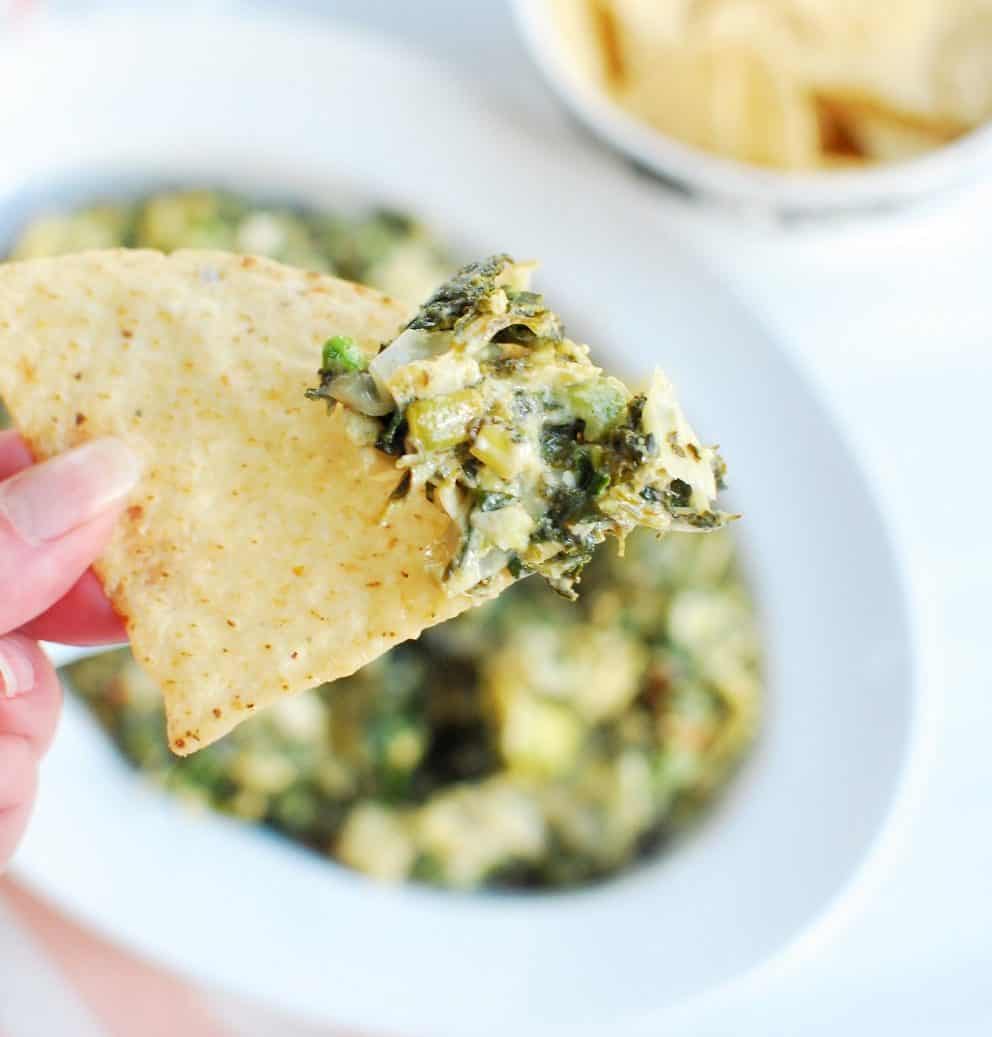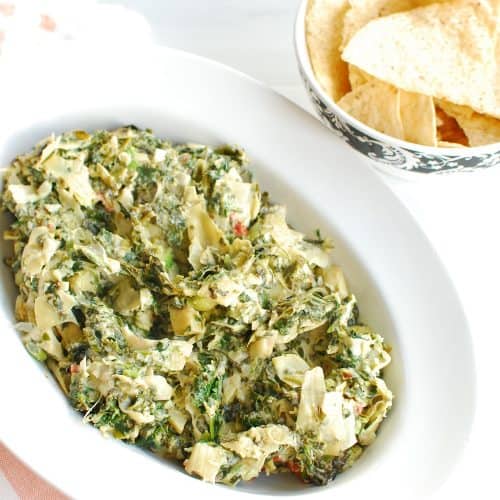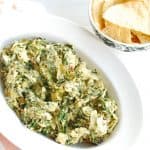 Dairy Free Spinach Artichoke Dip
Need a delicious appetizer for an upcoming party – but on a dairy free diet? This dairy free spinach artichoke dip is sure to please you and your guests!
Ingredients
10

ounce

package frozen spinach, defrosted and drained

14

ounce

can quartered artichoke hearts, chopped

4

slices

jarred roasted red pepper, diced

(about 2 tbsp)

3

chopped green onions, diced

3

cloves

fresh garlic, minced

½

avocado

½

cup

mayo

1

tbsp

lemon juice

½

tsp

salt

½

tsp

onion powder

¼

tsp

pepper
Instructions
Preheat oven to 350 degrees.

After the spinach is defrosted (easiest way is to just pop it in the microwave for a few minutes until defrosted but not super hot), squeeze it thoroughly between a few layers of paper towels to remove as much excess water as possible.

In a large mixing bowl, combine the spinach, chopped artichoke hearts, roasted red pepper, green onions, and garlic. Set aside for a moment.

In another medium mixing bowl, mash the avocado. Add the mayo, lemon juice, salt, onion powder, and pepper, and stir until combined.

Add this mayo/avocado mixture into the large bowl with the rest of the ingredients. Stir until everything is well combined, and then pour into a casserole dish.

Bake at 350 degrees for about 20 minutes, until everything is hot.
Recipe Notes
Notes:
The exact proportions of spinach and artichoke can be modified based on what your store carries. For example, if you have a 16 ounce bag of spinach instead of a 10 ounce bag, that generally works just fine! Just add an extra 1-2 tbsp of mayo or avocado to account for this.
Nutrition analysis (approximate per serving):
125 calories, 10.5 g fat, 1.5 g sat fat, 230 mg sodium, 7.5 g carbohydrate, 4.5 g fiber, 1 g sugar, 2.5 g protein, Vitamin A: 69%, Vitamin C: 12%, Calcium: 5%, Iron: 5%
Share:  What's your favorite dairy free appetizer to bring to a party?  If you tried this dairy free spinach artichoke dip, what did you think?!