Corn and salmon fritters are a great cheap dairy-free dinner made with pantry staples!  I know some people might be struggling with their food budget or relying primarily on cheap shelf-stable ingredients.  This recipe offers fancy flavor without the fancy price tag, and you only need a handful of ingredients!
This recipe was inspired by a fellow dietitian of mine that works at a food pantry.  She mentioned that a lot of individuals are struggling right now, and relying primarily on their food pantry goods in order to create meals.  Since almost all of what the pantry is giving out right now is shelf-stable foods, some people are struggling with ideas on how to cook them.
I figured if she's seeing it out there, then there's got to be some readers here who might be struggling too.  I hope this recipe helps you!
How to make salmon and corn fritters
To make this recipe, you only need a few simple shelf-stable ingredients:
Canned salmon
Corn muffin mix (double check that yours is dairy-free – Jiffy is at the time of publish)
Canned corn
Powdered egg – I'm trying to write this for those who may not have any fresh ingredients on hand, and I know food pantries are distributing powdered eggs right now. That said, you can easily use regular eggs instead if you've got 'em!
Applesauce
Water
Oil (for pan frying)
You're going to start by mixing up everything except the oil in a large bowl.  This will be the batter for your fritters.  It doesn't look pretty, but I promise – it will taste good! 😉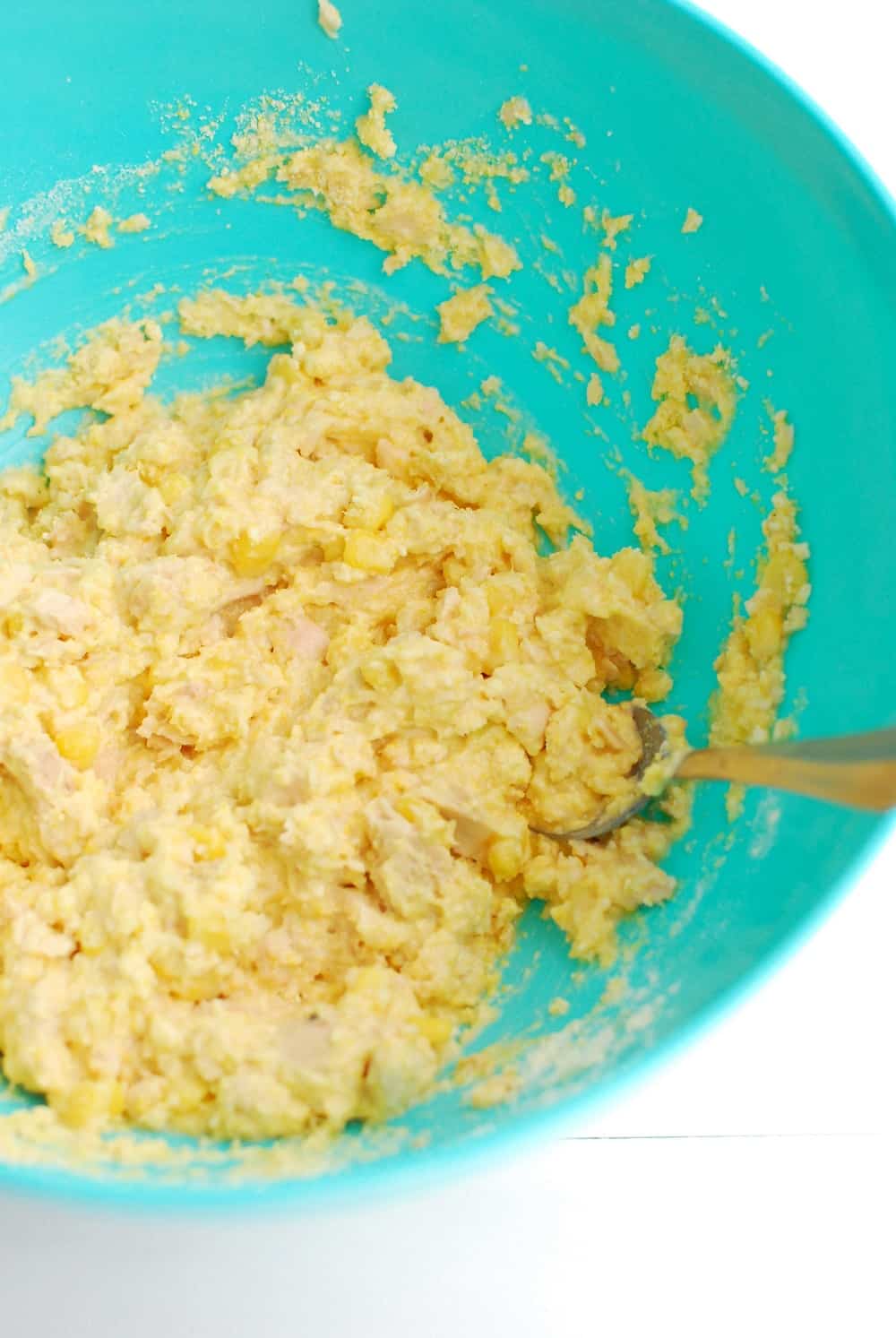 Then, you'll heat the oil in a skillet, and wait for it to get hot.  Once it's hot, drop spoonfuls of batter in the pan.  Use the back of the spoon to flatten it out a bit.  Keep in mind that the corn muffin mix has some leavening agents in it, so these will "puff up" a little bit – so you don't want to keep them too thick.
Work in batches of 4-5 fritters at a time, so you don't overcrowd the pan.  You want to let the fritters crisp up on the first side before flipping them.  I found that generally took about 3 minutes per side.
Once they're done, dig in!  They're delicious and flavorful despite only having a handful of ingredients.
Aioli Topping
If you have time and funds to make a topping for this, I highly recommend whipping up a quick aioli.  Technically we're cheating, as a true aioli is just olive oil and garlic.  But here's the shortcut version:
Juice from half a lemon
Minced garlic (about 1-2 tsp)
1/3 cup mayonnaise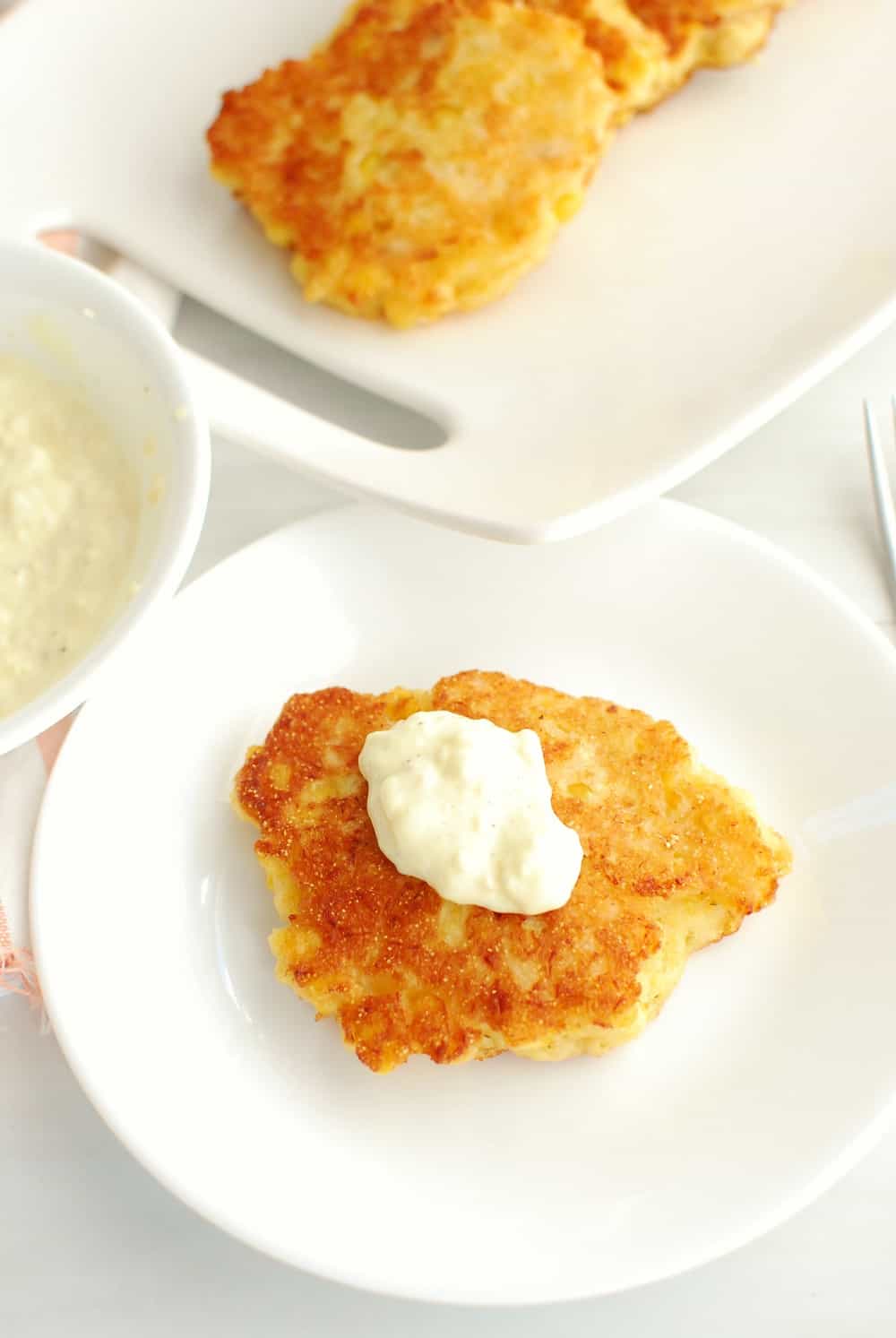 Now I'll warn you – I personally love this; my husband and son do not, haha.  They like their salmon fritters dipped in ketchup.  Experiment with what works for your family (but know the fritters taste good on their own even without anything to top or dip).
Allergens in this recipe
Disclaimer:  I try to note potential allergens in all recipes – but as you know, manufacturers can change ingredient formulations or I may miss something.  Always double check ingredients and labels prior to consuming if you have an allergy.
This recipe is naturally dairy free.  It's also soy free and nut free if you're using Jiffy corn muffin mix – if you are using a different brand, just double check the ingredients (and keep in mind not all corn muffin mixes are dairy-free, so definitely always read labels).  Also, keep in mind occasionally canned fish can contain soy, so if you're avoiding that – be sure to check that yours does not.
This recipe does contain wheat/gluten (in the corn muffin mix), eggs, and fish.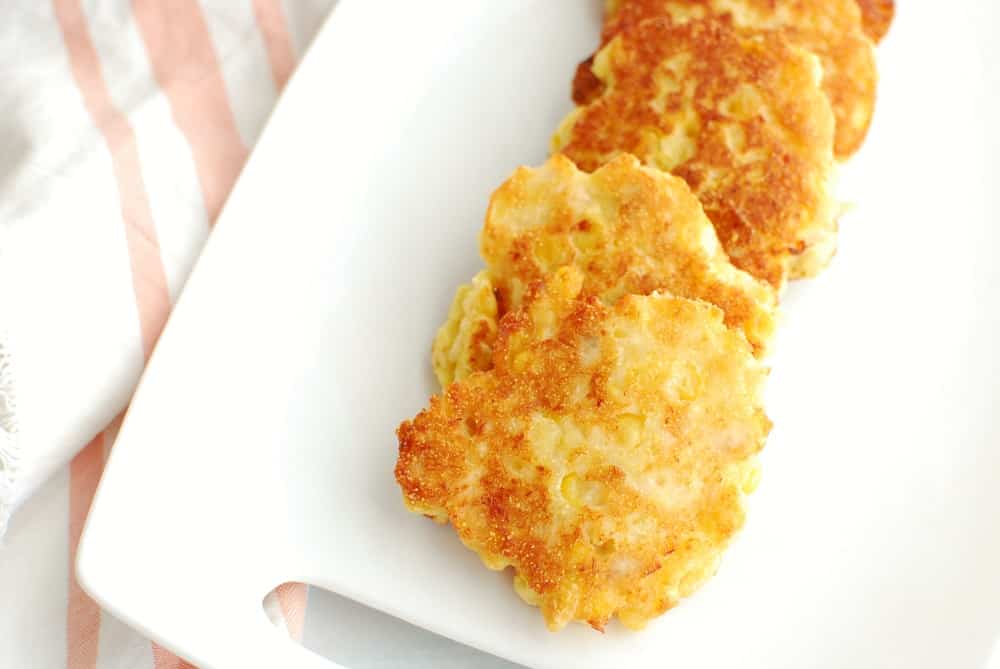 Other ways to use canned salmon
If you have the flexibility to grab a few other ingredients from the grocery store, there are tons of meal ideas for canned salmon.  Here are a few suggestions:
Fried rice –different canned/frozen vegetables, brown rice, canned salmon, add a little soy sauce for flavor if you have it
Salmon Caesar salad – salad greens, canned salmon, dairy-free Caesar dressing, dairy-free croutons
Quick salmon fish tacos – corn tortillas, cabbage slaw or pico de gallo, canned salmon
"Sushi" bowls – canned salmon, rice, avocado, cucumber, and spicy mayo
Breakfast toast – whole wheat toast, smashed avocado, canned salmon, salt/pepper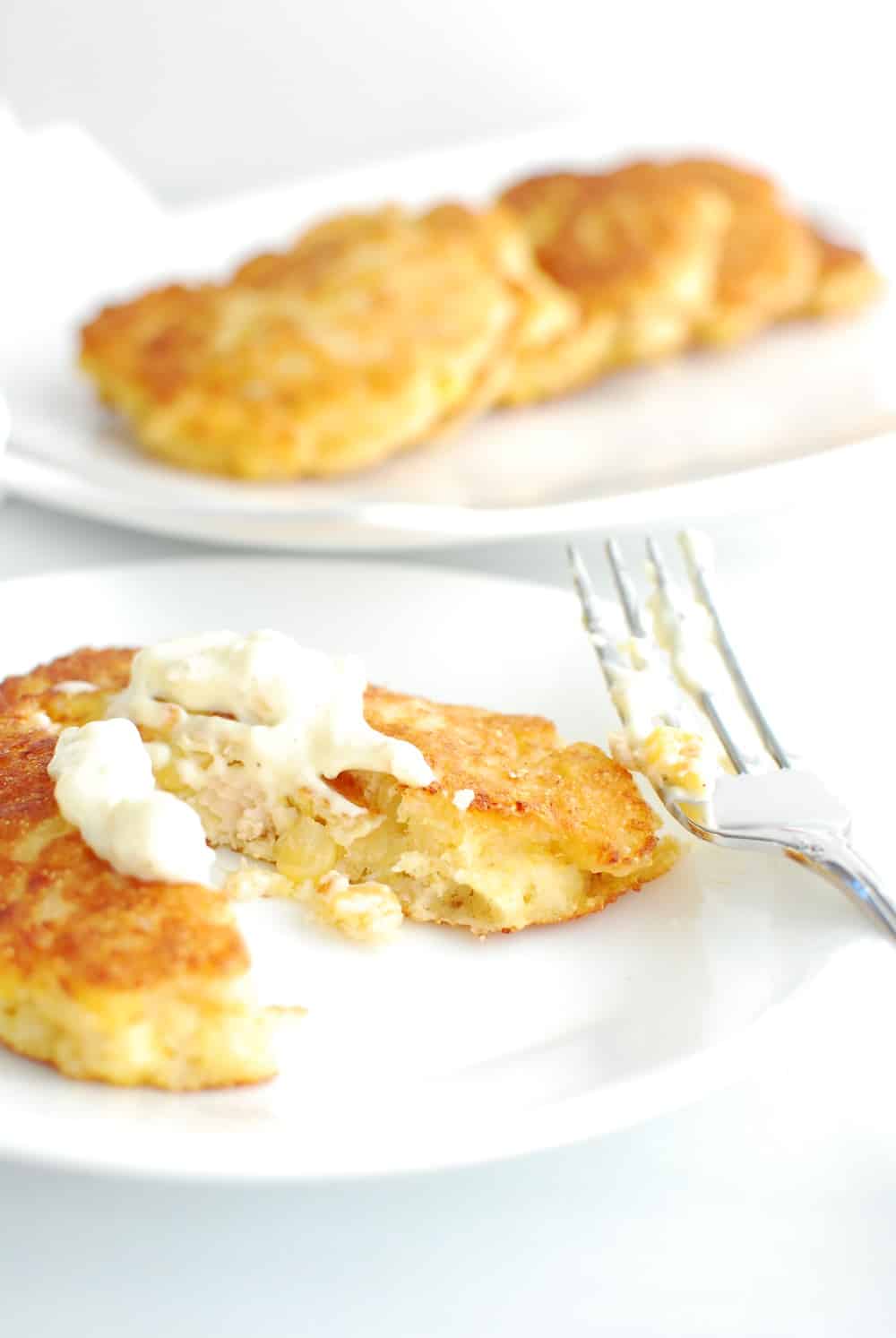 I hope this salmon fritters recipe is helpful for you!  If you had a chance to try it, be sure to leave a comment or recipe rating below.  And if you're looking for more super cheap, shelf-stable, dairy-free recipes – check out the peach pancake casserole recipe too!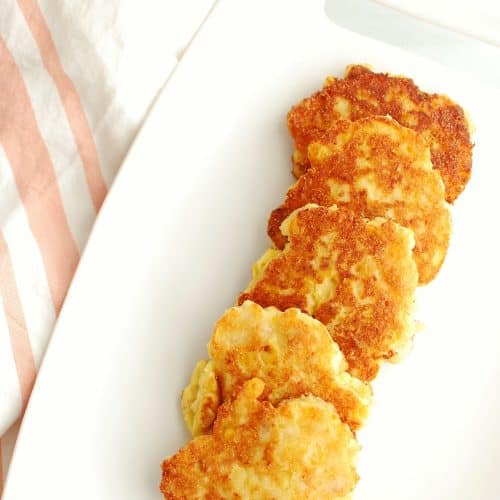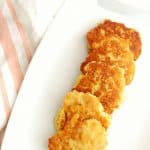 Salmon and Corn Fritters
These budget-friendly corn and salmon fritters are made exclusively from shelf stable ingredients!
Ingredients
2

5-ounce cans salmon, drained

8.5

ounce

box of Jiffy corn muffin mix

(or 1 ½ cups of any dairy-free corn muffin mix)

15.25

ounce

can corn, drained

1/4

cup

powdered egg

(or egg protein powder, or 1 large fresh egg*)

1/4

cup

water*

(skip if using fresh egg)

1/4

cup

applesauce*

6

tbsp

canola oil, divided

(or any other oil of choice)
Instructions
In a large bowl, mix together the salmon, corn muffin mix, corn, powdered egg, water, and applesauce.

To cook, work in batches. Start by heating 2 tablespoons of oil in a large skillet over medium heat. Scoop in a little of the batter, pressing down to form a small patty. Repeat, filling the pan with 4 to 5 patties.

Let cook for about 2-3 minutes, then flip and continue cooking for another 2-3 minutes on the other side, until the patties are all crisp on the outside.

Repeat with the remaining two batches, adding extra oil for each batch, until all the salmon corn cakes are done.
Recipe Notes
Notes: 
This recipe was developed to help give ideas for those using only shelf-stable ingredients. If you have regular eggs, simply skip the powdered egg and water, and use a regular egg in this mixture.
You can also substitute out the applesauce for mayonnaise in this mixture if you have that on hand.
If you don't have oil to fry these, you can try scooping the mixture into a muffin tin and baking them instead.
Nutrition analysis (approximate per salmon corn fritter):  161 calories, 9 g fat, 1.5 g saturated fat, 260 mg sodium, 15 g carbohydrate, 1 g fiber, 4.5 g sugar, 5 g protein, Vitamin A: 0%, Vitamin C: 1%, Calcium: 3%, Iron: 6%
Share:  What's your favorite way to use canned salmon?