If you've got a food allergy or intolerance, it can be nerve-wracking when eating out on a dairy free diet. Rest assured, there are steps you can take to help ensure the best chance of receiving a safe (and delicious) meal. With a little extra detective work and following the tips in this post, you'll be able to enjoy a meal out without worry.
General tips for eating out while dairy free
Choosing a restaurant for those who have an allergy or diet restriction takes a little bit of extra time and effort. Here are some of the best general tips when it comes to eating out:
Call the restaurant ahead of time and inquire about their policy on food allergies. For example, you can ask about precautions, like if they use a different grill for food allergies, different cooking utensils, etc. This will show you the care the restaurant takes – or lack thereof – which may help you decide what restaurant to frequent.
When at a restaurant, tell the waiter or counter staff that you have a food allergy. The wait staff should work to prevent cross-contamination, and may have the chef come out to speak with you and answer questions as well.
Along those lines – always ask questions. Whether you are ordering a bakery item or your entrée, ask about ingredients and any cross contamination risk. For example, the french fries at your favorite restaurant may be dairy free – but are they fried in oil with dairy-based foods? This may be an issue for you depending why you're avoiding dairy.
Look at the menu and ingredients ahead of time if possible. Large chain restaurants generally have ingredient and allergen information available online. This will allow you to find food items you may like and can ask for the appropriate modifications if needed. Think of 2-3 entrees you may enjoy so if modifications are not possible, you will have a back up plan.
Some restaurants have allergen-specific menus that you can ask for, though these tend to be few and far between.
Vegan restaurants are a great option for those on a dairy free diet! By definition, vegan food should be free from dairy, so as long as the restaurant is accurately categorizing it's food – it should be safe. Always double check though!
You'll find helpful menu ideas and tips for different categories of restaurants below.
Disclaimer:
This post is for informational purposes only and is not intended to be medical advice. At the time of publish, we believe this information is accurate for these locations in the United States, however manufacturer formulations can change at any time, and there is always the possibility that we missed an ingredient. Always double check ingredients prior to purchasing and consuming.
In addition, cross contamination may always be a concern when eating out, and is one that we are not able to account for below. Foods may be sliced on the same cutting board, cooked in the same fryer, or handled by a person wearing the same pair of gloves that just touched a dairy ingredient. Always ask questions, read labels, and be proactive in your requests (i.e. fresh blender, fresh gloves, etc) when ordering out with allergies.
Lastly, always check with your doctor regarding the safety of eating out when you or a family member has severe allergies.
Coffee Shops
If Starbucks or Dunkin are your go-to options, keep in mind these helpful tips and suggested menu items:
Starbucks
Allergy information can be found via the Starbucks application or website under the menu items section (click each item to find out the ingredient info).
Starbucks uses shared equipment for it's drinks, including the espresso steam wand and blenders. There are not separate dairy-free blender pitchers anymore (in the past there used to be, though they were often misused) – so cross contamination can be an issue with any blended drink. For intolerances, food sensitivities, and dairy free diets for ethical reasons – this is likely not a big concern. But for anaphylactic allergies, this may be a concern for you.
Because of above, the safest options at Starbucks are:
hot coffee
iced coffee
cold brew
hot teas
These are safest as they go directly into your cup, making it less likely they'll be contaminated in a blender. These can then be customized with the alternative milks that Starbucks offers, which is currently soy milk, coconut milk, and almond milk. They are currently rolling out oat milk nationwide, which should be in all stores by spring 2021.
If you do not need to worry about cross contamination, then any menu item that does not contain dairy ingredients should be fine for you. There are actually a lot that fit this, and you can find them by searching the menu for the flavors you enjoy. There are also tons of consumer-developed drink hacks (i.e. order this, sub this, and a pump of this and that) you can find by browsing Instagram.
Rather than list every possible acceptable drink combination above, it's probably easier to remember the drink ingredients to AVOID, which include:
whipped cream
milk
caramel drizzle
white chocolate
pumpkin spice sauce
cinnamon dolce sprinkles
pistachio sauce
caramel brûlée
most seasonal sauces/toppings
chai lattes
If you see these in the beverage ingredients, steer clear as they contain dairy. (Note – there may be other dairy-based ingredients that are used in some stores).
For food items, currently the following are dairy free by ingredients, but may be subject to cross contamination:
Plain bagel
Sprouted grain bagel
Cinnamon raisin bagel
Avocado spread
Fresh fruit
Classic oatmeal
Hearty blueberry oatmeal
Starbucks also often carries packaged food and drink items – allergen info for each of these can be checked in store by looking at the label.
Dunkin Donuts
Dunkin donuts breaks down all of their products and has allergen information on their website – just click the "get allergen PDF button" for an up-to-date overview.
For the most part, your best bet for drinks is going with a black hot or iced coffee/tea, and asking for almond milk or oat milk. Here's a list of the current dairy free drinks from their allergen PDF:
Peach passionfruit refresher
Strawberry dragonfruit refresher
Black hot or iced coffee (can be ordered with oat milk)
Chai oatmilk hot or iced latte
Hot or iced latte with oat milk
Hot or iced macchiato with oat milk
Almondmilk iced matcha latte, vanilla almondmilk iced macchiatto
Black cold brew or nitro cold brew with no milk
Americano with no milk
Hot teas
Iced teas
Additionally, the strawberry and blue raspberry Coolattas do not appear to contain dairy ingredients but are noted that they may contain trace amounts of milk.
Dairy free food is a bit more challenging at Dunkin. Unfortunately, none of their beloved donuts are dairy free. There are a few items you can snag:
Gluten free brownie
Sweet pepper snacking bacon
Hashbrowns
English muffin (plain)
Additionally, the following items do not contain dairy ingredients but Dunkin includes a warning that they may contain trace amounts of milk (likely due to cross-contamination):
Cinnamon raisin bagel
Everything bagel
Multigrain bagel
Plain bagel
Sesame seed bagel
Kosher tuna salad on a plain bagel
Corn muffin
Multigrain thin
Multigrain brown sugar oatmeal with dried fruit topping
Krispy Kreme
Krispy Kreme doesn't offer many options if you're on a dairy-free diet.
Their website states "Our facilities produce products with peanuts, tree nuts, soy, milk, eggs, and wheat. We cannot guarantee that any other products are safe to consume for people with any of these allergies."
They do offer nutrition and allergy info online, which you can access by browsing the menu items one-by-one (but it should be noted that their FAQ says they cannot guarantee the nutrition information provided is always accurate). At the time of publish, some nutrition information for certain products were missing.
Unfortunately all donuts are off-limits at Krispy Kreme, and there are only a couple few beverages that are dairy free:
Black coffee
Strawberry chiller
Lemonade chiller
Some stores offer pre-packaged juices or sodas that are dairy-free
Please note that their iced coffee drinks are made with milk, so you'll need to avoid those – as well as any other option not listed above (i.e. lattes, flavored coffees, etc – they all contain dairy).
Fast Food
We're including a few popular fast food restaurants below, but there are obviously a ton more out there! Remember that allergen information for most chains is available online, so check that prior to ordering and always ask at the counter as well. Even though each franchise should be following corporate instructions and ingredients, there's always the slim chance they didn't for some reason.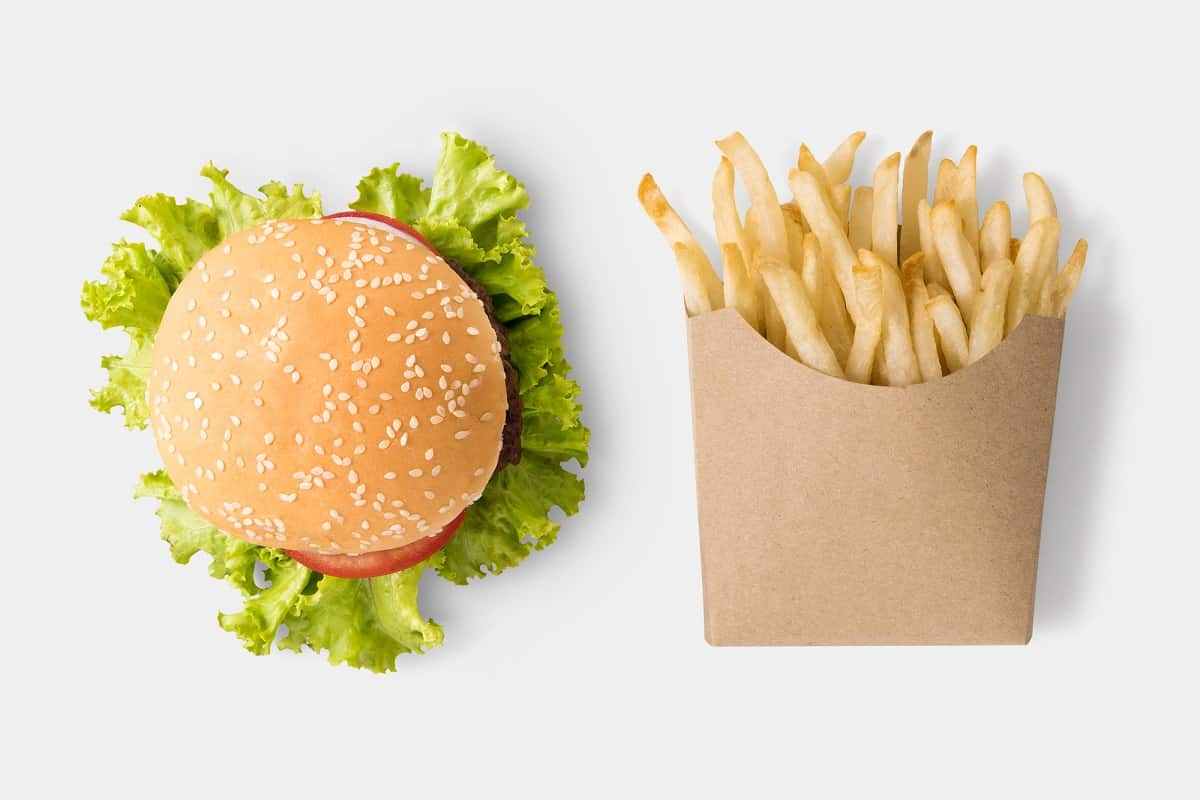 McDonald's
We have a full dairy free McDonald's guide available with some helpful tips, so definitely check that out, as well as looking at the McDonald's US menu. You can click on items from their online menu and get a full breakdown of ingredients by each part of the item. For example, you may find a burger where the only dairy-based ingredient is cheese, so it could be left off.
Dairy free food options currently include:
Apple slices
Baked apple pie
Dairy free items with a higher risk of cross-contamination include the following menu choices. Many McDonald's restaurants use butter on their grills to cook certain items. While butter should not be used to cook these patties, it is still very possible the patties are exposed to butter from the other items on the grill.
Hamburger
Big Mac with no cheese
Quarter pounder with no cheese
McRib
For the "with no cheese" items above – keep in mind many people on the line assembling the burgers are wearing gloves that have recently touched cheese. This may or may not be a concern for you depending on the reason you're avoiding dairy.
As an additional note – many people are surprised to learn that seemingly innocent foods like French Fries and hash browns do contain milk – and there are many other items that do as well, or are fried in the same fryers as those that contain milk. Stick with the items you know are safe.
Wendy's
Wendy's provides allergen info online and on their app. You'll need to look at each menu item to find the allergy information – but having the breakdown of every component of the meal can be useful in creating custom options.
Like almost all fast food restaurants, they do state "We are unable to guarantee that any menu item can be completely free of allergens. Customers with allergies and sensitivities should exercise judgment when ordering."
Dairy free menu items at Wendy's include:
Plain baked potato
Apple bites
Beverages: sodas, lemonades, black cold brew, black coffee
In addition, the following do not contain milk but have a cross contamination warning that they're cooked in the same oil as ingredients with milk, cooked on the same grill as ingredients with milk, placed in the same toaster as ingredients with milk, and/or cut on the same cutting board as ingredients with milk:
Jr. Hamburger with a plain bun
Double stack with no cheese
Baconator with no cheese
Big bacon classic with no cheese
Bacon double stack with no cheese
Crispy chicken nuggets
Spicy chicken nuggets
Crispy chicken sandwich
Spicy crispy chicken sandwich
Classic chicken sandwich
French fries
Seasoned potatoes
You may be able to customize other orders to your liking too if you browse the ingredients carefully. For example, in the bacon jalapeno cheeseburger, the cheese, cheese sauce, and onion tanglers all contain dairy. However, the bun, beef patty, bacon, jalapeno slices, and jalapeno sauce did not contain dairy ingredients at the time of publish. There are cross contamination warnings on the bun and beef patty, but if these are not a big deal, you could start to customize some fun burgers like ordering this without the dairy-ingredients above – and I bet it would be delicious.
Other menu items that seem like they would be safe – like grilled chicken, for example – actually contain milk (so disappointing, as this used to be dairy free a while back). It's essential to look at the menu items you like every time you order to double check.
Subway
Subway has a downloadable allergen chart available – visit their website here and click on "check for allergens".
First, a word of warning – cross contamination can be a big issue at Subway. Those making the sandwich often touch one ingredient with a gloved hand, then immediately grab another ingredient with the same gloved hand. There is a very real risk for those of you with severe allergies, so please consider that prior to dining there.
If you are dining there, let the staff know if you have an allergy so they can change gloves, get a clean knife, and exercise caution around ingredients.
The good news is that there are a lot of individual ingredients that are dairy free. At the time of publish, the following items did not contain milk ingredients according to the allergen chart:
Breads: Italian, 9-grain wheat, 9-grain honey oat, gluten free, harvest, hearty italian, roasted garlic, slider roll, sourdough, spinach wrap, tomato basil wrap
Sandwich proteins: Bacon, roasted chicken patty, chicken strips, teriyaki chicken strips, all cold cut combo meats, all Italian BMT meats, ham, pepperoni, roast beef, rotisserie style chicken, spicy Italian meats, steak, tuna, turkey breast
Regional proteins (only available at certain locations): BBQ pulled pork, BBQ rib patty, chicken salad, buffalo chicken strips, corned beef, egg salad, falafel, orchard chicken salad, pastrami, seafood sensation, vegan patty
Breakfast proteins: egg white patty (not the egg omelet), breakfast sausage
Vegetables: All
Condiments: guacamole, mayonnaise (regular and light), mustard (all types), oil, Subway herb garlic oil, Subway vinaigrette, sweet onion sauce, vinegar, barbeque sauce, buffalo sauce, creamy Italian, creamy sriracha, fire roasted tomato sauce, golden Italian, honey mustard sauce, hot pepper relish, ketchup, horseradish sauce, smoky hickory sauce, thousand island, sweet chili sauce
Soups: beef chili, black bean, mediterranean vegetable, spicy chicken tortilla
Desserts/sides: apple slices, gluten free brownie (not the regular brownie)
As you can see, there's actually a lot of options here! In fact, for sandwiches, the only proteins that do contain dairy are the chicken enchilada, veggie patty, egg omelet, and meatballs. (Obviously there are other dairy ingredients too, like cheeses, certain sauces, desserts, etc).
Chick-fil-a
You can access the Chick-Fil-A allergen guide here on their website. As always, cross contamination may be an issue – though many dairy free moms report that Chick-Fil-A actively tries to carefully prep meals if you alert them that there's a food allergy.
Currently, these items are listed as dairy free:
Breakfast: Plain English muffin, hash brown, bacon, sausage, sunflower multigrain bagel with no cream cheese
Sides: Fruit cup,

Waffle fries, W

affle potato chips,

Applesauce

Chicken: Grilled chicken sandwich, Grilled chicken club with no cheese, Grilled chicken nuggets (not breaded)
Salads: Kale crunch side salad
Dipping sauces: BBQ, Chick-Fil-A sauce, Honey Mustard, Polynesian, Sweet and Spicy Sriracha
Dressings: creamy salsa, fat free honey mustard, light balsamic vinaigrette, light Italian, apple cider vinaigrette
Drinks: Iced tea, lemonade, sodas, black coffee (note the iced coffee is NOT dairy free)
Chipotle
Chipotle is a great option for those on a dairy free diet, as the large majority of the menu items are dairy free!
You can access their allergen chart here. In fact, the only foods that contain dairy on their menu right now are the queso blanco, monterey jack cheese, and sour cream.
Everything else does not contain dairy ingredients! (Yahoo!)
Cross contamination can be an issue – especially with ingredients falling into other ingredient compartments – but many times if you alert them to a food allergy they can grab fresh ingredients from the back for you. In particular, the cheese and guacamole containers are usually next to each other, so asking for fresh guac from the back is smart.
Chain Restaurants
Chain restaurants can also be useful for eating out on a dairy free diet, specifically because they too should have allergy information readily available.
Cheesecake Factory
I was pleasantly surprised when I looked into Cheesecake Factory! On their website, they have an online allergy guide – you can click which allergies you would like to avoid (milk) and see the menu items available.
Currently, the national dairy free options include the following (note there are some additional regional options in certain locations):
Small plates and snacks: ahi tartare, dynamite shrimp, edamame, little house salad
Appetizers: roadside sliders, thai lettuce wraps
Super foods: avocado toast, vegan cobb salad, wellness salad; also "superfood additions" of grilled chicken, salmon, shrimp and chargrilled steak
Salads: small green salad, chicken mango avocado salad, lite Chinese chicken salad, Sheila's chicken and avocado salad, seared tuna tataki salad, thai chicken salad
Entrees: shrimp with angel hair pasta, orange chicken, spicy cashew chicken, teriyaki chicken, tuna poke with kale cashew salad or white rice, the club
Sides: french fries, sweet potato fries
As always, alert your server to an allergy and double check allergens at the time of purchase.
Chili's
Chili's provides an allergen chart here.
Keep in mind, their website FAQs do state "Every effort is made to keep this information current. However, it is possible that ingredient changes and substitutions may occur due to the differences in regional suppliers, recipe revisions, preparation techniques, and/or the season of the year. Certain menu items may vary from restaurant to restaurant and may not be available at all locations. Limited time offers, test products, or regional items have not been included on these menus."
Because of this, you should always ask about allergens at the restaurant itself in addition to looking online at their chart, and make sure your server/chef knows you have an allergy.
Here are the current dairy free options, available as of their latest chart:
Entrees:

Texas size baby back ribs with dry rub, honey chipotle, house BBQ, or original
Oldtimer burger along with these burger add-ons: original chili without cheese, bacon, and avocado
Carnitas sizzling fajita filling (no other meats/beans) with no fajita toppings, can have with flour or corn tortilla and a side of Mexican rice and beans and guacamole topping
Ranchero chicken tacos with no mixed cheese and no queso fresco
Mango chile chicken
Guiltless Grill 6 oz sirloin with grilled avocado (note – other steaks DO contain dairy; this is the only option that does not)

Salads: Grilled chicken salad without cheese, Caribbean salad

Dressings: citrus balsamic vinaigrette, honey lime, honey lime vinaigrette, honey mustard (dressing only), santa fe, thousand island

Sides: garlic dill pickles, black beans, coleslaw, Mexican rice, roasted asparagus, steamed broccoli, sweet corn on the cob
Kids meal entrees: burger bites, grilled chicken bites, original ribs
Kids meal sides: corn on the cob, pineapple, mandarin oranges, steamed broccoli
Here are additional options that do not contain dairy, but are denoted as having cross contamination risk. Chili's specifically says that those with allergies should not consume these items as they are all made in the same fryer with milk ingredients – but those of you with intolerances or other reasons for a dairy free diet may feel comfortable eating them:
Bottomless tostada chips and salsa
Fresh guac and chips
Fried pickles without ranch dressing
Margarita grilled chicken
Crispy chicken crispers without dressing or Original chicken crispers without honey mustard (no other versions of chicken crispers)
Santa Fe chicken salad with spicy grilled chicken (not crispy) and no ranch
Olive Garden
Olive Garden provides allergen information on their website – you can find some helpful FAQ here, and if you scroll to the bottom and click "view and print allergy information" it will give you all the menu items' info.
They do state "Because of the handcrafted nature of our menu items, the shared cooking and preparation areas in our kitchens and our reliance on our suppliers for
accurate information, we cannot completely eliminate the risk of cross-contact or guarantee that any item is free of any allergen." Again, always alert your server/chef about an allergy so they can help try to make your meal safe.
Here are the dairy free items listed at the time of publish – there's not a ton of options, but you can make a great meal out of these!
Breadsticks
Soups: minestrone, pasta fagioli
Pastas (plain): angel hair, fettuccine, GF rotini, rigatoni, small shells, spaghetti
Pasta sauces: marinara, meat sauce, tomato sauce
Protein additions to pasta: Italian sausage, sautéed shrimp (other protein additions contain dairy)
IHOP
IHOP offers an "allergen wizard" on their site, similar to Cheesecake Factory, where you can filter by the allergen you want to avoid.
Like most restaurants, they include this disclaimer: "Because we have multiple sources of allergens and gluten-containing ingredients in our shared cooking and prep areas, including common fryer oil, we are unable to guarantee that any menu item can be completely free of allergens or gluten-containing ingredients."
Here are the current dairy free options based on their current information:
Entrée: Build your own egg white omelet (not a regular omelet) – can add bacon, ham, pork sausage, peppers and onions, mushrooms, spinach, tomato, avocado, and/or fire roasted poblano salsa
Eggs: fried, hardboiled, poached, scrambled
Meats: bacon, ham, pork sausage, turkey sausage, spam
Sides: sourdough toast, corn tortilla, crispy potato pancake, french fries, seasoned fries, fresh fruit, grits, hash brown
Salads: House salad with honey mustard salad dressing
Cross contamination may be an issue; be sure to inform your server about allergies.
Local Restaurants
Eating at a local restaurant can be a blessing or a curse. Some local restaurants may have owners that are knowledgeable in food allergies and can take the time to discuss your needs, possibly customizing dishes. On the flip side, local restaurant employees may not get as much training on food allergies as chain restaurants, increasing the likelihood that you may accidentally get exposed to dairy.
If you choose to eat at a local restaurant or get takeout, here are some tips based on the cuisine – but remember, you'll want to verify if there's dairy in any of the ingredients at all, as we know it can be sneakily found in many foods!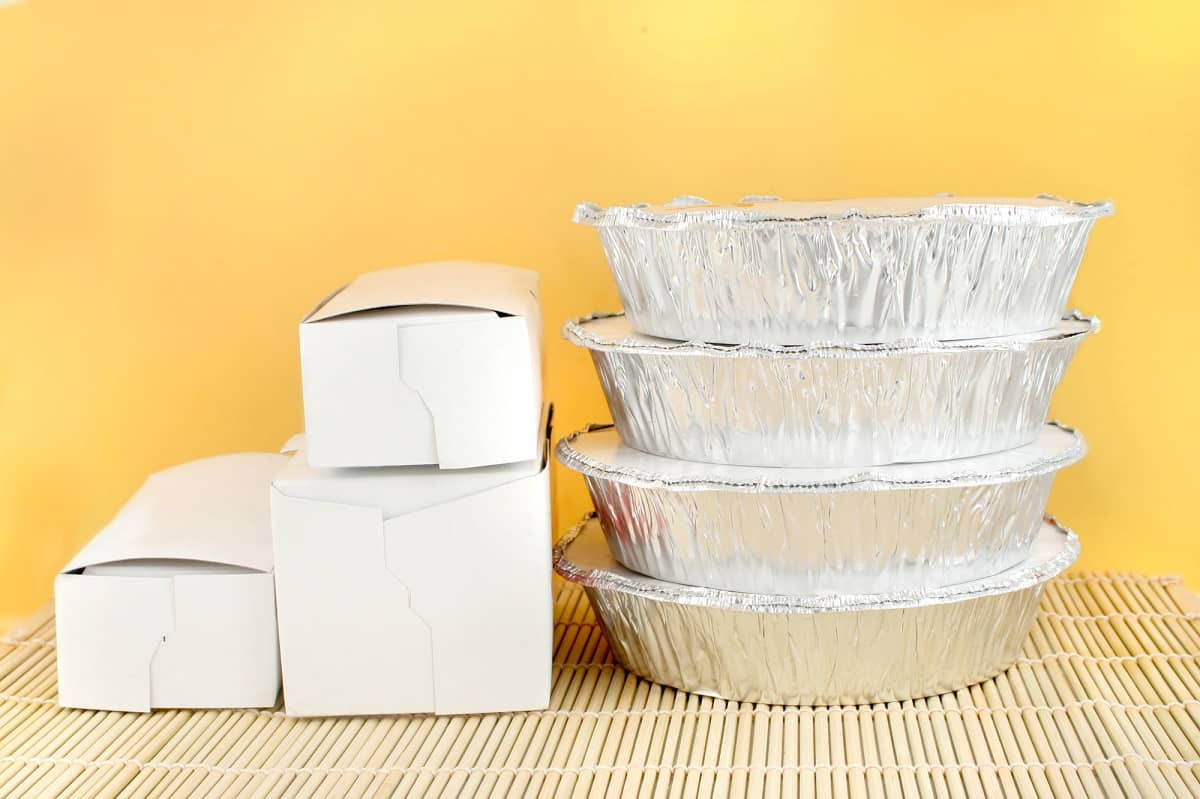 Mexican Restaurants
Ask for no cheese, no cream sauces, and no sour cream when ordering. Mexican restaurants may use cheeses like queso, queso fresco, and cojita – these all contain dairy.
Meats and vegetables for fajitas, tacos, and burritos may be cooked in butter on a grill – ask how these are prepared. If they are prepared safely, these may be a good choice when ordered in their respective dishes with no cheese.
Generally tortilla chips and salsa/guacamole, are a safe bet (but some restaurants may add sour cream to their guacamole, so double check).
When choosing beans- ask which fat is used for cooking. Butter is obviously a no-go, but oil and lard are A-OK.
Asian or Indian Restaurants
Dairy use in dishes will vary highly from dish to dish, regional cuisine to regional cuisine, and restaurant to restaurant.
Here are a few options to avoid because they likely contain dairy: crab rangoons (mainly found in American-ized Chinese food restaurants), creamy dishes, tikka masala, yum yum sauce.
Curries may or may not contain dairy.
Naan and other flatbreads may contain dairy.
Ask for dairy free or vegan menu options.
Ask what fat is used for cooking. Some restaurants may use ghee is clarified butter (and contains dairy). Others may use oils or lard.
Italian Restaurants
Italian restaurants can be challenging as many seemingly innocent foods contain dairy.
Pasta with red sauce or meat sauce may be safe – but you'll want to ask, as many marinara sauces contain milk or parmesan cheese.
Grilled chicken may be safe if it is not cooked with butter – a chef should be able to custom order this for you and cook it in a pan with oil.
Avoid alfredo sauces, other creamy sauces, and pesto (pesto usually contains parmesan).
Avoid stuffed pastas (shells, tortellini, ravioli) or bakes (lasagna, baked ziti) as these almost always contain cheese.
Breaded or crusted items as well as meatballs may include milk, as bread crumbs containing milk are often used in these dishes. Ask to check the ingredients on the bread crumbs and any seasonings.
Salads without cheese can be a good option, combined with olive oil and balsamic vinegar to use as a dressing.
Hopefully this guide is helpful as you eat out on a dairy free diet! If you have any questions, don't hesitate to ask them in the comments.
Share: What's your favorite restaurant to eat at on a dairy free diet?
PS – Please pin this so you can share this helpful information with others, and refer to it again later! 🙂