Is there anything better than peanut butter? Uh, yes – dairy free peanut butter frosting!! Use this delicious topping for your favorite cakes, cupcakes, or whoopie pies. It's simple to make with just a few ingredients, and guaranteed to be a crowd pleaser.
Ingredient Notes
Here's a photo of all the ingredients you'll need, along with ingredient notes: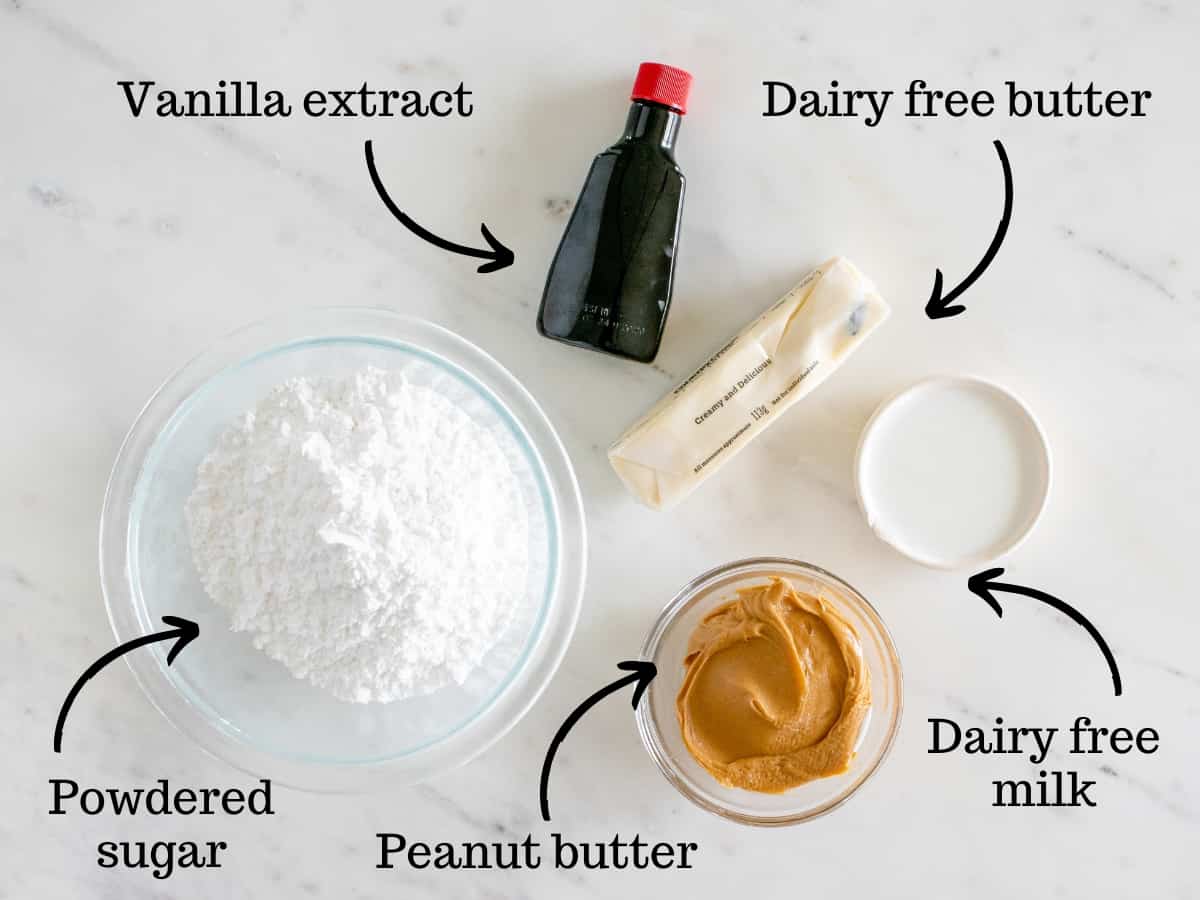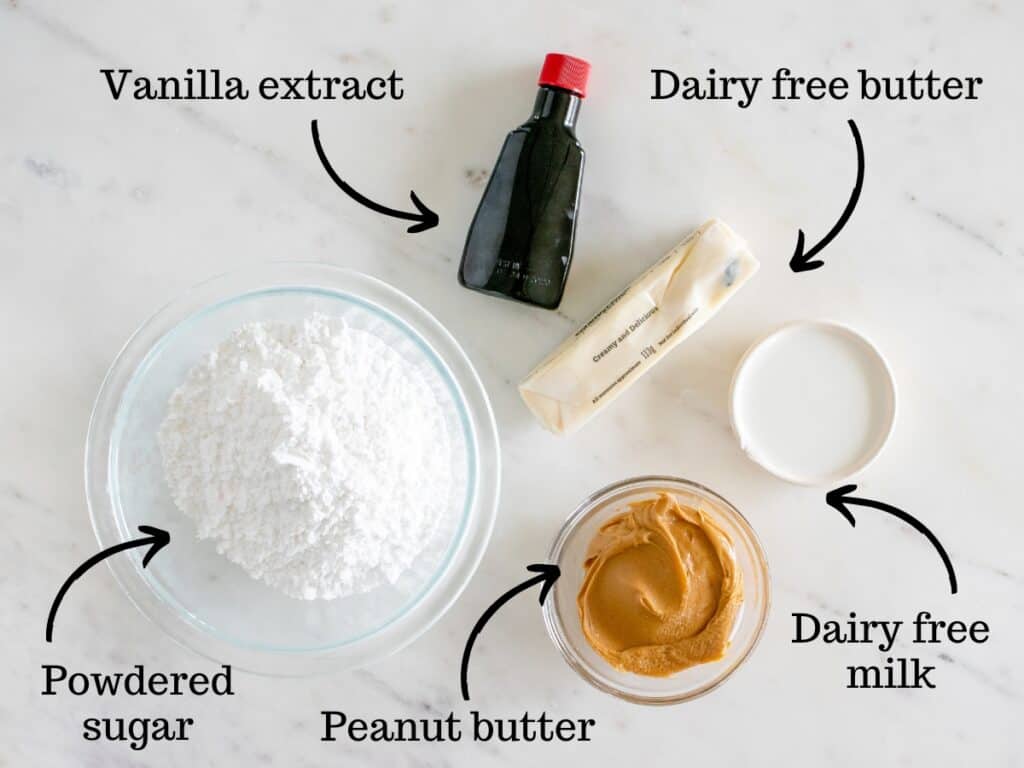 Peanut butter – Any standard store-bought creamy peanut butter will do. I recommend using the conventional versions rather than the natural versions for this recipe for best texture, but the latter works in a pinch.
Dairy-free milk – You can use pretty much any option that you have on hand – oat milk, almond milk, soy milk…you name it. You only need a little bit in this recipe to create the right fluffy, spreadable texture.
Powdered sugar – This is needed for the right consistency. Do not use granulated sugar.
Vanilla extract – Real or imitation is fine!
Instructions
You'll find the full recipe amounts and instructions in the recipe card below, but here's a helpful overview with photos and tips.
The first step in pretty much any frosting recipe? Softening your dairy-free butter! This is key to the right frosting consistency. If you try to start with a hard stick of butter, it won't incorporate as well. If you accidentally melt the butter, the frosting won't have the right consistency.
Soften the butter by leaving it out at room temperature for a bit, or popping it in the microwave for a few seconds at a time until soft (again, do not melt it).
Once that's softened, you'll just put all your ingredients in a mixing bowl – the butter, peanut butter, powdered sugar, dairy-free milk, and vanilla. I recommend using a stand mixer for frostings, as the whisk attachment works really well for achieving the right fluffy texture. But a hand mixer can work too!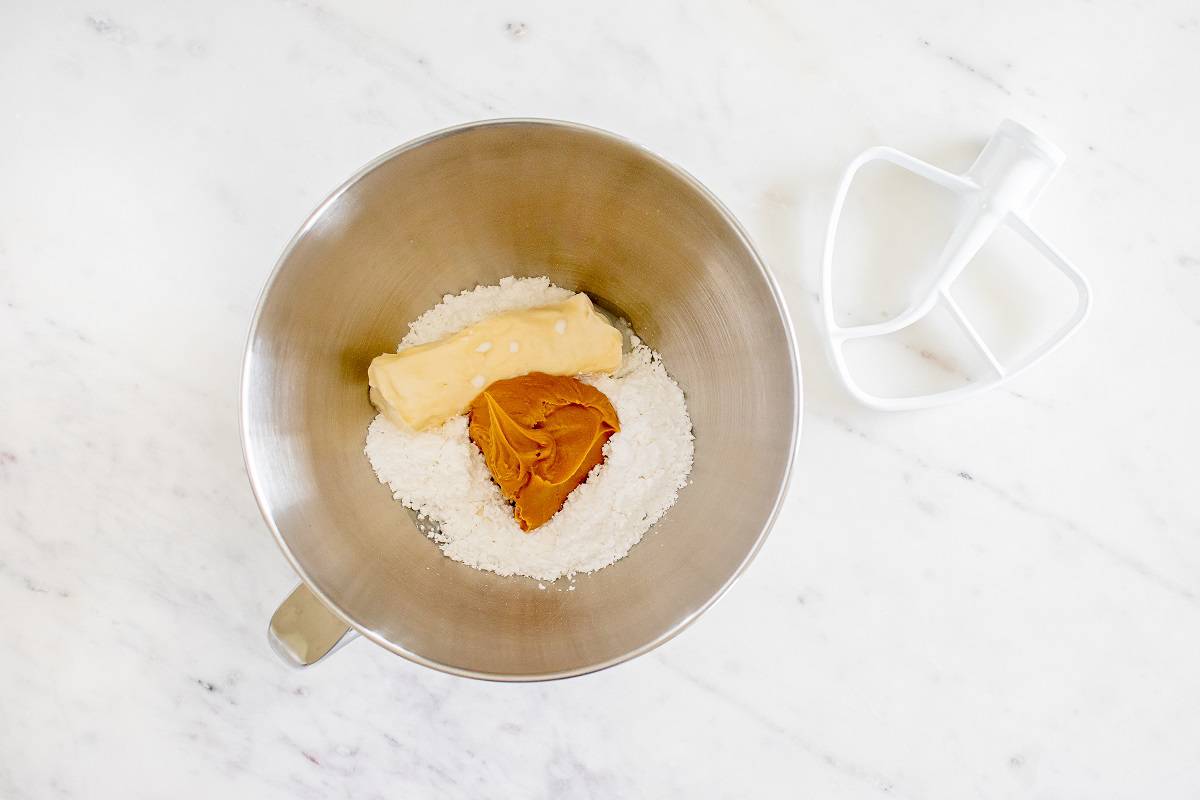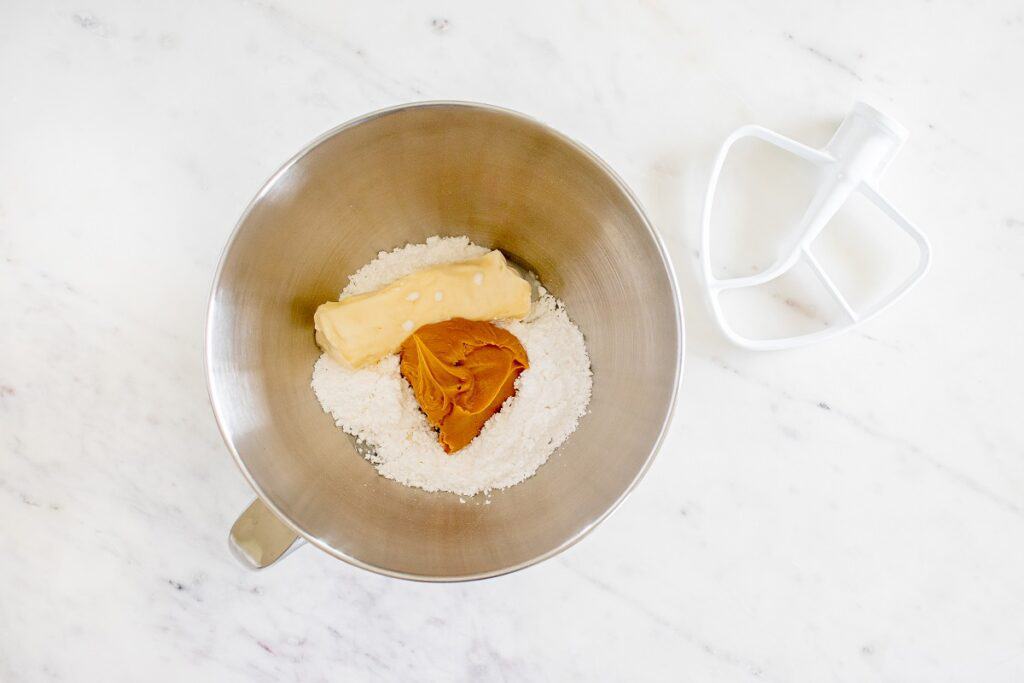 Use the whisk attachment of your mixer to beat the ingredients. Start on low to give them a chance to start to incorporate a bit (and avoid splashing powdered sugar all over). The raise the speed to high until it gets all light and fluffy!
If it looks a bit too dense or dry, you can add another splash of dairy free milk and whisk again at high speed. Just be sure to only add a little at a time so you don't thin it out too much.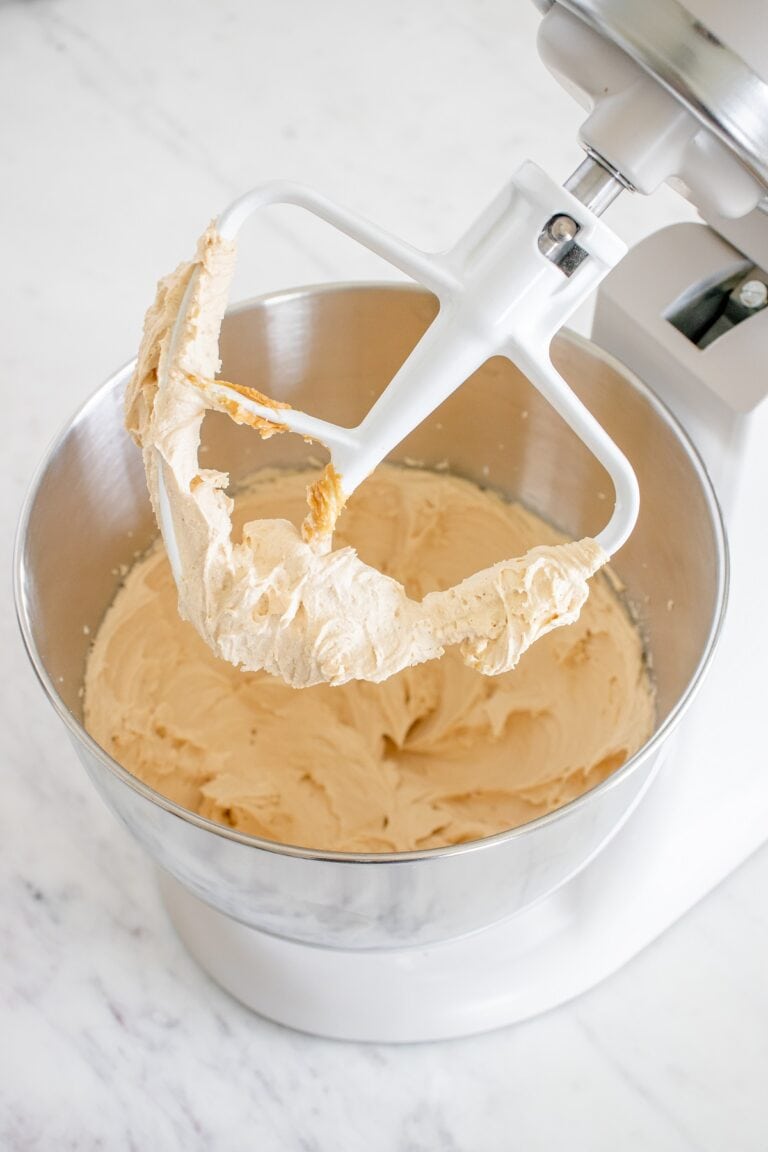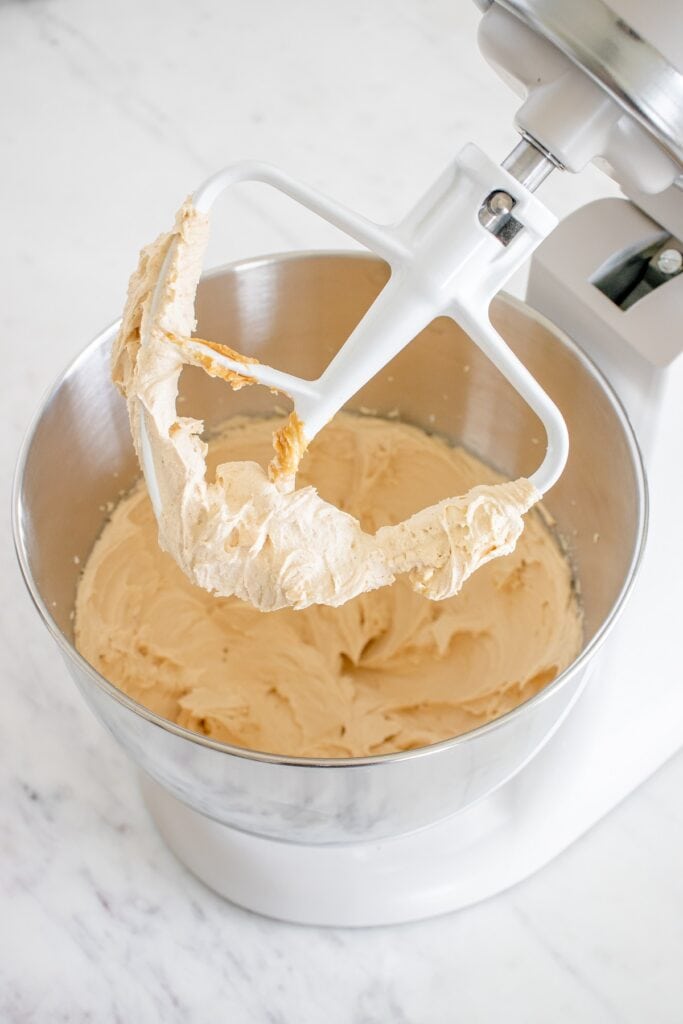 When done, you are ready to frost your baked goods! Just make sure they're fully cooled first, or the frosting can melt. I love using this on my dairy free chocolate cupcake recipe.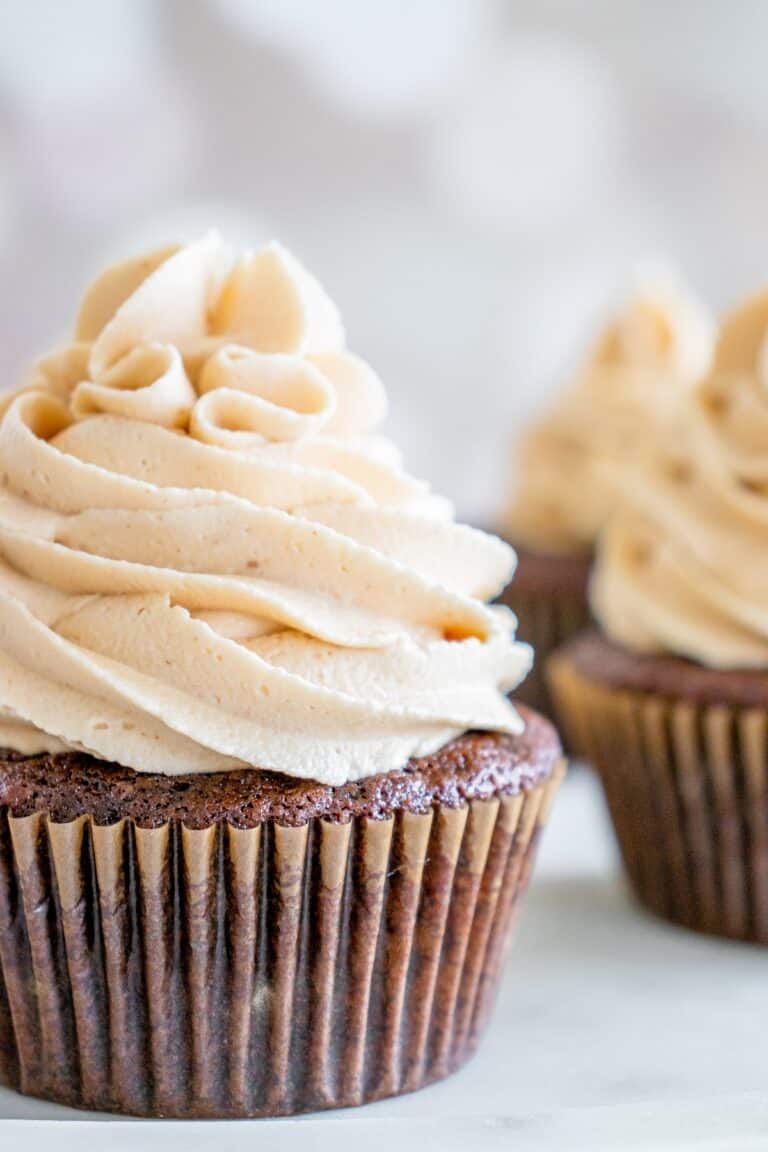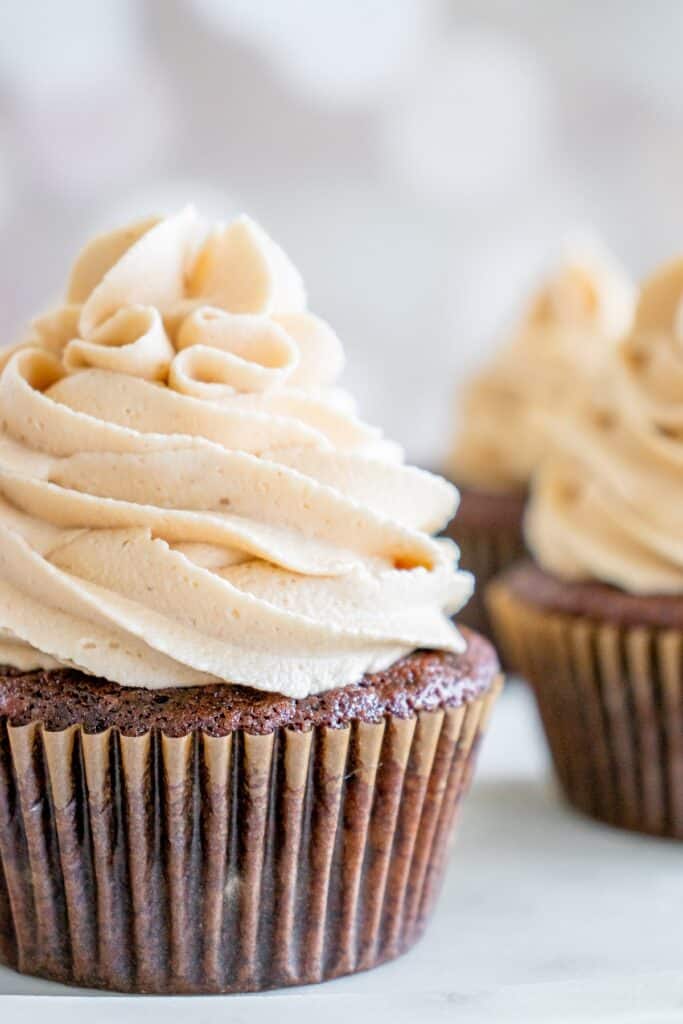 Recipe FAQ
Here are some common questions that may come up as you're preparing this recipe:
Does dairy free peanut butter frosting need to be refrigerated?
If you've already frosting cupcakes or a cake, you can leave those at room temperature for up to 2 days. If you have leftover frosting that is not being used that day, store leftovers in an airtight container in the fridge for up to 5 days.
Can you freeze peanut butter frosting?
Yes. Freeze this in an airtight container or zip top bag (try to make sure there's as little air as possible exposed to the frosting). Use within 2-3 months for best quality. When ready to use it, defrost in the refrigerator overnight. Pro tip: use a mixer to re-whip it after thawing for the best texture.
Why is my frosting so runny?
If the frosting is too thin or runny, you may have either added too much liquid or used melted butter. Be sure to use softened butter and only add a small amount of liquid at a time.
Allergens in this Recipe
Disclaimer: Always double check ingredients and labels yourself prior to making a recipe. While I try to check all ingredients for allergens, there's always the chance I may miss something, or manufacturer formulations can change.
This recipe is dairy free and egg free as written.
This recipe does contain peanuts. (I think this is pretty self explanatory, haha – it's peanut butter frosting!).
This may include wheat/gluten, tree nuts, or soy, depending on the type of dairy-free milk or dairy-free butter that you use. If you have any of these allergen concerns, be sure to purchase products that meet your needs.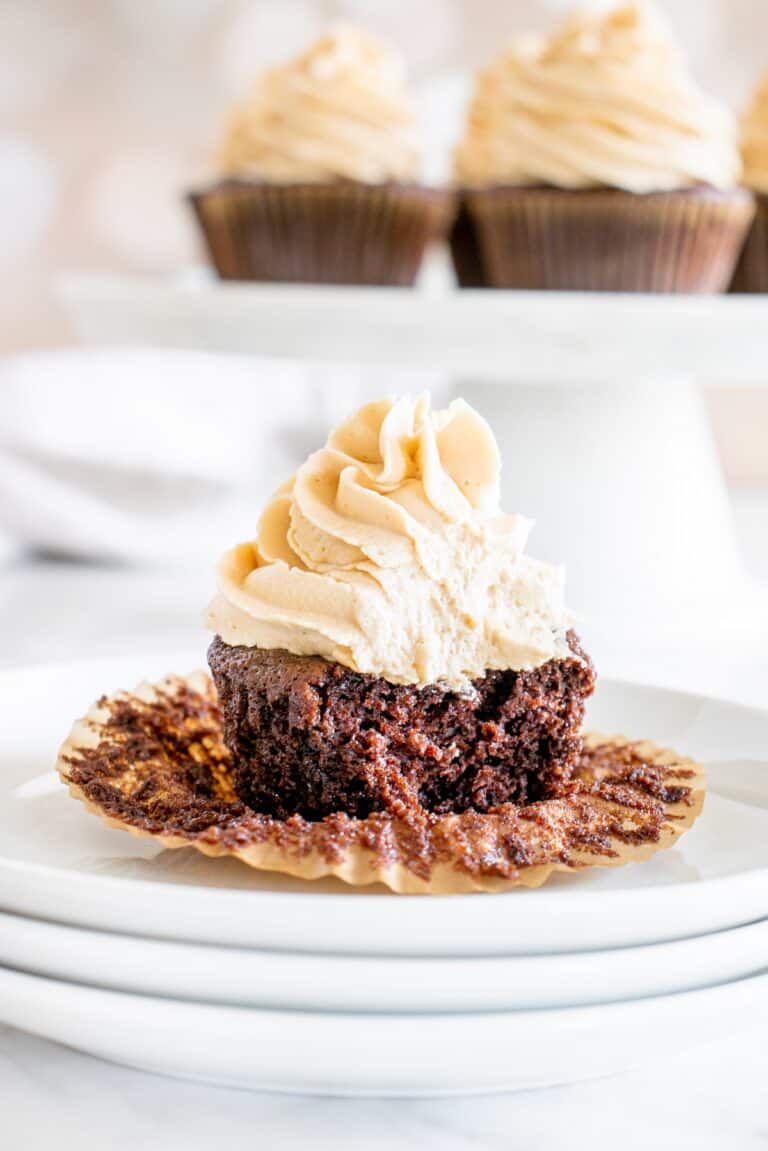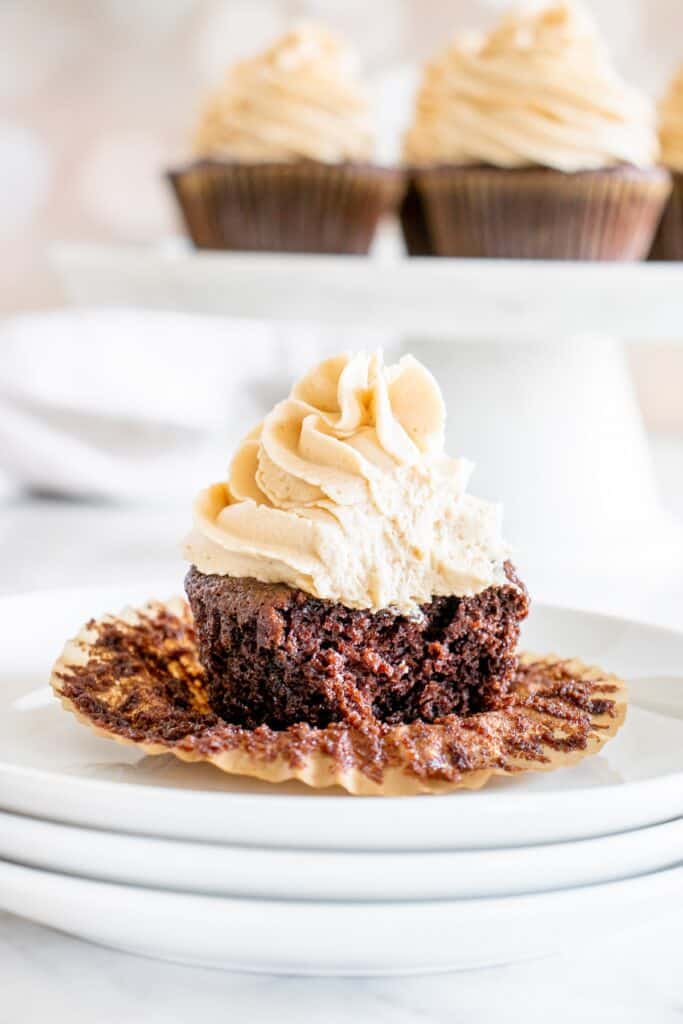 More Dairy Free Frosting Recipes
If you're looking for other dairy free frosting recipes to add to your baking repertoire, be sure to give these a try:
I hope you enjoy this dairy free peanut butter frosting recipe. It's definitely one of my favorites! If you get a chance to try it, feel free to leave a recipe rating or comment below.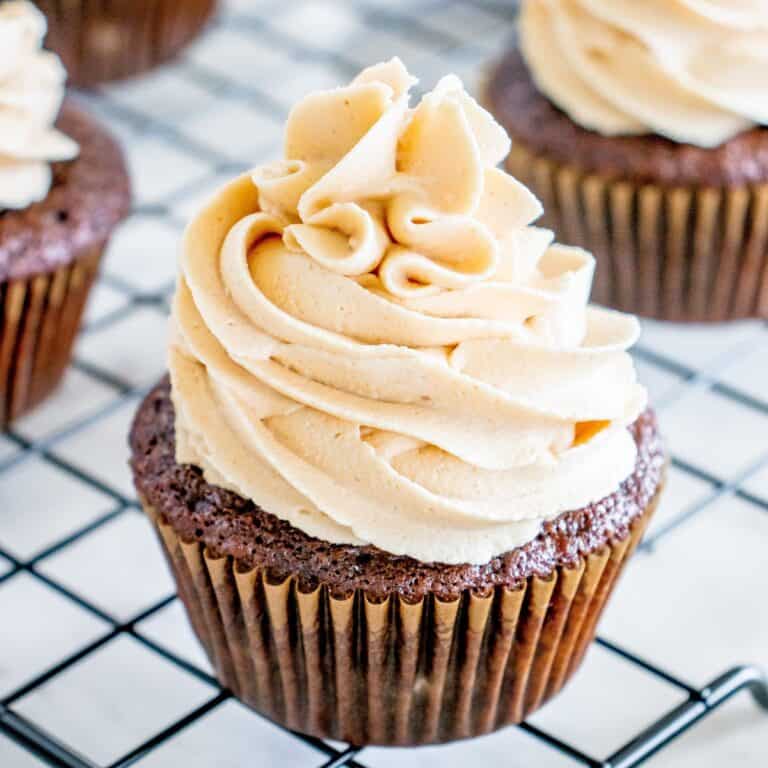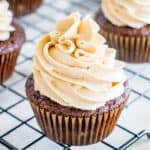 Dairy Free Peanut Butter Frosting
This dairy free peanut butter frosting is perfect for topping cakes, cupcakes, or whoopie pies!
Ingredients
½

cup

dairy-free butter, softened

(i.e. 1 stick; recommend Country Crock plant butter sticks with avocado oil)

½

cup

peanut butter

1 ½

cups

powdered sugar

(can add extra to taste)

1

tsp

vanilla extract

1 to 3

tbsp

non-dairy milk

(enough to achieve preferred consistency)
Instructions
In a large bowl, combine the softened dairy-free butter, peanut butter, powdered sugar, vanilla, and 1 tablespoon of non-dairy milk. Beat using the whisk attachment on a stand mixer or hand mixer until light and fluffy. Add additional non-dairy milk if needed to reach the preferred consistency.

Spread or pipe onto fully cooled cakes, cupcakes, or whoopie pies.
Recipe Notes
Butter must be softened – not melted, not straight from the fridge – for the frosting, otherwise you will not achieve the desired texture.
This recipe makes enough for a light layer of frosting on 12 cupcakes. If piping large swirls on your cupcakes, or you are making a layered cake, I recommend doubling the ingredients.
Nutrition analysis (per serving): 191 calories, 13 g fat, 4.5 g saturated fat, 120 mg sodium, 17.5 g carbohydrate, 0.5 g fiber, 16 g sugar, 2.5 g protein, Vitamin D: 0%, Calcium: 1%, Iron: 1%, Potassium: 1%
Feel free to pin this post to save for later!